#TBT – Vintage Omega Seamaster 120 166.0073
Along with New York, London, Tokyo, Hong Kong and Singapore, Frankfurt stakes its claim as one of the world's banking centers. With this distinction comes a large pocket of substantial wealth, which naturally makes luxury goods such as watches quite popular. As one who spends a lot of time in Frankfurt, I can tell you that it's a strange city as far as watches. Yes, there are a lot of high-end watch shops and brand-specific boutiques. However, aside from the recent influx of these single brand stores, I've generally found the others to lag behind other large cities in carrying new releases. Perhaps these shops have voluminous "black books" with waiting lists for the newest pieces or the lack, or lag, of new releases is due to the seemingly endless stream of watch-hungry Chinese tourists who mob shops such as Bucherer and Wempe on a daily basis. Regarding the last note and the cash injection that the Chinese bring, this has made some shops rather unfriendly despite a punishing prevailing economy in the European Union. Do you want a new stainless steel Rolex Daytona? One shop told me 2-4 years. Really? Book a flight to New York and you'll have a new one on your wrist in no time. In any case, there's no shortage of watches, just a shortage of the new and interesting in my opinion.
So, if new watch shopping is a mediocre affair in "Mainhattan", there must be a good used or vintage selection, correct? Wrong again. My experience on this front has also been questionable at best with more than a few opportunistic shop owners. But, there is a dim light at the end of the tunnel and this comes in the form of the "Uhrenmesse" or watch market that is held on the outskirts of the city roughly twice per year. It's not a large watch market and it is filled with as much sketchiness as honesty (the Hong Kong show takes the cake, though, for baked dials and "Frankens"), but gems exist. Today, I'll share a story of finding one of these gems at this market.
I take you back to a weekend during the summer of 2013. My wife had traveled off for her "hen party weekend" in preparation for our upcoming nuptials. What to do during the fleeting days of bachelorhood? Well, a day or so before the weekend, I checked the mail and found a leaflet for a watch show, in Frankfurt…that weekend! Wow, it was truly as if the seas had parted. With no one at home and the weekend to myself, I could happily plod along for hours at the show.
Omega Seamaster 120 166.0073
So, off I went to the Uhrenmesse. Upon entering, I was greeted by many tables selling barely used Rolex, Audemars Piguet and other diamond-encrusted nasties. It seemed that this would be a short visit to be followed by pils drinking and wishing I were somewhere else. But wait! I entered the back portion of the show and came upon a seller, who had a very nice, but small, selection of vintage Rolexes. In fact he had a beautiful, and reasonable vintage Daytona, some old GMT's and a couple Stella dial Datejusts. While browsing, I noticed, within his tabletop case, tucked off to the side as if an afterthought, a nice vintage Omega diver on its original 1170 bracelet like I'd never seen. I asked the seller about it and he mentioned that he had recently acquired it when purchasing an estate collection of Rolexes. He did not claim to know much about it and said he wanted it sold as Omegas were not his "thing". The price: 1100 Euros. Well, I quickly pulled out my phone and started searching for old Seamaster 120 pictures until I could find something similar. I was able to locate the Seamaster 120 reference as a 166.0073 and a few pieces for sale on chrono24. The price quoted to me seemed like a great deal so I decided to pull the trigger. I'll rephrase that: I very slowly pulled the trigger because I wasn't carrying that kind of cash. Friends, in Germany, cash is still very much the "Koenig". I left the show and frantically searched out nearby ATM's where I proceeded to obtain the funds. Anyhow, an hour or so later, it was in my hands and I sat down to do some more research on my gamble.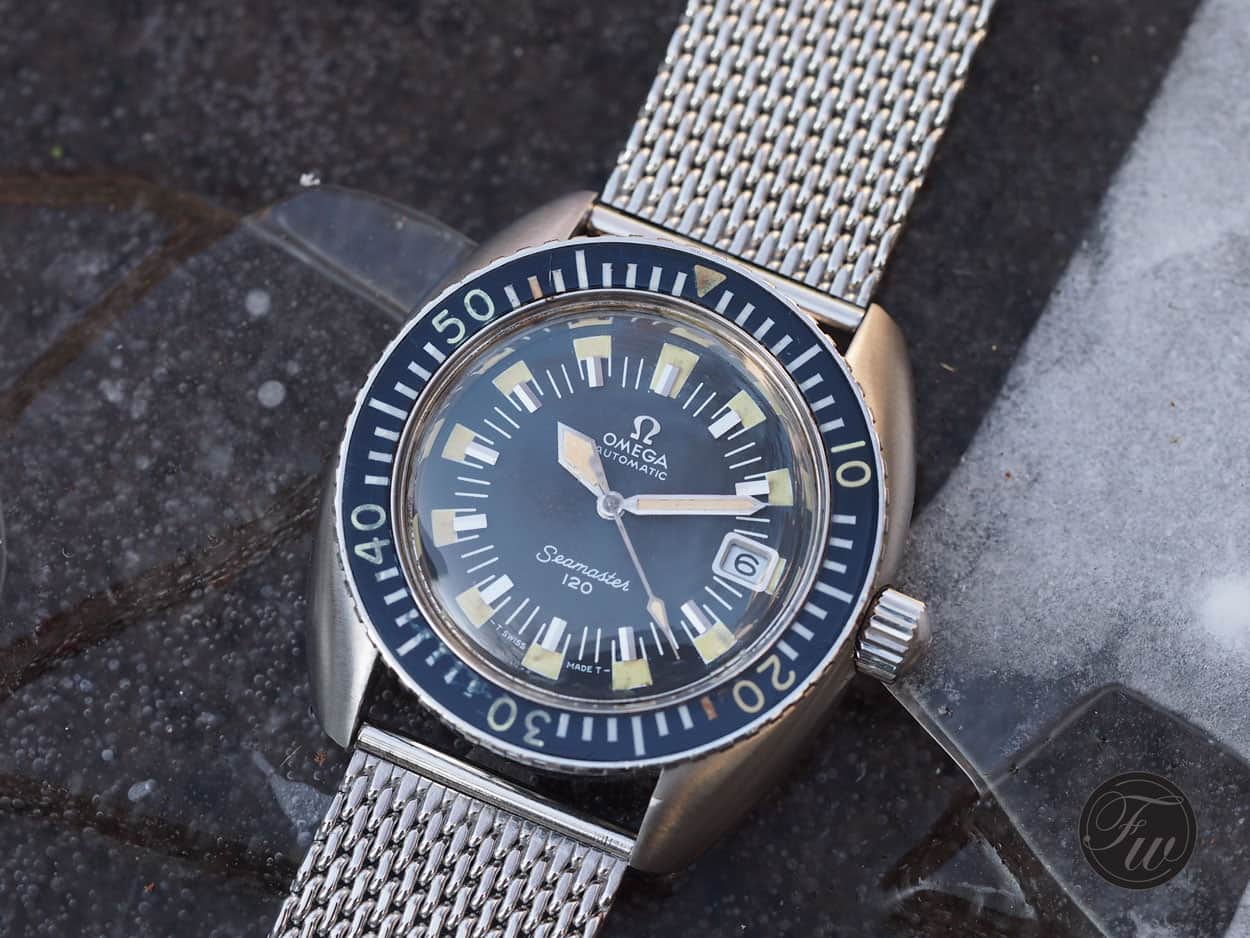 So, what did I buy? As mentioned above, this Omega is a Seamaster 120 reference 166.0073 from 1970. The "120" in the model designation denoted a 120 meter water resistance. The Seamaster 120 is powered by an in-house Omega 565 24-jewel automatic caliber and is known as an extremely robust workhorse. It was used in the famous Seamaster 300's of the era as well as many other pieces. It can be hand wound as well.
It features a quickset date change method that was novel to me when I bought it. Essentially, it's a pump-like system that changes the date when the screw-down crown is pulled out an additional detent from the time changing setting. The user works the crown in and out on this last detent to continue to forward the date. It feels flimsy but in speaking with my watchmaker, it's actually quite robust provided that one doesn't pull too hard.
What drew me to the piece is its familial likeness to the classic Seamaster 300's of the mid to late 1960's. The applied Omega symbol, Bakelite bi-directional bezel, tritium markers, and sword hands all bear more than a passing resemblance to such famous models as the Seamaster 300 165/166.024.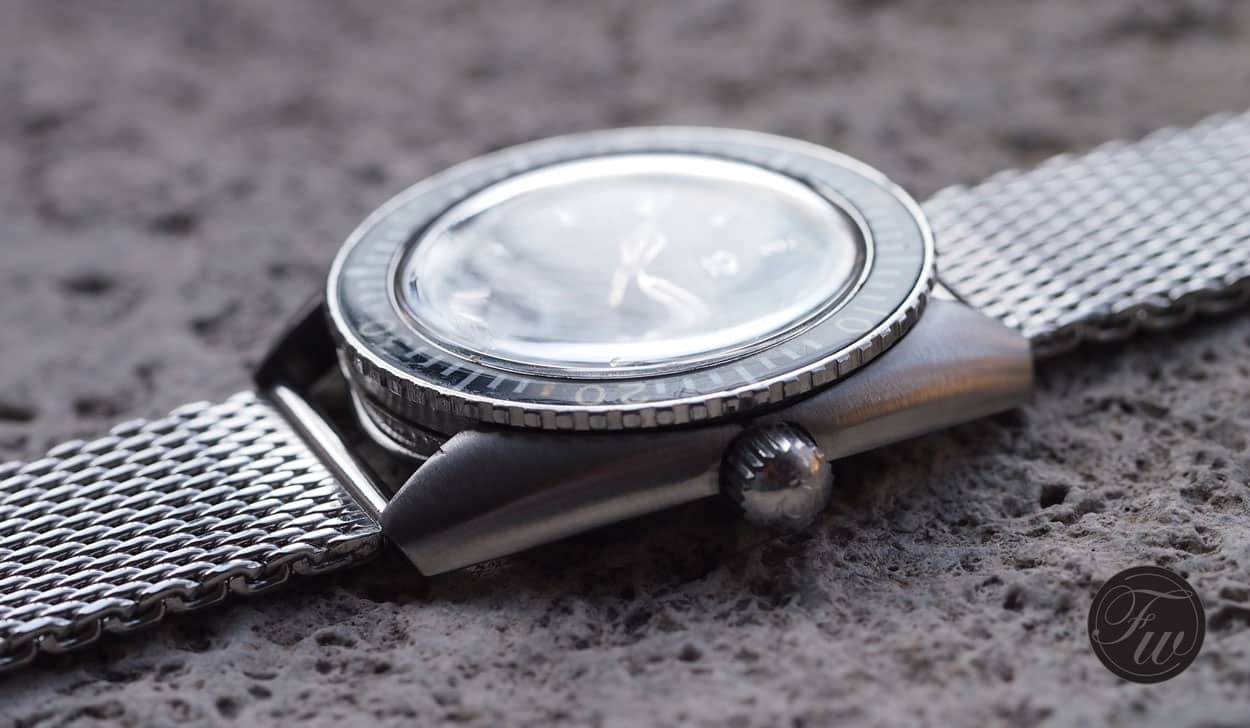 One notable difference on this piece from the 300 is its faceted, baton-shaped metal hour markers. It makes for a busy dial when looking at it in certain lights, but at other angles, the markers are muted. The other big difference on this Seamaster 120 versus the 300 is the ~41mm cushion-style case. To me, it features a case design that starts to hint at the big, bulky cases to come from Omega and other makes in the 1970's. However, with its gently curved lugs, it still retains a lightness that gives it a purposeful, yet classic look.
When researching this piece, what I found interesting is that while there is a lot of information on most vintage Seamasters, little can be found on the Seamaster 120 166.0073. What I have found is that it has gained the nickname of the "deep blue" due to its blue-black dial. To be honest, I see nothing but black on this dial but maybe it has aged or the domed Hesalite crystal is altering my view. Of course, I have also read countering points of view stating that this model was made in both black and blue versions. The other piece of information that often comes up is that this model was a typical government issue to the IDF, or the Israeli Defense Force.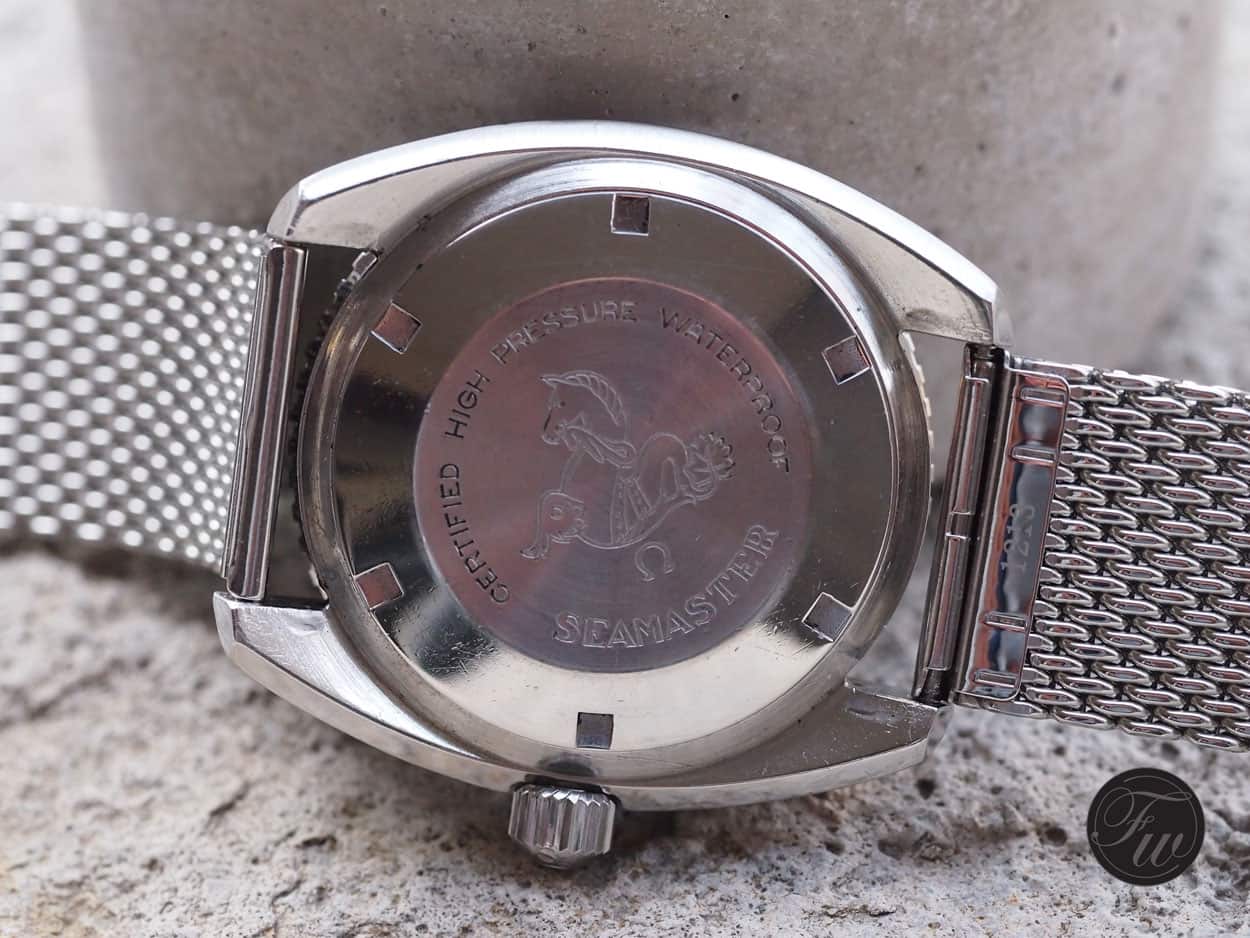 So, what is this rarely discussed Seamaster 120 like to own and wear? From an ownership standpoint, the watch ran very well when I purchased it. It is entirely original with the correct dial, hands, caseback, crown and bezel. I initially decided to wear it without a service and threw it on a Bambi mesh bracelet purchased in Tokyo as the original bracelet was too large for me and showed some stretch. After trouble-free wearing, about a year ago, before boarding a transatlantic flight, I looked down only to see the sweep seconds hand floating around. So, off for a service it went and it now runs flawlessly while supposedly maintaining water resistance down to about 80 meters.
Wearing this watch is great. Granted, I probably would have bought it for this price even if I wasn't madly in love with the style, but it just "pops" on the wrist and fits very nicely. It doesn't wear massively and, yet, it's certainly not small.   Style-wise, there's just something about an Omega Bakelite bezel and sword hands. Don't even get me started on the fantastic patina that this piece has acquired.
My buying tips for the 166.0073s are rather terse, as I've seen so few for sale. Like most vintage Seamasters, the largest concern I have is service parts such as dials, hands, bezels and crowns. In fact, I rarely see a piece with the original dial and hands. Some, I'm pointing at Robert-Jan, don't mind a new crown as it likely points to a good service and helps keep out moisture. Very well, but I do require original when it comes to the dial and hands. Unlike some vintage Seamasters, I do seem to see these pieces on their original 1170 bracelets, likely owing to a reasonably solid and robust design. Pricing seems to be creeping upwards and ranges between $3-4K if today's eBay and chrono24 listings are a good gauge.
I hope you enjoyed reading about and seeing some pictures of the Seamaster 120 ref 166.0073. It's a nice alternative to the Seamaster 300's that are often the desire of most collectors and, frankly, I see far fewer for sale and on forum discussions. Furthermore, it has a bit more of a "tool watch" look than the prior Seamaster 120's, which look more like recreational divers to me. For me, this piece represents an interesting transitional Seamaster with details such as the hands and bezel firmly rooted in the 1960's while the case takes a minor step into the funkier 1970's. Personally, though, I will always remember this Seamaster 120 as my "Frankfurt watch" as it was a complete surprise and a great find.