Vintage Watch Shopping In Geneva
When I was in Munich a few months ago, I've met with Roy Davidoff. We were both visiting a watch event there, and he told me about his boutique in Geneva. The Davidoff Brothers boutique is located in the city of Geneva, just a small walk from the famous Rue du Rhône with all its brand boutiques and famous shops. Actually, the Davidoff Brothers boutique is just across the street of the MB&F M.A.D. Gallery.
The Davidoff Brothers focus on vintage watches only, made between the 1940s and the 1980s. As the name of the boutiques already implies, the two owners are brothers Roy and Sacha Davidoff. Both infected with the watch virus from a young age and with a professional career in the watch industry, they decided to start their own business in vintage watches.
So when I was in Geneva, I decided to pay them a visit. As said, just a short walk from the Rue du Rhône is all it takes to enter the world of vintage watch collecting with the Davidoff Brothers.
Davidoff Brothers – Vintage Watch Shopping
Roy Davidoff is already waving at me when I pass by the shop and have a quick glance at their window. It is literally packed with beautiful vintage timepiece from Rolex, Tudor, Omega, Breitling and many more. Also with watch of smaller brands that are perhaps not as well-known among people who are not that much into vintage watches (yet).
Inside the shop there are two large displays standing against the wall, each with one watch, and in between these displays is a beautiful vintage Louis Vuitton suitcase.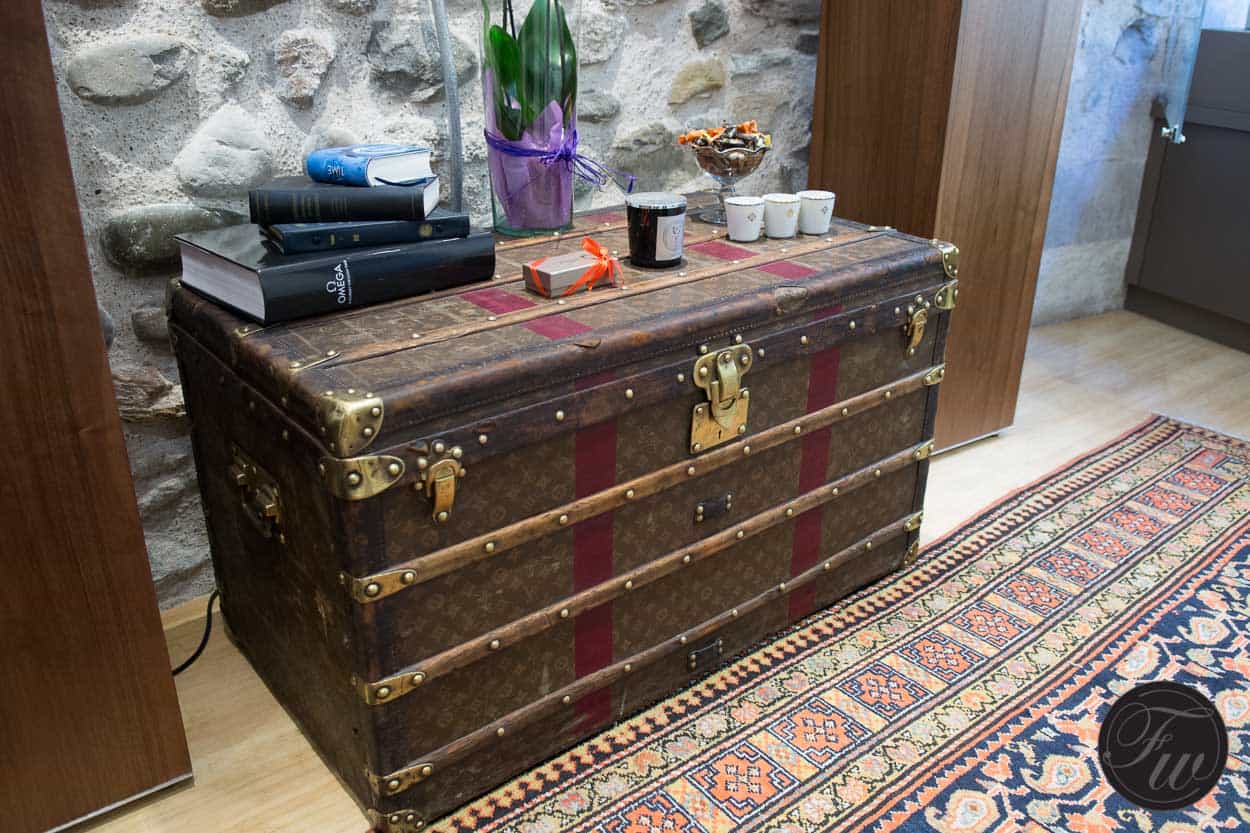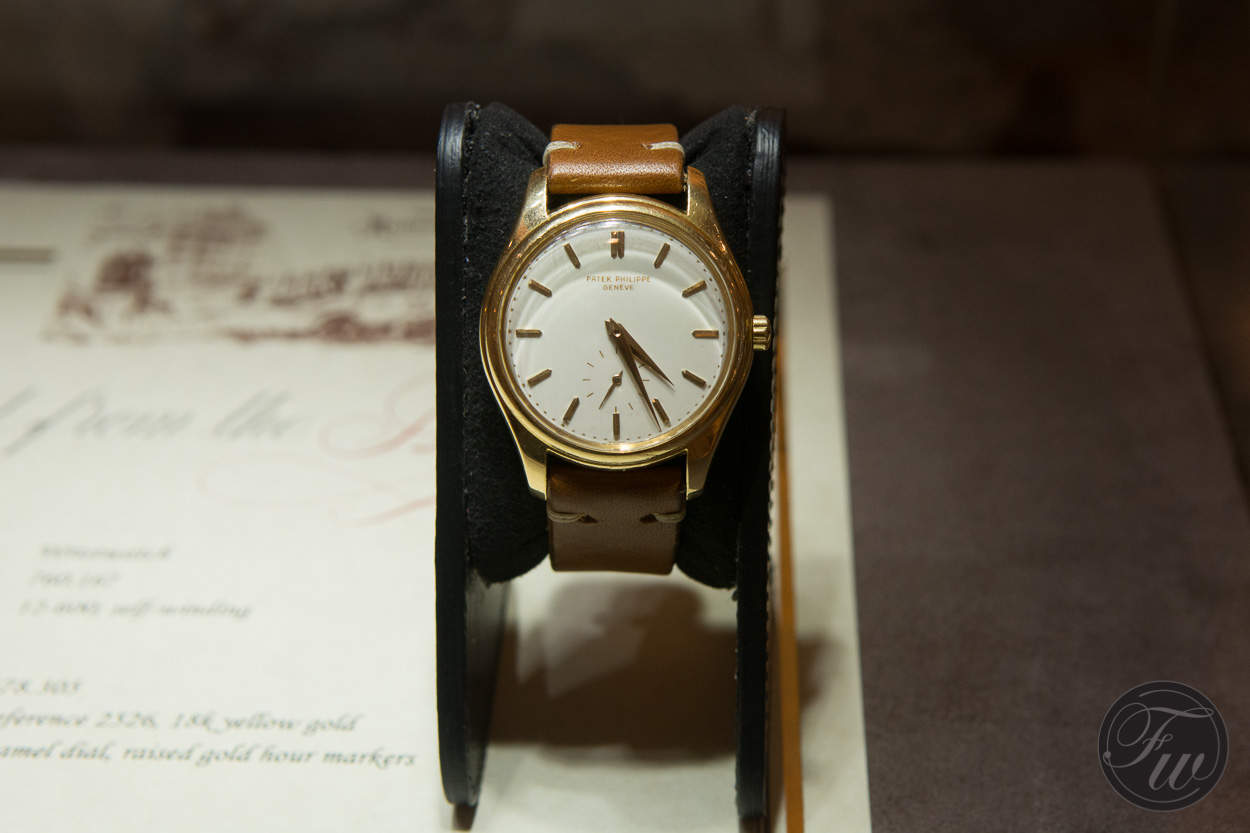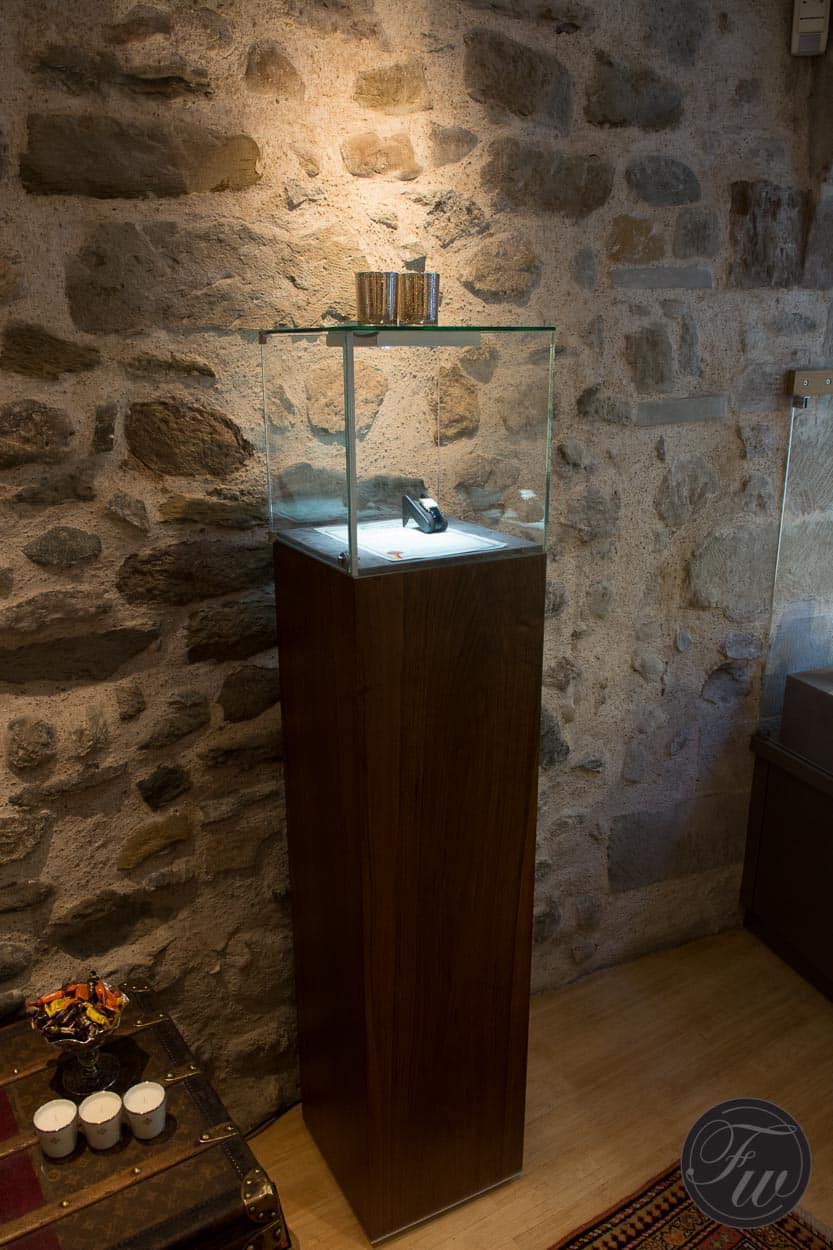 At the end of the room, there is a large desk with two chairs in front of it. This is where the people discuss, examine and eventually buy their vintage watches. Roy invites me to look at some of the watches in the window and tells me I can get out whatever I want to. So I select a couple of watches and in the meanwhile he also brings some watches from behind the counter.
The first watch I get to see is this Omega Seamaster CK2913. That's right, the very first Seamaster 300 as it was introduced in 1957 and which served as input for the new 2014 Omega Seamaster 300 Master Co-Axial (which we discussed here). The other watch is also an Omega, a Seamaster Chronograph 'Soccer Time' ref.145.019 with a caliber 861 movement.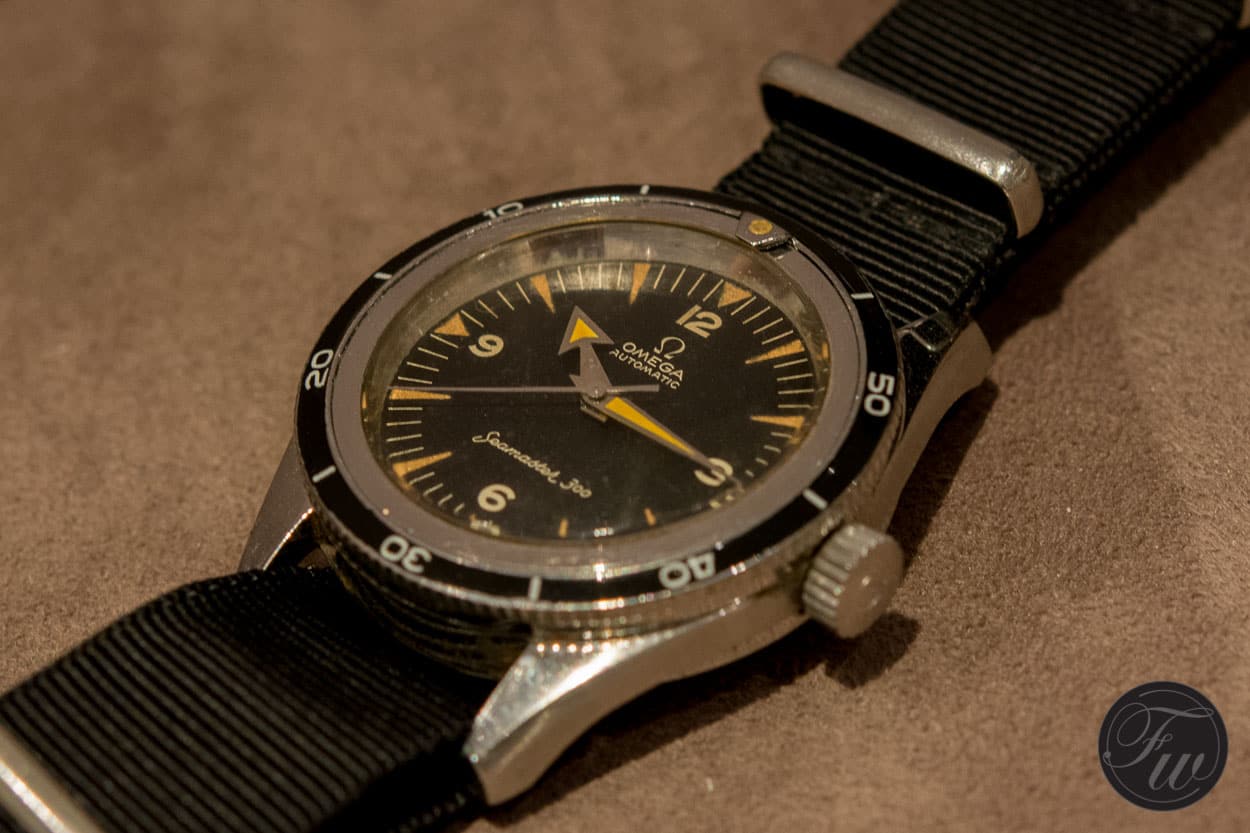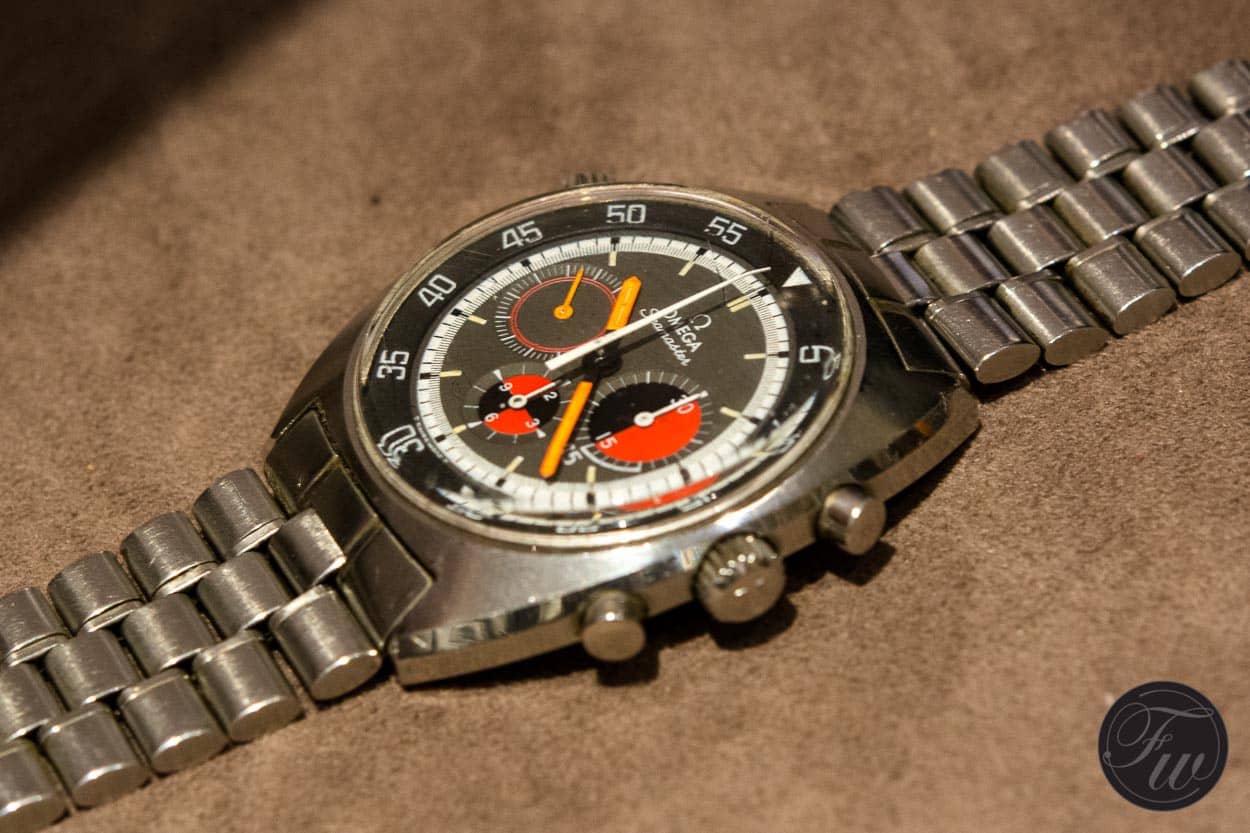 If you are on the market for some serious vintage watch shopping you also want to have a look at some of the most sought-after pieces from Rolex. Looking at the Davidoff collection of watches, my eyes were immediately drawn to this beautiful Rolex Explorer 1016 (see above) and the Rolex Milgauss 1019 from 1968 below.
A stunning watch that wasn't always as popular as it is now which is perhaps the reason you don't see them as often as Submariner, GMT-Master, Day-Date and Datejust watches of that era. Inside ticks Rolex caliber 1560. The case construction (soft iron inner case) made this watch resistant for magnetic fields, just like today's Rolex Milgauss.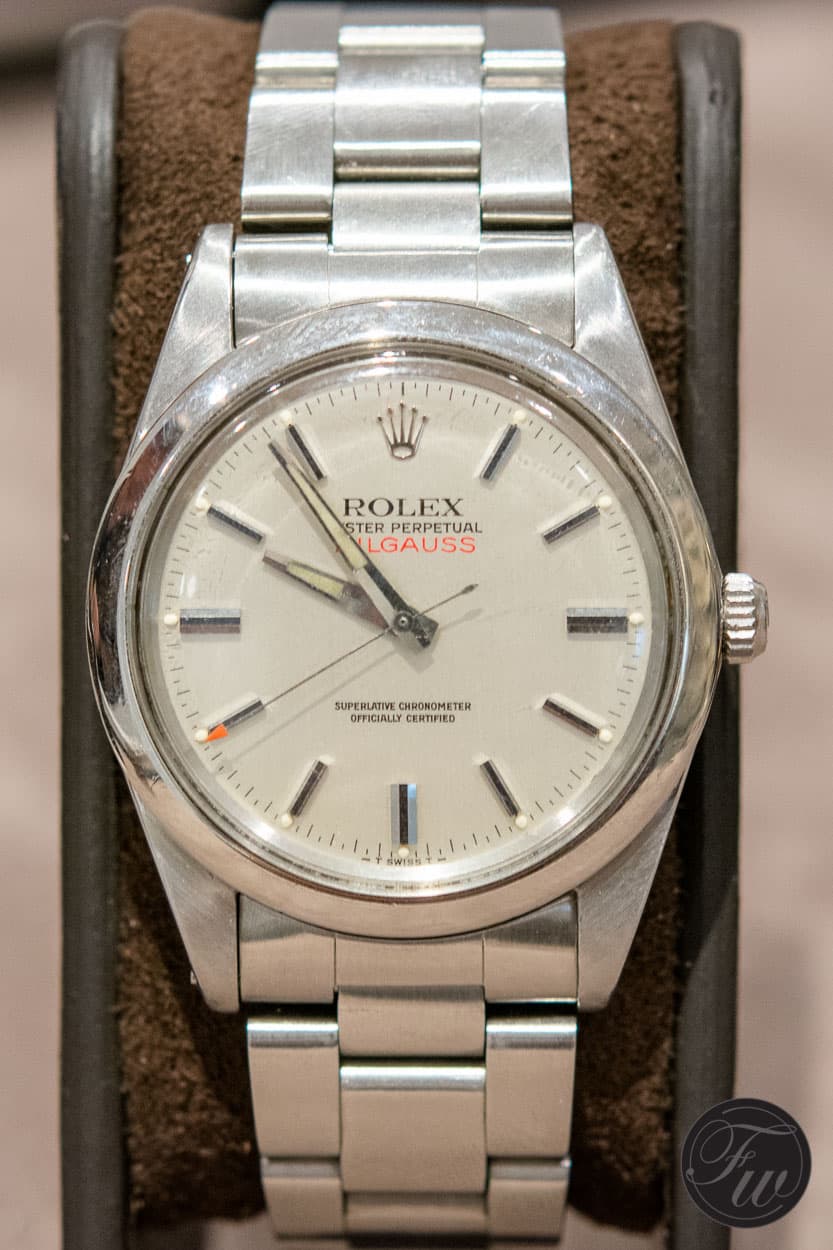 Another really rare piece that Roy Davidoff showed me was this Waltham diver's watch. A diver's watch that shows a clear resemblance with the Blancpain Aqua-Lung Fifty Fathoms. Not strange at all, as Roy told me, since it was made by Blancpain. Only very few of these Waltham watches were made. In fact, the Davidoff Brothers also have a corresponding Blancpain in their shop. The watches are being offered together, as a pair. The Waltham is one of the rarest watches you've seen here.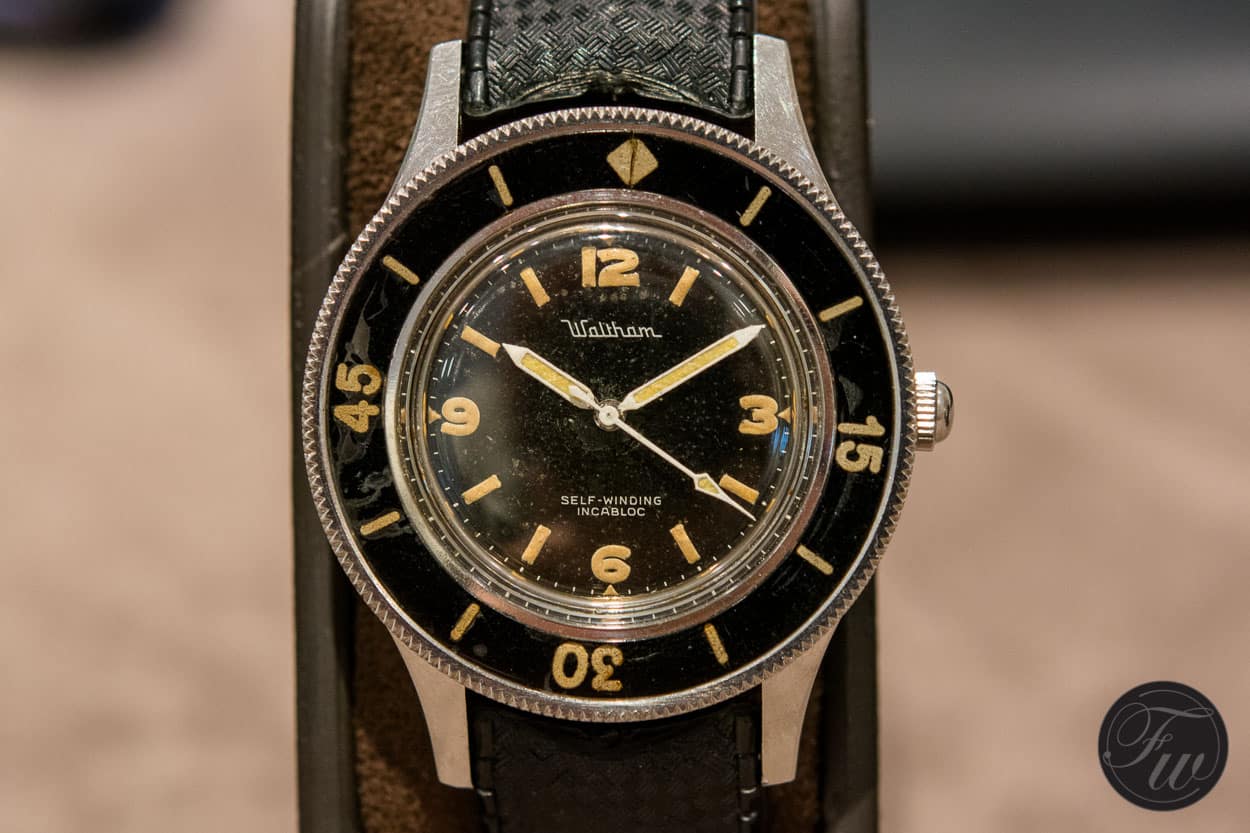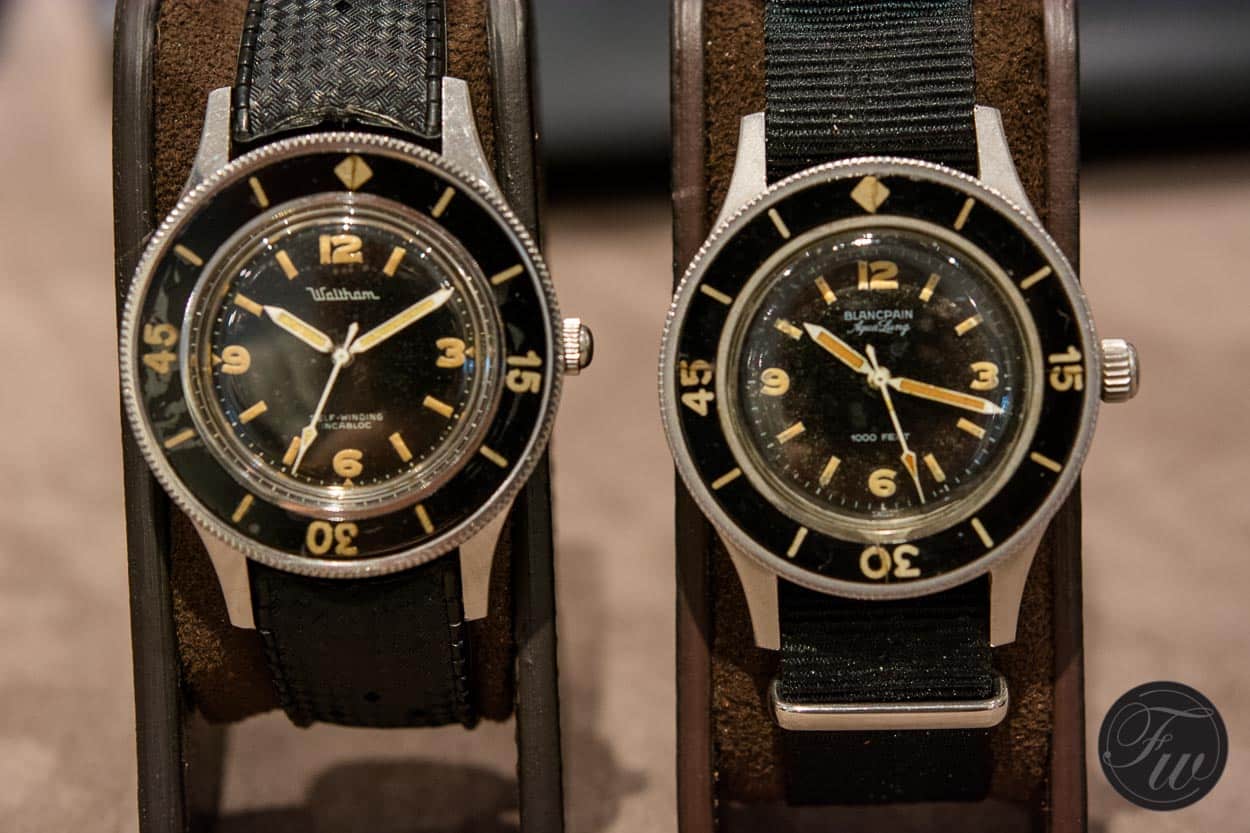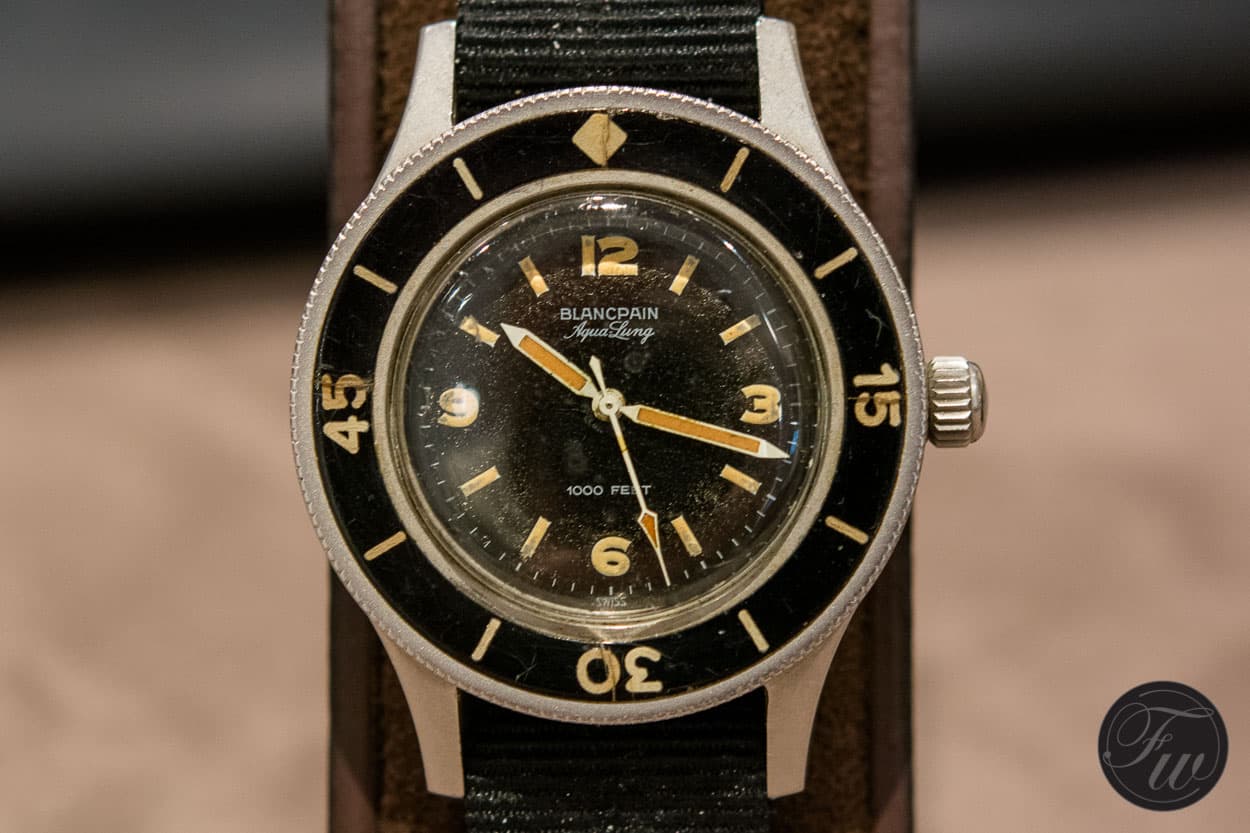 As you know I am also a fan and collector of (vintage) Omega Speedmaster watches. For Speedmaster enthusiasts, the Davidoff Brothers is the place to do your vintage watch shopping in Geneva anyway. Roy showed me a wonderful Omega Speedmaster CK2998 on a NATO strap as well as a nice 1967 Omega Speedmaster 145.012 from 1967.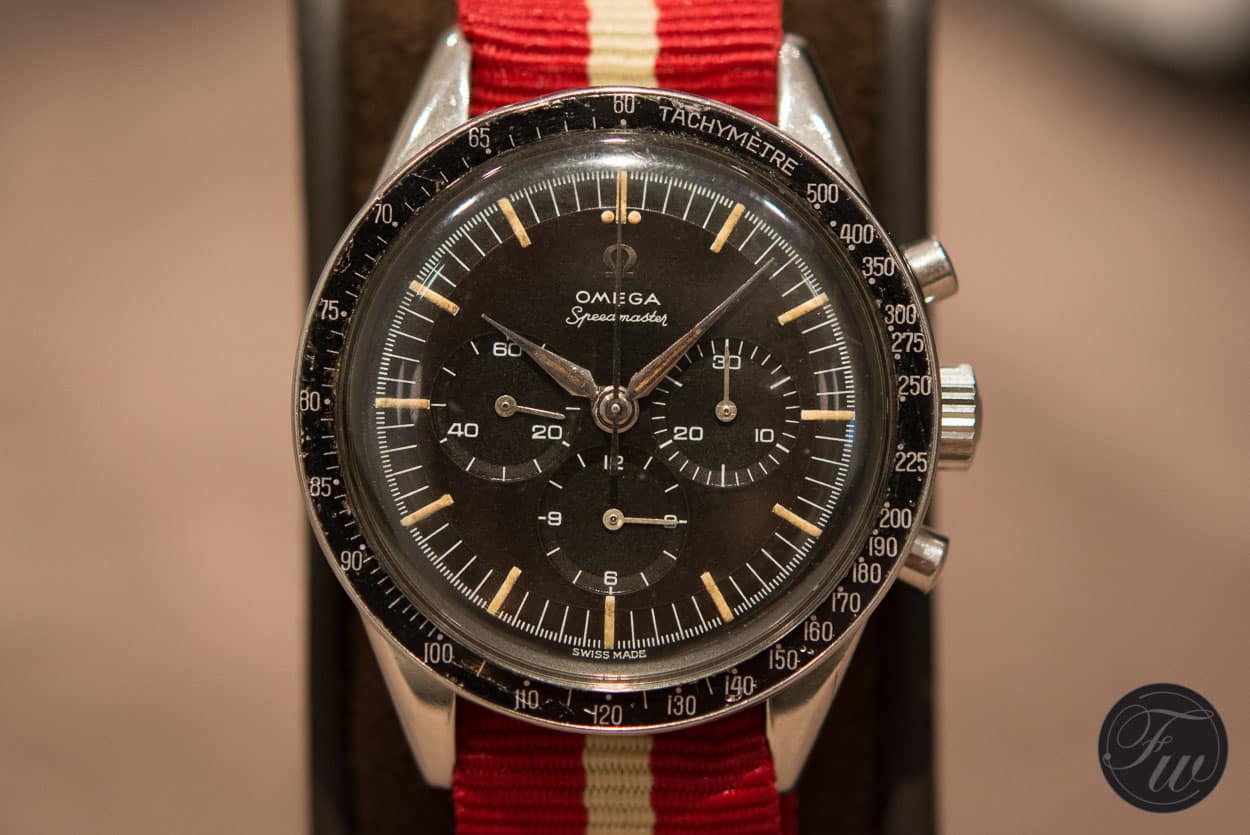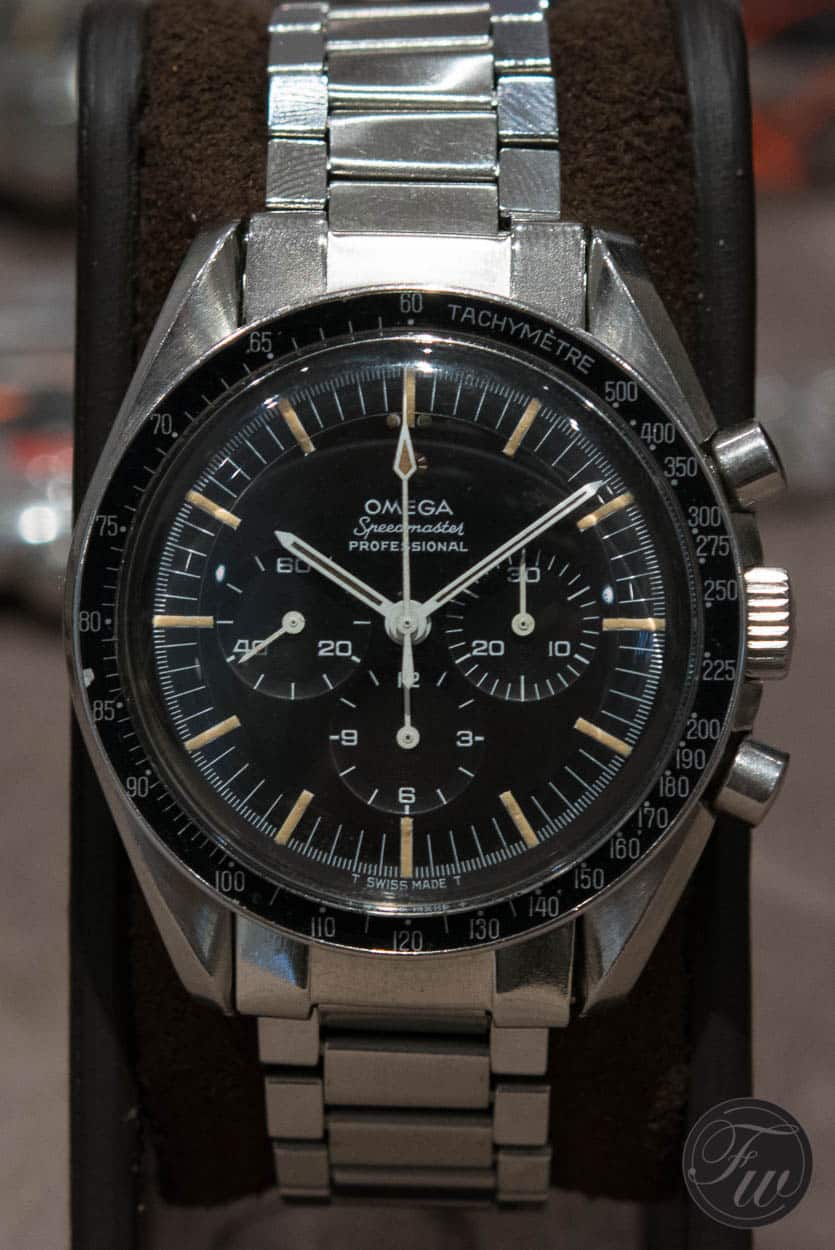 Actually, when we were sitting down discussing watches, a customer came in and showed me his Omega Speedmaster Professional 145.022 from 1969 that he recently bought at Davidoff Brothers. It came on a J/M signed Jubilee style bracelet reference 1175.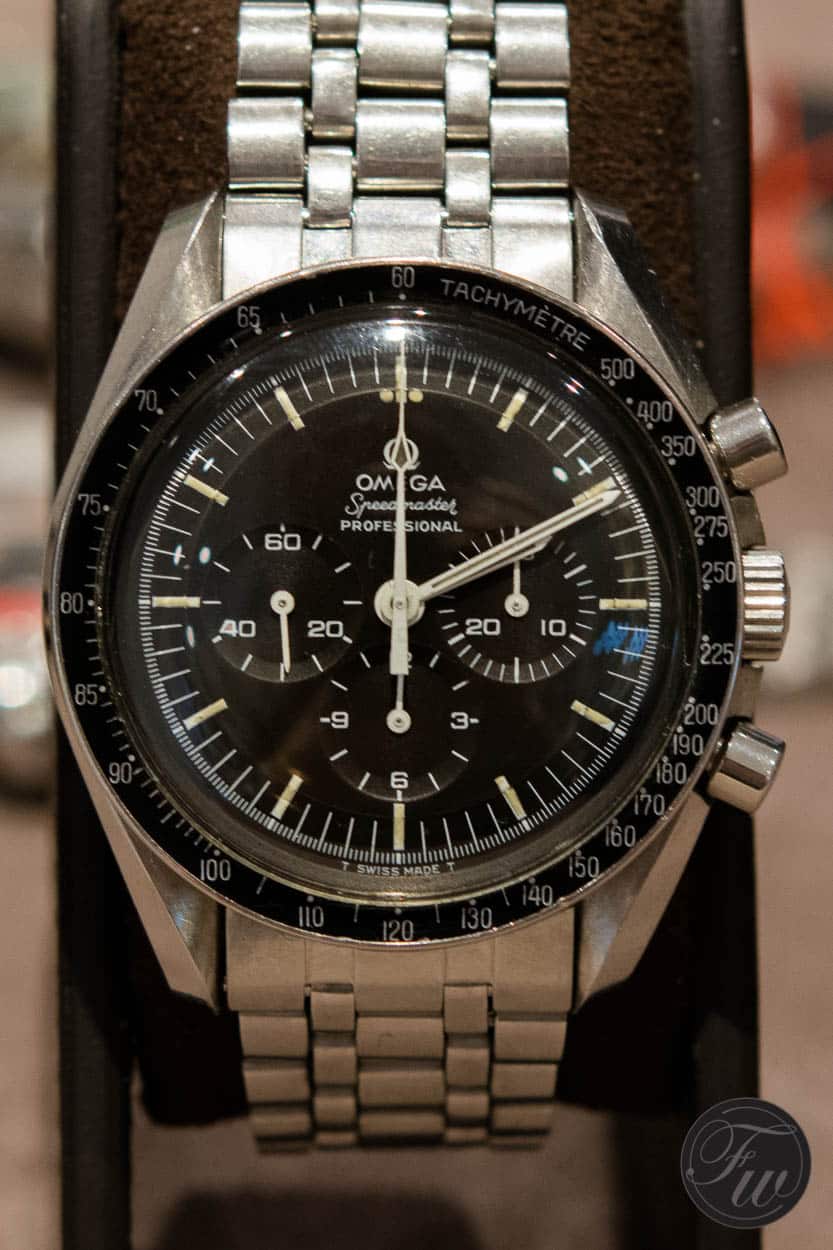 Last not but least Roy showed me this wonderful rare Rolex Air King reference 5504. A very toned-down Rolex with Jubilee bracelet and a super clean dial. A small watch for today's standards, but still a stunner that would make you get away with its small size anyway.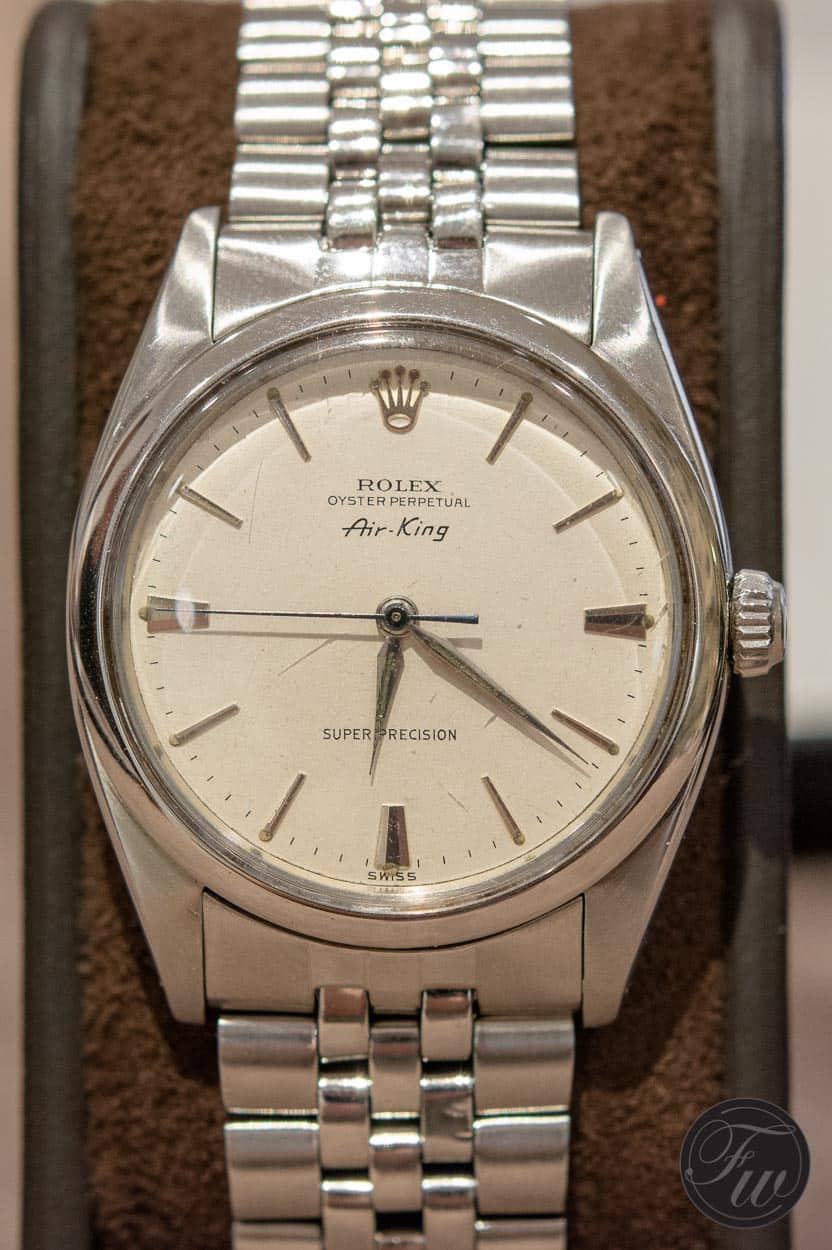 Roy and Sacha Davidoff are passionate watch collectors and sellers and their shop has just the right atmosphere. They clearly know their stuff and are well willing to help someone out to give them as much detailed information as necessary. Their website (www.davidoffbrothers.com) provides detailed information of every watch they have in stock, with photos from each angle and detailed descriptions.
When you are in Geneva and have some spare time for vintage watch shopping, make sure to pay the Davidoff Brothers a visit.