Watch Giveaway: Mitch Mason Chronicle With Cream Dial
Tell us your story and win yourself a watch
It's been a while since we've had a straight-up giveaway on Fratello. That's entirely my fault. Furnished with a handful of cool and quirky watches to hand over to the Fratelli, I've been working through this stash in between my frequent travels. To many of us on the team who have become more than accustomed to heading into the office (or staying at home) throughout Corona and having the opportunity to pound the keys, the return to the road has hit us like a freight train. Happily, though, a window of opportunity has presented itself to me to write this article, and so I would like to present to you, the Fratelli, an opportunity to own this rather fetching cream-dialed Mitch Mason Chronicle watch. And all you have to do is answer a very subjective question…
The 36.5mm stainless steel Chronicle (43.5mm lug-to-lug) was the first watch launched by the new brand Mitch Mason. The company, based in Singapore, debuted last year on Kickstarter. As you may know, I, as well as a good few of my teammates in The Hague and further afield, are quite fond of Kickstarter brands that attempt to do something genuinely different.
Normally, even the most ambitious of these plucky start-ups are only able to "innovate" aesthetically. And for the prices they charge (this model had an Early Bird price of just $379), that's about as much as any of us could reasonably expect. Here, the brand throws caution to the wind with an angular case design that calls to mind (or, my mind, at least) a much-missed era of King Seiko designs. Despite those apparent callbacks, there isn't that much like the Chronicle on the market today, much less in this attractive entry-level bracket.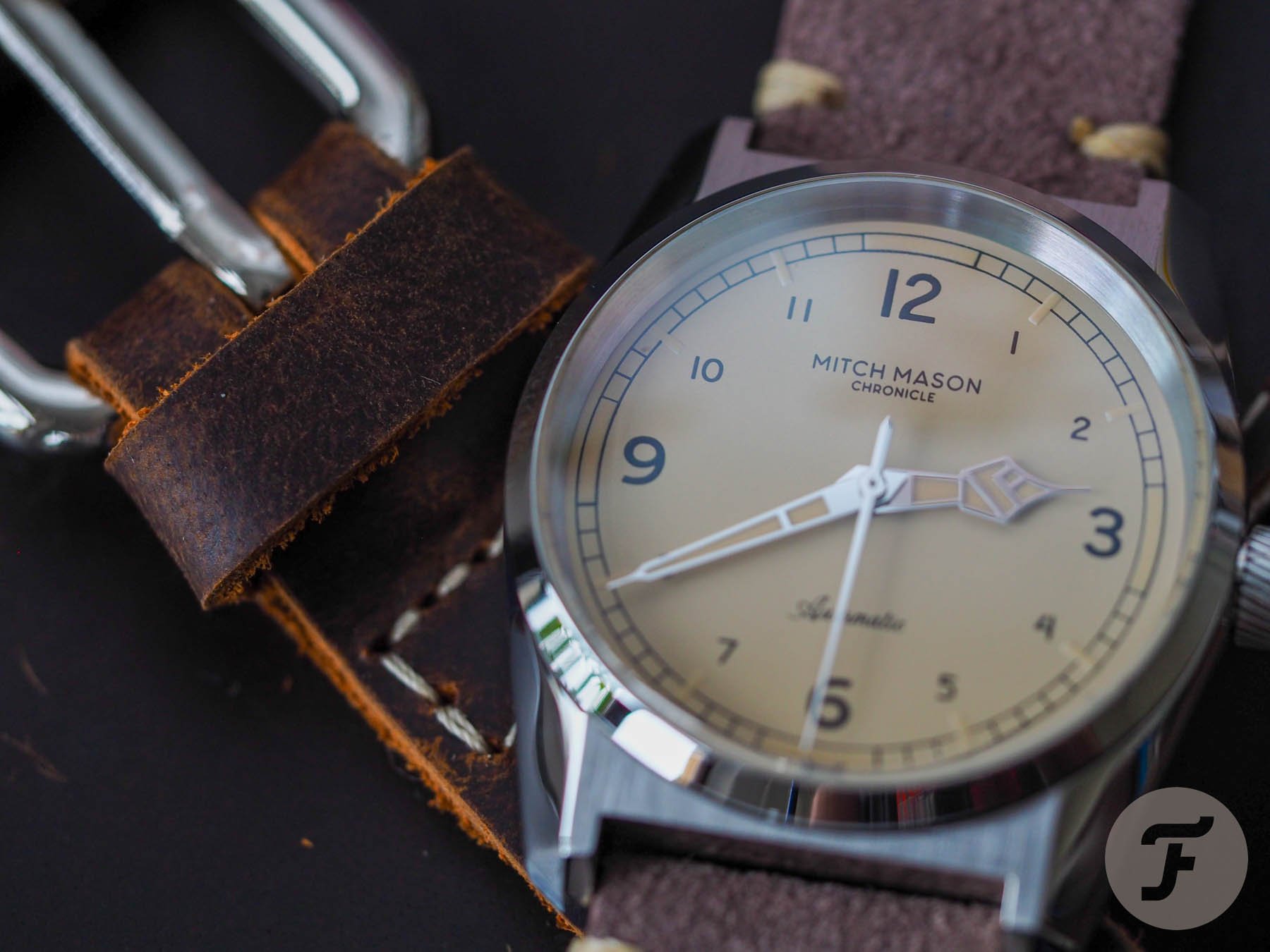 Creamy goodness
When I was liaising with the brand founder, I had the choice between the four initial colorways offered on Kickstarter. The other three colors (blue, black, and gray) had their more mainstream charms, sure. However, it was this cream-dial variant — the only one of the original four that didn't feature vertical brushing on the dial — that struck me as the most original.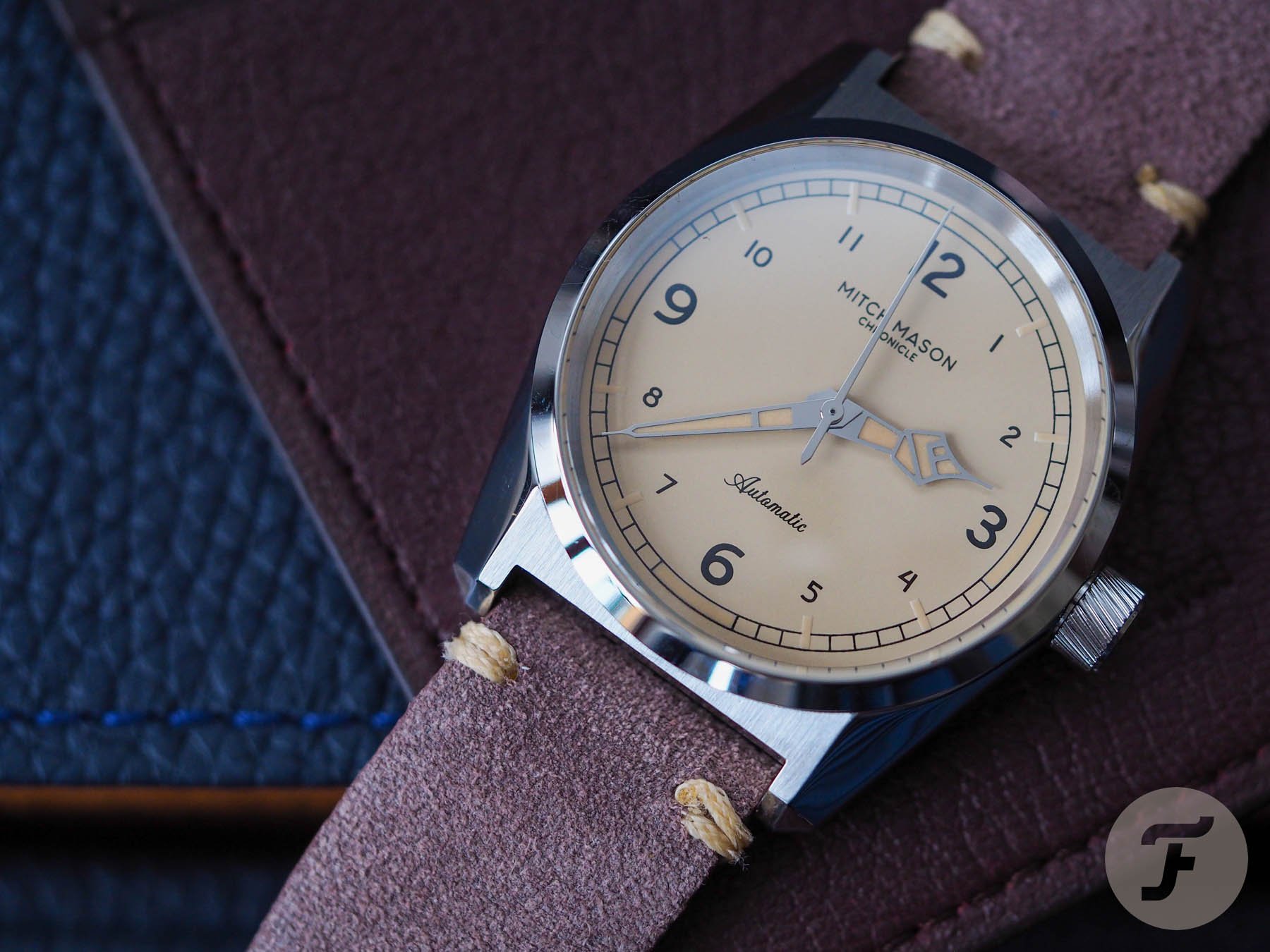 We often see brands using "fauxtina" to invoke a sense of age and esteem. That said, a flat cream dial with fauxtina isn't as common as it might seem, even to me. I remember — only once, to be honest — having a similar reaction to a limited-edition MeisterSinger, of all things. Once upon a time, there was a Benjamin Franklin limited-edition single-hander that had an unabashedly cream dial. Despite MeisterSinger not being my favorite brand on Planet Earth, it somehow resonated with me and stuck in my head long enough to be referenced here several years after the fact.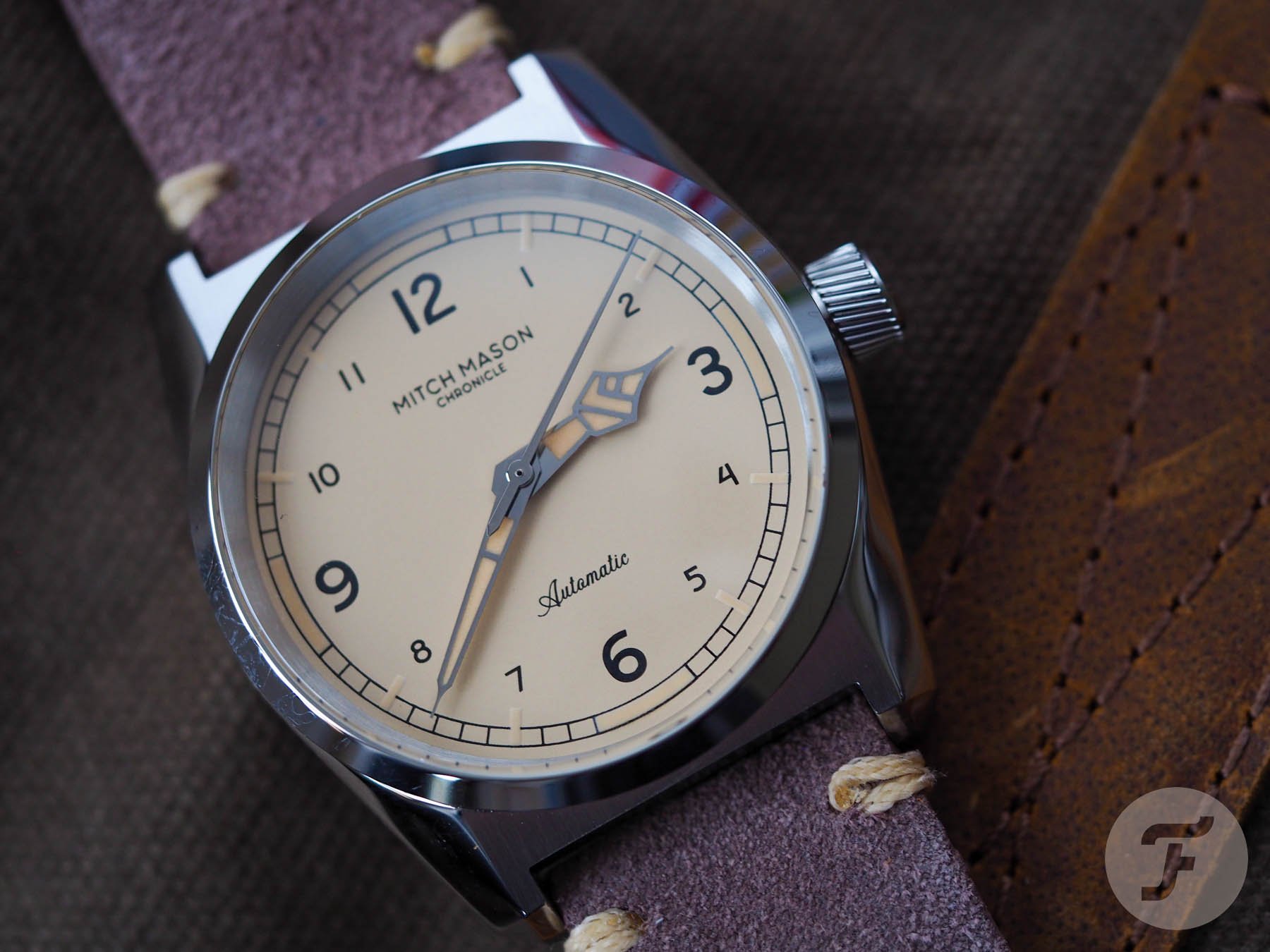 Amazingly, I can even remember the year that model came out! It was 2015, and I know that because I was living in High Wycombe at the time, working for Bremont as a watchmaker and writing for aBlogtoWatch, when I stumbled across an intriguing cave network in West Wycombe that was once frequented by none other than Benny Franklin himself! The fact the watch made enough of an impression on me for literally nothing other than its warm, inviting dial color speaks volumes. As such, I'm certain that I will remember this Mitch Mason Chronicle for just as long and just as clearly. That's not to say that everyone has to like it. But I would contend that it is, at the very least, a standout and memorable model.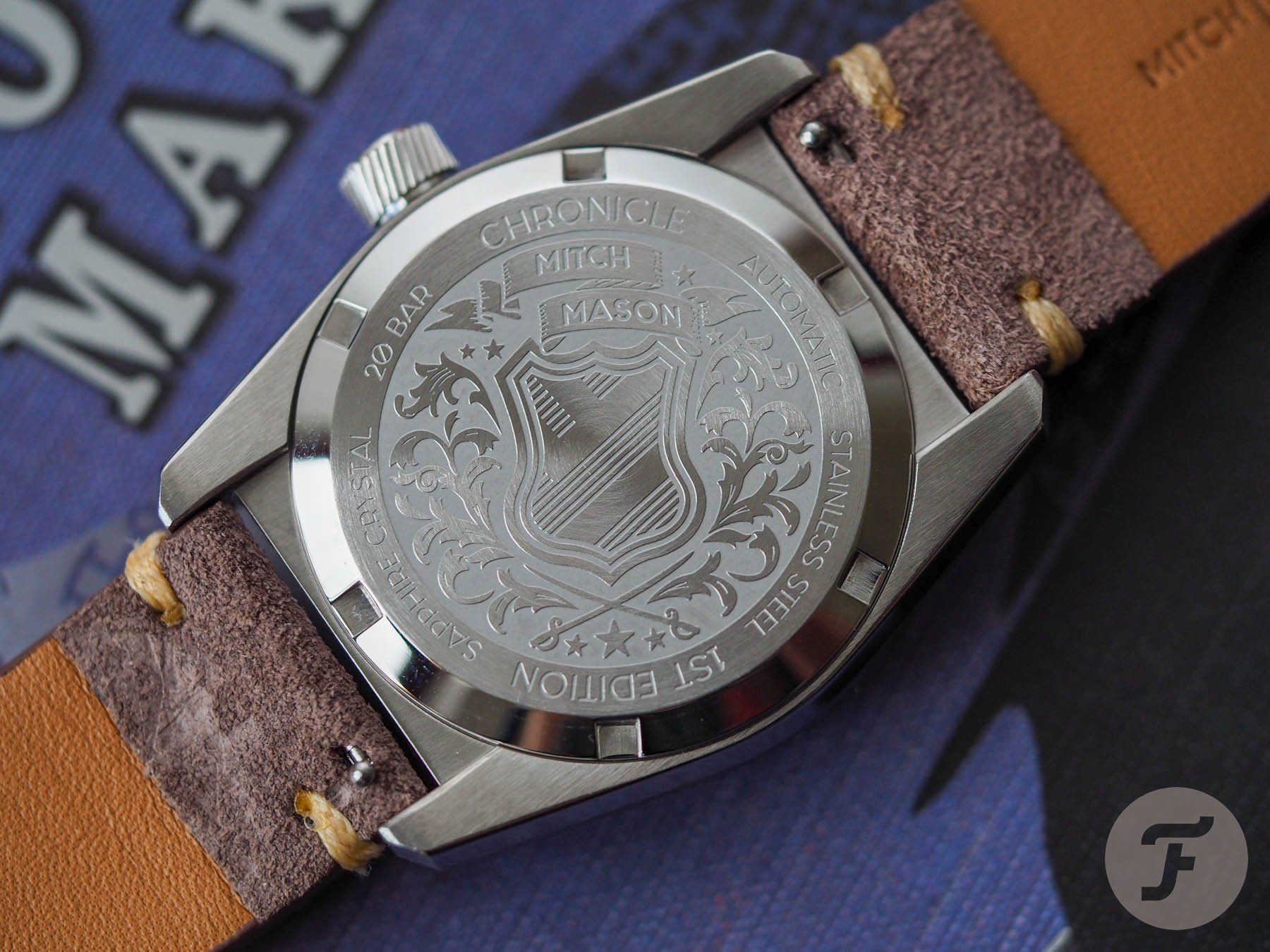 Is it as special on the inside?
In a word, no. However, the Miyota is a serviceable movement selection at this price point and doesn't detract from the proposition significantly. The movement is hidden behind a closed and decorated case back, which proudly displays the Mitch Mason "crest". For me personally, the crest is, while nice, perhaps a little overdone. I'm generally a fan of closing a case back when the movement behind it is unremarkable, but I am a stickler for exceptionally executed, ambitious, and maybe even amusing case-back illustrations. You know the guys I'm talking about. Barely an article featuring a closed-case-back watch goes by without me pointing to Laventure and Schofield for examples of how to totally boss (or should that be deboss?) the topic.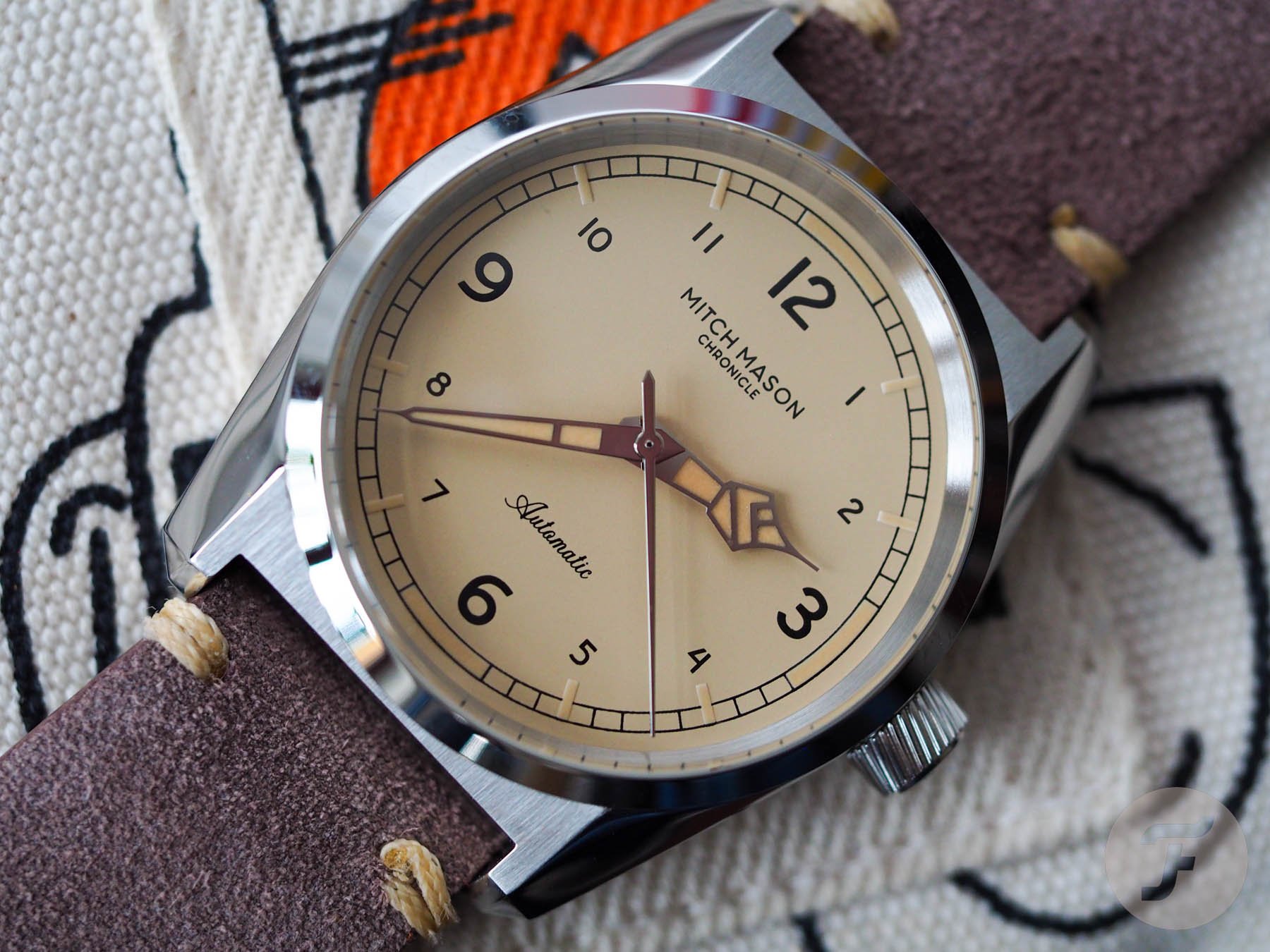 A strong supporting cast
The Mitch Mason Chronicle is a handsome-enough watch in itself to have been delivered in a plastic carrier bag from your local supermarket and still feel like a steal. Impressively, however, the brand has chosen to furnish its believers with a beautifully stitched (and well-sourced) leather watch roll. Honestly — and I see a lot of these — this is a very good example of how young brands should deliver their wares. The funny thing is, on the rare occasions that similar start-ups have included a watch roll of equivalent quality, I have found myself using the roll for longer than the honeymoon period with the watch.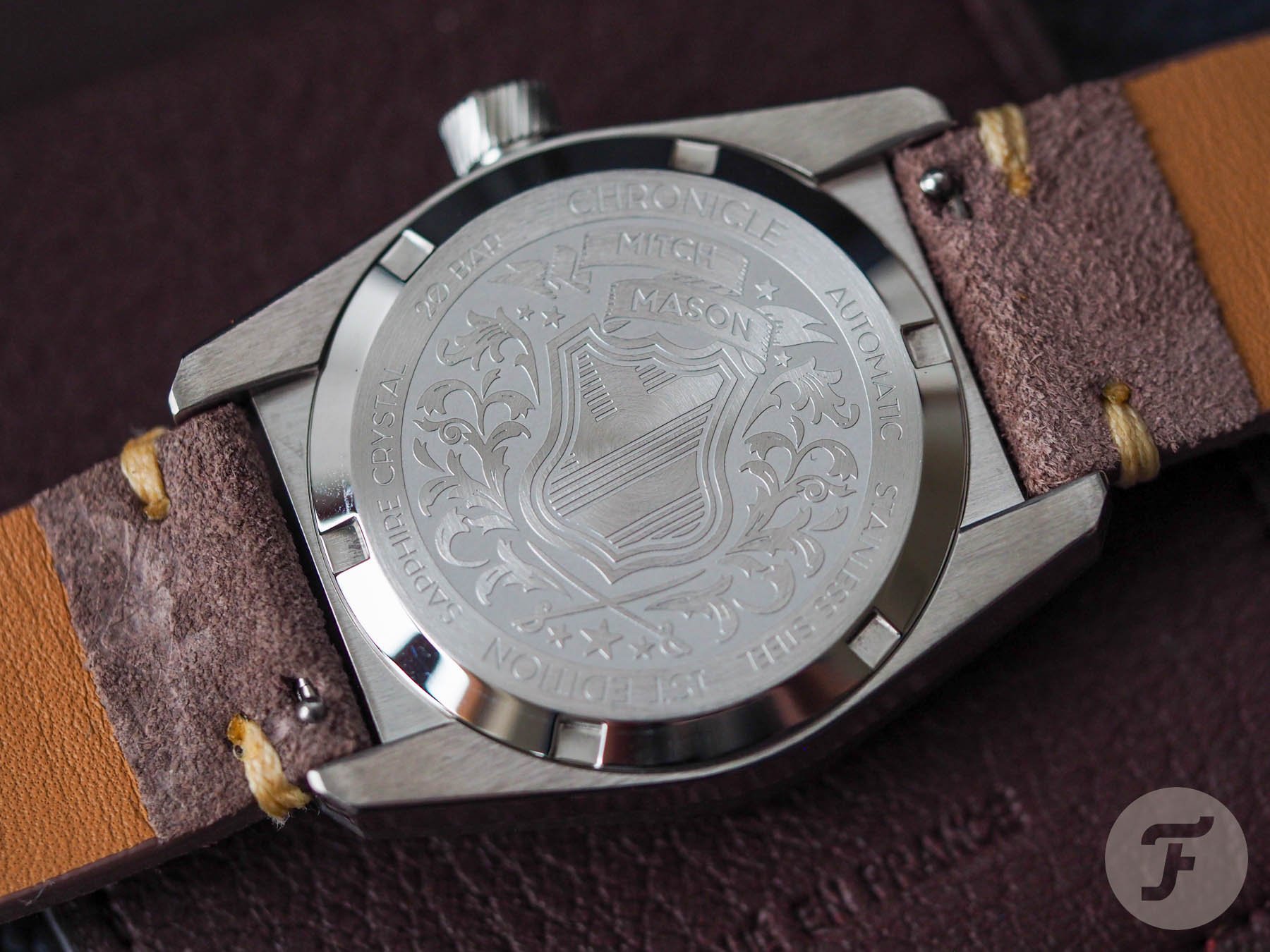 While that may seem like a back-handed compliment, it is most certainly not. Creating this kind of accessory and giving it to your buyers for free is a very smart way of keeping your brand's name in their minds, whether your watch is on your wrist or not. Every time a Mitch Mason client goes to a RedBar meet-up, a watch event, or even a Fratello get-together with this branded watch roll in tow, it's going to be noticed. That's how conversations start. That's how brands' reputations grow. By word of mouth, still, in this industry, at least, good news can be spread.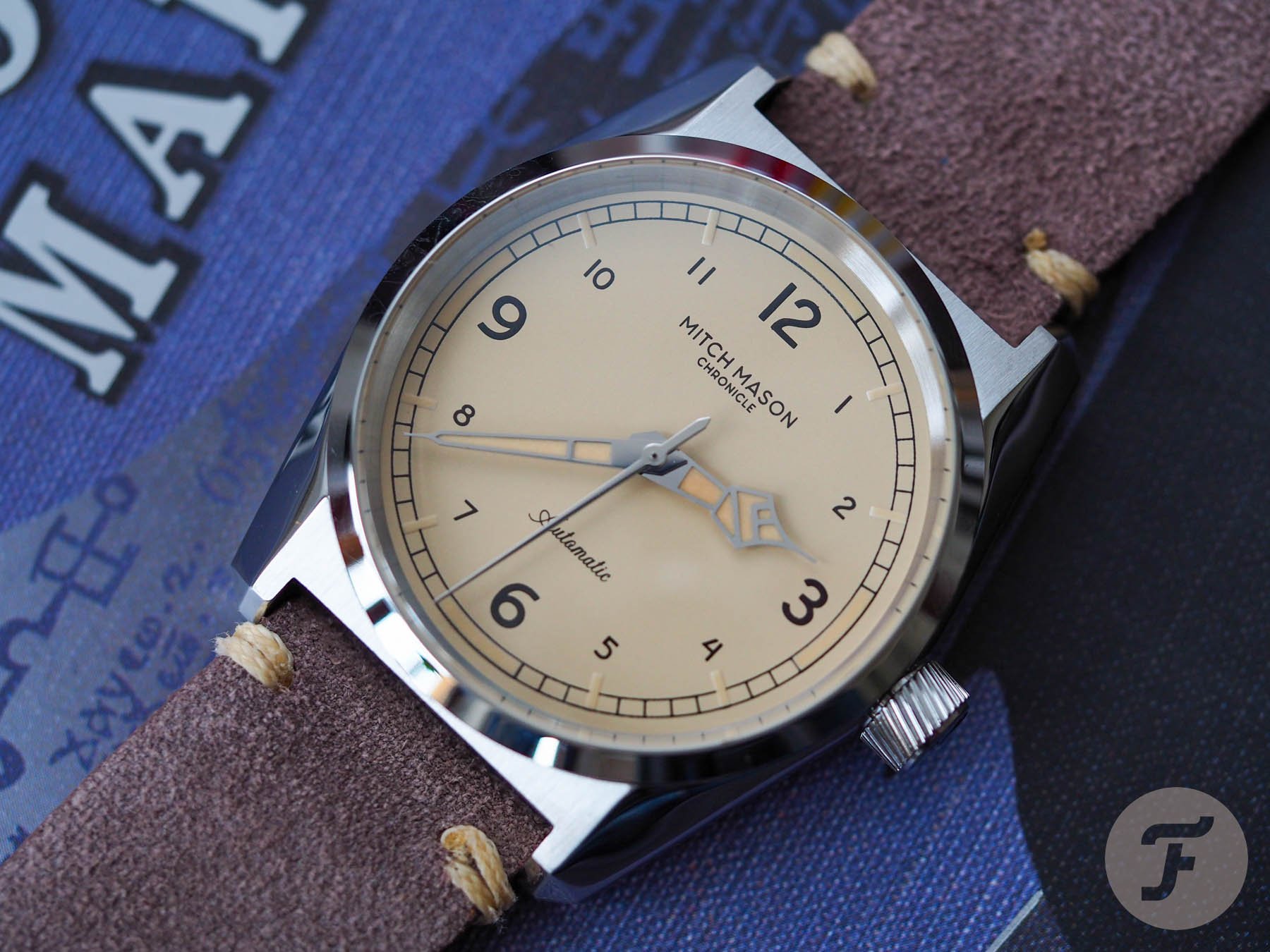 The suede strap is also surprisingly decent quality. The watch does come with a bracelet (which many of you will prefer, I'm sure), but for me, the watch head's unusual angular shape is diluted when flanked by end-links. Give me this enticingly sculptural case on a strap and watch me grin.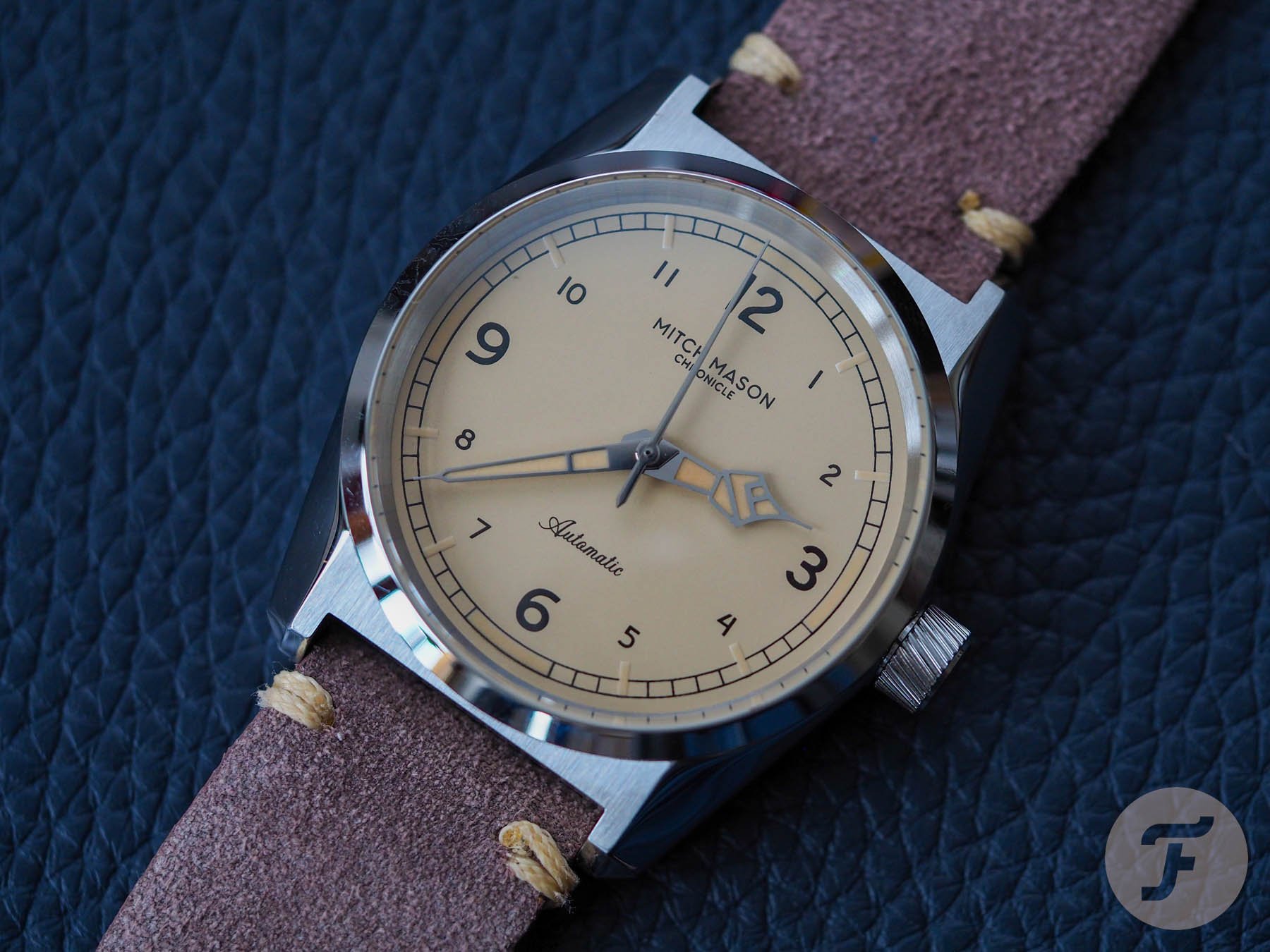 What you have to do to get this watch out of my hands and into yours
Although I'd simply love for you to drop three hold-alls full of unmarked 100-euro bills outside my door, that would hardly constitute a "giveaway", and so I'll have to resort to my usual tactic of asking you an open-ended question of what you'd like to see more of in the watchmaking industry, inspired by the Mitch Mason chronicle.
This time, I want you to tell me a story. I want to hear about your experiences with dial colors. Tell me about a dial color you never expected to fall in love with stealing your affection. What was the color? Why did it take you by surprise? Have you ever seen it used by another brand? And, most importantly, did it change your buying/collecting habits?
Be creative. Encourage your fellow readers.
As always, feel free to go off-piste. Tell us all about your favorite dials and why. Tell us the ones that got away (I'm still burning for the Turquoise Glashütte Original Panorama Chronograph from last year). Be creative. Encourage your fellow readers. Let's go on a magical mystery tour of color together.
My favorite answer (because this is a Krakocracy, not a democracy), will win the watch. Don't be put off if you've never commented before. In fact, that might just be in your favor… Learn more about Mitch Mason here.