Reverse Restoration — Bringing Patina Back To My '93 Seiko 7002 Dive Watch
Because shiny and clean just isn't as fun
The decision of which watch from my collection I would first write about for Fratello was an easy one. I don't have the most extensive collection, and within the core group of watches, only a couple are interesting enough to warrant a closer look. However, one watch in the collection is definitely an eye-catcher and conversation starter. Nothing rare, nothing fancy, but certainly a watch that I truly enjoy and something worth talking about, especially considering the story behind it. I'm talking about my heavily worn, ghost-bezel Seiko 7002 dive watch. 
It's a well-known fact that the first sure-footed step into the bottomless rabbit hole that is our hobby and passion often comes in the form of a Seiko dive watch, typically an SKX007 (or an SKX009, or even an SKX013). These watches are almost like the wooden sword given to you by the old man in the cave at the start of most Zelda games — "it's dangerous to go alone! Take this." A fine companion for those starting their adventure. However, sometimes even wooden swords can have quite a price tag, especially for those of us who started off in our humble student days. I could be wrong, but I don't know of any caves where generous bearded hermits hand out Seiko dive watches.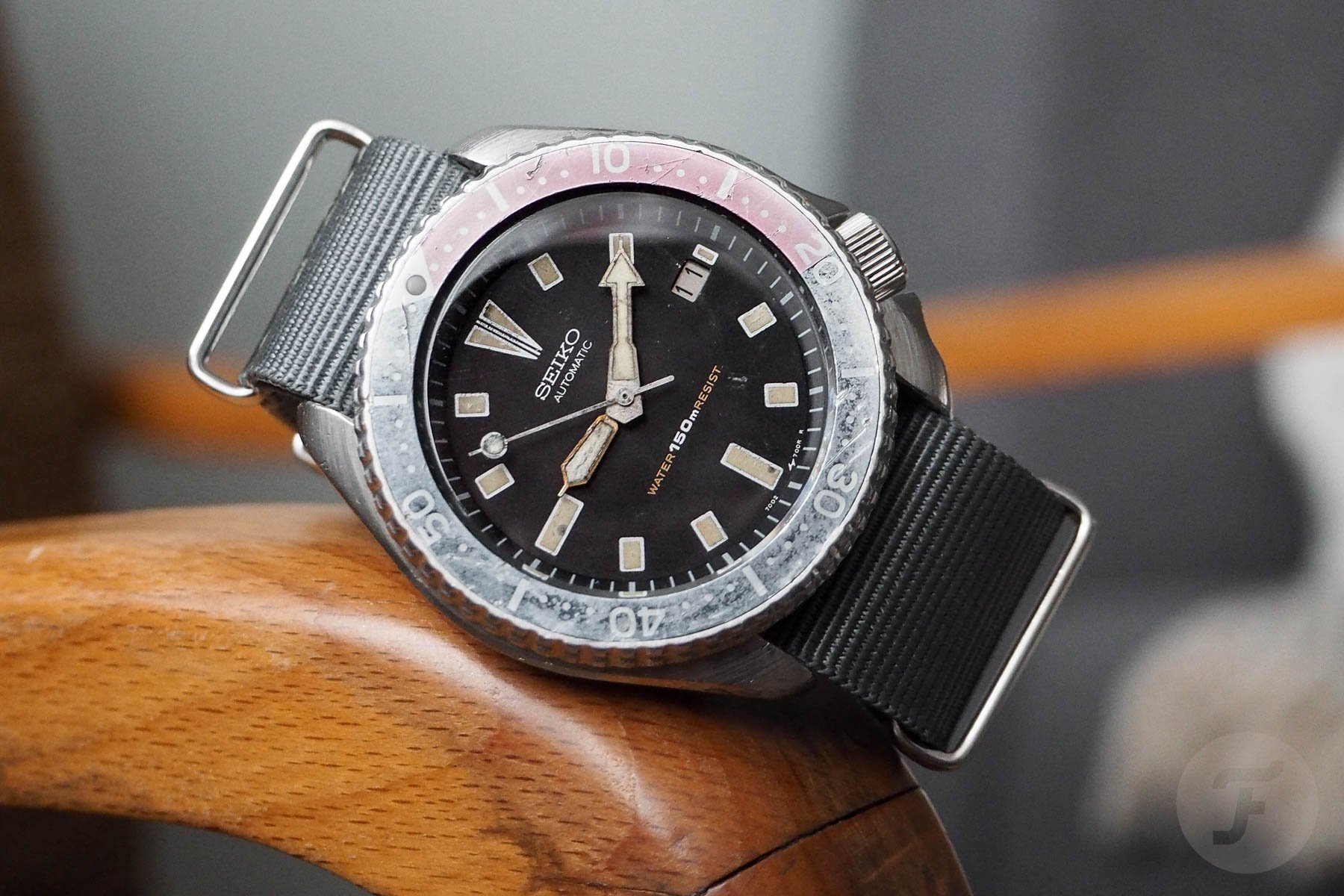 I'm sure a lot of you know the struggle
My adventure started off with something slightly different. My "wooden sword" was actually a Citizen Promaster NY0040. A fine weapon indeed, and one that continues to serve me well to this day. This Citizen has been with me since my PADI discovery dive, all the way up to getting my Advanced Open Water certification. Lesser-known a few years back, they could be had second hand for peanuts on some of the well-known online auction sites. I snapped mine up for a ridiculous price (you'll find this to be a recurring pattern as you learn more about my collection) of €50 and was happy enough with it for the better part of two years. But the Seiko bug is easily caught and not one you can simply shake off.
When it comes to my collection, I used to follow a philosophy of gap-filling. In my mind, there were some basic requirements for what I wanted from my collection: a dress watch, a dive watch, a chronograph, etc. However, having learned how to Scuba dive with the Citizen on my wrist, my eye continued to wander in Seiko's direction. Seeing the more classic looks of the SKX left me a bit cold when looking down at my wrist at the Promaster. It was cool, sure, and technically speaking it is arguably better than the SKX as it features hand-winding and a better-finished dial. But don't take my word for it, check out Mike's article on the two divers here.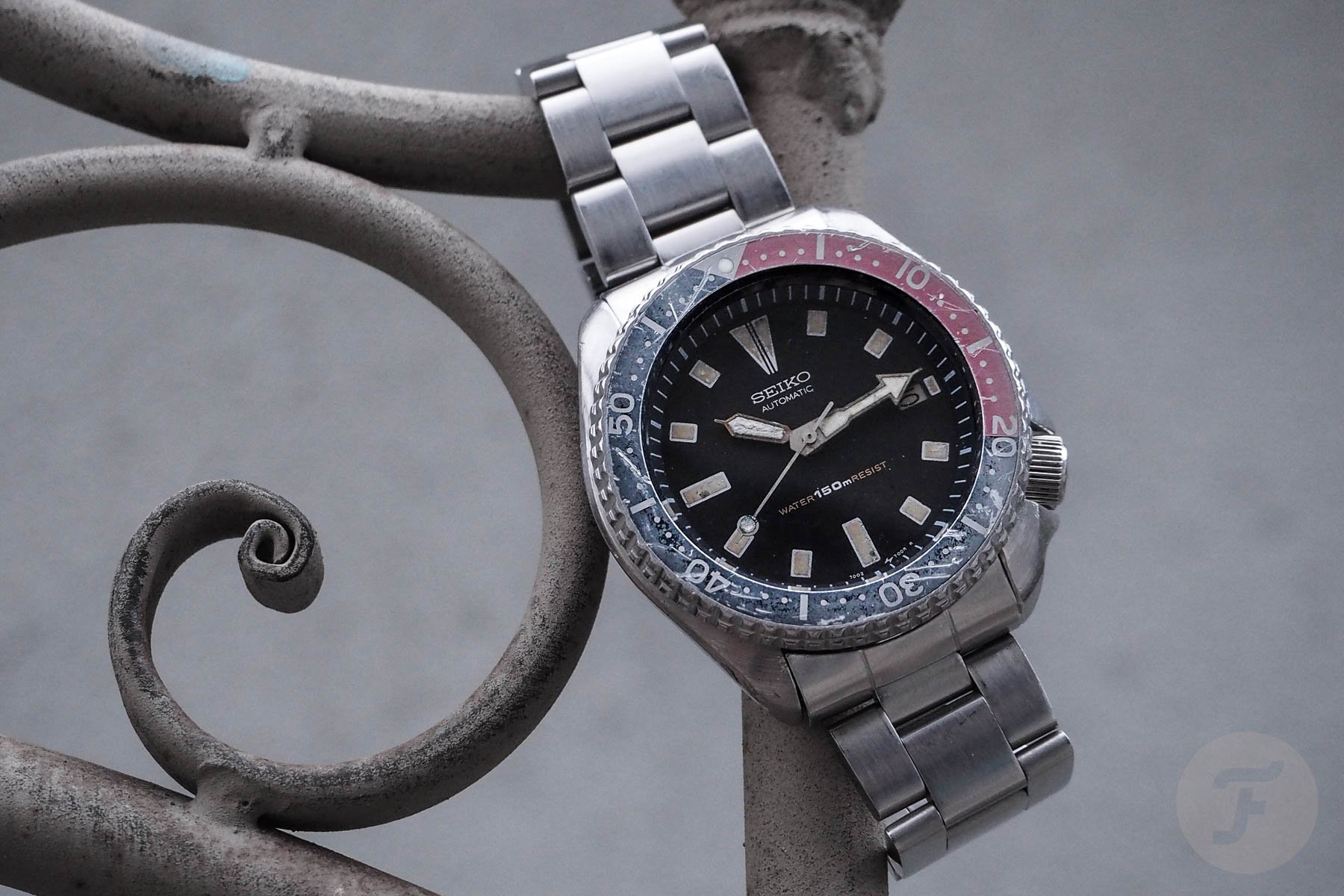 Fishing without bait
The hunt continued, rather casually, as I did not have the €300+ euros that new or even slightly used SKXs were going for at the time. Plus, it would be a somewhat redundant addition to the collection, so really I was fishing without bait. A couple of years went by, the rod out in the water, baitless and biteless. Truth be told, I did manage to snatch a Baby Turtle out of the pond to celebrate my first job post-university. You can read more about the Seiko SRPC35K1 and its half-shelled brothers here. At this point, I was ready to call it a day. I had a modern black-bezel Seiko dive watch in the collection. As far as I was concerned it was mission accomplished. It was not long after that the float went under and the reel started unwinding…
A casual bit of searching on the Uhrforum marketplace thread revealed the perfect specimen. No, it wasn't actually an SKX, and it was certainly not in NOS condition with box and papers. Not only was it the next best thing, but it was also (at least to me) far more charming and interesting than I could have possibly hoped for. As it turns out, what was waiting for me at the end of the line was a Seiko 7002, a predecessor to the SKX, and a worthy watch to fill the gap in my collection. Little did I know that this impulse buy would quickly become one of my favorite watches in my collection. For having paid €90 including shipping, that's not too bad at all!

Not exactly a collector's piece
The first thing that struck me about this was, was the way that the Pepsi bezel insert had aged and faded over the years. The blue has become desaturated and faded to more of a bluish-grey tone. The red has turned to a lighter, almost pastel-pink color. The whole insert has been scratched and dinged to perfection, with the case also matching the level of wear and tear. I like to believe that this wear and patina is all-natural, but as the watch was like this when I purchased it there's no real way of knowing. The watch was delivered with a 22mm grey NATO strap as well as a nicely tapering aftermarket oyster-style bracelet, both just as worn as the watch itself. One thing was certain, this is not exactly a collector's piece.
I believe that this bracelet, which tapers down from the 22mm folded end links to 16mm at the clasp, is a fairly inexpensive replacement. But to be honest, it matches the watch extremely well, with the end links fitting the case like a glove. Impossible to adjust due to the screws being frozen in place, it wears a bit big, but it is also perfect for a hot summer day at the beach, which is where this watch truly shines. Nothing about this Seiko 7002 screams "collector's piece" but it's those imperfections that to me make it so unique and full of charm. Unfortunately, the case, bezel, crown, and bracelet were as far as the patina extended. Little did I know that under the scratched mineral glass — grotesquely shiny and new — an aftermarket dial and hands looked up at me (as you can see above).

Ignorance is bliss
The fact that the hands and dial were not original was not something that my untrained eye spotted at first. However, it was not long after I first posted a picture of it that someone's comment revealed the horrible truth. After a couple of quick image searches for 7002s from the same time, I realized that the dial and hands were indeed aftermarket parts. I still wore and enjoyed the watch for the rest of the summer. But every now and then I would see pictures of other older Seiko 7002s with rather attractive dials that were nicely worn, and I would look down in shame at the feathery silver printing, sickly green lume, and weirdly shiny hands on mine. The slight resentment that I developed for these replacement parts had me wearing the watch less and less, and wishing I had never found out. Ignorance truly is bliss.

Gotta love the internet
I knew I had to do something about it, but the prospect of sourcing a donor watch just seemed like overkill. Original new-old-stock parts would also not work, as they would also awkwardly contrast with the watch's wonderfully haggard exterior. However, after delving into a well-known internet auction site, I found someone in Spain, who was selling countless original dials and hand-sets for the Seiko 7002, all just as beat up and patinated as the watch itself. To my delight, the asking price for a set comprising a dial and all three hands was about €7–€12. I quickly snapped up a couple of sets that had some rather pleasing patina to them, along with a new click-spring and ball bearing for the bezel, which was spinning freely when I got the watch. For about €20 I was able to pick up all the replacement parts! Gotta love the internet.
Because shiny and clean just isn't as fun
After a brief exchange with my watchmaker, David McKane (@benchdweller.uk on Instagram), who was more accepting of my madness than I had expected, I shipped the watch off for a service and "restoration". After a few weeks, and two shipping attempts back to Germany (oh the joy of Brexit-induced customs issues), my 7002 was back, and looking worse than ever in the best possible way!
David was able to salvage a full set from the parts I shipped him, and install them onto the watch (despite a missing dial foot). He even managed to repair the bezel's click system which now clicks 60 times unidirectionally. On the original models the bezel was bidirectional, so that was definitely a plus! The movement was also fully torn down, cleaned, oiled, and reassembled, with all seals and gaskets replaced. I got the watch back dive-ready and looking better than ever!
There's a fine line between genius and madness
It did feel quite mad to go through so much to make the watch look objectively worse. The dial and hands are now original, yes, but they are also rusted, scratched, and dirty. We've all seen videos where extremely skilled watchmakers are able to restore watches using incredible techniques to get them looking good as new. However, I wouldn't want that for my 7002.
There is something so satisfying about a tool watch that looks like it's been through the wringer. Like scars or tattoos, each tells a story, and though it isn't my story — as I can't take credit for the creation of the lovely patina on this piece — I still intend on wearing it for years to come, adding my fair share of scratches and wear to it. After all, it's these unique marks that truly tell the stories we have shared with our wrist-dwelling companions.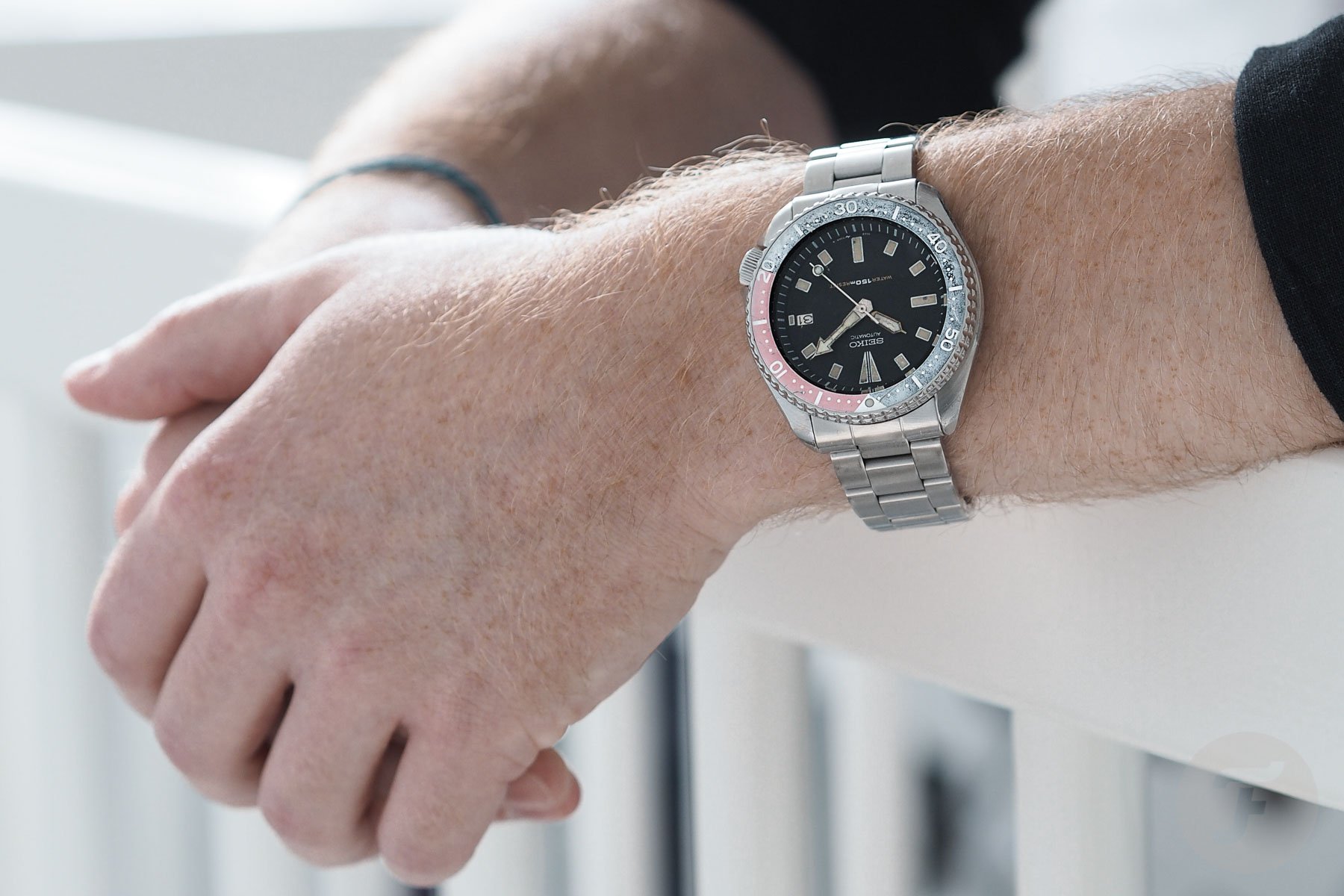 Final thoughts
I believe that there is a certain charm to a watch that has been worn to the fullest and used as it was truly intended. The difference between damage and patina is quite a subjective one, and even I draw the line somewhere. But when it comes to my Seiko 7002, I would never in a million years trade it for a NOS version of the watch. And now that the SKX has been discontinued, I think that those who are looking for their first mechanical watch can look to Seiko's past just as well as to its present offerings. What do you think? Are you a patina aficionado? Or do you like your watches box-fresh? I would be interested to know what you think in the comments below!
Follow me on Instagram: @ncgwatches