Watch Strap Review 62 — Fluco From Germany
Beautiful products at fantastic prices
Throughout this series, I've had the pleasure of reviewing straps from many makers worldwide. It was my goal, in a way, to provide a platform for everyone. After all, it might be easier for a watch guy in the US to order from a company stateside. Equally, a European might favor a brand based in the EU. Yet, there are only a handful of German brands that I managed to feature, despite the country having an enormous watch scene. Besides, I also live here. I needed to right this wrong. But this was not the main reason that I chose Fluco for our September Watch Strap Review.
Rather, it was the wide variety of awesome straps that the company creates and features brilliantly online. Fluco offers some of the wildest colors you would not necessarily associate with watch straps. But aside from that, Fluco has a great selection of accessories for watch lovers and otherwise.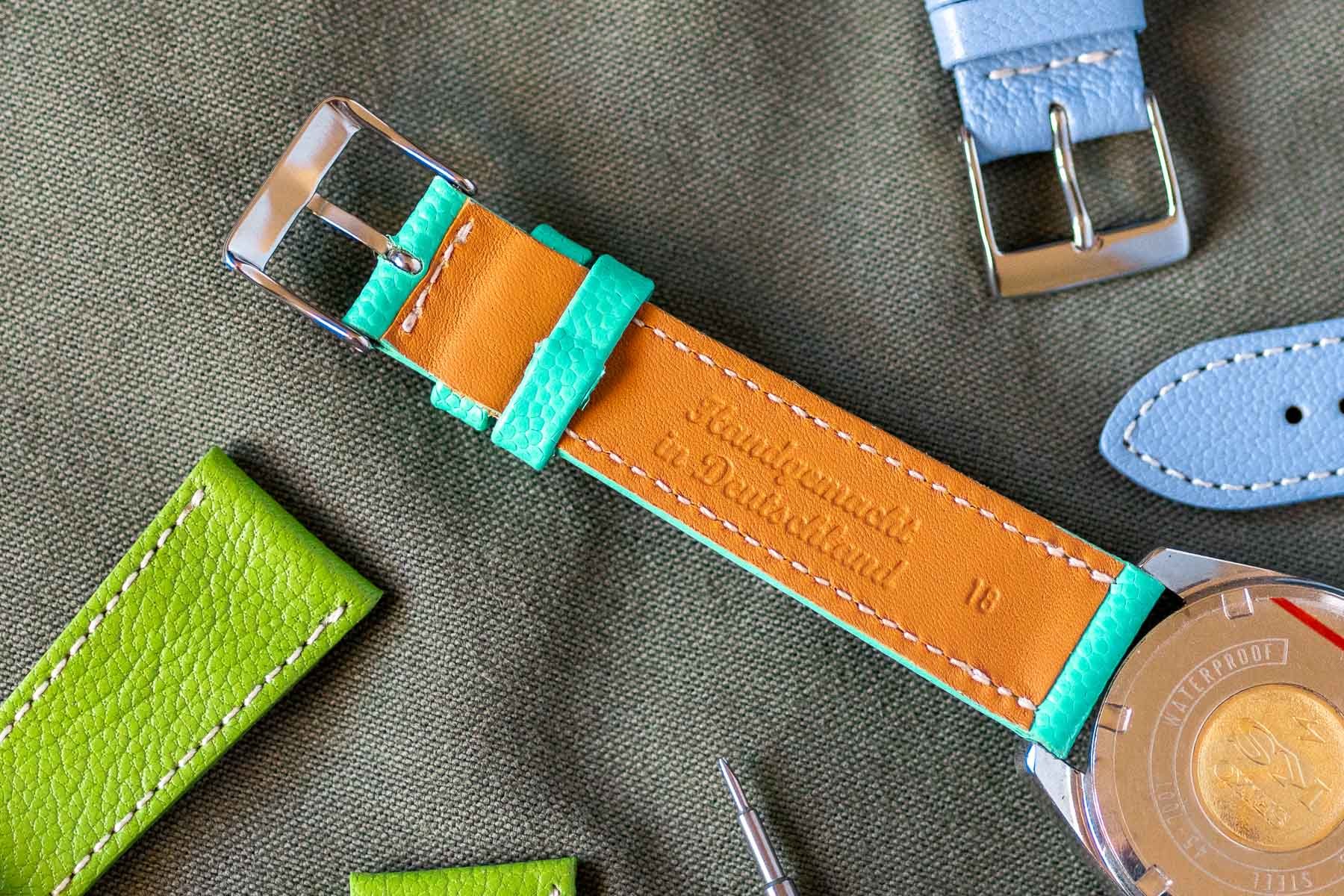 Fluco
Hailing from Bavaria, Germany, Fluco was established in 1952. The company, which celebrates its 70th anniversary this year, is now led by the grandson of founder Anton Fleischmann, making Ulrich Fleischmann the third generation at the helm of Fluco. Since its founding, the family and team at Fluco have been working towards one goal — to evolve and perfect the products that the company is known for. As they put it, "When you choose a Fluco masterpiece on your wrist, you are not only buying a product but also a feeling and, above all, a statement."
Fluco is proud to be producing its leather goods in Germany, using tanneries that abide by the regulations of high ecological standards. As a result, the products are not only beautifully handcrafted leather goods, but they also represent Fluco's commitment to sustainability, quality, and fairness.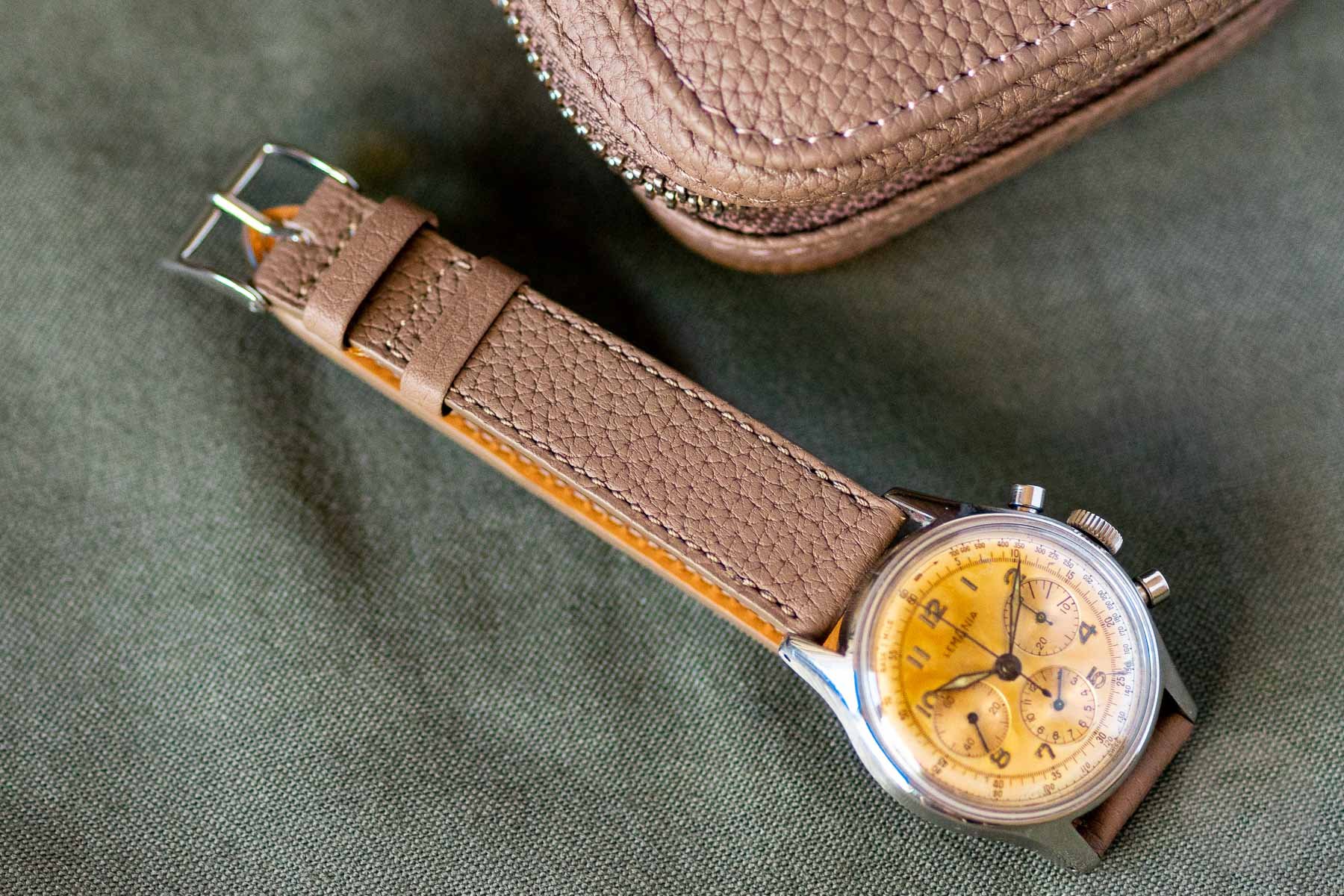 Deauville
I got a relatively extensive batch of straps from Fluco, the first of which is the Deauville strap. It comes from the Classic Times and Finest Selection collections in the shop, and you can understand why just by looking at it. I won't say it's my favorite of the batch — I have to stay neutral — but let's say this is the one that resonates with my style the most. Fluco offers the Deauville in six colors and three sizes (18/16, 19/16, and 20/16mm) with the perfect amount of taper if you ask me. Once you select the size and color, you can choose a stainless steel buckle either as-is or with gold or black plating to fit your watch's case perfectly. Sadly, quick-release spring bars are not a standard with Fluco. However, you can order your straps with them for an €8 surcharge.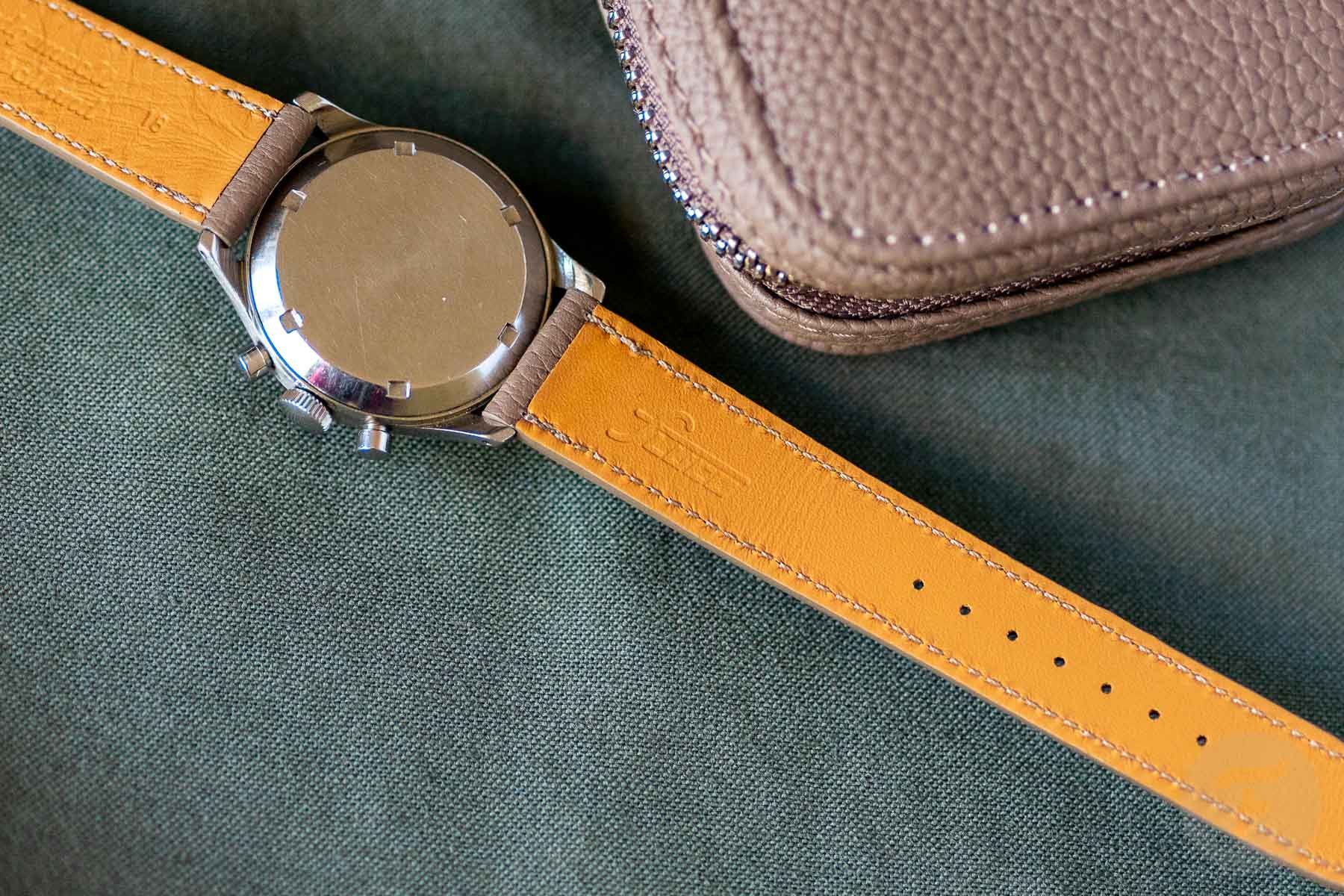 Now that the details are out of the picture, let's talk about the strap itself. The leather comes from the Perlinger tannery in Furth im Wald, the same city that Fluco calls home. We have chrome-tanned shrunken calf leather, a process that Perlinger developed. The pattern as such is deep but even. Still, the strap is highly durable and flexible, making it a grab-and-go strap, especially with the quick-release option. While the lining comes from France and feels soft, according to Fluco, it is also water-repellent. On-tone stitching runs all around the strap. Also, the edges have color-matching paint to protect the product and give it longevity. As far as the measurements are concerned, we have the usual 75/118mm length and around 2.3mm in thickness. As this is the 18mm version, pairing it up with a vintage timepiece was the best choice.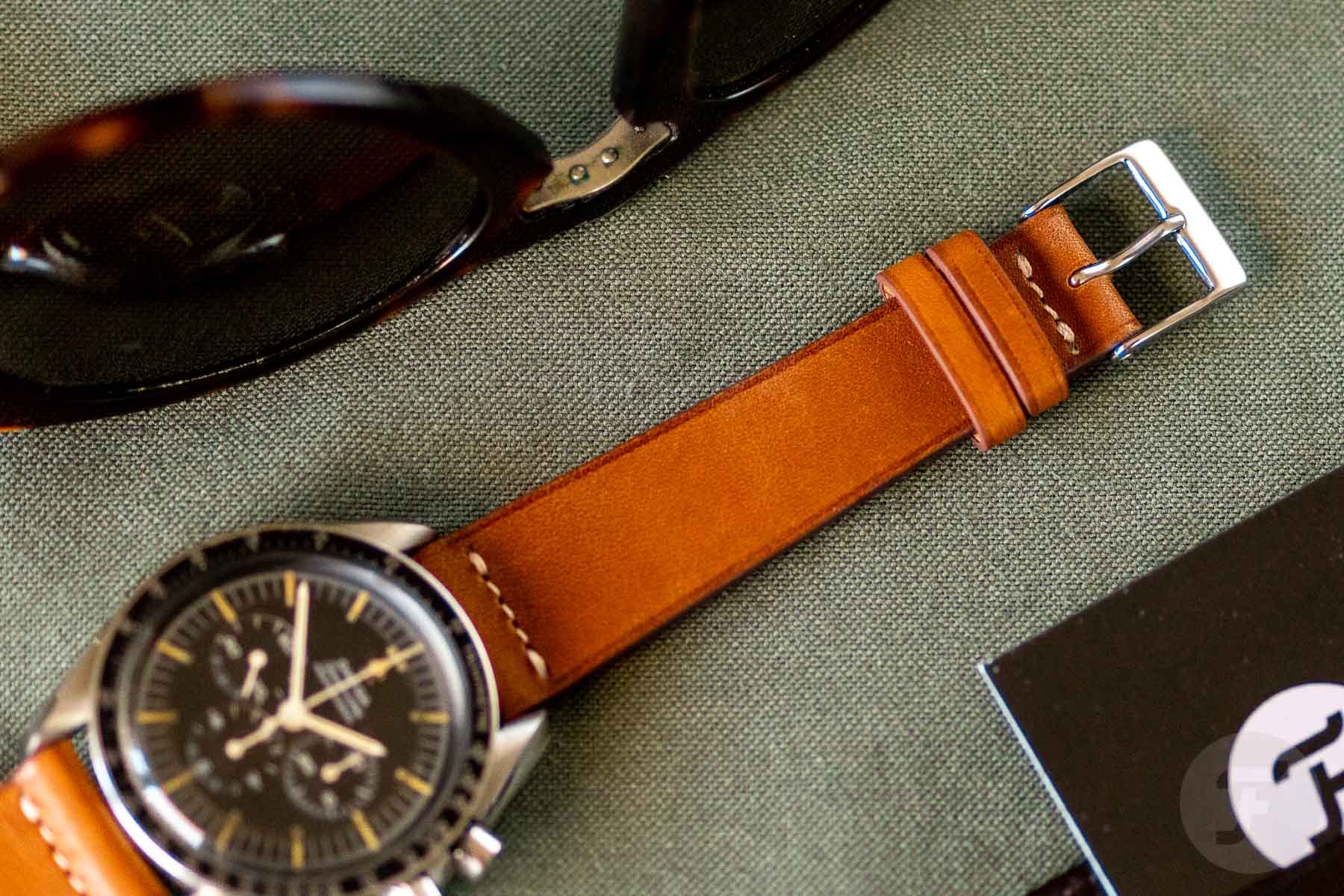 Paris
Available only in Fluco's Whisky color, the Paris strap is as versatile as it gets. It comes in sizes from 16/14mm to 22/20mm and everything in between. Just like the Deauville, you have three buckle options. The price is identical too at €59. You can find the Paris strap in both the Classic Times and Finest Selection lines. With a name like that, the leather could not have come from any other tannery but one in France. Fluco uses the Haas tannery, so you get this insanely soft Novonappa calfskin. This type of leather is known for a few things. Firstly, luxury-bag manufacturers often use it for bags and other accessories. Novonappa is also very durable, water-resistant, and oil-absorbing. As such, the Fluco Paris is a great everyday strap.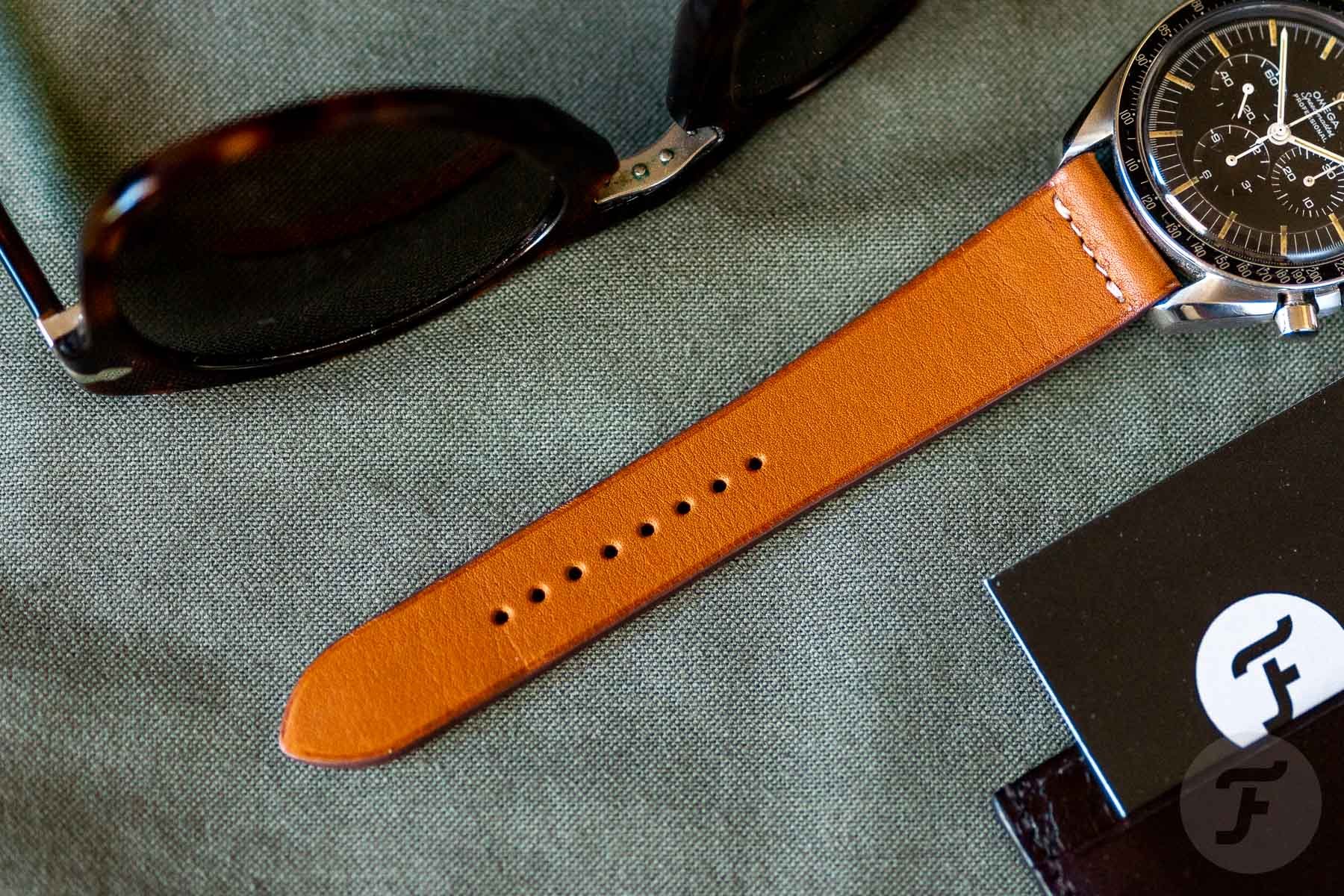 Thanks to the minimalistic stitching at the end of the strap, you can pair it with modern or vintage watches. As before, the measurements are 75/118mm, and the thickness is around 2.5mm. The Paris must be the softest of all the straps, yet because of its beige end stitching, it has a distinct look. Still, I feel that pairing it up with any watch either modern or vintage should not be an issue. In my case, the Speedy was the perfect watch for it. Don't be afraid to get it for a modern chronograph or even a diver if you prefer tool watches on leather straps.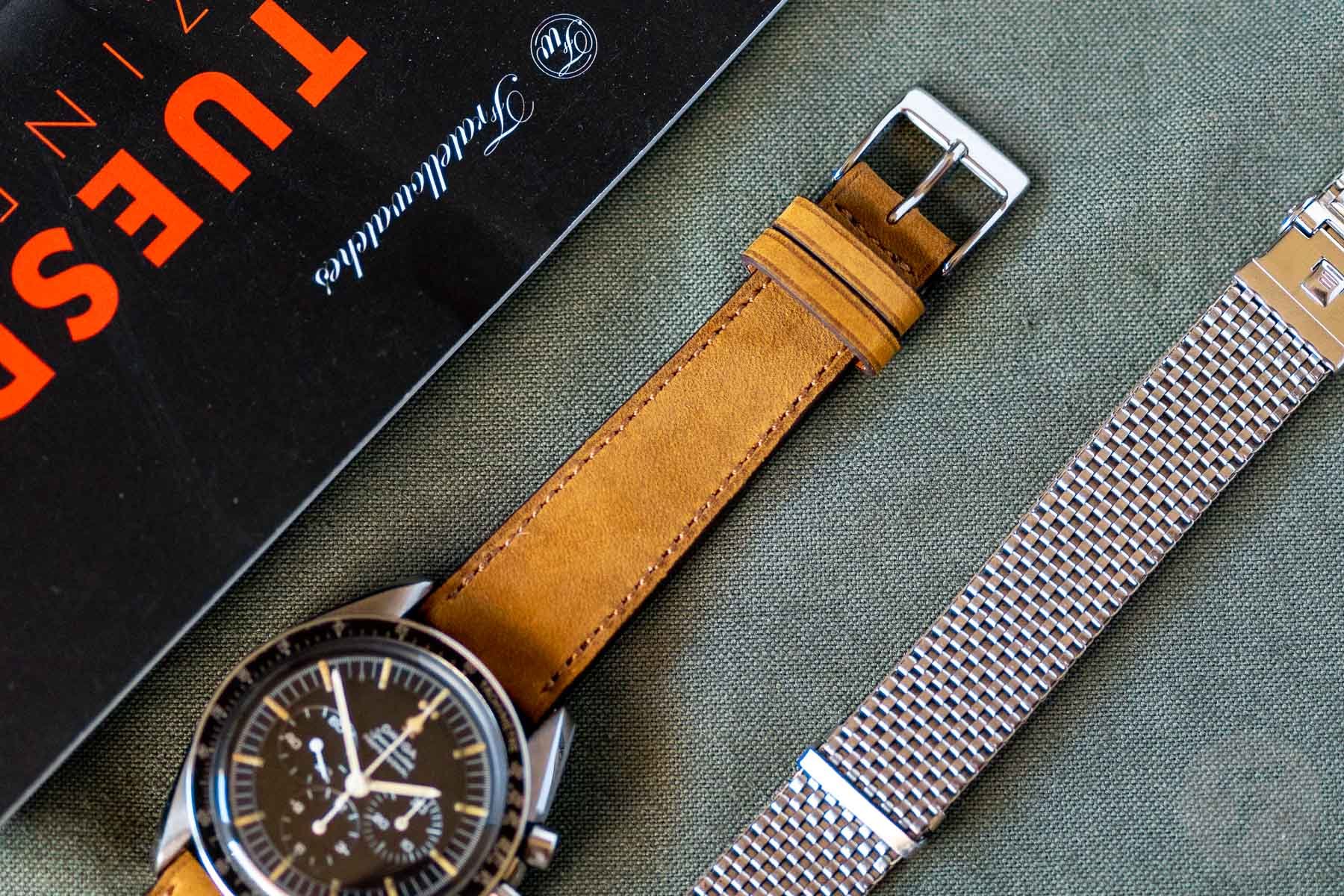 Mountain Bear
What a cool name. That was the first thing that came to mind when I checked out the Mountain Bear strap by Fluco. Aside from an epic moniker, the strap is an absolute stunner. Thanks to the Italian cowhide nubuck leather, it is soft to the touch, and the flexibility is there. At only €49, this one is a no-brainer. The Mountain Bear comes in four colors (black, brown, Forest, and Whisky) and four widths (16, 19, 20, and 22mm), so there are plenty of options to choose from. This is a "vintage" strap, meaning I'd pair it with an old Datejust (per the photo on Fluco's site) or a vintage Speedy like I did. And to clear things up, nubuck is not suede leather. Nubuck is sanded-down suede. The feel is much softer, but the strap is more resilient. It comes in the exact same sizes and thickness as the previous straps but with a much warmer look and feel.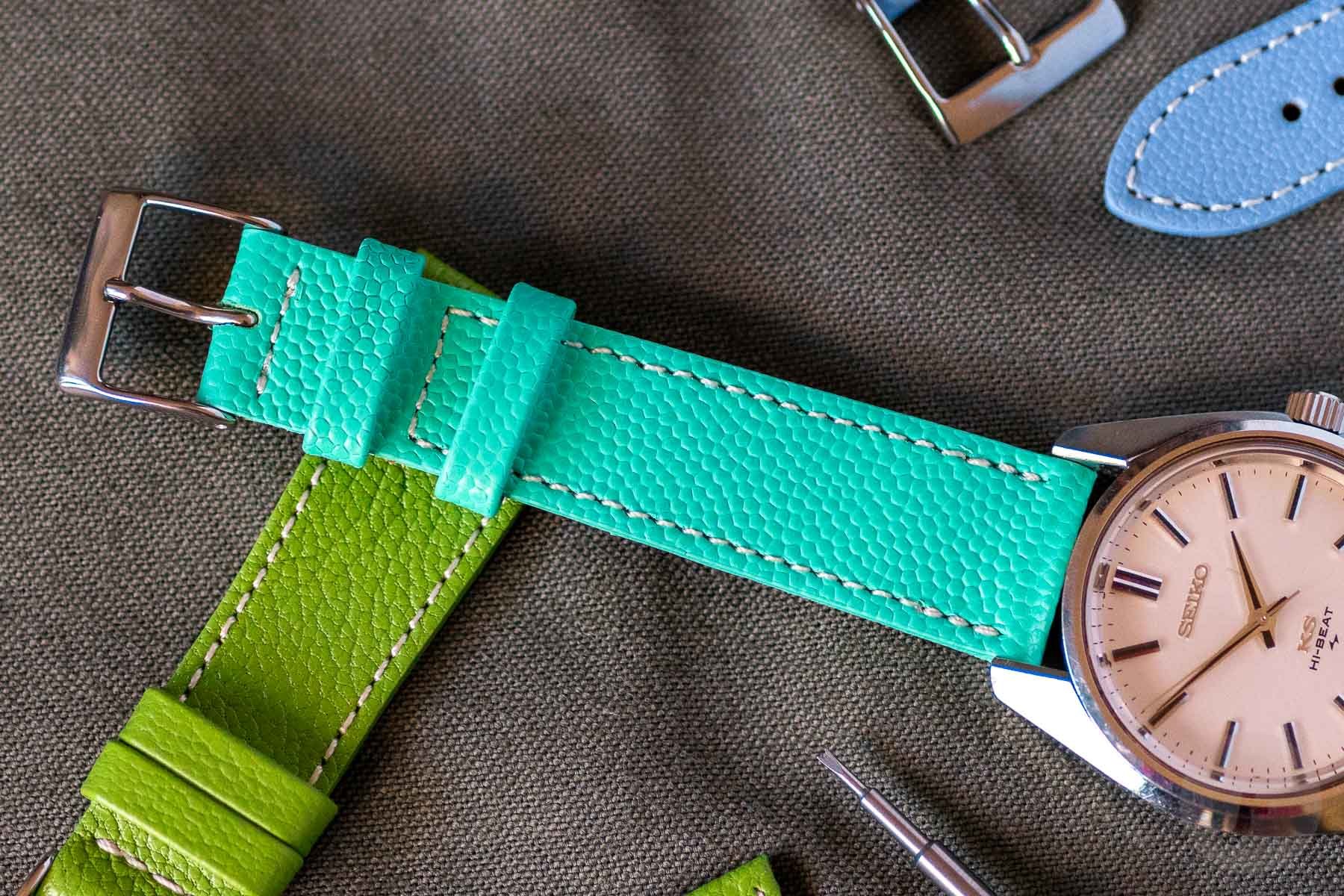 Biarritz
Named after a coastal city in France, Fluco's Biarritz straps are some of the most versatile models in the brand's entire lineup. As part of the Classic Times and the Finest Selection straps, just like the Deauville, these come in an array of colors — eight, to be exact. Including purple, lime green, yellow, and pink, this might be the strap for you if you are into funky shades. In line with the vivid tones, the Biarritz is also available in many sizes from 14/12mm up to 20/16mm.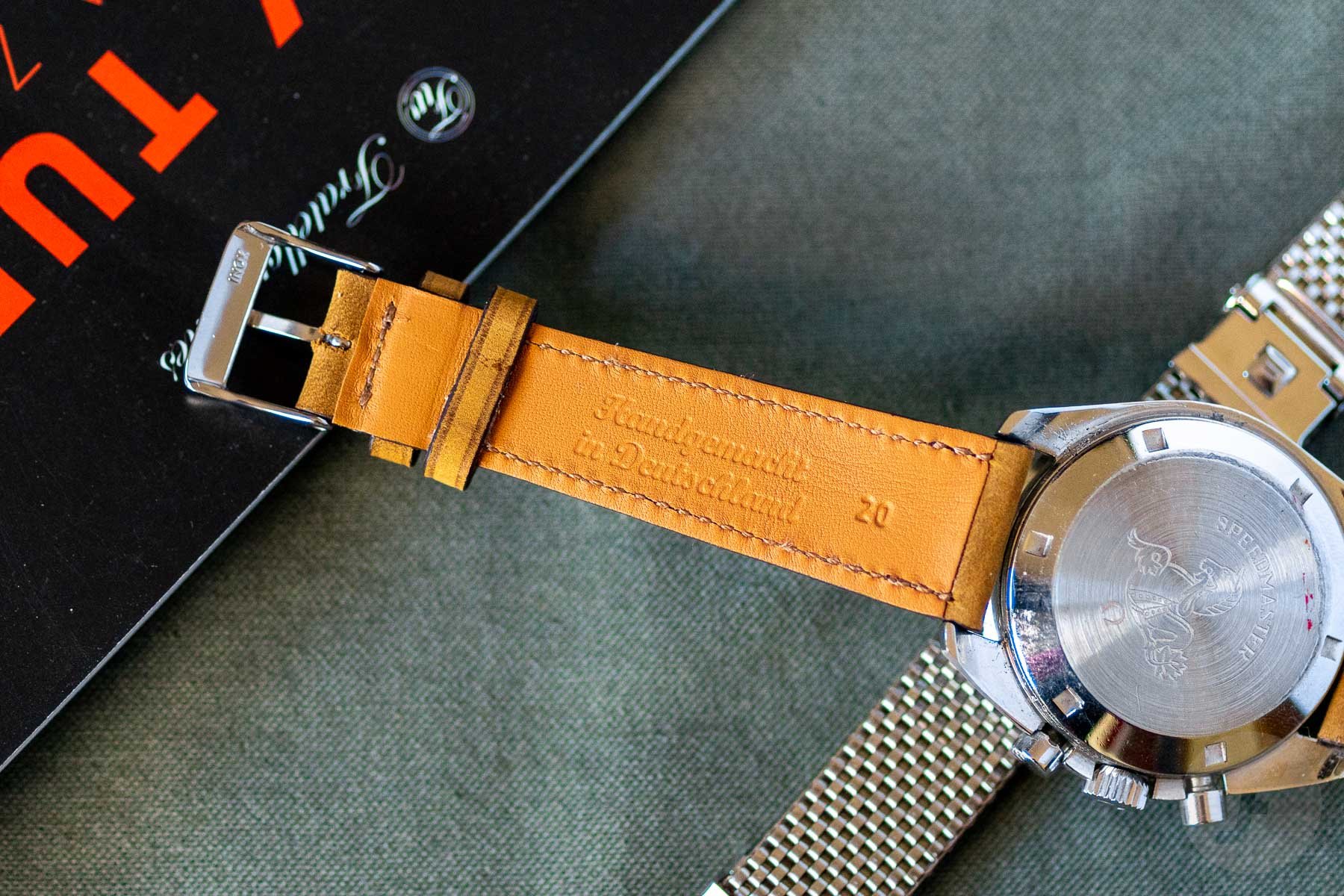 I got the 20mm size in a less fancy light brown (Myrrhe) color. As the Biarritz straps only come in size S (75/105mm), these are mainly aimed at watch people with smaller wrists (looking at you, Mike Stockton). The batch of straps that I got from Fluco was yet another mystery. With this one, the number of funky-colored goods went up to three. I also got the Biarritz strap in a turquoise color with a "caviar" texture. However, I must mention that the surface is embossed and not an original pattern. The Fluco Biarritz is only €39. I will announce the remaining funky-colored mystery strap soon.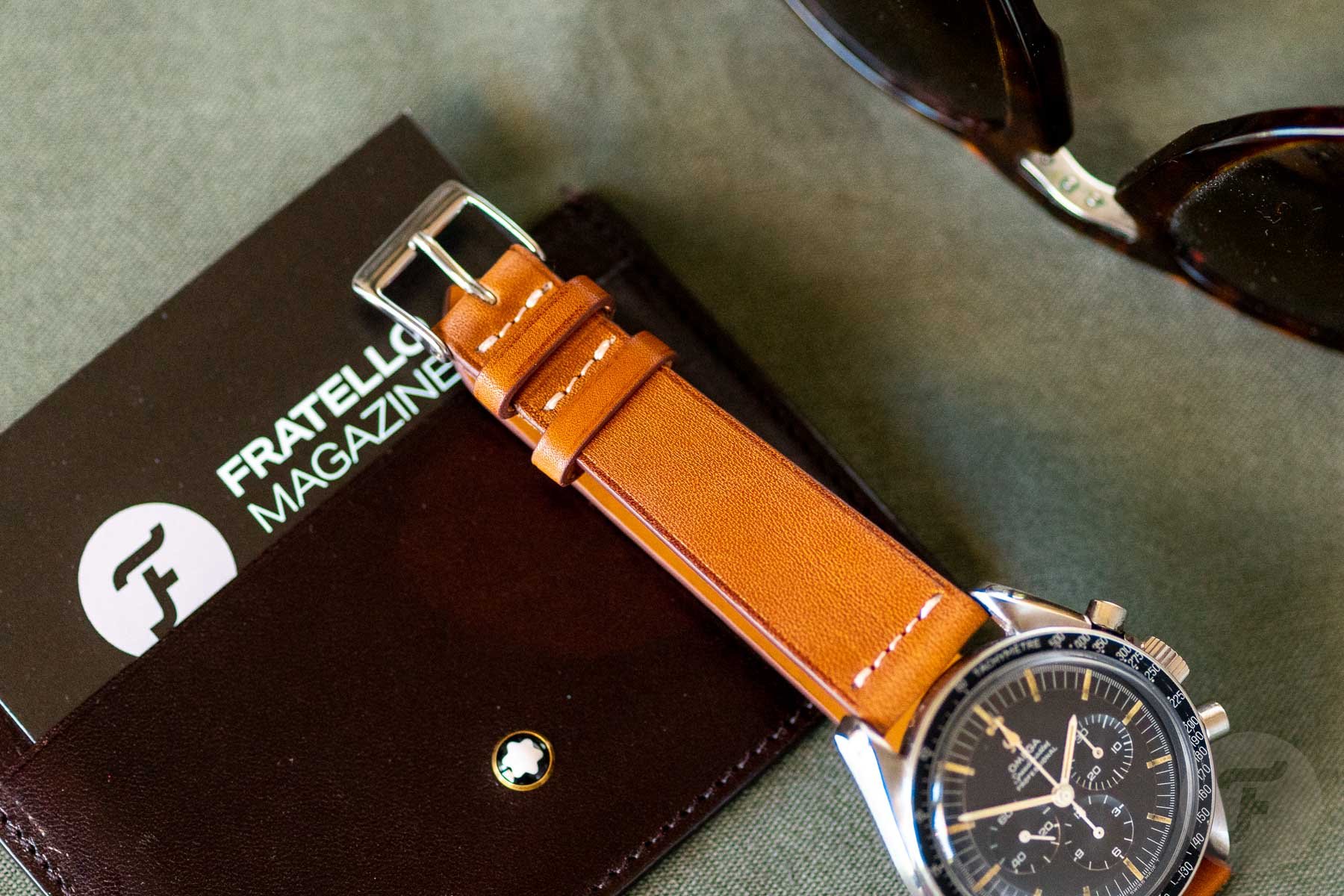 What's left to say?
As I mentioned at the beginning of the article, Fluco also offers accessories like watch travel cases, pouches, or watch rolls should you wish to upgrade your travel game. Many of them are made from the same leather as the straps, allowing you to get a great strap/travel case combo. The straps I featured in this article are only a tiny glimpse of the vast selection that Fluco offers. Make sure you check out all of them, as they are both exceptionally well-made and affordable. You also get free worldwide shipping if your order is over €100. While I know that's a lot of money, it's still a great deal, especially since you can return your items within 30 days if you're unhappy with your purchase. German quality is guaranteed. Visit Fluco's official online shop here.
If you missed out on last month's Watch Strap Review, click here. We'll see you back here next month for our next installment.