Watch Strap Review 61 — Strapatelier
Great value-for-money straps straight from Singapore
After a much-deserved two-month summer break, we are back with many new strap makers on Watch Strap Review. I'll bring you some incredible brands and a ton of excellent watch straps in the upcoming months. To begin, for your reading pleasure, here is the Strapatelier from Singapore. For such a small country, Singapore has a very active watch community that helps these little ateliers to be born and eventually grow into successful businesses. This is one such story.
As usual, it starts with a passion for watches. I think this is how most of us got into straps, right? You get a nice watch and want to change the look, so you look for a strap… And then another one and another one until you have a handful. Adding a new watch to the collection complicates this equation even more. Now it's time to buy more straps, and the never-ending cycle starts again.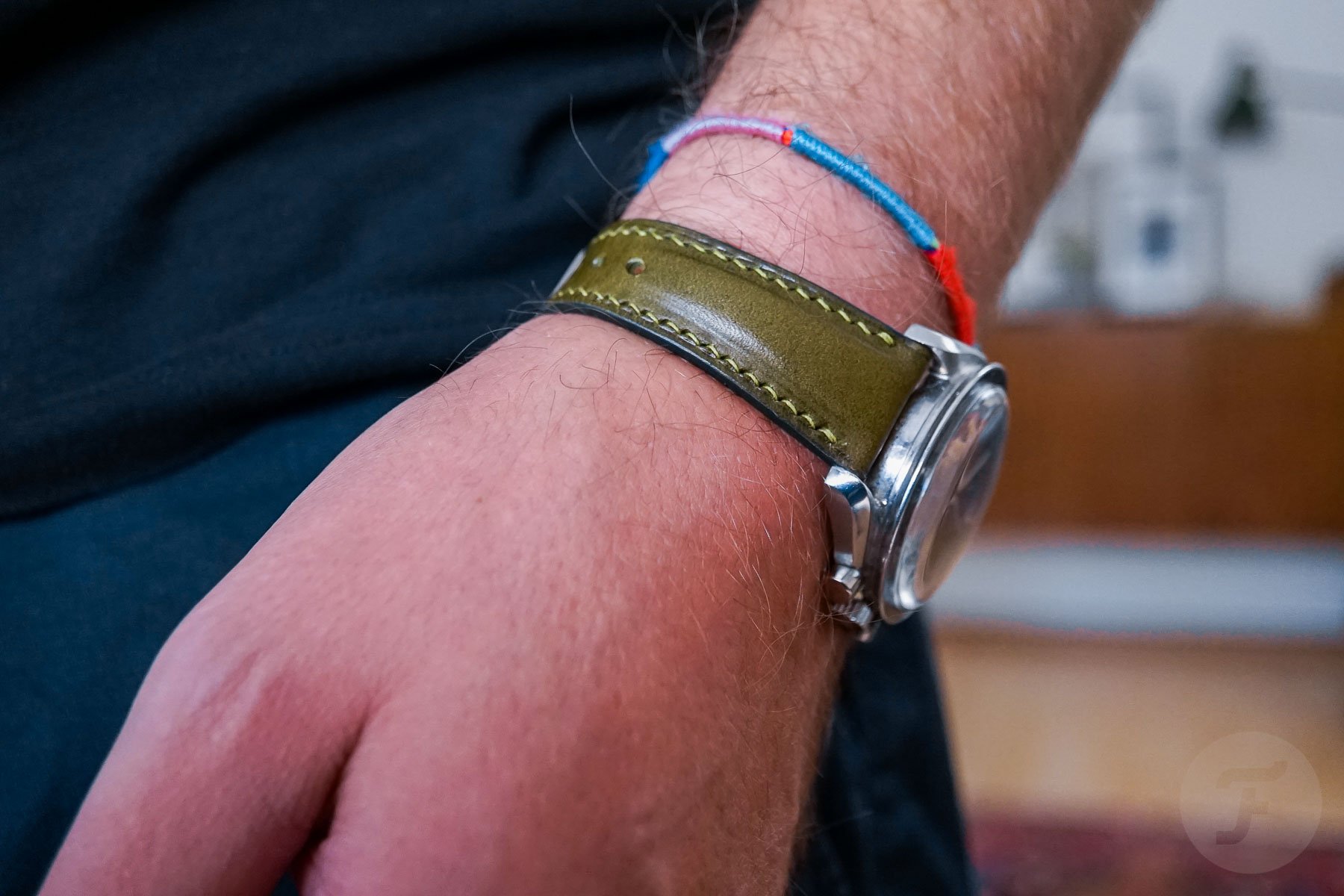 Strapatelier
Kai, the name behind Strapatelier, has a very similar story. Like many of us, he bought straps to change the look of his watches, eventually leading him to establish Strapatelier in 2018. What started as a small business grew over the years, and now Kai works with a skilled team that helps him run the show. You don't hear this often, but Strapatelier strives for eternity regarding its straps. The company wants to create a product that lasts forever, even if it's impossible. I guess the quality of the product should attest to that. Kai's M.O. is simple. "Our mission is to craft the highest-quality straps to defy your typical strap norms at the most affordable prices." That's a refreshingly different statement from the usual marketing babble you hear from other brands. And I'm not just talking about strap companies here.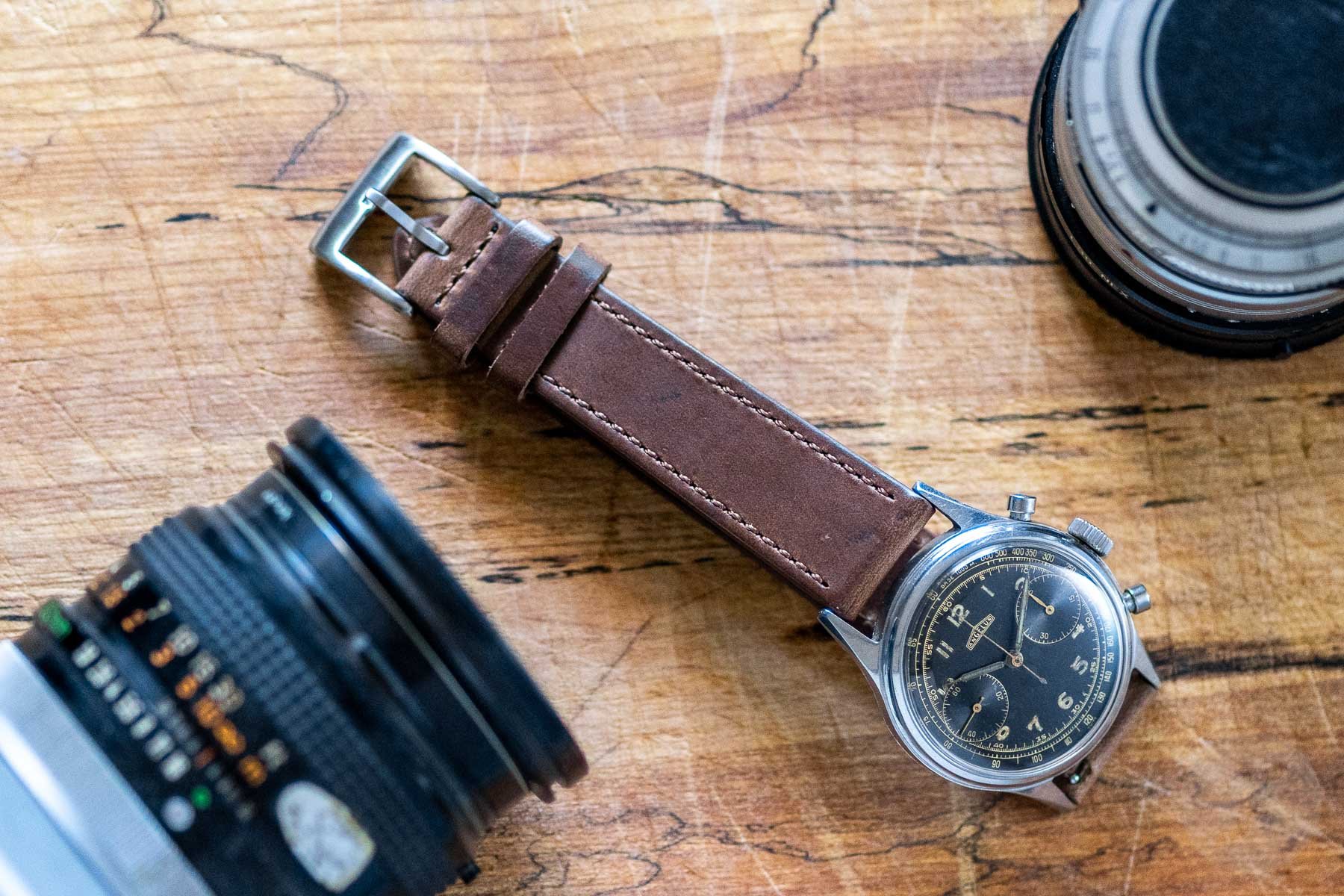 Rustic Horween Chromexcel Leather
Yet, as they say, the proof is in the pudding. I received three straps from Strapatelier, the first being the Rustic Horween Chromexcel Leather. Among the lot, this was the most classic in terms of looks. It's the one I would pair up with virtually anything. While the tapering from 20 to 18mm might not be everyone's favorite, it allows you to wear the strap on more prominent, modern timepieces. Horween leather is impressive; you can never go wrong with it. The Rustic Horween Chromexcel strap proves this by being super soft with a great color that only gets better over time. As it develops a patina, Horween starts to look more rich in my opinion. Thanks to its thickness of only 3.1mm, the strap does not feel too bulky on the wrist. You can choose between 18, 22, or 20mm widths, mine being the latter.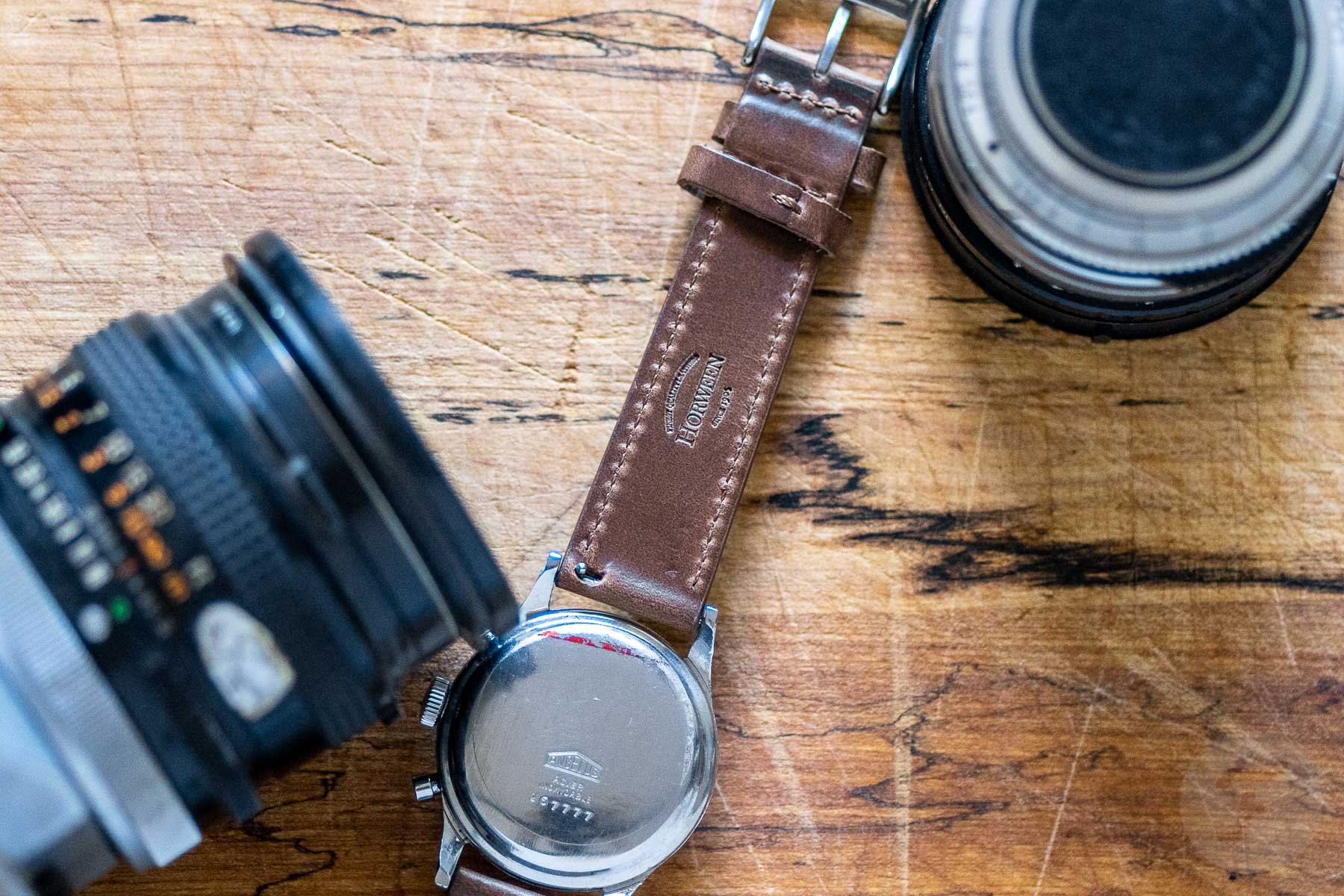 As far as the length goes, we have the standard 7.5 × 12cm measurements. I'm not sure which is the best-selling size, but if I had to bet, I'd say it's 20mm. It's just so versatile, and while the strap feels firm initially, it wears well and instantly takes the form of your wrist. We have painted edges, smooth on-tone saddle stitching, and quick-release spring bars. I would not have cared too much about quick-release spring bars if you had asked me a year ago. Now, however, I almost think it's a must to have them on straps. While the leather type is Horween's Chromexcel, the color is a mid-tone and warm umber brown. Strapatelier charges SG$89 (€64.25) for this strap which I think is a fair price even if shipping is not free.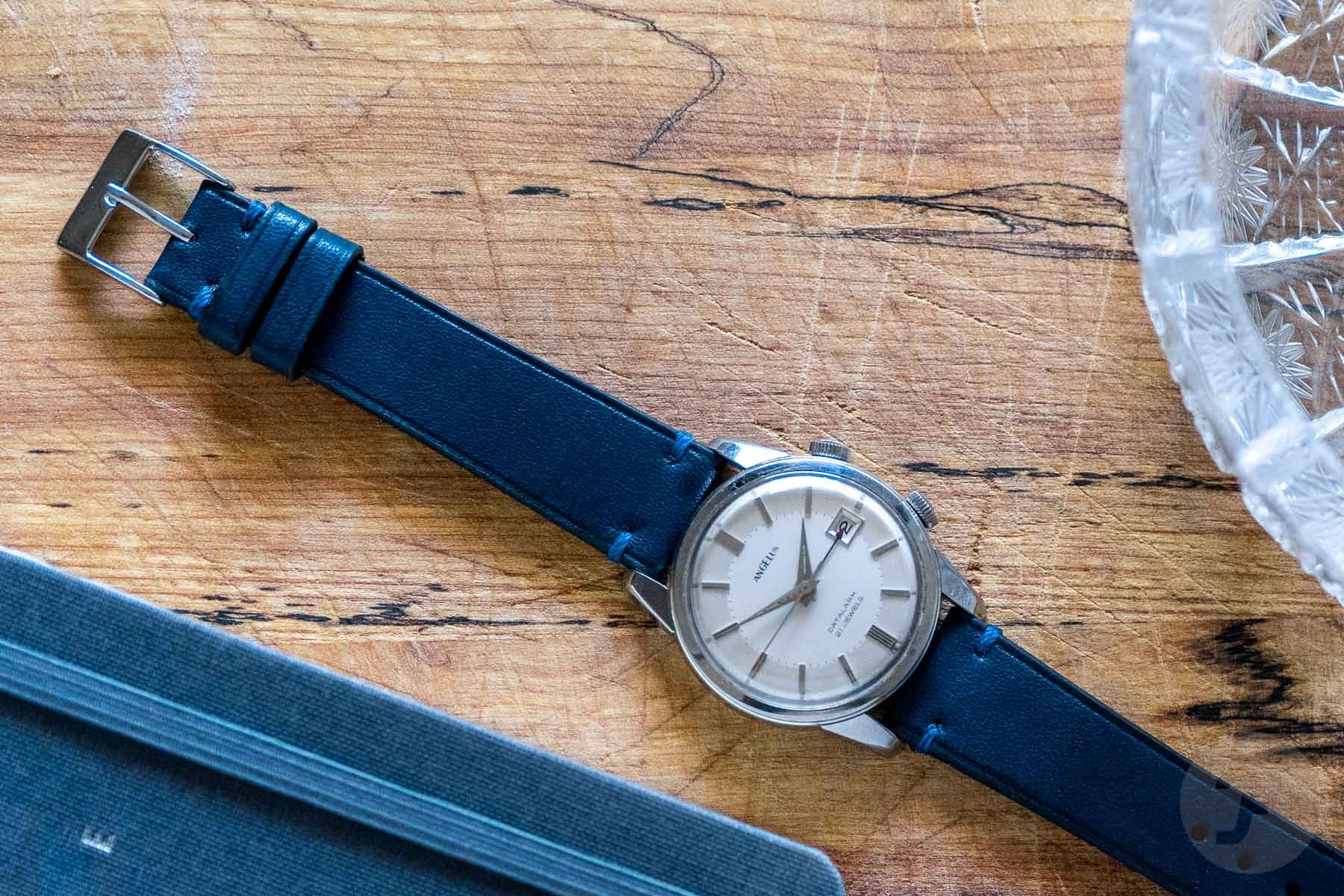 Point-Stitched Leather
Navy blue is an exciting strap color. It's not as "serious" as black, works well with most watches, and still gives your timepiece a classy look. I got Strapatelier's 18mm Point-Stitched Leather strap in navy blue, the perfect option for a vintage timepiece. Luckily, if you need a bigger size, you'll have the options to choose from anything between 18 and 22mm. The variety of sizes and the friendly price of SG$69 (€49.81) make this one an easy choice for many of us.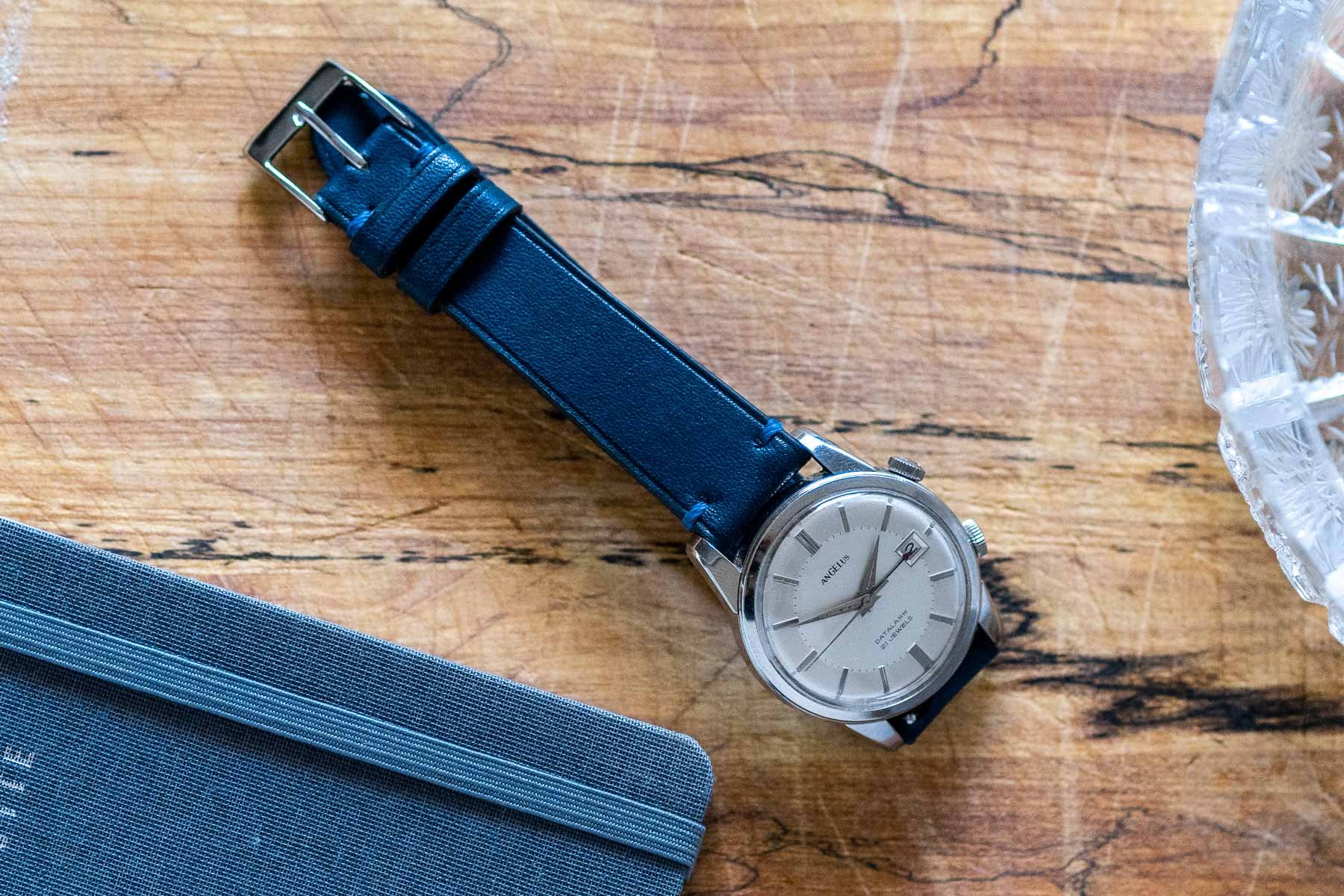 Regarding measurements, we have 18/16mm on the ends, the usual 12 × 7.5cm length, and again, approximately a 3mm thickness. Beautiful deep blue painted edges and lighter blue side stitching add character to the strap. While the Horween came on a brushed steel buckle, this one has the same style of hardware in polished steel.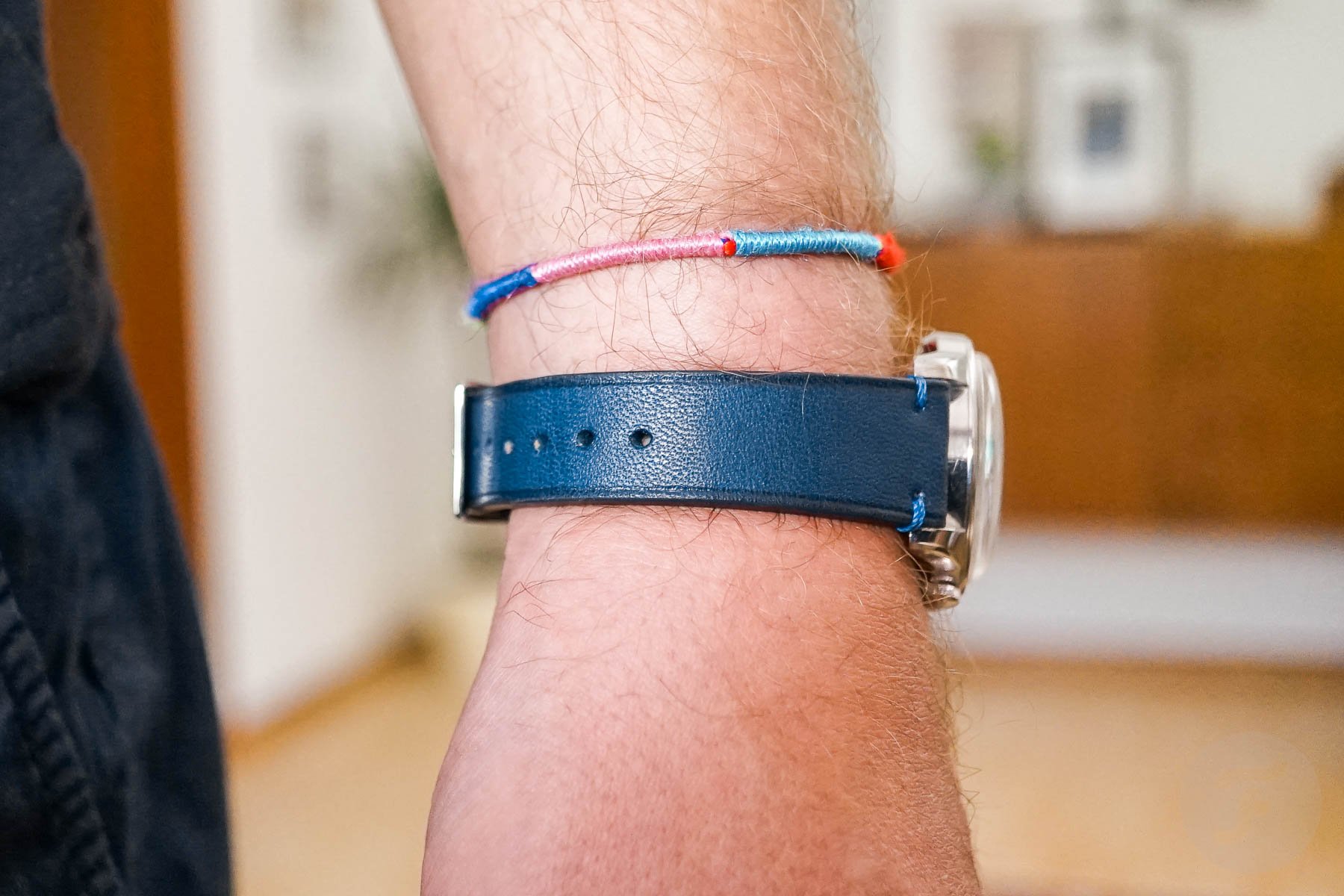 Like every product from Strapatelier, this one is also 100% handcrafted using classic techniques. The material used for the Point-Stitched strap is full-grain cowhide leather. That means the strap is durable, of fine quality, and comes in various shades. In the case of this strap, we have six, from Tenné Brown to Jade Green, and several colors in between. Another point worth noting is the tannery from which Strapatelier sources this leather. Usually, we see French or Italian companies. The previous strap's material came from the US. Here, we see leather from Kasin Tannery, an 80-something-year-old establishment in Japan. Just like the previous strap, this one comes with quick-release spring bars for ease of use.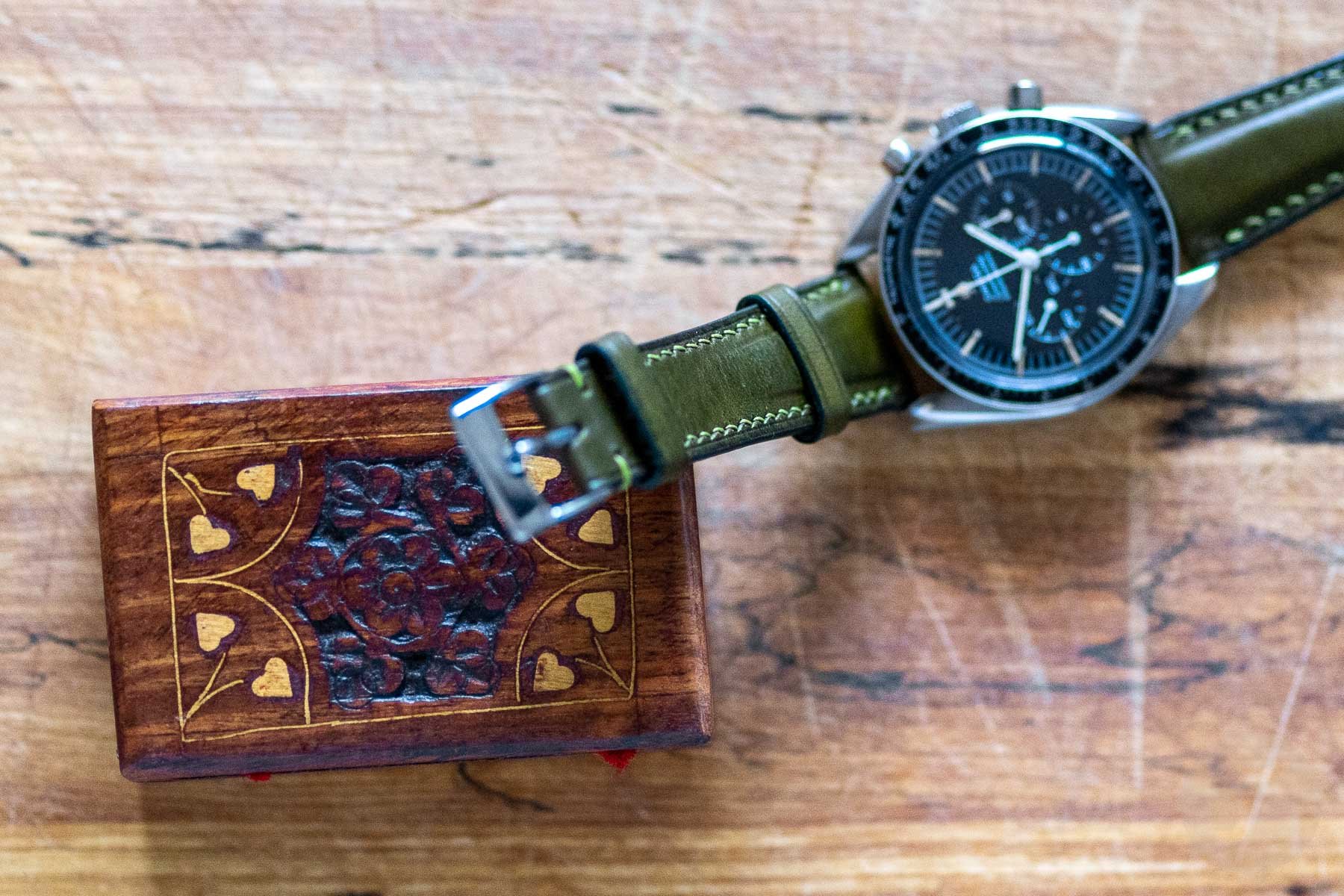 Minerva Leather
I don't know if this is an age thing, but olive green is slowly becoming my favorite color. I was never into military or olive green four or five years ago, but the color has grown on me since then. So when I picked up the third strap from the Strapatelier lot and realized that it came in olive green, I was pretty excited. Just like the Point-Stitched strap, this one also comes in every size. However, the Minerva Leather strap has four color options. Aside from the olive, you can pick it up in Ortensia, Bone, or Cognac tones. All of them are fantastic colors, but the olive is my favorite. Here, we have the same length and width measurements as the previous straps, but this time, it has a thicker profile.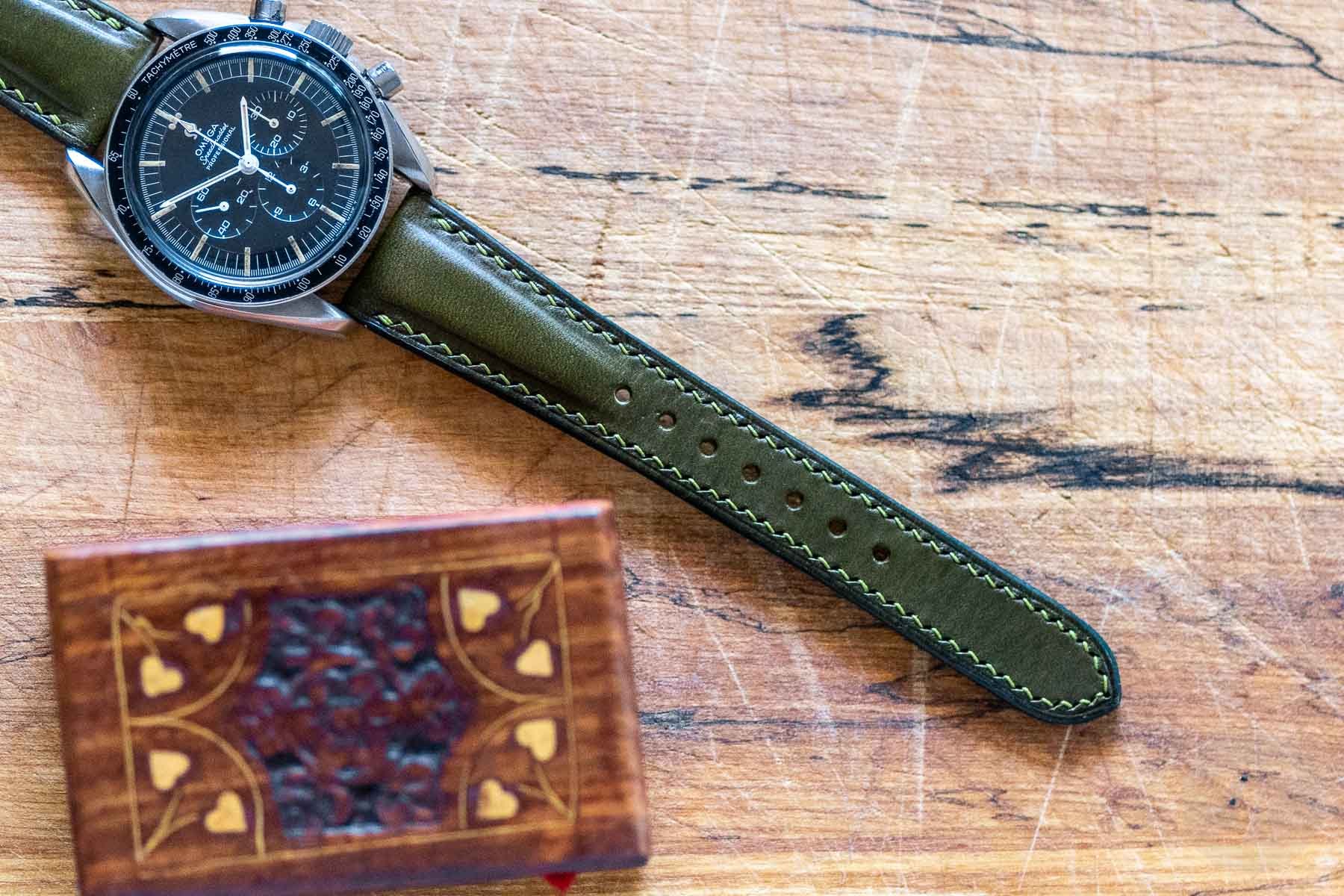 The Minerva by Strapatelier is a vegetable-tanned, full-grain, half-padded strap. The padded portion is 4.8mm thick; the rest is around 3mm. The rich, deep green is not only the result of vegetable tanning. It also means that we have quality material here. This is no surprise since the tannery Strapatelier sourced the leather from is the famous Badalassi Carlo company, not too far from Florence, Italy. Light green stitching complements the leather, and the Minerva strap comes with a polished steel buckle. As before, the strap feels firm but not stiff. It is very easy to wear and looks great on any watch, especially a vintage one. Like the Rustic Horween, the Minerva sells for SG$89 (€64.25). Again, this is fair considering what you are getting.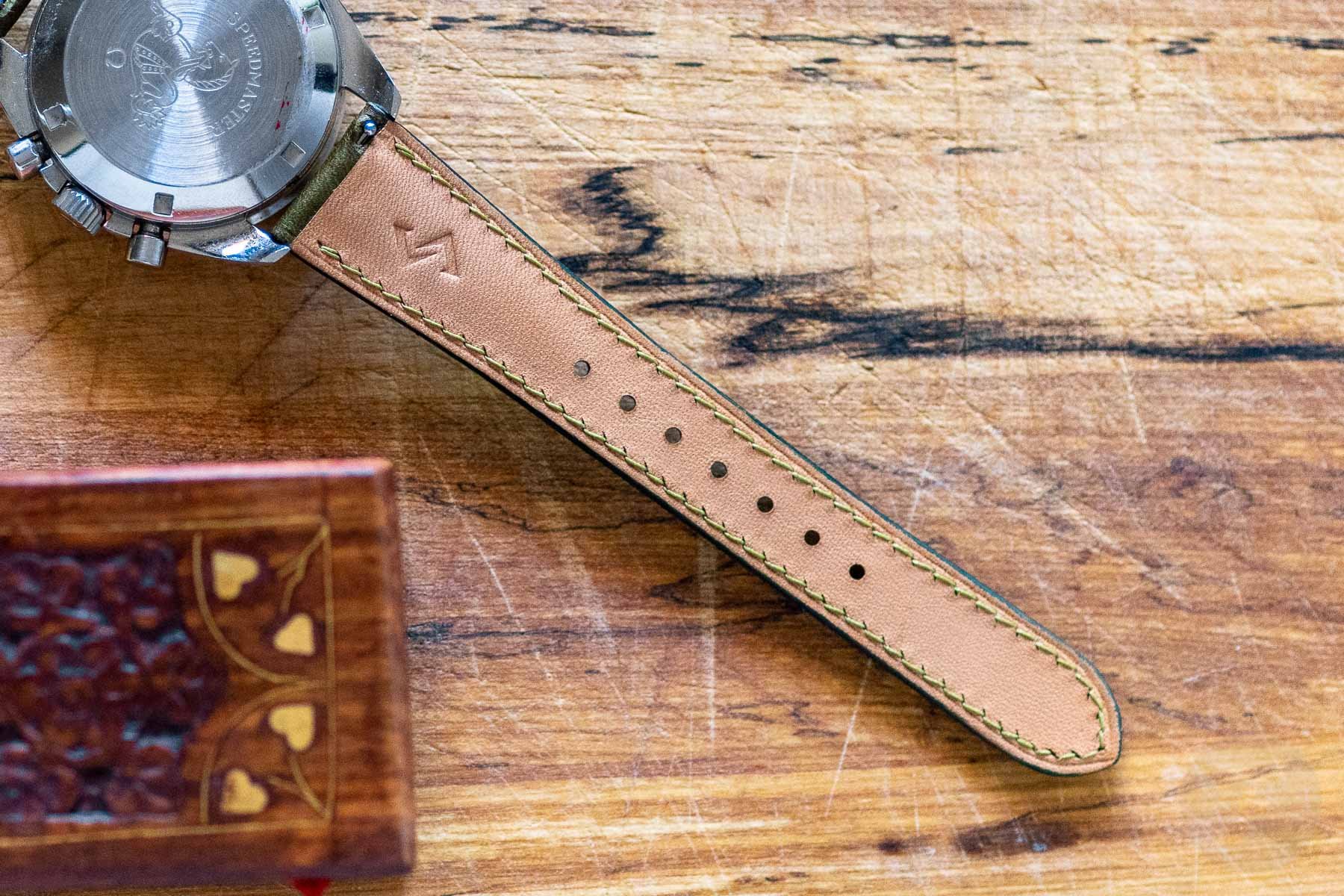 What's left to say?
Of course, besides the three straps I featured above, you have many more to choose from. Visit Strapatelier's site, where you can order bespoke straps, pick up some hardware and tools, or even get straps for a lower price in the Overstocked section. All in all, it's a great place to visit for watch and strap guys. Like most companies, Strapatelier also has an Instagram page showcasing its latest and most fabulous creations. According to Kai, some of the company's best sellers include the Point-Stitched Leather and the Horween Chromexcel Leather straps. I understand why: both are awesome, versatile straps that you can pair up with many different types of watches. But I'm curious about what you guys think of Strapatelier and what the company offers. Let us know in the comments below, and make sure you tag me on IG (@ferenczibazs) if you post your watch/Strapatelier combo.