Watch Strap Review 63 — Eatsleeplay From Singapore
One Bund to rule them all
It's rare that I get one specific type of strap from an atelier. Brands usually strive for versatility and, as such, have a wide variety of goods to offer. You have the occasional company like Erika's Originals, which is known for one specific product. For the most part, however, I get a bunch of different straps in the parcels. This time, though, I received two similar straps, but not just in any old design. These straps are Bunds, which are among the most controversial products you can put your watches on. Some love Bund straps, and others hate them with a vengeance. Eatsleeplay from Singapore belongs to the former group. Although the company offers other products in its lineup, the watch strap section is Bund-focused. Let's find out why.
According to Eric, the man behind Eatsleeplay (extra points for the name), the Full Bund 019 model is the most popular and best-selling strap that he and his team have been making since it came into the catalog seven years ago. As such, Eric thought showcasing these would be the best way to bring his company to the attention of a larger audience like the Fratello readership. Not a bad strategy, I must say.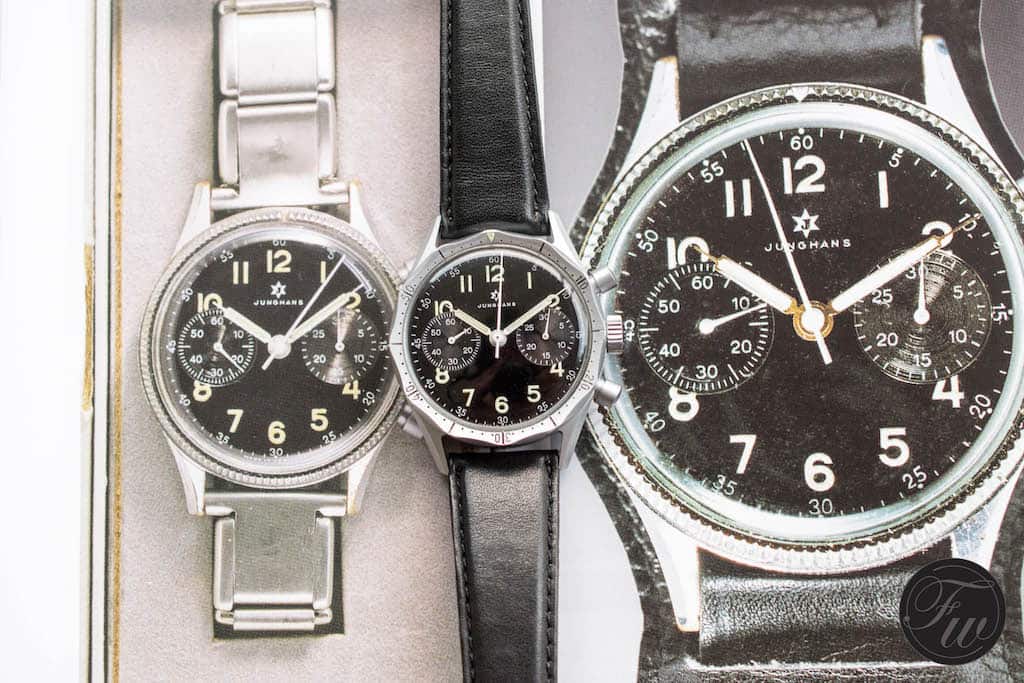 Bund
Before we jump into the review, let's talk about Bund straps in general. The overall design and name come from the German federal defense force, known as the Bundeswehr, which came into existence in 1955. After World War II, the former German army was abolished and disbanded, and the country was not allowed to establish a new defense force until the mid-'50s. The newly formed Bundeswehr offered government contracts to watch companies to create and equip the forces with timepieces based on their requirements. Such timepieces had to be of a specific size or color with particular complications and a unique strap. While this was not a new design by any means (we saw similar straps back in the '30s and '40s), the Bund (short for Bundeswehr) watches popularized this type of strap design. The name stuck, and the Bund strap as we know it was born.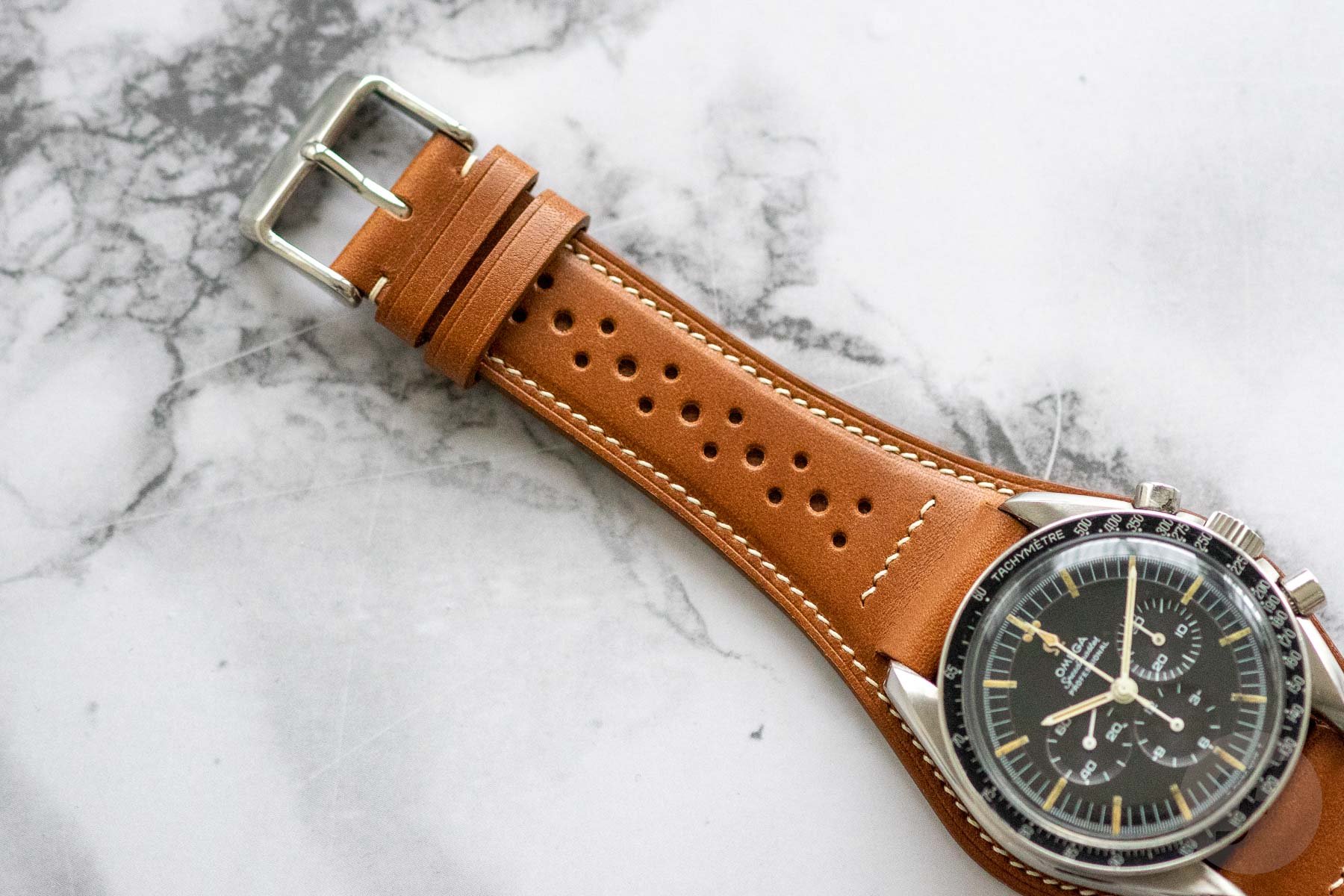 But what defines a Bund strap? Well, generally, we can say that a Bund usually consists of three pieces. It is a standard strap with a separate leather backing that goes under your watch. Once you have installed the two parts of the strap, you lace them through the two keepers cut out on the top and bottom of the leather backing. Sometimes you have to lace them through the keepers and install the watch. Original Bundeswehr straps came in smooth black leather, and the backing was long and thin. Over the years, the designs changed significantly. Sometimes the backing is part of the strap and non-removable. Other times, as we'll see with the Eatsleeplay straps, it's only one complicated leather construction. In any case, a Bund strap gives your timepiece a rugged, military look regardless of the leather material or your watch.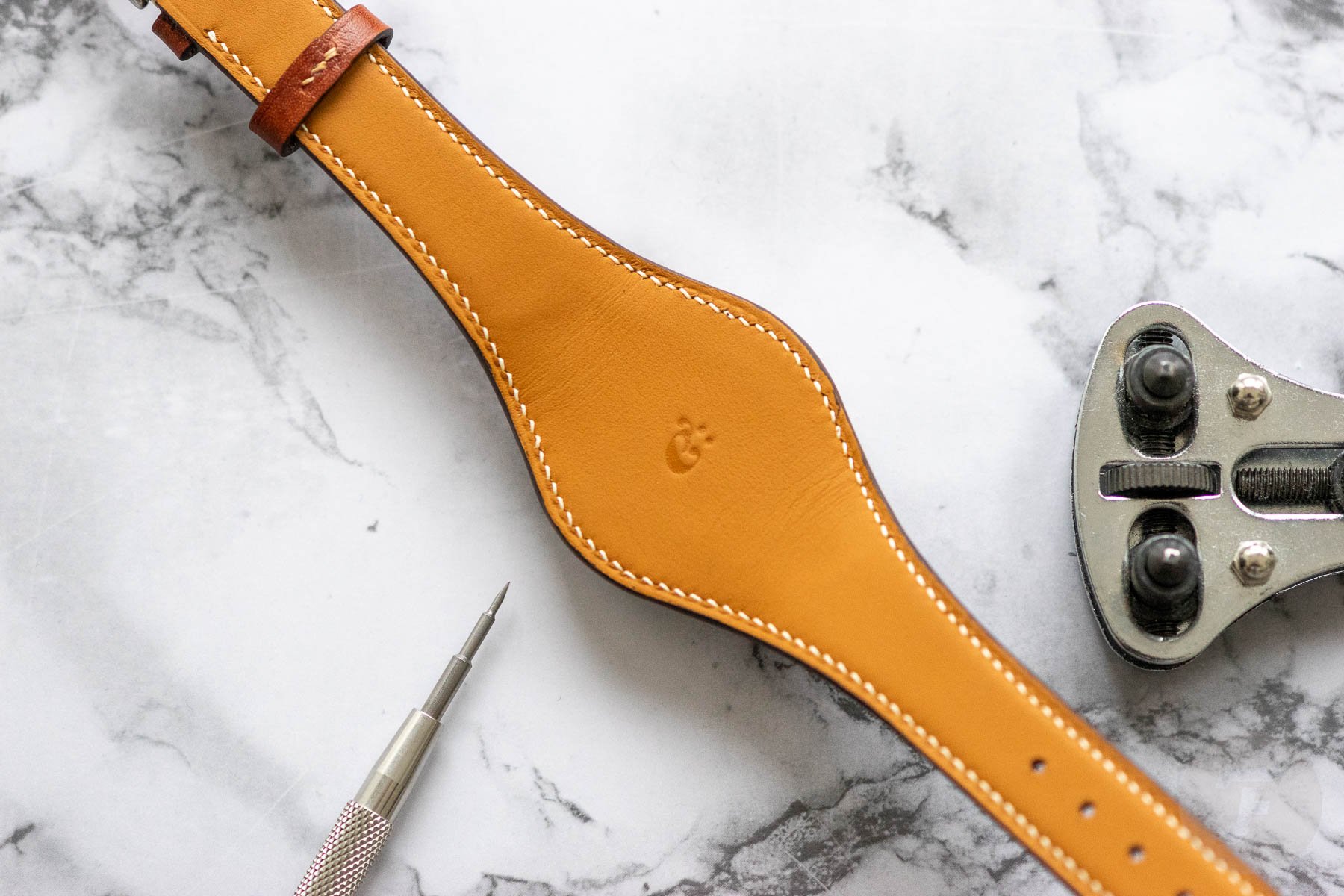 Eatsleeplay
The origin story of Eatsleeplay is something we have heard before. What started as a hobby 11 years ago has become a lucrative business today. A self-taught leather artisan, Eric does not shy away from combining unconventional shapes and colors on his products. Just have a look at Eatsleeplay's website or Instagram page. While the material is mostly leather, it comes in an array of shapes and colors from pink and lime green to red and blue and so on. Watch straps are only a tiny portion of Eatsleeplay's offerings. Indeed, the company's catalog is vast. You can find wallets, phone sleeves, belts, sunglasses cases, and watch straps, to name a few of its offerings. And again, while you can find several different strap designs in Eatsleeplay's collection, the Full Bund 019 remains the best seller.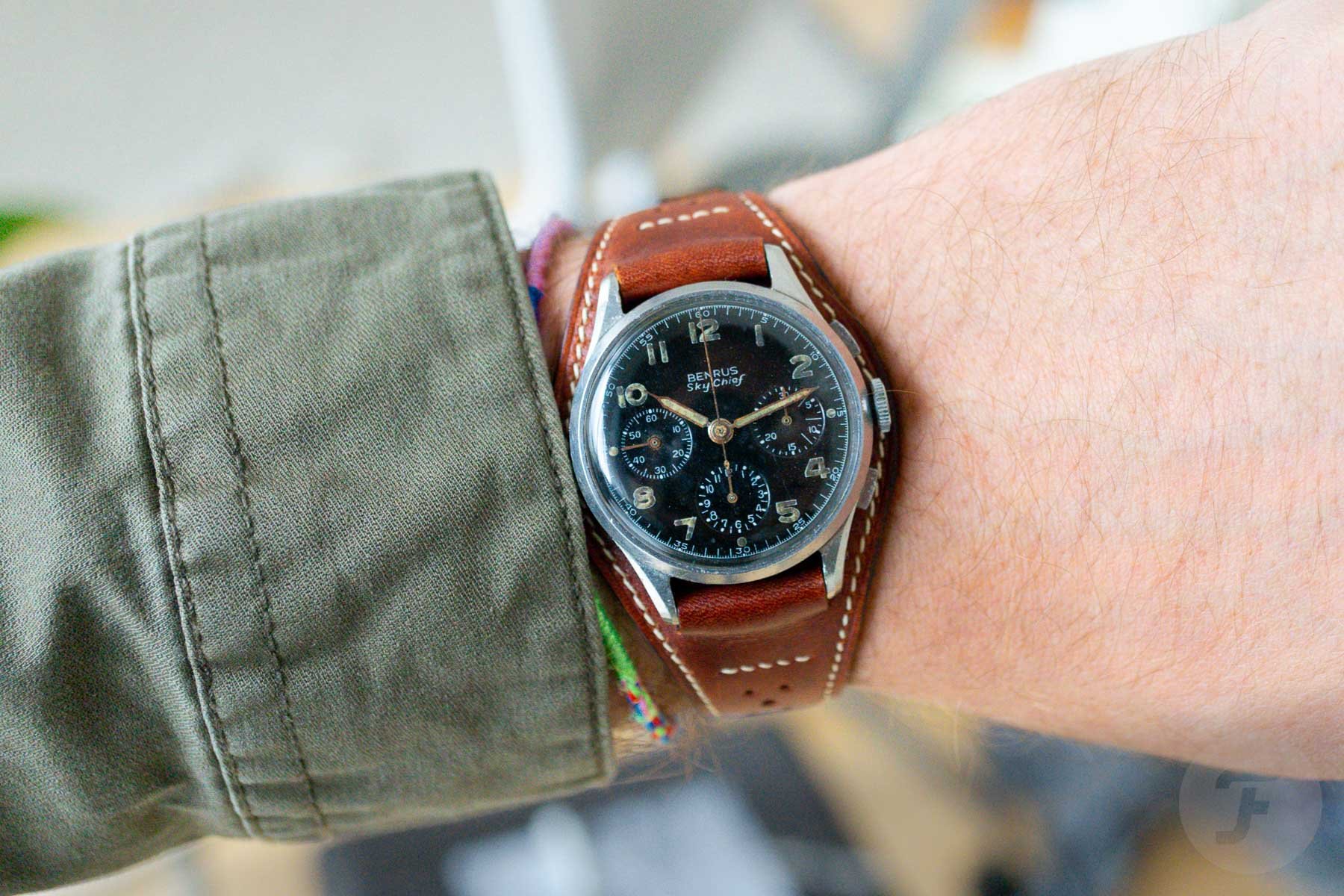 Full Bund 019 — 18mm
As the name suggests, this Bund is one-piece construction. Both straps that I received from Eatsleeplay have the same design. The 18mm width makes this perfect for a vintage watch, especially a chronograph, so this is precisely what I used it for. It gives a great vintage fighter-pilot feel to my trusty 1950s Benrus Sky Chief. Even though the strap has a double construction (two pieces of leather on top of each other), it is not thick. It measures no more than 3.4mm at its thickest part, which allows this 18mm Full Bund to be highly flexible (a big plus with Bunds). For the leather, Eatsleeplay chose a chrome-tanned Bracken Radica Museum Calf from the Italian tannery Ilcea. We have a dark brown, almost burgundy color with beige stitching. The edges are painted.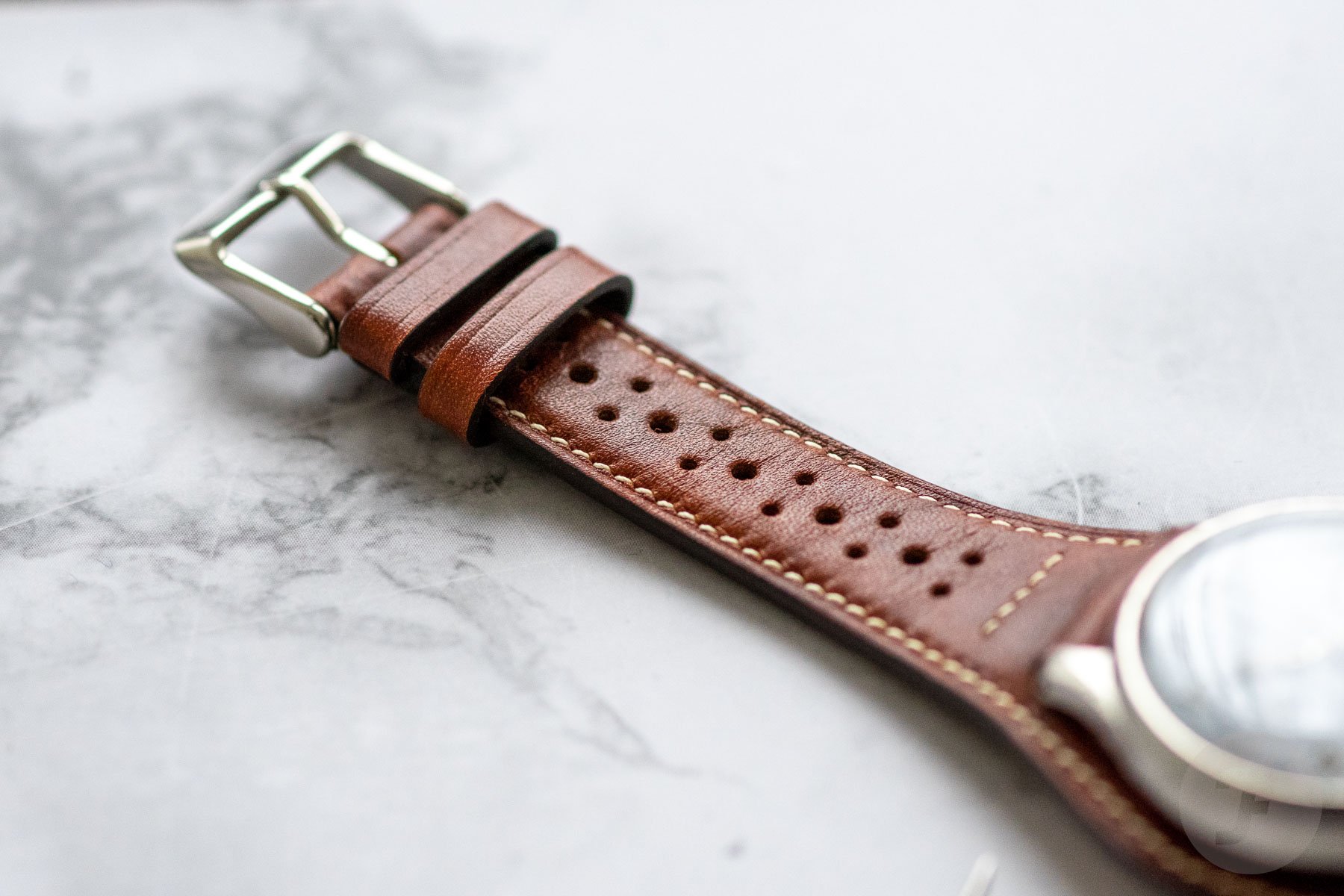 You can choose from numerous kinds of leather and decoration. Mine has brogue decoration, for which Eatsleeplay charges a bit extra. Since the leather is flexible and the lining is incredibly soft, the watch wears well on the wrist with the Full Bund 019. Thanks to the characteristics of the leather, with time, it will develop a patina, which makes this kind of strap look much better in my opinion. As the Full Bund 019 is one of the best sellers, many have been made already. Eric has enough experience with these to offer fully customizable options, so I suggest you contact Eatsleeplay if you have special requirements.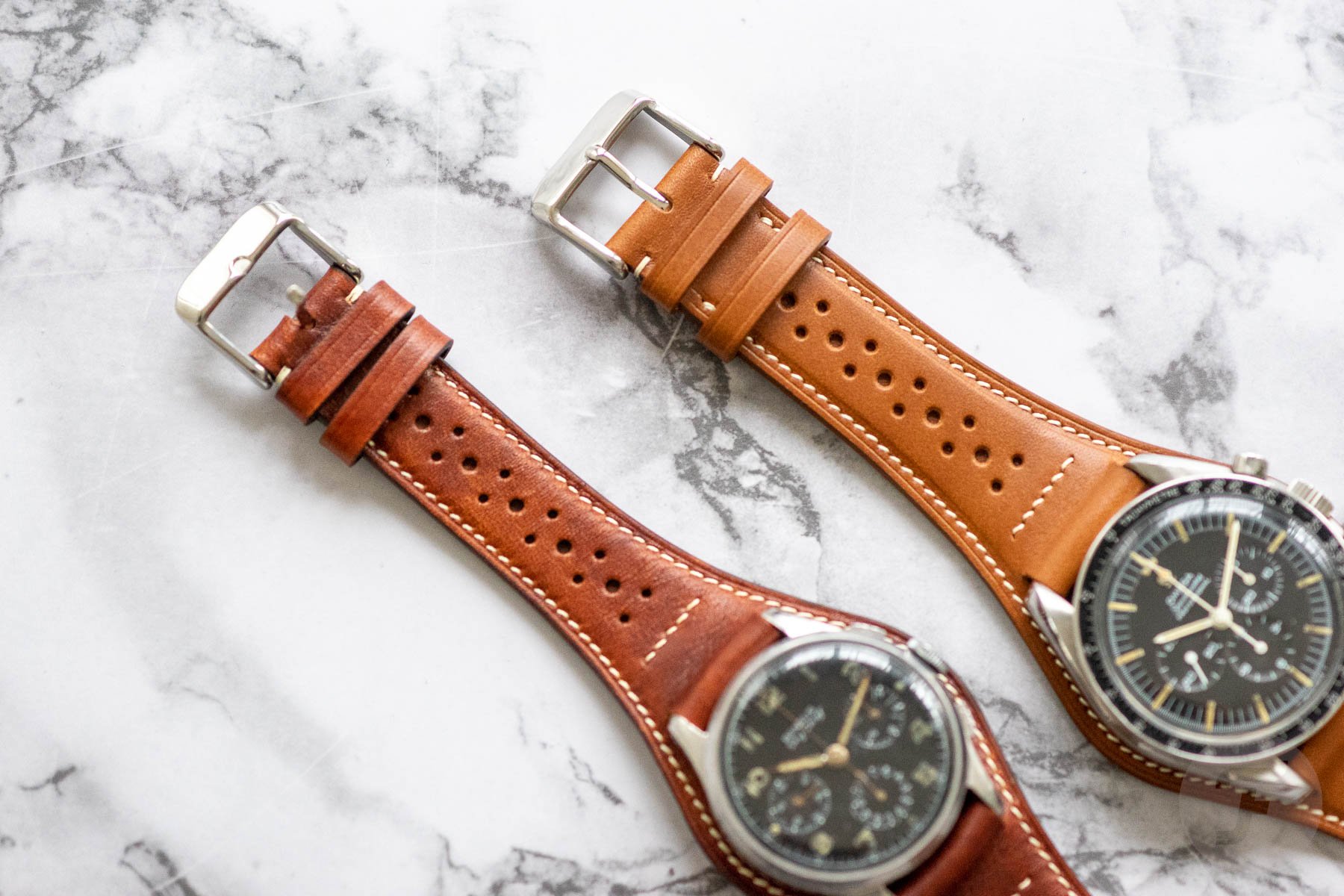 Full Bund 019 — 20mm
"Same, same but different," as the saying goes. While the 20mm version of the Eatsleeplay Full Bund 019 has the same design features as the 18mm version, the leather is much different. Here, Eatsleeplay used material from the Italian tannery Conceria Puccini Attilio. It is one of the larger tanneries in Italy. The cow-shoulder leather that Eatsleeplay uses is from its Koala collection, specifically, the "Gold" color. Eric labels it as "Cognac" on the Eatsleeplay site, so don't get it twisted. According to him, this lighter-toned 20mm version is one of the company's best-selling straps of all. No surprise there, as this was designed exclusively for the Omega Speedmaster Professional. It's good that I paired it up with my vintage Speedy, then. I swear to God, I did it before I read his description. Well, to finish the text with another saying, "great minds think alike."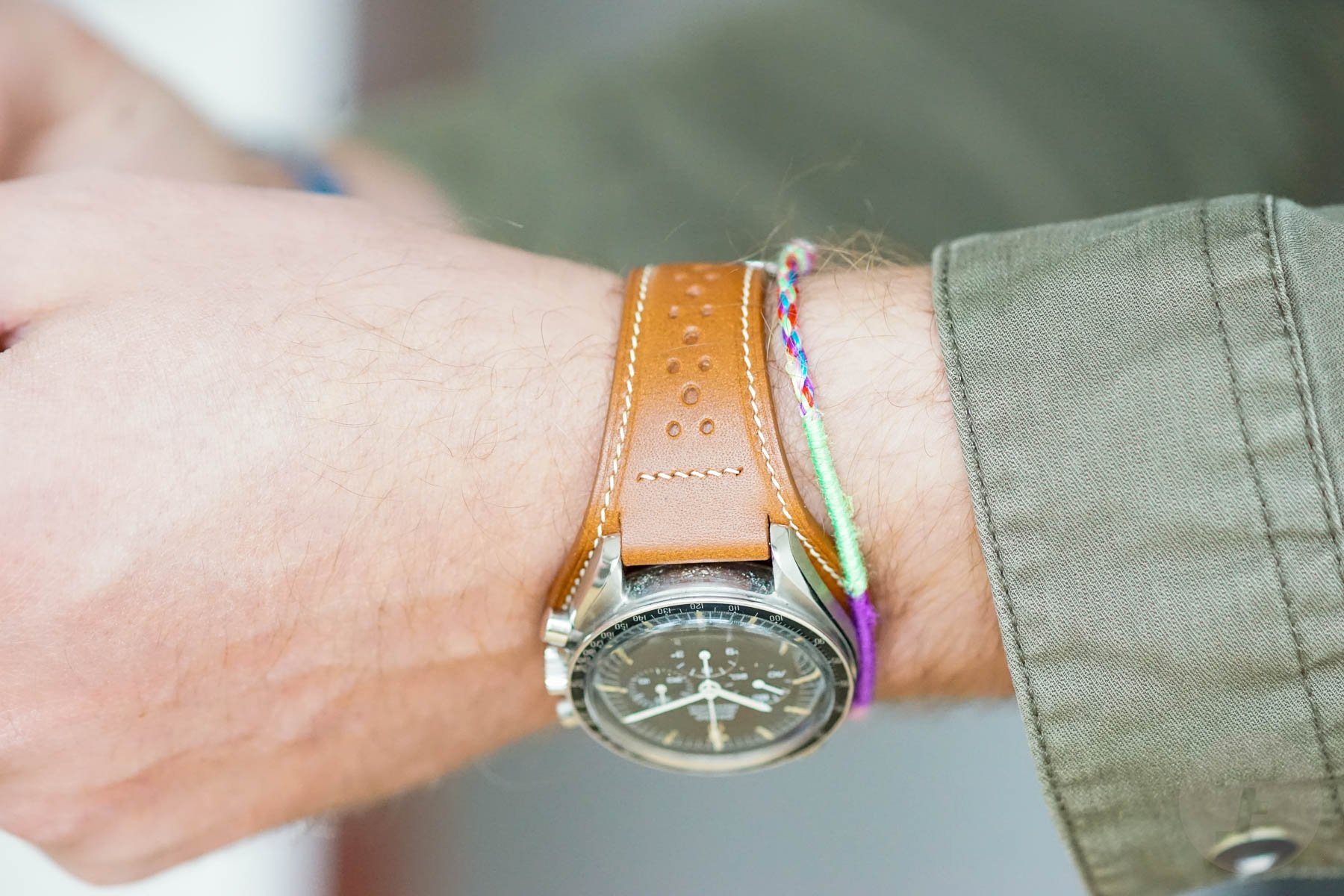 The price of any Full Bund 019 starts at $165 and goes up to $170 for specific colors. There are over ten different tones to choose from. Once you have selected the leather you'd like, you can add extras like the racing holes or brogue decoration as well as other features for an additional cost. Many ateliers offer Bund straps, but only a few pay so much attention to this specific strap design. For this, Eatsleeplay Bunds are among the most customizable to fit your particular watch best. Check out all the options here.