Watch Strap Review 65 — Artisan Straps
A unique family business
One of my first goals with Watch Strap Review was to showcase strap makers worldwide. Over the years, we've featured artisans from many countries. The list is vast, spanning from Spain to Germany, Canada, Singapore, and Iceland. Yet there was one country (continent, in fact) where I could not find a brand to bring to the attention of our readers — Australia. Finally, this journey comes to an end. I'm pleased to introduce our first strap maker from down under, Artisan Straps.
I'm optimistic that we can bring more of Australia's fine artisans to the forefront in the future. If they are every bit as good as Artisan Straps, we have nothing to worry about. Are you ready for some Oz leather love?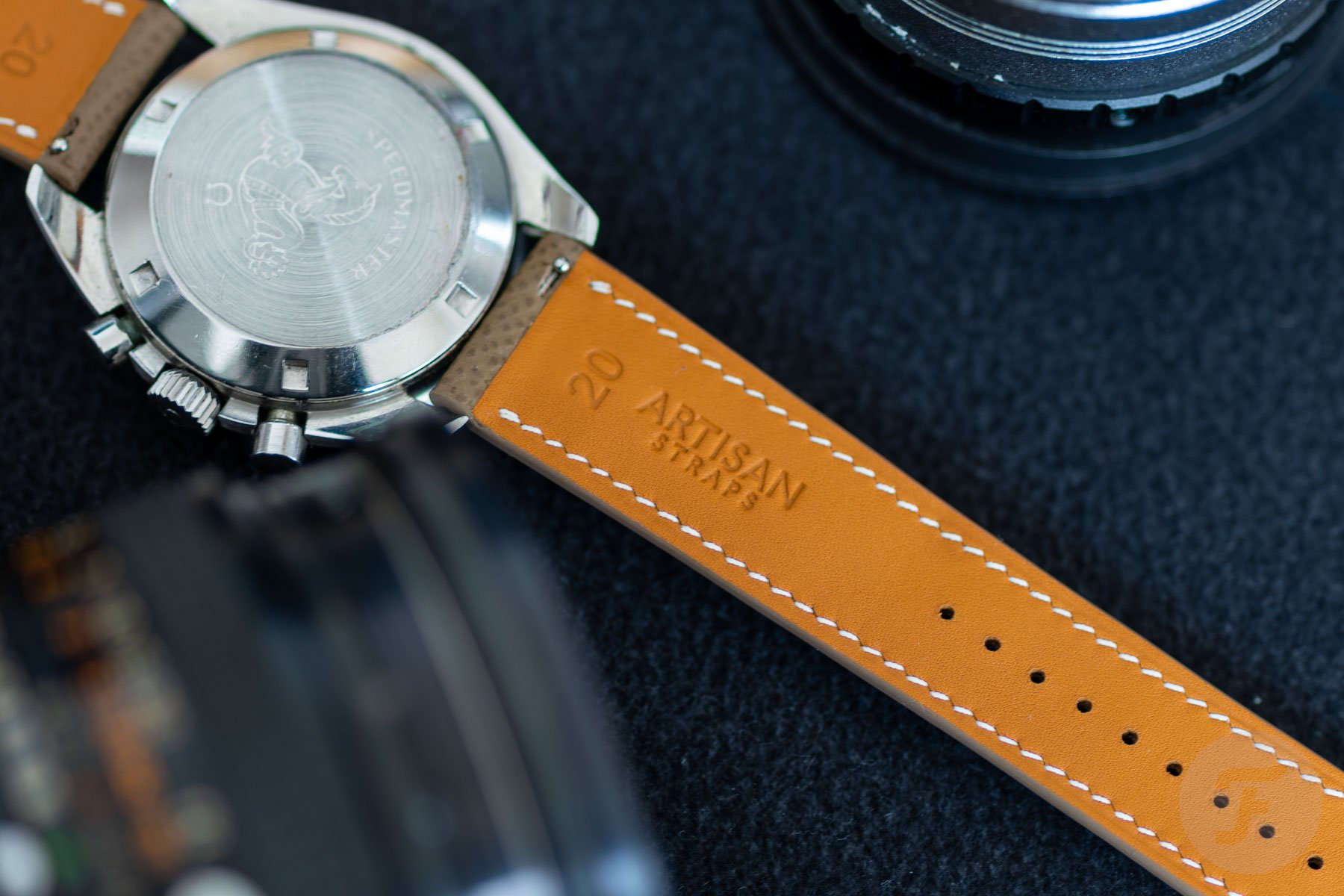 Artisan Straps
I received three letters from Jayson, the man behind Artisan Straps, explaining the history of the brand. Like most stories, it starts with a guy who saved money to buy his first real watch. However, as he had no means to expand the collection, his goal was to change the look of his timepiece by adding new straps to the collection. Still, if we want to understand Jayson's journey to get where he is today, we need to go back a few years and generations. Jayson's grandmother was a bespoke shoemaker in Cambodia, working with the best leather, creating shoes for businessmen and international air stewardesses. Sadly, the business had to close during the Cambodian Civil War when Jayson's parents escaped to Australia, hoping for a new life.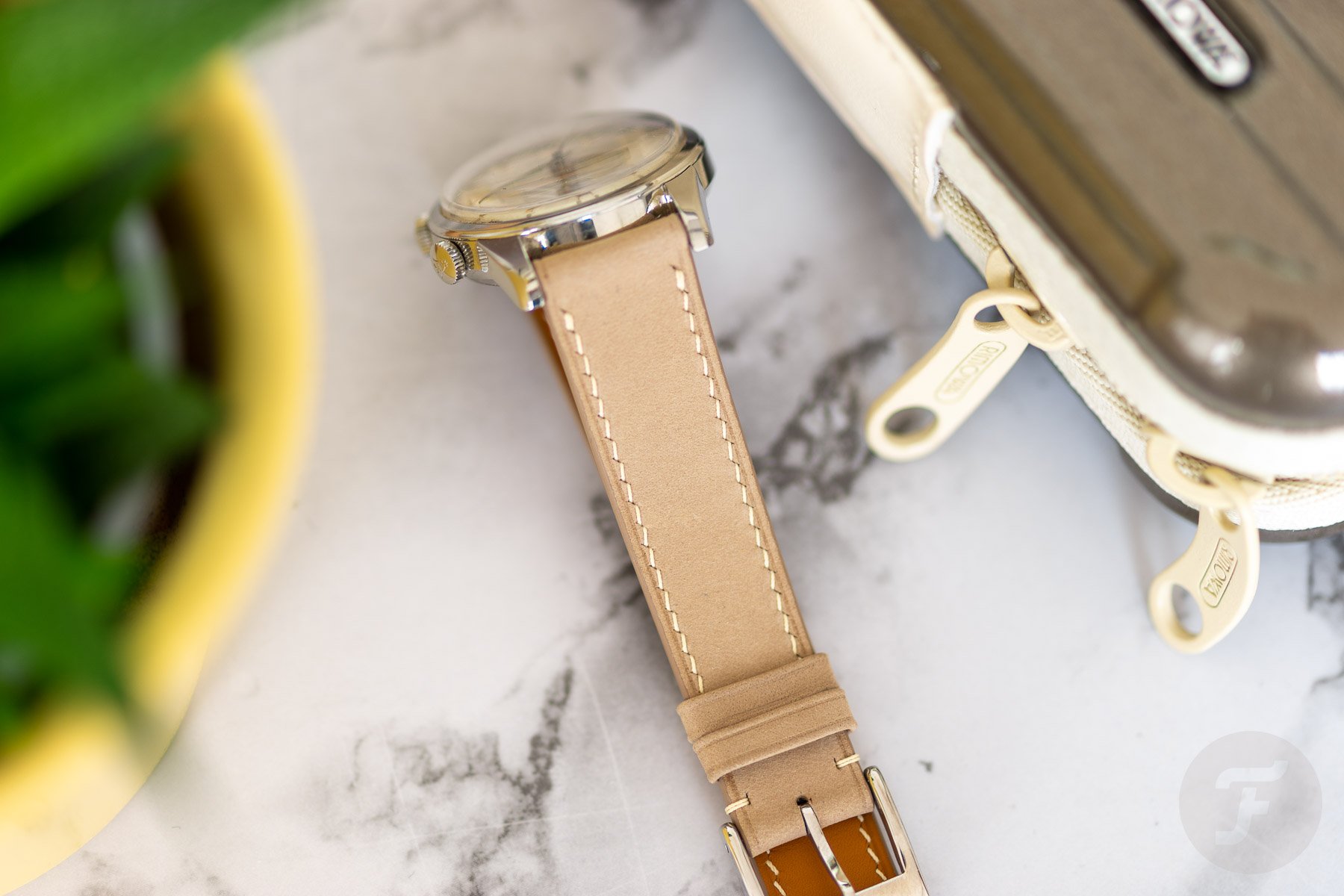 This is where we get back to young Jayson and his watch. He struggled to find a quality strap for an affordable price, and from here, I'll let him tell the story:
"Then my father encouraged me to craft my leather straps using scrap leather. During the next two years, not only did I make my own straps, but I also made dozens for friends and family and started building a pipeline of referrals. It was during this time that I was able to develop an intimate understanding of the meticulous details that can make a leather strap perfect."
That led to the establishment of Artisan Straps, which soon grew into a family business. Both of Jayson's parents now work for the company, which uses the finest leather from the best tanneries in France, Italy, the USA, and Japan. Each strap is entirely handmade and can be fully customized.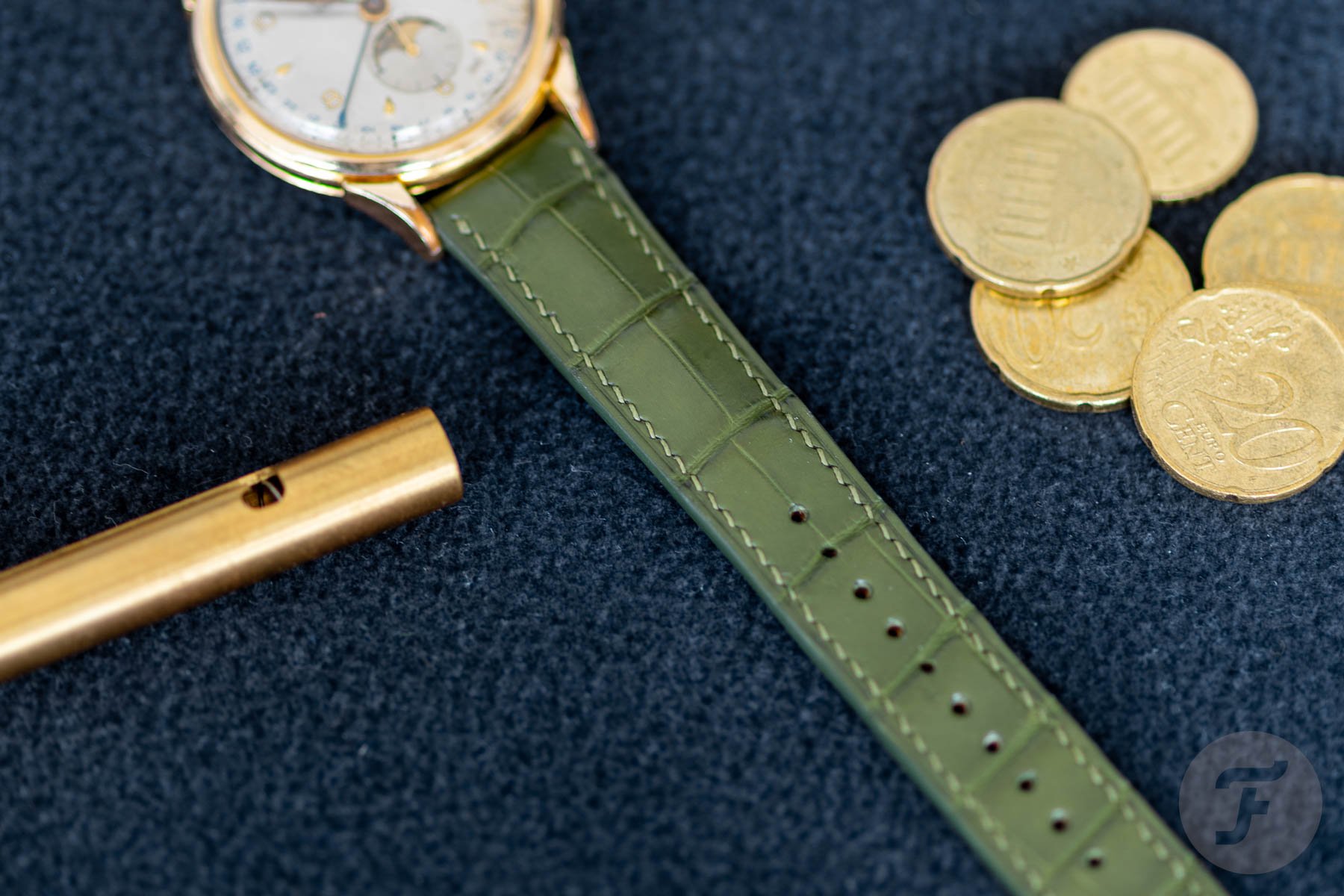 Moss Green crocodile leather
To showcase Artisan Straps' collection, I received four samples. The first is the most traditional looking, an 18mm crocodile strap in deep green. Since the company offers ready stock and made-to-order options, I got two of each. This strap is part of the latter collection and, as such, is a custom piece. The size is 18/16mm with a custom length of 120/75mm. We have a padded construction of 5mm on the thick end and about 2.4mm on the thin end. Artisan Straps uses crocodile leather from the Heng Long Leather tannery in Singapore. The tannery has been part of the LVMH conglomerate for over a decade. Therefore, the quality of the fabric is equal to the models you see on watch brands owned by the group, such as Zenith or TAG Heuer.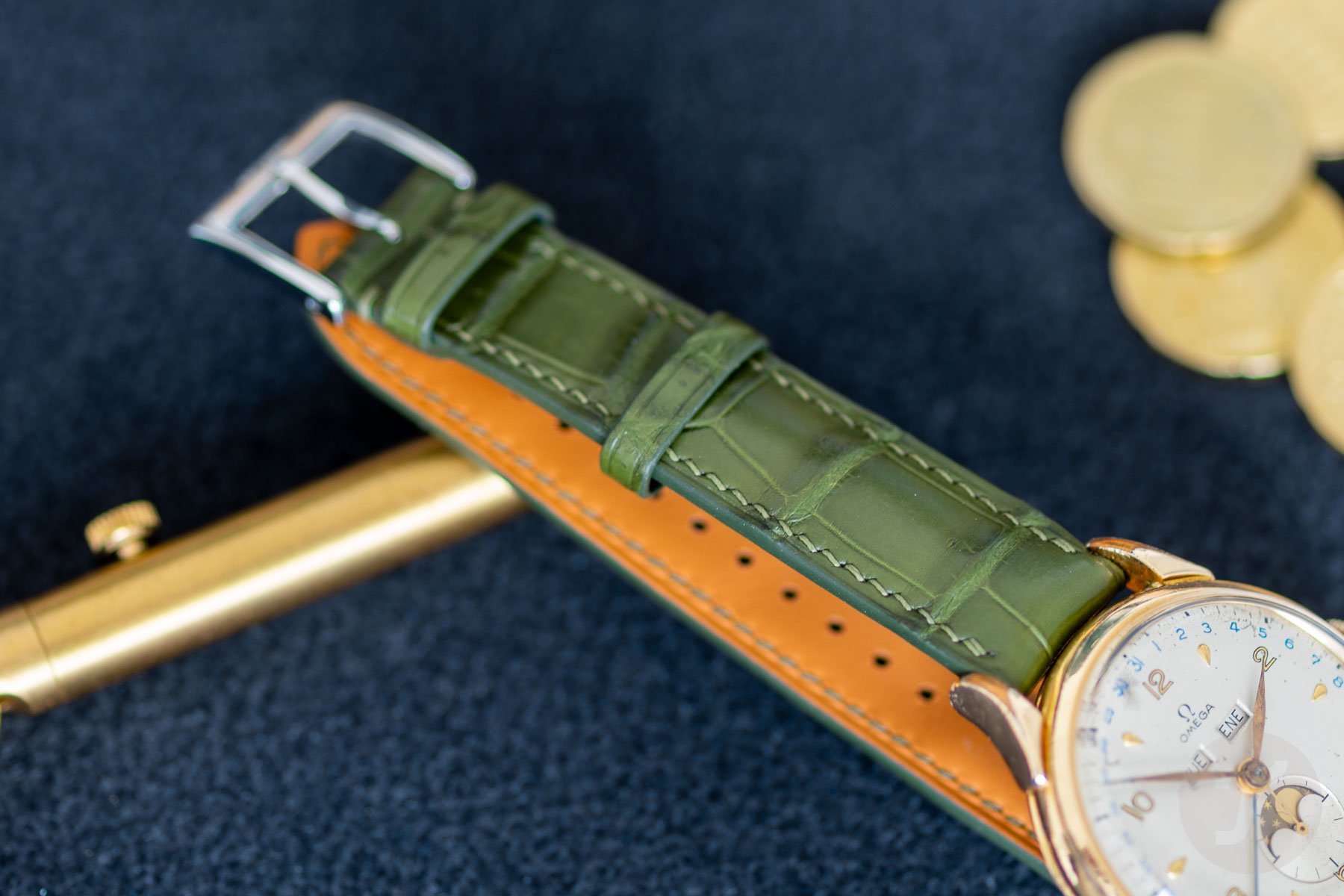 I cannot find anything about this strap that I don't like. The saddle stitching (the artisan uses two needles from the side of the strap) is even, durable, and beautiful, and the edges are painted. Often, the lining can feel a bit harsh, but not here. There is no stiffness to the strap either; it worked well on my vintage Omega Cosmic Moonphase from the moment I put it on. I tend to shy away from exotic leathers like crocodile or alligator because they are often treated in a way that gives a certain shininess to the surface that I don't like. Not in this case. We have a deep green tone with a somewhat matte surface finish that I find excellent. The price reflects that it is a made-to-order strap of exotic leather. You need to pay AU$245 (around €160) for such a strap.
Beige Nubuck calf leather
Let's continue with another 18mm product, this time from Artisan Straps' ready-stock collection. Here, the length is 115/75mm with an overall thickness of 2.4mm. Beige is a straightforward color to work with. I can't think of any watch that does not work well with a beige strap. Equally, nubuck, thanks to its smooth and pattern-free surface, is a versatile material. Nubuck is sanded calfskin, where the artisan removes the imperfections of the leather. Over time, however, this type of strap can develop a unique patina. This leather comes from the Remy Carriat tannery in France. Just like the previous strap, this one is also flexible and ready to wear right off the bat. I paired it with my vintage Angelus Datalarm, and the combo worked well. For this beige nubuck strap, the brand charges you AU$100 (around €65), which I feel is a fair price.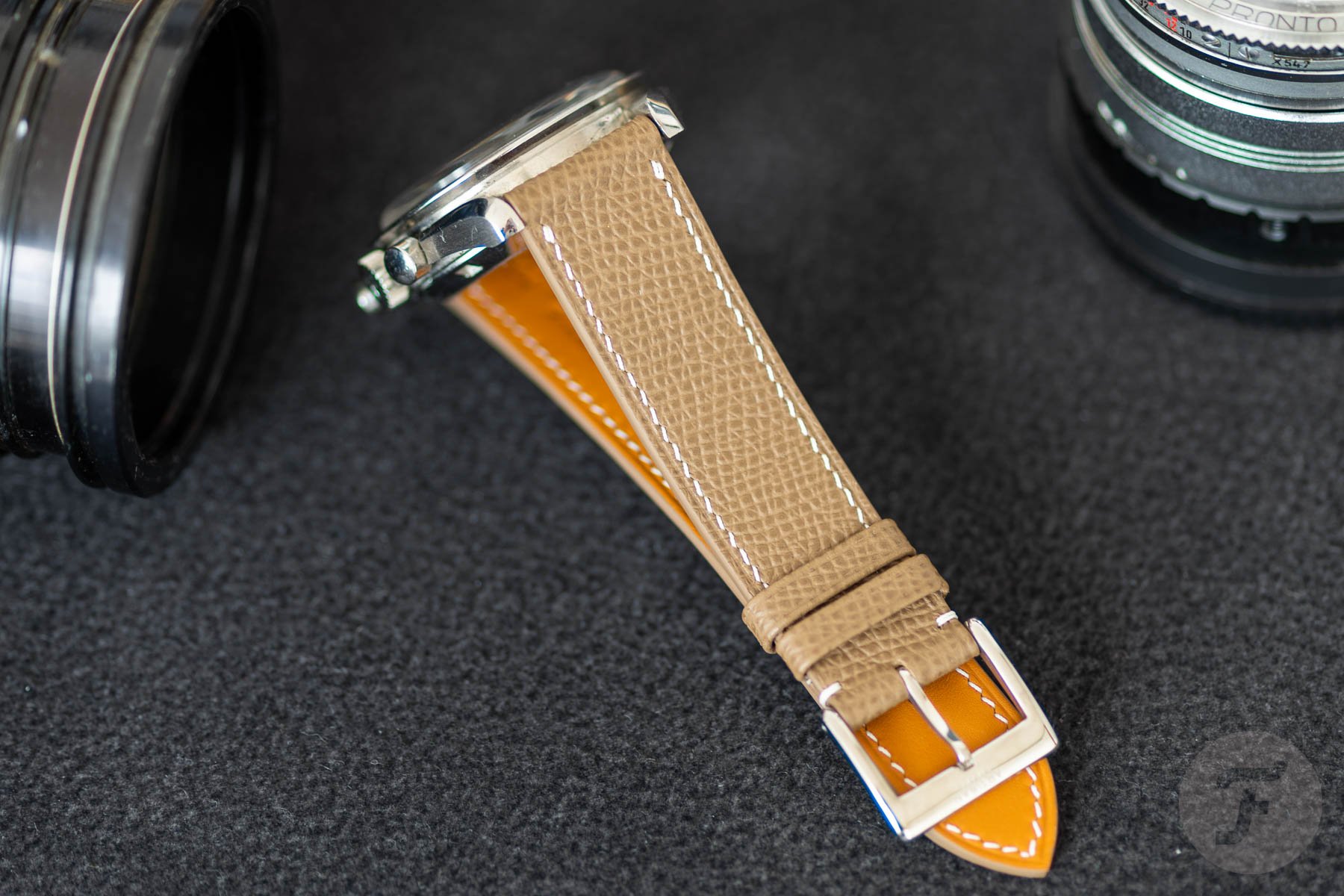 Taupe Epsom calf leather
Let's move on to a larger 20/16mm strap with a 115/75mm length and 2.3mm thickness. Every Artisan Straps product, including this one, has incredibly smooth painted edges. The example comes from Artisan Straps' made-to-order collection, but you can also find it in the ready-to-wear section. Epsom is a trendy leather that we have seen growing in popularity in the last few years. It is chrome-tanned calfskin with an embossed grain. I was happy to try this one out and threw it on my Speedy. It adds a particular classiness to the otherwise sporty watch. Haas tannery in France is responsible for this Epsom, which, as I have said in previous articles, is the go-to leather for Hermès bags. As far as the price goes, Artisan Straps charges AU$100 (~€65) for the ready-to-wear version but only AU$130 (~€85) for the made-to-order option.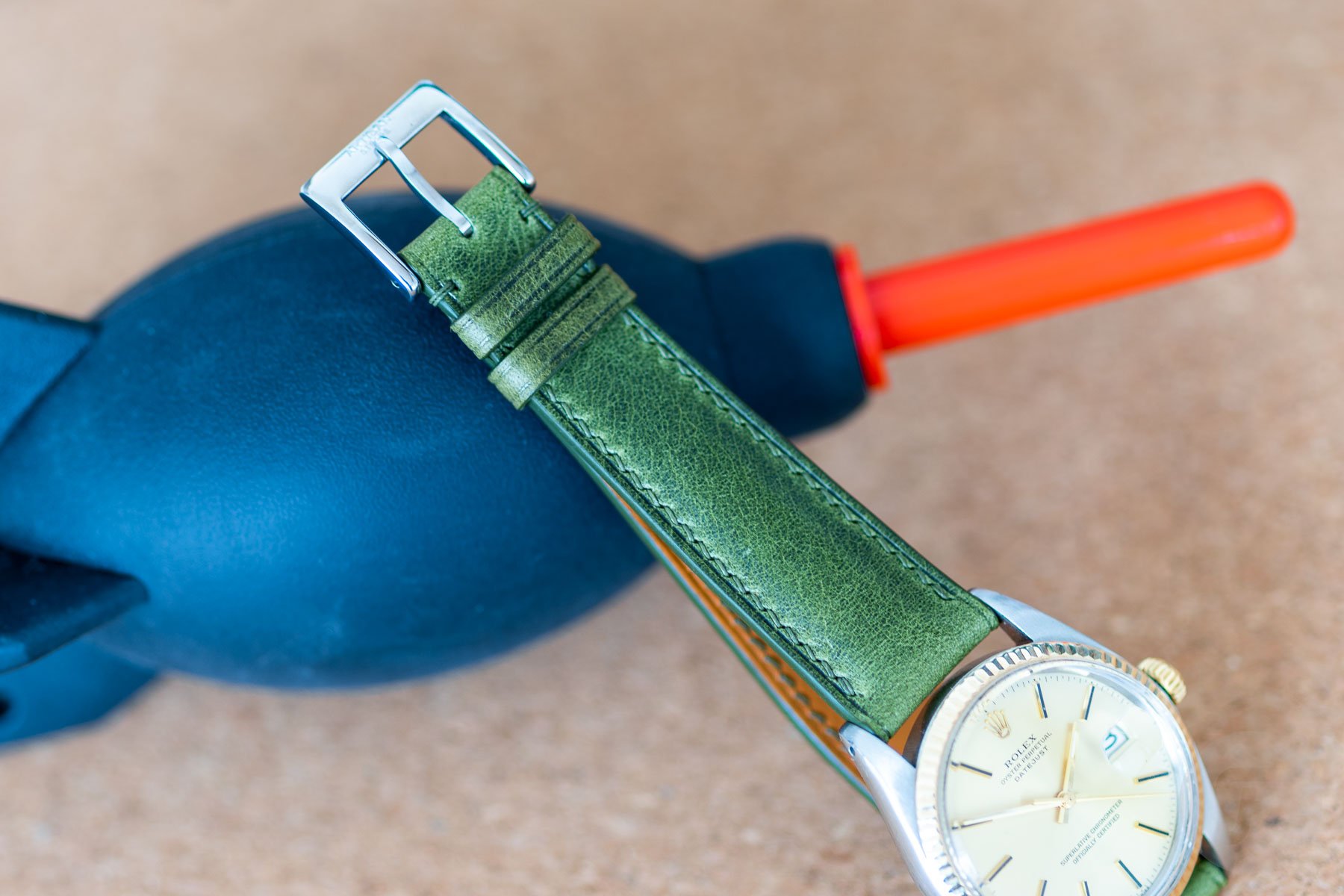 Olive Waxy cow leather
The last strap is another product from Artisan Straps' ready-to-wear collection. This Olive Waxy strap uses cow leather from the famous Italian Badalassi Carlo tannery. At 20/16mm in width and 115/75mm in length, the strap is in line with the previous ones. The construction is padded, at 4.7mm on the thicker end and 2.6mm on the thinner end. To achieve the waxy look, they use cowhide and vegetable tan it. Finally, they hot-stuff the leather with wax. The process creates this aged, two-tone look with the creases visible. Some might not find it fitting, but I liked it on my vintage two-tone Datejust. While steel/gold and green might not be the first choice for many people, they complemented each other beautifully. Not to mention that the padded construction added a bit of heft to the look. The price is, again, the same as the ready-to-wear options above.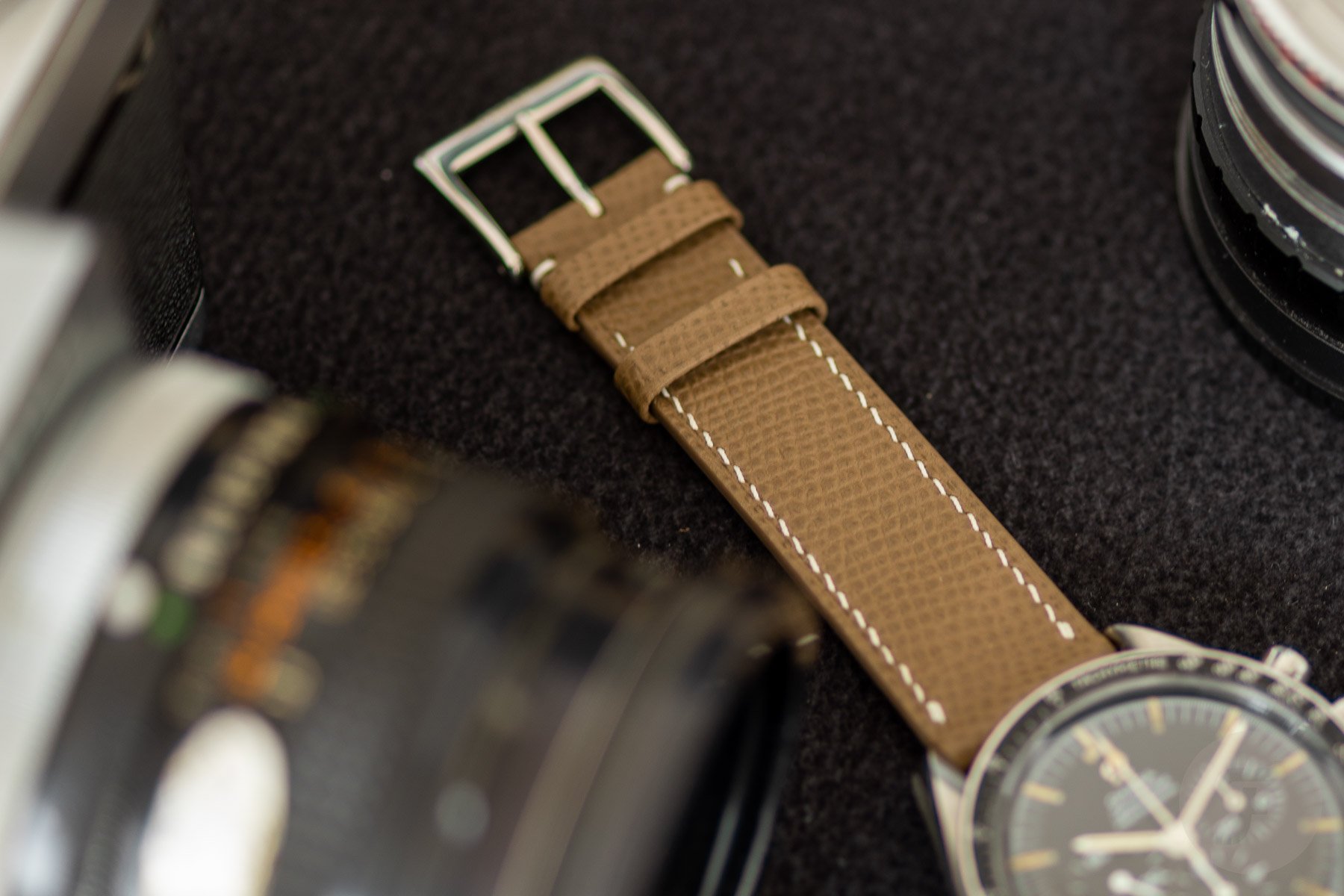 What's left to say?
Every Artisan Straps product came with engraved steel hardware. There's only a tiny logo on the clasp, so it's not disturbing or loud. Furthermore, you can order your strap with or without quick-release spring bars. I'm a fan of them and find them extremely useful when changing straps often, as I do. Aside from straps, you can find several watch cases on Artisan Straps' website. There's even a designated area for your custom strap orders. As you are ordering from Australia, it's worth mentioning that the company offers free shipping for domestic orders over AU$90 and international orders over AU$350. I'm happy to finally add an Australian brand to the Watch Strap Review family. We could not have found a better brand than Artisan Straps.