Watch Strap Review Part 20. – Straps from BaselWorld 2016
Straps
By now, you've likely read every article about all the latest releases from BaselWorld 2016. I will not introduce any brand's novelties in this article but instead will focus on something we tend to look over during all the hype that surrounds us during the fair. This month's Watch Strap Review will be a special edition about the different straps we've seen during the show last month. Don't worry, next month we are back on track with yet another strap maker, and a really good one at that. For now however let's discuss what we saw during that crazy week in mid-March in the busy city of Basel.
Last few years
I got into watches when I was a kid but the hobby really took off in 2007 when I bought my first Swiss Made watch, a Tissot PRC 2000. Soon after that I joined WatchUSeek and from then on I was completely hooked. If I remember correctly during that time nato straps just started to appear and they were the hottest things around. Keep in mind that in those years you would not see as many private strap makers as you see now. You had the real big ones like Hirsch or Rios and a few ateliers but none of the Watch Strap Review-type, home workshops were in existence. I think the very first strap maker on this scale I met was Carl aka Gas Gas Bones. As time passed, natos and zulus were replaced by rubber and silicon straps, handmade leather straps (helped by the spreading of Panerais) and just a few years ago, perlons. Of course you'd have the occasional vintage Tropic straps (my favorite straps 'til this day) or vintage JB Champion bracelets (that I still have to find), perhaps some original IsoFranes or Corfams but those were not seen in huge numbers. So natos faded away, or they were not that fashionable anymore, and a vast diversity of handmade straps by self-taught guys working from their home workshops took their place. It seemed to me that the watch industry was a bit late to react to this craze and while last year was all about nato straps, the year before and even before that you barely saw any of them around. For example, the first Omega Speedmaster to be officially offered on a nato as its main (only) strap option, the Apollo 11 45th anniversary, came out in 2014. There's no doubt, however, that by 2015 every self-respecting brand offered them at least as a strap alternative. Some even launched their latest model(s) strictly on nato. This was not a new trend of course as some brands already ventured out to new territories regarding straps in prior years. Last year, though, everyone from Oris, to Blancpain, Omega, Tag Heuer, Sinn etc. all had natos in their lineups.
This year
Perhaps I pay more attention to the straps since I started doing our monthly column, Watch Strap Review. When we go to a meeting,  let that be Basel World or a factory visit, I don't only focus on the watch itself but also the strap or bracelet. I'm genuinely a strap guy – there are only a small number of metal bracelets I like on a watch. A strap, whether it's  leather, rubber, nylon or any other material, can dress up a watch or make it look rugged and that's something a bracelet obviously is not able to do. So at this year's BaselWorld I kept an eye out for these accessories. Now let's have a look at what I liked from the brands we visited.
Omega
No real surprise here. Beautifully made leather straps, rubber options for divers and a new blend of rubber and leather for dressy, yet comfortable summer wear. Omega had much less nato than in the previous years and only a few models with a mesh bracelet. The one strap that really stood out was the one Omega fitted to the platinum Globemaster Annual Calendar limited edition. This watch has a beautiful burgundy colored and highly lacquered strap, where inspiration was taken from a design icon, the Chesterfield sofa. This was and is a work of art.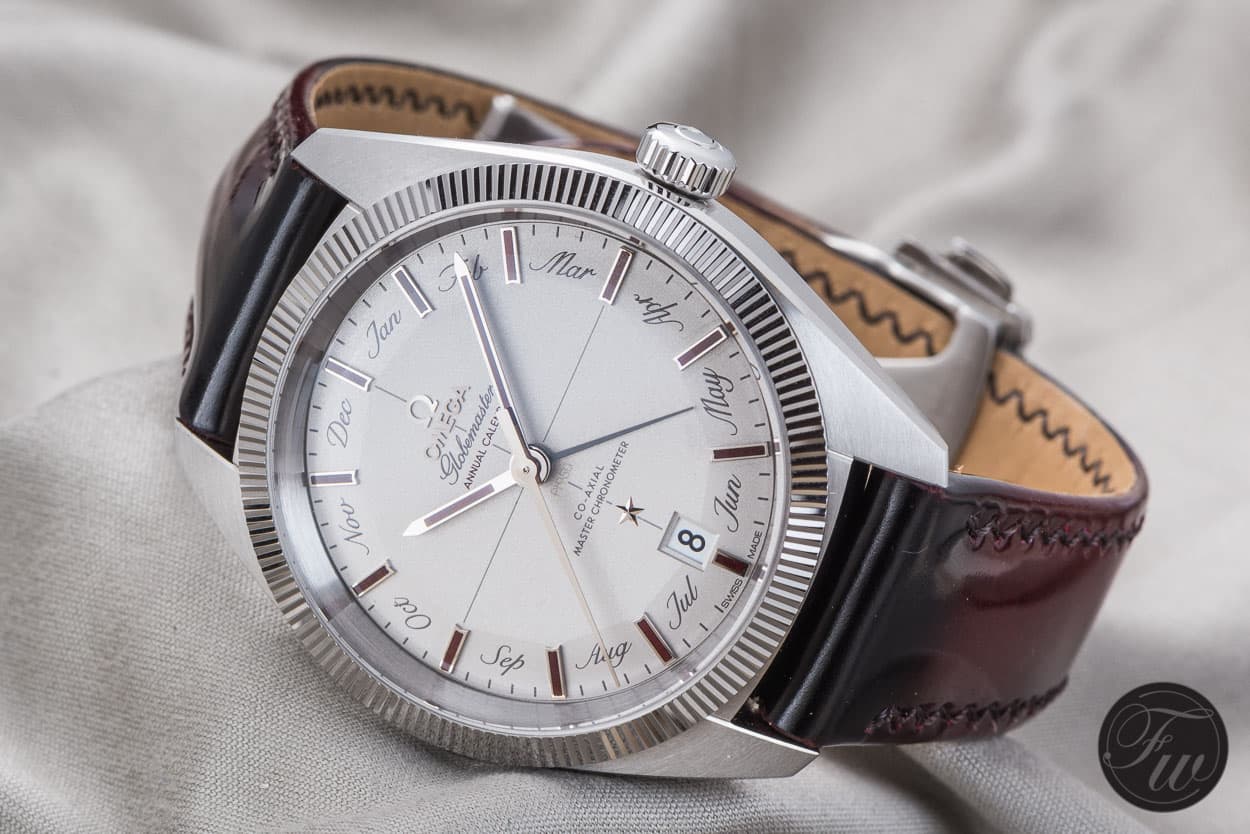 Oris
Easily my most favorite strap options are offered by Oris this year. When they came out with the diver Sixty-Five last year it was equipped with a vintage Tropic inspired rubber diver strap. That was already a nice addition to the vintage look and feel of the watch. We have confirmation from the people at Oris that an actual Tropic was used and its design improved to create that rubber strap. This year they rolled the dice with a nato strap that actually has a deployant buckle. If you do a wrist shot it looks like a regular nato is attached to the watch but turn it over and you see the stainless steel metal deployant buckle that actually allows you to take the watch off much faster, secures it better and has an overall comfortable feel. I even forgive them for the light blue/yellow version.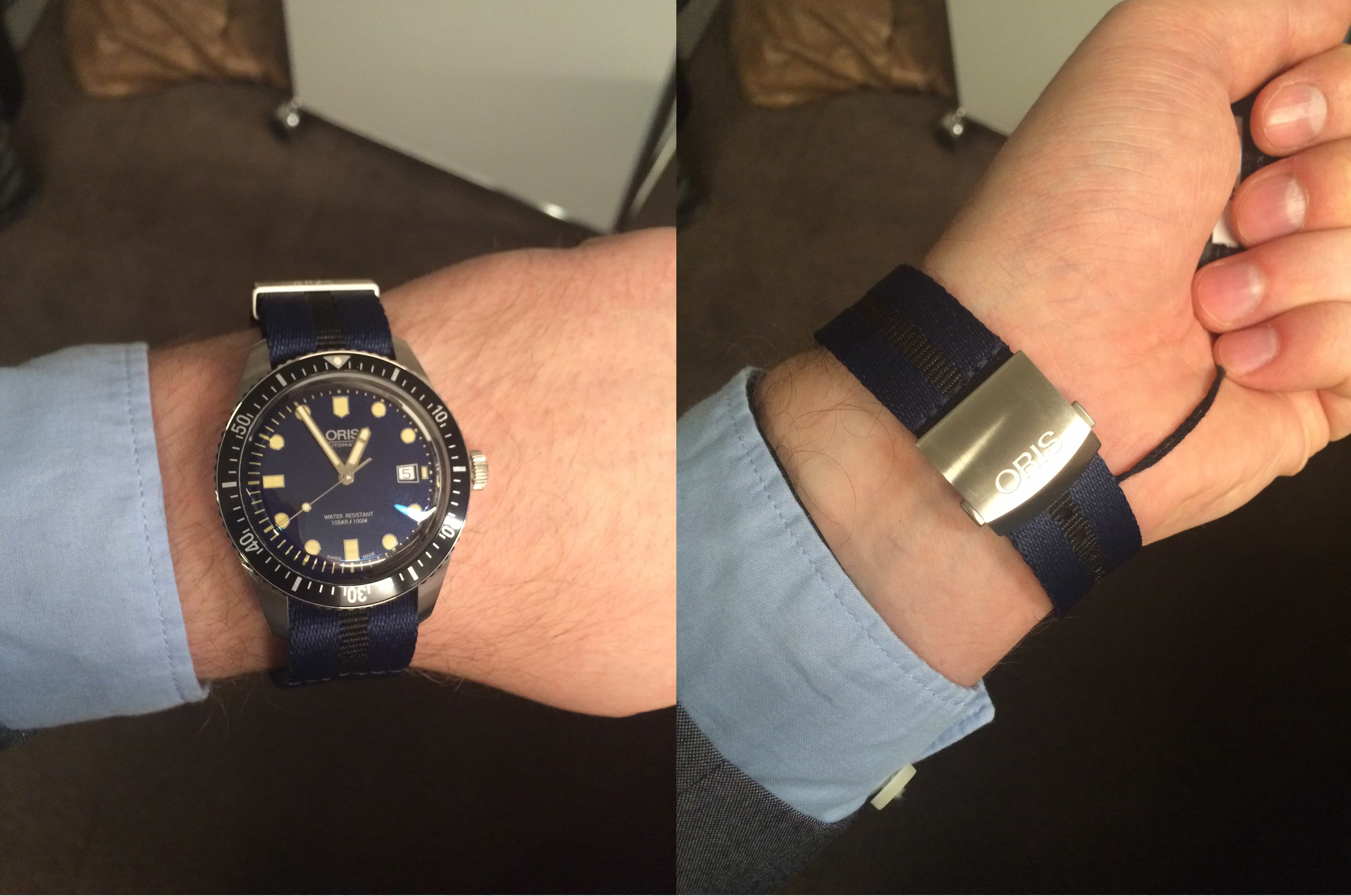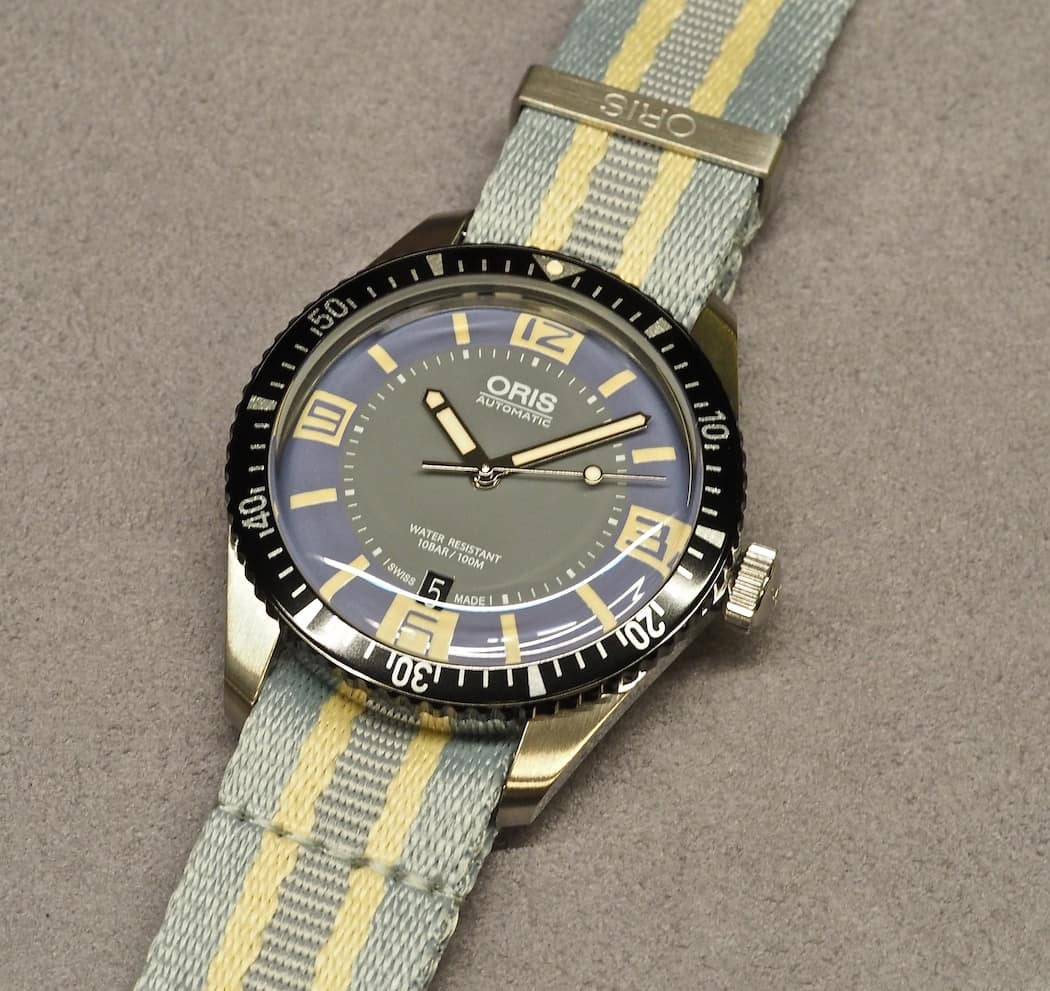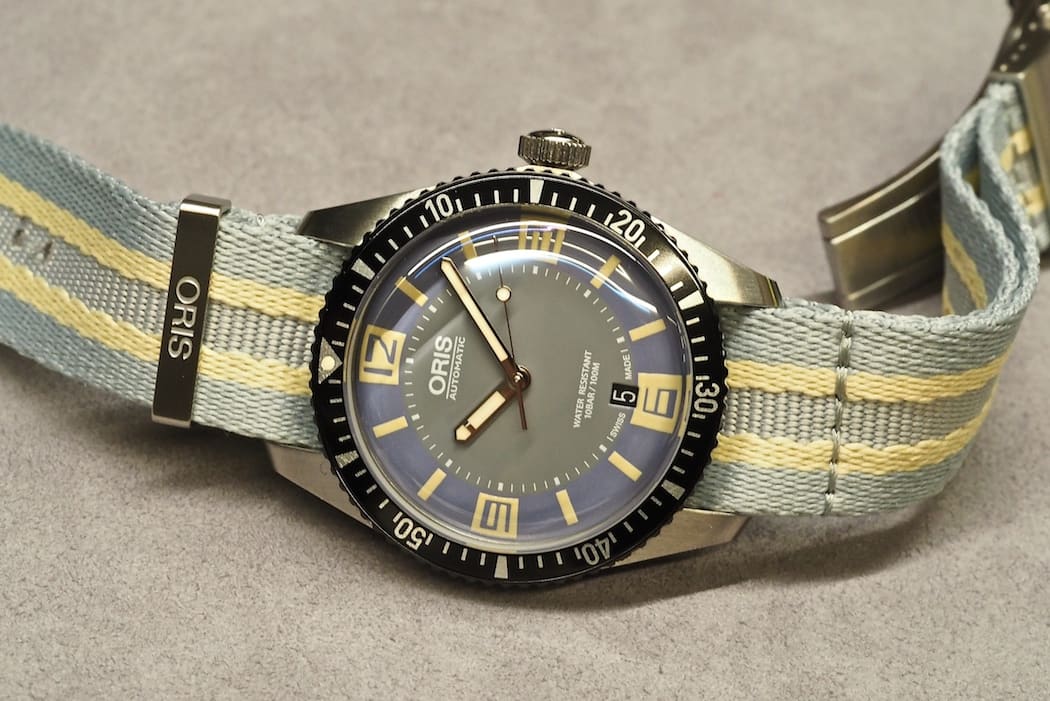 Hublot
I have talked about the collaboration between Hublot and Berluti before but they have to be added to the group. Those leather straps Berluti made for Hublot are just pure watch strap porn. I mean we expected nothing else from the legendary French atelier but it still amazed us. If you have the chance to try it on for yourself, please do it. You'd be pleased with how soft and exceptionally finished the straps are and the leather dial is just an added bo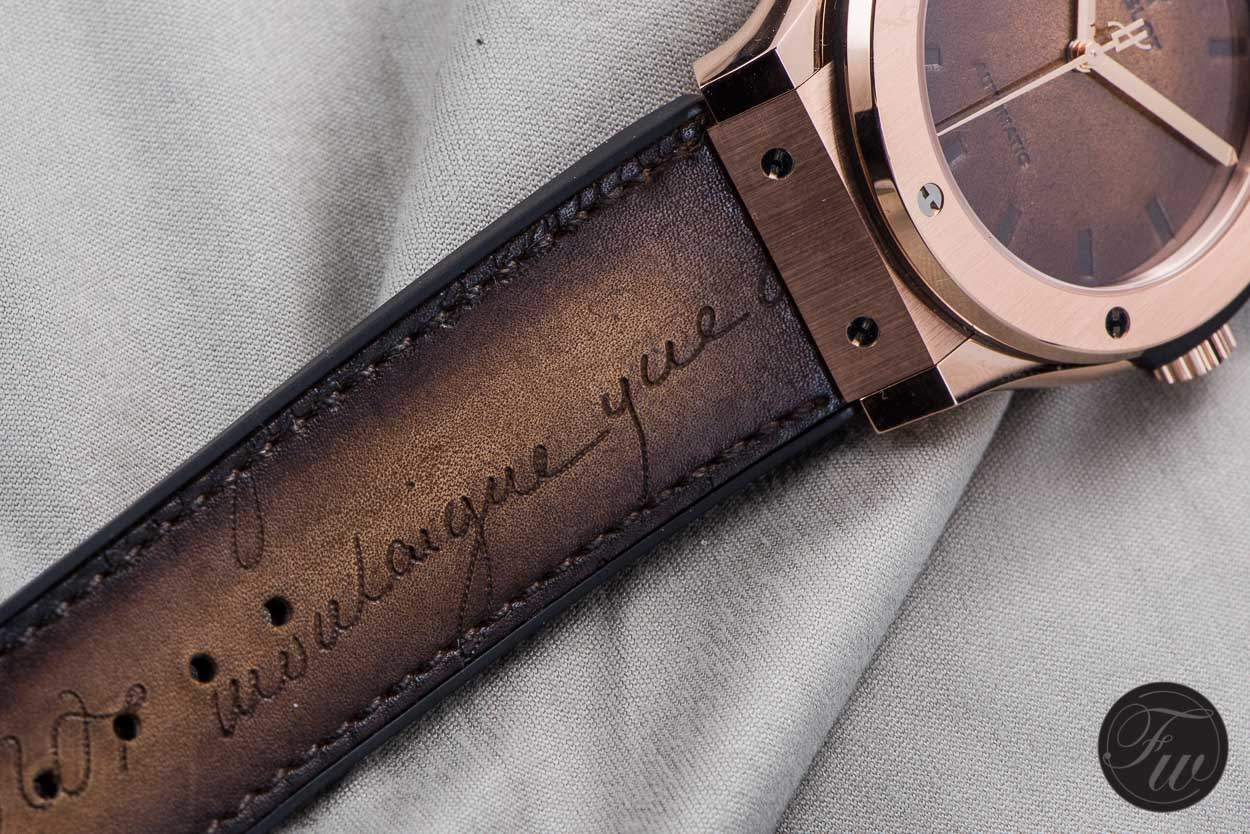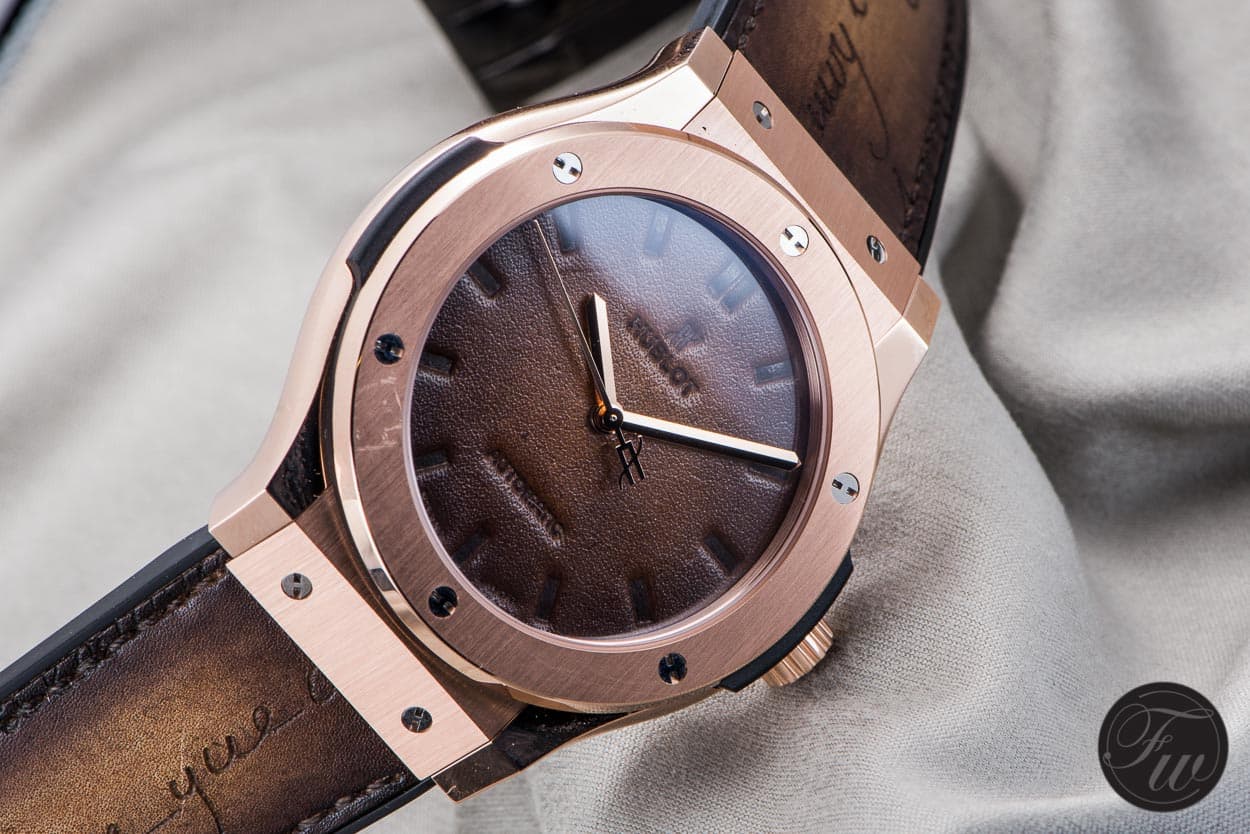 Sinn
You know whenever you walk into a meeting with Sinn that you can expect something interesting from them at all times. This year, again, they did not cease to amaze us. We saw a bunch of lovely horseback leather straps; I especially loved the square bund strap on the 856 B-Uhr. You don't see these bundeswehr straps around anymore, unless you are looking at guys with long beards and checkered flannels riding 80's speed bicycles in the East Village. But all jokes aside, very few watch brands are brave enough to use them, which is a pity. Sinn also showed us their "answer" to the Apple Watch craze. It's called the "I strap" and is similar to a nato, but you can wear your watch and your Apple gadget on the same strap. You can choose whether you want the Sinn on top and the Apple Watch at the bottom or vice-versa. It's a pretty neat solution from a company who doesn't want to or need to follow trends – not these trends anyways.
Tudor
Ever since Tudor introduced their Black Bay line in 2012 their flags are flying high for me. The watch was/is a great hit and the strap options are a perfect match in my humble opinion. Tudor pays huge attention to their straps there is no better proof than the fact that they even have a dedicated section on their website about their vast selection of different in-house strap fabric. Their newest release, the Black Bay Bronze, was the talk of the fair this year partly because some photos were leaked, but partly because it is a great and bold decision to create such a watch – and the result is excellent. The vintage leather strap option is a great match but the military green nylon nato compliments the time piece best. Tudor has a history of offering a nato strap as an alternative next to the bracelet and leather and they always hit the nail right on the head with it.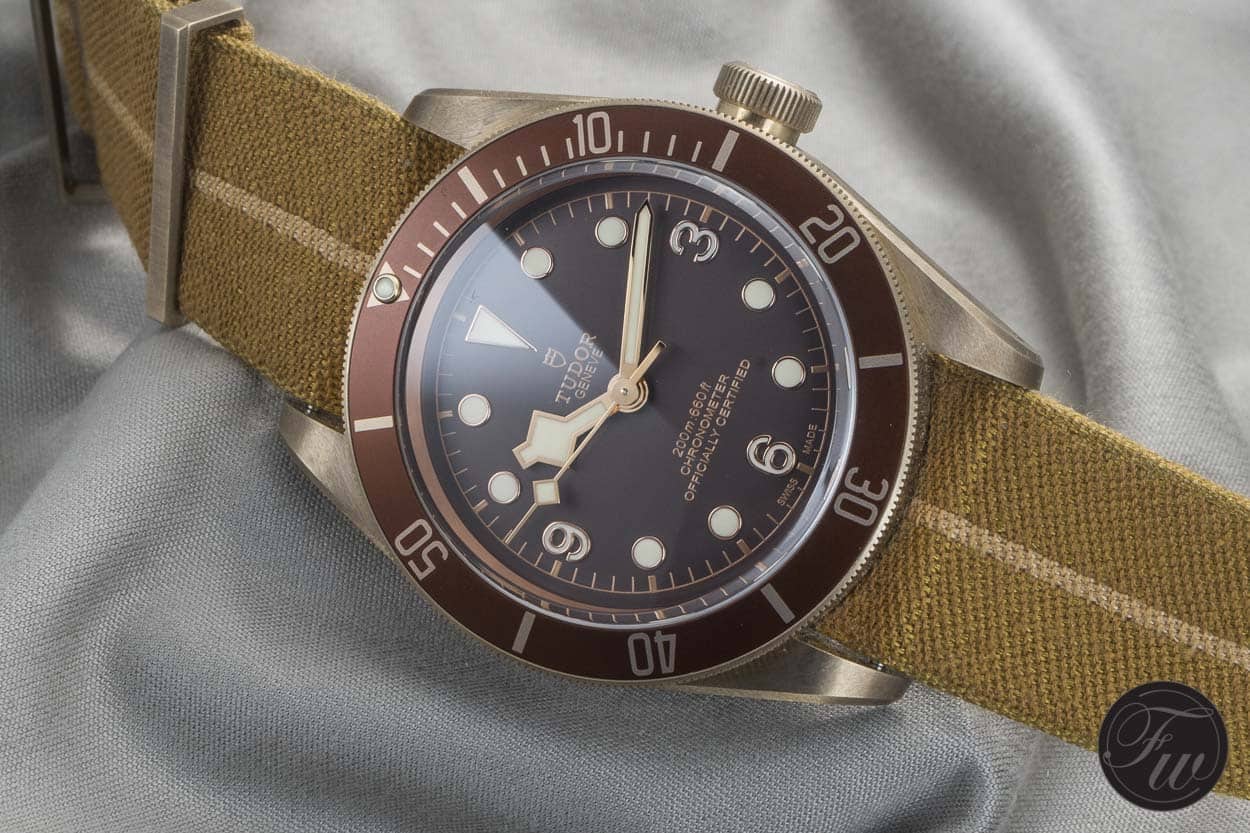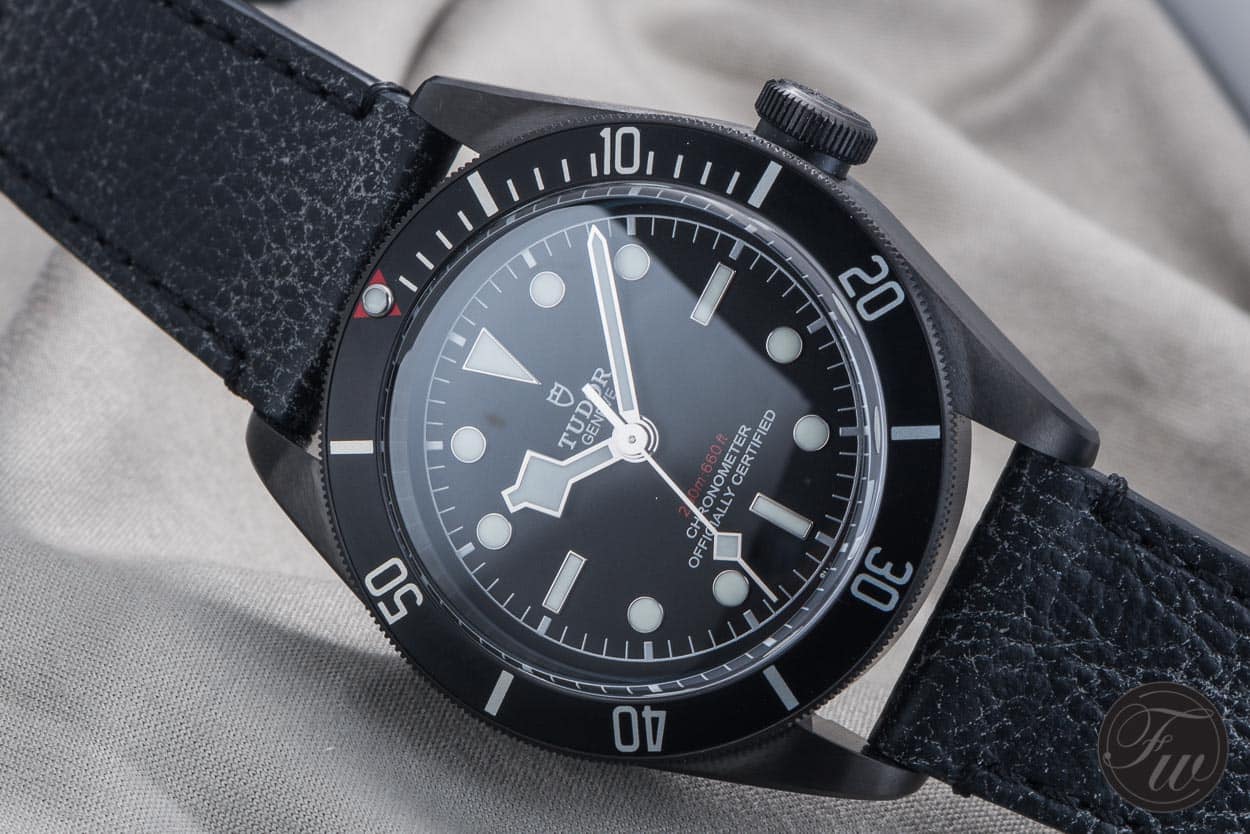 The rest
Of course these brands do not necessarily represent the quintessential of uber cool strap users but the ones I particularly found interesting. We visited Nomos on our last day and even though the straps they had on their watches were just a regular leather band, they were absolutely gorgeous and often are crafted in shell cordovan. Furthermore, Breguet's watches, as you would expect from them, come on leather straps that are a work of art. Then there is Ressence with their fixed spring bars and 2-piece leather straps that were designed to fit the watch case perfectly. So the list goes on and on.