Watches Best Worn In Bronze: Our Picks From Hamilton, Tudor, Oris, Panerai, And Vertex
Because sometimes bronze is the way to go
CuSn, also known as bronze, is an alloy consisting primarily of copper (about 88%) and tin (12%). An entire age of humanity bears the name of this metal. And though these days it isn't used nearly as widely as it was between 3300 BC to 1200 BC, it certainly has found new life in the watch market (and continues to enjoy one in the nautical milieu). Until recently, bronze watches were somewhat of a blind spot for me. I didn't really get the appeal. I suppose sometimes it comes down to finding the right watch for the metal. This got me thinking about watches that are somehow inexplicably suited to the warm-toned king of patina-prone metals. After a brief chat with some of the editors at HQ, we found ourselves listing down several watches until we arrived at these top five picks.
The watch that opened my eyes to bronze was the limited-edition Fratello × Oris Big Crown Pointer Date from a couple of years back. And (spoiler alert) the model in question will certainly make it onto this top-five list. That said, these are five picks out of an ocean of bronze watches. We're not saying that these are objectively the best bronze watches out there. These five picks are just some of our favorites. And though bronze may have some drawbacks, we do think that these models really do suit the metal better than the original steel versions. Don't see your favorite among our selections? Feel free to chime in down in the comments. I'd love to hear your thoughts on watches best worn in bronze. Let's move on to my first pick and a happy memory from my first weeks at Fratello.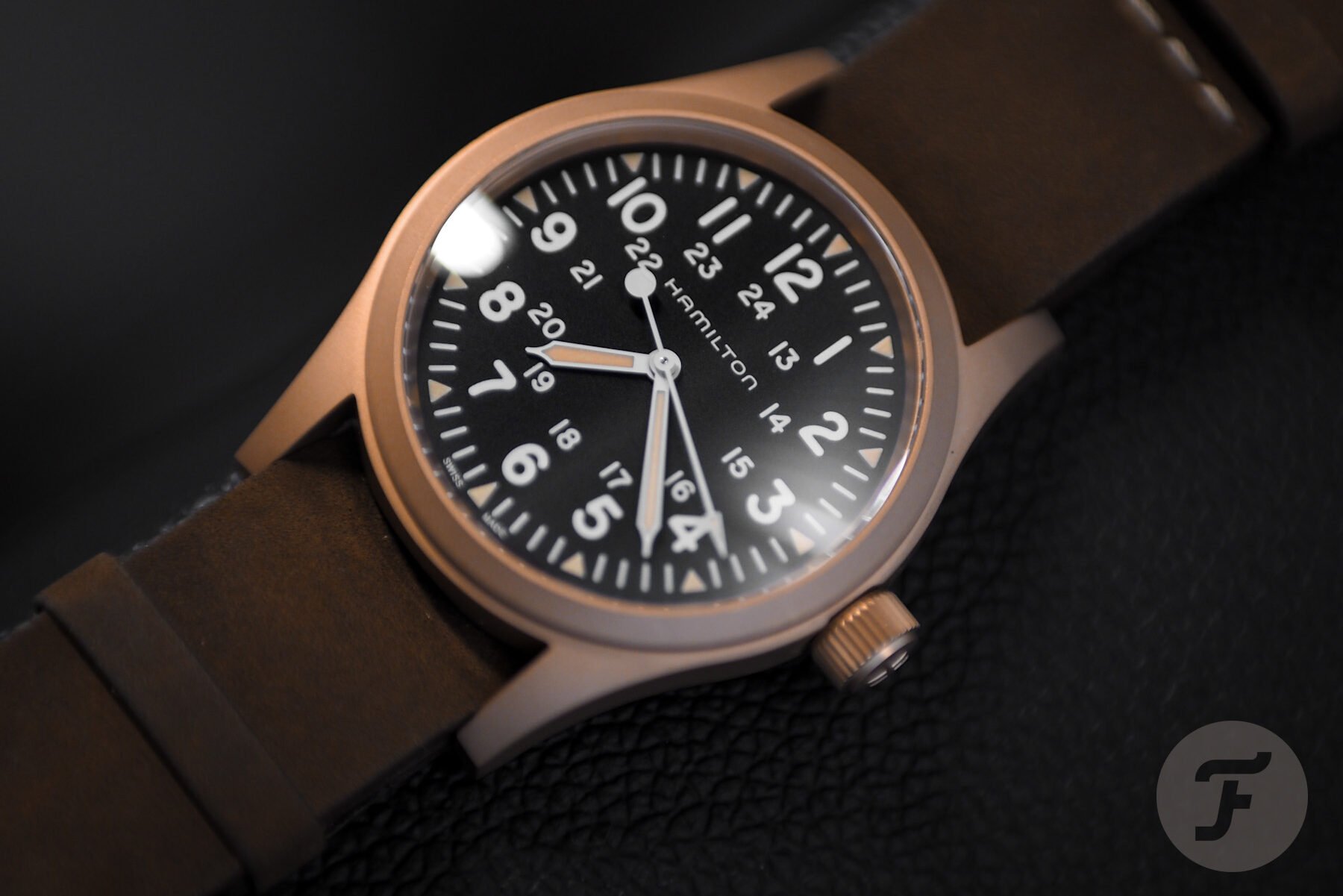 The Hamilton Khaki Field Mechanical Bronze
As I wrote in my article on it back then, the Hamilton Khaki Field Mechanical Bronze takes a good thing and makes it bronze. Following the sure-fire formula of fine field watch finesse that Hamilton has long mastered, the bronze version of the brand's charming and affordable flagship model is simply brilliant. There's something about bronze that, I feel, lends itself best to field watches. Sure, a bronze diver is also cool (as you'll see later on in this article). But the understated simplicity of a field watch simply shines in the earthy tones of bronze. This particular Hamilton also stays true to all of the things that made the Khaki Field so popular in the first place.
Not only is it reasonably priced, but it also offers a lot of value for its humble price tag. You get a beautifully slim-wearing watch at the 38mm sweet spot. And whereas you could certainly blame the steel version for being (almost) a bit boring, the bronze version certainly ups the interesting factor. Plus, watching the reddish-golden tone fade to a deeper shade of yellowy brown is an extremely satisfying process to witness. The fact that the 38mm Khaki Mechanical is such a perfect daily-wear watch means that you'll get to keep track of the bronze's transformation. As I mentioned in the article, the fauxtina tone of the lume suits the case color perfectly and works much better than in the steel version, which can be a bit overpowering.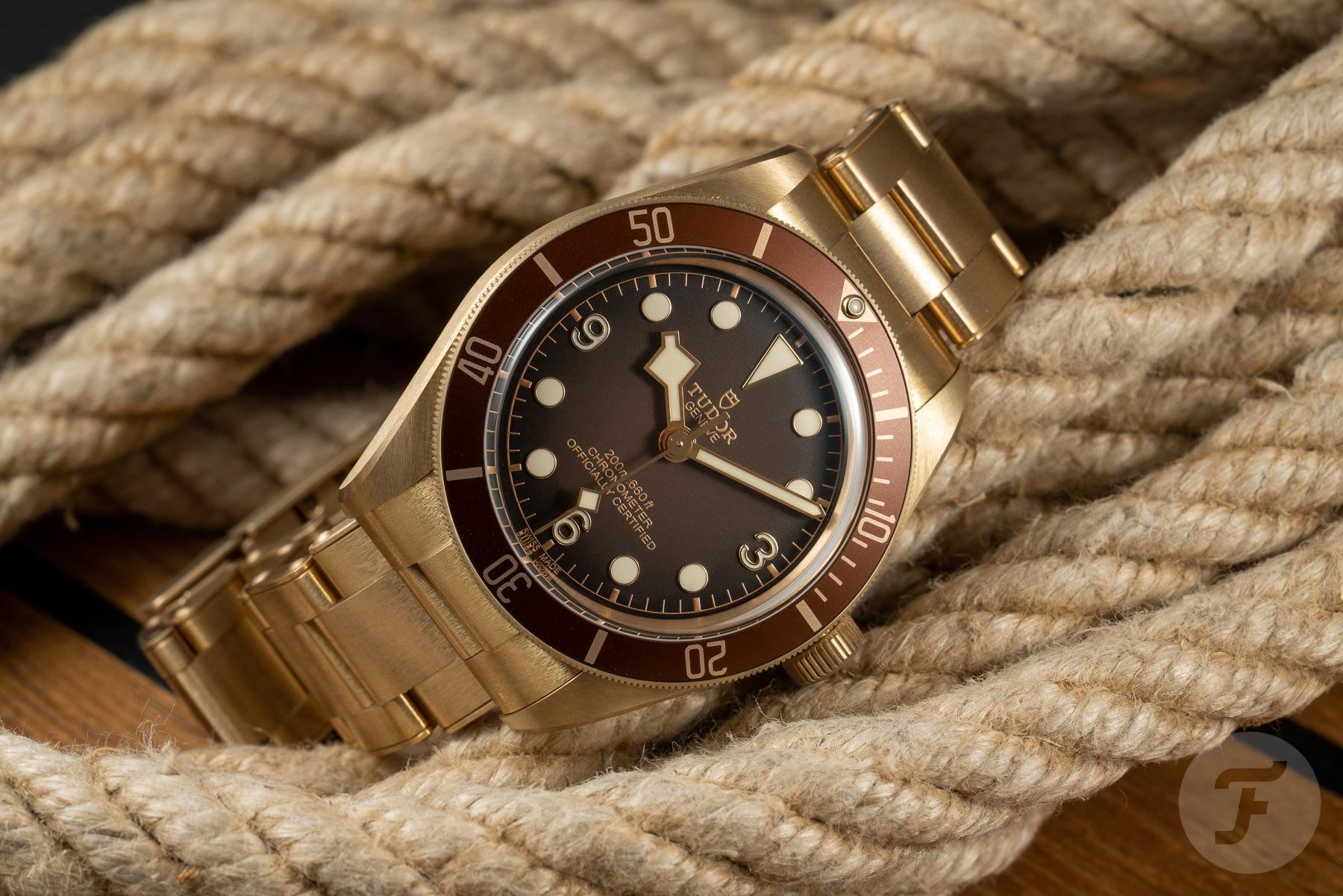 The Tudor Black Bay Fifty-Eight Bronze Boutique Edition
For my next pick, I've gone with the Tudor Black Bay Fifty-Eight Bronze Boutique Edition. Yes, specifically the boutique edition. Why? Well, as much as I'd like to leave it as "just look at it!" I think it's worth breaking down why this watch works so well. The first thing to note is how different this Black Bay is from the rest. In general, the bronze Black Bays are very different from their steel counterparts. Even the standard bronze model has the vignette dial and 3-6-9 dial configuration. But the warm tones of the boutique edition just take it to the next level. As counter-intuitive as it may seem to pair an already warm-colored metal with similar tones, this watch is living proof that it works.
As RJ put it, "bronze and brown are a match made in heaven." It's not the only watch on this list to play with this concept (as you'll soon see), but it certainly does it extremely well. Whether on the bracelet or the signature Tudor woven strap, the overload of orange/brown tones is just fantastic. Plus, the nautical association of bronze makes for a charming dive watch indeed. You might worry that exposure to salt water would take its toll on the metal. However, you'd then be surprised to hear that the reason why bronze is so popular in nautical implementation is due to its high resistance to corrosion as a result of contact with salt water. If you already own your share of steel divers, perhaps it's time to try something new, bronze being one of three other options that Tudor offers in the Black Bay range.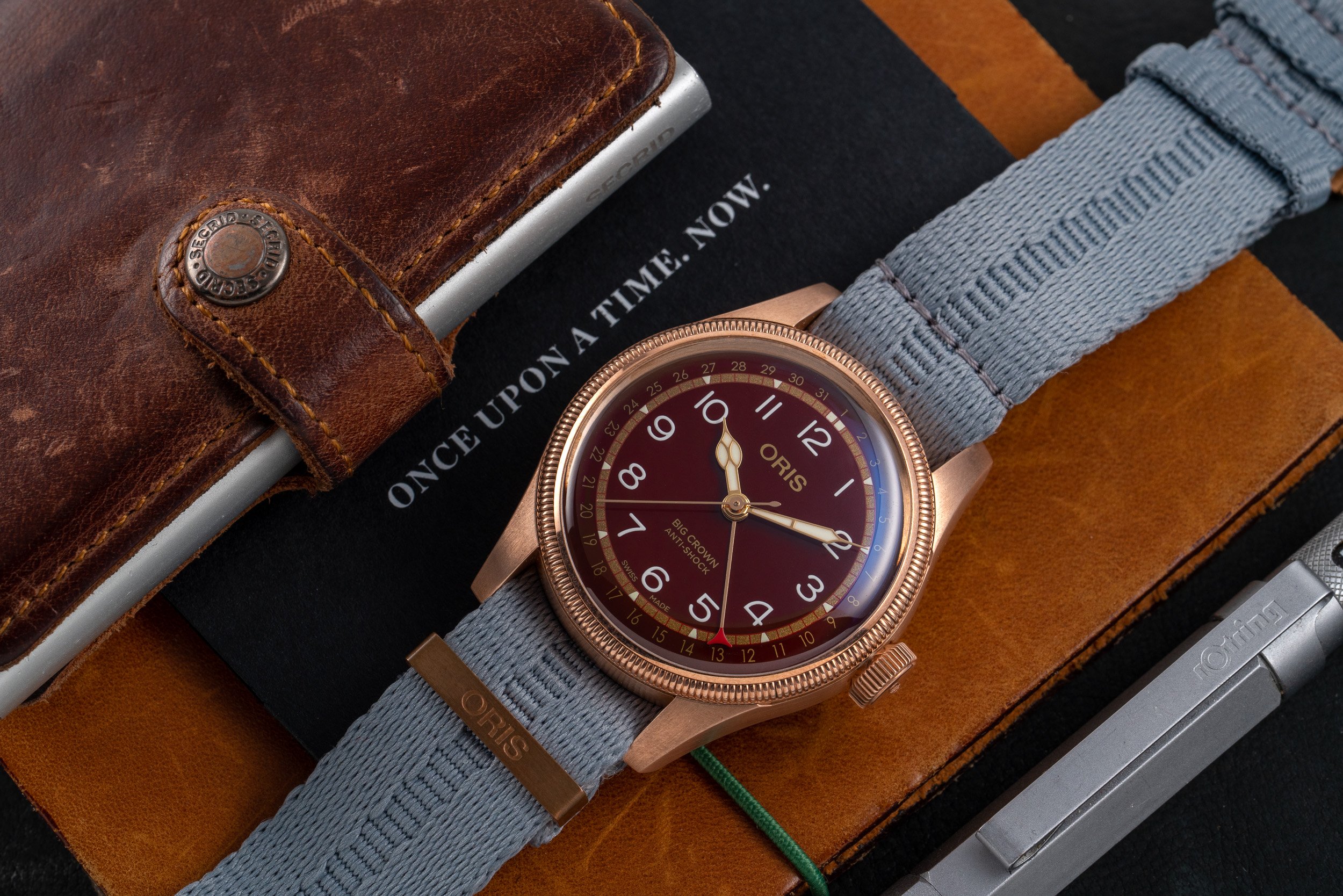 The Oris Big Crown Pointer Date
This one's a bit of a no-brainer. As you know, here at Fratello, we're big fans of the Big Crown Pointer Date. But not just any BCPD, specifically the bronze models. You're probably familiar with our limited-edition model, released a couple of years ago. And though there may be a slight bias here, I can say that the non-limited bronze models are also fantastic. In fact, they offer plenty of choices in terms of color. Recently, Oris decided to go all-in and release a version with a full-bronze bracelet. One thing to note is that Oris's Bronze alloy has a more reddish tone than Tudor's slightly more golden hue. Regardless, sticking to earthy tones (with some exceptions) has made for a solid lineup of bronze watches.
There's also something about the retro-inspired design that suits bronze. The coin-edge bezel, big crown, and sharp case just shine in this pink/orange color. In fact, it works so well that looking at steel BCPDs gives me a feeling that something is off. It's certainly a case where I find the bronze option to be a significant improvement from the steel. However, having the choice of both means that everyone can be happy. But trust me on this one. Go take a look at the Oris catalog, and tell me that it is not one of the brands doing bronze watches better than the rest. If you do, I won't believe you! And just to prove that I put my money where my mouth is, I'm happy to say that I'm the proud owner of one of these bronze beauties.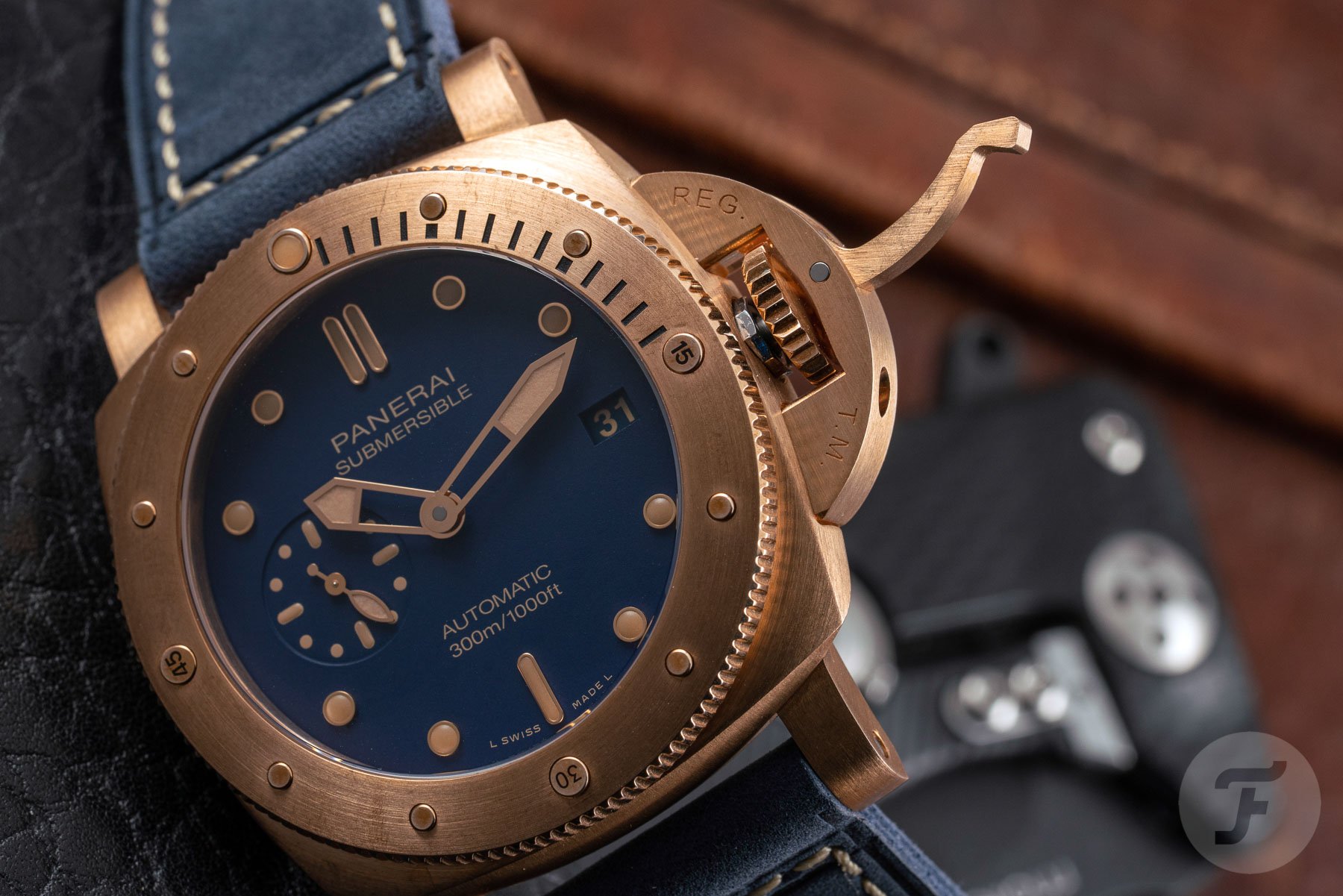 The Panerai Submersible Bronzo Blu Abisso PAM01074
This is another throwback to my early days at Fratello. As you can see, Lex's article on this wonderful diver was published on July 29th, 2021, a mere couple of weeks after I joined the team. This was one of the first watches that arrived when I got here, and it left quite a lasting impression. Not only is the 42mm size a perfect downsized form factor, but this is another case of perfect nautical charm. The watch's bezel looks almost like a porthole of a ship or a submarine's hatch. And the deep indigo blue of the dial contrasts beautifully with the golden accents provided by the dial and markers. For a long time, this was one of the few watches that I truly loved in bronze, and if it weren't for its steep price (€17,000 / US$16,800), I would have even considered adding one to my collection.
It does remain, in spirit, one of my favorite Panerai watches of all time. And though I only witnessed it in perfect factory-fresh condition, I can't help but imagine how good this one would look with a bit of patina on it. The true tool origins of Panerai's dive watches mean that they are watches that look best worn. While other brands started life in the realm of tool watches and were lost to the luxury aspect of horology, Panerai's models still have that rugged appeal to them. As you can see, this watch is fully brushed and comes with a chunky leather strap. The lugs are rectangular, squat, and drilled with large bars securing the strap in place. The crown-lock system also adds a tactical edge, which is softened by the charming nautical metal in which everything is executed.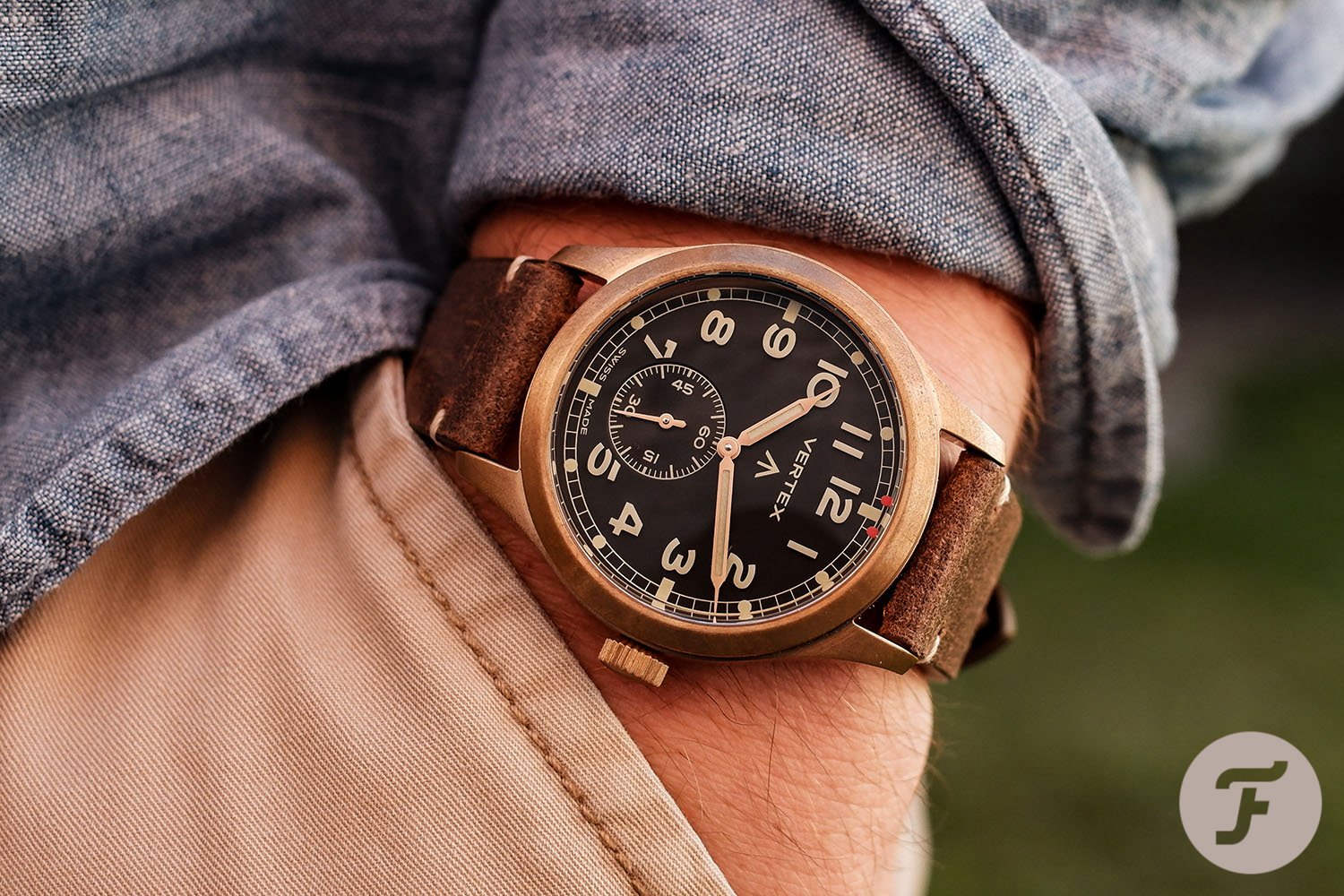 The Vertex Bronze 75
It's hard to think about bronze watches and not have Vertex come to mind. The recently rebirthed brand was made famous in its past incarnation for having created one of the infamous "Dirty Dozen" watches. Brought to life once again in 2016 by the great-grandson of the brand's founder, Vertex has embraced the old-school military aesthetic and brought it to life with a modern twist. The brand continues to go strong with a fantastic catalog of simple yet charming watches that boast some of the best lume out there. With markers carved of solid blocks of luminous material, it's no surprise. Vertex made waves with its M100 field watch. At 40mm in diameter and just 11mm thick, it falls into a sweet spot in terms of size and slots into the same category of daily-wear appeal as the Hamilton Khaki Field.
And as with the Khaki Field, the charm factor is turned up to 11 by its bronze counterpart. Doing away with the monochromatic haze of the original M100, the Bronze 75 is, I believe, a watch that wears better in bronze than it does in steel. Again, I'd say that it's for all the same reasons that the Hamilton Khaki Field Mechanical also works better in bronze. Field watches can be rather static and simple. And I get that this is part of the appeal. But their bronze versions bring a bit of liveliness and dynamism to the party, not just in terms of color but also in that you have plenty of patina to look forward to. And if that doesn't convince you, maybe Ben's words on it will.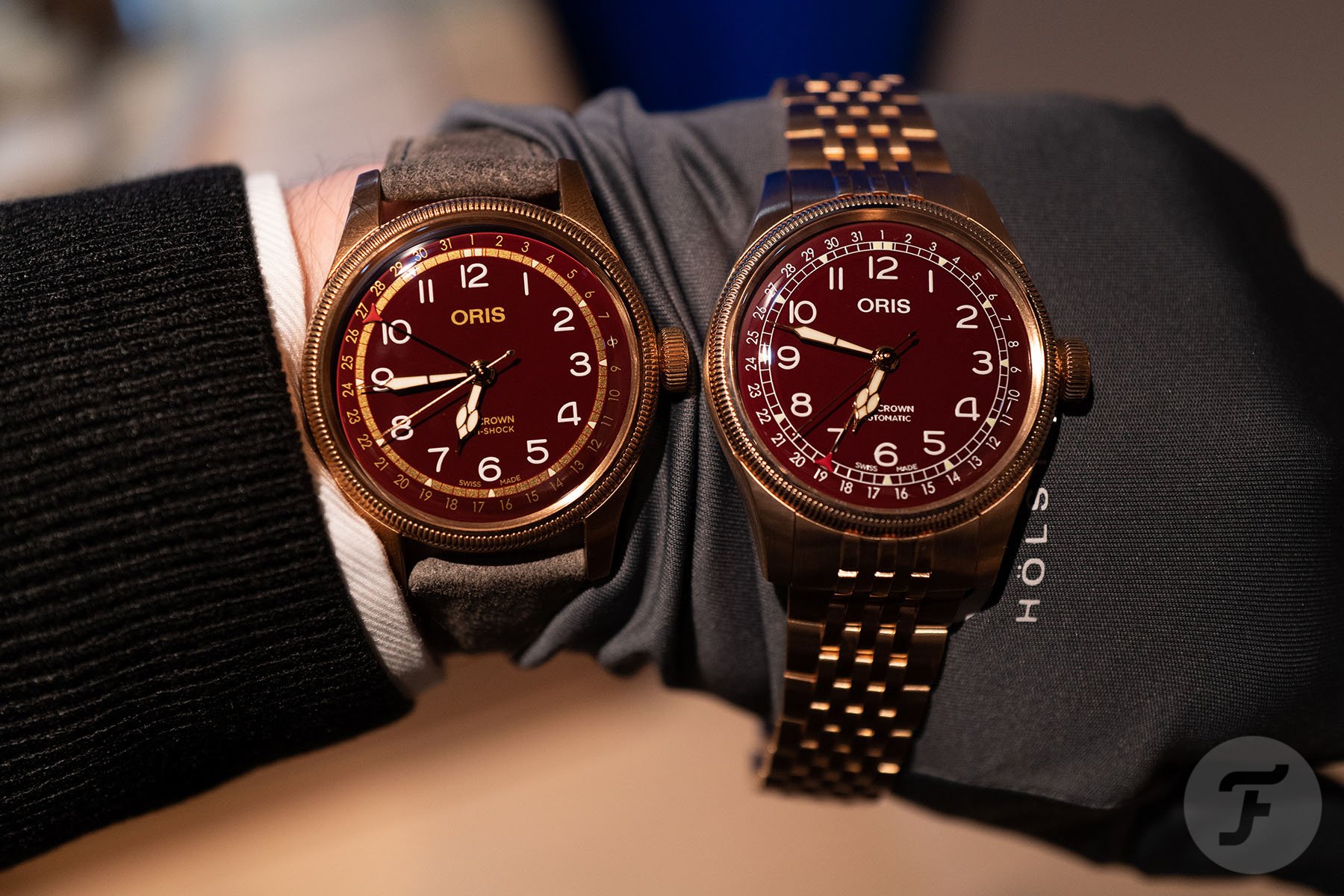 Final thoughts
Have I truly become a bronze convert? Will I do away with all of my steel watches in favor of its coppery cousin? I wouldn't go so far as to do that. However, I have certainly gained a newfound appreciation for the alloy and the charm that it brings to the right watch. If you haven't experienced it yet, I think you should do yourself a favor and check it out. At €845 / US$825, the Hamilton is your best bet at dipping your toe in the seemingly endless stream of bronze watches. But do your research, as there are many great options out there, some of which outshine their steel counterparts.
What's your take on bronze watches? Have you also caught the bug? Or does the smell of old coins and the patina have you steering clear of them? Also, do you agree with my picks? Is there any watch that you're particularly fond of that I've missed out on? Leave all your thoughts in the comments below.