Watches & Pencils #19 – Epic watch hands
Watch Hands
Most of the evergreen watches evolve through time. Development of colors, watch hands, fonts, proportions and sizes. Often small changes, making the watch to morph from one to another reference(number). We could even say that multi-generation watches evolve through time like we do. They try to adapt to our taste and needs and improve themselves. For example, optimize their legibility or add a new function. Instead of discussing several models in total I would like to zoom in. This time on hands. Let's take a loupe and zoom in on some iconic pointers!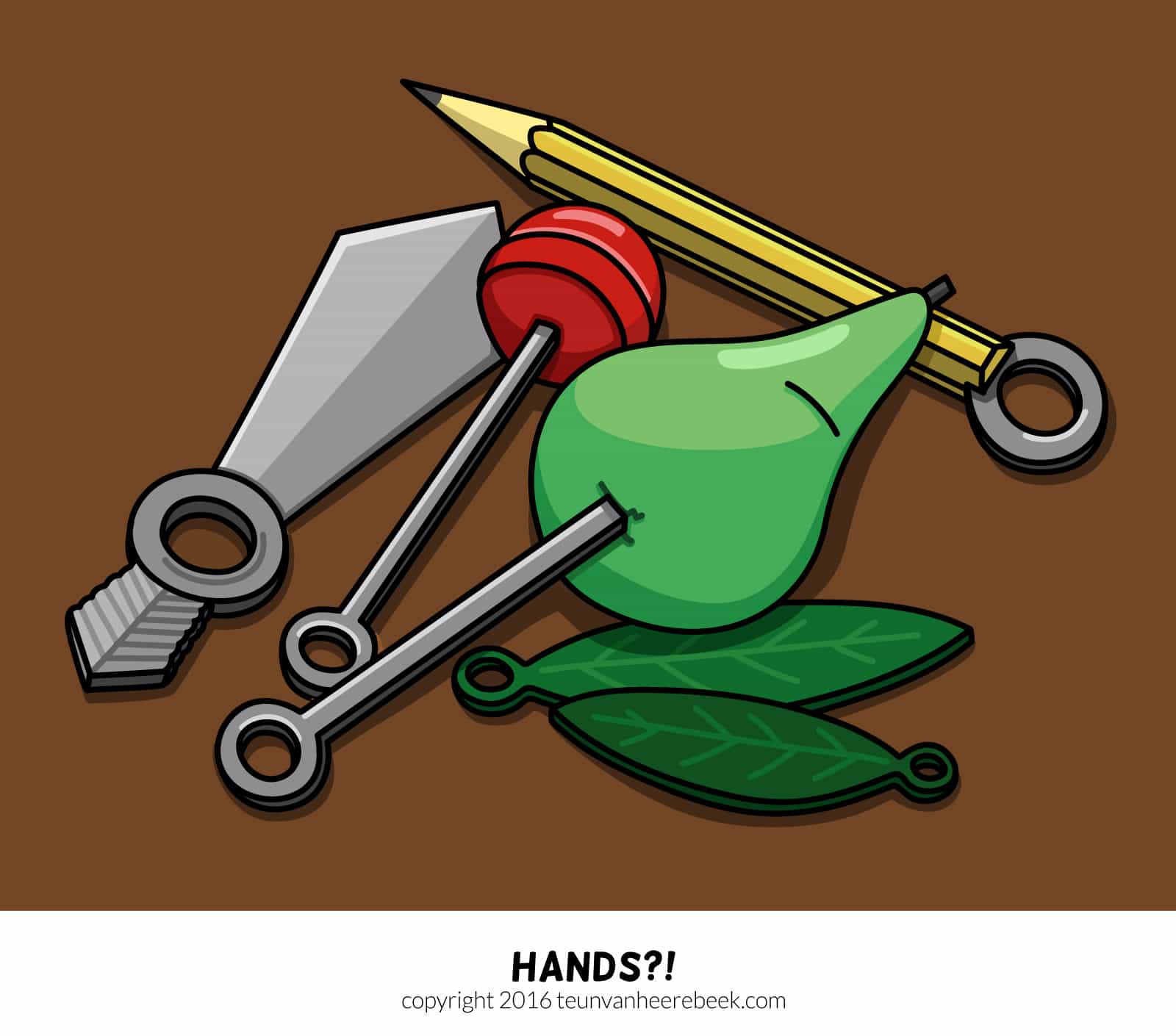 Lightning Hand
The Rolex Milgauss has a rich history starting from the early 1960's (ref. 6541). It is the icon in terms of anti-magnetism and has been developed by Rolex for CERN (a European nuclear research organization). It breaths pure functionality and is known by its lightning shaped hand.
Variations
There are several variations of the hand known. For example, the presence/absence of red paint on the tip. Earlier watch hands were mirror polished and ridged while later versions were flat an unpolished. In 2007 Rolex re-introduced the Milgauss again. Together with the upgrade Rolex decided to implement the 'lightning' shaped seconds hand by default. Yes, it is more distinctive, but opinions are all over the board. Nowadays everybody knows the 'modern' Milgauss by it's seconds hand. It has been introduced and it's such a distinctive element. Can Rolex ever say goodbye to a next version? Let me try to explain why it may not be a good idea. First let's look at a graphic to illustrate the evolution of the seconds hand on the Rolex Milgauss: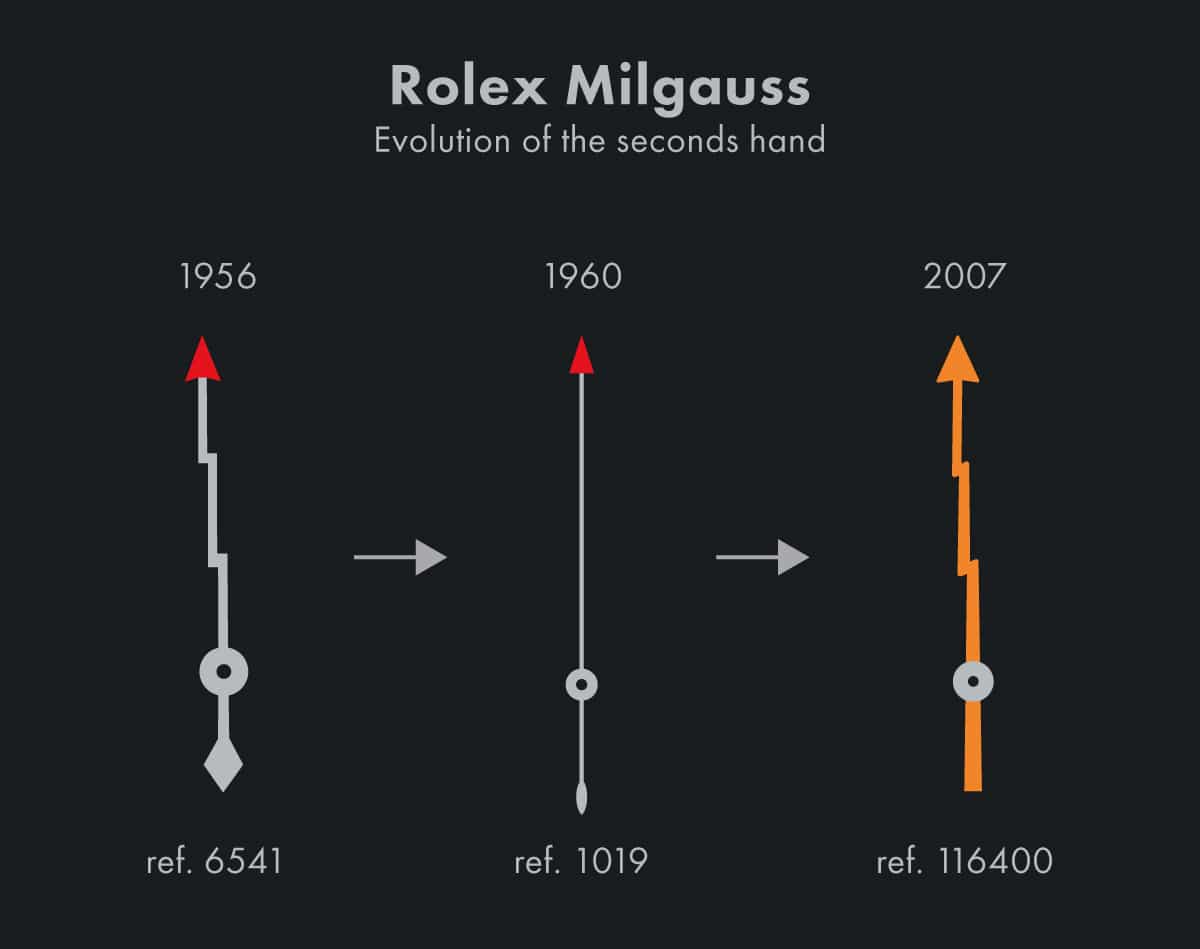 Snowflake Hand
Probably one of the best design moves by Tudor: the snowflake hand. Through time several models been fitted by this distinctive element. Can you imagine a contemporary Black Bay or Pelagos without the 'icey' hour hand? Probably not. It defines the identity and underlines the historic design choices which have been made to optimize legibility and functionality, way back to request by the Marine Nationale of France.
Comparison between two titans
Design-wise, despite the difference between the 'lightning' hand and the 'snowflake' hand I do think Rolex/Tudor should be really careful in deleting such elements. These are the elements which define the DNA and make the watch landscape diverse. A contra, more technical, argument could be to exclude the 'lightning' hand again. In essence the real heart of the Milgauss consists out of innovative protective and functional capabilities instead of incredible design statements. From this point of view, you could say that the shape of the hand isn't that readable… What do you think? Form follows function again?
Alpha Watch Hands
Looking at the Speedmaster Professional you will find tons of hand variations. Alpha hands, lollipops and baton shaped hands. Why so many variations? Again, like with the Milgauss, I think there are two corners:
Design and trends
Functionality and optimization
Besides this watch hands also need to blend in with the rest of the design and overall style. It is no good idea to include Cathedral hands on a minimalistic Bauhaus watch unless you come up with rock steady arguments. The very first Speedmasters (CK2915) were equipped with the so called 'alpha hands'. Interesting and beautiful silhouettes. Taste aside, you could make them more utilitarian. Later on baton hands (a.k.a. pencil shaped hands) were the answer to this. They created a more contemporary look.
The Key
If we compare the Speedy-case with the Milgauss-case there is one big difference. A fundamental key in my opinion: morphing through time. While the Speedy was always there, the Milgauss suddenly pops up again after years. Not with a slightly different face, a so called re-issue, but with a ton of design changes. We haven't evolved side-by-side with the Milgauss, while we have with the Speedy. Noticeable against less noticeable. What suits the best? The contrary motivation could also be ideal: if you want to make a fresh new start you need to have a time gap and enough design changes. It is up to the designer to choose the right decision…
Extravagant team of watch hands
Strong well picked design elements enforce a watch. I decided to form a team of 'superhero' hands. Yes, it is a selection and I could include a dozen of other famous examples. I've tried to make a nice between famous and less famous hands and keep the time to make illustrations of them manageable. Every single hand should immediately ring a bell to one who has seen the watch once in their life. We will discuss them shortly after I've introduced the heroes visually: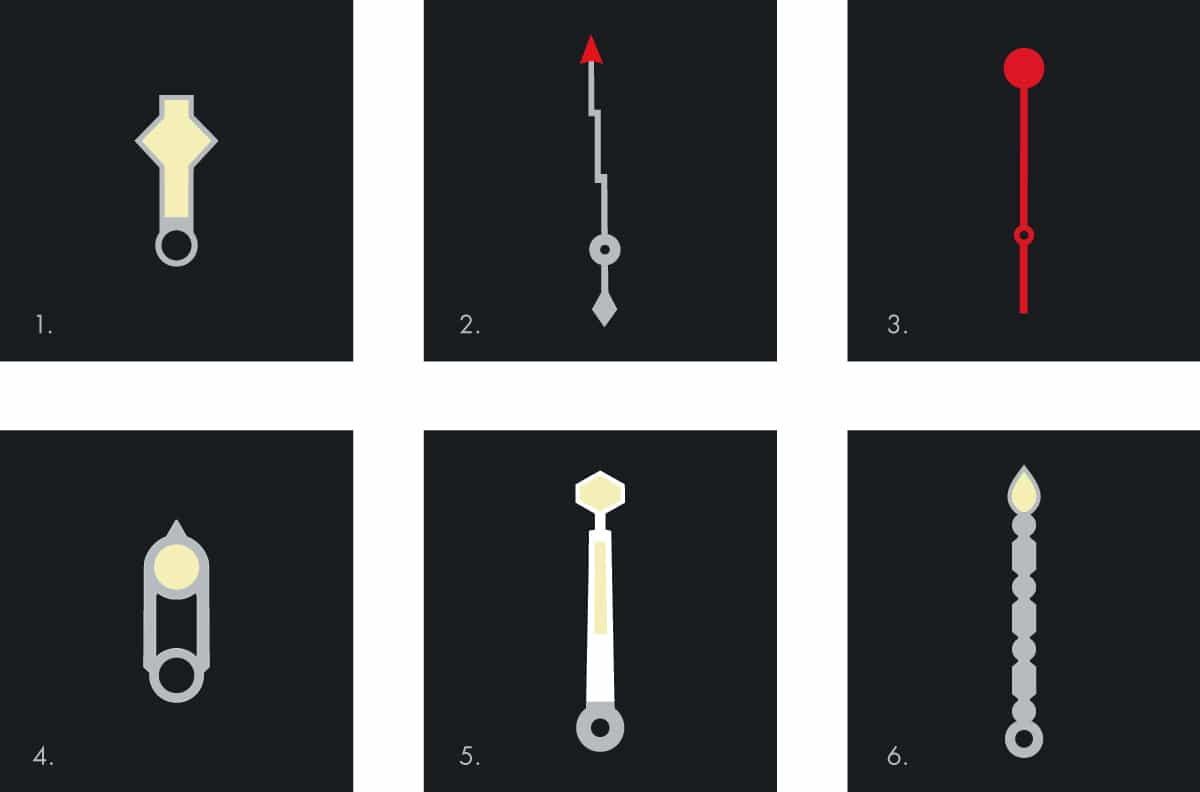 1. Snowflake hand
An 'icey' hour hand first introduced to supply the Marine Nationale (French Military). The snowflake was implemented to make more distinction between hour/minute hands. It was first introduced on the Submariner with reference number 7016/0 in 1969.
2. Lightning-bolt hand
When Rolex introduced the Milgauss in 1954 (ref. 6541) they included this very striking element. Not all the Milgauss family members had this hand by the way. After they've introduced this model, the next generation (ref. 1019) did not have the distinctive hand. This  Milgauss was made until 1988 and after a sleep of 20 years it woke up again with the famous seconds hand (ref. 116400).
3. Paddle hand
The sweeping seconds hand in bright red. Based on the design of Hans Hilfiker for (Swiss) train stations around 1944. It is licensed by the Swiss Railways since 1986. Still here after years of service. Hopefully many years to come! The first Mondaine wristwatch with the red paddle hand was released in 1986.
4. Condom hand
You don't have to use imagination to see it. Despite the questionable link it is an accurate hour hand with a lot of lume on the tip. A famous model has been fitted this hour hand: Seiko SKA427, a.k.a. 'Big Freaking Kinetic' or BFK.
5. 'Bathy' hand
One of the most exotic hands I know. A tapering minute hand with a hexagon shape on the end, connected by a thinner bridge. Founded by Favre-Leuba and used on the Bathy 160 Aqua lung (ref. 53235).
6. 'Beads' hand
The most complex shaped hand I could found. Used on 1950's examples of the Enicar Seapearl 600. Almost like a necklace with different shaped beads ending into a drop-shaped tip with lume.
---
That's it for this episode. Now let's shake hands and see you next time!