Watchshopping Maastricht
Maastricht is (just like The Hague) one of the nicer cities in The Netherlands 🙂 My girlfriend and I went there this weekend to relax a bit and do some shopping. I took the opportunity to check out some watchshops in Maastricht!
The first shop I paid a visit was Scorpione. The shop is located near the central station of Maastricht and besides watches, they also sell jewellery in gold and silver. The watches they sell are all vintage and displayed in the shop and on their website. The owner of the shop showed me two Movados, a gold chronograph and a steel chronograph. Both with inhouse Movado calibers. The stainless steel model featured an hour totalizer and the gold model didn't. The owner of the shop does his own restorations and reparations, but seems to outsource the work on dials. He clearly tells you wether a watch has a re-dial or is all original. Check his website for a list of watches he sells. Scorpione is located at the Scharnerweg 169 in Maastricht.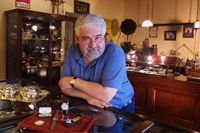 John @ Scorpione. Picture taken from the Scorpione website.
The next shop we (only) passed is Leon Martens. Their window is impressive and filled with Omega, Rolex, Patek Philippe, Blancpain, Breguet, Officine Panerai and more… We didn't enter the shop, but it seems that he only sells new watches. In his window was a vintage Panerai compass though, probably for display only. Leon Martens is located at Stationsstraat 39-41 in Maastricht.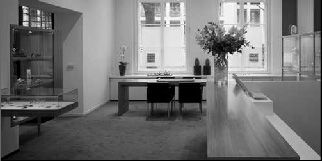 Leon Martens, picture taken from their website.
The next shop was found after walking around the center a bit, called Steiner. After looking in the window for some while (lots of brands, vintage to new), I decided to enter the shop to check if they had some more, but it was just too crowded. I told one of the salespeople I would come back later. And I did ofcourse 🙂 The salesman saw my watch and told me that they had an interesting box with vintage Rolexes. I looked at three watches, a Rolex Sea-Dweller (double red printing), a 16660 Rolex Sea-Dweller (probably from the late 70s) and a Rolex Submariner with gilt dial and very neat shoulders (ref.5512, 1960s model). I think the owner of the shop helped me out a bit, I told him I was interested in a 1977 Submariner or Sea-Dweller (that's my year of birth). This isn't a short term project ofcourse, as it probably will cost me quite some money, but it is always nice to get a bit orientated on the subject :-). The seller showed me his 1961 Daytona with 'Tiffany' dial, which I immediately recognized because Gerard from Horloge Platform Nederland had one in his shop not too long ago and showed me it as well. I couldn't confirm it was the same watch though, however, there probably aren't too many of these around 🙂 Anyway, the shop owner gave me a card and some kind of little brochure of their own 'Steiner' watch and told me to call or e-mail him as soon as I wanted a 1977 Submariner. Steiner is located at Stokstraat 2 in Maastricht.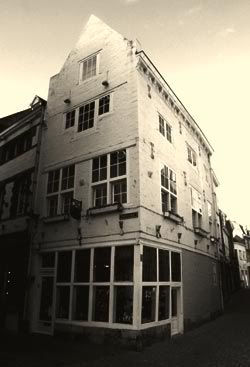 Steiner, picture taken from their website.
Another shop I entered was Brocantique watches, also located in the center of Maastricht. The window displayed all kinds of vintage (and some 'newer' used) watches.. from a tuningfork Bulova SpaceView to a Rolex Submariner. There were some customers in the shop looking at watches and discussing with the shop owner, so I just had a peek in the displays and noticed a few very nice Omega watches. He also had some very nice vintage Longines (if my memory serves me right) with their original box and paper(s). Brocantique watches is located at Heggenstraat 14 in Maastricht.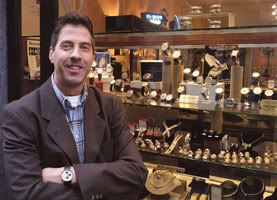 Brocantique's shop owner. Picture taken from their website.
Besides these four, Maastricht has few more interesting watch&jewellery stores. I also noticed another shop that carries vintage / used watches, but can't remember the name. It is located near Onze Lieve Vrouwe plein. For fountainpens (an interest that goes almost hand in hand with watches as it seems) you should visit Mevri, located at Grote Staat 6 in Maastricht. This weekend I bought a StarWalker fountainpen from Montblanc to join the ballpoint from the same series I bought there last year.
Comments or other recommendations on the subject are more than welcome!