Weekend Read: Why I Love Omega Watches
It's a family affair
I am not a mono-brand collector, although sometimes it does seem that way. I have watches from all sorts of brands, but the majority are indeed from one brand — Omega.
Although I've touched upon the topic of Omega and its connection with my family before, I thought I would freshen up a story that I wrote a few years ago.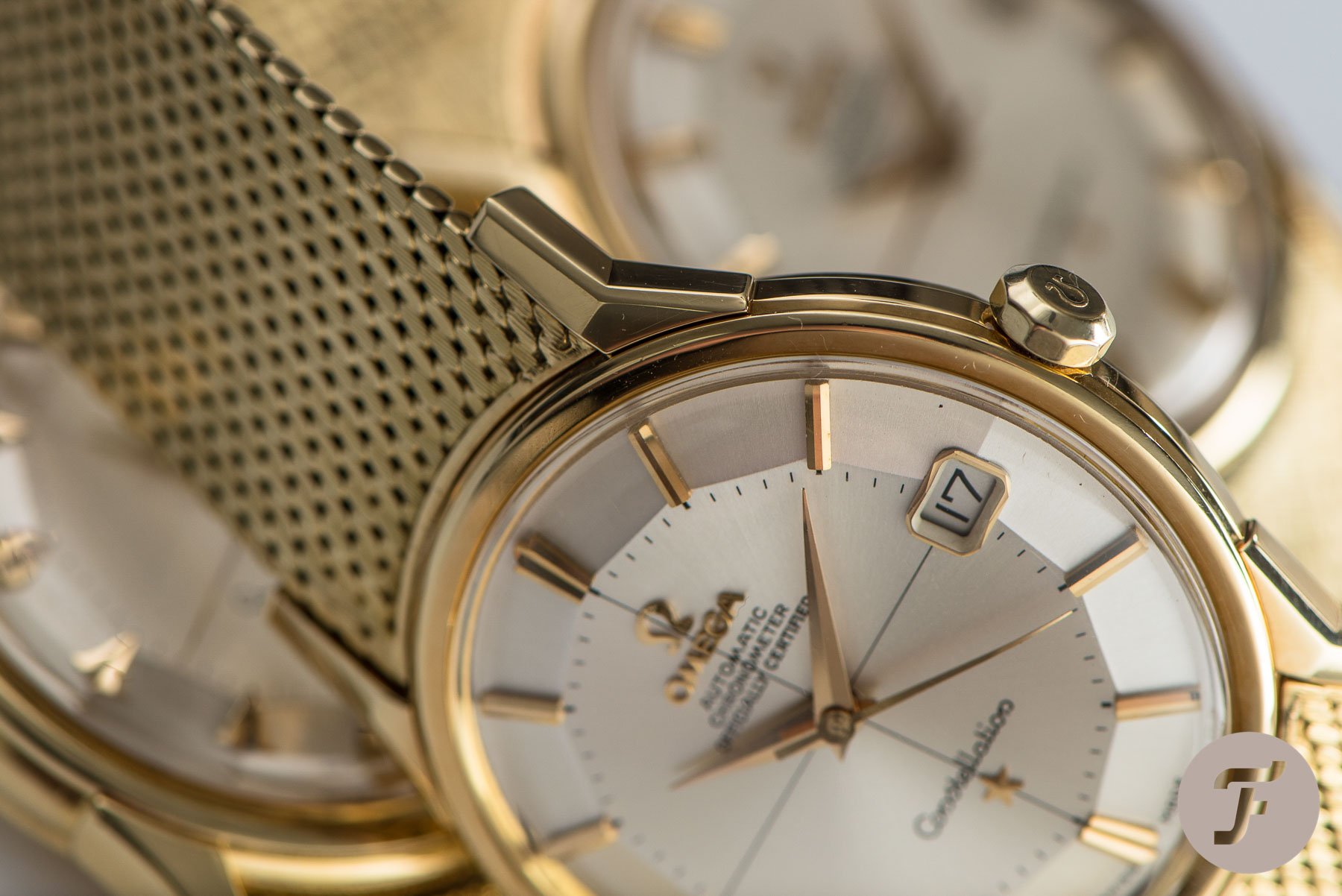 Why do I love Omega?
I am often asked why I only buy and wear Omega watches. Well, that's not entirely the case of course. I also own watches from other brands like Oris, Breguet, Nomos, Rolex, Hamilton, Seiko, Chronoswiss, Breitling, Swatch, G-Shock, and a bunch of other perhaps lesser-known ones. And in the past, I've owned IWC, Sinn, Audemars Piguet, Linde Werdelin, and others as well. But truth be told, most of my watches are Omegas. To be honest, most people that ask me about it are colleague journalists and bloggers who feel I am too focused on one brand. Readers of Fratello aren't too concerned with it, though, given the fact we get so many emails and messages with questions about Omega watches.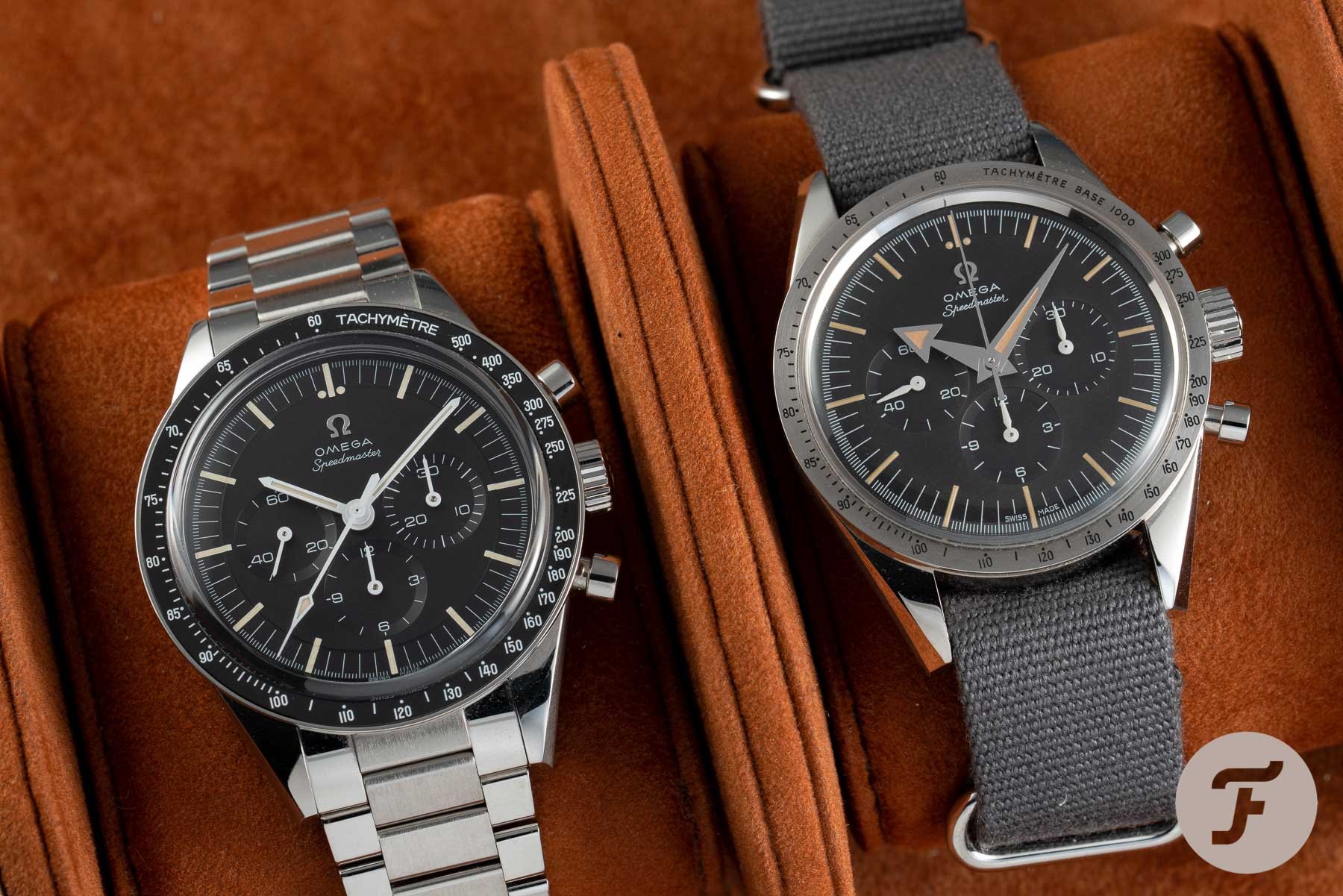 But I thought it would be a good moment to explain why I like Omega so much. Or actually, love it. I am not afraid to admit this, as I really do have a weak spot for this brand. I also feel that there is little harm in this, even being a journalist. A car magazine journalist can share his love for the Porsche 911, so why can't I share mine for a watch brand? It also doesn't mean I don't like other brands or prefer certain watches from other brands over certain Omega watches (which is the case).
It's a family tradition
For this story, we need to go back, way back, to sometime in the 1960s in the Netherlands. It has nothing to do with the Moonwatch or the space program as such. It has to do with a bridal boutique. It's the one below actually that was located in the east part of the Netherlands in a city called Enschede.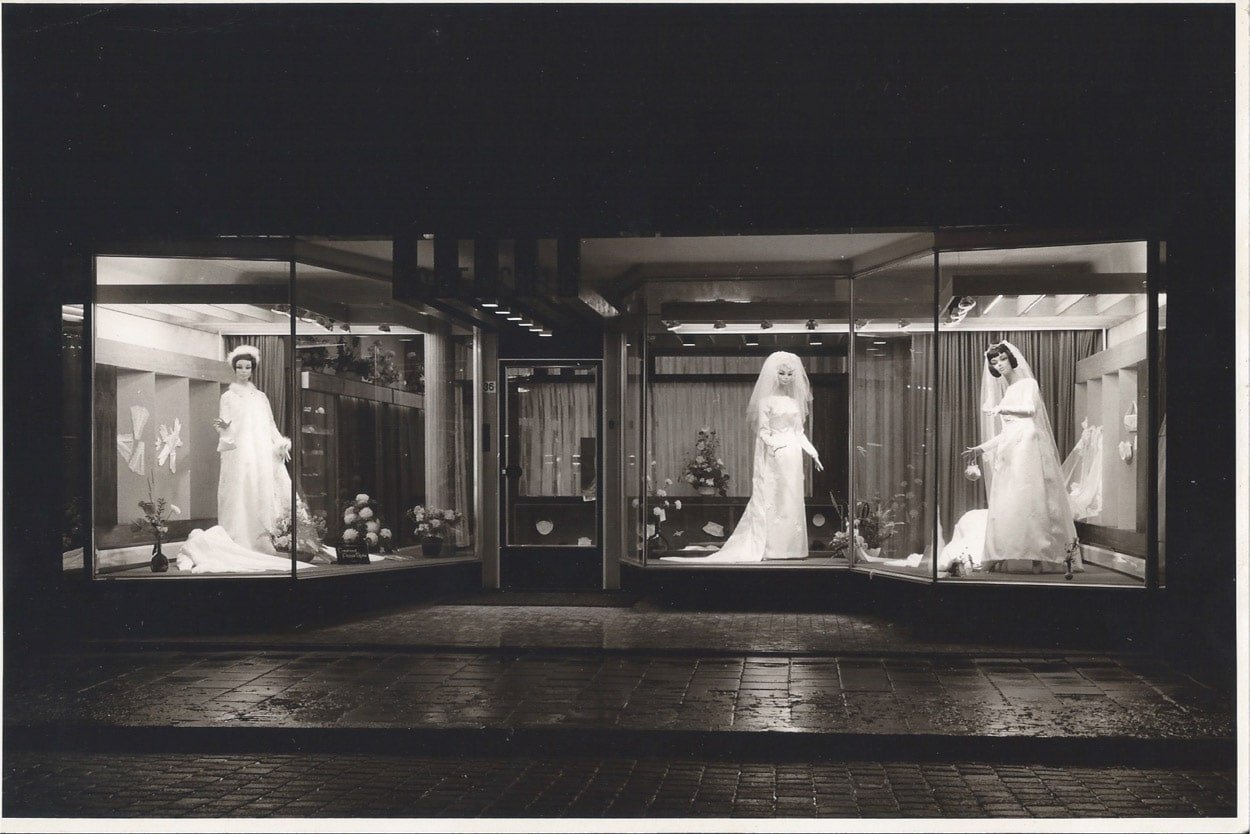 A bridal boutique
It was owned by my grandparents who lived nearby. Omega watches at the time were very popular in the Netherlands, perhaps it was even the number 1 brand in the 1950s and 1960s in this market. In 1967, my great-grandfather bought an Omega Constellation.
In 1969 they bought a pair of Omega watches
It was the famous model with a pie-pan dial due to the shape of an up-side-down pie-pan. My great-grandfather lived in the house next door to my grandparents and father, which was relatively common at the time. It is a no-brainer that my grandparents were influenced by the choice of my great-grandfather as in 1969 they bought a pair of Omega watches. They needed to sell the bridal boutique that is pictured above because of health reasons and bought a pair of nice watches for themselves.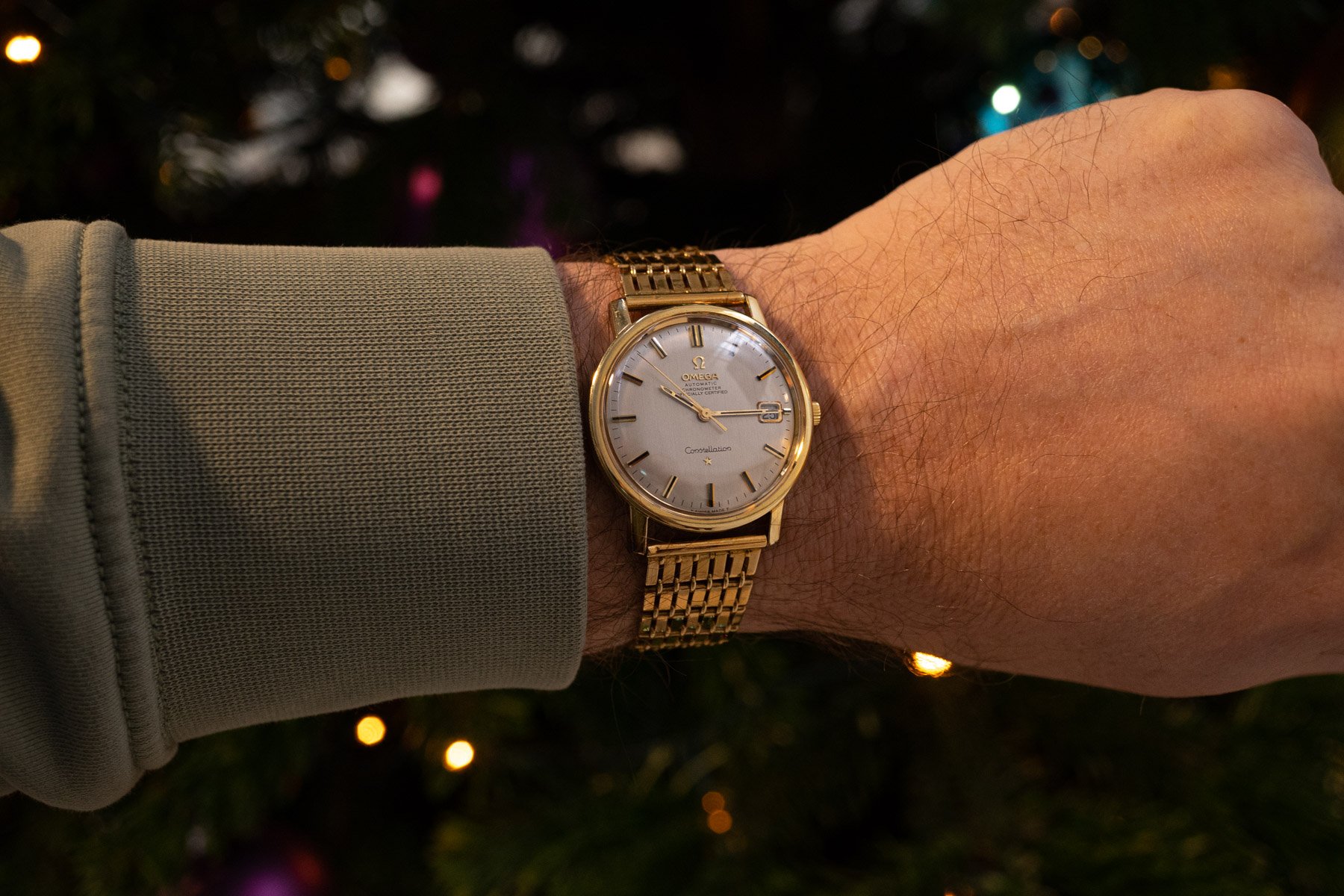 Constellation on a gold bracelet
My grandfather chose a Constellation (in the picture above) and my grandmother a small self-winding ladies' watch on a gold Milanese bracelet. Before, my grandfather was wearing a pilot's watch that he got from a pilot from the US Army at the end of World War II (1945). The Constellation replaced that watch and unfortunately, we have no clue where the pilot watch went or is now.
My grandfather studied these things very carefully.
I can only imagine that my grandfather put a lot of research and work into choosing his Omega as he did with many other things he bought in those years. Whether it was a car, camera, or (Danish design) furniture, he studied these things very carefully. Unfortunately, I never asked him about this. Below is an image from the late 1960s or early 1970s that shows my grandfather wearing his Constellation on the original mesh bracelet.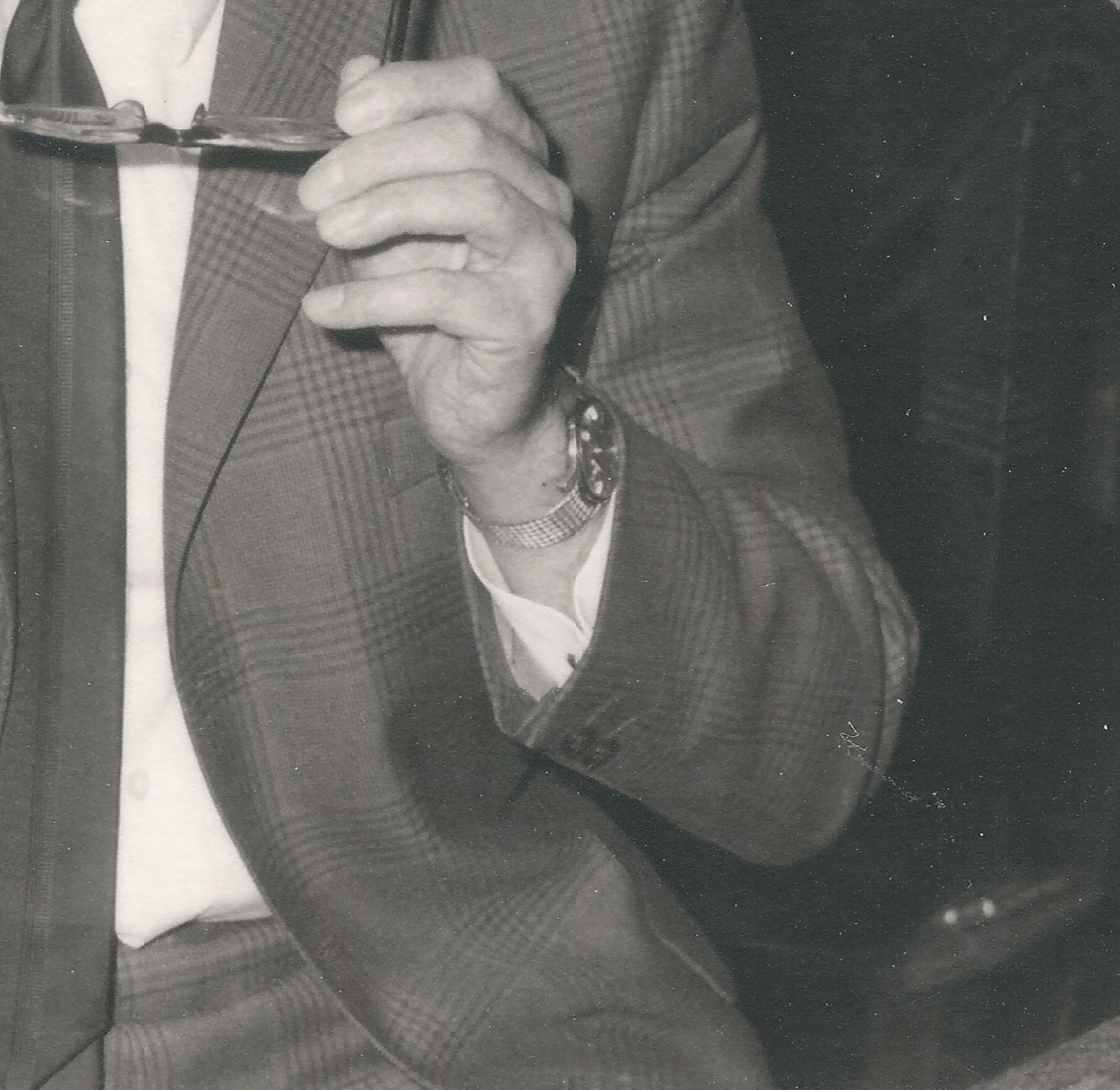 Omega Genève with a red seconds hand
Also in 1969, my father finished high school and received a watch as a graduation gift. It was an Omega Genève with a black dial and with a red seconds hand. There were no boxes or papers as it was quite common back then to leave that stuff behind at the jeweler. My family wore these Omega watches for decades. The Omega Genève from my father was on his wrist for many years and he still wears it. Below is an image of him wearing the watch during his time in the military service.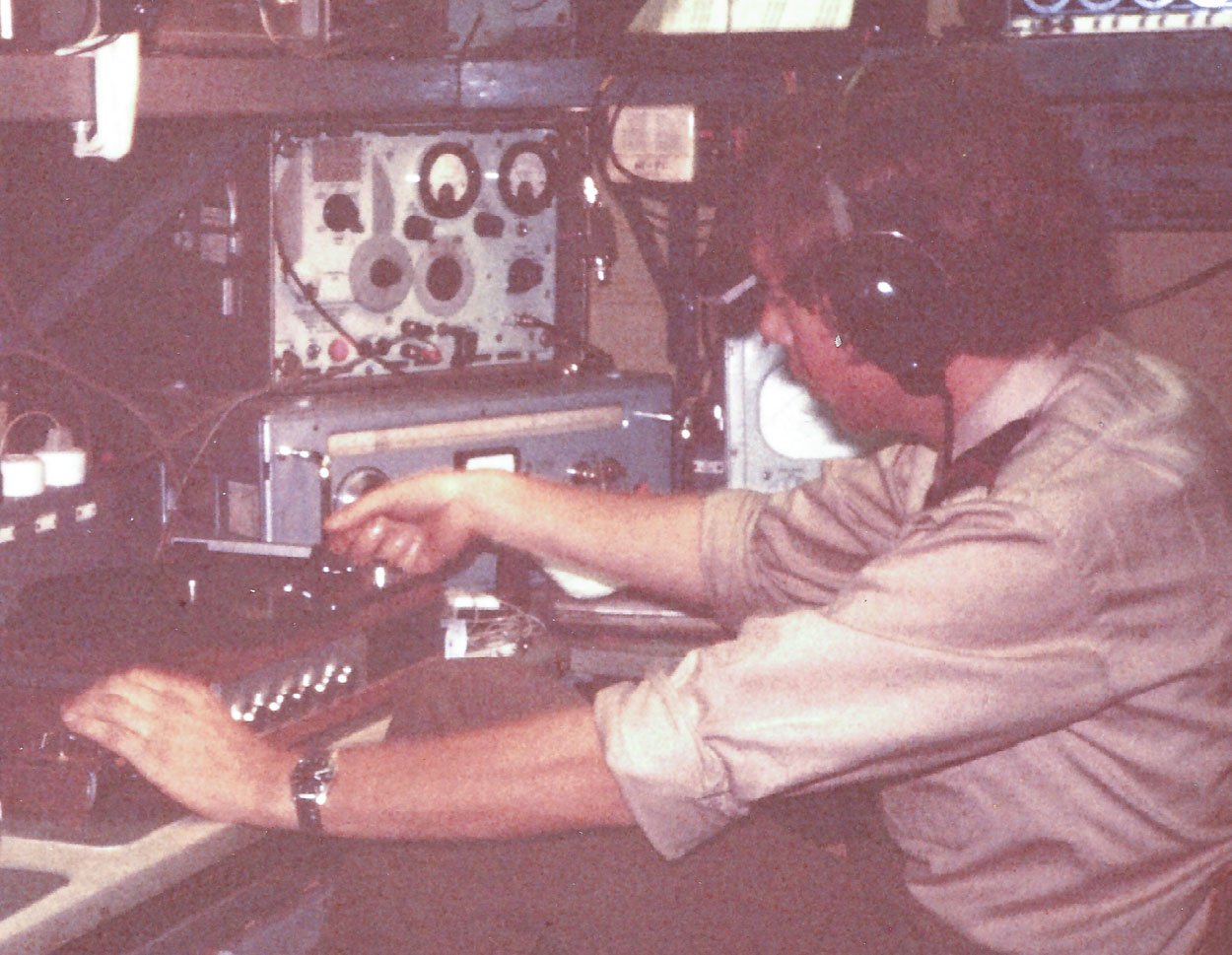 Ripping shirts
I never met my great-grandfather, but when he passed away right before I was born, his watch was left with my grandfather. Somewhere in the early 1980s my father got it, had it overhauled, and wore it on special occasions. He still does. Meanwhile, he also owns a Speedmaster "Speedy Tuesday". He had no choice.
I have fond memories of my grandparents and I vividly remember them wearing these watches. My grandmother with her small gold ladies' watch and my grandfather with his Constellation on a gold bracelet. My grandfather changed the Milanese bracelet to another gold bracelet in the 1970s somewhere as these Milanese bracelets were so sharp that they ripped a number of his shirts. He exchanged it for a nice and comfortable gold bracelet with a lot of links. He wore that watch every single day until he passed away in 2011.
The watch on the Moon
In the 1980s, when I was a kid, my father told me that Omega was the brand that was used by the astronauts on the Moon. But being a kid, that didn't really ring a bell, even though I was very interested in the Space Shuttle program as a Dutch astronaut by the name of Wubbo Ockels took part in one of the early missions (1985). My father was wearing the black dial Omega Genève but also had other watches to wear (like his pie-pan Constellation from his grandfather). I found myself wearing Casios in the 1980s and Swatch watches in the early 1990s. Although these can be seen as disposable and inexpensive watches (I still have all of them by the way), I was very fond of them and had an interest in watches. One of my earliest memories is of our neighbor showing off his new Seiko watch with a moonphase indicator on the dial. I also loved all these digital watches with video games embedded and, of course, the ones with a calculator.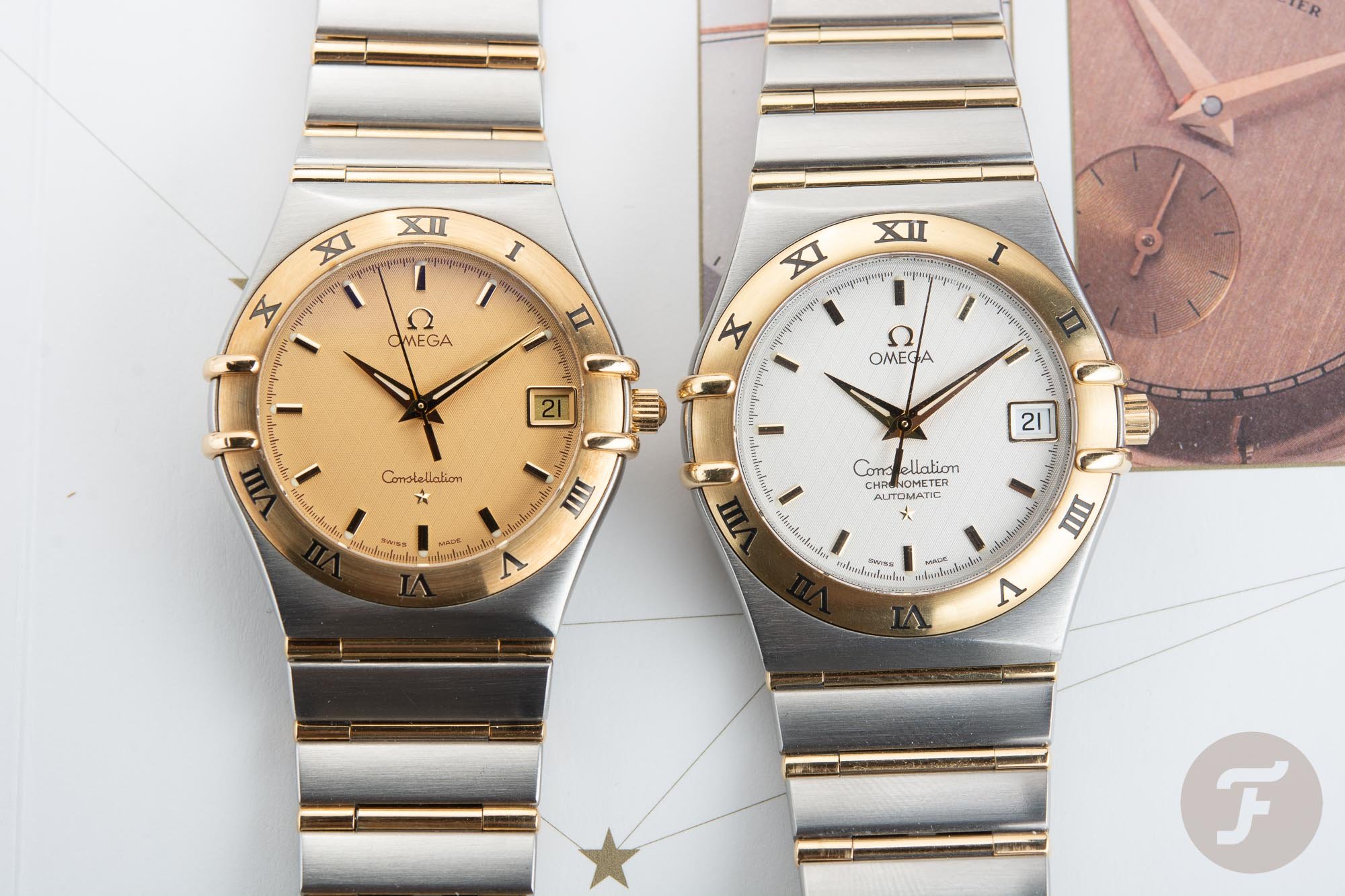 Constellation '95
Then, in 1996 or so, my interest in watches really took off. I found myself often looking at the displays at local jewelers, and was part of the early online communities back then. Being an IT student, it was easily accessible for me. I gained interest in the Omega Constellation, as I felt it was part of my family history. Although the then-current Constellation was based on the 1982 Constellation "Manhattan" and looked very different from those 1950s and 1960s models, I did like it a lot. It was a sincere interest not influenced by people. There were no social media and no one would tell me what I should like and more importantly should not like. Call it bad taste, but I loved it and still do, to be honest. So, in 1998, when I graduated with a degree in Information Technology, I was over the moon when I received an Omega Constellation from my mother. It was a Constellation '95 (pictured above) in bicolor, meaning stainless steel and 18K gold. I couldn't have been happier and wore it non-stop for a few years. When I started my next study at the university, I pretty much wore this watch every day.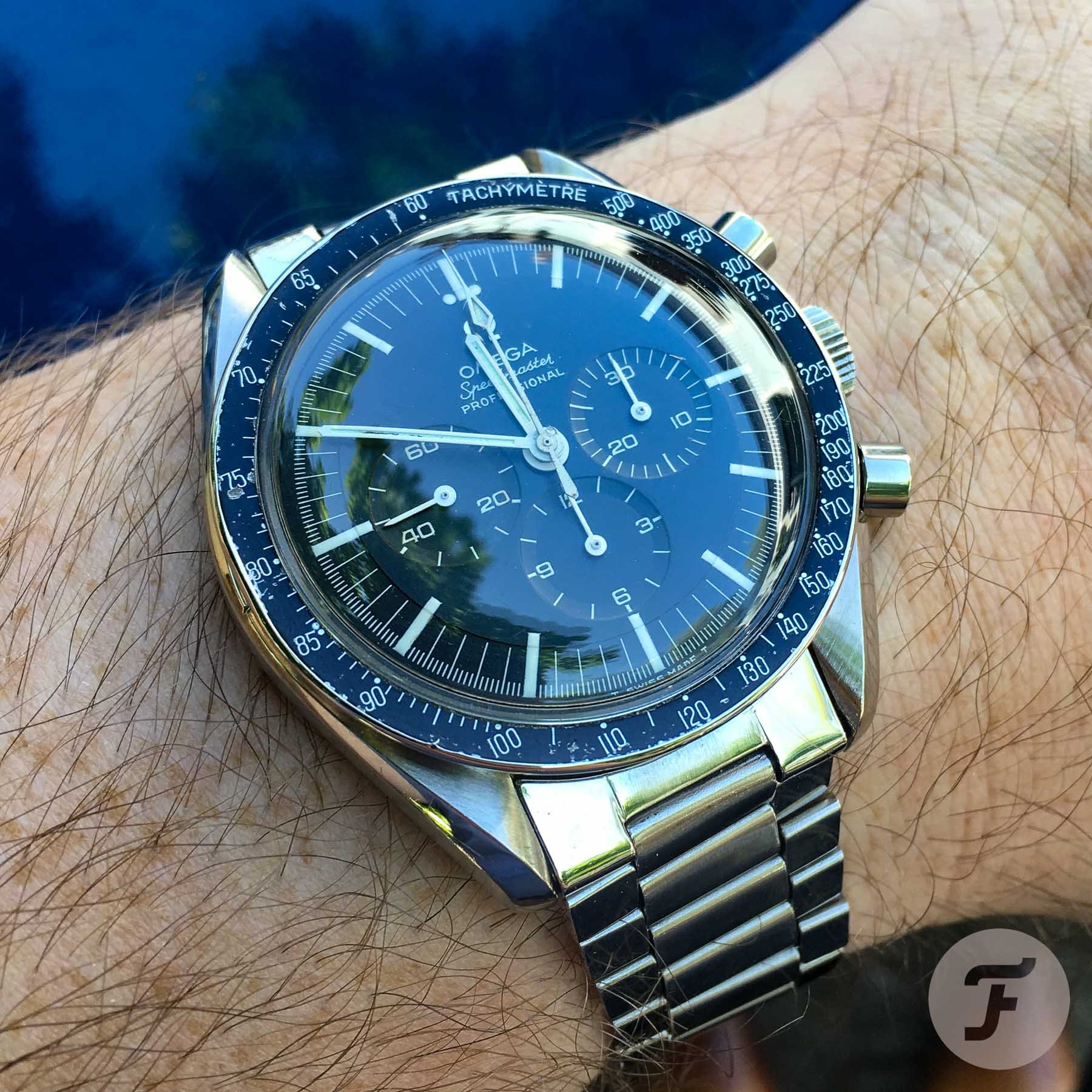 My first Moonwatch
This watch stayed on my wrist until 1999 when I bought my first Speedmaster Professional. It was a reference 145.012-67 (pictured above). A year later, I worked all summer at a publishing company to be able to buy a brand new Seamaster 300M 2531.80. I wore these three watches pretty much all the time for the rest of my studies.
Then, in the early 2000s when I graduated and started my professional life, I found myself buying more watches. These ranged from vintage Bulova to IWC, Breitling, and Rolex — even a Dubey & Schaldenbrand. And of course, several Omega watches.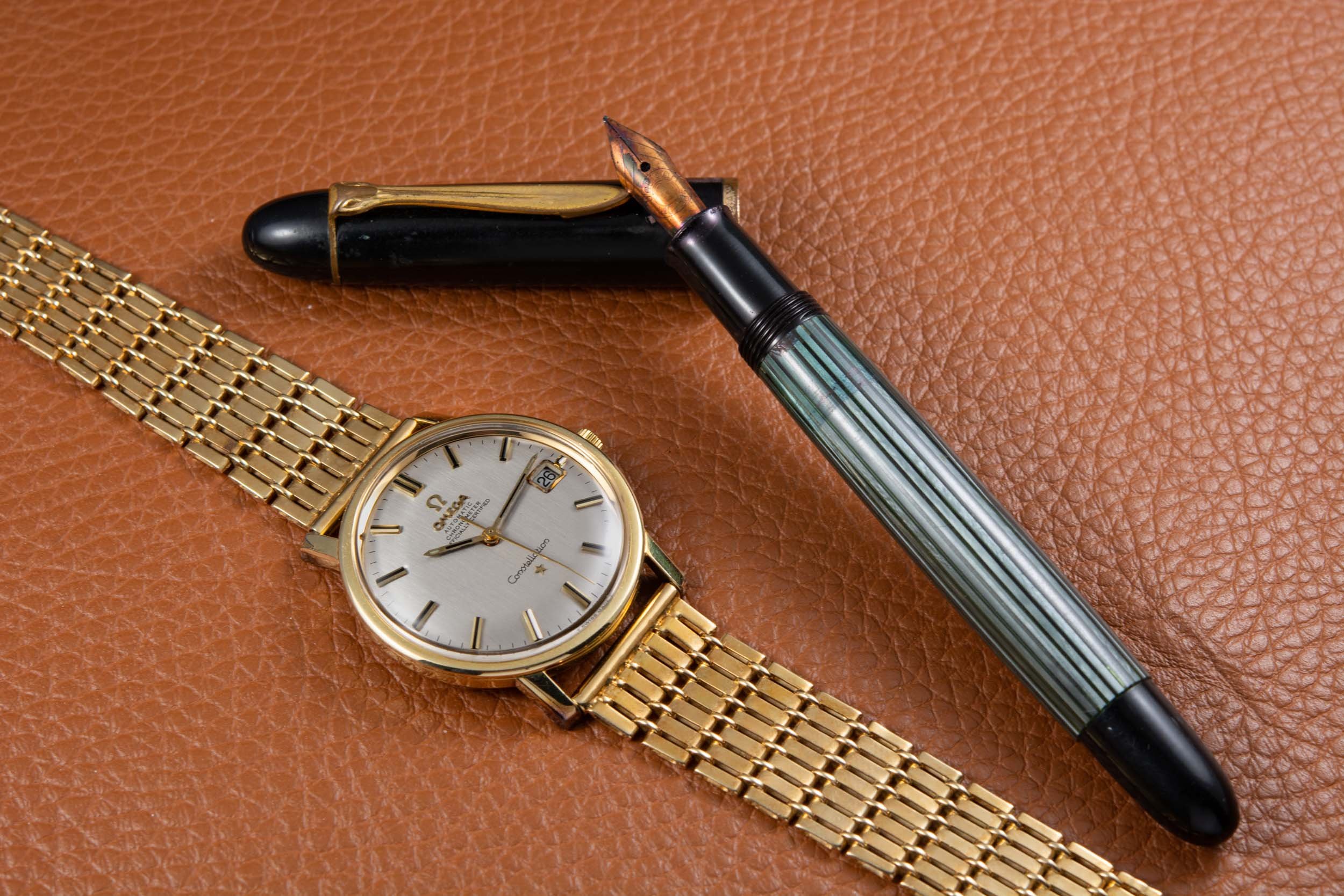 The restoration of a vintage Constellation
I am sure you are familiar with the Patek Philippe advertisement that says that you don't own a Patek Philippe, but that you're merely looking after it for the next generation. When my grandfather passed away, I inherited his Omega Constellation. I am convinced he enjoyed wearing that watch for the 42 years he did. I sometimes wear it, especially at Christmas. But it actually took me a few years before I started wearing it. The dial was in pretty bad condition since some watchmaker had tried to clean it or something. The printed letters were all over the place, and it had severe damage. My grandfather probably never noticed this, due to his old eyes. I asked Omega and they had a couple of dials in stock still and offered me one to use.
It actually took me a few years before I started wearing it.
But there was none with a similar dial. The colors were slightly different. I found it quite amazing, though, that they offered me this, and I wonder what other big watch brands would go this far. I declined, and they helped me source a watch with a similar dial, so I bought it and used that dial as a donor. But that did not feel the same. It suddenly wasn't my grandfather's Constellation anymore.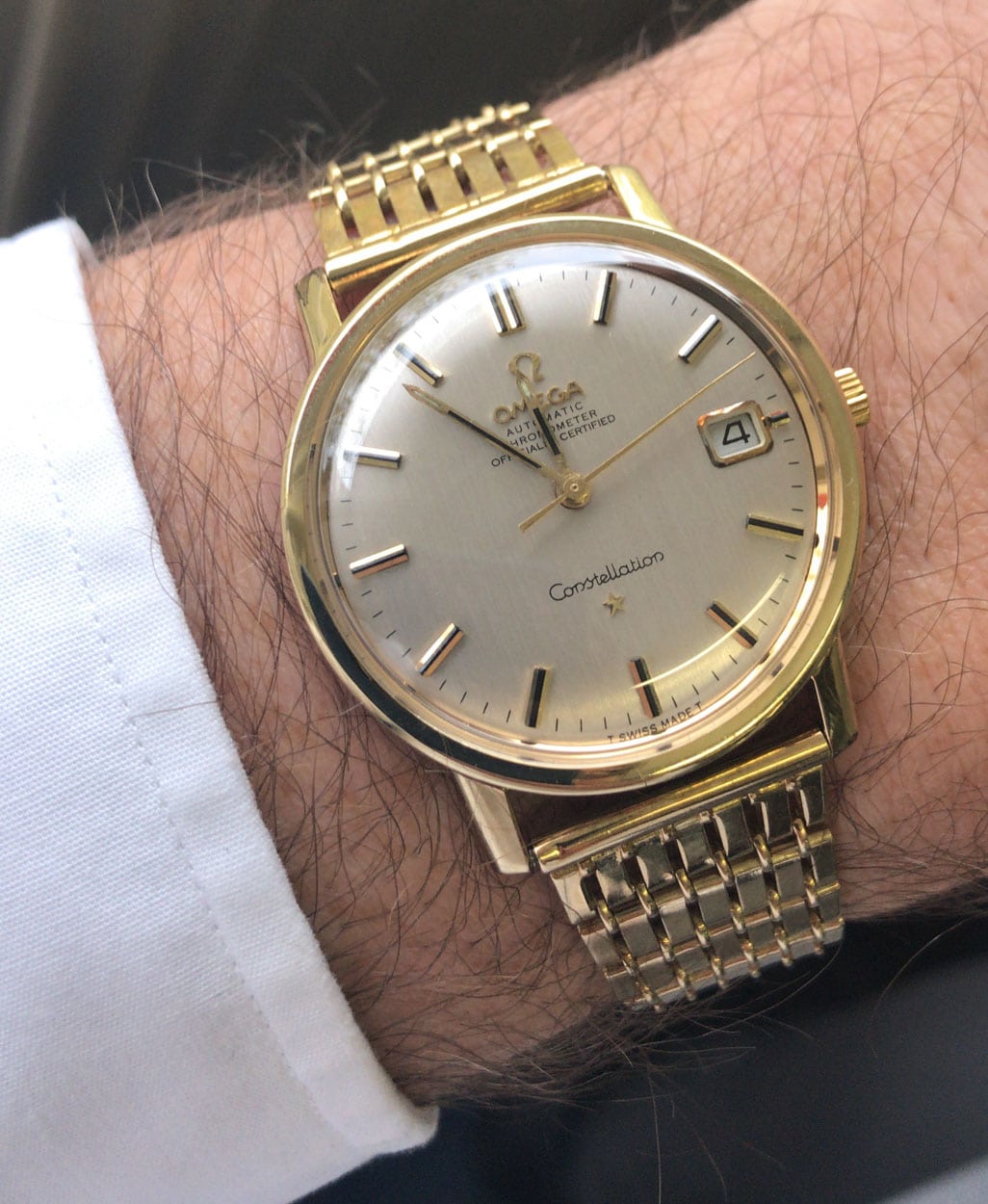 So I switched back and put it in the safe. When discussing this at some point with our Fratello watchmaker Paul, he said, "Why don't you just have it restored? Perhaps it won't be original anymore that way, but at least it is his dial, and you can enjoy wearing it again." I thought about it and decided to go this route. So I gave the Constellation to Paul and he gave it a full service. The dial went to this firm in Germany, where they are very good at restoring dials. A few months later, the watch returned in all of its glory. It is like it was in 1969, hence the different gold bracelets and some battle scars from the 42 years of daily use. I cherish this watch a lot and, as written above, give it some time on the wrist during Christmas days.
…the watch returned in all of its glory. It is like it was in 1969.
I don't wear it more often, because I am too afraid that something will happen to it. If it ever would get lost or stolen, I wouldn't forgive myself.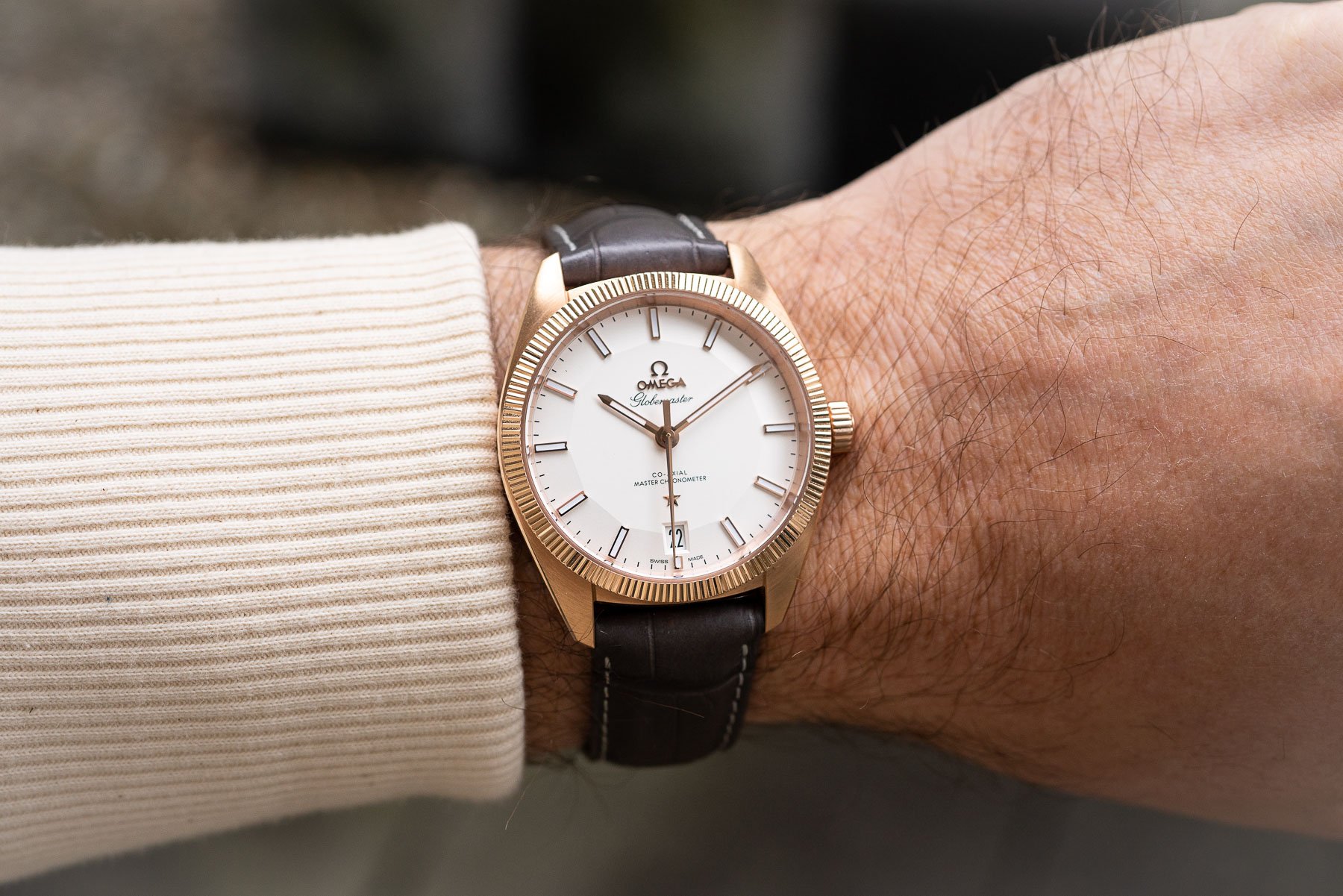 Constellation Globemaster
In 2015, though, something strange happened. Omega introduced their Constellation Globemaster series. A beautiful 39mm watch that has influences from the 1950s Constellations with its pie-pan dial but also comes with modern innovations such as the in-house developed Master Chronometer movements. In October of that year, I asked Omega to send me the Sedna Gold version for review. They shipped a prototype to my office in The Hague. After staring at this beautiful 18K rose gold watch for a few moments with a brown alligator strap and a rose gold folding buckle, I put it on my wrist. I felt a sensation that I'd never experienced before when putting on a watch.
There was never a watch that gave me that sensation before.
It wasn't the sensation of just putting on a watch that is very pretty or nice. No, this was much deeper. It is hard to describe the emotion I felt, but in essence, I felt a deep connection to my grandfather and his watch. I thought, "This is how my grandfather must have felt when he bought that Constellation on February 6th, 1969, and put it on his wrist." That thought did not let me go. I wore the watch for two weeks or so, and with pain in my heart, I sent it back (not in the last place because it was a prototype). There was never a watch that gave me that sensation before. Not my gold Speedmaster Professional, not any of the other watches I've ever tried, whatever make and model. I could not get this watch out of my head, but at €18,000 at the time (€26,700 now), I had to.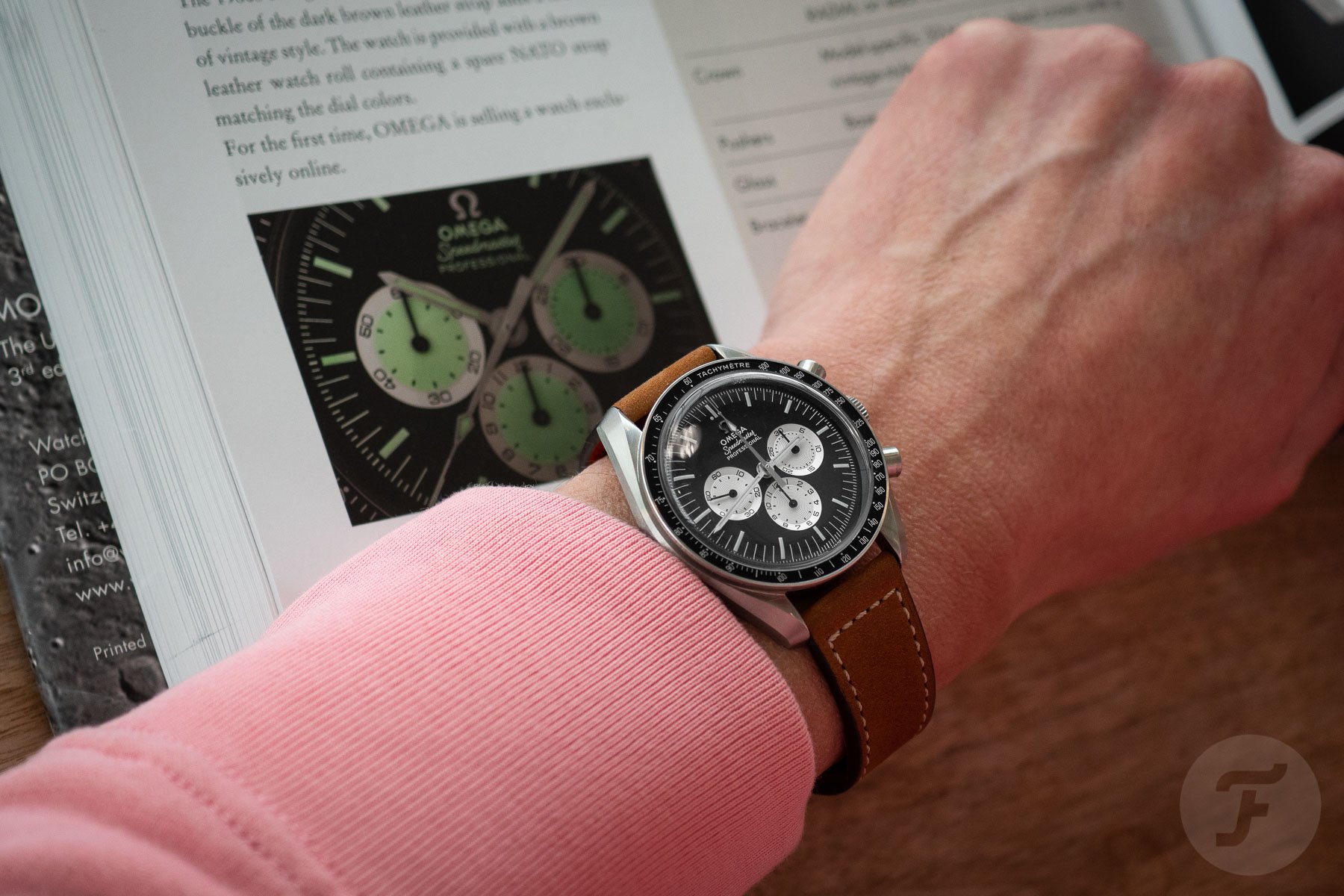 Speedy Tuesday
Life went on, of course, and back to business as usual. 2017 and 2018 were important years for Fratello, and the introduction of the Speedmaster Speedy Tuesday "Tribute to Alaska III" and "Ultraman," of which we were a huge part, only made Omega's presence bigger in our online magazine. So be it. I am pretty sure my grandparents look down with a bit of pride in what we established with "their" brand. Our readers — you — also seem to enjoy the Omega coverage that we do at least every week. With all that happened, whether that was the Speedy Tuesday limited editions or any of the other watches I bought personally or received for reviews, the Globemaster still held a special place in my mind. The steel one I tried, but that was not for me. In my opinion – but this is very personal, as you can read – it should have at least a touch of gold.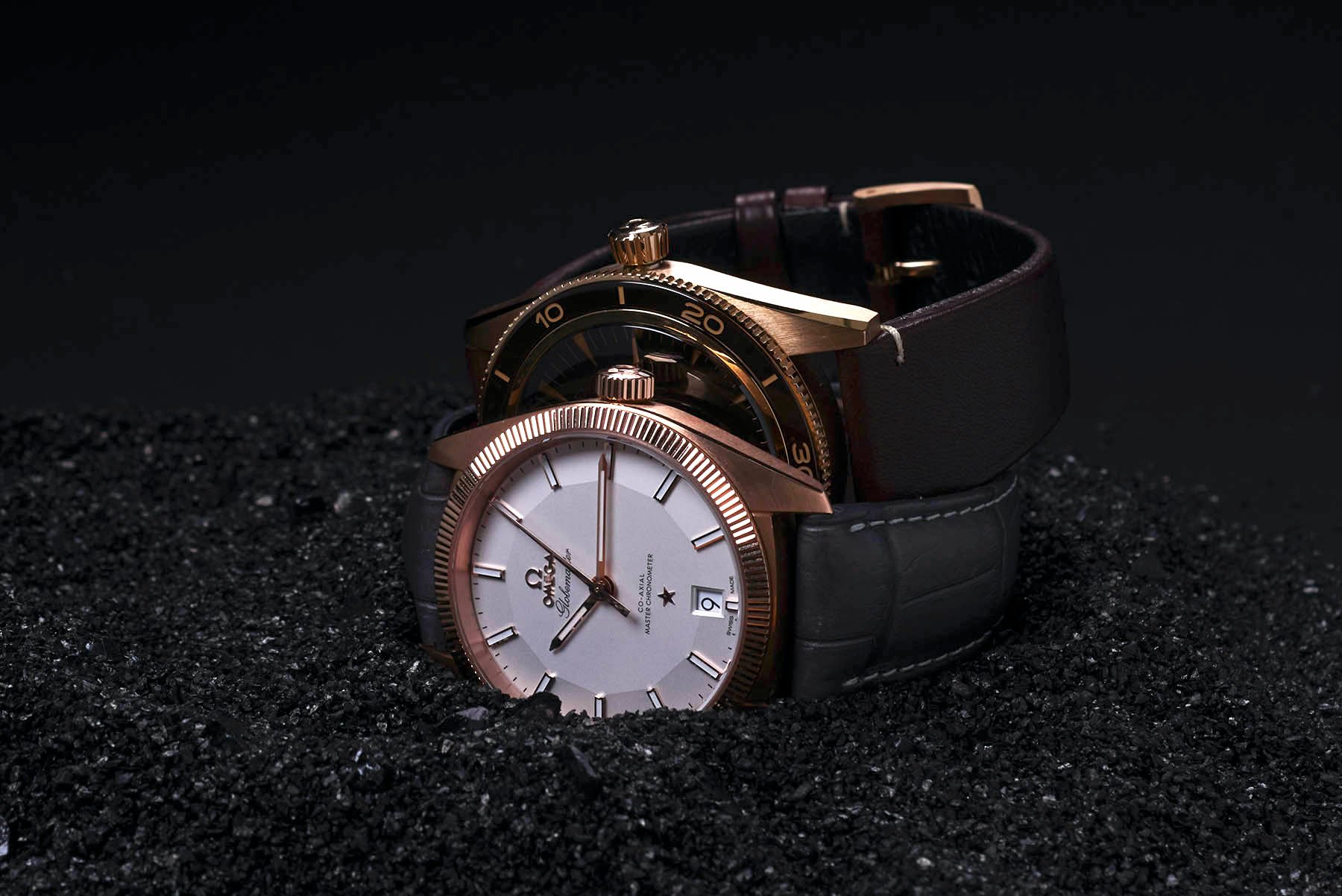 Sedna Gold Globemaster
Then, a few weeks before my 40th birthday, it was there. The Omega Constellation Globemaster in Sedna Gold. Out of the box, on my wrist, and yes, the same sensation appeared. Every time I put it on my wrist, there is this spark of magic. I wear the Globemaster a lot, and although some people consider this watch to be a dress watch, I wear it whenever and however I want to. I see the amazement in people's eyes when I turn up wearing this watch, as they expected something different, I guess. But I rarely tell this story.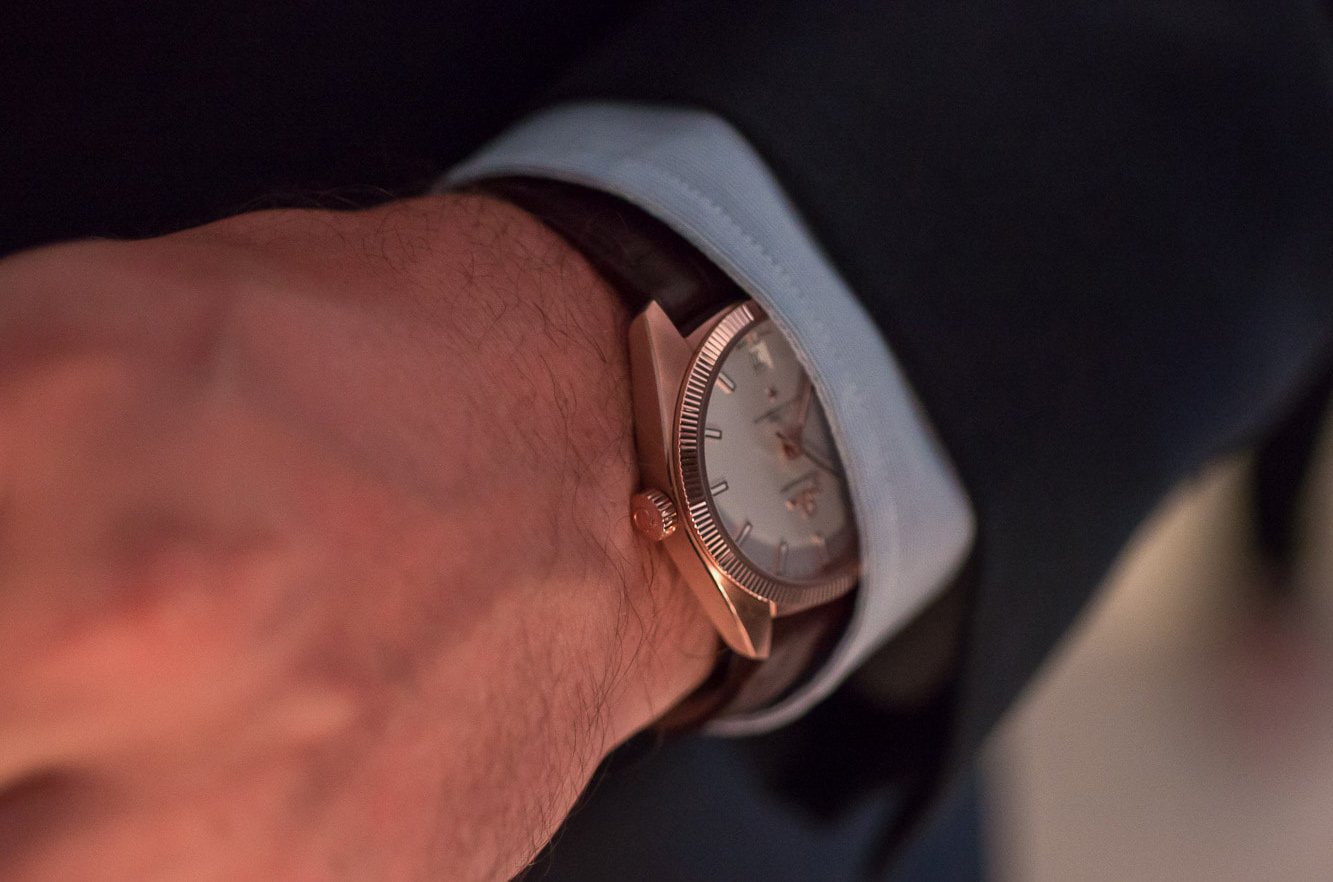 Four generations with Constellations
It is a perfect timekeeper and is packed with interesting innovations, as it has the Master Chronometer certification, combined with its beautiful design and finish.  These are all perfect reasons to buy one. But in this case, I don't care much about that: this particular Constellation Globemaster is about me and my family: as personal as it gets. Four generations with Constellations – with Omegas. Below is my Constellation Globemaster placed on a photo of me as a child at my grandparent's house, probably around 1983.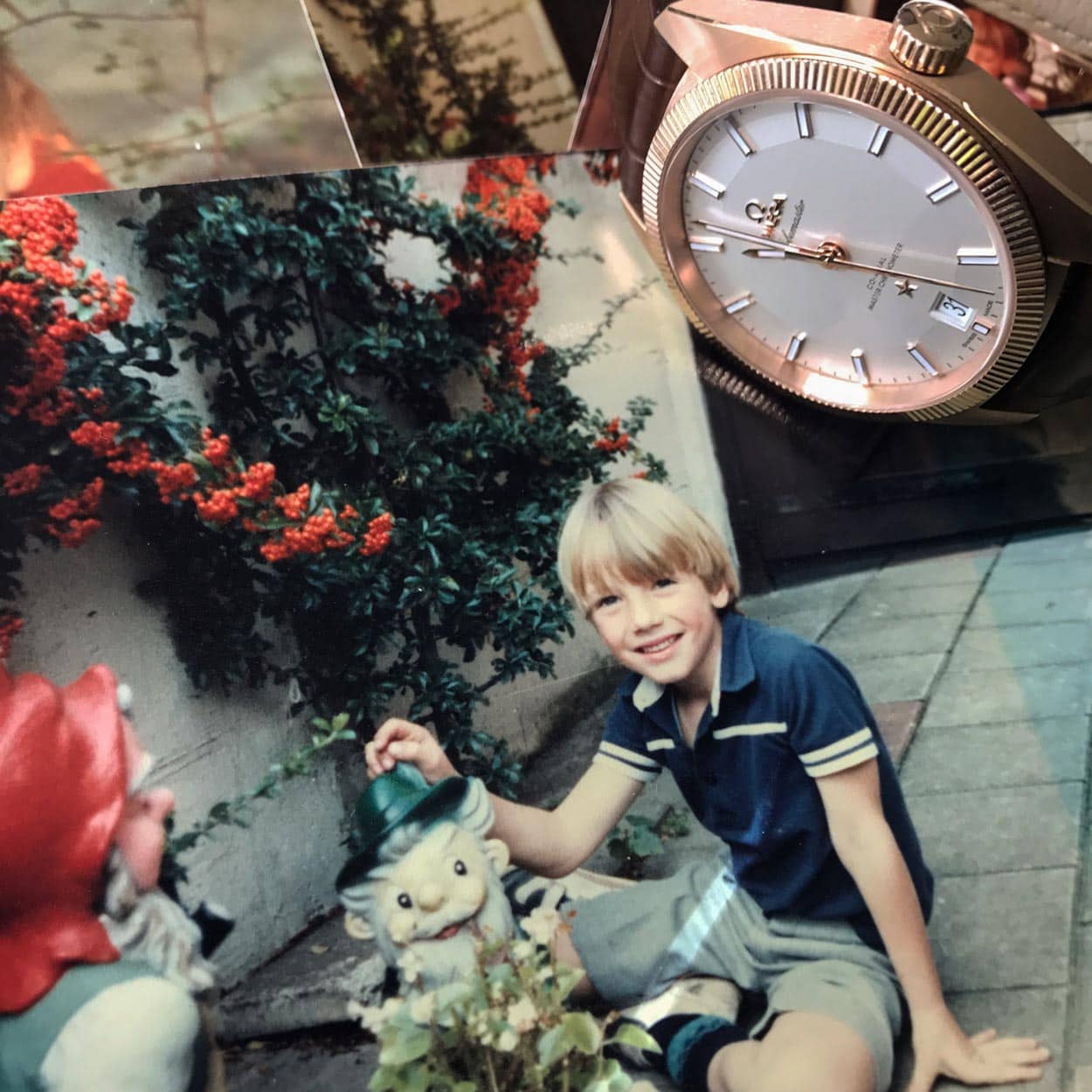 The brand is deeply rooted in my family, which explains the number of Omega watches in my (still modest) collection. This doesn't mean I don't like any other brands, don't buy any other brands (which I still do as well), or even think everything Omega does is the best or all fantastic. This brand just holds a special place with me and now you know why.
*This story was originally published in 2020 and has been slightly revisited.