What Kind Of Watch Is The Casio G-Shock G-STEEL GST-B400-1AER?
Is it a sports watch, a dress watch, a casual watch, a tool watch, a traveler's watch, or all of that mixed into one?
A G-Shock G-STEEL you can wear as a contemporary dress watch? I know it sounds hard to believe, but hear me out. New to the line-up is a model with a steel case, black dial, and resin strap — a steel bracelet is also available, and then the watch is called the GST-B400D-1AER – that measures only 12.9mm in height. Because of its slimness and understated analog look and colors, it's quite an introverted G-Shock despite its 46.6mm case diameter. So, what kind of watch is the Casio G-Shock G-STEEL GST-B400-1AER really?
How dare I call a 46.6×12.9mm watch with a lug-to-lug length of 49.6mm a dress watch? A multifunctional quartz watch, no less! Well, I dare because it's slim enough to slip under the cuff. Also important is its weight of 80g. That makes it very easy to handle on the wrist. And apart from that, this new member of the G-STEEL family looks undoubtedly modern in a subdued kind of way. And it's not just subdued for a G-Shock, but for any modern casual, sporty dress watch in general. The Casio G-Shock G-STEEL GST-B400-1AER could well be the most versatile G-Shock in the collection.
The GST-B400-1AER is an all-rounder if ever I saw and wore one.
Steel combined with black is an evergreen of a combination that kind of flies under the radar. Even when the diameter of the watch can be called considerable. The GST-B400-1AER is an all-rounder if ever I saw and wore one. Because of its looks, you can take it anywhere, and because it's strong enough to take a beating — urban obstacles as well as those found in the great outdoors – it's also worry-free. This G-Shock is a wonder of electronic watch tech, but it doesn't flaunt it. Visually, it behaves a bit like a traditional, mechanical watch. But it isn't. And I was about to find that out.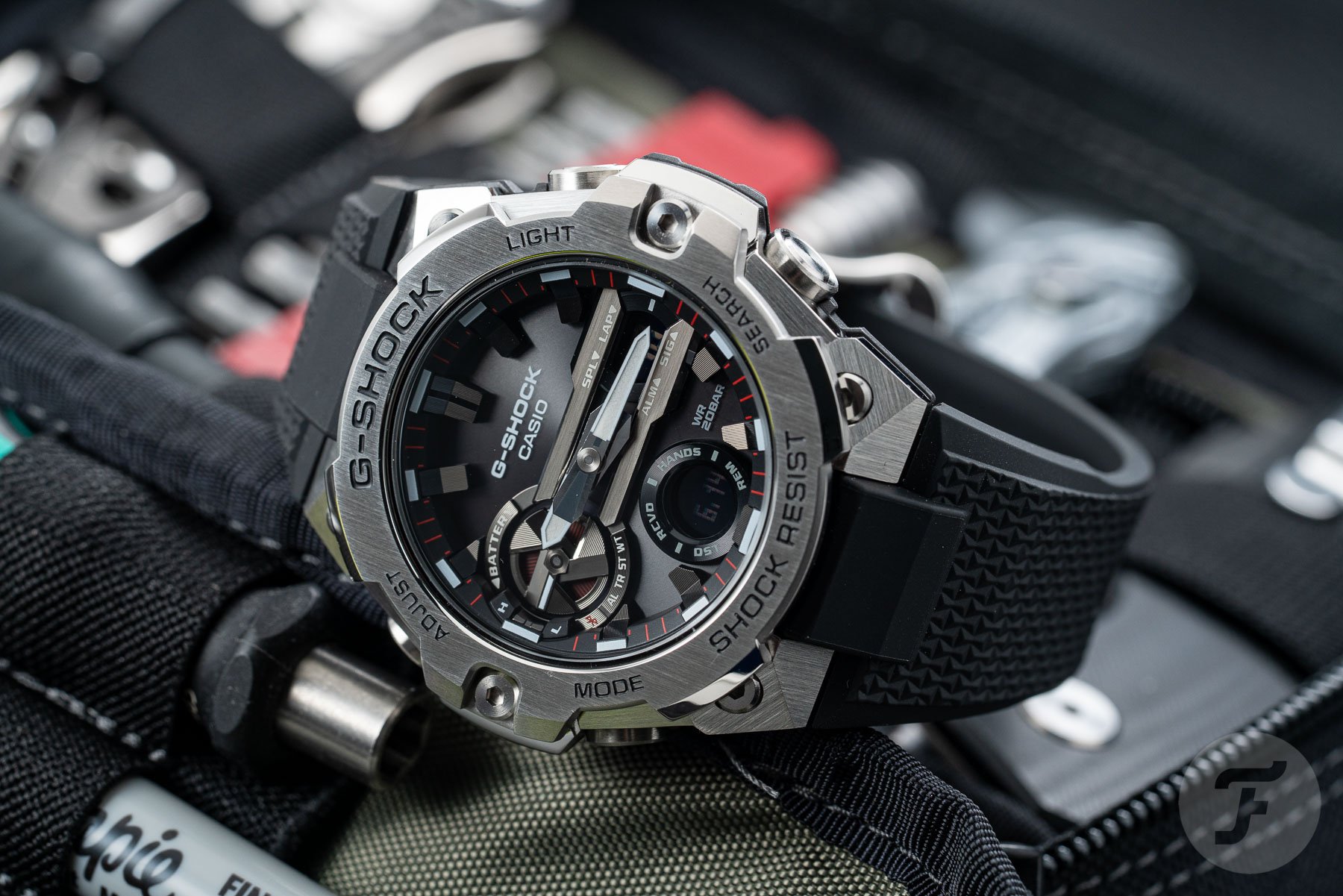 Nuts and bolt versus bleeping stuff
I have a confession to make. When it comes to electronic watches with a gazillion functions, my mind goes blank. I'm not like a good friend of mine who practically lives for gadgets. He loves to try out everything, to dive deep into every single thing an electronic device can do. His Apple Watch holds no secrets from him. I, on the other hand, hate setting up electronic things. Think smartphones, TVs, laptops, and also electronic watches. I like my things mechanical. Mechanical watches, of course, but also other stuff that works with nuts and bolts and cogs and stuff. I love working on my racing bike, for instance. Changing the cassette, adjusting the gears, replacing the chain and cables, setting up the brakes — proper Zen stuff. When objects start bleeping when you touch them, I get grumpy.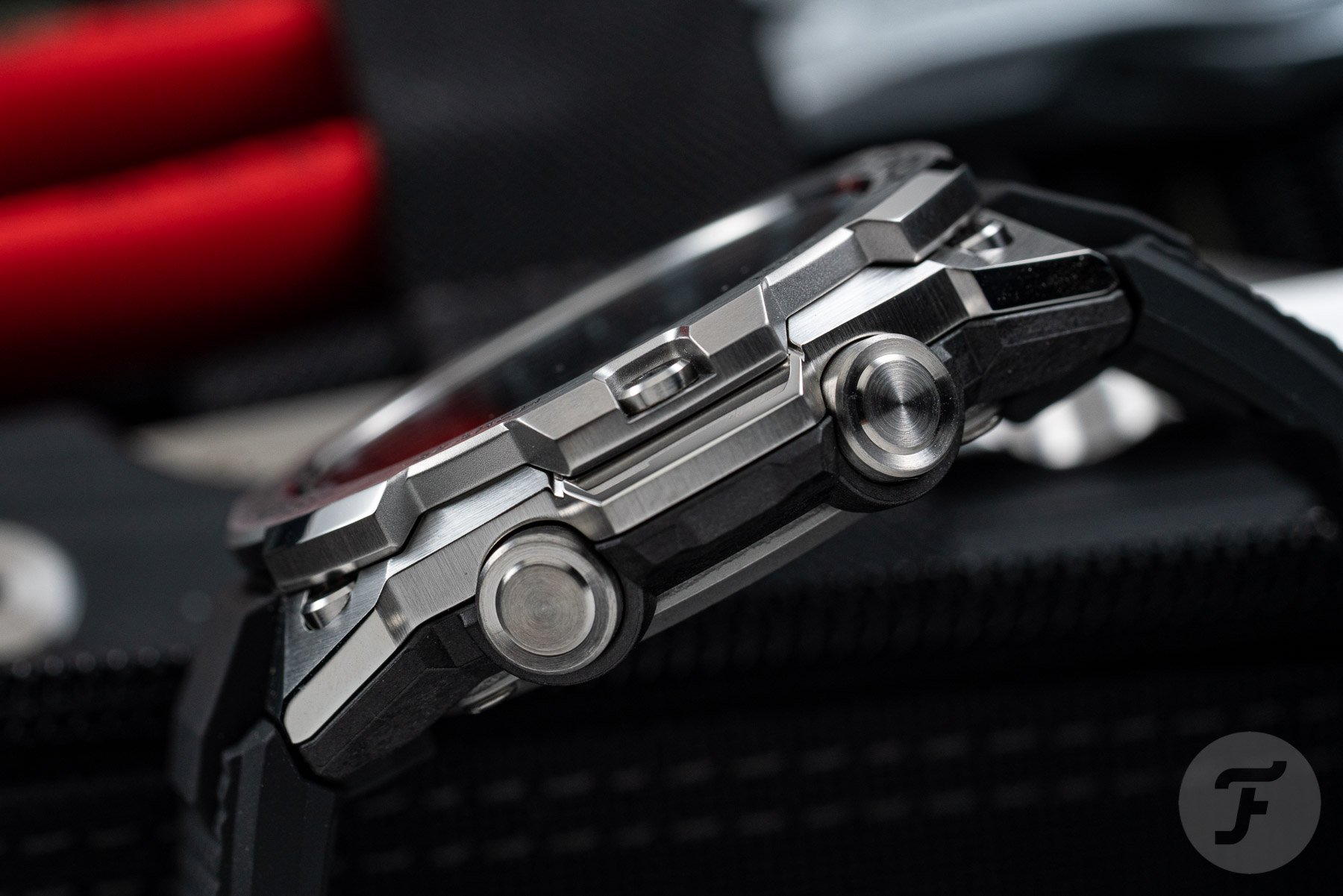 A big hooray for Bluetooth and Tough Solar!
So when first handling the G-STEEL GST-B400-1AER my mood darkened instantly, because when I touched the "mode" button, the watch bleeped. I wanted to put the watch down there and then, but luckily I then thought of using the G-Shock app — I might be old-fashioned, but I'm also not completely medieval. It lit up my mood instantly because setting up a watch with the app is a breeze. Long live Bluetooth! And also long live durable Tough Solar that does away with battery changes.
The movement will also last for 18 months on its rechargeable battery when it's "hibernating"…
And there's more good news. The movement has an approximate operating time of seven months on the rechargeable battery. And it's accurate ±15 seconds per month when there's no mobile link function and it has to work all by itself. When connected with the phone, it uses automatic time adjustment, and it runs spot-on. The movement will also last for 18 months on its rechargeable battery when it's "hibernating" in total darkness with the power save function on after a full charge.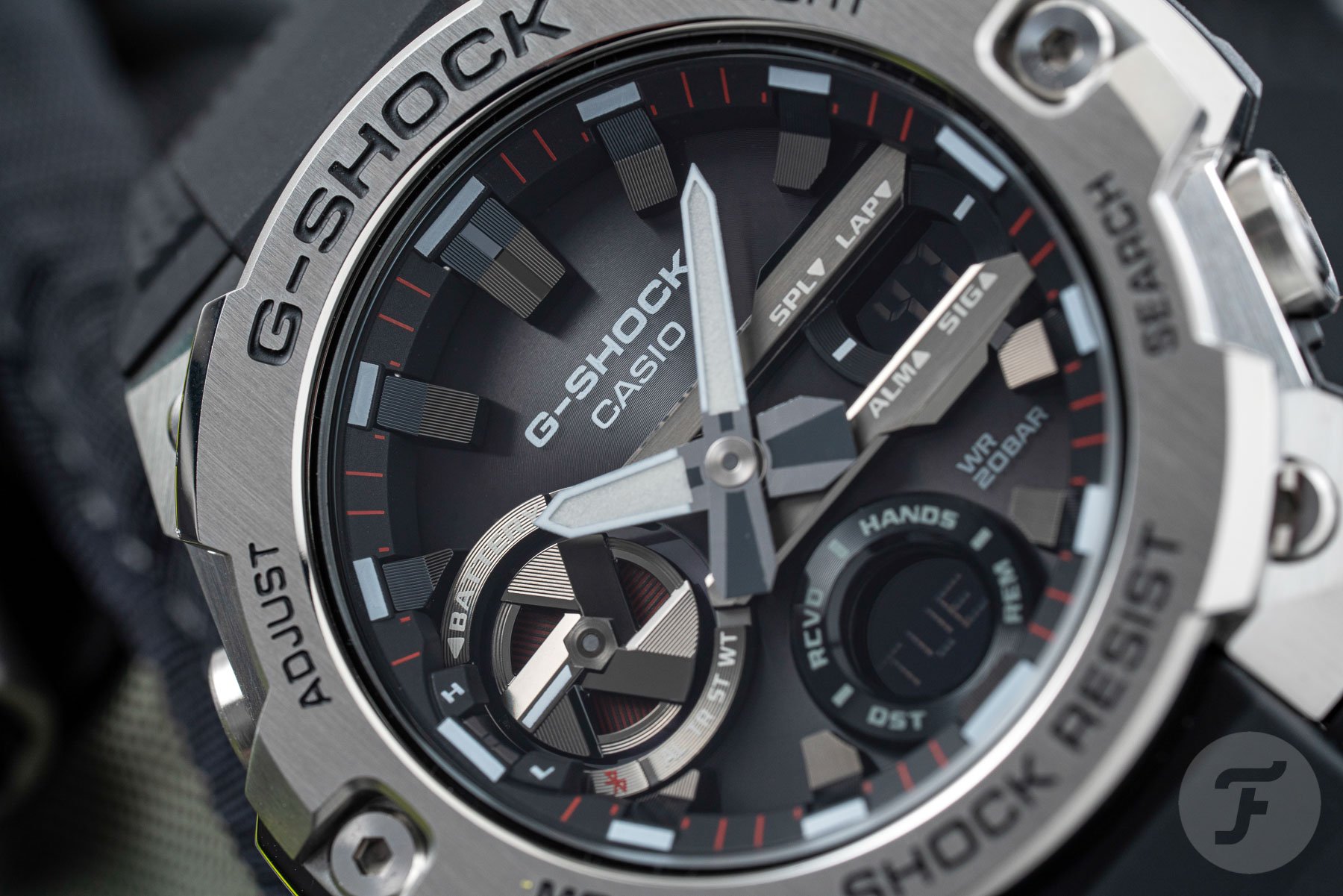 Move out of the way, hands!
That's just the basics. The movement also has a wide range of functions some people can't get enough off. I probably will only use a tiny percentage of the GST-B400's capabilities, but I do appreciate the Super illuminator and the LED backlight for the digital display. And you know what, once I start traveling again, the 38 time zones (38 cities + Coordinated Universal Time) with city code display, city name display, daylight saving on/off, auto summer time (DST) switching, and home city/world time city swapping, could prove useful. If I can make it work, that is. But I'm sure it will be a doddle, thanks to the link with my smartphone! And what is really helpful is the way the hands move out of the way to provide an unobstructed view of the info the watch displays digitally.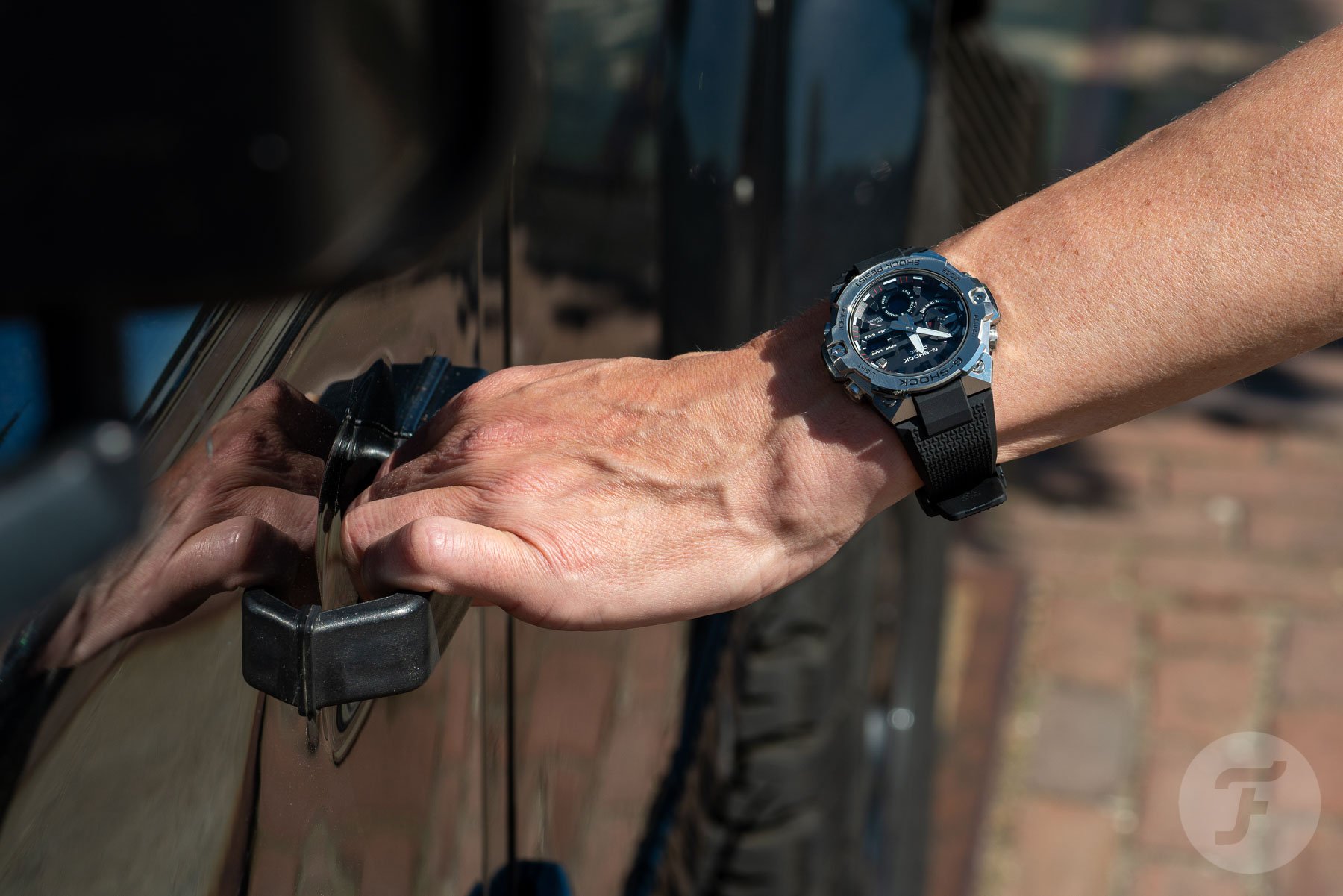 Things you might need and stuff you actually need
To be honest, I don't know if I'm ever going to use the 1/100-second stopwatch function. I did while testing the watch but in real life? I don't use my mechanical chronographs, either. Maybe I should, but that's a subject for another time. There's also a countdown timer, five daily alarms, and hourly time signal (it's a beep I just can't get used to, but luckily there's a button to switch the tone on or off), and a helpful battery level and power-saving indicator. Traditionally useful is the calendar that will do everything automatically until 2099 with the day available in six languages.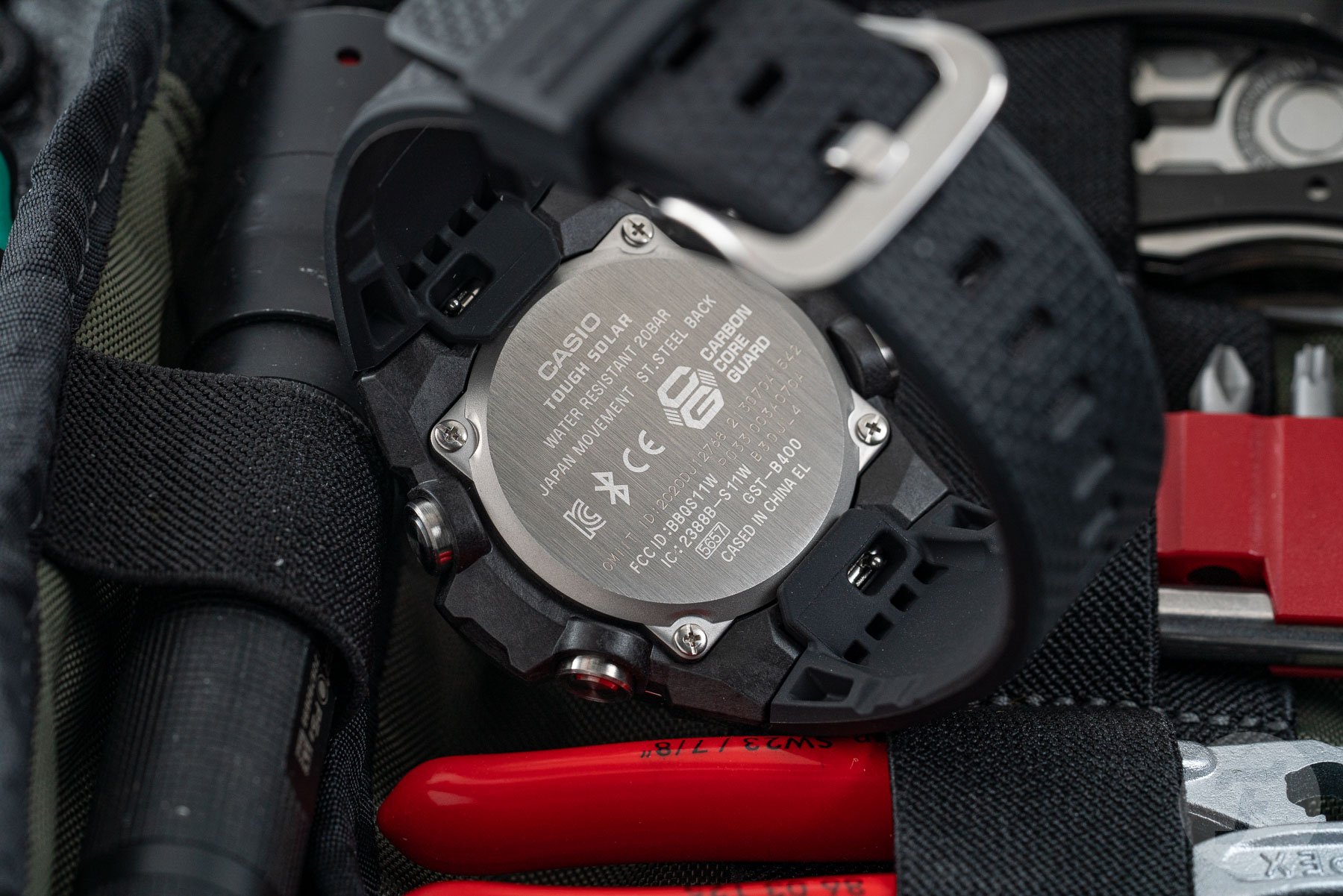 The slimmest G-STEEL yet, but still a real G-Shock
On the wrist, you don't have that semi-hysterical in-your-face rainbow look the "Blue Phoenix" has. Nor the look-at-me-I-am-such-a-rugged-instrument vibe the new XXL Frogman gives off. The GSTB400 is proud of the further miniaturization of its parts and thinning of its movement module in a subdued fashion. And it does so without losing its G-Shock identity, instead, it's fine-tuning and evolving it. And although it's the thinnest model in the G-STEEL Series, it's still a real G-Shock because of its carbon core guard structure. The height of 12.9mm is more than one millimeter less than the GSTB100 model from the same family.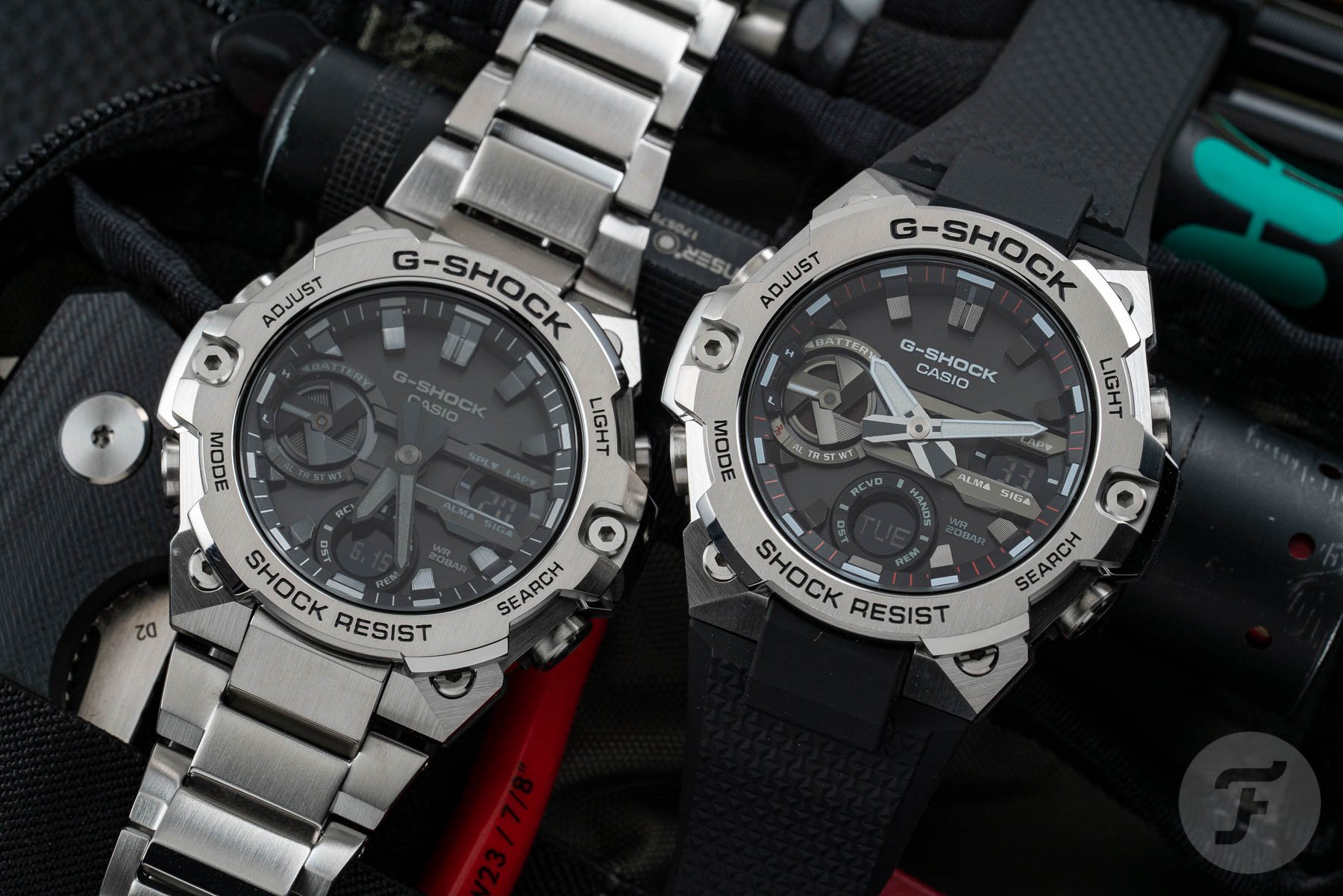 So, what kind of watch is the Casio G-Shock G-STEEL GST-B400-1AER in the end?
Casio did a great job in reducing the size of the guards around the stainless steel buttons that are slim yet easy to operate. It makes the GST-B400 look less like an instrument. The top bezel shows no less than five different finishes, and the middle bezel has four different finishes. It sounds like a lot of decoration (and it is), but the result is subtle and brings a richness to a watch that is not only for the rich.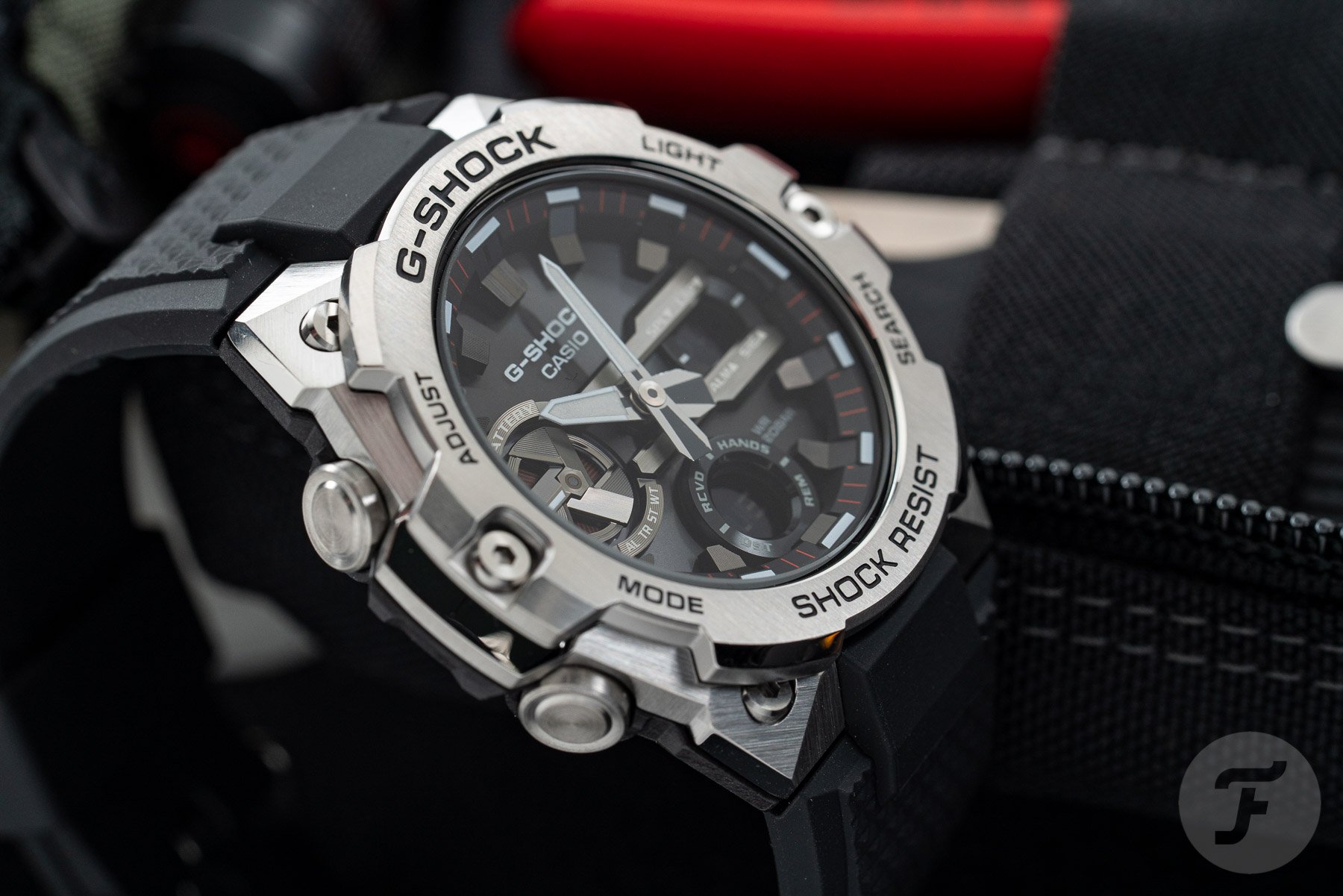 The G-STEEL GST-B400-1AER sells for €329. That is, in my opinion, a very reasonable price for a sturdy, dressy, accurate, and multi-functional watch that can be used as a contemporary dress watch and as a functional tool. Mind you, a tool that's easy to operate even for people who have a "gadget phobia" just like me.
Find all the details and functions of the Casio G-Shock G-STEEL GST-B400-1AER here. More information on the G-STEEL GST-B400D-1AER with steel bracelet is right here.
Please find and follow me at Lex Stolk • Instagram