When Watch Desire Cools Down: Swapping A Grand Seiko SBGH279 For The New SBGW283 "Kishun"
Finding love in small portions rekindles a Grand Seiko flame
In my years of collecting, I have desired, hunted, and acquired watches that didn't do it for me in the end. And I know I'm not alone. Indeed, I can see about 1,347 virtual hands going up, and that's okay; you're just normal. Just like Daan in his story on his Black Bay Fifty-Eight, it happened to me in a big way a month ago. It has actually happened before, also with a Fifty-Eight, but that's a different story. This time, I made what I felt was a BIG upgrade for my single-piece Grand Seiko collection, but I didn't fall in love. And for me, love is an essential part of any watch purchase. I mean, it's not like these are tools for telling the time, are they? But what can you do when watch desire cools down?
I loved my first experience of Grand Seiko delights, the SBGR053. A story on it actually marked my debut as a writer for Fratello two years ago. Its 37mm case was perfect, and the inky black dial was a glittery delight. But after three years, I felt it was time to upgrade my single Grand Seiko, an important part of my fluctuating 10–20 piece collection. Do I regret selling it? Yes, so much that I'll buy another one at some point. But I had secretly desired the granite brushed dial of the SBHG279. I tried it on twice at an AD and unexpectedly found one at a great price from Japan on Chrono24. My initial excitement and honeymoon sweetness was very apparent in my story on the watch, but alas, it changed.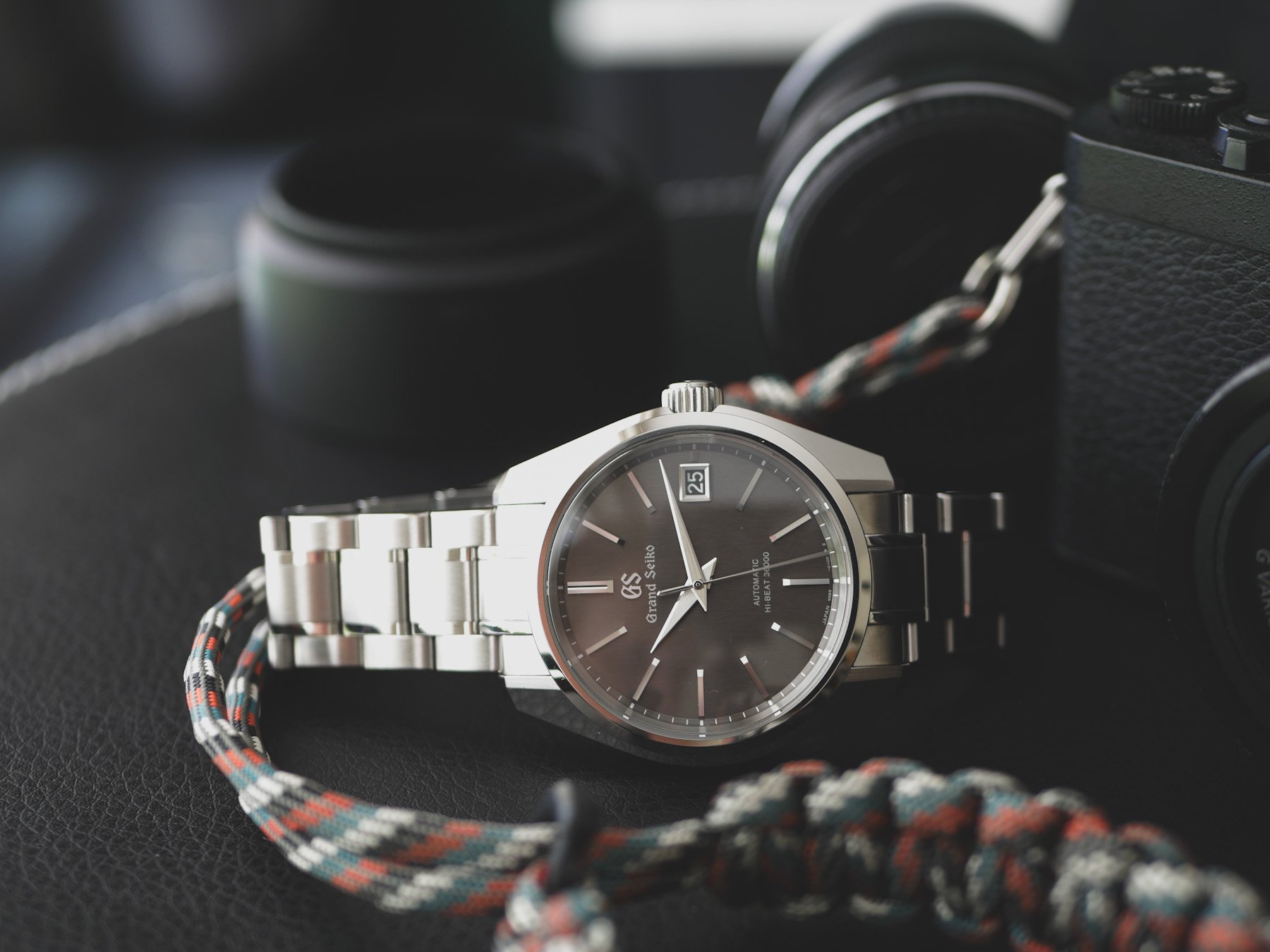 Returning from the honeymoon to find a love gone cold
After a month, it dawned on me: for my wrist, this 40mm Zaratsu TIE fighter felt very large. A fat case back created that floaty feeling unless it was strangle-tight, and I like it loose, baby. I tried the best love test in the book, and it worked — put the watch out of sight, then play the waiting game. If you don't find yourself missing it after two weeks, put it up for sale. After two years of desire, all I wanted was my simple SBGR053 back. So I posted the ad then got one of those annoying DMs asking if I'd swap it for something else. This time, it wasn't some sorry sap wanting to give me a knackered Breitling Colt and five Invictas. No, it was from a #Seikoboi. With two dressy, small GS references, he wanted to swap one for a sharp 44GS-cased sports reference.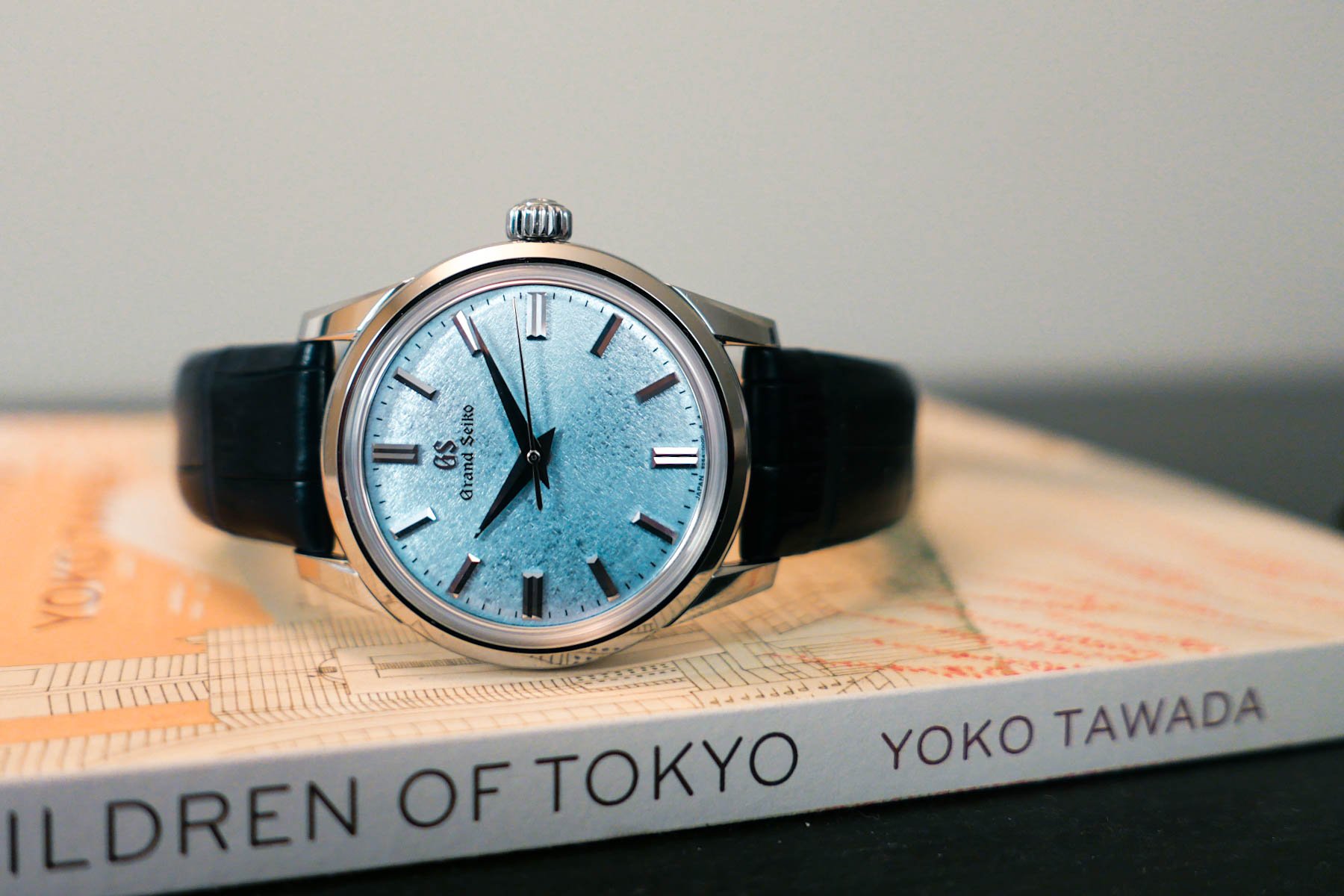 A swap and a desire-triggering epiphany
So, this other GS-loving gentleman (who also awoke my desire for the new 36mm Explorer, but more on that later) had a nearly-new SBGW283 "Kishun" that he bought in July. Coincidentally, it was one of the watches I'd contemplated along with a Cartier after realizing the SBGH was too beefy. The deal was done, and after five minutes, I was over the moon with the swap, mentally revoking everything I said about GS dials being too flamboyant. The glittering blue surface inspired by the sky during kishun — the very last days of spring — is breathtaking. It gives this 37.3mm watch a much greater wrist presence than you'd imagine. The soft, well-rounded case, perhaps best known from the cream-dialed SBGW201, is longish in the lugs, making its sub-38mm size deliciously perfect.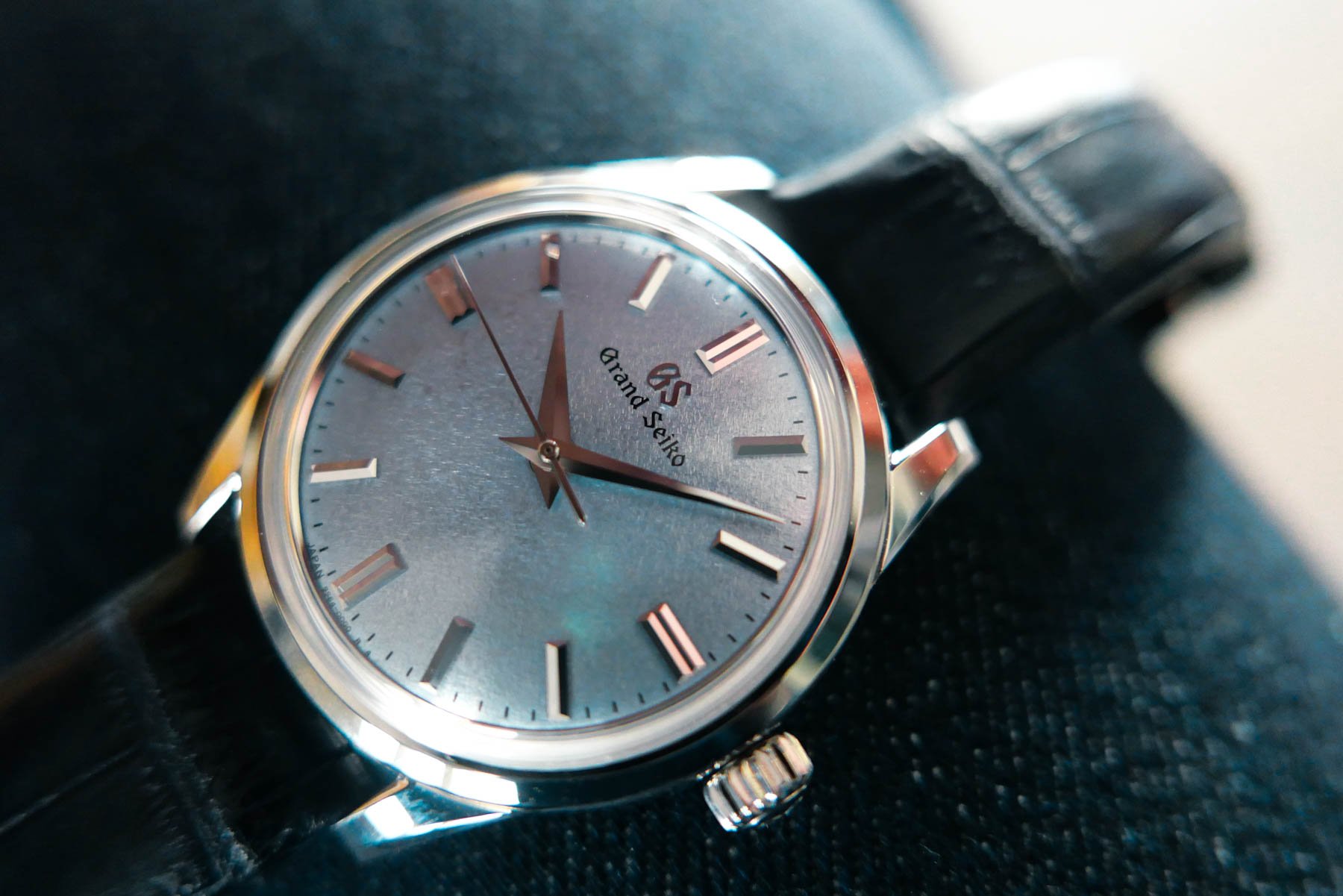 A sky-blue dial and a hand-wound heart
With a vegetarian wife and a conscience, the dark navy alligator strap should conflict me, but no. My preconceptions and sustainability instincts get blown away by its subvertingly soft feeling on the wrist. This is easily one of the best-wearing watches I own, and it has the quality of feeling at home after 10 seconds. The SBGW case might lack dramatic bevels and angled contrasts, but it's delightful. The rounded lugs have a touch of a sweeping bevel, and the finishing still beats Rolex in my eyes. In time, I'll forget the dial symbolism of the late-spring sky over Mt. Iwate, but the glittering texture will make me miss it every time I put it away.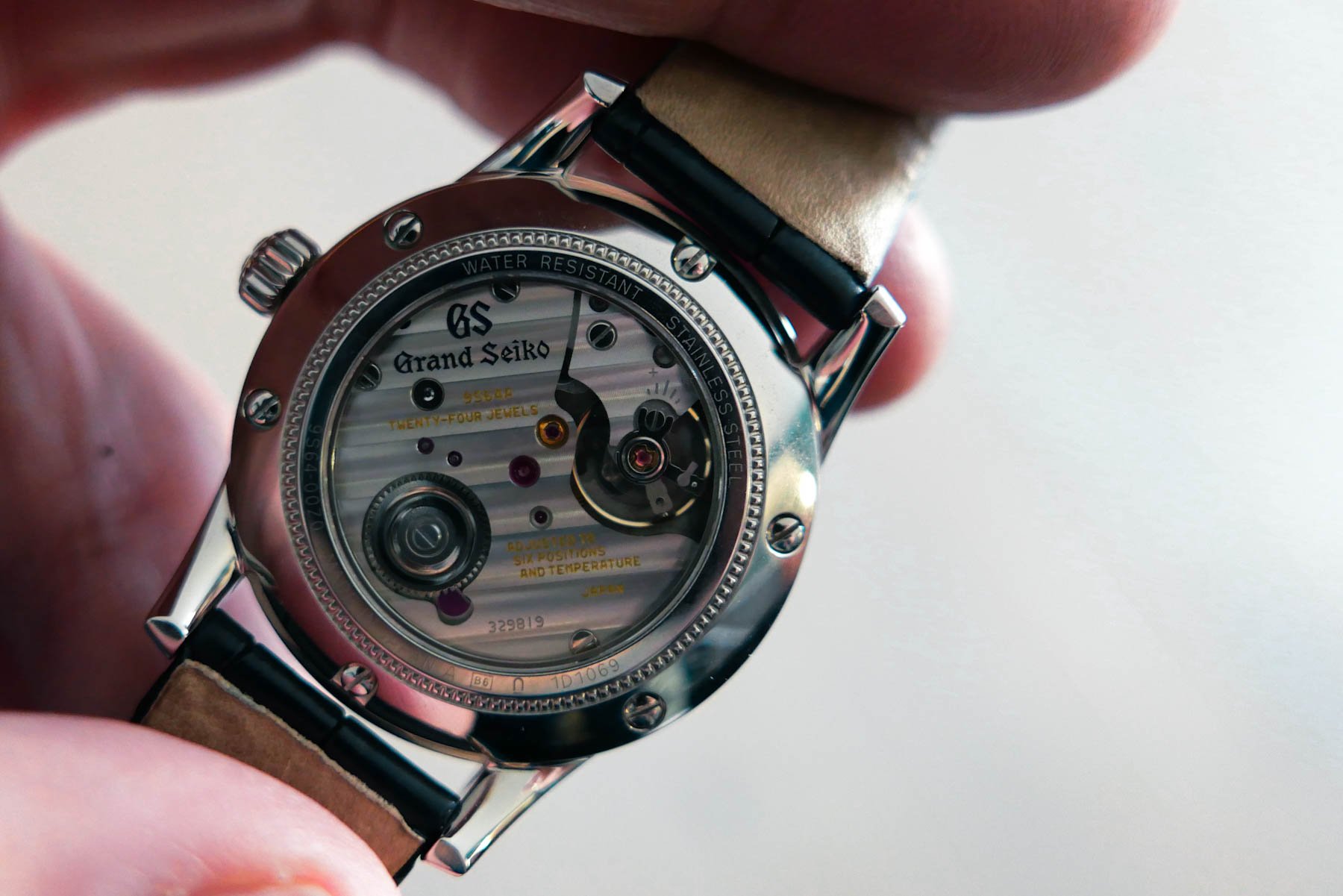 Small but with a clear voice
Putting on a matte-black-dialed tool after this feels like driving a car that's missing its paint job. The shape of the dauphine hands and hour markers are anything but flamboyant, and some might even lament Grand Seiko's lack of imagination. But it takes nothing more than a tiny sliver of light to make them sparkle like the Mediterranean Sea at sunset. Through the back, the 9S64A caliber is visible as well. It's just a "basic" hand-wound movement but beguiling nonetheless. Its quality is felt in something as simple as the silky-smooth action of the crown. To be honest, when I wind it consistently, this simpler caliber seems to be keeping better time than the Hi-Beat in the SBHG279. All in all, the SBGW283 is larger than you'd expect for a dressy number, a testament to GS ergonomics, and much more than a glittery face.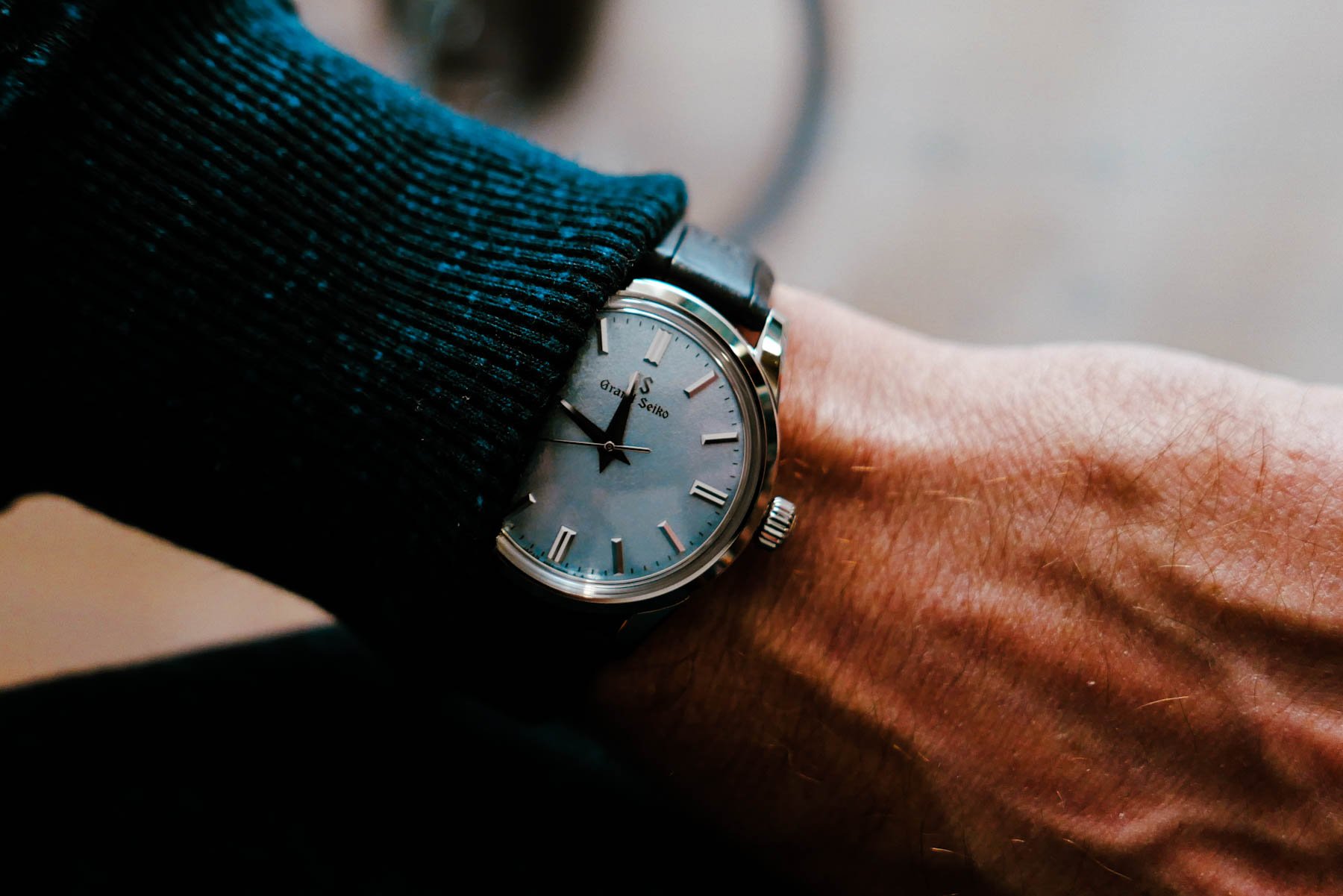 The moral of my swap tale
We are all different. For some, a chubby-backed 44GS case will be a Goldilocks dream. In my case, pre-purchase expectations had built up so much that I ignored my misgivings upon trying it on. I know that much of the thrill in this hobby is in the search, the purchase, and the anticipation of the arrival of a new piece. But try, just try to keep a clear head. If you used to have 42–45mm divers and your collection has swayed in favor of 38mm retro, there is a reason, my friend. Likewise, there is nothing wrong with admitting one's mistakes. Just like the contortions and backaches from getting in and out of a waist-height Lamborghini are worth it for the looks and adrenaline, sometimes a wrong-sized watch is still right. But you still need to address your doubts. That said, despite my newfound happiness, I still want to buy my SBGR053 back too…
So, my brethren, do you have similar stories of love lost like Daan and me? Let us know in the comments; I know I'm in good company here. When watch desire cools down, you need to share to start the healing process, man.
Find me and follow me: @thorsvaboe