I Bought The Most Boring Grand Seiko, And I'm Not Looking Back!
The Grand Seiko SBGH279 is a monochrome masterpiece with a Hi-Beat movement
The title is meant to create debate, and I don't really find the SBGH279 boring at all. But many of you will ask me a simple question: why would I buy the only Grand Seiko with what almost looks like a primed, unfinished dial? You know I am a lover of quirky-cool and colored dials, but this is all about my love of metal.
No, I'm not talking about working out at the gym blasting '80s Mötley Crüe on my Skullcandy headphones. I'm talking about Zaratsu. Starting with the killer 40mm 44GS case, the metal-working craftsmanship is key to the appreciation of any Grand Seiko. And when I dare to call the SBGH279 boring, I'm talking about the very discreet dial. Neither Urushi-lacquered nor textured like Dave's amazing Skyflake, this is a quietly brushed affair. Did I buy it to (yet again) underline my contrarian streak, or was there a deeper thought process behind it?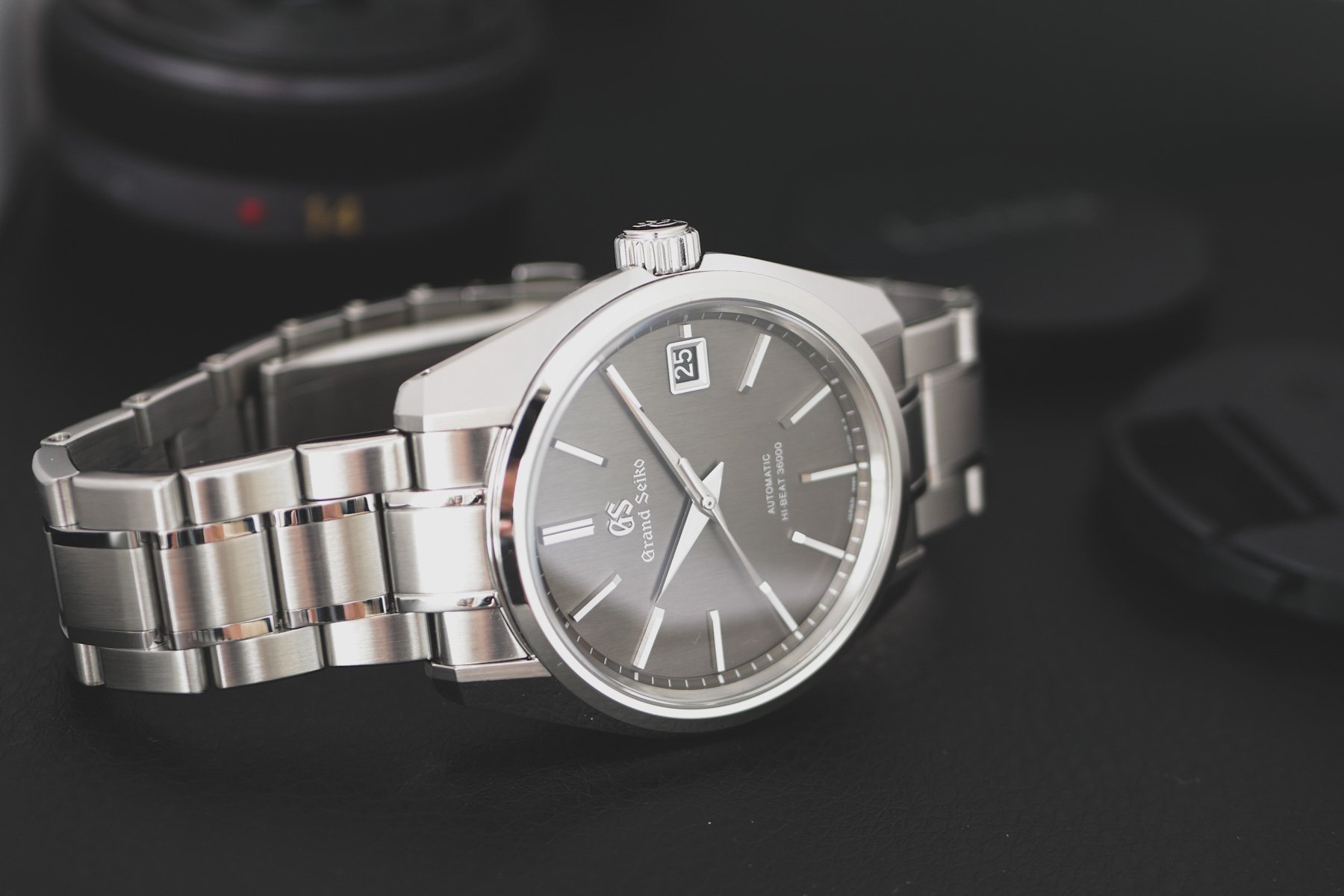 The Grand Seiko upgrade
One of the world's most sparkly monochrome gray-on-steel watches is on my wrist because I am consolidating. As documented in my Seiko journey with divers, this is also a studied upgrade. I recently sold my SBGR053 and two other watches, added some funds, and went virtual shopping in Hokkaido on Chrono24. I succumb to certain low-to-mid-priced releases, which have made my collection too large and under intense scrutiny by my wife. The glass-fronted vertical display case for my watches was a lovely birthday present, but she had ulterior motives. Now, she has the perfect view of ALL of my watches as well as a sharp eye, but I needed it. The SBHG279 has actually been on my radar for more than a year, and RJ covered its release here. But you know that I love colors, so what made me fall in love with this, a Grand Seiko in monochrome?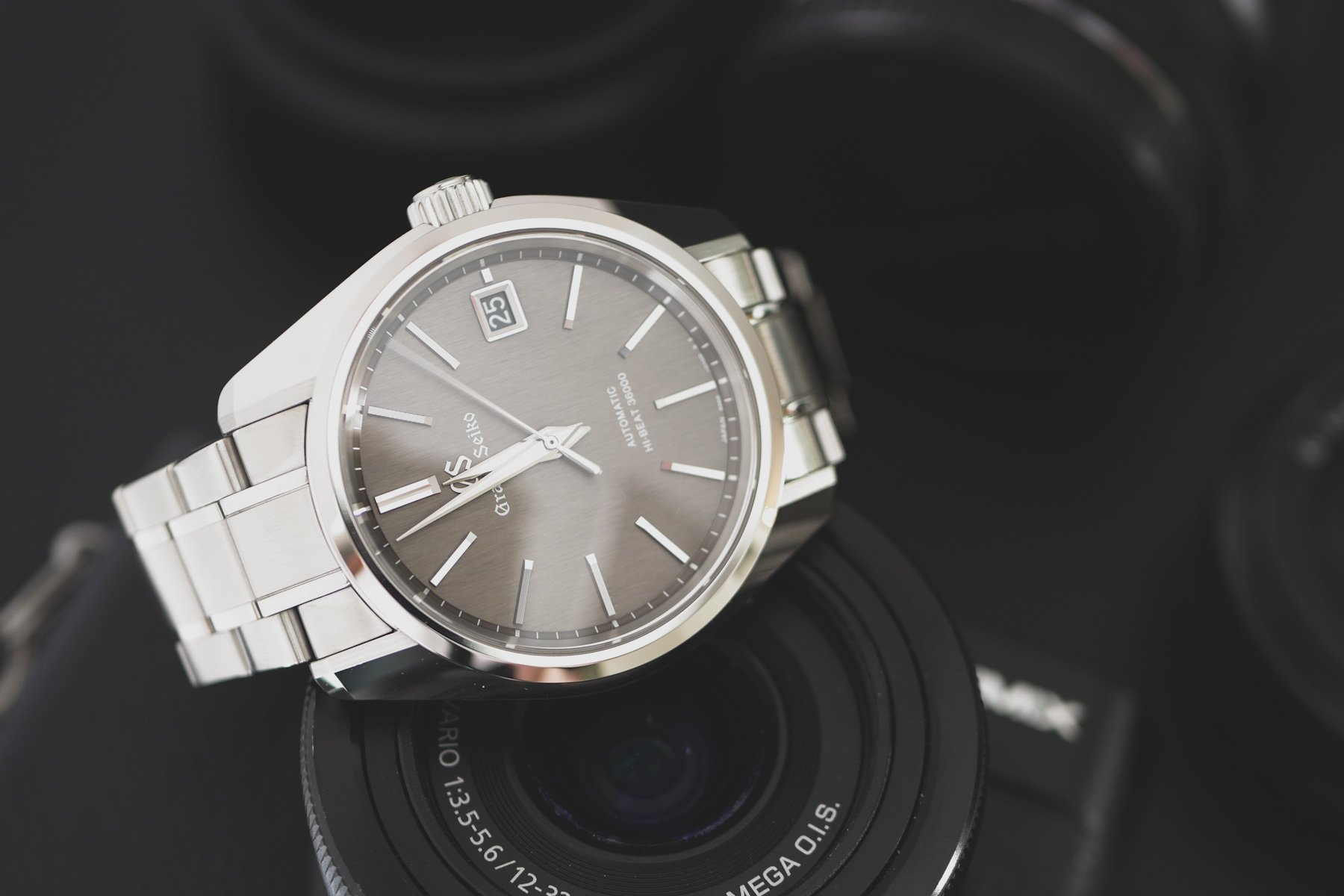 Brushed, industrial chic
The SBGR053 with its inky black dial was my entry ticket to Grand Seiko. It was the perfect fit at 37mm, and the details got me hooked from the second I laid eyes on it. It was my favorite watch for the last two years, no matter what I bought. Selling it was not easy, as it was also my entry ticket to Fratello Watches back in 2020. But the allure of a sharp 44GS-style case with its TIE-fighter-like shape kept creeping up on me. After all, the 44GS is closest to Seiko's Grammar Of Design, a design template set a half-century ago. But why choose this unfinished-looking, brushed, industrial dial? Well, I love colors, but I also have a deep affection for industrial design like cameras from Hasselblad or Leica. That predilection is the itch that gets scratched by this almost-austere dial surface.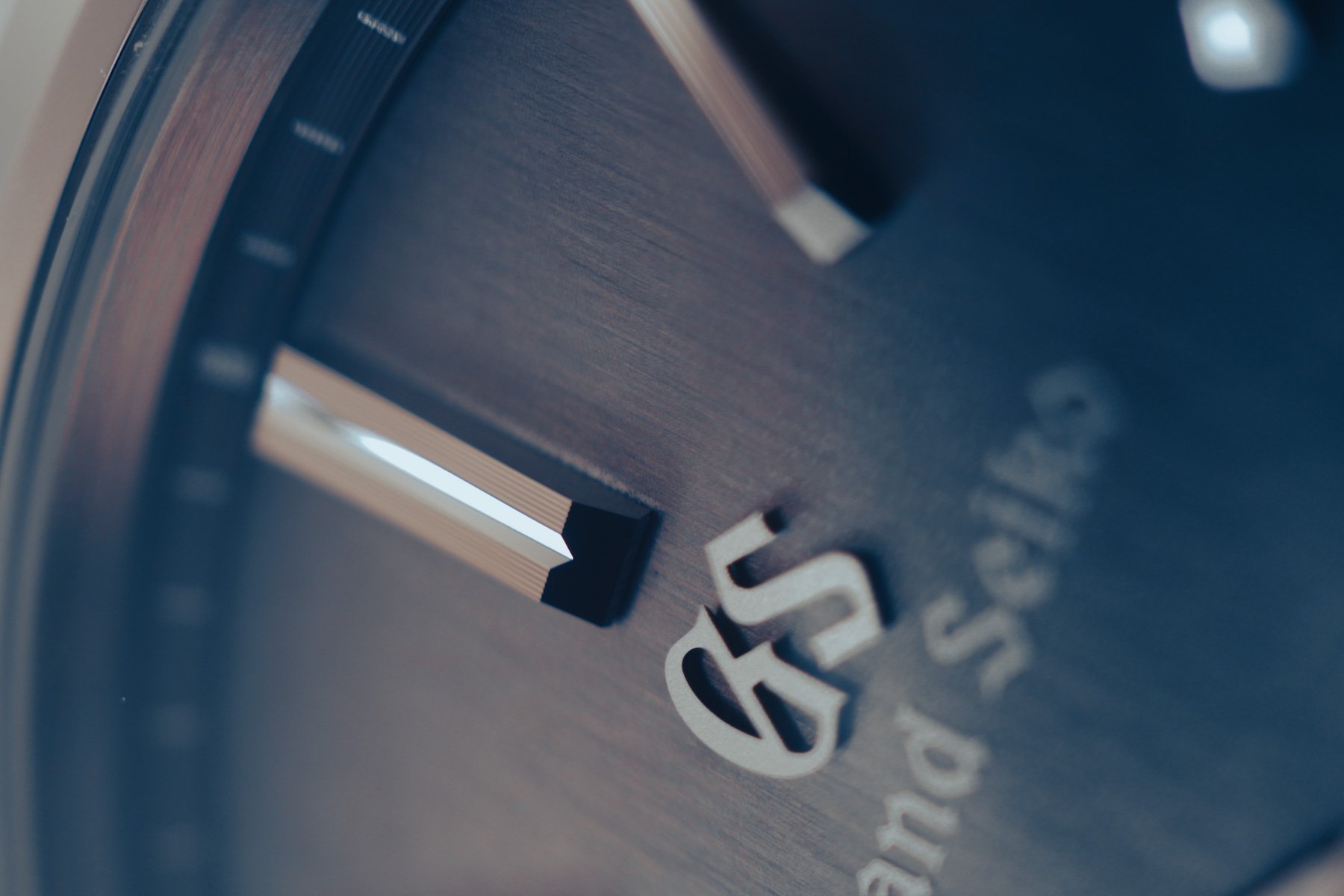 A totemic index on brushed granite spells love
Dials can steal all the attention of a watch, and any colorful Grand Seiko will achieve this. But, just like the 38mm Fifty Fathoms Bathyscaphe, the chic gray-on-gray tonality brings out the perhaps most important aspects of a Grand Seiko — the intense love for perfection in each component and the hand-finishing. A single polished index on the brushed granite surface made me fall head over heels. Just have a closer look at 12 o'clock. The double-index look is achieved by a deep V-shaped groove down the center of the wide piece of steel. The matte top is, in fact, finely striated, while the front drops off at a polished angle. The sides of each index are tall, almost vertical, and hand-polished in the Grand Seiko Shizukuishi studio. These small, razor-sharp details set the tone, installing nothing but deep respect for the Japanese ethos at play.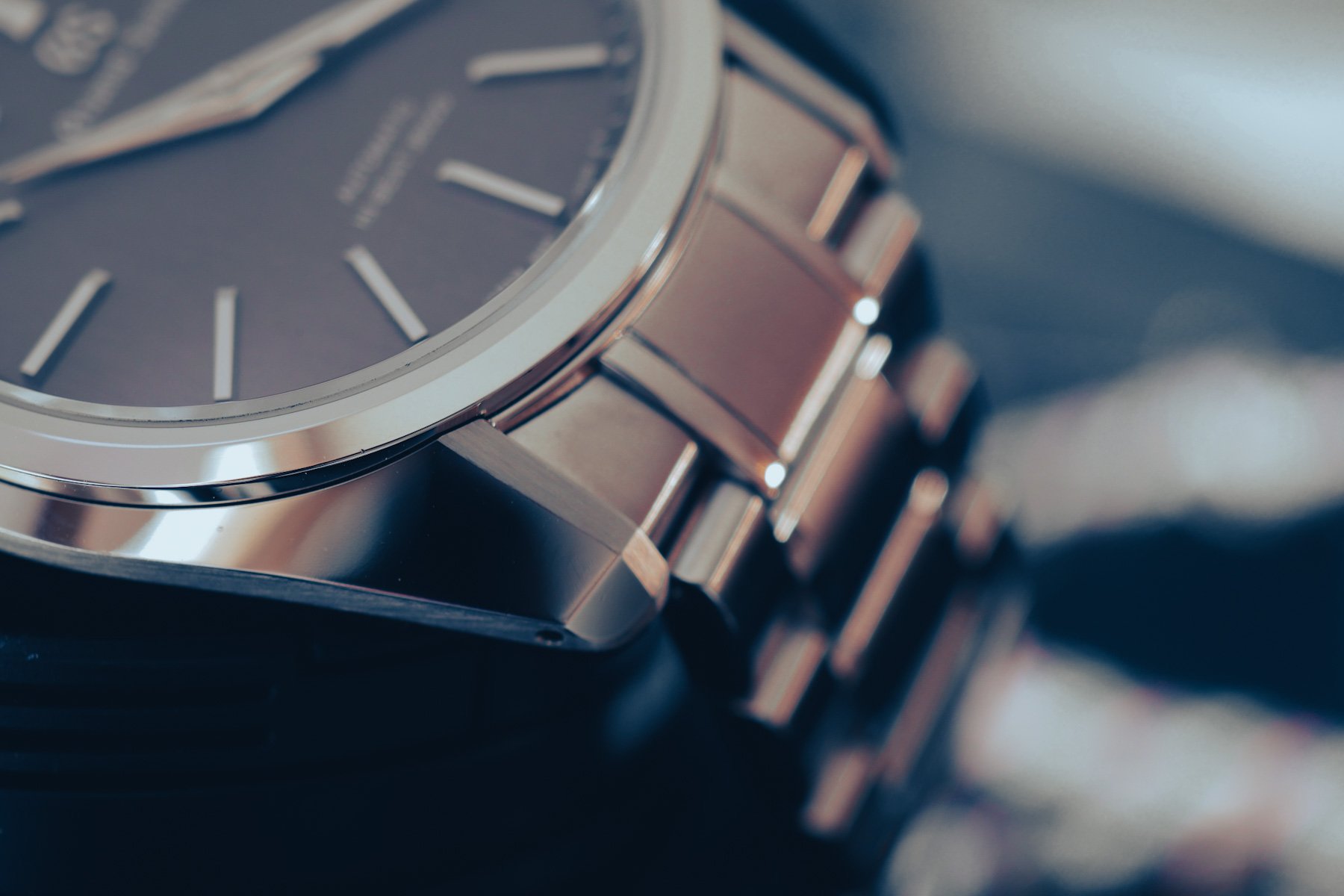 A case for Zaratsu
The dial surface might seem plain gray at first sight, even unfinished. Look closer, though, and the vertically brushed texture reveals itself. It's a chameleonic, ever-changing surface and the ideal backdrop for the sparkling indices. At dusk, the dial seems charcoal with the GS logo almost levitating off the surface, but get a hint of sun on it, and it transforms itself. Given the right light, it becomes silver, even catching a touch of purple, and the visible brushstrokes are a great contrast to the polished details. As a 40mm watch, it wears almost like a 41 due to the open dial layout and slim bezel, but its big presence is comfortable. I am not a huge Rolex fan, but compare this to the 41mm gray-dialed Oyster Perpetual, and it is no contest. The sharp dauphine hands will slice through any Swiss quality control like a katana through paper.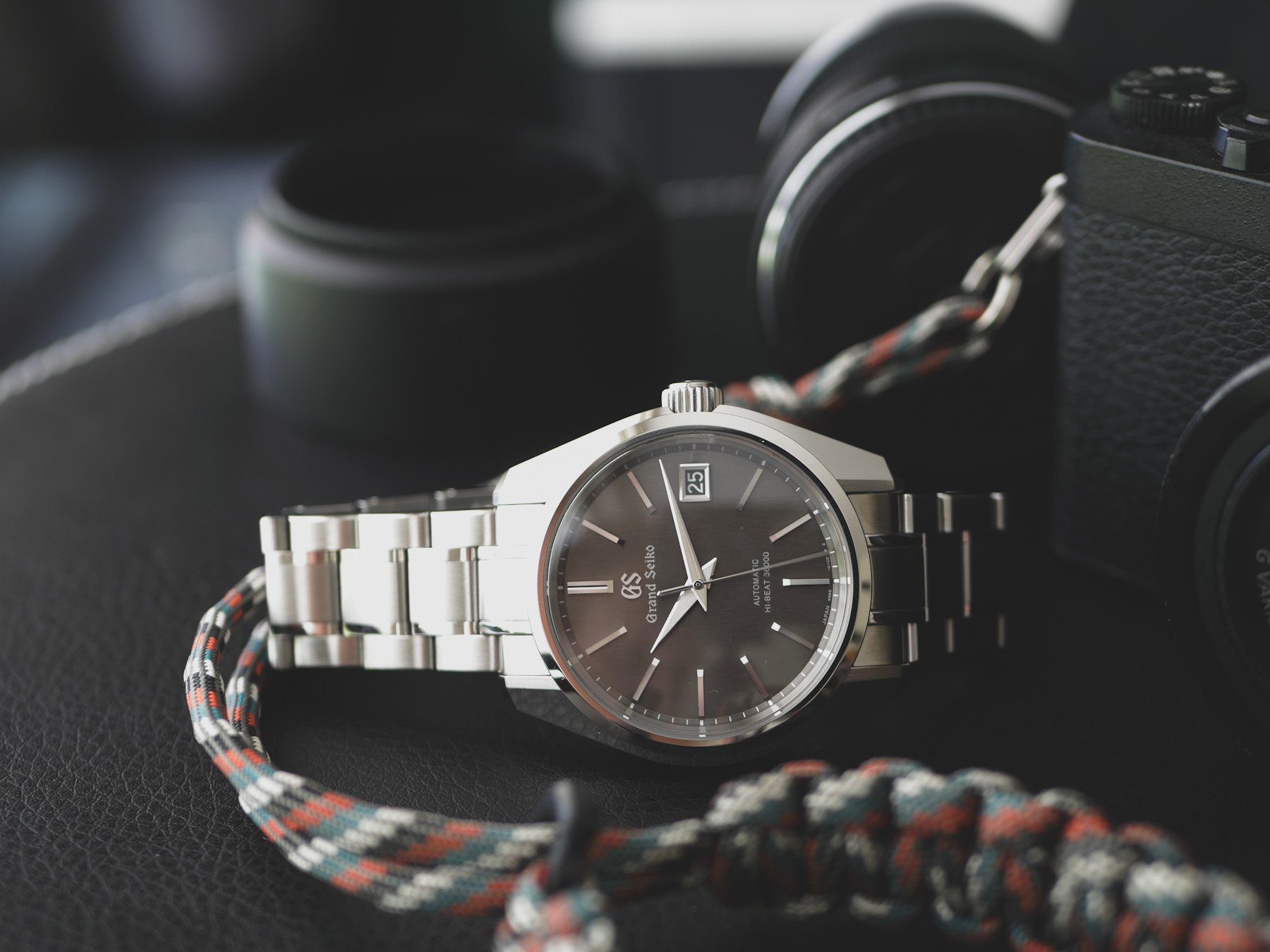 The 44GS is an angular temple to obsession for detail
I challenge you to find a single watch case from any big brand that joins around six compound curves and acute beveled surfaces on the tip of a single lug. And with such annoying precision, too! The Zaratsu legend is indeed true. The now-famous, broad-angled flanks of the case turn black in certain lights, and can even reflect the text from a nearby newspaper. Even at Grand Seiko's now considerably higher prices, this finishing will best a €20,000 Swiss grail any damn day. The flowery prose of Grand Seiko actually rings true in this dreamy quote describing the case: "The interlocking flat surfaces are designed to reflect light and to create subtle shadows so that, as the watch moves through time and space, countless variations of shade can be enjoyed. Sometimes sparkling, sometimes softly recessive…" Though even more theatrical than my writing, a single slo-mo wrist roll proves it.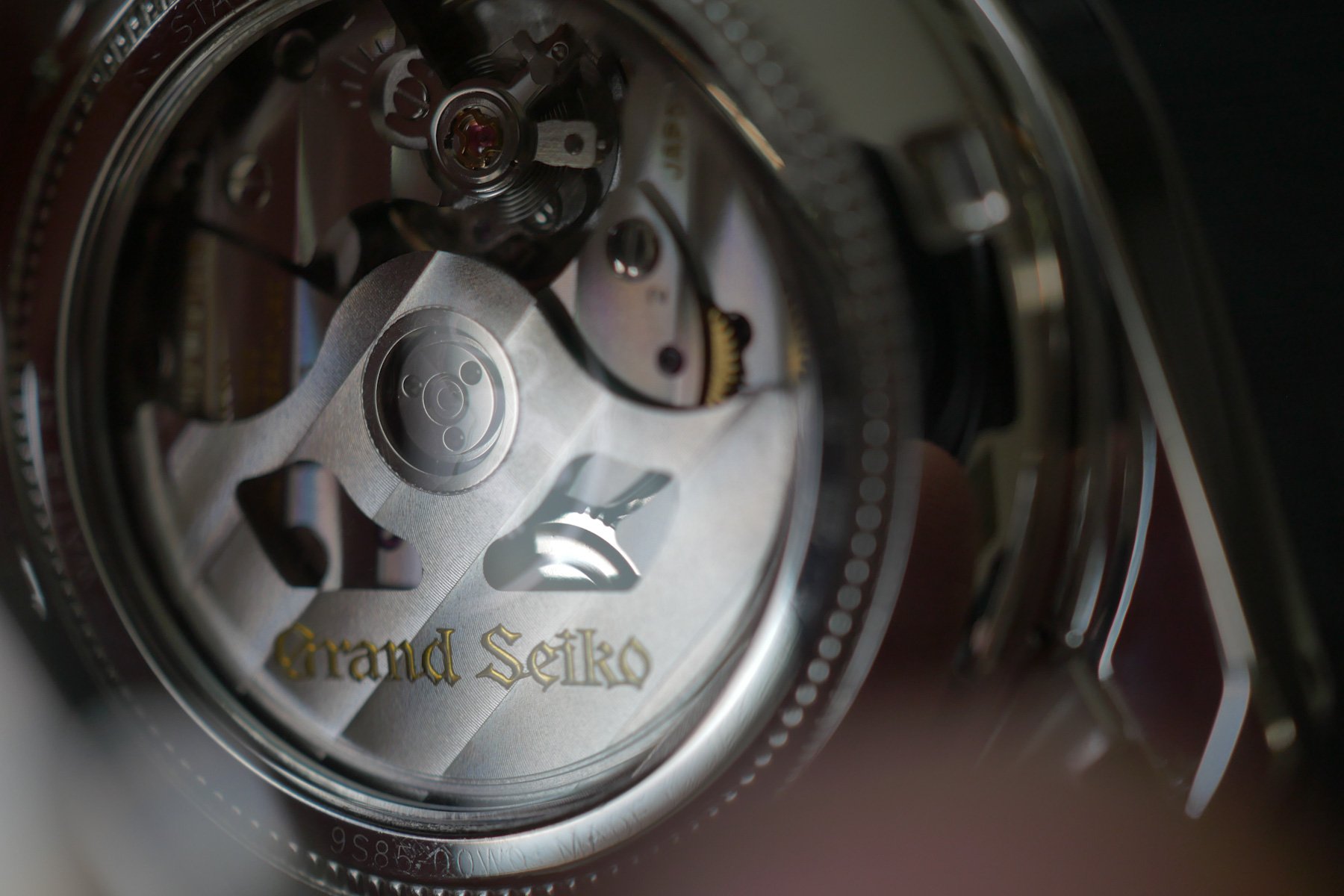 The buzz of the Hi-Beat
The soft multi-ticking sweep of the seconds hand taps deep into the previous century and the pinnacle of 36,000vph calibers like the El Primero. The buzz of the high-pitched caliber is addictive. Yes, it makes people wonder why I keep holding the watch up to my ear. The 9S85 movement has an intense buzz at 10 beats per second, but it still manages a good 55 hours of power reserve. The SBGH279 should be accurate to +5/-3 seconds per day. My pre-owned, pristine example from a Hokkaido dealer stays true to that, and as a bonus, any GS comes with its own printed testing certificate. Yes, this easily beats COSC specs. The 100m depth rating means this is a proper tough guy, though it comes at the price of a 13.3mm case thickness. But as you might have read before, a Grand Seiko dazzles but is actually built to last, ironically emphasizing solidity over elegance.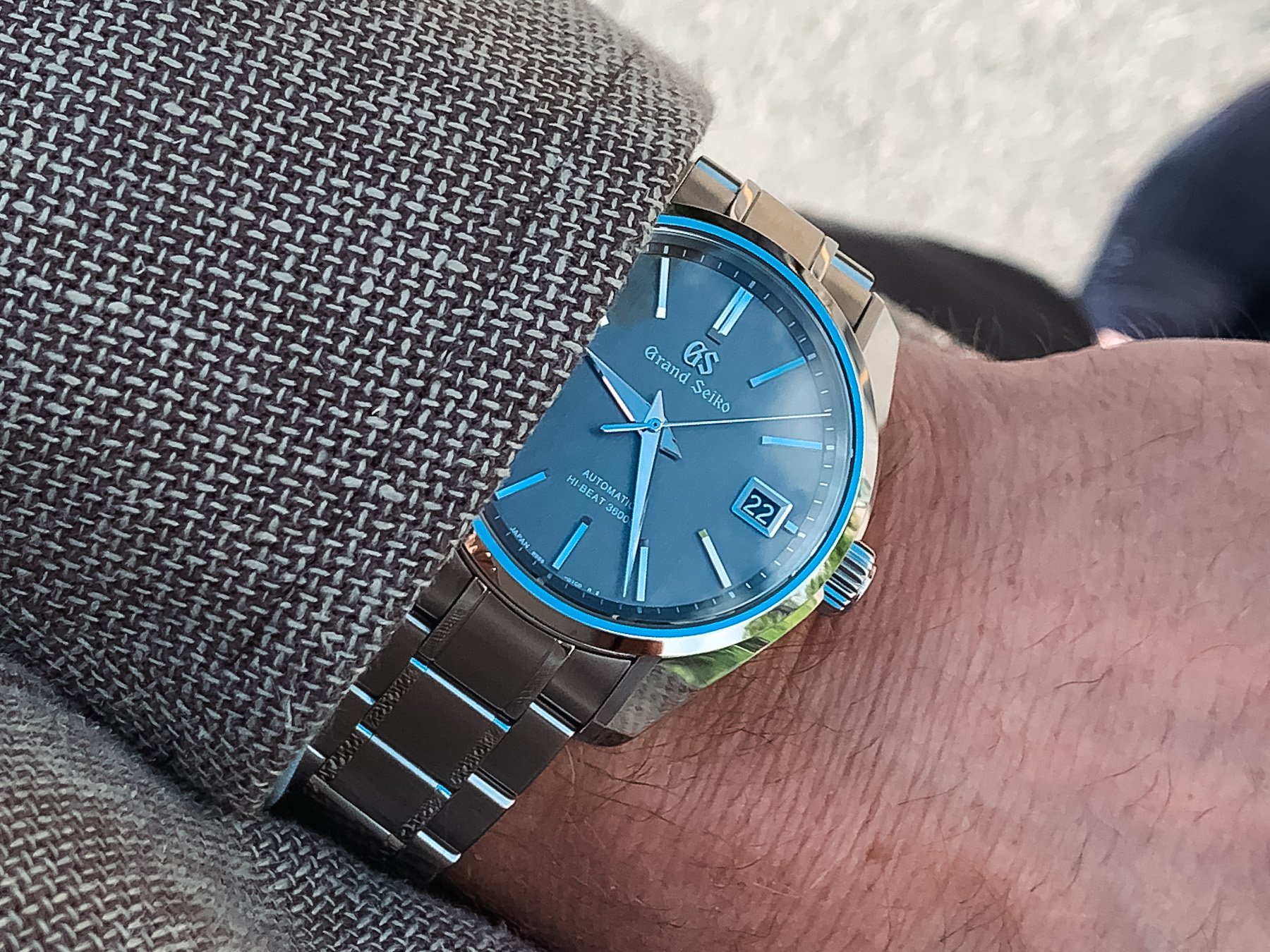 Is my Seiko group complete?
I am pretty close to completing my curated Seiko collection, but who knows? Seikos are only part of my herd, and my Seiko diver journey concluded with the Marinemaster 300 in its SLA023J1 guise. This SBGH279 will share its row in my watch box with two Credor Phoenixes. Only one of five slots is left… Perhaps a quartz Grand Seiko like the delicious cloudy blue SBGP017 is in order? See, I love colored dials, but the SBGH279 has satisfied my appetite for monochrome Zaratsu panache. It is available at retail for €6,000-7,000, depending on your home country, but you'll find it pre-loved on Chrono24 for around €4,000-5,000. Run through my shots above, and you'll see how much variation shines through from a supposedly colorless gray dial. A refreshing respite from operatic Japanese lacquer work, the granite-surfaced SBGH279 lets metal perform at center stage (musical pun intended).
Fratelli, what are your points of view here? Did I forget to add color, or is the SBGH279 a quietly spoken masterpiece of metalwork? Let me know in the comments section below.
Find me and follow me at @thorsvaboe