Why Did My Omega Speedmaster Tintin Increase 431% In Value?
Prices have skyrocketed since 2018
Introduced in 2013 as a Speedmaster Professional Racing, but we soon found out it wasn't a "Racing", at all. Omega told us the red and white checkered minute track was a reference to the rocket of Tintin's "Explorers on the Moon". Here on Fratello, the watch was immediately dubbed Speedmaster Tintin.
You all know the story about the Speedmaster Tintin. We covered it in 2013 here and a larger article in 2016 here. We even received a legal letter from Hergé's "protectors" if we could remove it from our website (here). The Omega Speedmaster Tintin 311.30.42.30.01.004 has since then become a very collectible piece. But that wasn't always the case. Only a few people picked up the story at first, mainly Speedmaster collectors and enthusiasts. At the start, in 2013, the watch was quite frankly, unpopular.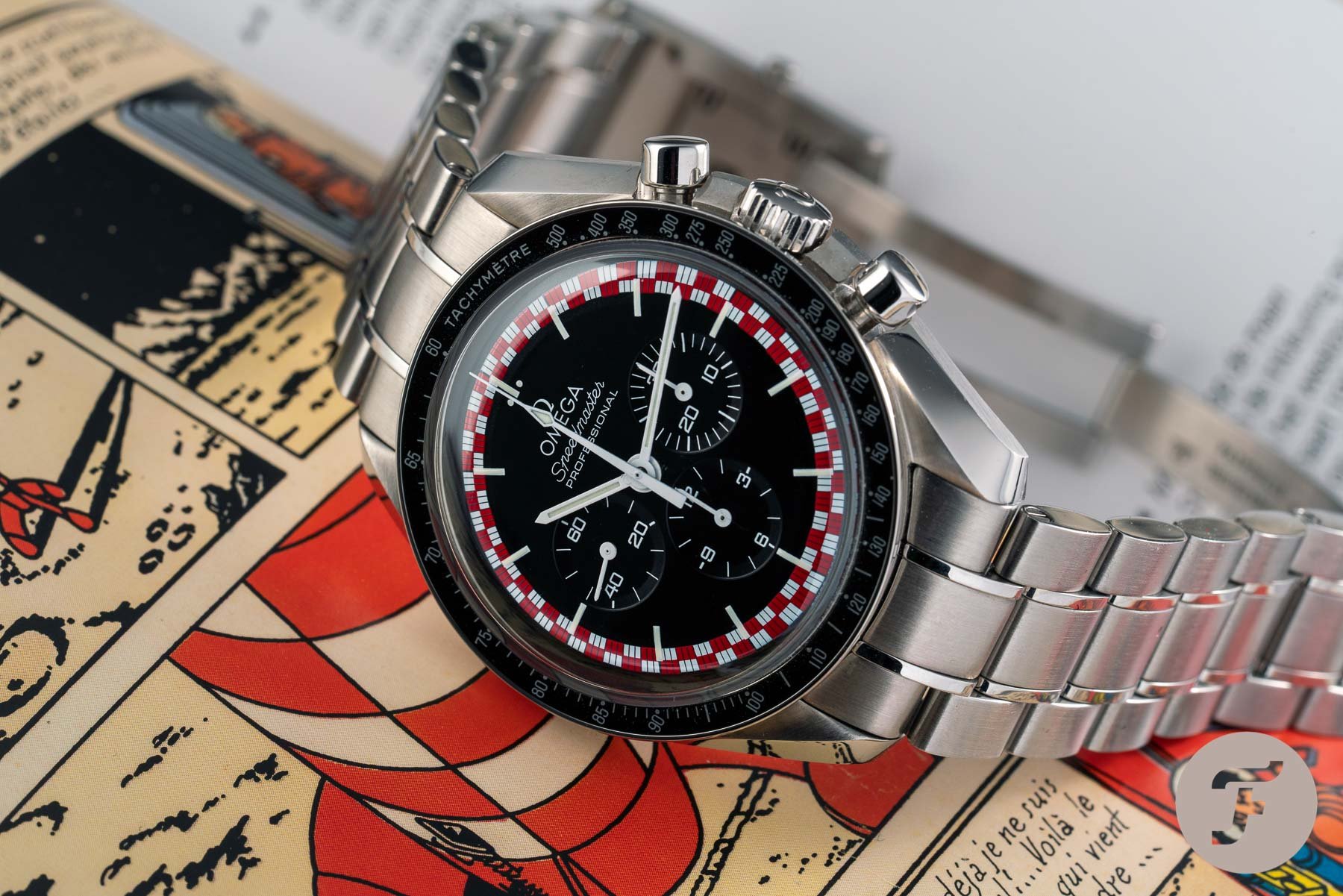 Omega Speedmaster Tintin
Even in 2016, when Michael Stockton published the story on getting his Speedmaster Tintin, the watch was relatively unpopular. With only between 1,500 and 2,000 of them made (some people think it's 1,954, due to the year of the Explorers on the Moon album from Hergé, but it's not), you'd imagine they would have sold out after a year or so. But, as it goes with watches that aren't popular, some of them end up in places where the unsold stock is going. With a retail price of €3,500 at the time, some dealers offered discounts that dropped the price of a Speedmaster Tintin under €3K. That's unthinkable today. But what's the exact deal with the Speedmaster Tintin? Why is it so popular all of a sudden, and why have prices gone berserk?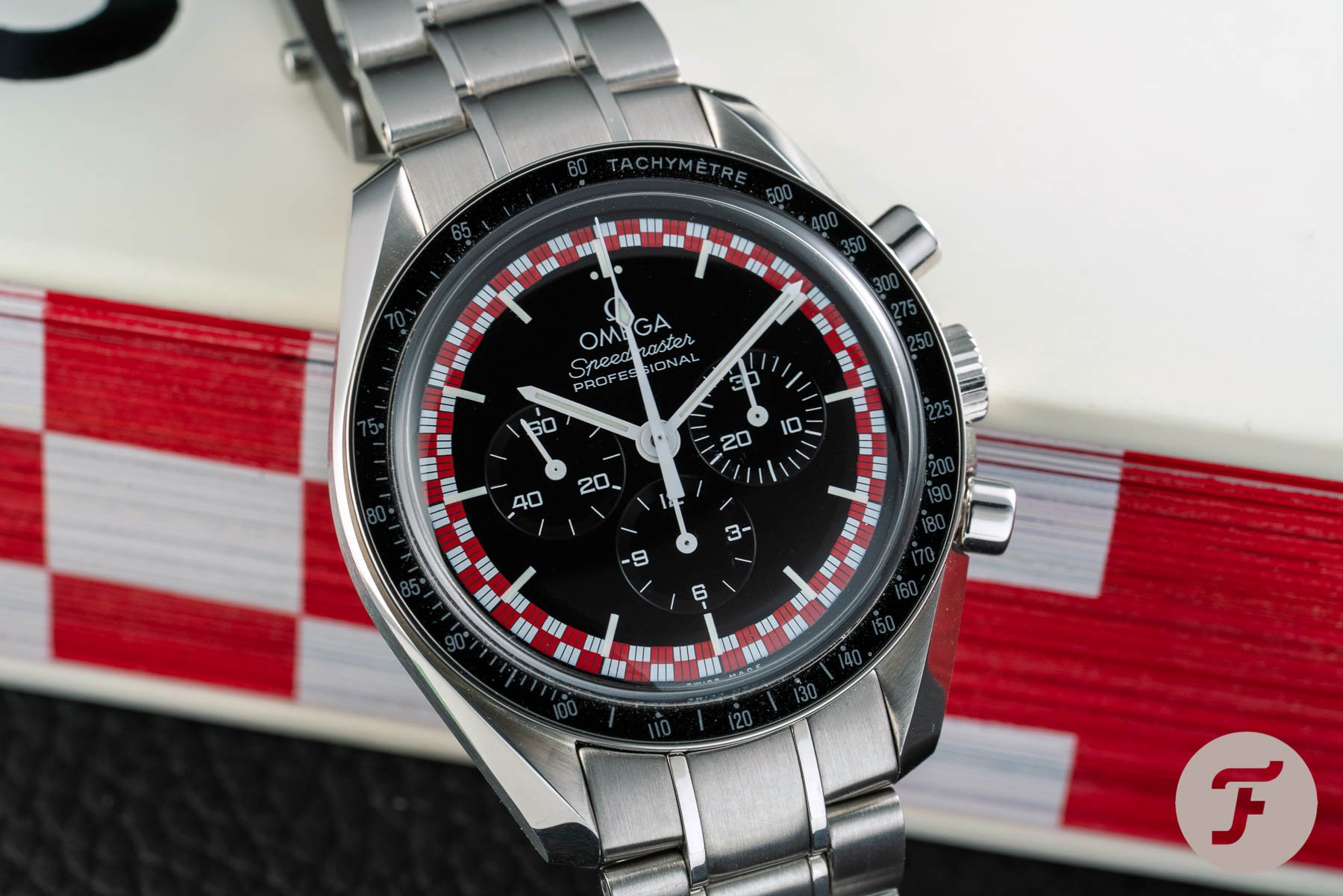 Explorers on the Moon
Let's have a closer look first at the background of the Omega Speedmaster Tintin. As said, Omega first introduced this watch as a "Racing". Because of the red and white checkered minute track, they thought they could get away with that explanation. But it looks so different from their previous racing dials, that I asked Omega's Head of Product Development Jean-Claude Monachon what the deal was with this watch. He explained that indeed it wasn't a "Racing", but had to do with Hergé's Tintin character. And that the red and white checkered minute track was based on the famous rocket in the comic books "Destination Moon" and "Explorers on the Moon".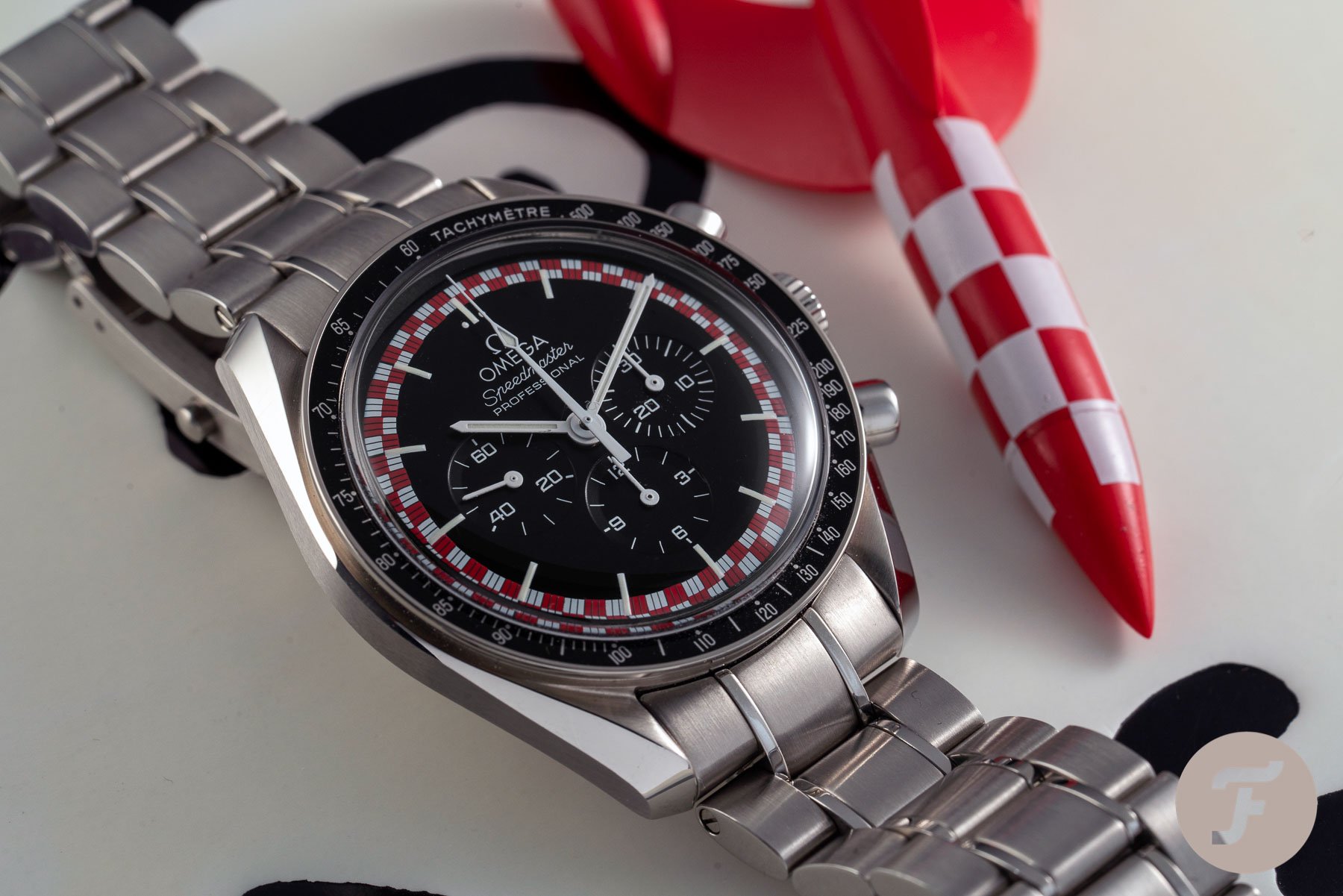 As a collector of comic books (I have all of the Tintin albums), I was very well aware of those and had, in fact, had both in my collection for many years. Somehow, the watch was supposed to be a collab piece, but that didn't work out. There's only one original prototype of the original Omega Speedmaster Tintin, which features the rocket on the dial and with a very special case back. That initial case back — that is in the archives — is also the reason we know the watch was inspired by "Explorers on the Moon" and not "Destination Moon".
However, both the dial with the rocket and the special case back didn't make it, due to the collab not working out. Neither did the dial with the rocket, but the red and white checkered minute track stayed. The case back became the regular Moonwatch case back with its famous inscription, but filled with red lacquer instead of black.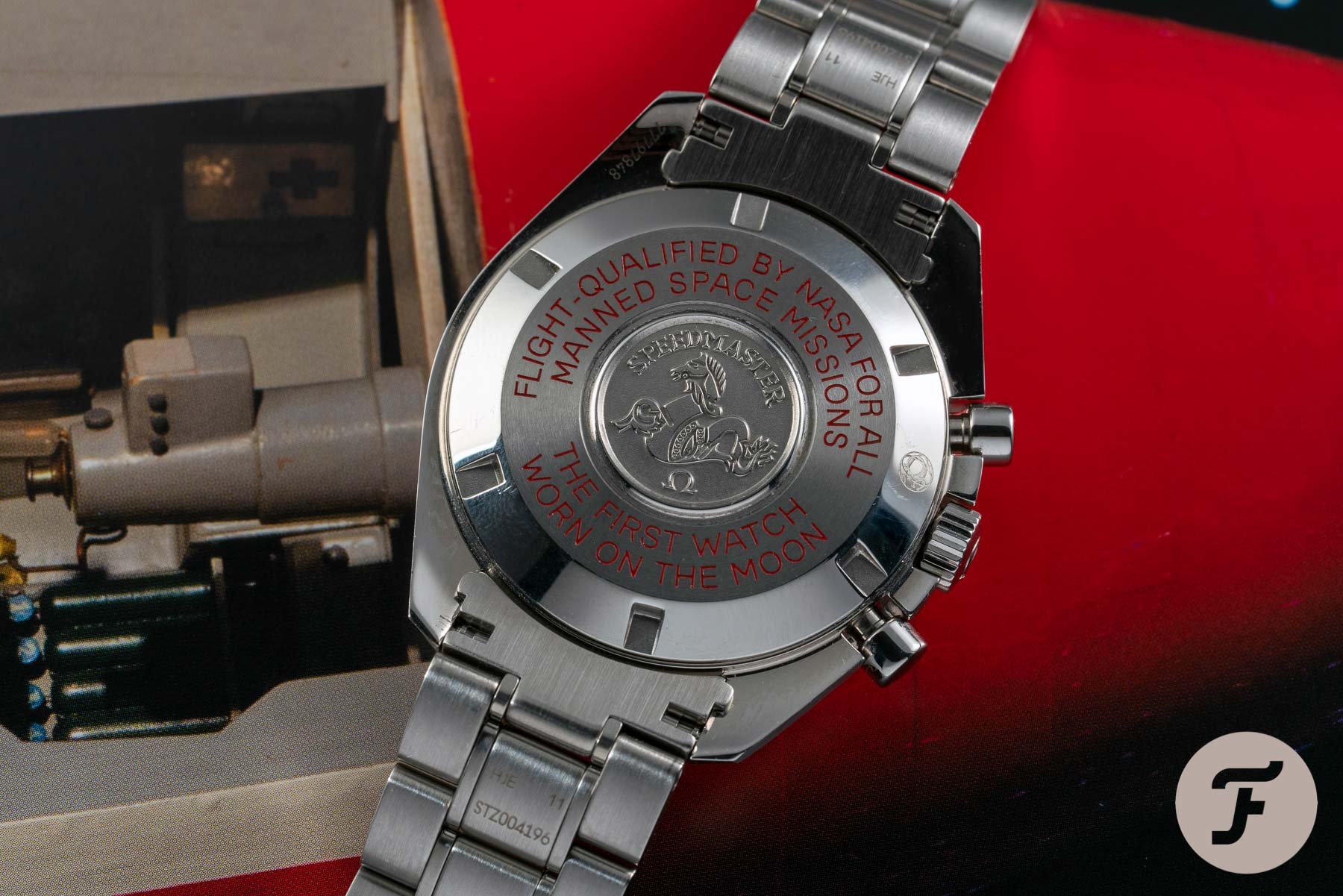 Speedmasters in Japan
I read Mike's initial 2016 article on the Omega Speedmaster Tintin as well, and his words, "…before you jump to conclusions and think I'm signaling the next great investment in watches or trying to start a craze, I'm not." But he was onto something at the time when the price was still below the original retail price. The Omega Speedmaster Tintin went out of production in 2016. It was only in production for approximately two and a half years. That seemed to be the end of a sad tale. But, as it turns out, it was just the beginning.
In 2017, prices were on the rise already and a Speedmaster Tintin could be found for around €4,000. In late 2017, I went on a trip to Japan to visit Grand Seiko, with 10 of our readers, and on one of the very last days, I visited one of those huge BIC Camera stores.
If you're not familiar with BIC Camera, they sell everything from toothpaste to golf clubs, cameras, and other electronics, but also watches. In their displays, for Rolex, Cartier, Omega, and Grand Seiko, for example, they also had a Speedmaster Tintin sitting. I asked for the price, and the salesperson told me that this "Speedmaster Schumacher" (there you go) was priced at €2,500 but showing my passport (I guess for VAT) brought it down to €2,350. Amazing, as Japan is a huge Speedmaster market. My guess is that Tintin is something they're generally speaking not familiar with, or the story didn't make it there.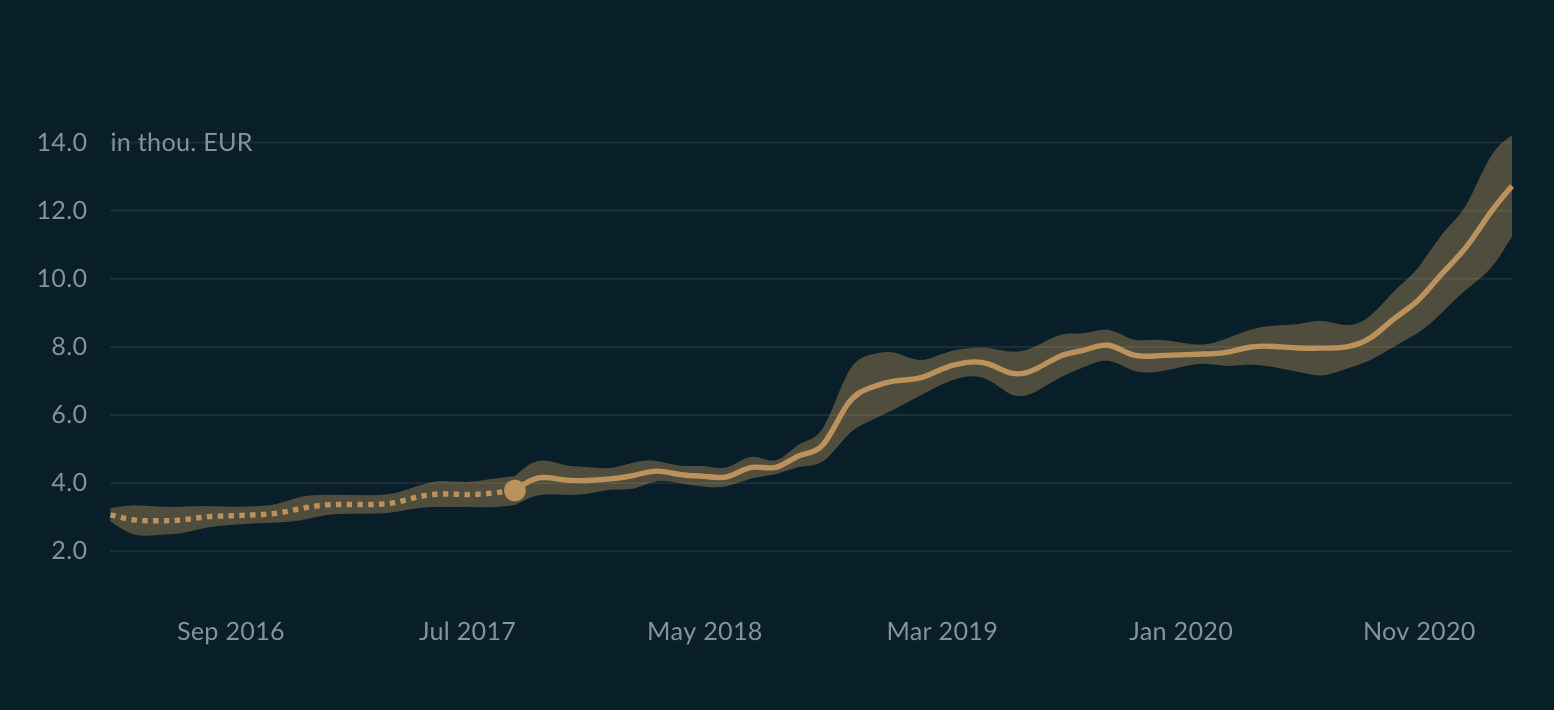 Price Development Omega Speedmaster Tintin
Somehow during the actual production years, I never managed to purchase the Omega Speedmaster Tintin. And when I was ready, I felt €4,000 was a chunk of money. So when I saw it in Japan, for that price, I didn't need to waste time thinking.
Incidentally, I checked out the Tintin's figures when prices went over €7–8K Euro for this watch. "That doesn't make any sense," I thought. But in recent months — I don't know what happened — prices have skyrocketed. Suddenly, one day, I noticed it went over €10,000. The average price on Chrono24 for an Omega Speedmaster Tintin is €12,483. Examples in a NOS condition are offered for well over €15,000 even.
The Chrono24 Watch Collection app indicates that the value of my own Speedmaster Tintin increased by 431%. From €2,350 to €12,431. In the graph above, you see the value development of the Omega Speedmaster Tintin from 2016 till today. These numbers are based on offers, combined with the data of watches that actually sold via Chrono24. The sudden increase starting in late 2020 might be explained by the increase in prices for the Snoopy models due to the latest iteration. The first and second Snoopy Award models also increased quite a bit since then. The increase of the Omega Speedmaster Tintin might be a side effect of that.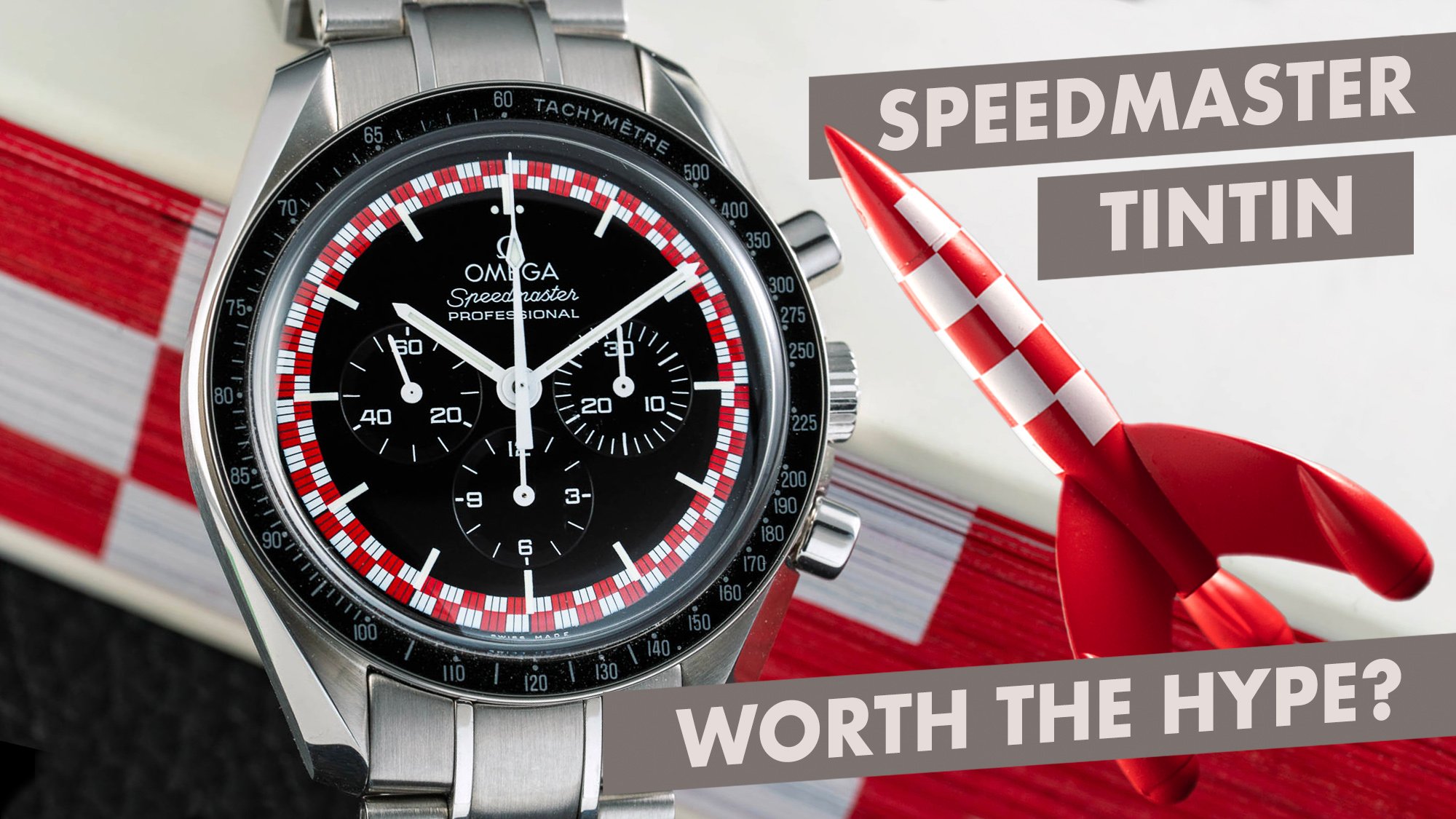 Mysteries work
I am still a firm believer that it doesn't make sense. But this is apparently how it works. The fact that a watch has been produced in a limited quantity is not enough, there are Omega Speedmasters out there with a smaller production, that does not show an increase as steep as this one. It surely helps though. Once a watch is discontinued, and the stock on the (pre-owned) market dried up, it will affect the price. But, that's not all to it, in my opinion. It is also about the story and the myth behind this watch.
It is not so much a story of Tintin or the "Explorers on the Moon" album, but the fact that the collab failed and Omega has one "original" in their archives, that only very few people actually saw. So there's a bit of mystery around this watch. Even the production number is unknown. Would the Omega Speedmaster Tintin be so hot if it had all the comic strip's features? I don't think so. There's no real relationship between Tintin and Omega.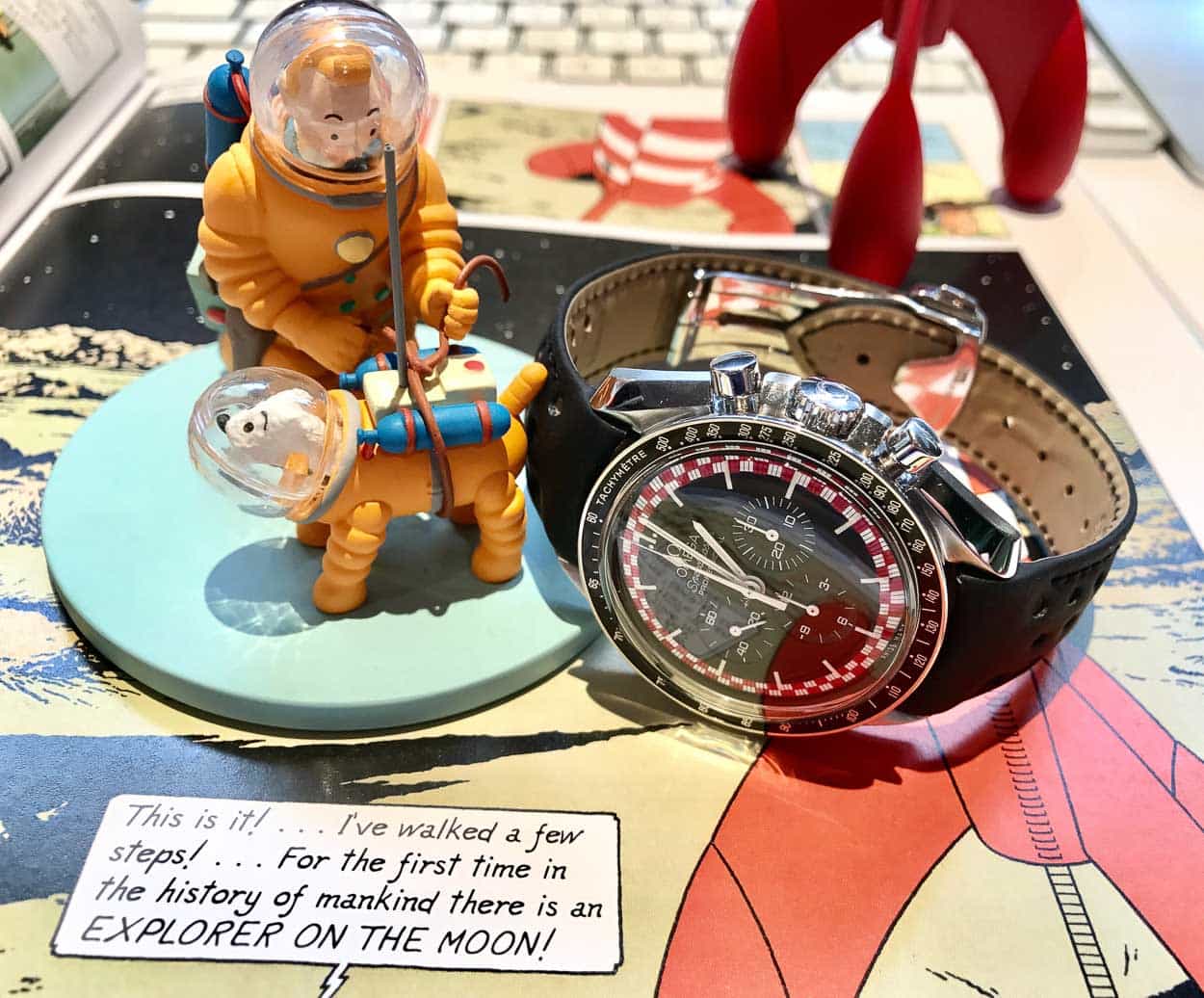 Is it worth buying an Omega Speedmaster Tintin?
I always refrain from buying watches as an investment. And I started buying and collecting Speedmasters before the craze, so I guess I am somewhat lucky in that regard. Personally, I would rather spend €12K on a different Speedmaster. Something vintage, or even something gold (although those prices have gone up drastically as well). That, or the Speedmaster Calibre 321. The Omega Speedmaster Tintin is a great watch, for sure. It ticks a lot of boxes for many Speedmaster enthusiasts I noticed. But I also think there's a limit to what people are willing to spend. The limits of other people are surely higher than mine. With that in mind, it is quite possible we have not seen the end of the line when it comes to the watch named after the little Belgian reporter.