Why I Bought It: The G-Shock GW-5000U-1JF
It's not just another square...
G-Shock has an exhaustive catalog with options for fit and functionality from the super budget-conscious up to full, five-figure luxury. I've always been partial to G-Shock, especially the quintessential square design derived from the original DW-5000C. I already own a basic black DW-5600 square which has earned its place in my minimal collection as a true tool watch. But I felt the need for something a little nicer. I ended up purchasing the GW-5000U-1JF, a JDM model that is black, square, boring, and brilliant. I'd say it's the best resin G-Shock that money can buy.
The G-Shock GW-5000U-1JF is a rarer watch as far as G-Shocks go, though it isn't limited. Until recently, it was produced specifically for the Japanese market. Essentially an homage to the original G-Shock, it packs premium quality into what would otherwise be a nondescript G-Shock square. It's made in Japan with upgraded components like a metal inner casing, premium rubber strap, and screw-down case back. It houses module 3495 with solar charging and radio-received atomic time. But it's black and matte with a typical positive LCD screen. It's so under the radar that it would take a true fanatic to recognize it out in the wild. For the wearer, however, it's pure luxury.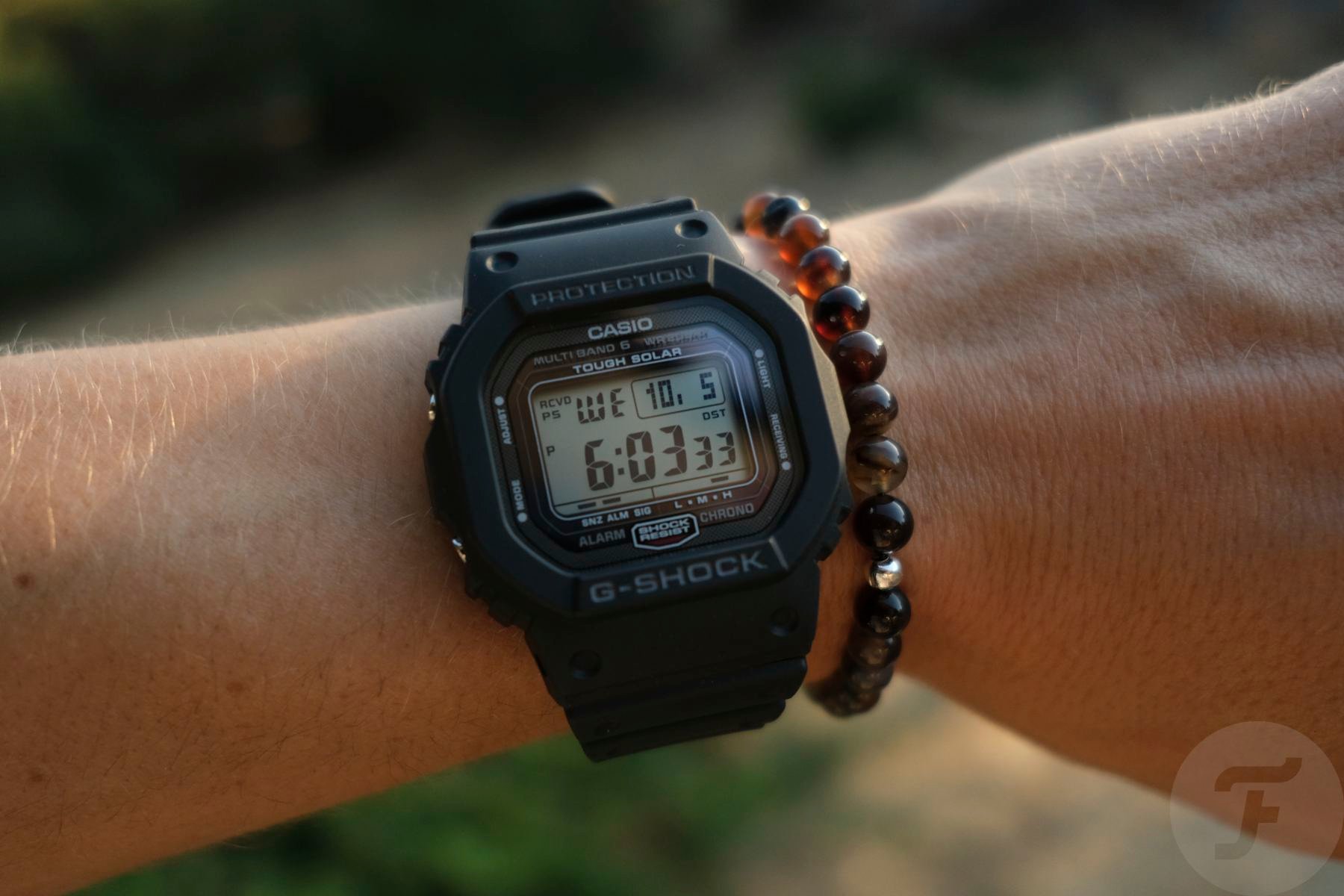 Just what I was looking for
Inspired by my recent article about watch-collection sizes, I've gotten serious about striving toward a succinct and curated collection. I'm already over the number of pieces that I'd like to be at, but I have a dream team "core" of four watches in mind that would give me the well-rounded variation I enjoy. A premium G-Shock square was on the list. I always assumed it would be metal, maybe even one of the Titanium Virtual Armor limited editions as they trickle out. But once I looked closer at the GW-5000U-1JF, it was all over for me.
My core watches have been or are turning out to be relatively affordable, fun, and largely Japanese…
You see, I like flying under the radar as far as my watches are concerned. I have no need or want to own and show off the flashiest wrist candy available. My flashiest watch is a Mr Jones Watches Nuage, which is only so because it's immediately apparent that it's a watch that is not for telling time. That watch is also on my special list of four, at least until I get a chance to get out to Japan and shop for a vintage Seiko to replace it as my go-to "dress" watch. Another watch I already own that's on the list is my Seiko Alpinist SARB017, my GADA three-hander. See a trend? I do. My core watches have been or are turning out to be relatively affordable, fun, and largely Japanese (though the Nuage employs a Swiss quartz engine). That won't be the case for the final addition to the four, though that's a topic for another article.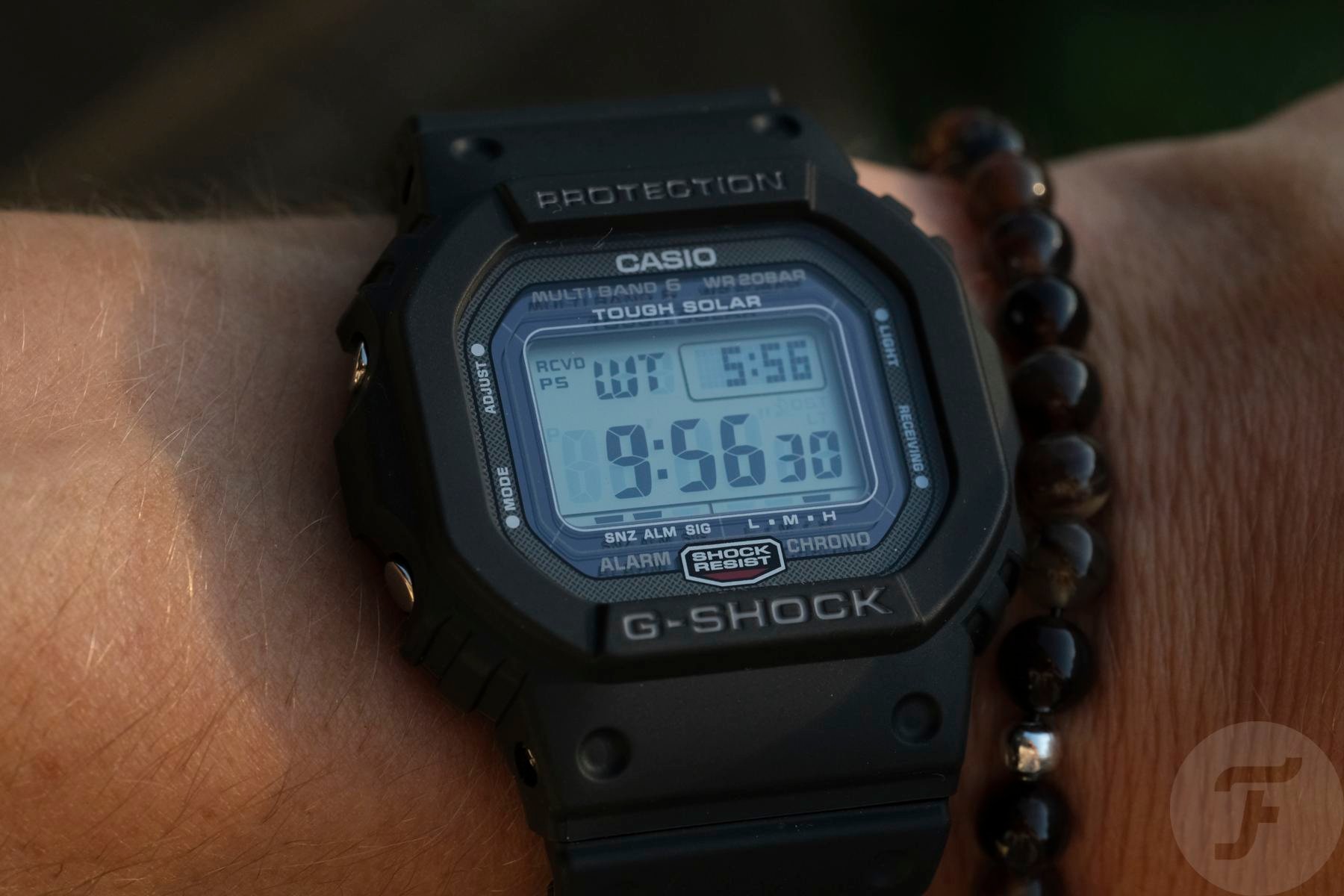 GW-5000U-1JF — Many watches in one
Of course, everyone knows that a G-Shock does just about everything time-related (that's practical, at least). Some of the more task-specific models even boast depth or temperature sensors or compasses. The GW-5000U-1JF doesn't have any of that. What it does have that is most important to me is a world-time function. The 3495 module within allows for five favorite times from various world cities, quickly available with one button press from the home screen. There are 48 cities to choose from, spanning a total of 31 time zones. That may seem a bit superfluous since there are only 24 hours in a day, but some time zones exist in the mid-point between hours.
The GW-5000U-1JF is a veritable Swiss Army knife.
Now, I don't currently have a need for half-hour time zones, as I primarily follow London, The Hague (or Stockholm on my watch), and Osaka (or Tokyo as a close alternative) aside from my home-time-zone city of Los Angeles. I really wish Casio had programmed in San Fransisco or — even better — Oakland over LA, but Los Angeles it is.
The world-time function was the closer for me and ended my hunt for a dedicated, mechanical world-time watch. I was agonizing over adding yet another watch to my collection that would be single-purpose, and a relatively quirky one at that. The GW-5000U-1JF is a veritable Swiss Army knife. In the week I've owned it, I've found multiple uses for the stopwatch, timer, and alarm functions as well. And I've used the world-time function more often than I thought I would already. I may be at serious risk of a one-watch collection if I don't start wearing another watch soon.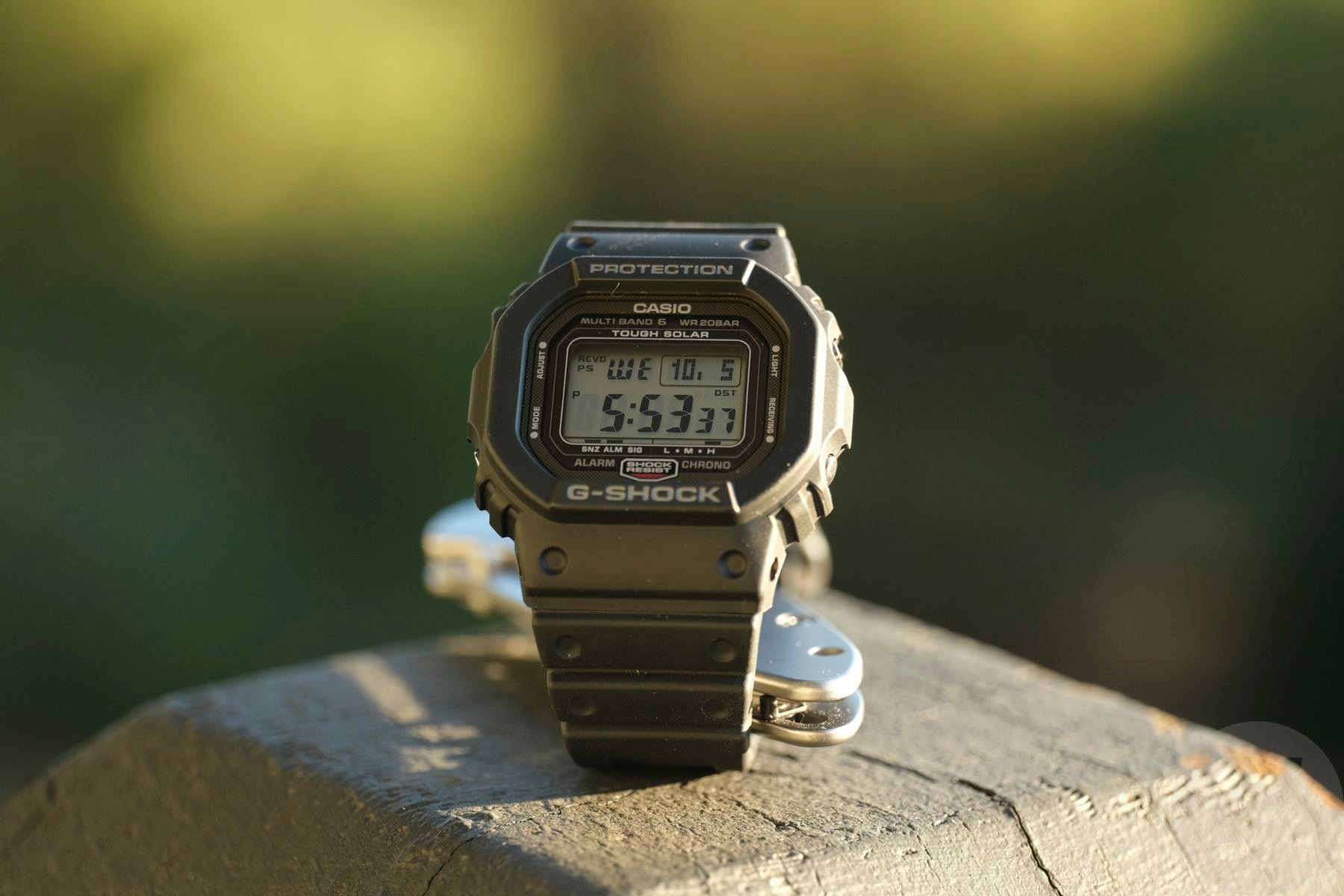 Not just another black G-Shock Square
The GW-5000U-1JF thoroughly delivers functionality. I knew that it would from previous G-Shocks I've owned. But my tried-and-true workhorse DW-5600, while perfectly functional, lacked whatever it was that makes the experience of wearing a watch pleasurable. Yes, there's a sense of satisfaction in knowing that it is one model authorized by NASA for space flight (though not extravehicular activities). It feels good to know that I can put a watch on that will endure as much beating as I'm about to put myself through, whether that's for play or my other work as a tree trimmer. But the on-wrist experience is decidedly ho-hum.
Classic, no-frills G-Shocks are made to be tough first and foremost. The wide variety of colors available is akin to painting a tank — it still drives and operates like a tank. Resin straps are stiff and become discolored after periods of heavy use (and sweat). The watches wear light, betraying their resin-and-quartz-module compositions. The GW-5000U-1JF, however, is different.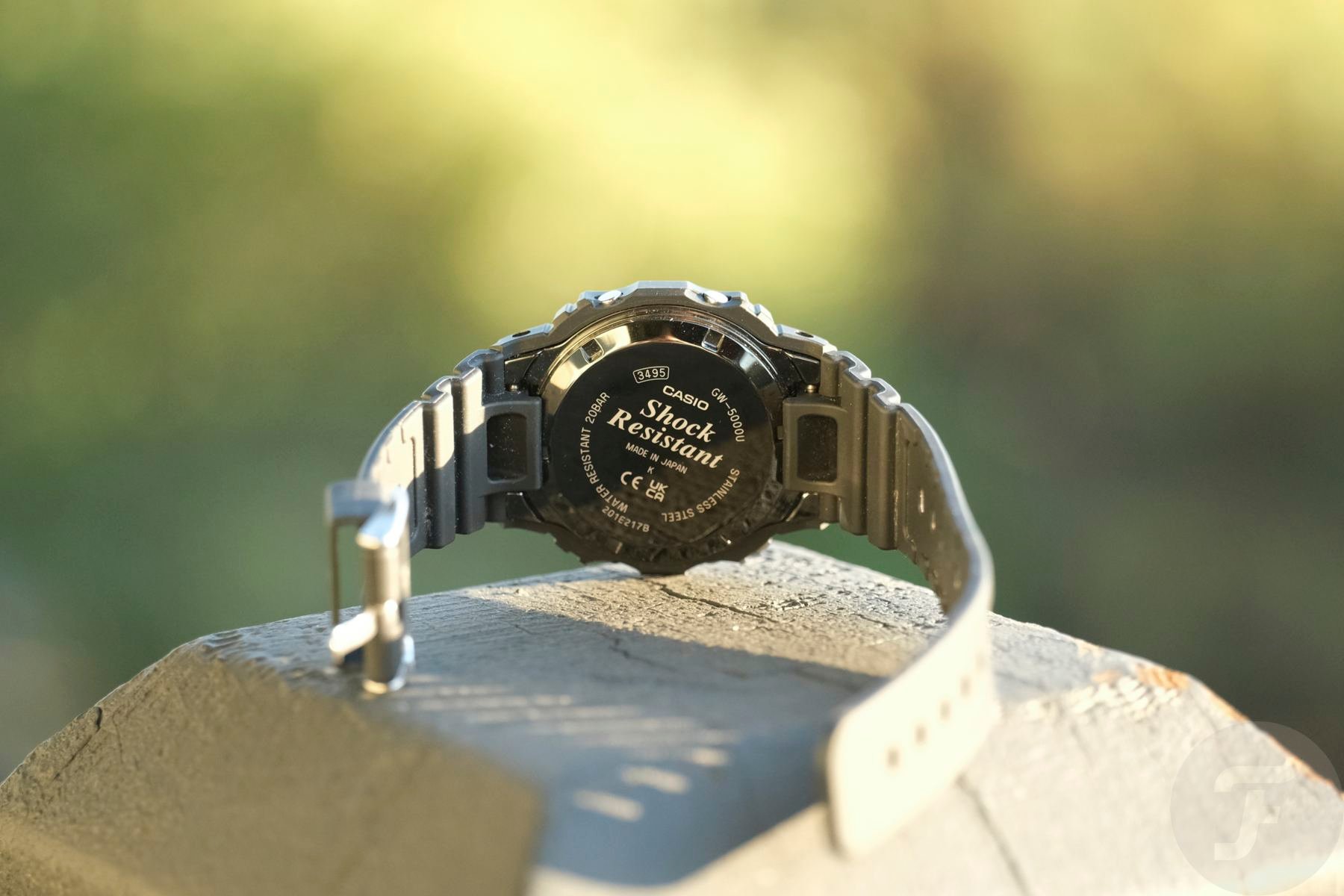 Premium stealth
As a complete unit, the GW-5000U-1JF wears just as a comfortable, high-quality tool watch should. The rubber strap is of premium material, making it supple yet springy. The GW-5000U-1JF has a metal inner housing beneath its outer resin bezel, and that plus the metal screw-down case back imparts a real heft to the watch that makes it feel as substantial as it is capable. The case back makes the GW-5000U-1JF a little taller than its standard counterparts, but on my 6.5″ (16.5 cm) wrist it still wears comfortably and looks great, if I do say so myself.
The updated module (which gained the GW-5000U-1JF and its module-sharing counterparts the added "U" in their names) now has a bright white LED, another premium feature, that can be set to auto-light when one turns their wrist towards themselves to check the time. Unlike many G-Shocks, even the most basic black models, there is a stark absence of color. The only color visible is the small dark red underline of the text "Shock Resist" below the LCD screen. There are no color outlines, text, or any other addition of color. This monochromatic aspect further elevates the GW-5000U-1JF as a premium watch. Still, in certain lighting, the solar cells' narrow borders sometimes take on a purplish quality, which I think looks great.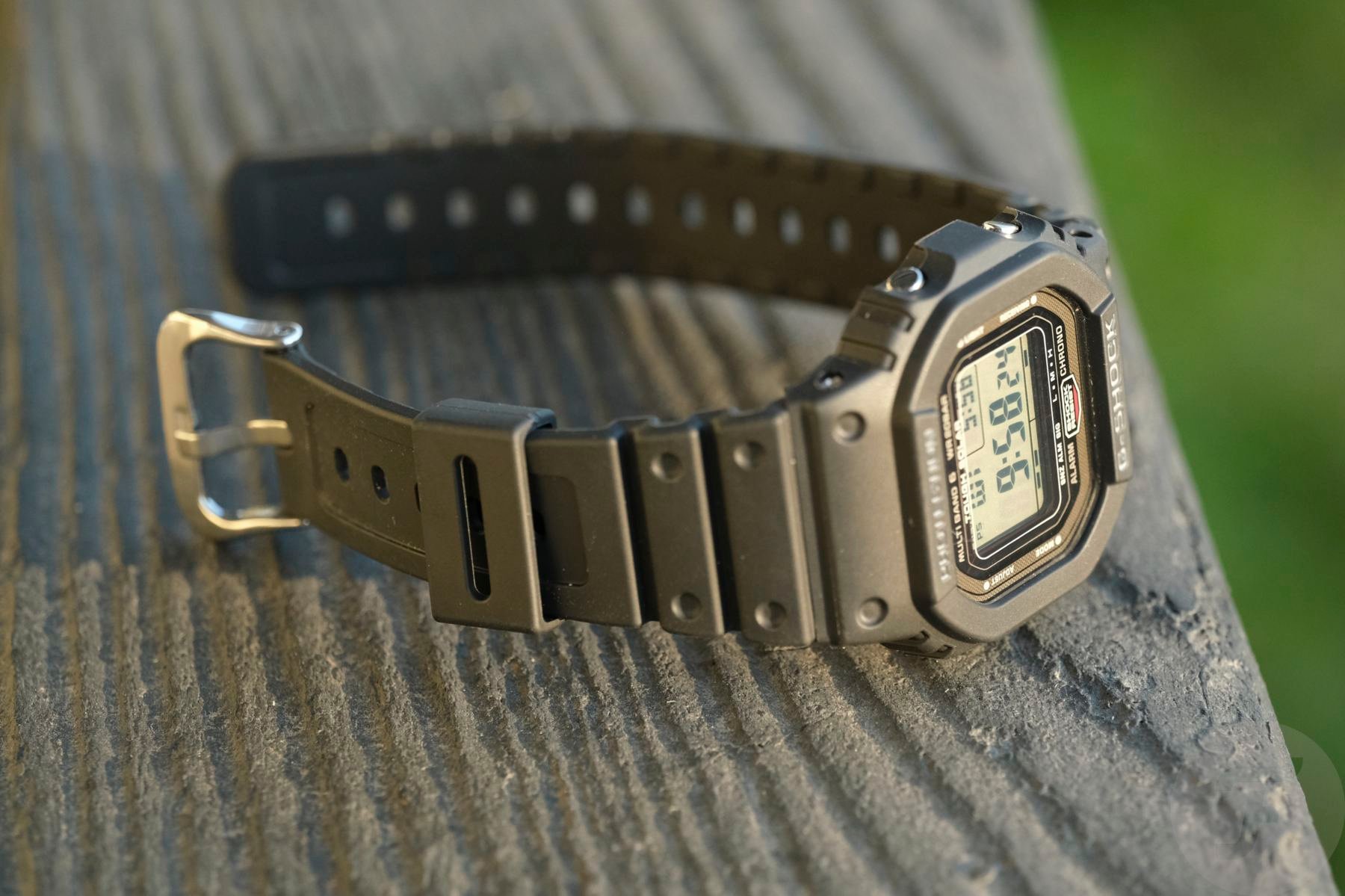 Updated functionality for the global citizen
Aside from the previous features mentioned, the 3495 module features a few other updates to make the watch more accessible and customizable. Most notable is the option to set the date orientation. In the United States, we prefer to write and read it with the month first, then the date, then the year. Europe reverses the month and the date, an orientation that conceptually makes sense to me but makes me go cross-eyed when I try to read or write it. The updated 3495 module allows for either date orientation. I'm not sure how Japan writes and reads the date (note from our Japan-based copy editor: it's year-month-date here!), but it's an even more important feature since G-Shock made the GW-5000U-1JF available to the European market last year, branded as GW-5000U-1ER. It's the same watch, still made in Japan, just now available beyond Japan's borders.
JDM for the rest of us
I, however, do not live in Europe, and so I'm limited to JDM (Japanese Domestic Market) online retailers. I ended up purchasing my GW-5000U-1JF from SeiyaJapan.com. One reason is that owner Seiya Kobayashi takes excellent photographs of the watches he sells. The pictures are so good, you might've seen them here on Fratello, as Mr. Kobayashi has been plenty generous in letting us use his photos for JDM watches that we can't get pictures of ourselves. Now that I have the watch, I don't need his images for this article, but I'll include one as a tip of the hat. If not for SeiyaJapan.com's excellent photography, I might've missed the GW-5000U-1JF altogether. The great news is that it looks just as good (if not better) in person.
A G-Shock just the same
But for all its understated luxury, the GW-5000U-1JF is still a G-Shock. It has the standard 20 bar of water resistance as well as protection from extreme shocks. There are the ever-present functions like alarms, a stopwatch, and a timer. Unfortunately, the crystal is still mineral glass, though I would've paid extra for sapphire. The dimensions are 42.8mm wide, 48.9mm "lug-to-lug", and 13.5mm thick. Along with solar charging from any light source, the 3495 module automatically receives atomic time signals from various broadcast towers, depending on where one is in the Northern Hemisphere. The quartz module is accurate to within ±15 seconds per month if the time signal isn't received. A power-saving mode extends the battery life (indicated at the bottom right of the LCD screen), though, with regular wearing, one should have little use for it.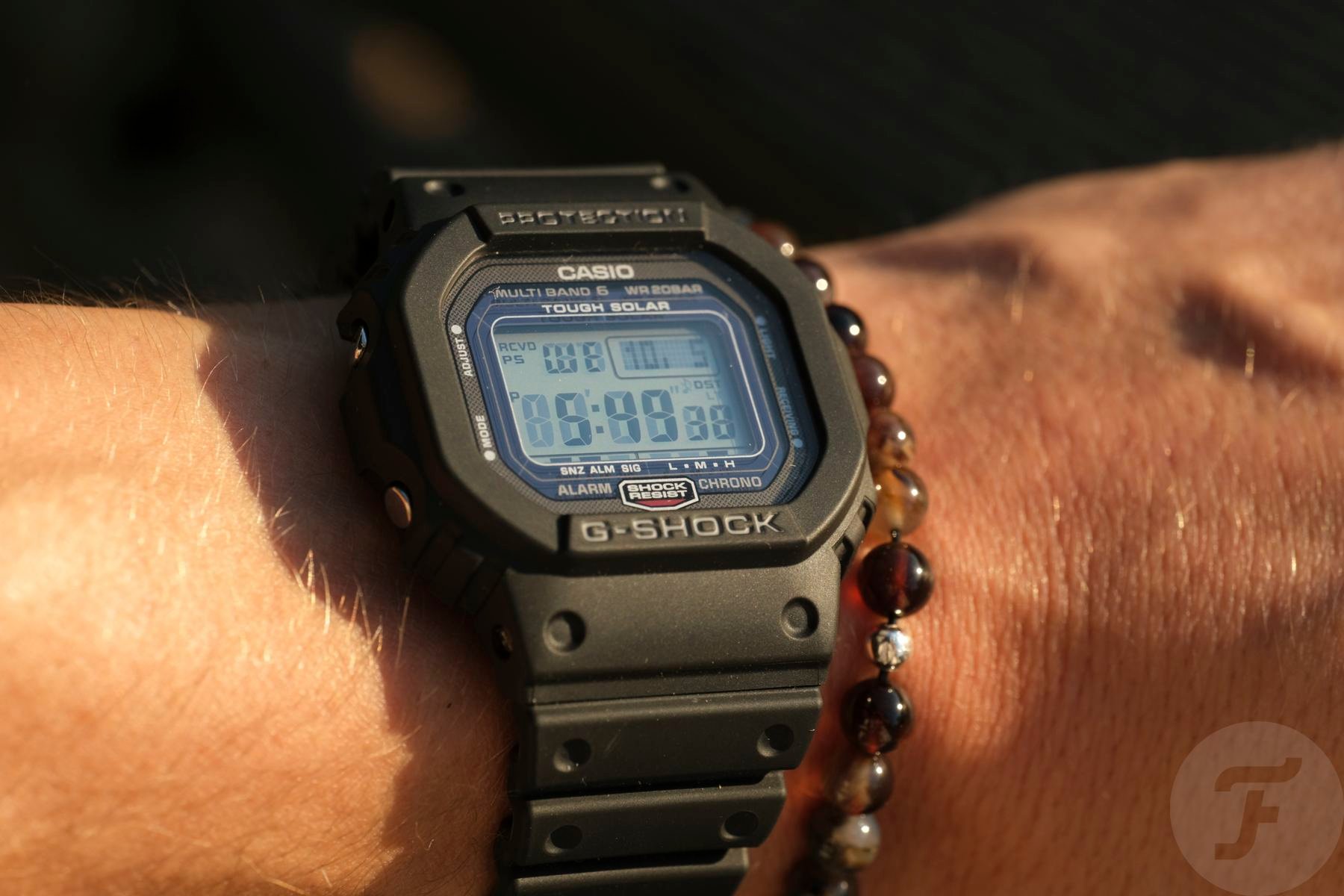 The ultimate G-Shock sleeper
I can't express how happy I am that I opted for the GW-5000U-1JF over a metal-cased alternative. The metal G-Shock squares look great, and there have been a couple that almost caused me to pull the trigger. But for some reason, I was never all that keen on the Bluetooth connectivity that the metal models come with. Connecting to a phone for accuracy seems a lot less cool and much closer to home than receiving a faint atomic time signal broadcast across a continent.
I also can't get over the fact the metal G-Shocks look, well, metal. There's no getting away from the heft and sheen of a metal watch and bracelet, though the Virtual Armor series has come closest. I like the honesty and extreme low-profile aspect of the GW-5000U-1JF with its matte resin bezel and rubber strap. It's a quality reinterpretation of a classic watch.
As I stated previously, it will take a real G-Shock enthusiast to recognize the GW-5000U-1JF for what it is on my wrist. Others will assume it's just another bargain black resin G-Shock. They won't know that what I have on is the best resin G-Shock square that Casio makes. There may not be too many times in my life when I'll be able to afford the best. I'm happy that I can with this G-Shock. At about $260 from various online JDM retailers or an MSRP of €299 from European dealers, you might be tempted to have the best too.
You can find out more about the European model, the GW-5000U-1ER, at the G-Shock Europe website. You can find more of me on Instagram @WatchingThomas.