Why I Purchased an Omega Speedmaster Professional – and Which One
Some times we get contributions from readers about their Speedmaster stories. Stories about their collection, their family heirloom (like last week) or simply about that one Speedmaster they love. This week, Speedmaster fan and reader James will tell you about his 1995 model and why he purchased specifically this one.
Without further ado.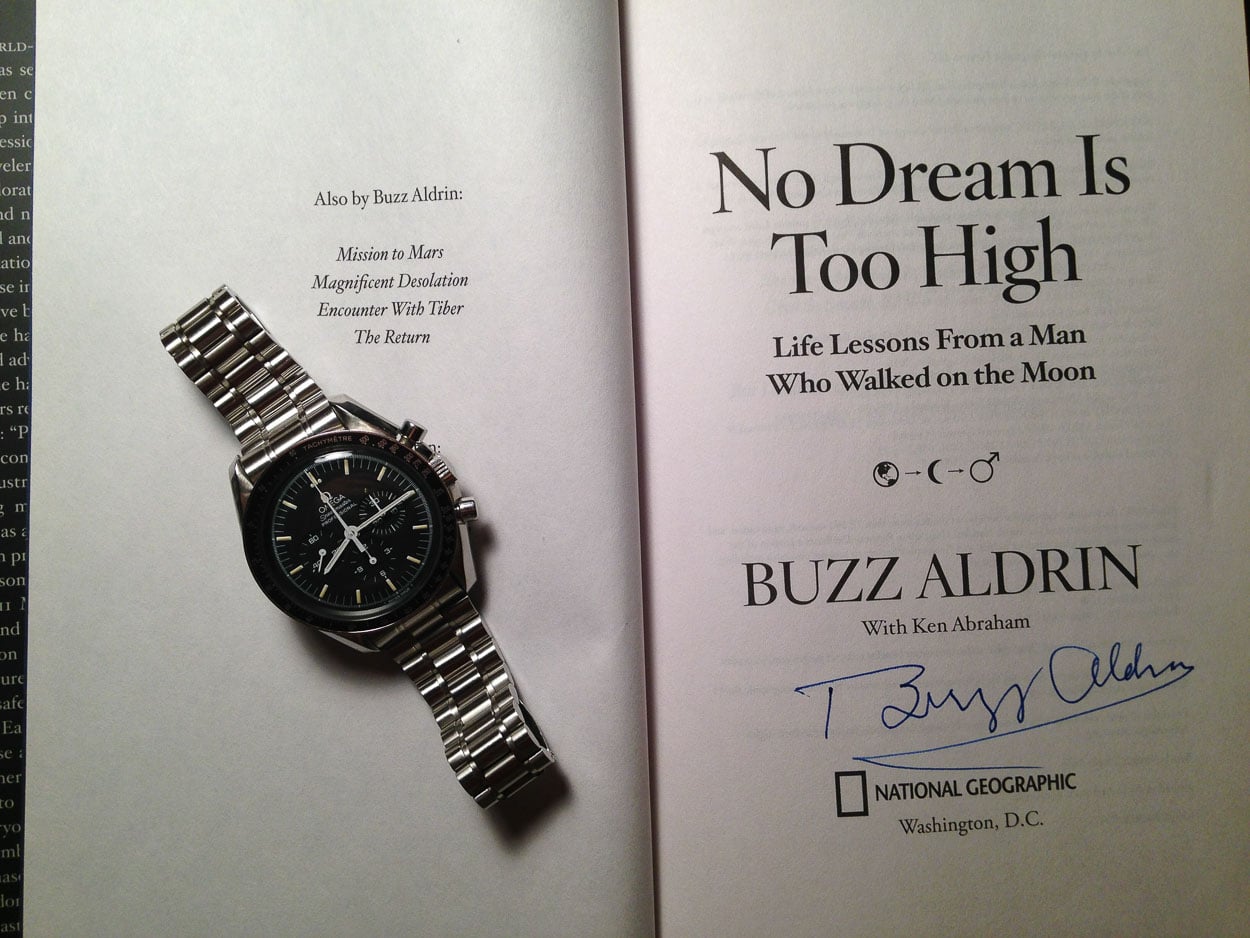 Why I Purchased an Omega Speedmaster Professional
I am sometimes asked why I purchased an Omega Speedmaster Professional, a hand-wound and rather plain chronograph wristwatch. Usually those who ask are neither watch collectors nor interested in horology; rather they are only casually interested in watches as jewelry or just consider them an appliance to tell them how long before they should be somewhere or be doing something (if they have not abandoned watches altogether for their cell phones). This is not meant as criticism; for the watch-loving community is relatively small and those who are asking may have interests of their own that I would likewise fail to appreciate. I therefore do not tell them about the horological aspects of the Speedmaster since I know their eyes will glaze over and I will lose their attention if not their patience; rather I focus my explanation on the one thing with which they can likely identify, particularly if they are of the baby-boomer age, and say to them that there are many reasons to purchase a Speedmaster if one is looking for a fine watch; but, the one thing that can be said about the Speedmaster that can't be said about any other watch is that it has played a significant role in one of the greatest adventures of the twentieth century, if not the entire history of man: "landing a man on the moon and returning him safely to the earth.".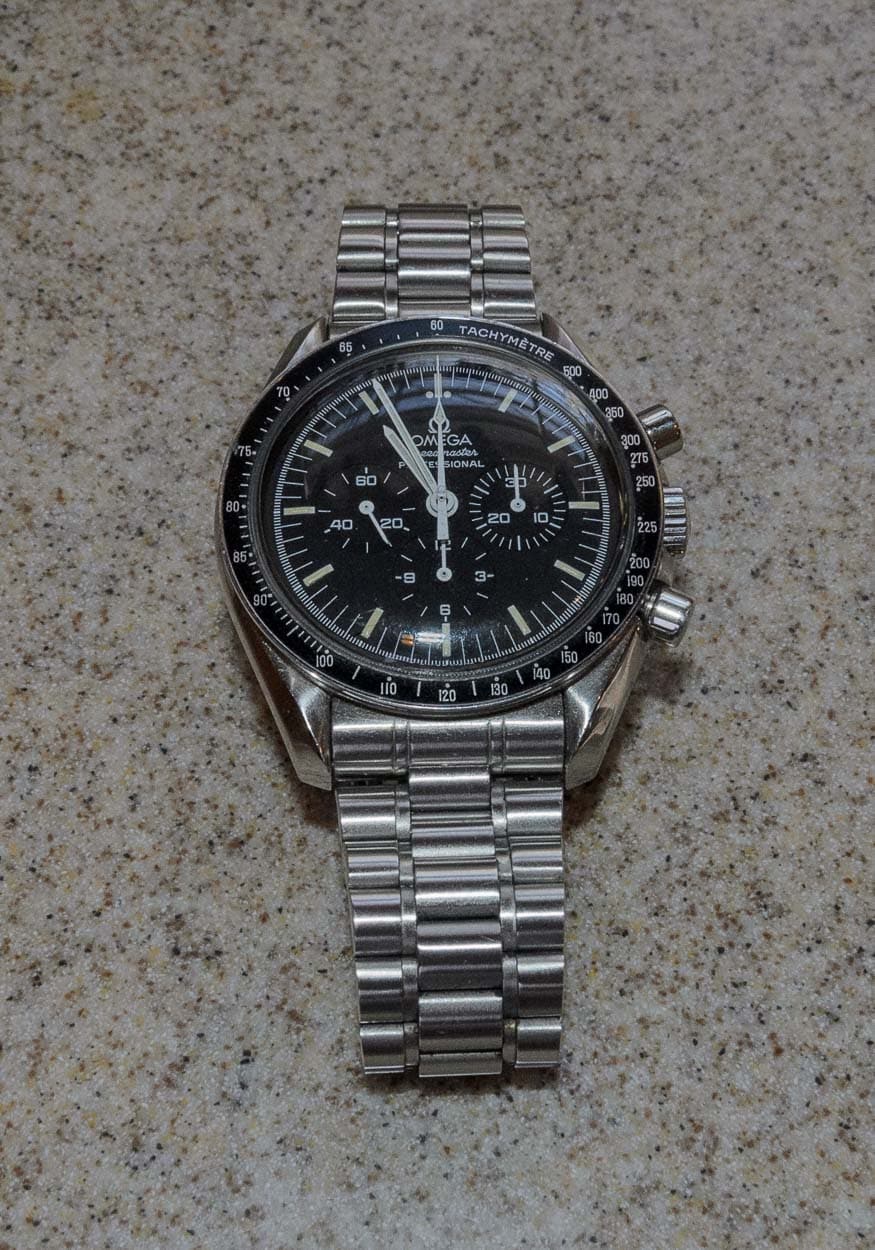 Its Use in Space
That role began with unofficial use of the Speedmaster by Wally Schirra and "Gordo" Cooper on the last two Mercury missions.  In 1965 NASA completed tests of the Speedmaster, along with several other contenders, and was the only watch to survive (read the real story about how the Speedmaster became the Moonwatch) those tests thus earning the moniker, "Flight qualified by NASA for all manned space missions" that is proudly written on the back of each Speedmaster.
Since then the Speedmaster has been used on every manned mission starting with Gemini III and including all the Apollo missions, Skylab, Apollo-Soyuz, Mir, the ISS, and, of course, the Space Shuttle. It was on the wrist of Ed White when he took the historic first space-walk, it was there when Apollo 8 astronauts Alders, Lovell and Borman orbited the moon for the first time and they read from the book of Genesis on Christmas day while looking back to an earth-rise over the lunar surface, it was on the wrist of Buzz Aldrin as they took man's first steps on the lunar surface (earning its second moniker, "First watch worn on the moon" also engraved on the back of each Speedmaster), it was on Jack Swigert's wrist when he timed the engine burns that would send Apollo 13 into a slingshot around the moon and then again to reenter earth orbit and triumphantly splash down in the South Pacific Ocean (read here about the Apollo 13 story and the role of the Speedmaster), it was on Eugene Cernan's wrist as he took man's last steps on the moon, it was on the wrists of the astronauts and cosmonauts who shook hands in space on Apollo-Soyuz, it flew on all the Space Shuttle missions and so was there when the Hubble Telescope was launched, repaired and then updated, it spent 365 days on a cosmonaut's wrist onboard Mir, it was used by those who assembled and now work in the ISS, and it was there with the Apollo I, Columbia and Challenger crews on those fateful days.  The Speedmaster has shared the triumphs and the tragedies of one of man's greatest challenges; it is that rich history which is encapsulated on the wrist of any one who wears a Speedmaster.  No watch could have a better endorsement.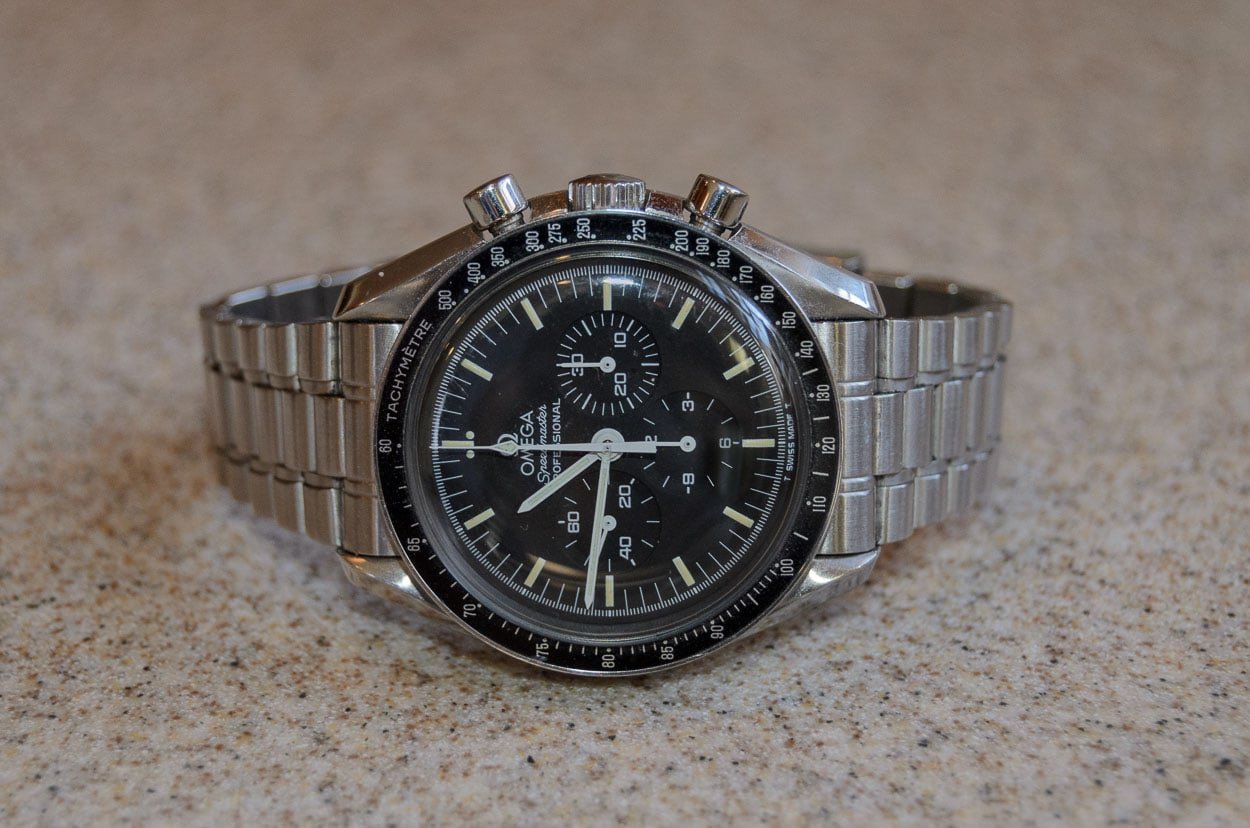 The Hand-Wound Version
Now if you're a collector or watch aficionado, owning an Omega Speedmaster is almost mandatory. In this case we are discussing the hand-wound version and not the later variations with more modern automatic co-axial escapement movements (fine watches in their own right). It is the hand-wound Speedmasters that are one of those iconic watches without which no collection can be considered complete. Its 60 year history of continuous production alone puts it among a handful of wristwatches which can claim the same and are still in production. Nearly unchanged in its basic form and design, a new Speedmaster Professional (the word Professional was added to the dial in 1964) is readily recognizable as descended from the original 1957 model and is at first glance nearly indistinguishable from the Speedmaster Professional watches worn on the moon. There have been changes to Speedmaster Professionals both inside and out for sure as improvements were made; but, most were minor and barely noticeable externally. Internally, a major change was made in 1968 with the change in the movement from caliber 321 to 861 (column wheel to cam actuated); nevertheless, the watch remains true to its original form and function to this day.  But even though the changes have been for the most part small, Speedmaster Professionals can be found bearing many different reference (model) numbers.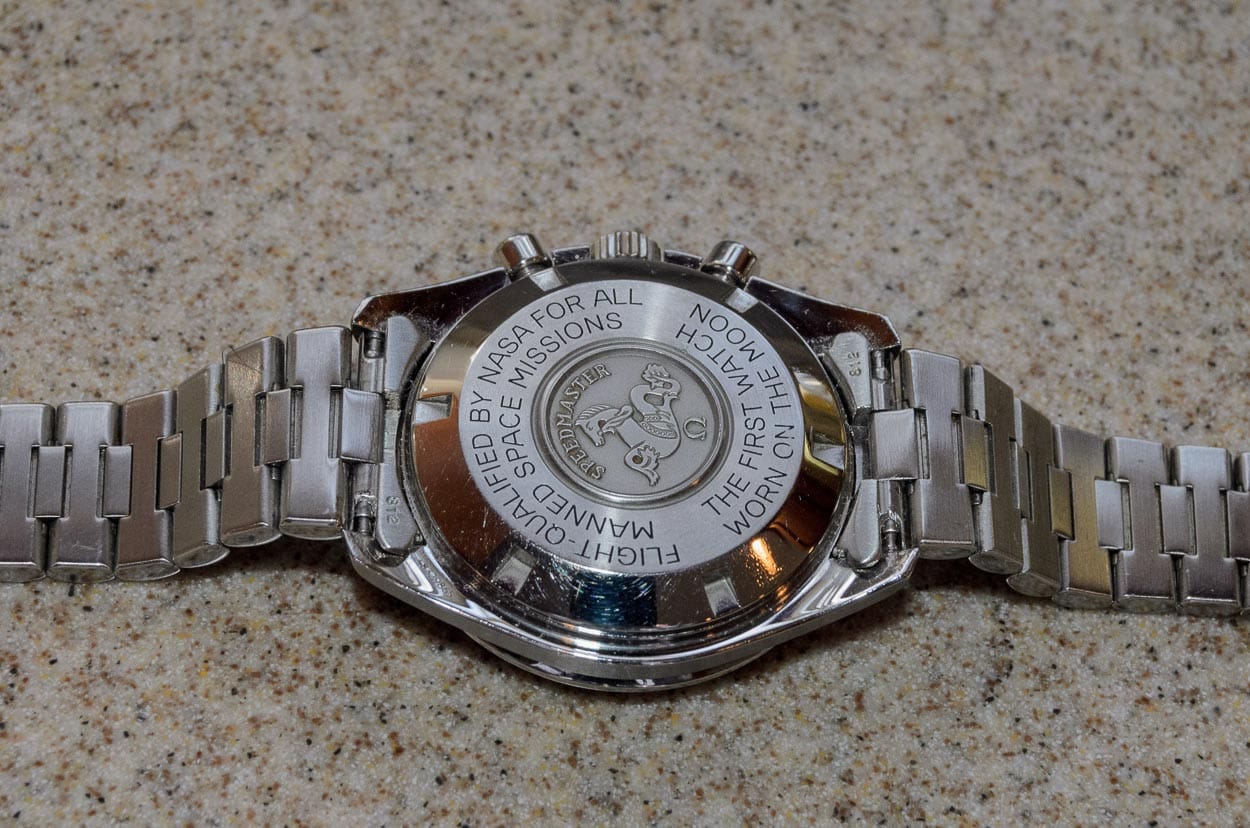 As changes were made during production, no matter how small, new reference numbers or sub-reference numbers were often assigned. Additionally, a variety of limited editions have been produced over the years commemorating various space missions and milestones. This makes collecting Speedmasters an interesting and even daunting task.  The fact that there is an entire coffee-table sized book, almost two inches thick, dedicated only to the hand-wound Speedmasters (Moonwatch Only) attests to the variety of references that have been produced, most looking outwardly alike.
Why I Chose the 3590.50
So how did I choose a Speedmaster to purchase?  Of course as with any collectable there are ranges of age, condition, desirability, and cost. In 2017, an original 1957 Speedmaster in good condition might cost $100,000 or more (and recently one was auctioned for way more), one of the references the same as those that actually went to the moon will set you back $10,000 or more, references made from 1968 – 1972 likely are $5,000 or more, while newer models up to year 2000 can range as low as $2,500, and even newer ones higher again. Therefore, budget was a key factor narrowing down my range of choices as I did not want to spend more than the cost of a brand new Speedmaster Professional (about $5,000). Since I decided I preferred the look of vintage Speedmasters, this meant that I would be purchasing something in all likelihood newer than 1972, certainly newer than 1968, and it would be a watch with the 861 movement rather than the 321 movement of the pre-1968 Speedmasters and Speedmaster Professionals (more desirable from a collector's point of view).
Considering that this was I watch I intended to wear quite a bit, purchasing a newer watch with the more reliable and more accurate 861 movement was not much of a negative factor; Speedmasters with the 861 movement had, after all, also been tested, had been used in an experiment on the last Apollo mission and, in 1978, were issued to NASA for use on the Space Shuttle. Even looking only at post-1972 Speedmaster Professionals there are still quite a few variations to consider although the differences, in most cases, are still small.  I did, however, wish to purchase a reference which was: (1) a significant milestone in production, (2) limited production compared to most vintages and (3) vintage in look if not age.  This eliminated most of the mid to late -70's and '80's watches since between 1975 and 1987 the Speedmaster Professional was essentially unchanged and only a few limited editions were of interest but outside of budget.
Changes and Calibers
On the other hand, the period 1988 – 2000, for which current prices are reasonable, was a time when interesting changes occurred.  I therefore focused my hunt on a watch of this period, and after extensive research finally settled on the period 1995-1996. I found this period saw the zenith of the 861 movement in the model known as reference 145.0022/345.0022 (introduced in 1983) or, more popularly, by the newer PIC code 3590.50. The changes leading up to that point began in 1987 when the plating of the 861 movement was changed; up to this time, the 321 and 861 movements were all plated in copper (Display back versions of the Speedmaster Professional were introduced in the 70's and 80's and they did use gold plating and finer finishing to improve appearance; however, these movements were referred to as caliber 863). In 1987 gold plated caliber 861 movements started to be used apparently for some limited edition Speedmaster Professionals with both display and normal engraved solid backs; however, based on my research it appears it was not until 1990 that the gold plated caliber 861 became the standard for all 3590.50 Speedmaster Professionals. In 1992 a further change was made to incorporate an 18th jewel into the movement (up until then all 321, 861 and 863 movements used 17 jewels, except for the 1980s 861L).  Interestingly, the first three years of 18 jewel 861 movements (1992-1994) apparently continued to have bridges reading "seventeen jewels."  It seems it was not until 1995 that the words "eighteen jewels" appeared on the gold plated 861 movement. In 1996, the PIC code was changed to 3570.50 without any apparent change to the watch and then in 1997 the movement was changed again with a switch to rhodium plating.  This time, however, Omega decided to change the movement number to 1861, which is the movement that has been used ever since. Thus it appears that 1995-1996 is the period when Speedmaster Professionals with the most updated 861 movements were produced.  I considered this a milestone and so it is one of these watches I ultimately purchased and, judging by the serial number, one of the first of that kind.
Super-LumiNova and a new bracelet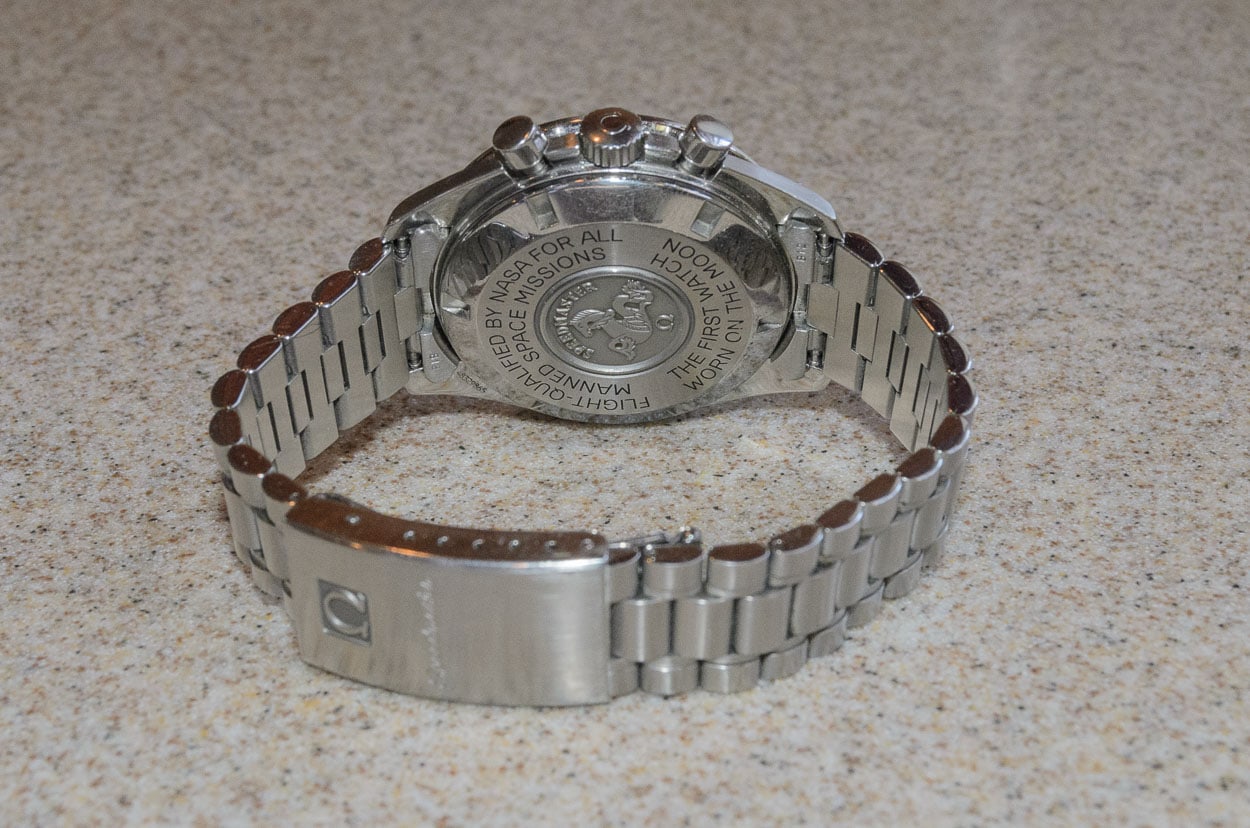 In keeping with my other search criteria there were other reasons to purchase a Speedmaster Professional of that vintage. First, judging by my research into the serial numbers of 1995-1996 Speedmaster Professionals, I think the production of 18 jewel 861 movements marked "eighteen jewels" may be as low as 1,800 watches assuming typical production rates (or even 1,100 for PIC 3590.50), below that of some "limited editions."  Second, post-1997 watches not only had the 1861 movement but beginning in 1997 also used the newer Super-LumiNova material on the face and hands of the watch.  Prior to this date, Speedmaster Professionals used tritium lume which tends to change color as it ages, becoming a creamy color that lends patina to the watch and makes it more interesting and pleasing to look at in daylight.  Of course the down-side of tritium is its 12.5 year half-life so a 20-plus year old watch does not glow nearly as brightly; but, since it lends a vintage appearance in daylight I preferred it. Finally, in mid-1996 a new, heavier and "blingier" bracelet was introduced (bracelet model 1499) which I find distracts from the watch, which itself is rather understated.  The bracelet on earlier 3590.50 references was model 1479.  In that design the second and fourth rows were in relief between the first, third (center) and fifth rows, it had all brushed surfaces, was light in weight and I feel it matches well with the watch.  The newer and to me less desirable 1499 design had five thicker and heavier rows with flush and polished second and fourth rows and a much larger clasp; it has evolved into the current bracelet (ref. 1958/957, introduced in 2014). The 1479 bracelet is now out of production and not easily found by itself.
My Most Worn Watch
Summing up then, my choice of a vintage '95 Speedmaster Professional gives me watch with: impeccable credentials and history, a milestone vintage with the most developed 861 movement,  (maybe) a short duration of production, a vintage look with modern reliability, and the bonus of a more desirable (to me) bracelet.  Since acquiring my Speedmaster it has become my most worn watch and promises to be so for the foreseeable future.
*A huge thank you to James to share his story on his Speedmaster. Care to share your own story with us? Drop us a line.