Why Is The 2015 Omega Speedmaster Snoopy So Collectible?
Nobody expected this watch to fetch over €40,000...
While some people refuse to buy a watch with a comic character on the dial, others pay over €40,000 for one. We will try to explain the immense popularity of the white dial 2015 Omega Speedmaster.
Before the introduction of the Omega Speedmaster Silver Snoopy Award 50th anniversary watch (we showed it to you here), the white dial 2015 Speedmaster Snoopy prices were already on the rise. The Omega Speedmaster Silver Snoopy Award (ref. 311.32.42.30.04.003), introduced at Baselworld 2015, originally had a price tag of €6,000. On the first day of the Baselworld 2015 exhibition, the Speedmaster Snoopy sold out.
In this case, sold out means Omega sold all 1,970 of these watches to its authorized dealers. Often, when a brand indicates that a model is sold out during one of the shows, it actually means a sell-in and not a sell-out. The latter is the case when the watches are all bought by the final customer.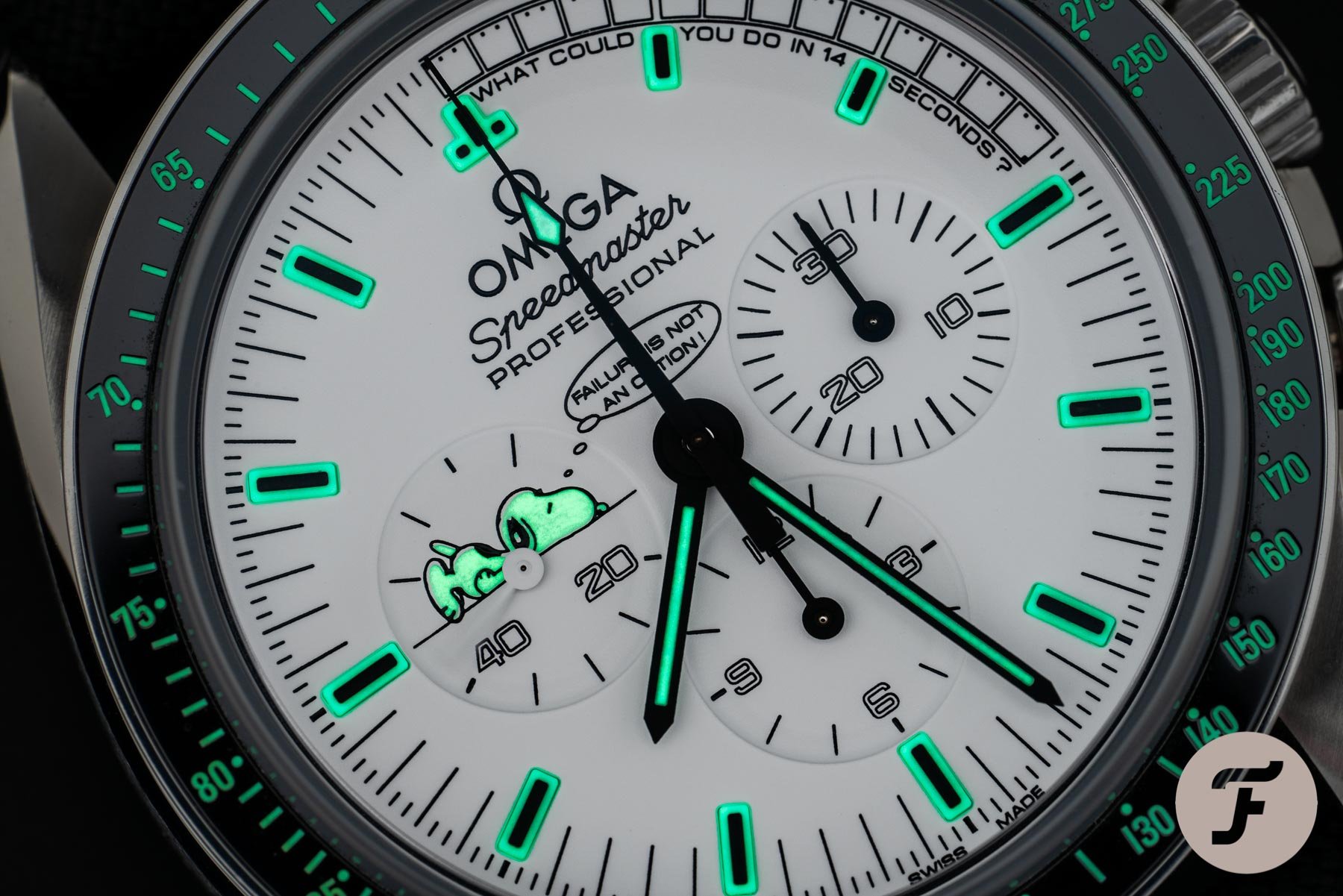 2015 Speedmaster Snoopy
Interestingly enough, when I first saw the 2015 Speedmaster Snoopy, I was immediately smitten by it. I already had the 2003 Speedmaster Snoopy model, and I was waiting for this 45th-anniversary edition to come out. In 2015, when "limited edition" wasn't a dirty word, I just wanted to be on that list of 1,970 people. And I was! I received a call from the boutique towards the end of 2015, that my Speedmaster Silver Award Snoopy had arrived.
I never once considered the resale value of this watch. But, soon enough, prices went berserk. Websites like Chrono24 and eBay were replete with Snoopy Speedies fetching sky-high prices. In this article, I already discussed the price development of the Snoopy, but little did we know it would reach the jaw-dropping heights of today…
Some numbers
Whenever I see someone offering a 2015 Speedmaster Snoopy for €20K or even €30K, I simply can't believe that those amounts are actually being wired. I mean, I love the Speedmaster Silver Snoopy Award. It is one of my all-time favorites. I think it is one of the nicest limited editions Omega has ever made. But that much? I simply can't fathom it…
I asked Chrono24 for Speedmaster Snoopy prices based on actual transactions, not just on listings. And guess what? Since the end of Summer 2020, not a single one sold under €30,000 via Chrono24. Seriously. In fact, they've been selling for over €40,000 just recently. That's just stunning.
Chrono24 also offers an interesting feature called "Watch Collection", in which you can enter your watch(es) and see how their value(s) develop over time. The data used for this is a mix of sales and offers, as you can see below. The information we received from Chrono24, is based on transactions, and already indicates quite an increase compared to the chart below.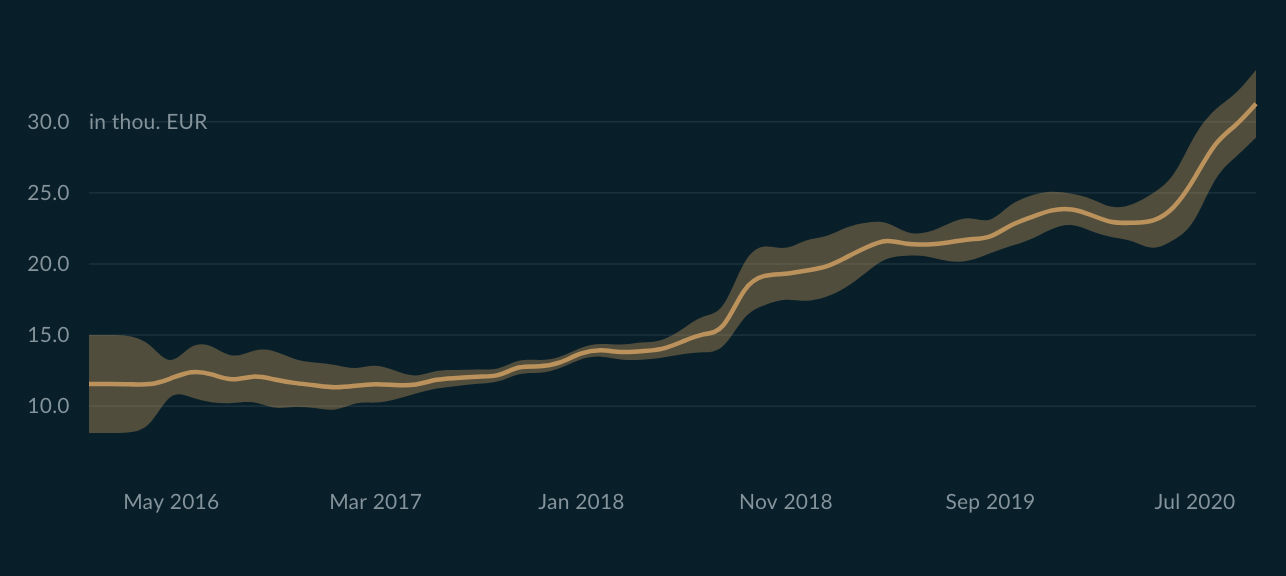 What makes the 2015 Speedmaster Snoopy so special?
What is it that causes such a high demand for a watch like the 2015 Speedmaster Snoopy? And although you can say that this watch paved the way for all Speedmaster Limited Editions that came after this one, the Snoopy is still the model with the craziest price tags. I have my own idea on the high interest in this Snoopy. I believe that a thematic Speedmaster is more attractive to collectors and enthusiasts than "just" another limited edition. I've seen it myself with the Speedmaster Speedy Tuesday from 2017 and the Speedy Tuesday from 2018 (Ultraman). The Ultraman is also thematic, compared to the first ST from 2017. It sold out much quicker and the waiting list was longer as well.
Unique
Another ingredient for success is the use of Apollo 13 and Snoopy. Both themes play with your imagination, or the weak spot you might have for the Peanut cartoons from Charles M. Schulz. Then, there's the replica of the silver Snoopy lapel pin that has been hand-made and put onto the case back of the watch. Each case back is unique, due to the enameling and silver powder sprinkles.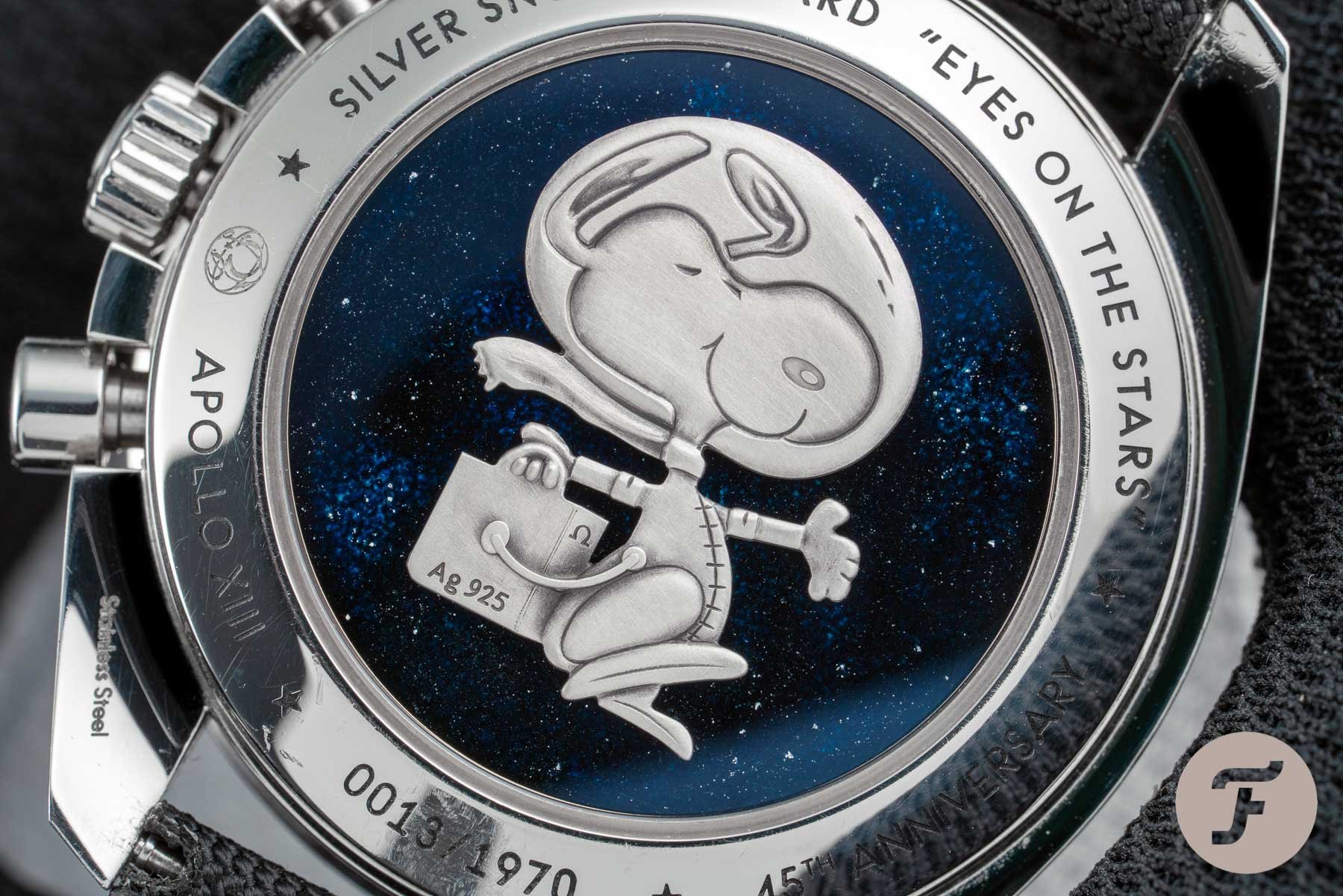 Snoopy Flippers
A major thorn in the eye of collectors and enthusiasts are the flippers that purchase watches like this and offer them for sale themselves with a big premium. Before 2015 this was hardly the case with Omega Speedmaster watches, but the 2015 Speedmaster Snoopy changed it forever. Some people were able to order one or more of these watches, often via different dealers and boutiques. It was a real burden for many collectors, as their chance of buying one really diminished.
With later introductions, Omega tried to be more strict in the deliveries and allocations of these watches. Tried, indeed, because there's no solution that will guarantee that these watches will not end up with flippers. With the new Snoopy edition, that Omega will start to (slowly) deliver to the markets starting next month, they choose to make it "unlimited", meaning that there's no limitation in production for now. But, it is too late for the 2015 Speedmaster Snoopy. That ship has sailed.
Asking Lawrence L. McGlynn
A lot of angles and ingredients as to why the 2015 Speedmaster Snoopy is so collectible. But, there might be something else to it as well. Perhaps that "something else" is outside the premise of collecting watches. I asked Lawrence L. McGlynn (you might know him from his website Space Artifacts or as being of the stars on Discovery Channel's Space Dealers show). Larry worked together with astronauts, NASA ground personnel, researchers, et al, to preserve the knowledge and memorabilia of the space age. He is a historian. He is a collector. And, handily enough, he is also an appraiser, having worked together with auction houses as RR auctions and Bonhams in the procurement and valuation of space artifacts.
Robert-Jan Broer: How important is the Snoopy Award for staff and contractors?
Larry: Very important. Only 1% of NASA staff and NASA contractors receive a Silver Snoopy award. Some consider it akin to the Medal of Honor. While it is not the highest NASA service award issued by the agency, it is more revered by the people who receive the Silver Snoopy since it came from the astronauts who benefited the most from their exceptional, and perhaps, lifesaving efforts. I have discussed the award with recipients and the Silver Snoopy is very personal to them.
The Silver Snoopy pins rarely come up for sale. You will either find flown ones from Apollo astronauts or if a recipient dies and the family sells it.
Based on my research into the Silver Snoopy pin, which consists of interviews and studying astronaut PPK lists, I have determined that only between 90 and 110 Silver Snoopy pins flew on all Apollo missions. That makes them even rarer than the 2015 Snoopy watch.
RJB: Are the sterling silver flown Snoopy lapel pins collectible and considered valuable (not only financial but also emotional value)?
Larry: The Silver Snoopy pin is very collectible among two collecting genres. Snoopy represented the dreamer in the Peanuts comics. Snoopy was "World Famous" at everything he dreamed of being. His flights of fancy took him above the trenches of WW1 France and onto the lunar surface. So, Snoopy was emblematic of all our dreams of being the best at some endeavor.
As for the emotional value, people who were awarded these pins did work that saved lives. The pins were given as part of the original Manned Spaceflight Awareness Program formed after the Apollo 1 fire. We know the Omega story as they were one of the 1% of the NASA contractors and NASA staff who received a Snoopy pin for their work in saving the lives of the Apollo 13 crew. To those points, Snoopy appeals to both the Peanuts collector (an exceptionally large group) and the Space collector. The pin is a great object that crosses collector boundaries. The number of pins and the fact that most recipients do not give them up until death results in Snoopy pins to be rare and valuable objects.
RJB: How was the first Snoopy watch received in 2003 by those who already were aware of the Snoopy award and lapel pins?
Larry: I did not know about the 2003 Omega Snoopy watch at the time of its release. As a space artifact collector, I would normally hear collecting news via various media sources or space websites. Still, websites and collecting boards were not well known at that time. From what I understand, the watch was not popular with watch owners or watch collectors. The space collectors really did not know about the first Snoopy watch. I suppose this was because any advertising was geared toward the luxury media. My wife purchased the 2003 Snoopy Speedmaster for me as a birthday gift. It was my first Omega Speedmaster. I loved it because my wife cared enough to find both a Speedmaster and the history of the Silver Snoopy. That watch is my lucky charm and has traveled all over the world to some interesting places.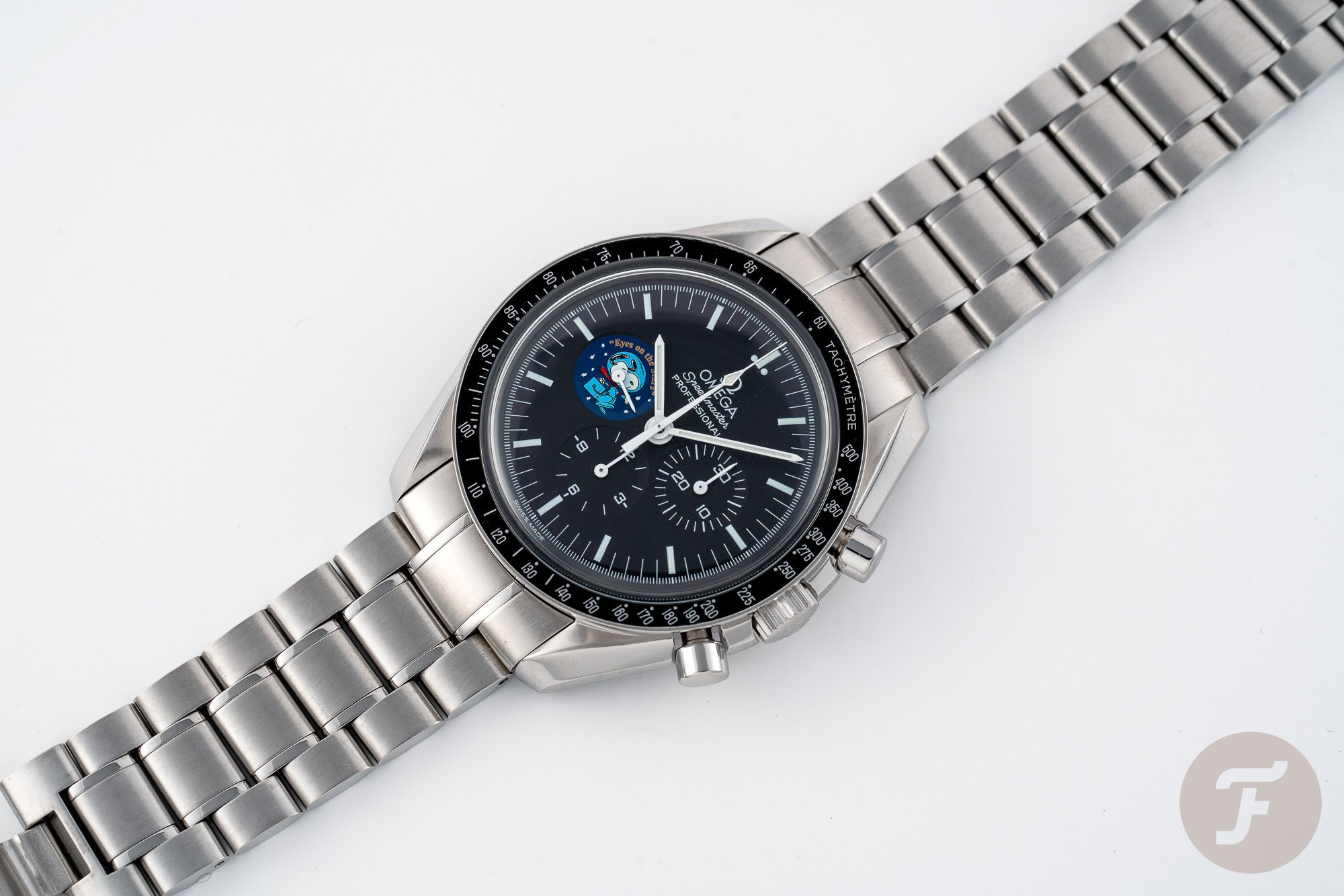 RJB: The 2015 Snoopy really was a turning point for Omega and the brand's LEs. Every collector jumped on it. Consequently, it became one of those watches under crazy demand. Which Snoopy watch (of all three) can be considered the one that really represents the Silver Snoopy Award that NASA astronauts are giving away to staff and contractors?
Larry: The 2015 Snoopy watch is a unique collecting phenomenon. It crossed the boundaries of several collecting fields. It interests watch collectors, space collectors, Snoopy collectors, and even art collectors. The Speedmaster, Space, and Snoopy collectors were a given in buying the watch. I also heard from a few artists and art collectors that really liked the handcrafted silverwork done on the watch case back. They enjoy the beauty of the silversmith work that makes each Snoopy watch different and distinctive.
To answer the second question, I believe the 2015 version is most representative of the Silver Snoopy Award. The 2003 Snoopy watch is a great watch that has the Space Flight Awareness logo on it. The watch has less of a visual explanation of the reason behind the logo. The 2020 Snoopy watch will be my favorite due to the case back complication, but it is not the handmade Silver Snoopy.
The visual aspects of the 2015 Snoopy dial provide a graphic explanation of the reason behind Omega being awarded the Silver Snoopy. Then there is the case back with that Silver Snoopy on the dark blue enamel background covered with stars. That is what makes that limited edition so popular and collectible.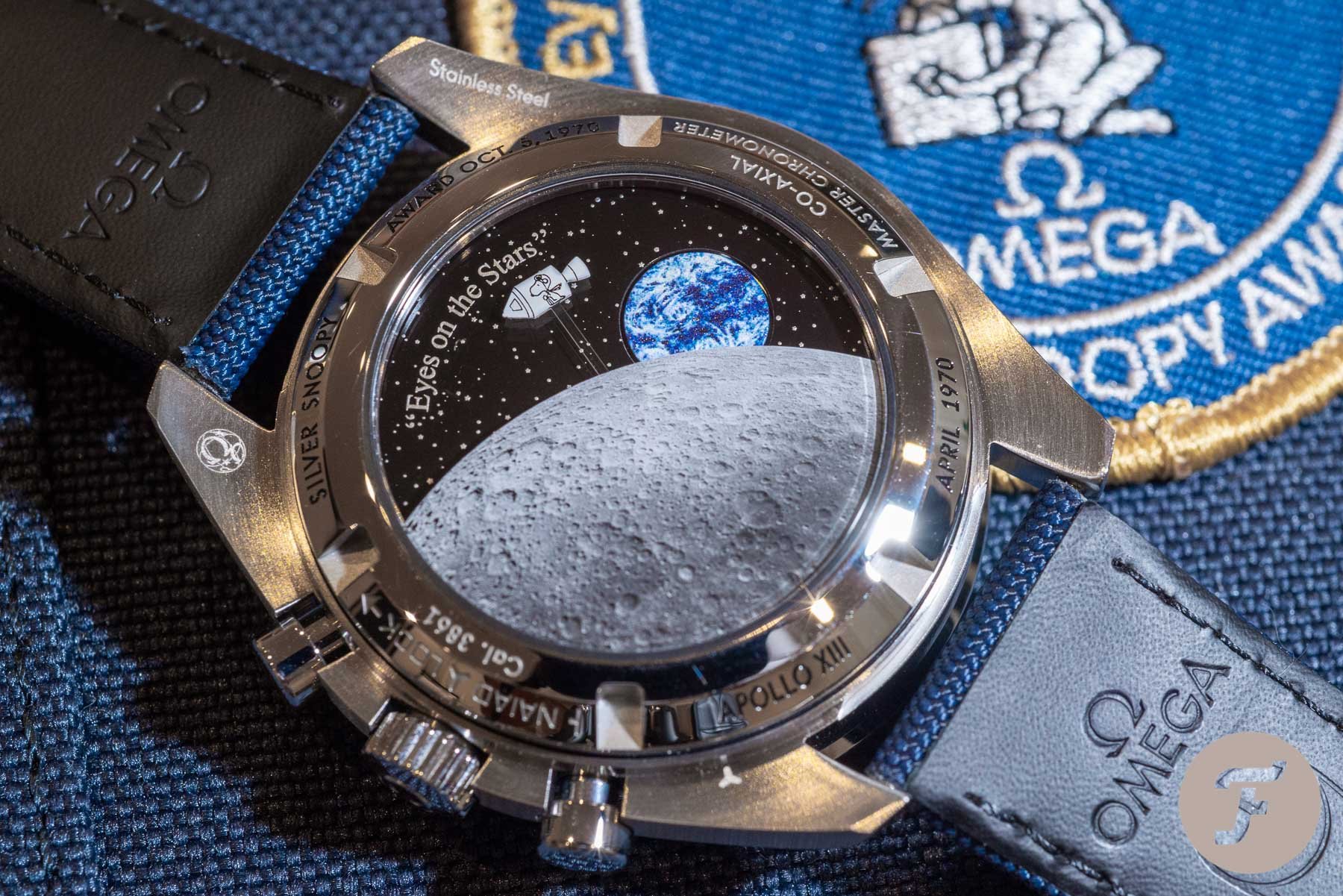 RJB: Based on actual sales on Chrono24, we see Snoopy 2015 sales between €30K and €40K, sometimes even slightly above. Do you think it will touch the 50K Euro mark soon?
Larry: That is a good question to ponder. I have talked to a few Omega techs from a few different boutiques around the US that I know and they tell me that people still call the boutiques looking for the 2015 Snoopy watch, so there is still interest in that watch five years later. The question of further advance in the value is interesting. It is certainly possible that people will be willing to pay €50,000 at a vintage watch auction for the 2015 Snoopy watch at some point. Still, one must ask whether the introduction of the 2020 Snoopy will stall the demand or even devalue the current pricing on Chrono24 for the 2015 Silver Snoopy.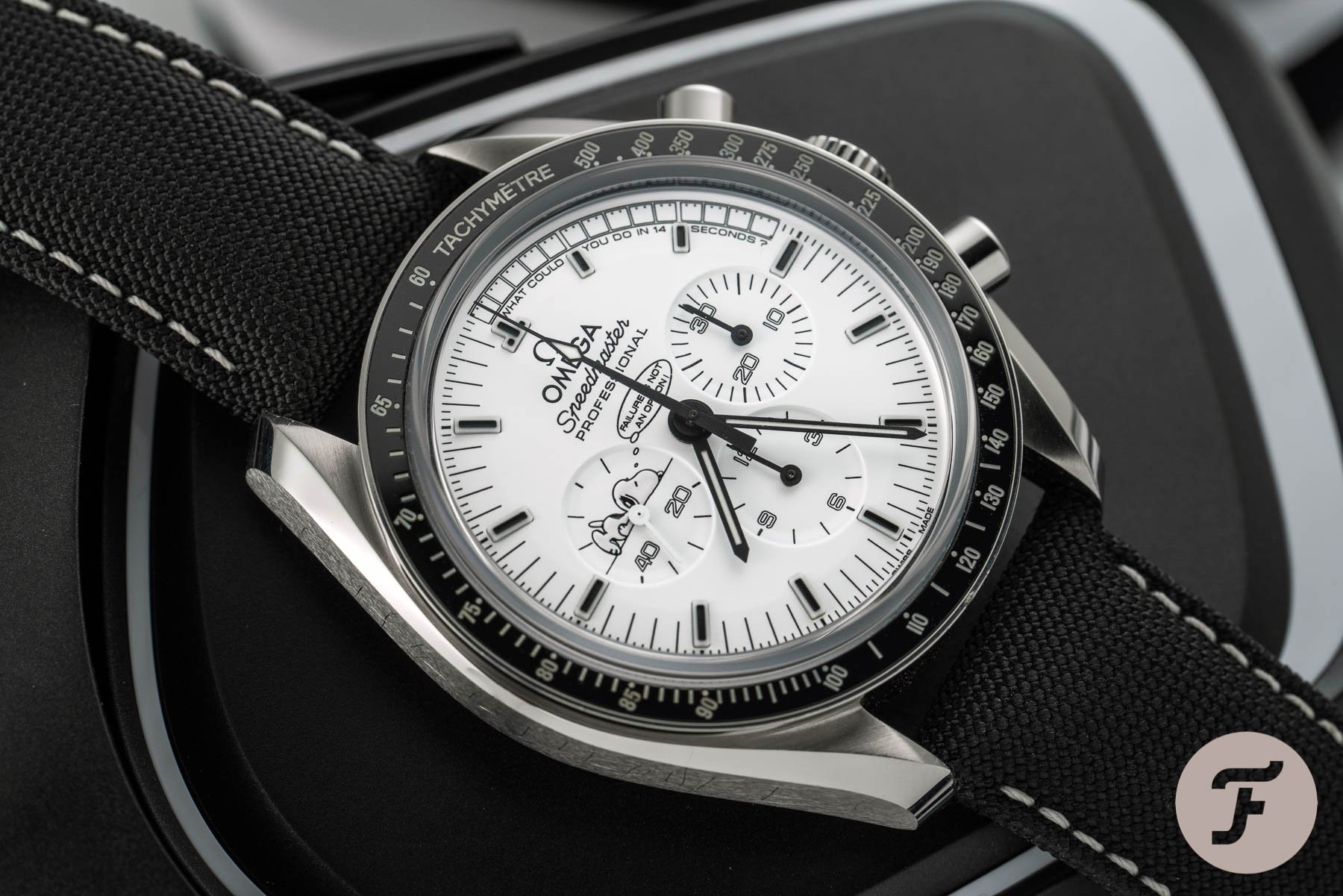 RJB: Do you feel it is justified? Is it really THAT collectible? Is it even worth collecting for Speedmaster fans or fans of the Apollo era?
Larry: The answer to your question of value justification is to ask another question of, "what is the market willing to bear?" If someone is willing to pay the price, then that is the value. While values/prices fluctuate, they usually inch upward. That has been my experience in the space collecting field. In 2003, a collector could buy an Apollo XI flight plan page for $1,200. By 2019 they were selling for over $100,000 at auction. It has been remarkably similar to other collecting fields. While there are exceptions values tend to increase over time.
The 2015 Snoopy watch will probably not be of much interest to an Apollo space object collector. It would be collectible to a collector of Snoopy items. As for Speedmaster fans, the watch boards indicate that they usually want something like a tropical dial or a pre-Moon Speedmaster with the 321 movement. There are so many different Speedmasters to focus on that I could not accurately say what a Speedmaster fan would like in their collection.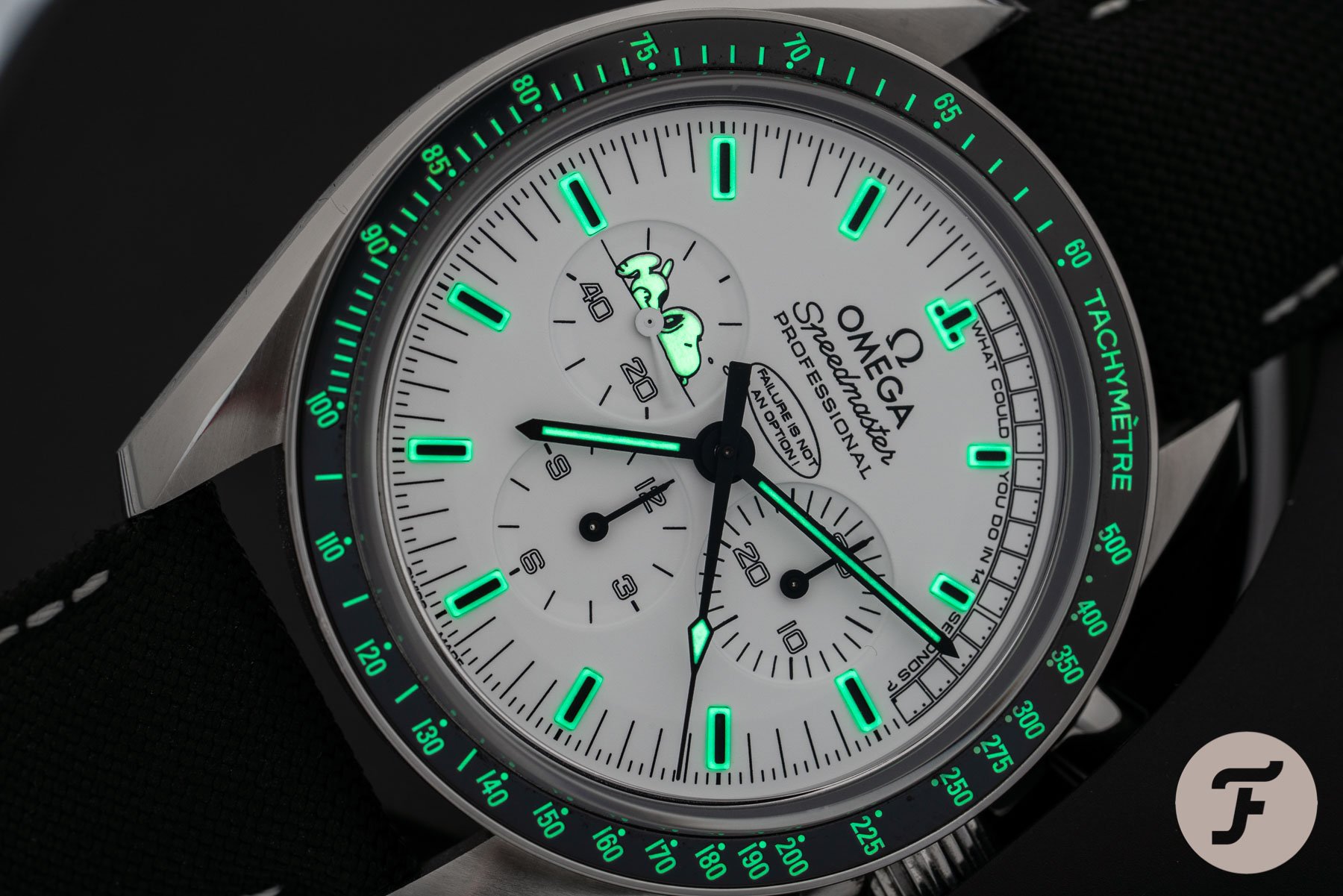 RJB: Why do you think the 2015 Snoopy is so incredibly valuable compared to the Speedmaster Snoopy from 2003?
Larry: I feel there are two reasons for the difference in values between the 2003 Snoopy and the 2015 Snoopy Speedmasters. The 2015 Snoopy is a limited-edition of 1,970 watches versus the 2003 Snoopy edition of 5,441. The 2015 version was well marketed. The watch's advertising used different and more diverse means such as Social Media to spread the news of the watch's release across the world. Still, the 2003 Snoopy is hard to find at its original price.
One quick story: I was in NYC at the Omega boutique for the ASTP 35th Anniversary event as a friend of General Stafford. While there I asked a staff member if I could try on the ASTP watch. When I took off my 2003 Snoopy watch, she exclaimed, "Is that a Snoopy watch? I have never seen one." Then she called other sales associates over to see the Snoopy watch. I could have walked out of the store with the ASTP watch and none of the staff would have noticed.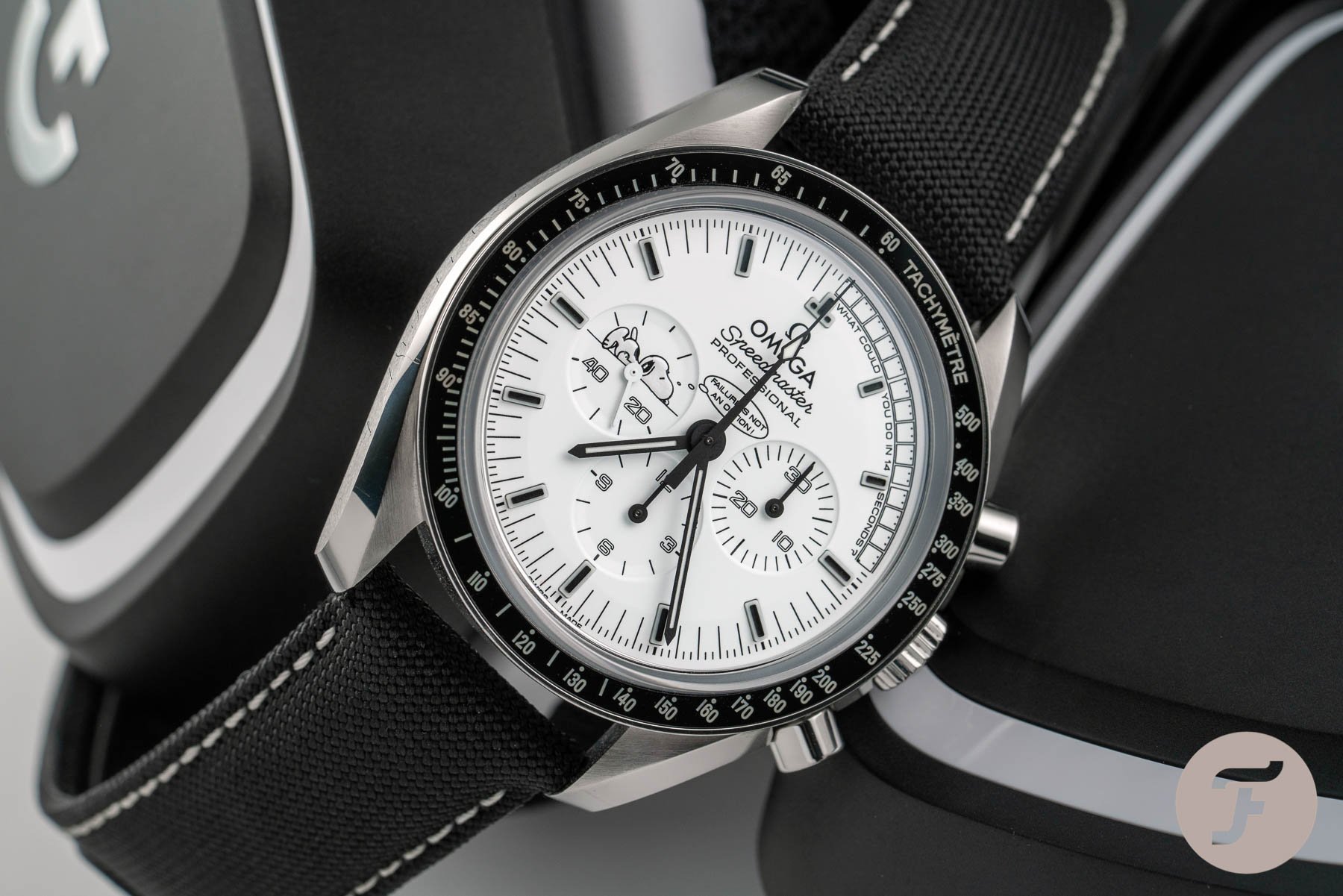 RJB: What is your favorite Speedmaster Snoopy?
Larry: If my wife were near me (as I do value our relationship and my life), then I would say it is the 2003 Snoopy. Though I have to say that the 2020 Snoopy is really lovely. I will know more when I have it in my hands. The blue panda dial, blue bezel, and the case back are amazing in their beauty and complexity. I cannot wait.
RJB: Is that also your favorite Speedmaster?
Larry: No. My favorite Speedmaster is the next one. Seventeen and counting.
RJB: Do you have any tips for Speedmaster collectors who also love the Apollo program (or other space programs)? What type of accessories are fun and affordable to purchase from auctions?
Larry: That would take up a few pages to answer. What would be defined as affordable is different to each collector. There are several websites that cater to space collectors both in Europe and the United States. They sell an assortment of different items that range from a few hundred dollars to many thousands of dollars. There are also several space auctions run by auction houses such as Sotheby's, Bonhams, RR Auctions, and Heritage in both the Spring and the Fall every year.
Yet, it comes down to what one likes and what one can afford. The standard Rule of Thumb for pricing and availability for a Space collector is based on a pyramid that starts at the base with a ballistic flight (X-15, Virgin Galactic, Mercury/Redstone), Low Earth Orbit (Mercury, Gemini, Apollo, Skylab, Shuttle, Soyuz, and ISS), Lunar Orbit, and finally, Lunar Surface used artifacts. The prices increase as humans get farther away from Earth and they also become less available.
My tip for any collector would be patience. The item you missed today will reappear later. Persistence in searching for the right item at the right price is essential. So is networking, as the more collectors, dealers, and auction houses that you make contact with, the better. They will help you find that special object.
RJB: What is the most special space item you've come across in your career?
Larry: I am asked that question a lot. My answer has changed over the years. Now, a special item is one that is personal. There would be two that I would consider truly special. The first item is two paintings grouped as one object that the crew of Apollo 10 commissioned from Al Stevens (the creator of the Apollo X emblem). The two paintings are of Charlie Brown and Snoopy on separate illustration boards of green and red.
They are the first paintings to fly to the Moon. You can see them in TV footage from the mission. They were used to test the color quality of the first color TV camera flown in Space. Each one is signed and inscribed by Tom Stafford, John Young, and Gene Cernan. The inscriptions on the back of each painting became longer and more explanatory. The changes in the inscriptions on the back of each painting shows how the crew and I all became more acquainted with each other over the years.
The second piece is very personal. It was a gift from Gene Cernan. It is a long story of both a working and friendly relationship over the years with an added touch of humor. The object is Gene Cernan's Apollo 17 jockstrap. It is, "The Last Jock on the Moon." And if you want to know more about that story then we are going to have to meet at a watch event and chat over a couple of drinks.
A big thank you to Larry for sharing his insights with us. We hope that you got some more insights into why this Speedmaster is so incredibly collectible. There doesn't seem to be one single reason why so many people are after this watch. There are more reasons, and as Larry explained, also more kinds of people chasing this collecting phenomenon called Snoopy.