Why The World Needs More Watches With Purple Dials — My Ideas For Omega, Chopard, IWC, And More
"Only want to see you laughing in the purple rain." Or at least with a purple watch on your wrist.
Guys, we need to talk about something. The watch industry is facing a crisis. A crisis of color. It may not seem like it, but trust me, it's true. After all, in recent years, we've been thrown into an ocean of blue dials vaster than the Atlantic itself. We've seen so many green dials, you'd think a squadron of laughing leprechauns launched the world's largest dye bomb into the very heart of Geneva. I could even name a plethora of brown, red, yellow, and orange-dialed watches in a swath of price brackets right off the top of my head. But one color remains largely absent from the modern watch world: purple.
"Purple?!" I hear you cry. "Who wants purple dials? Prince is gone (RIP), and Barney has been off the air for over a decade!" OK, I get it. It may not typically be the "manliest" of colors, nor the most in-demand. Nevertheless, as a passionate purple proponent, I will be the first to proclaim that it deserves a larger place in the modern watch market. I say this because I have literally spent years searching for the perfect purple dial to add to my eclectic collection. In that time, I faced mostly uninspiring, unreliable, or unattainable choices.
Today, I'd like to highlight the state of the purple dial watch market. I'll show you what you can expect, should you be on the lookout for that violet vixen of a watch. Then, if I may be so bold, I will share some ideas that have been swirling around in this purple-plagued skull of mine. I hope you'll agree that, if given a chance, purple has plenty of potential.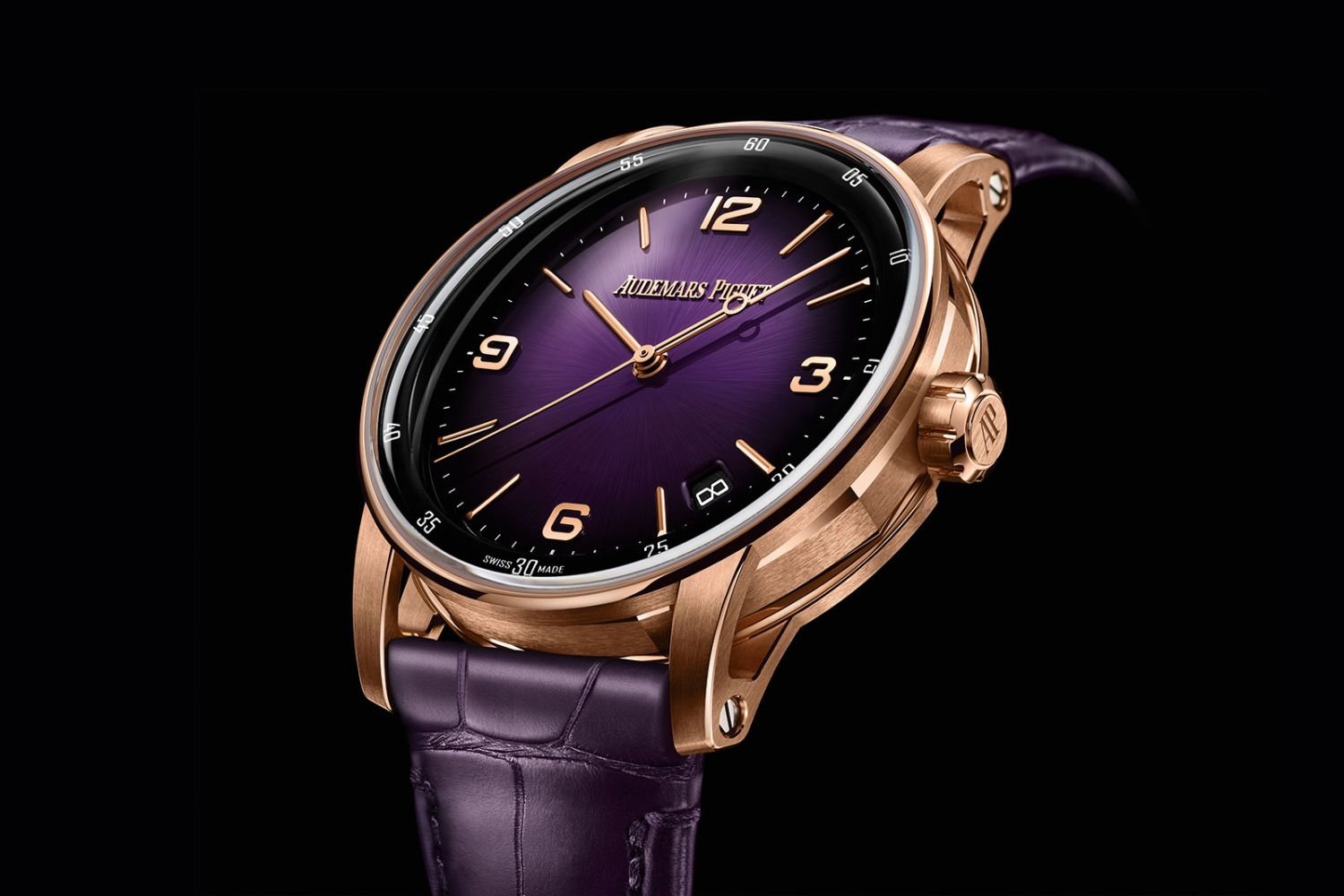 The current choices
One needs simply to search Chrono24 to see that there is a distinct lack of options available. As I write this, if I search the term "(color) dial," here are the results I get:
Black dial: 18,580 results
Blue dial: 11,194 results
White dial: 9,636 results
Silver dial: 8,327 results
Yellow dial: 3,196 results
Brown dial: 2,074 results
Green dial: 2,031 results
Red dial: 1,059 results
Orange dial: 247 results
Purple dial: 246 results
Now, admittedly these search terms are not perfect, especially in the "yellow dial" category. Many of the watches listed do not actually have yellow dials, but are made from yellow gold instead. In the interest of keeping search terms as similar as possible, however, let's roll with it. Purple ranks even lower than orange (by one, but still), and I bet you can name many more watches with orange dials than watches with purple ones. Upon further inspection of the purple dial listings sorted by brand, Rolex takes the cake with 162 results. But don't get your hopes up, at least if you're into watches having original parts. The vast majority of the purple dials seen on these "Rolex" watches are aftermarket versions, set within gaudy third-party-bling-job Datejusts. So, if we use our favorite search engine to dig deeper, we will likely find the following.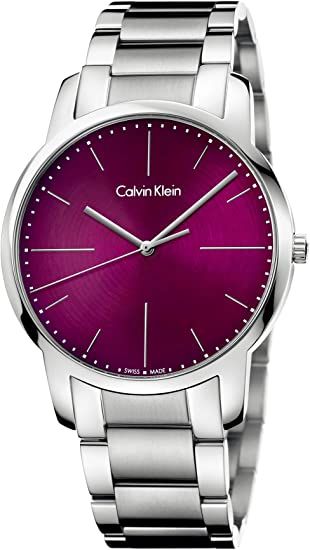 Full-on fashion watches
Do you have the desire for a modern purple-dialed watch, but you just don't want to spend a lot on it? Well, the fashion watch world has your back! For less than €200, you could be the "proud" new owner of the Calvin Klein City. This is a watch you buy if you really just want something cheap and fun to flash around. With a quartz movement, mineral crystal, and 30m of water resistance, it doesn't have any specs that I'd be eager to write home about. At 43mm, though, at least that purple dial won't go unnoticed.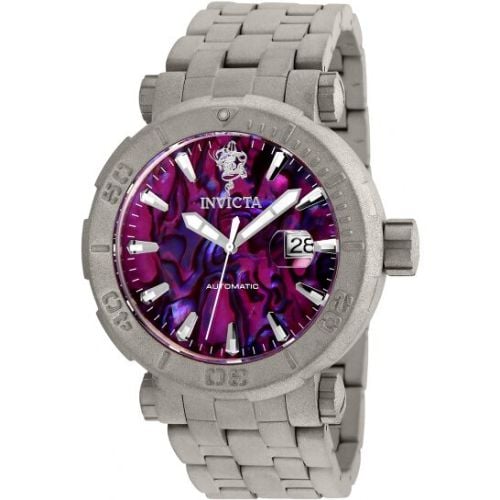 But wait; is 43mm not big enough? Want something not only bolder and more capable, but cheaper as well? Never fear, Invicta is here! The Sea Base with a purple abalone dial has 200m of water resistance and an automatic Seiko NH35A movement inside. To compensate for the "girly" purple dial, you even get a "super-manly" 48mm case! And here's the "best" part: it's available for a staggering 84% off its $695 retail price!
Yeah, I'll just leave it at that…
Vintage
There are a few cool purple dial options out there if you're willing to go vintage. A watch collecting friend of mine owns a Rado Diastar like the one pictured above. It's a cool watch, I will admit. The color is a nice deep purple, not too red and not too blue. But, honestly, I'm not much of a fan of diamond hour markers.
Some dials on discontinued Rolex Submariner "Bluesy" references have a tendency to fade from their original brilliant blue to a purple patina. Personally, I find these to be extremely attractive indeed. But other than already owning a Rolex and not wanting to break my "one per brand" rule, I also had some concerns about the color. The fact that it has already faded, and likely will continue to do so gave me pause. Personally, I can be very particular about the shade of purple that I want. If I were to find a Submariner with a patina dial that I loved, I wouldn't want to risk the color fading even more as time went by, with the watch eventually falling out of my favor. Nevertheless, as it's a Rolex, at least my money would be fairly safe if I ever did want to flip it.
Missed opportunities
Let's face it: there's no feeling quite as vexing as having missed out. As such, this category is bound to be a real heart-wrencher. The one watch that instantly pops into my mind is the drop-dead gorgeous anOrdain Model 2 Purple Fumé. The Scottish-made vitreous enamel dial doesn't just have that fantastic fumé purple hue, but it also has tremendous depth and texture to it. At 36mm in diameter and 43mm lug to lug, it is on the smaller side of things. While its size could be a hangup for some people, at £1,500, the value for the craftsmanship you get is insanely high. Or, was high, I should say. By the time I personally discovered this model, it was (along with every other color of the Model 2) completely sold out.
Campanola, for those who are not familiar, is Citizen's top-tier offshoot brand. Most of its watches feature Citizen's Eco-Drive or quartz movements, as is the case in the Grand Complication pictured above. Mechanical models house Swiss calibers from La Joux-Perret. The most alluring part, however, is the handmade urushi lacquer dials that grace nearly every model in the lineup. These dials are made by Campanola's in-house artisan Tetsuo Gido, an urushi master with over 50 years of experience.
"You should wait," she said. "They'll probably have a sale soon…"
They are quite a wonder to behold, and I know because I own a green one. Years ago, however, when the brand was just gaining traction in Japan, Campanola offered customizable timepieces. A good friend of mine, and fellow purple fanatic, designed his own. It featured a deep purple lacquer dial and anodized purple hour/tachymeter ring.
But it was just not meant to be. His wife talked him out of it at the time. "You should wait," she said. "They'll probably have a sale soon." Not only did a sale never take place, but shortly thereafter, Campanola discontinued production of its purple lacquer dials. My friend remembers this as one of his most regretful moments as a watch collector. He has yet to find another purple watch suited to his taste since then.
Unobtanium
These jaw-dropping options are suitable only for those fortunate enough to have a rather large budget. Many of us, though, may not be so lucky. The MB&F Legacy Machine 2 pictured above is not only purple but is also beautifully balanced and masterfully crafted. It is a watch I could happily take to my grave. If only, that is, it wasn't a limited edition of 12 pieces with a retail price of CHF 148,000. MB&F does also offer the LM101, and while it is not limited, it is still priced at CHF 59,000. Not exactly chump change.
This Royal Oak Extra-Thin Tourbillon is not a limited edition. With a retail price of CHF 124,080 at the time of its 2018 release, however, it remains the stuff of fantasy for many. Audemars Piguet also offers purple dials in its Code 11.59 collection. They are, however, only available in rose gold, with the least expensive three-hand model retailing at CHF 27,800. Now, that's not absolutely insane, but it's still outside the budget of most watch enthusiasts — myself very much included.
What are your logical options?
This doesn't mean the purple dial watch market is all doom and gloom. There are still a few options available within reach. The most obvious of these are the 36mm and 39mm Rolex Oyster Perpetuals with "red grape" dials. While these watches are discontinued, at the time of writing this article, they are still relatively available on the pre-owned market. Due to the popularity of the revitalized Oyster Perpetual line, however, prices on these models are rising, starting in the range of €7,000. Less than two years ago, one could easily be had for under €5,000.
If you're comfortable going the independent route, there are indeed a number of bespoke options available. Artisanal watchmakers like Sartory Billard and Laine offer attractive purple dial options (upon request) for their current models. Many of these models are priced between €4,000 and €10,000. For those who love supporting independent watchmakers and desire a personalized experience, options like these are certainly quite attractive.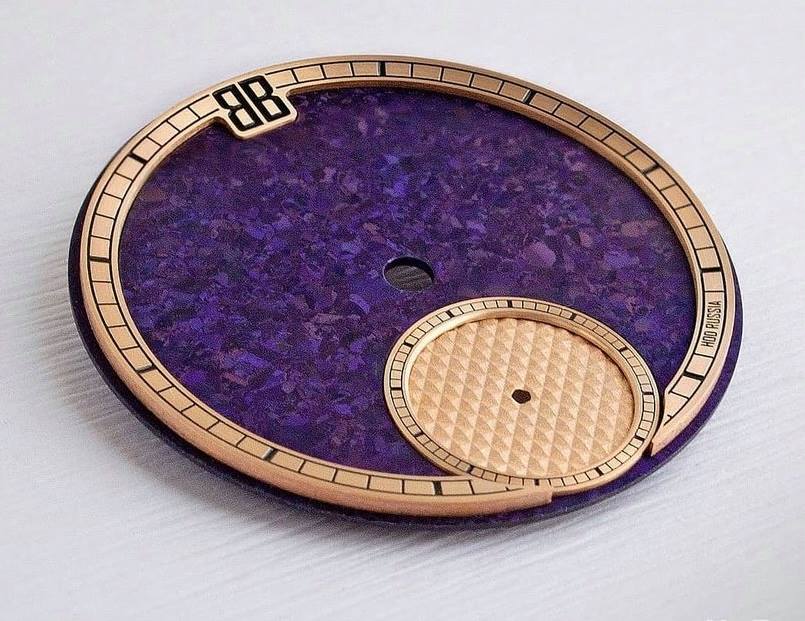 Other workshops offer completely custom design. From the case and strap to the dial and hands, with custom movement decoration to top it all off. Your dream design can indeed become a reality. This is the route that I ended up taking with my purple watch, which is having its finishing touches applied as I write this. I will dive further into these options in a future article. For now, however, I will just leave this little teaser image of my purple dial here.
A large part of the market is left barren
As you can see, the options are not zero for the purple dial fans out there. But while vintage watches are great, not everyone wants to deal with the potential headache of maintaining them. Fashion watches will most likely leave the enthusiast's spirit within all of us deeply unsatisfied. Sold-out or prohibitively expensive options can likely be crossed off the list. The Rolex Oyster Perpetual with red grape dial is an undoubtedly reliable choice. But because it has become such a go-to option, it personally leaves me somewhat uninspired.
Bespoke watches are not for the faint of heart either. One must really get to grips with the fact that a custom piece is truly made for the person who orders it. As such, one does run the risk of a custom watch tanking in value, depending on its level of personalization and potential for wider appeal.
For those who desire a purple dial from a big brand at a relatively reasonable price, Rolex remains a great choice. But it shouldn't be the only choice. Therefore, I would like to somewhat selfishly propose my ideas for a few new purple dial variants of watches I love. All of these watches are from very well-established brands, and retail for less than €15,000. This is the segment of the market that I feel could use a healthy infusion of violet vibrancy.
It doesn't take much
Through the daydreaming process, I've found that many watches with blue dials would also look quite attractive with purple dials. Blue and purple are already close on the color spectrum, so it's really a pretty logical progression. Of course, "attractive" is quite a subjective term, but through my less-than-masterful digital renderings, I hope you'll see the potential for this color that I do.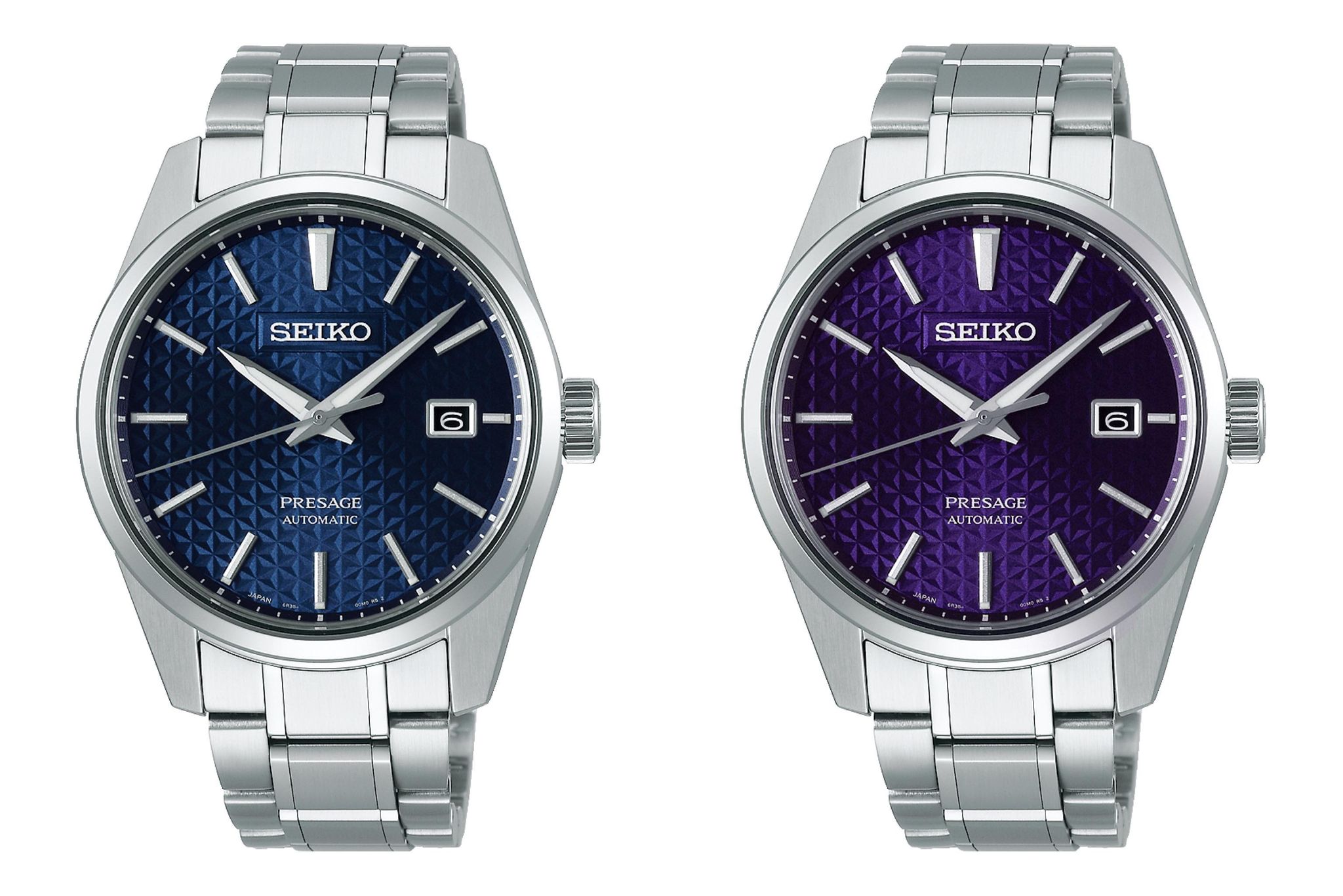 The Seiko Presage Sharp Edged series could lend itself nicely to a purple remix. As the facets of the asanoha-textured dial catch the light, it could be quite a dynamic visual spectacle. At a price point of about €1,000, it's an option that wouldn't break the bank either.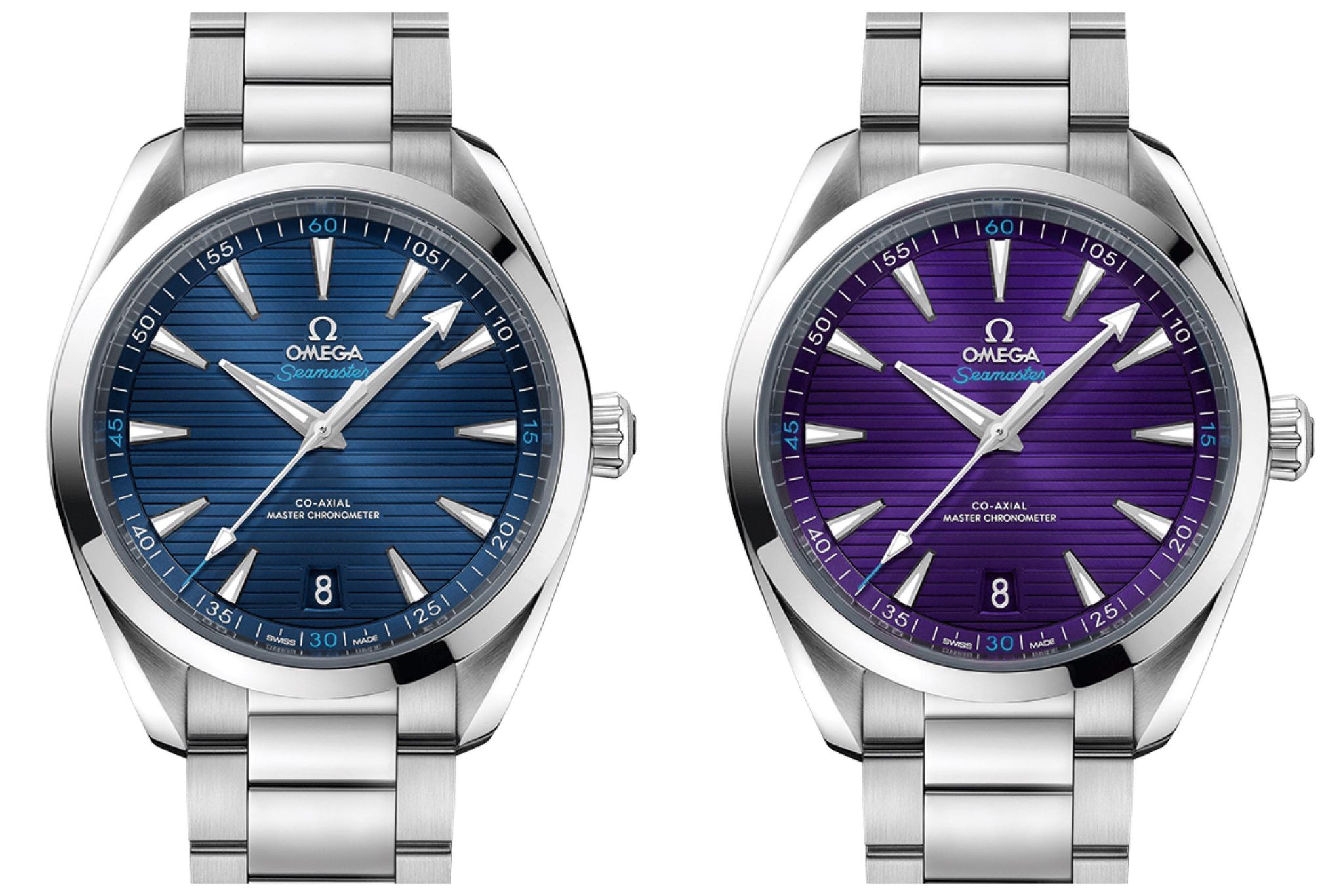 The Omega Seamaster Aqua Terra could also be an interesting option. In terms of everyday wearability, the Aqua Terra is a fantastic mid-level luxury option with a respectable 150m of water resistance and a METAS-certified Master Chronometer movement. I particularly like the way the light-blue accents complement the purple dial on this rendering.
Stepping it up a notch
Let's jump up a bit in terms of price, swing for the fences, and get a little more adventurous in our imaginings, shall we?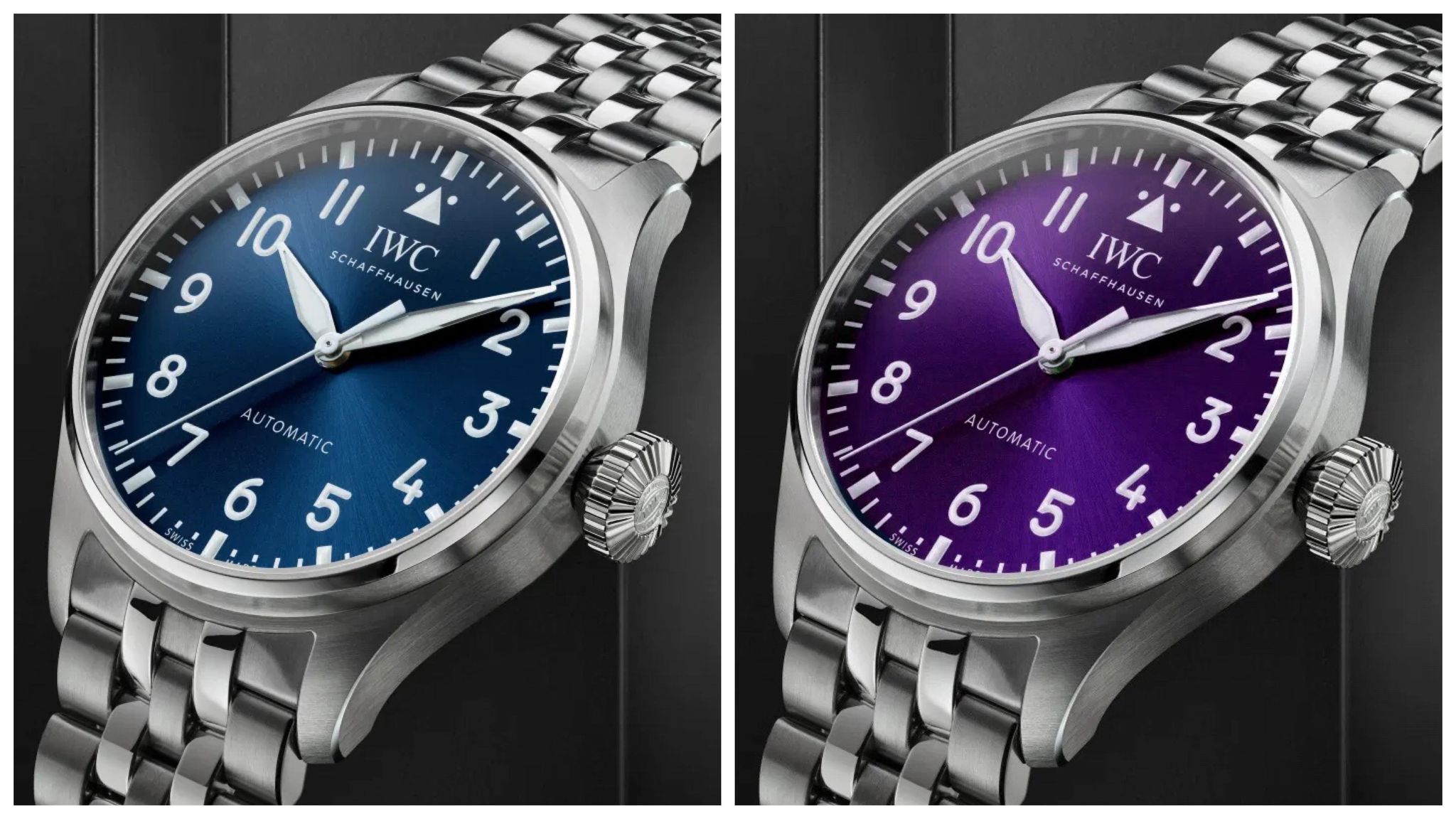 I've had an intense (albeit one-sided) love affair with the IWC Big Pilot as far back as I can remember. At 46mm, though, it was too large for comfort. The other day, I tried on the new Big Pilot 43, and my hope to own one someday was fully renewed. The new 43mm case is supremely wearable even for me, and although the AD only had the leather-strap version in stock, I imagine the bracelet version would be even more comfortable. A purple dial option would be the icing on the cake!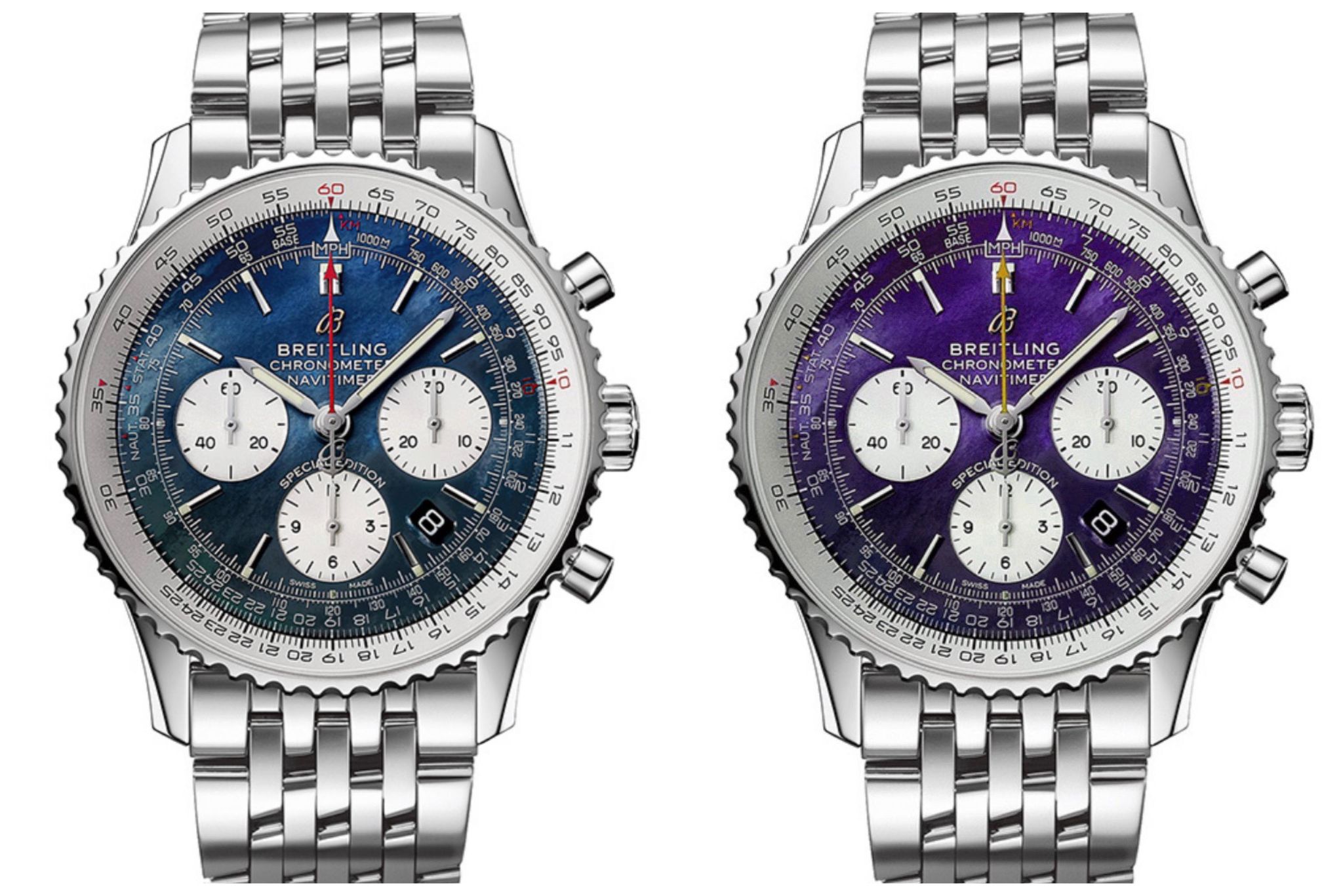 The blue mother-of-pearl dial on this Breitling Navitimer B01 Japan Special Edition is already striking. Honestly, I would even take the watch as it is currently offered. But that doesn't stop me from wondering just how much more unique a purple mother-of-pearl dial would be! Pair it with a gold chronograph seconds hand, and I think we've got a winner!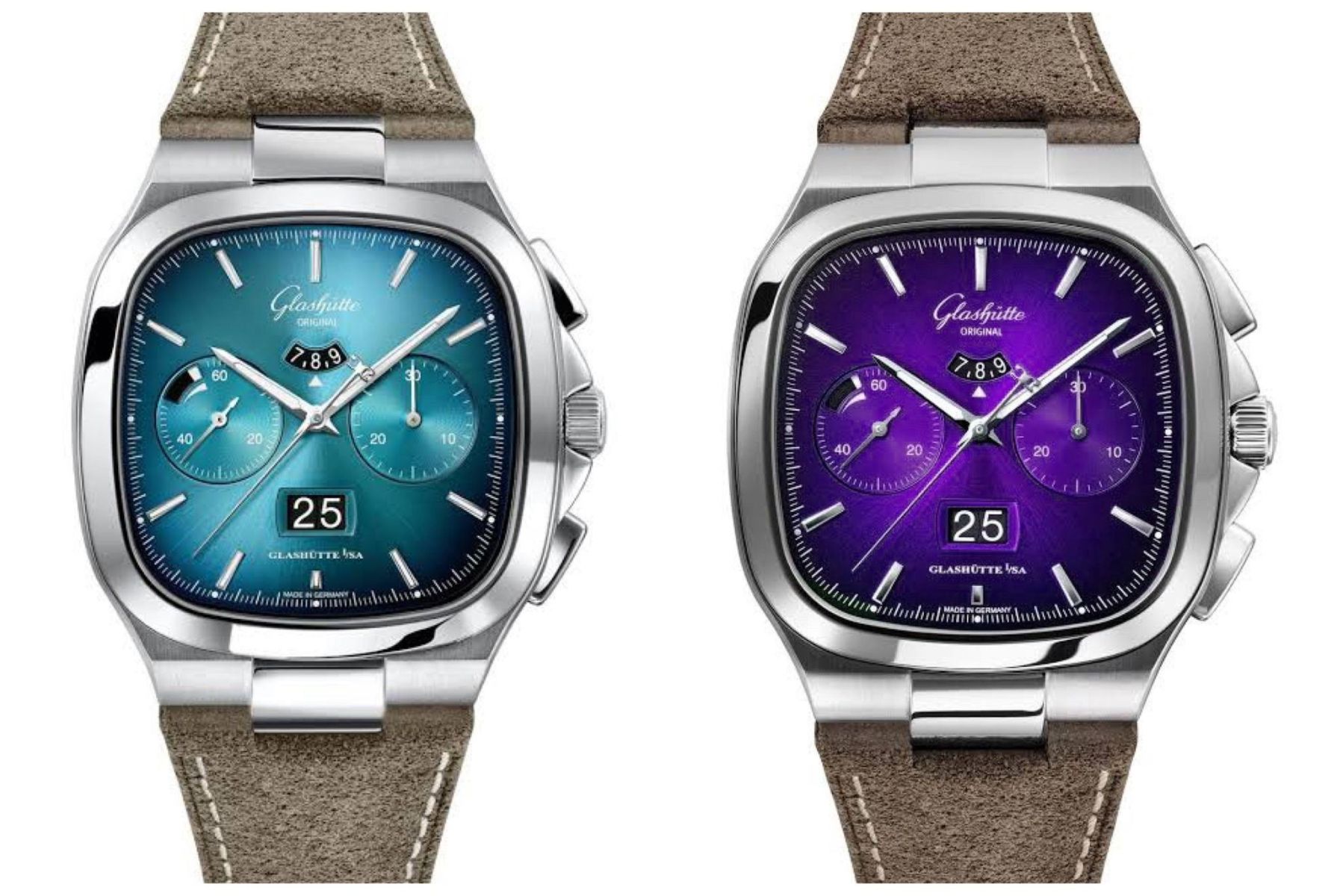 I have a feeling a certain Mr. Rob Nudds might like this one. The Glashütte Original Seventies Chronograph Panorama Date already has quite a colorful lineup. Green, navy blue, turquoise, and even yellow dials have already been added to the family. Is it too much of a stretch to imagine a purple sibling? Rob has been banging the drum for Glashütte Original to partner up with Fratello and produce the very watch you see above. So far, the German maestro is keeping its cards close to its chest, but our dogged managing editor is not so easily swayed from the path. Let us know in the comments below if you agree with him that Glashütte Original should join the Fratello team and bring this beauty to life.
And my top pick…
Recently, I wrote two articles on the history of Chopard (Part One can be found here, and Part Two here). In doing so, I developed an intense appreciation for the brand, its history as a family-owned company, and the watchmaking vision of Karl-Friedrich Scheufele. It was with excitement and intrigue that I finally dipped into one of the Chopard authorized dealers in Osaka the other day. For the first time ever, I was able to see the 41mm Alpine Eagle in the metal. When I tried it on, I fell in love!
The bracelet draped around my wrist so gracefully. The case was perfectly slim and well-balanced. Even the compass logo on the crown aligned perfectly when fully screwed down. That's the kind of attention to detail you rarely find on crowns these days. Most striking of all, the eagle-iris textured blue dial just screamed from every angle, thanks to an invisible crystal. I honestly could not get the crystal to show any glare whatsoever, no matter how hard I tried.  As much as I loved the blue, I couldn't help but wonder, "what if…"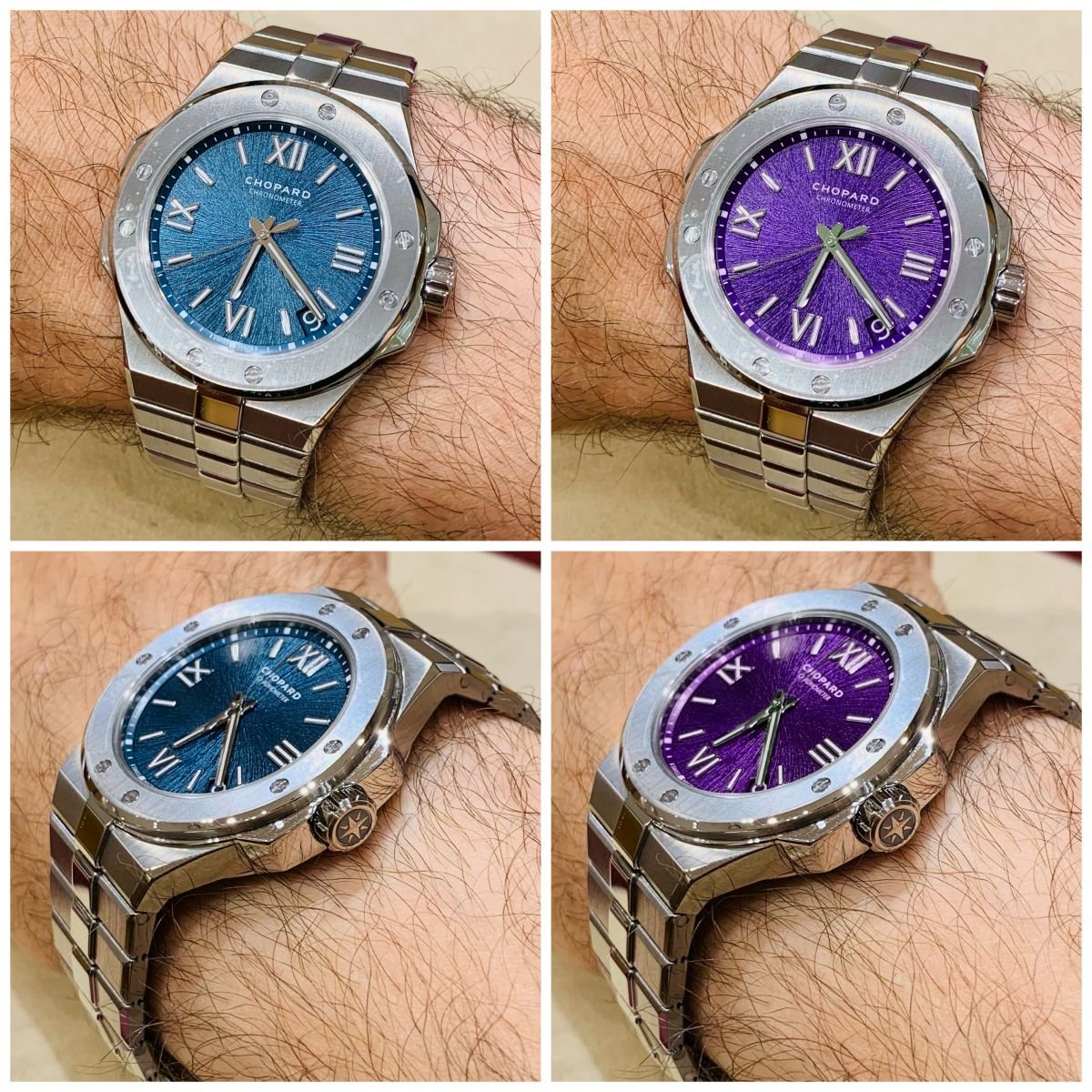 And upon subjecting my wristshots to a nifty bit of digital rendering, it is confirmed: a purple dial would absolutely set this piece over the edge for me. I would find any way I could to get my hands on one!
Precedent for my dreams
Out of all the watches I've listed here today, I actually have the most hope that a purple-dialed Chopard Alpine Eagle could become a reality. Even if it were not a mass-produced release (which I still do want to see more of), it could make for a cool limited edition. Maybe someday this watch journalism gig with the Fratello team will help my voice be heard in the world of watches. If that happens, I might just possibly get my wish. What evidence do I have to dream this big?
THIS. The red-dialed Alpine Eagle Horobox limited edition of 10 pieces. This stunning edition shows me that Chopard is open to collaboration even on a small scale, and that is very encouraging. Nevertheless, I must not get ahead of myself. For now, I humbly present this purple dial simply as the musings of a neophyte Alpine Eagle enthusiast.
Am I a lunatic?
I have presented my analysis of the modern-day purple dial market. Now I must ask — what do you think? Do you agree with me that purple could catch on if given a chance? Or has my obsession with this unloved color skewed my perspective? If not purple, what unloved dial color would you like to see better represented in the watch world today? Let me know in the comments below. I look forward to continuing this conversation with you all!