Wrist Game or Crying Shame: Hamilton Khaki Aviation Aluminum
Would you lay down €628 on this lightweight?
Hey folks, welcome back to Wrist Game or Crying Shame where today we've got a humdinger of a specimen with the Hamilton Khaki Aviation Aluminum. But first…
Last week, I classed it up around here with a Jaeger-LeCoultre Perpetual Calendar and you folks responded in a big way. This stunner brought home a massive 89% Wrist Game win. If you were getting warmed up for more complications, then today's Hamilton Khaki Aviation Aluminum just might come off as a cold shower. I'm sorry about that, but I really like this watch.
It's hard to believe that the Hamilton Khaki Aviation Aluminum debuted all the way back in 2014 at Baselworld. But is it so hard to believe? I ask that simply because I'm not so sure anyone knows or remembers this watch. Oh sure, I remember the press releases to some degree, but the watch barely seemed to register. And that's too bad as I think it's a neat one.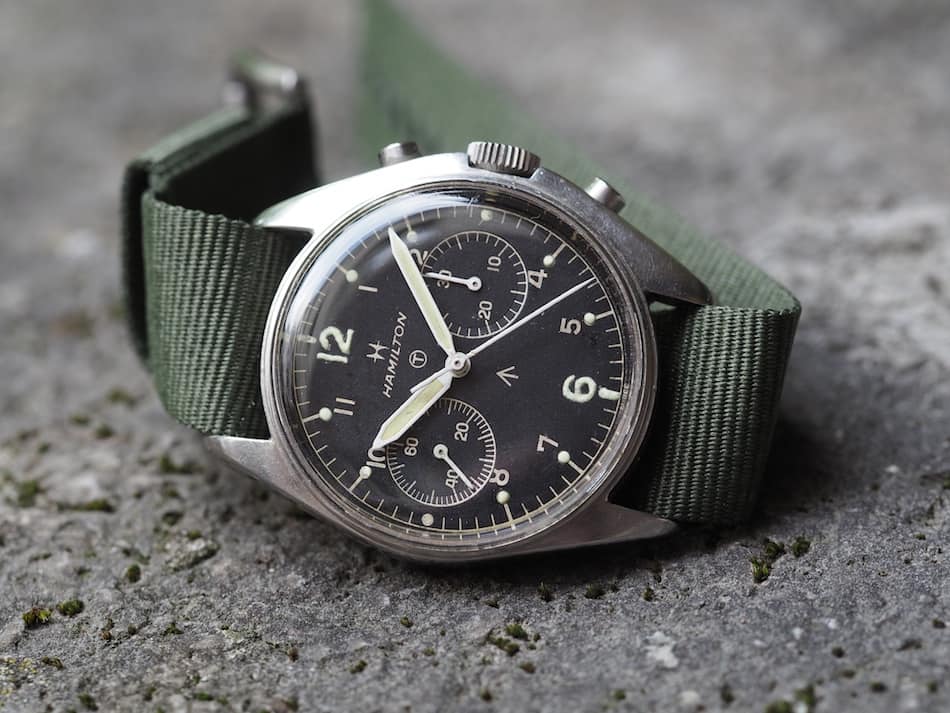 The Khaki Pioneer line
The full name of the watch before you is the Hamilton Khaki Aviation Pilot Pioneer Aluminum. Whether you choose to put an "i" after the "n" depends on your domecile. Heading back to 2014, Hamilton treated us to a host of Khaki Pioneer watches loosely based on the 1970s RAF chronographs like you see above. We received an unheralded and faithful automatic chronograph and some three hand watches. One watch came in steel and was available on bracelet. However, the most interesting pieces were the quartet of aluminum watches.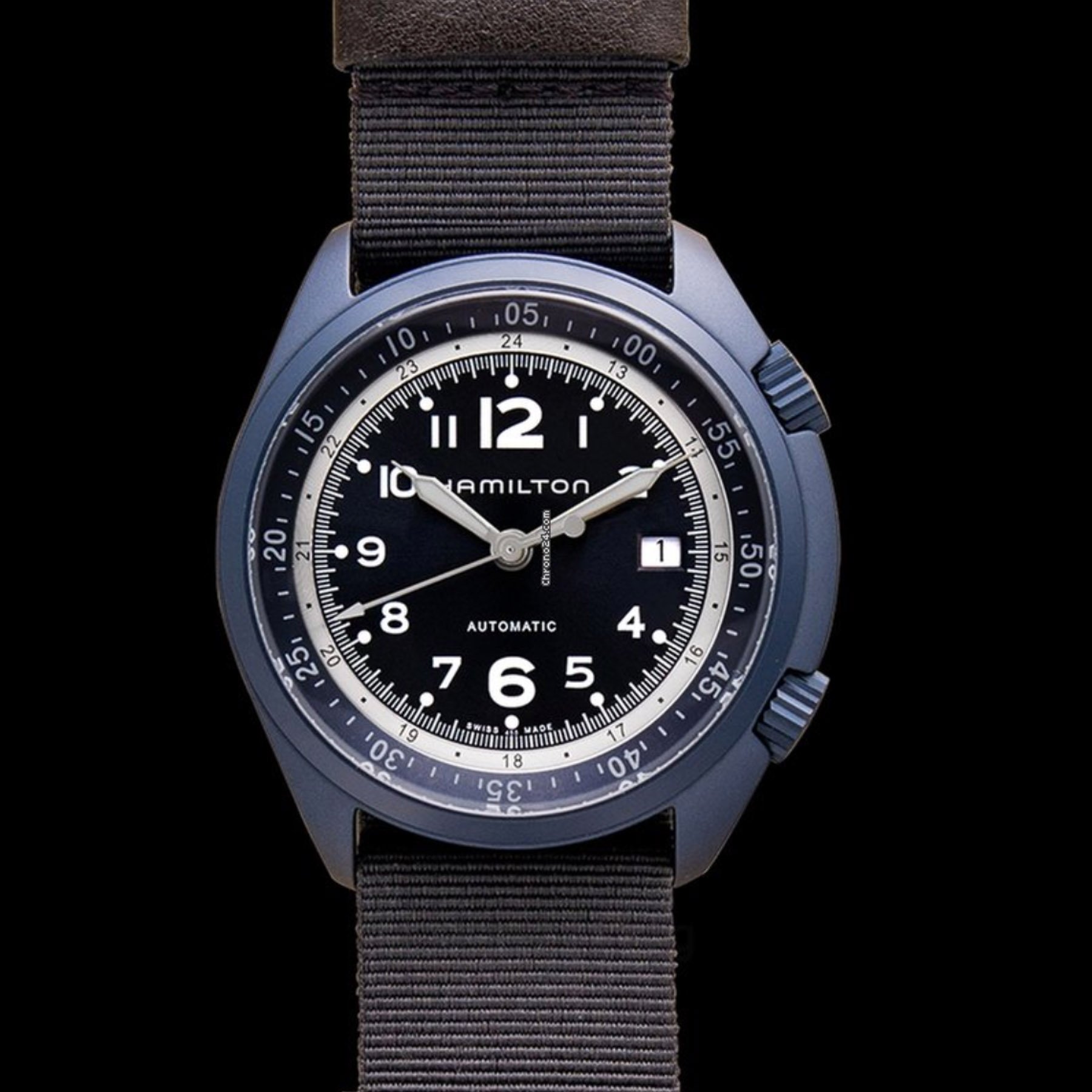 That's right, the Hamilton Khaki Aviation Aluminum gets its name from its case material. You'd have to plumb the depths of the Swatch Group to find this material in, well, a Swatch! Aluminum isn't the most popular watch material on account of its softness and proclivity for obtaining scratches and dents. On the other hand, it's incredibly light and just a bit funkier than the norm. In what could be called Swatch-like manner, we were treated to four somewhat colorful lightweight watches. Anodizing added the hue and a level of wear resistance to boot.
Four colors on the Hamilton Khaki Aviation Aluminum
Buyers who actually noticed (or still notice) the Hamilton Khaki Aviation Aluminum could choose between black, olive, sand, and blue. Opting for one meant a 41mm diameter asymmetric case with just 12.3mm of thickness. While that's not petite, a 47mm lug to lug makes things rather wearable. The venerable H10 automatic (the ETA C07) with date function keeps things a go-go and adds 80 hours of power reserve. The watches all come on colored NATO-style straps and can even manage 100 meters of water resistance.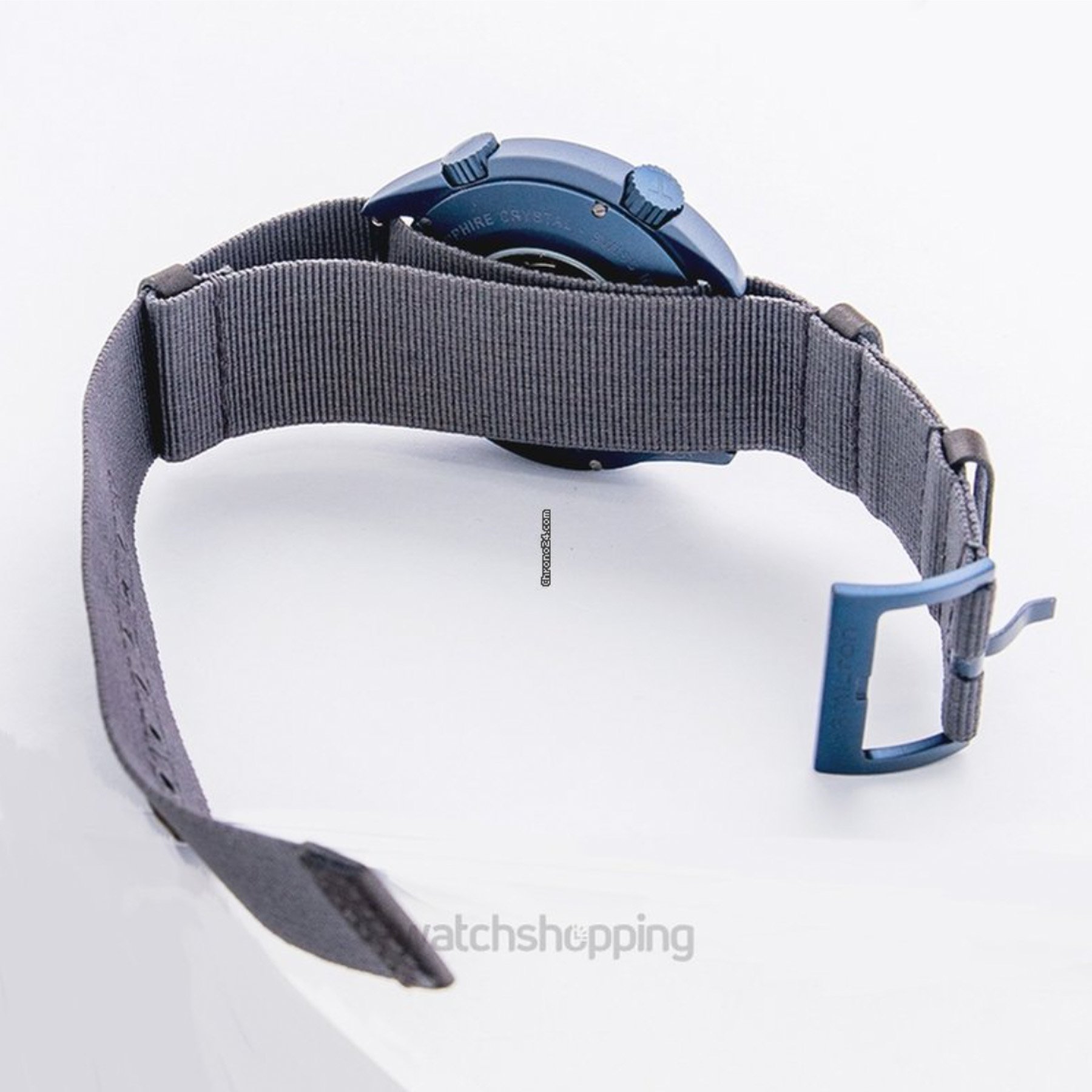 Even though the Hamilton Khaki Aviation Aluminum lacks the three protuberances of the RAF chrono, I still think it translates remarkably well with its twin crown setup. In the case of the blue model shown here, the blue dial contrasts well with the white 24-hour ring and a 60-minute rotating inner bezel. It also mimics the chronograph in a cool way by emphasizing the 12 and the 6 on the dial. Like I said, I think it's damn slick and a real shame that it soldiers on unnoticed.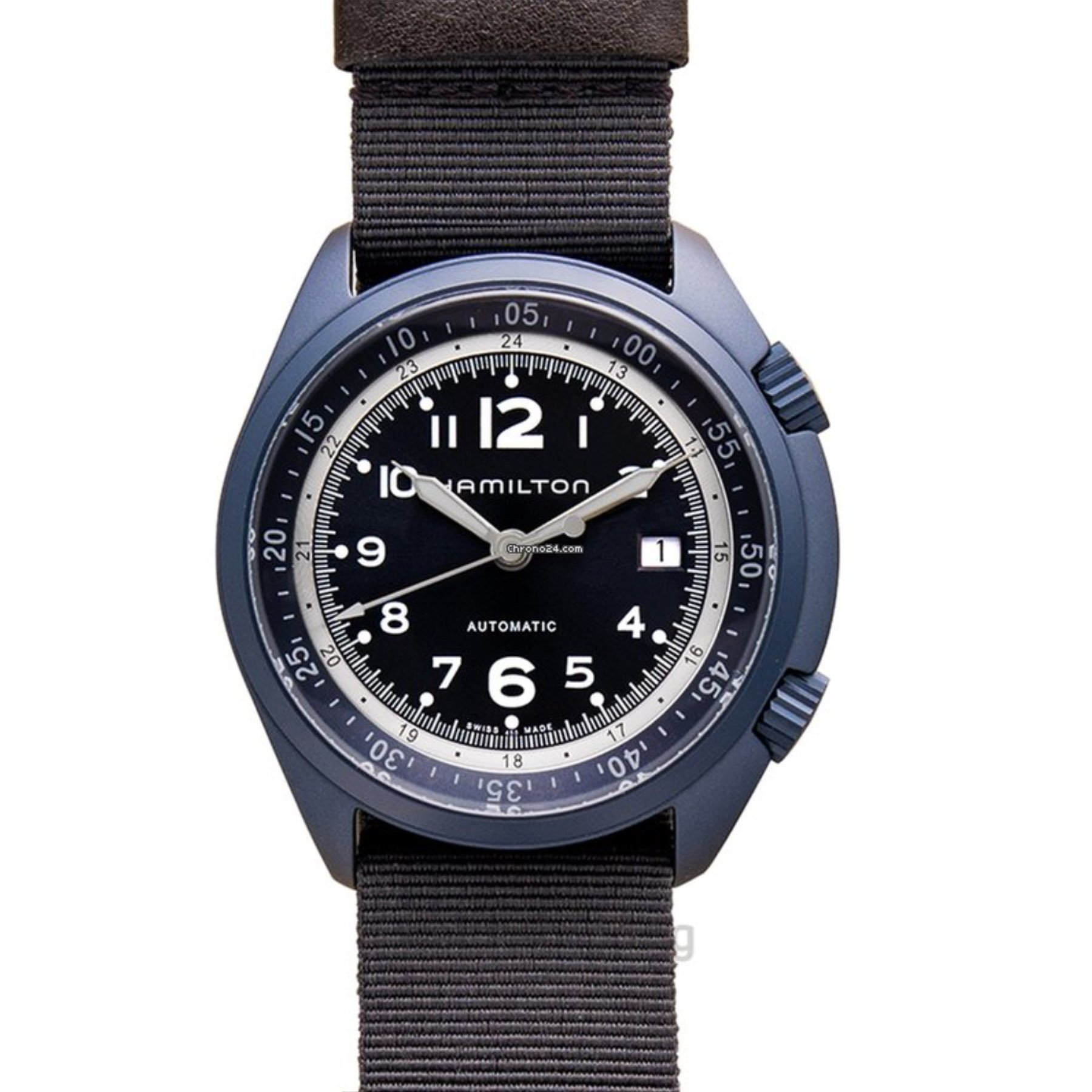 Today's candidate
The Hamilton Khaki Aviation Aluminum is still on sale today, but I have to wonder if it's long for this world. It has a fairly heady retail price at €955 on the official Hamilton site. Now, I don't think that's sinful, but it is expensive in light of other mechanical watches from the brand. I guess the light stuff doesn't come cheap. Thankfully, the secondary market offers some opportunities and we have one via Chrono24 and seller WatchShopping out of California. They're offering my personal favorite — the blue — for a very approachable €628.
I do like the odd watch in the catalog and I'd say that the Hamilton Aviation Aluminum qualifies. Let us know if this is something that interests you with your vote below and in the comments.
Hamilton Khaki Aviation Aluminum