Wrist Game or Crying Shame: Oris Chronoris 2005 Replica Edition
Will you ignore this Oris Chronoris for €1,880?
Welcome back to Wrist Game or Crying Shame, where your votes are counted immediately no matter where you are! This week, we visit a florist while taking a look at the Oris Chronoris while being a tourist. Some of that is true, but first…
Last week, I showed you a lightweight Hamilton Khaki Pioneer Aluminum with an anodized blue finish. You were anything but sad as you voted this interesting — and highly recyclable — automatic to a 63% Wrist Game victory. This week, we'll also bring up a watch that may have slipped your mind. After all, 2005 was a long time ago and well before people started getting together at drinking establishments to show off their watches. It's the Oris Chronoris 2005 Replica Edition — let's have a look!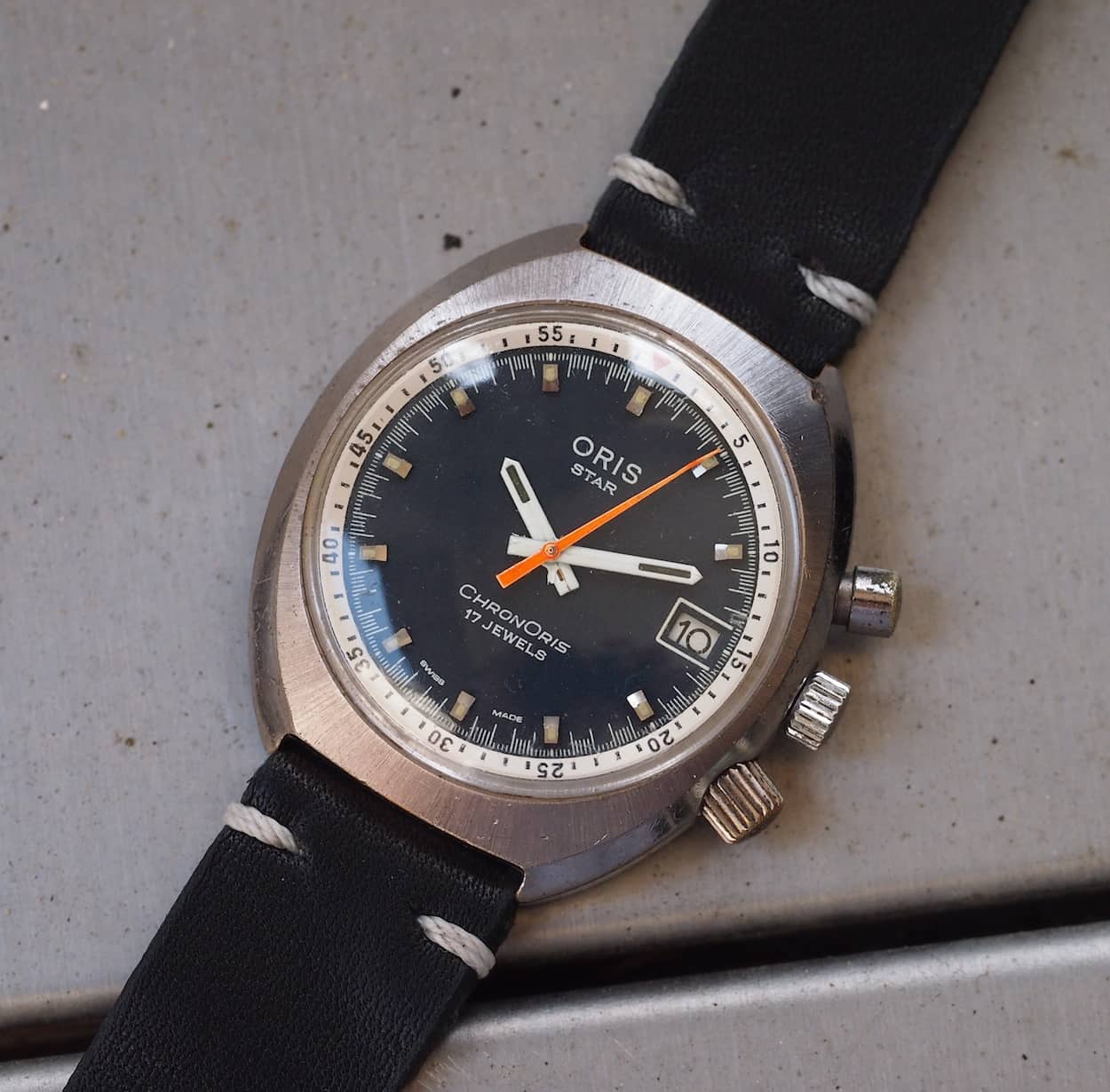 The Oris Chronoris…
Way back in 1970, Oris brought out the first Chronoris. These were relatively simple manual wind chronographs without sub-dials with a central chronograph hand. There's an internal rotating bezel to count the elapsed minutes if you so choose. You can read more about one I own here. In 2017, Oris reintroduced the Chronoris line with a bit of a catch. The central chronograph hand was gone and we're left with just a rotating inner bezel and a normal sweep seconds hand. The watches look good, but I've always thought the use of the Chronoris name a bit awkward. In 2005, though, Oris actually gave the world a very different version for the line's 35th birthday.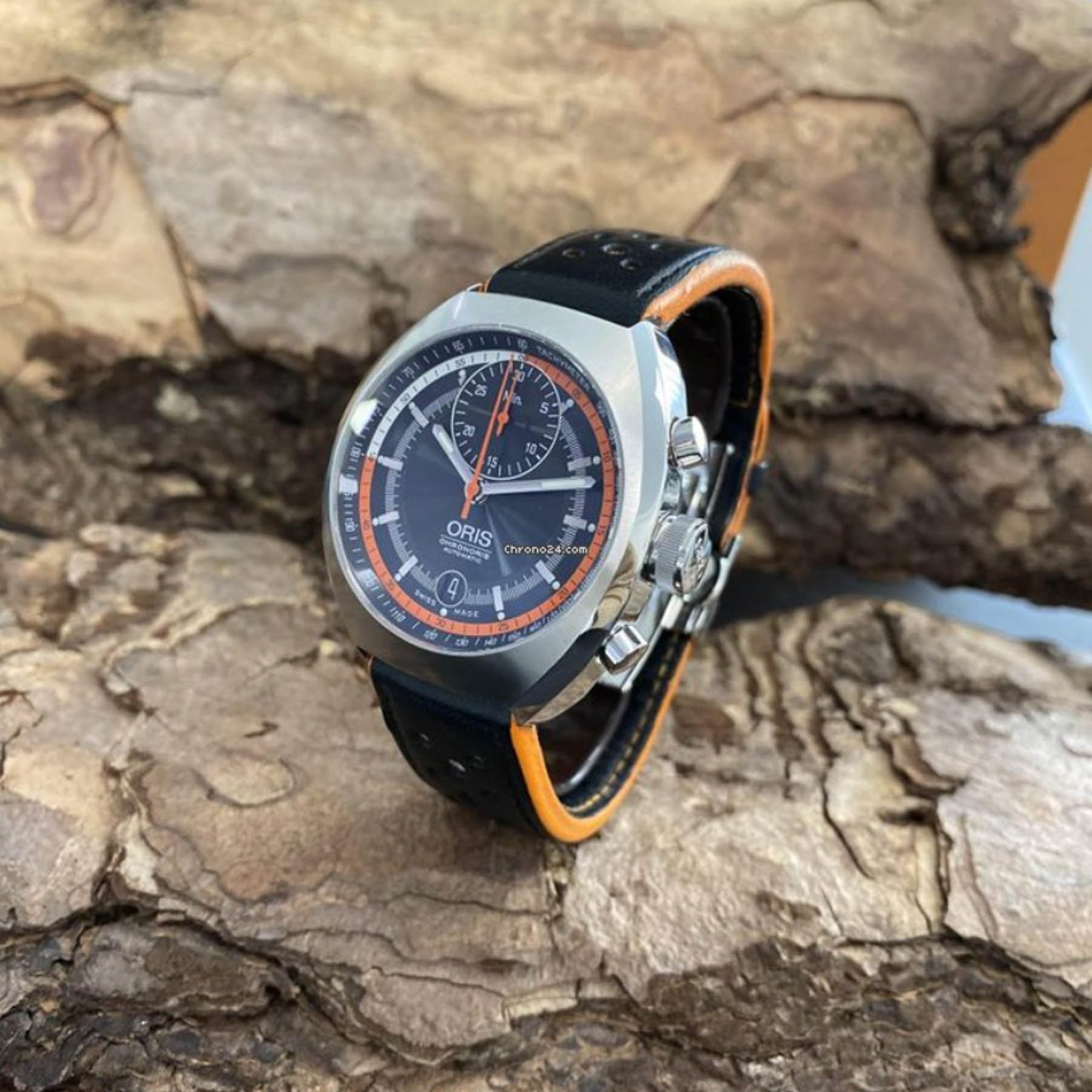 …is a seriously neat watch
I'm just going to go ahead and say this. The Oris Chronoris 2005 Replica Edition is a seriously neat watch. It's not perfect, but I really think it's worthy of your attention. Simply put, this Oris brought more horsepower than any other version before it. The company used an ETA 7750 automatic chronograph in a slightly detuned form. I say that because it only keeps the date at 6 o'clock and a 30-minute register at 12:00. The symmetry is sweet. It also combines a retro-correct color scheme in orange, black, and white in a really classy and modern dial design.
The 2005 Chronoris also came in a 40mm tonneau-style case with radial brushing that would look right at home in the 1970s. It has a flush-fitting crystal, a screw-in display back, and 50 meters of water resistance. The hidden lugs are 20mm and it's highly wearable at 45mm in length. One negative is the fairly prodigious 15mm thickness, but I suppose we can look past this. But then there's the best part…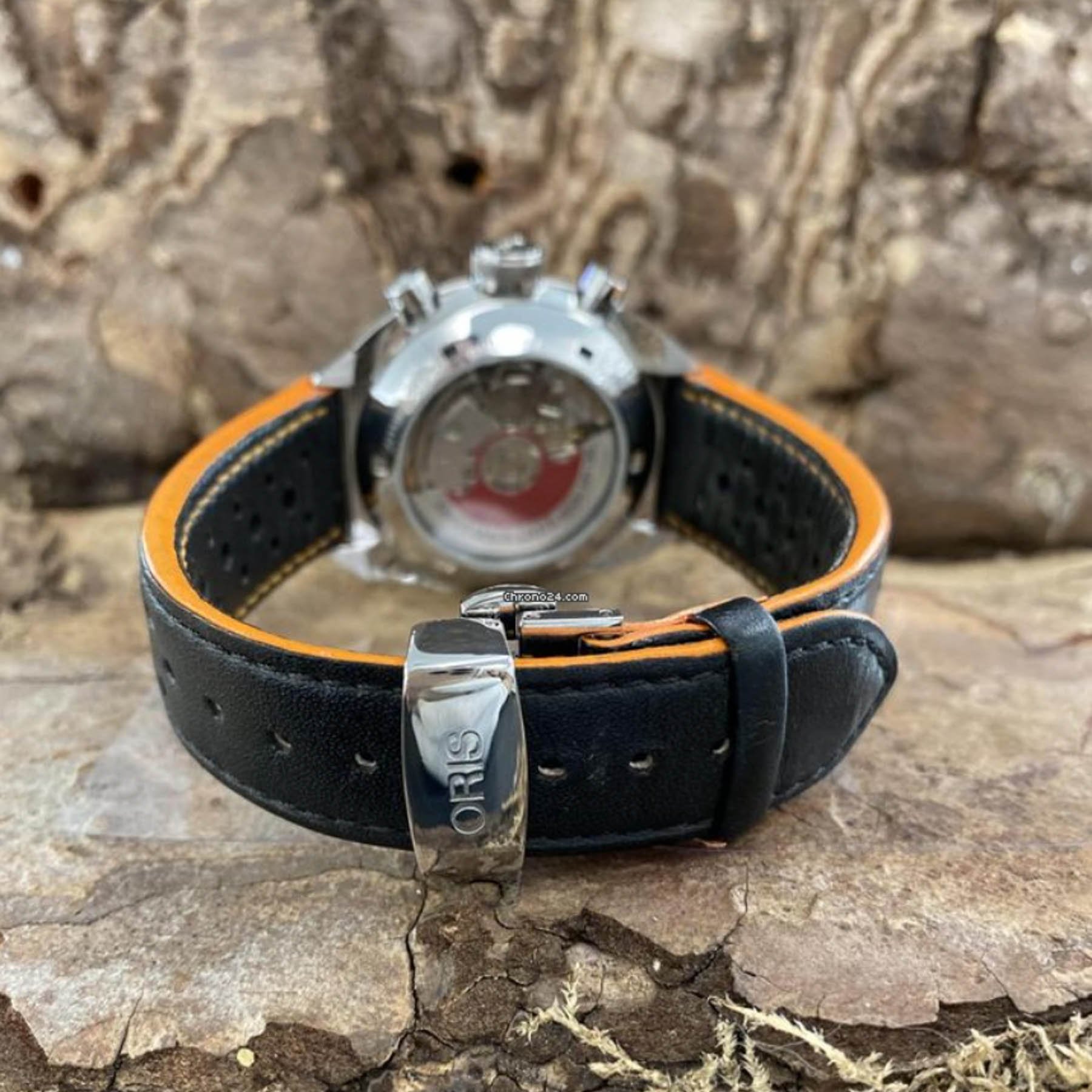 The showroom experience
Back in the mid-2000s, I recall strolling through the Somerset Collection mall in Troy, Michigan. At that time, there was a small Tourneau and they happened to carry Oris. I went in and I really noticed the Oris Chronoris 2005 Replica Edition. Aside from it being a truly attractive watch, the package is what came very close to selling it to me. The watch was sitting on a little stand on its black perforated leather strap with a deployant buckle. That strap was sweet with contrasting orange stitching and edging. What I really liked was the leather zipper pouch sitting next to it with a stainless steel buckle and strap tool.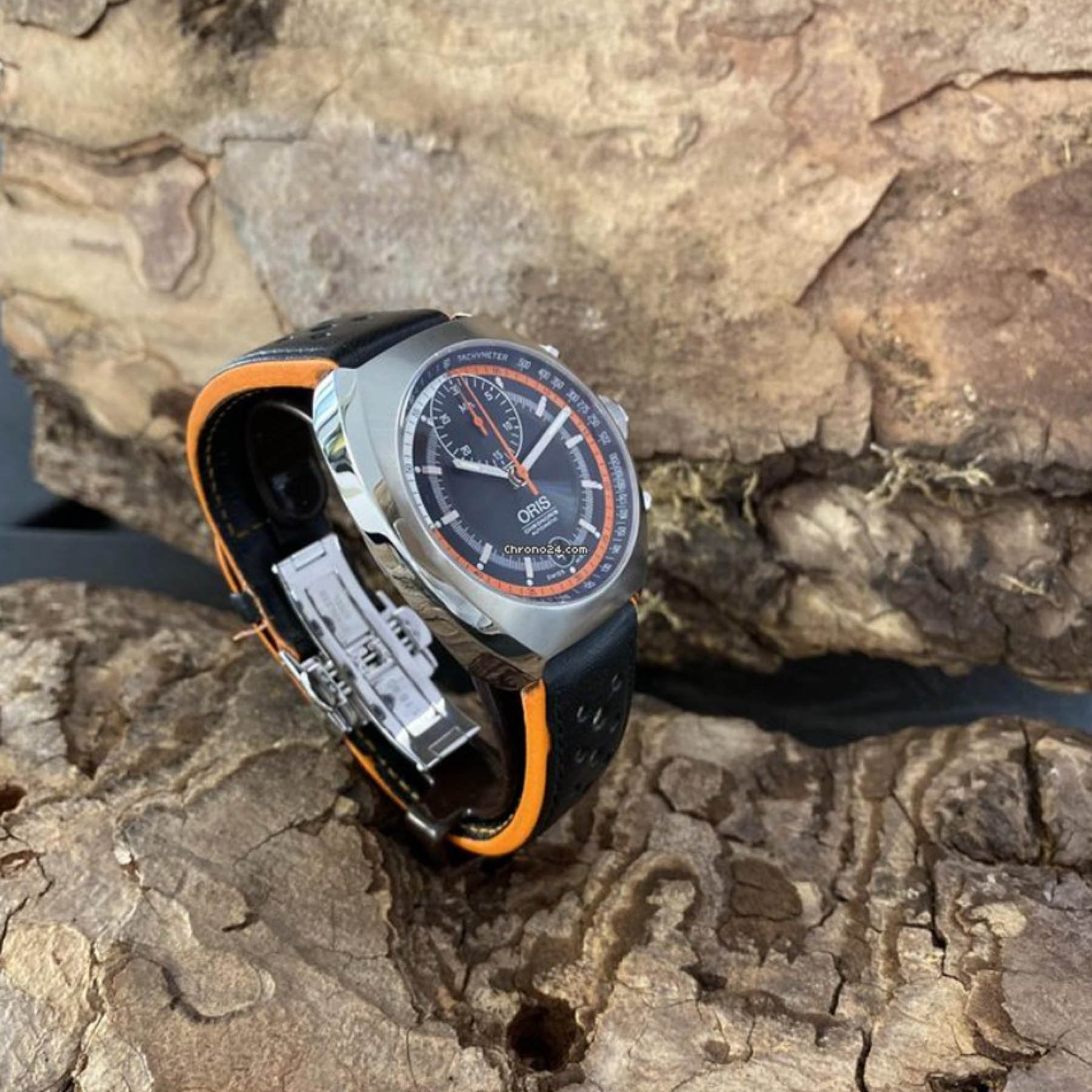 At this time, getting such a neat kitschy package wasn't as typical as it is today. The best thing, though, is that the bracelet on the Chronoris is actually really good along with the strap. Aside from such a neat package, you also have to remember that this retro chronograph space was dominated by TAG Heuer with watches like the Monaco. Now, I don't want to pick a fight here, but I actually think that this watch has aged better than some of those early TAG reissues.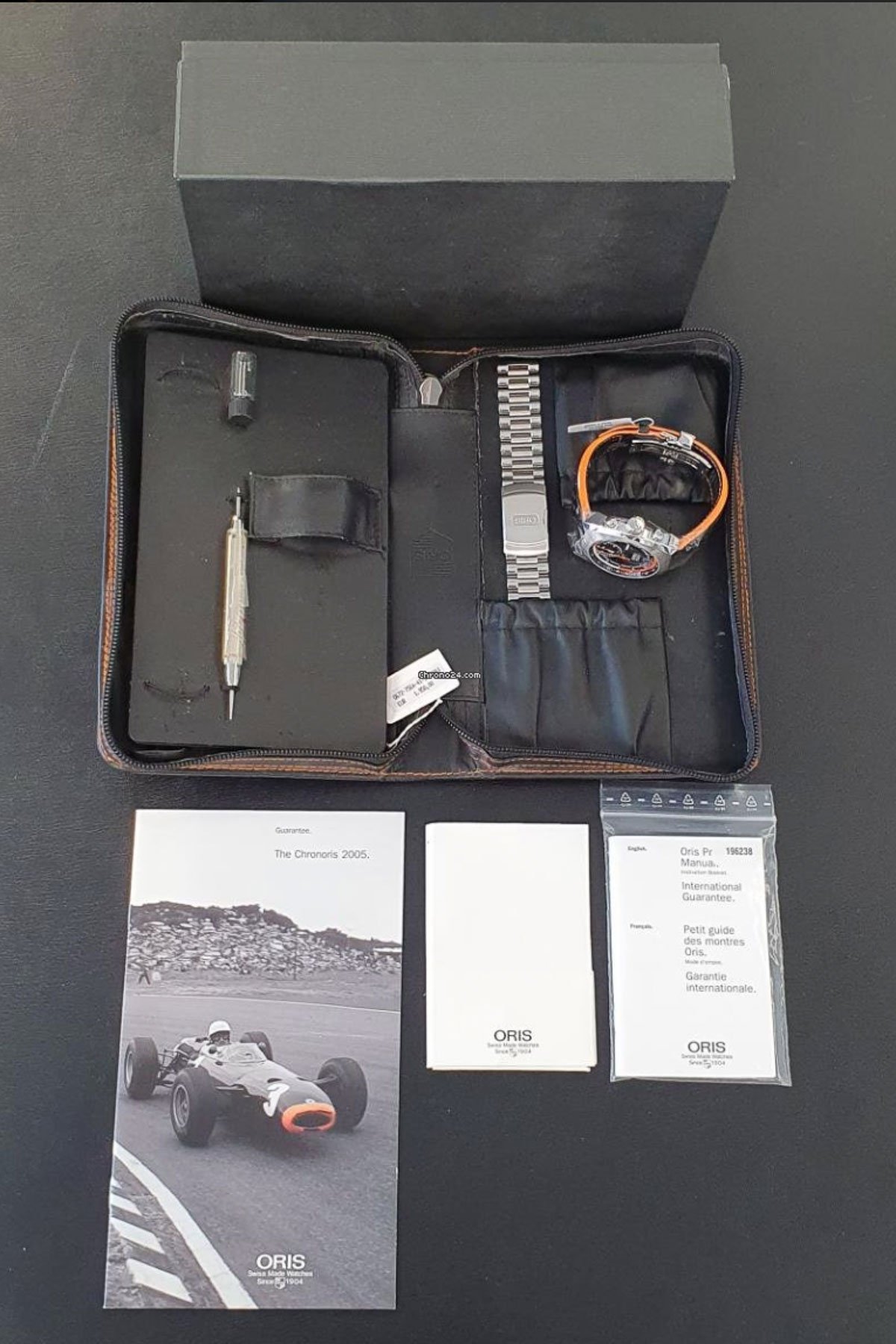 Today's candidate
Best of all, these Oris Chronoris watches weren't overly expensive. I feel like they were somewhere around $2,000, but there was usually room for negotiation. These days, the 2005 Replica Edition is still fairly easy to find. However, finding one with all the kit or the original strap isn't quite as simple. Today's candidate is on the higher side at €1,880, but it looks like it's in lovely condition. The watch and the photos are the property of Uhrenworld München Center GmbH and it's currently listed on Chrono24. As you can see, this model comes with all the kit and still looks very fresh and modern.
Oris is a great brand with an increasingly cool lineup. This Chronoris from 2005 is a really cool blast from the relatively recent past. Whether it's nice enough for your vote is what counts. Let's get to it and see where you stand on this nifty chronograph.
Oris Chronoris 2005 Replica Edition