Wrist Game or Crying Shame: Panerai Luminor 1950 Fiddy
The Early Aughts Legend Needs Your Vote
Wrist Game or Crying Shame returns with a look at a true legend: the Panerai Luminor 1950 Fiddy.  Do you have what it takes to wrist-tote one of these giants?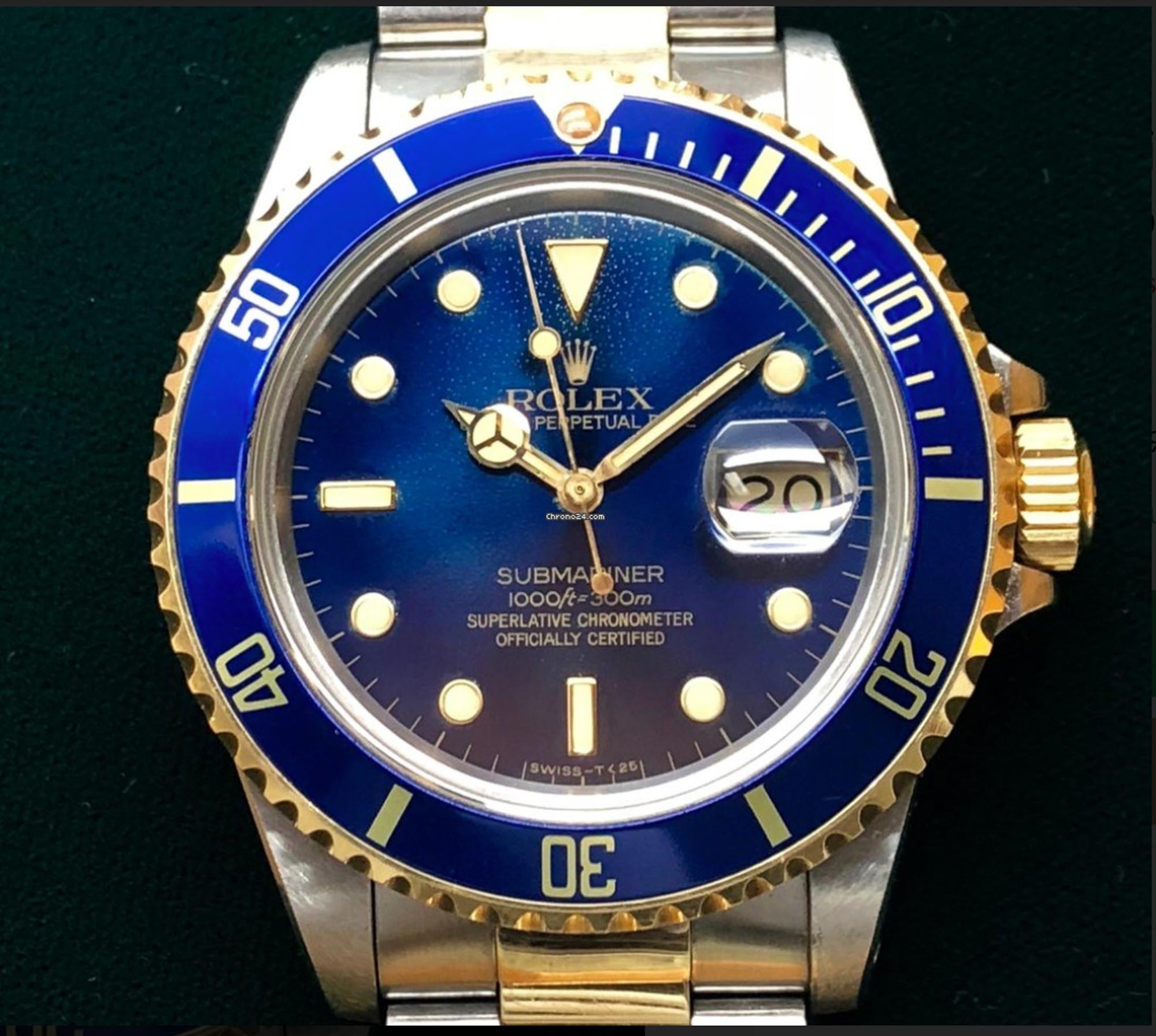 Last week, on Wrist Game or Crying Shame, we asked you to envision taking a time machine back to the 80's or 90's, working hard, but then playing equally as hard on the ocean blue.  Along with this traveling and choice of leisure activities, we also bade you to consider wearing the Rolex Submariner 16803 "Bluesy".  And while the watch we showed you quickly disappeared from internet history (remember, it was listed in Miami), roughly 64% of you were happy to channel your inner Robert Redford or later career Kevin Costner and saddle up with this colorful Rolex.  Yes, one astute reader called out Paul Newman's faithful sidekick as the embodiment of the persona I tried to describe as such a Bluesy wearer and I say bravo to you, good sir!  The 36% who felt this Sub was a Crying Shame were likely coming from the historic home of Fratello, the Netherlands.  As I mentioned, the watch has earned the nickname "Clown" in land of split pea soup and tall people and I guess they saw it fit to downvote the watch.  Of course, the fact that this piece likely contained a later bracelet and bezel insert may have had something to do with it as well.  Details…. Onwards and upwards as we say, though, because today we're changing course with a look at the Panerai Luminor 1950 Fiddy.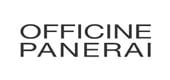 I've made reference to my long-lost love for Panerai at least a couple times before within the hallowed halls of Fratello, but allow me to elaborate at least once more.  Aside from the current silliness that surrounds steel sports Rolex models, I can remember no such watch-related phenomena quite like the craze that was Panerai in the early "aughts".  If you managed to find an authorized dealer – there weren't many at the time – you were often let down by a nearly empty showcase populated solely with overly fussy models bearing complications.  It was a magical thing to see these very different watches in the metal because they were so different than anything else at the time.  Here's a bad analogy, but if "grunge" succeeded in exiting "hair band" music from the mainstream, Panerai did the same to most of what was selling at the time.  And what was selling?  36mm watches that could barely carry the jock of an enormous 44mm plus Panerai.  You might harbor eternal hate for Panerai and its ushering in of monster-sized watches, but you can't deny that they took advantage of a market space that had gone unaddressed since, well, the time of pocket watches.  But if there's one watch that in the back catalog that defines the height of the brand's popularity, I'd unequivocally say that it's the Panerai Luminor 1950 Fiddy.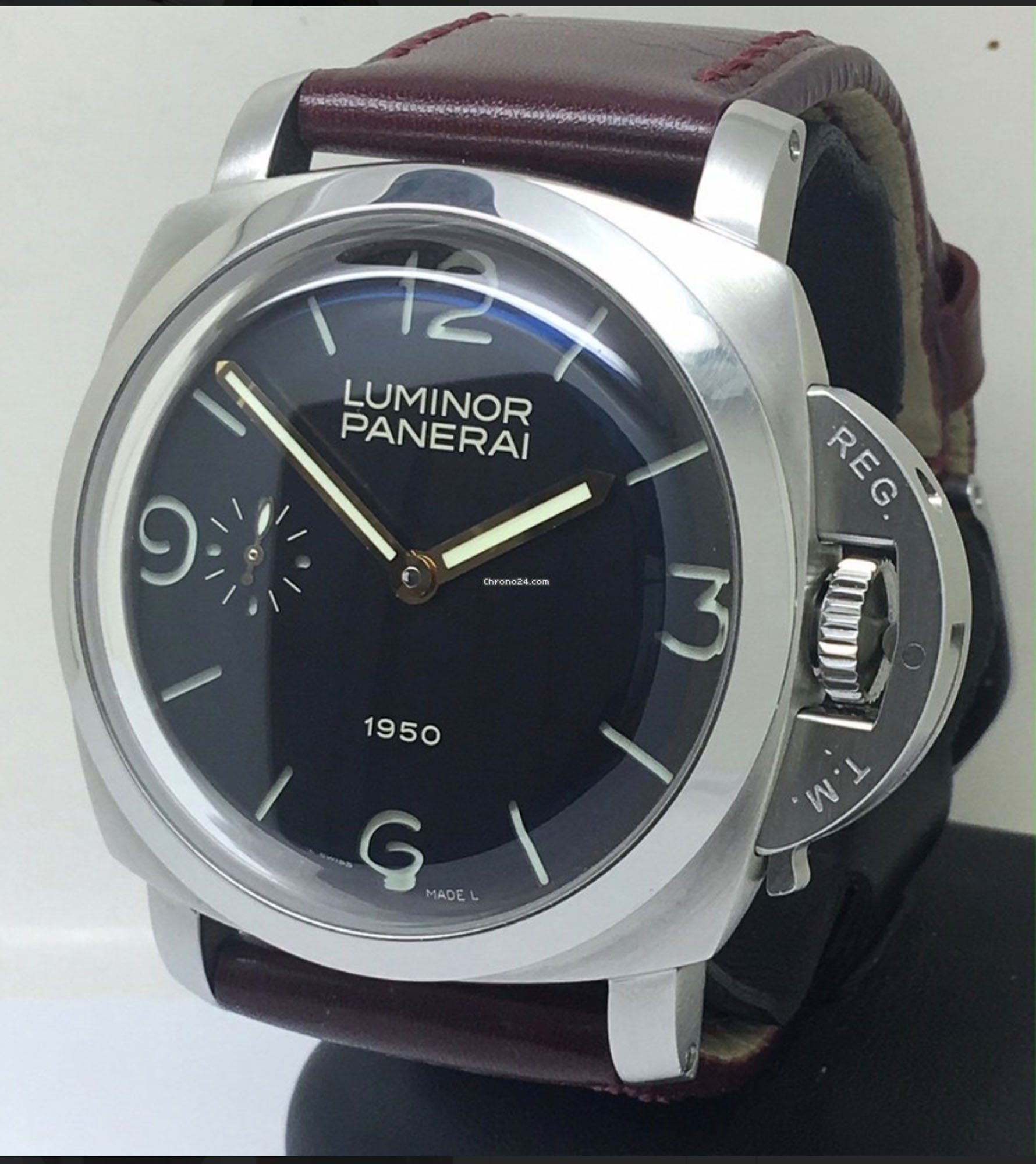 Now, if you're not a Panerai fan or a master of the obvious, you might be wondering about the "Fiddy" nickname and its origin.  Was the Panerai Luminor 1950 Fiddy given its nickname in honor of the hip-hop star "50 Cent"?  I mean, it was back in 2003 that the star released the seminal tune, "In Da Club".  Well, despite the fact that rappers often sport less-than-subtle timepieces, this watch was in fact not named after Curtis James Jackson III and he was not likely wearing such a simple piece while popping bottles of bub.  I also wish I could say the name was somehow related to the brand's most famous celebrity wearer, Sylvester "Sly" Stallone, but there's no relation there as Rocky L was not in theaters at the time.  That was a joke, by the way, as the Rocky franchise has since moved onto Creed.  No, the "Fiddy" name is simply derived from…1950.  We'll have more on that mid-century significance shortly.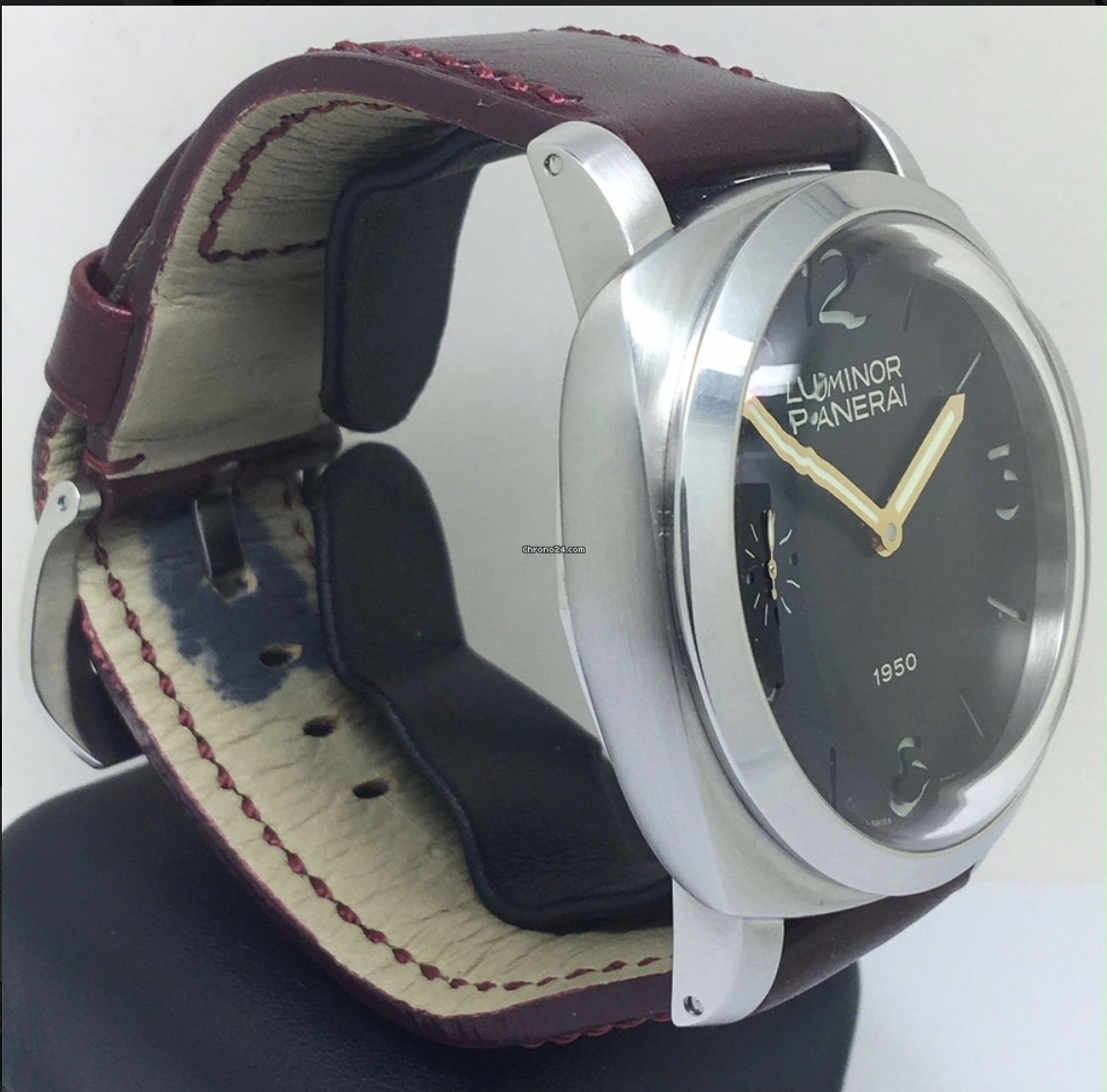 In 2002, Panerai was still in the early throes of releasing annual limited editions.  And when I tell you that anticipation for these pieces became like "new iPhone day", I'm not overestimating things – at least for "Paneristi".  New pieces would be shown and the begging would begin at the nearest AD to be blessed with the opportunity to buy the newest "PAM".  And so it was in that second year of the millennium that "PAM 127", or the Panerai Luminor 1950 Fiddy was released and the watch hit like a neutron bomb.  With 1,950 pieces released at a price somewhere in the $7K range, the watches were immensely popular.  The "Fiddy" brought in a new-for-Richemont case design that gained its inspiration from a Luminor model first released in, wait for it, 1950.  And at 47mm in stainless steel, it was a big lump of metal on the wrist.  With its severely domed sapphire crystal, aged Luminova sandwich-dial, and manual wind ETA/Unitas movement, the piece looked the vintage part.  That movement, was nicely finished and viewable via a display case back.  With old school font on the dial, small seconds at 9:00 and simple "1950" adornment above 6:00, it oozed the simplicity that Panerai fans craved.
Before we get to the meat within the bun, I'll sing you a little ditty regarding the Panerai Luminor 1950 Fiddy if you'll for the brief aberration.  A friend and colleague at the time (ok, he's still a friend and reads Fratello from time to time) was fortunate enough to be on an expat assignment in Paris.  He had bought a Panerai a year or so before and was always looking at watches.  Via this, he became friendly with a local grey market seller who had also become known to Parisian AD's.  Therefore, he wasn't allowed to buy a Fiddy new upon release.  He did, however, convince my friend to proffer one with the intent of buying it from him immediately thereafter.  And that's how it went.  My friend bought a Fiddy and walked into a swanky hotel, hopefully had a noisette, and sold said watch for a cool 50% profit.  Not bad for a day's work, is it?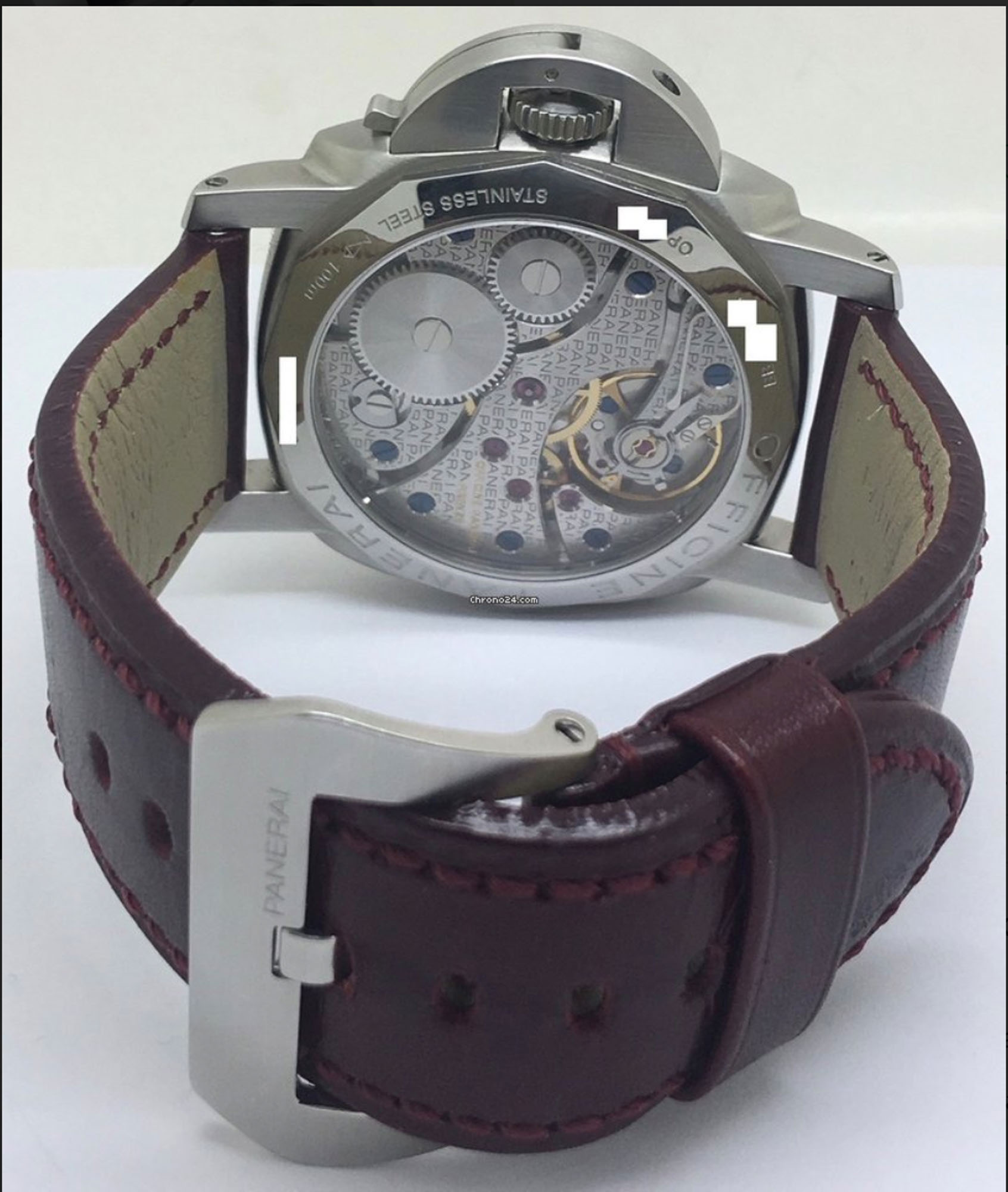 Now, unlike some early 2000's "Panny's" that have come down in value after the whole hype period ended, the Panerai Luminor 1950 Fiddy has remained a costly proposal.  Ok, at one time, prices went above the $20K threshold, but those days are long since past.  One thing that may have helped this model was the fact that while Panerai did make the 1950 case a standard part of its lineup, they never released the exact same watch as the PAM127 you see here.  I wish I could say that the brand held onto that notion with its other limited models, but they unfortunately pissed off a lot of people (including me) when they later put limited models into serial production (ahem, my Cali Dial Radiomir).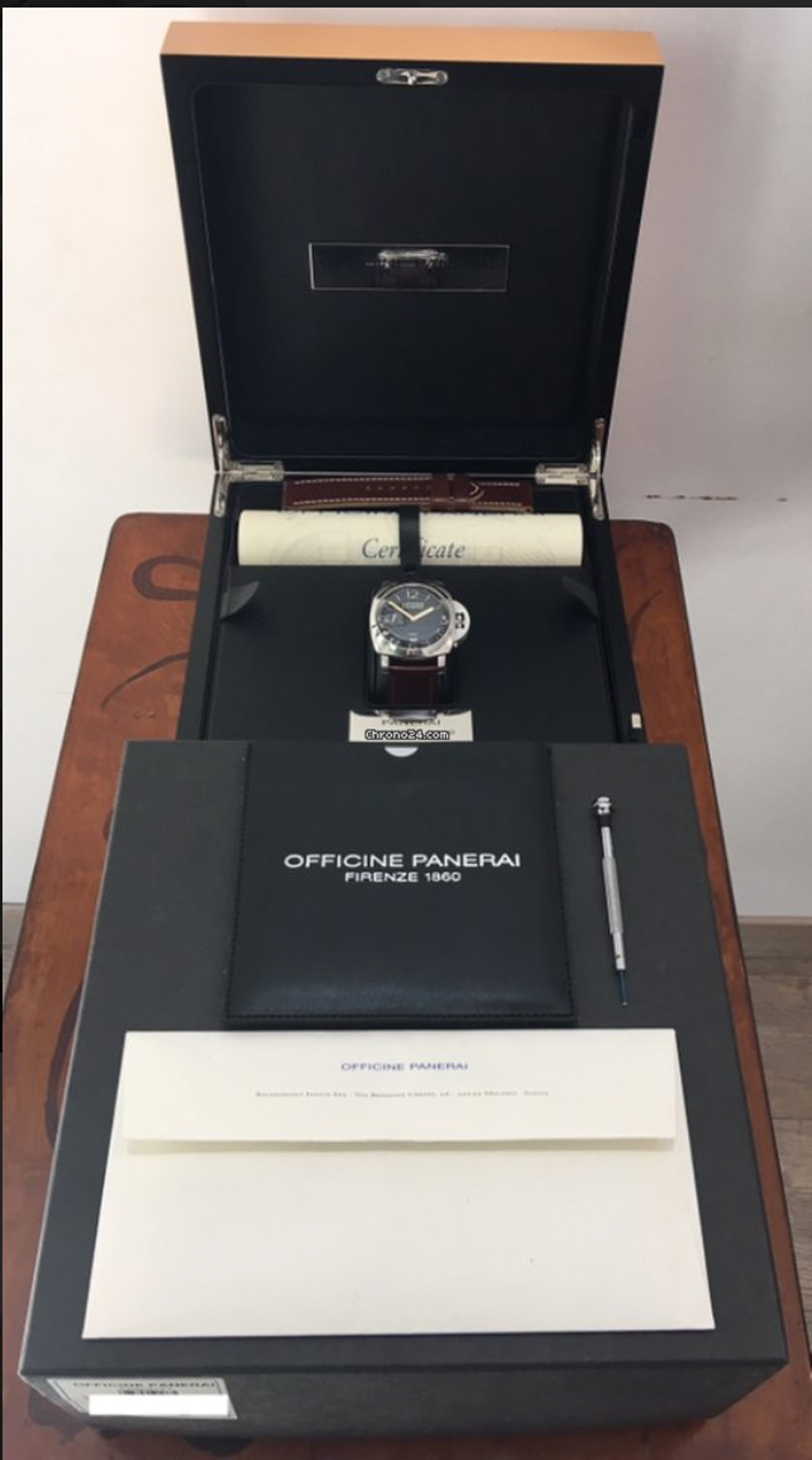 The Panerai Luminor 1950 Fiddy you see here comes in at $14,622 in today's money and it is the least expensive listing that comes with all the goods (the watch and photos are property of the seller).  Intriguingly, the cheaper PAM127'S on Chrono24 lack their boxes and papers and that saves one a few thousand.  Perhaps those poor souls also lost their full kits in a flood like I did.  Still, this one looks to be in nice shape and, fittingly, comes from Italy.  The strap looks like a replacement or possibly the alternate strap that shipped with the Fiddy's, but all else seems ok.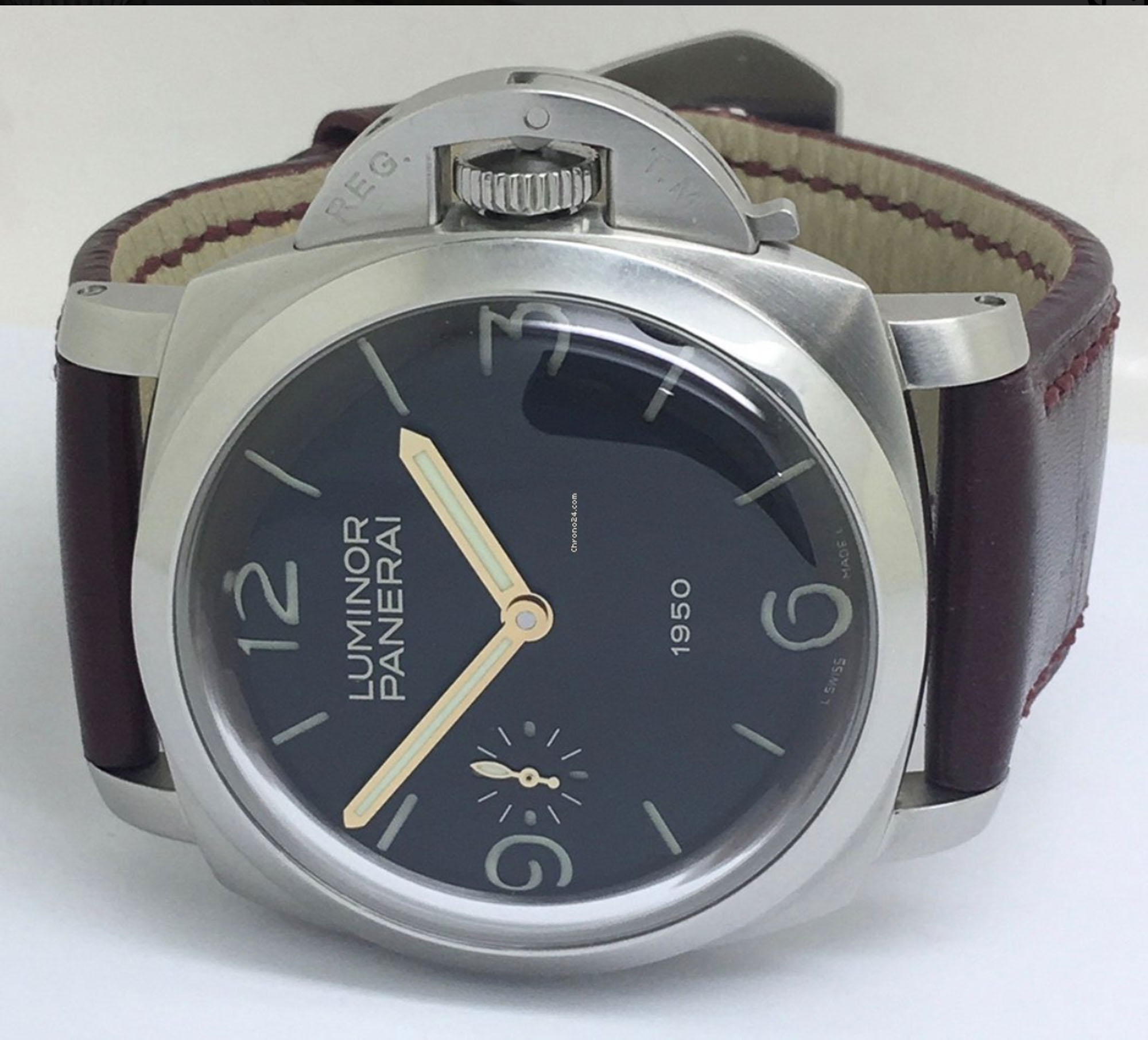 I won't kid you, I've always loved the Panerai Luminor 1950 Fiddy, but it's always been a lot of denaro for a watch that's stylistically similar to a lot of other Panerai and holds a rather pedestrian movement.  Plus, it's damn big and would likely serve more as an object of fascination for me than a usable wristwatch.  But…if you're into the Panerai aesthetic and/or interested in owning what is often considered as the most collectible release from the brand since it joined Richemont, then this just might be for you.  Now, it's time to vote…what's it gonna be?
Panerai PAM127 Fiddy for $14,622?