Wrist Game or Crying Shame: Rolex GMT-Master 16700
Are you taking to the skies and swigging Pepsi for $9,932?
Wrist Game or Crying Shame is here to see if you value history with a look at a Rolex GMT-Master 16700.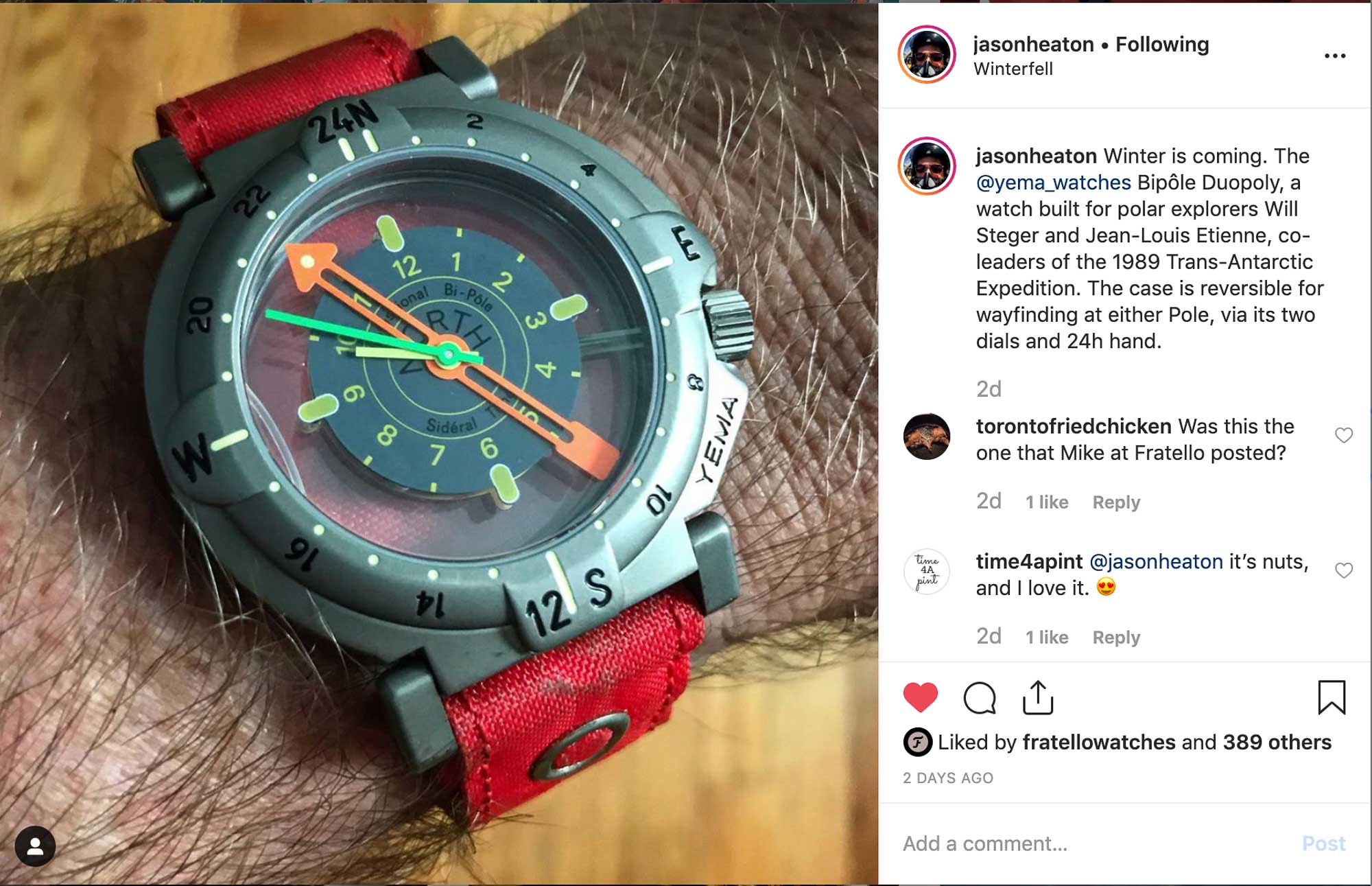 Before we get into the Rolex GMT-Master 16700, let's spend a moment on last week's subject, the Yema Bipole Duopoly.  For $569, or less than most of you spend on a pair of city-bound retro mining boots, you thoroughly denied this French oddity with a crushing defeat to the tune of 60% calling it a Crying Shame.  Ah but wait!  While the 40-percenters clearly lost the battle, one such Wrist Game voter climbed the highest mountain because he chose to vote with his wallet!  And that person was none other than Jason Heaton of The Grey NATO, Hodinkee, and other fame.  Now Jason calls the eternally frozen state of Minnesota home and drives an old Land Rover, but I must say that he'd better up his beard game if he thinks he can sport this Yema with regularity.  I can, on the other hand, relate to and support his wrist beard, though.  Godspeed, Jason, and wear that Yema well.  Just remember to have those seals checked before you dive into a Juicy Lucy.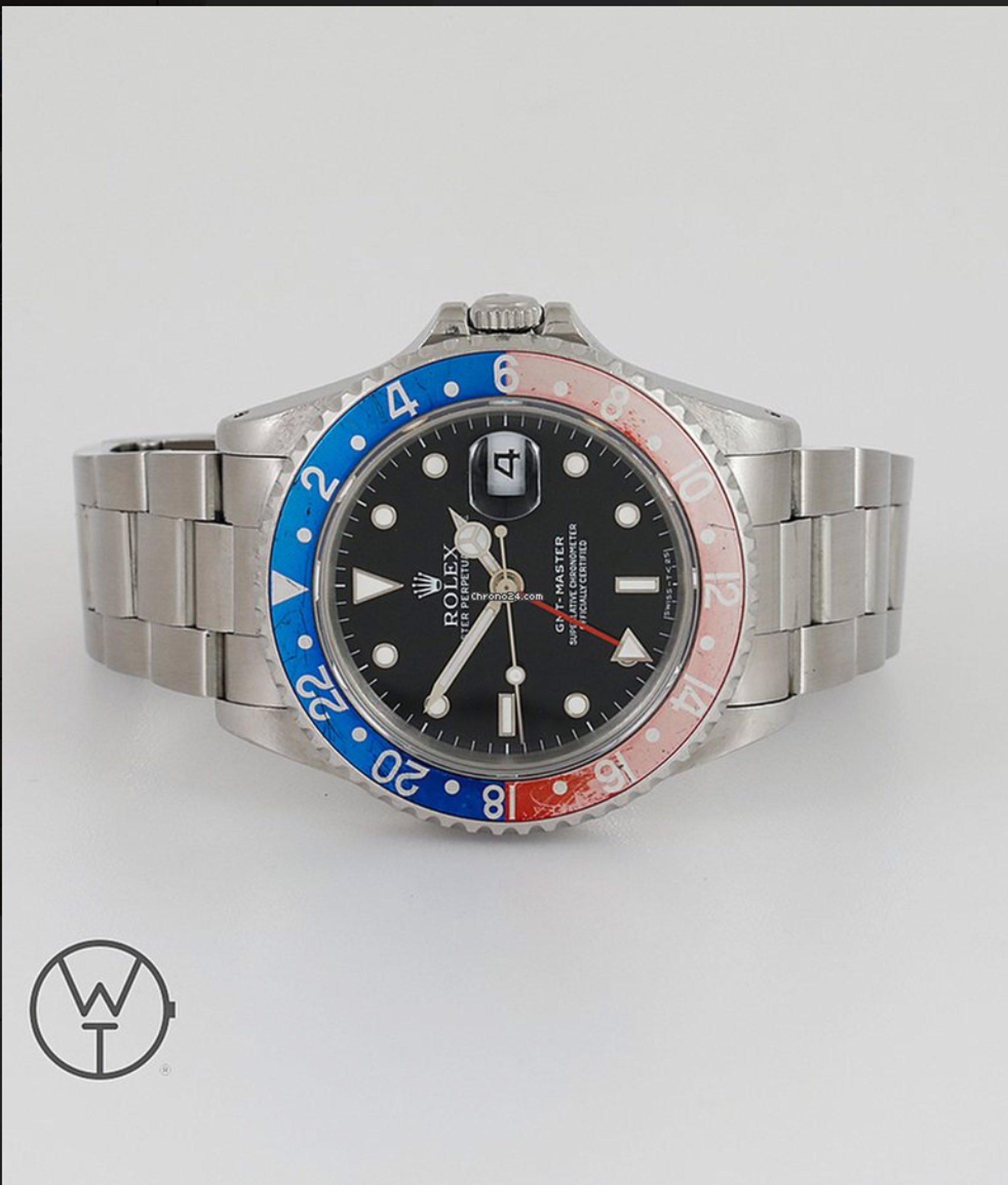 Hey, you know what's dumb?  Paying $18,000 or more for the newest Rolex GMT-Master II ref. 126710BLRO "Pepsi".  At what is essentially double list price, it screams of the "gotta have it now" type world we seemingly live in today.  And what's more, the reason people pay these types of prices – aside from the fact that Rolex can't or doesn't make enough of them – is because they don't feel like kissing the ring of their "friendly" neighborhood Coronet huckster.  Well, thankfully, there are plenty of neo-vintage models to choose from that, all at once, scratch the itch of those who like a modern watch while still bringing in some of that desirable patina.  One such model is today's Rolex GMT-Master 16700.
What do you think of commercial airline pilots?  Well, hang around and I'll give you my thoughts.  They're fine folks with serious skills who have a hell of a lot of responsibility.  I mean, aside from actual cargo, they're in charge of transporting truly precious cargo like you and me.  But best of all, they can pull off wearing short-sleeved dress shirts and, really, no one else can get away with such a look.  And second, all pilots are somehow built with a facial structure that lets them wear aviator sunglasses: that's something I've never been able to do!  Commercial airline pilots also speak with an undefinable drawl (well, actually, Tom Wolfe defined it in "The Right Stuff" as something that ace Chuck Yeager invented for all other pilots to follow) that somehow makes you feel just a tad more at ease when sh*t gets bumpy at 30,000 feet.  But best of all, and especially pre-US airline bankruptcy days, commercial pilots sported fancy watches such as the Rolex GMT-Master.  Whether in steel, bi-color, or solid gold, these captains of the sky quite enjoyed these old GMT's.  And unlike today's glittery fancy pants GMT-Master II's, these old GMT's were fairly simple tools where owners had to actually turn their bezels to display a second time zone.  Today's Rolex GMT-Master 16700 just so happens to be the last of these watches where users had to perform such an onerous task.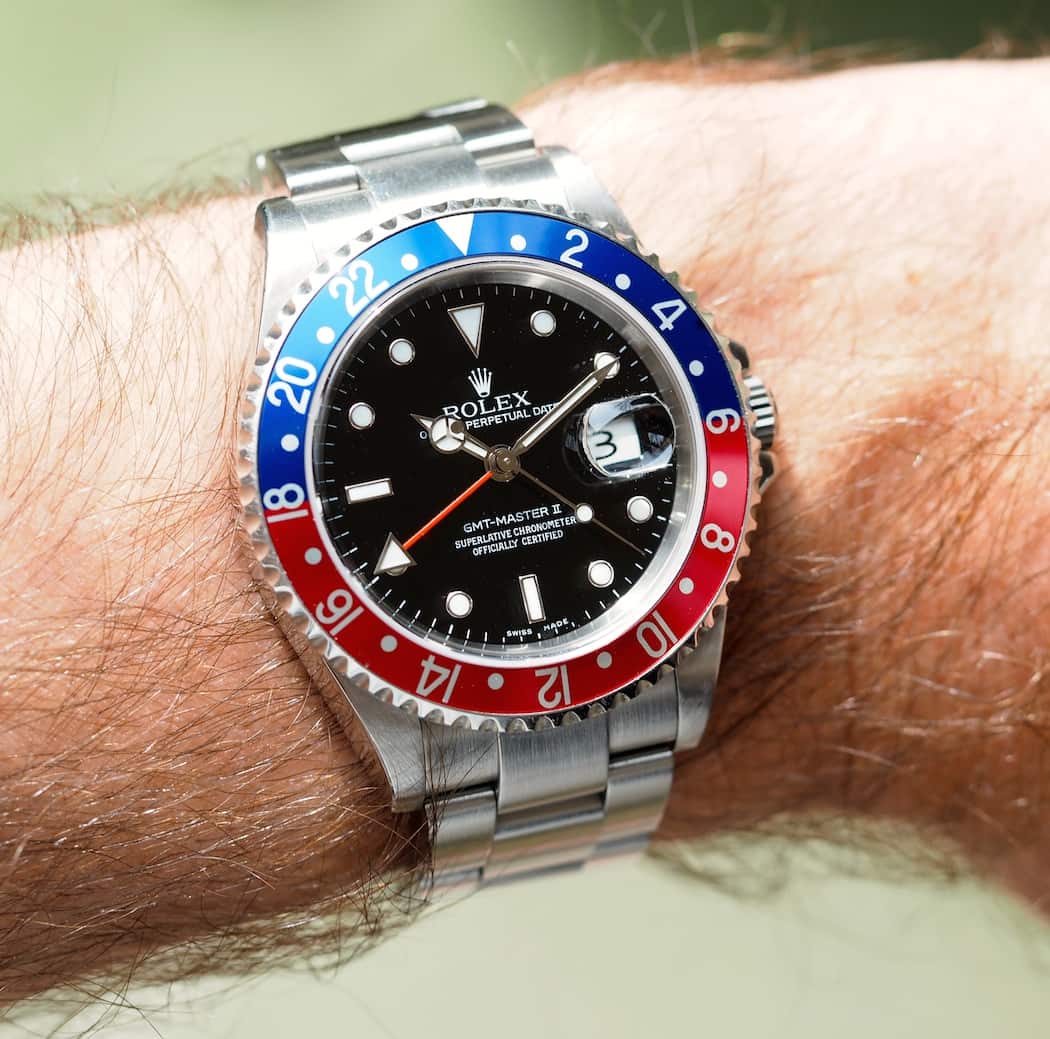 Interestingly, when most people think of the last modern GMT-Master, the GMT-Master II reference 16710 is what comes to mind.  You can see a picture of mine above and, here's some real news, I have more hair on my wrist than Jason.  In production from 1989-2007, this was the GMT that most of us remember.  The GMT-Master II brought in a quick change hour hand that allowed the watch to show three time zones.  But can you imagine this?  Rolex actually made another GMT at the SAME TIME as the 16710 and that watch was the Rolex GMT-Master 16700 (click here for our GMT-Master history overview).  Offered as a lower cost alternative, the 16700 was a little like the Porsche 924 was to the 944 (hey, that reference is even damn near period correct!).  It even looked nearly identical to the 16710.  But in my mind, the 16700 is actually the GMT that most resembles the brand's original idea of a pilot watch.  Today's GMT-Master II?  Well, Rolex has given it the motto of the "Cosmopolitan Watch".  I really don't know what to say about that…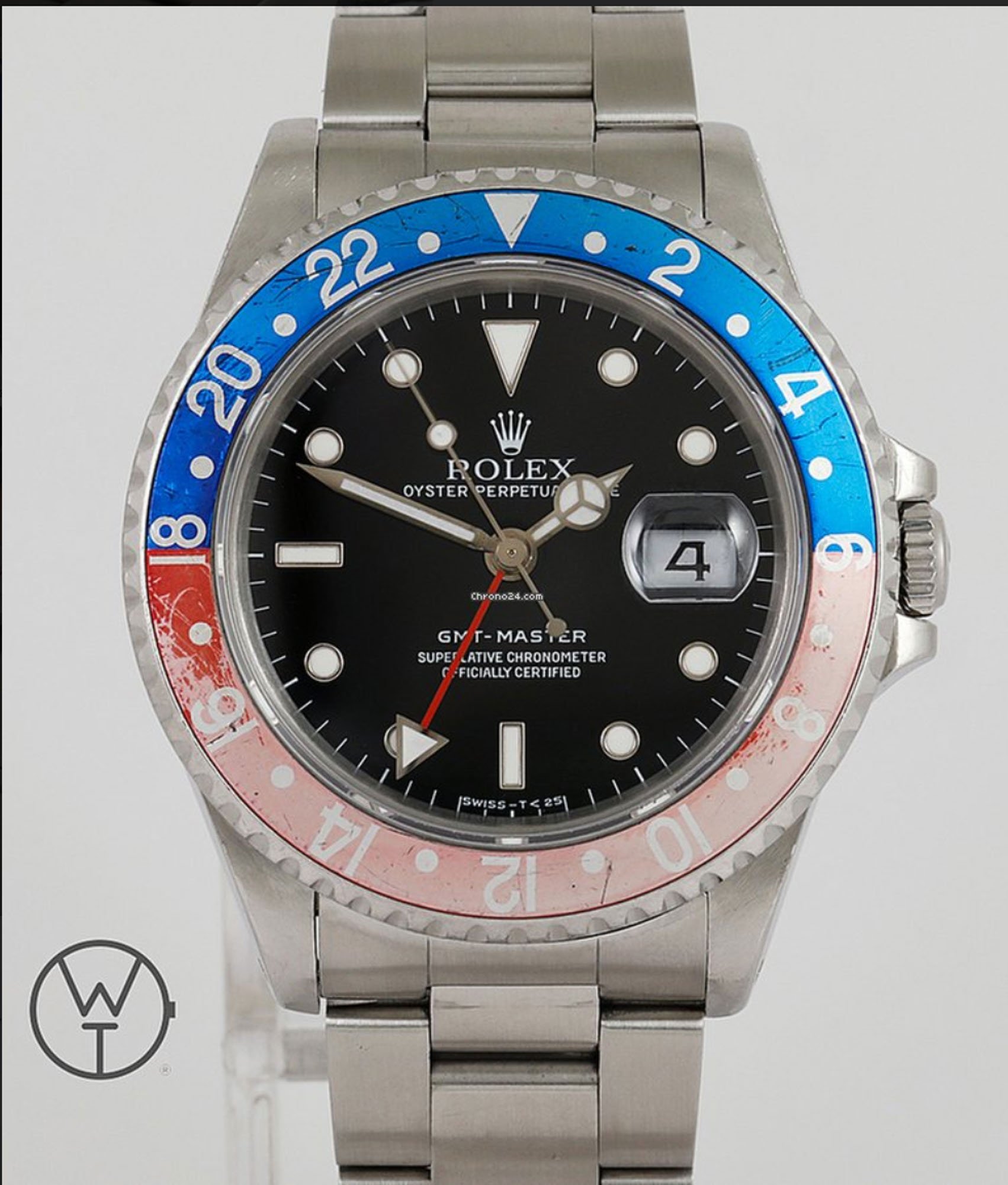 Operationally, the Rolex GMT-Master 16700 kept the hour hand and the 24-hour hand in sync just like the original GMT's that had been in existence since the 1950's.  So yes, newbies, you actually have to use the bezel to show the second time zone.  But the 16700 did add some modernity to the game during its lengthy 1988-1999 production run such as the 28,800 bph cal.3175, hacking, and a quickset date function.  Options were also there with the choice of either a black or red and blue Pepsi bezel like you see here.  In terms of bracelets, both the Oyster and Jublilee were on offer and Tritium was the lume up until the last couple years of production.  That means that most of these 16700's can take on a bit of that vintage charm if they've lived a life.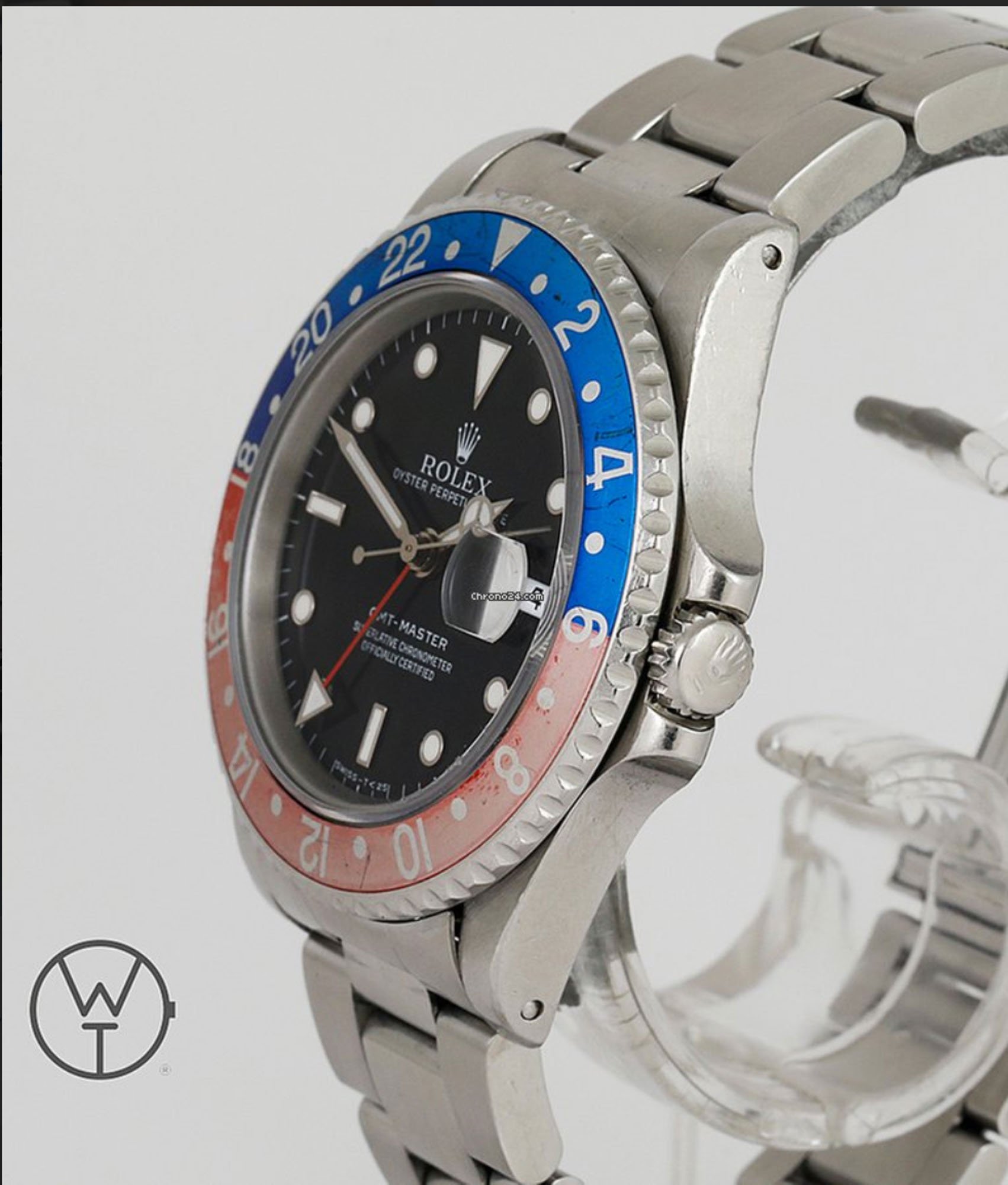 There are other things I should mention about the Rolex GMT-Master 16700.  It came with drilled through lugs.  And while those are sweeter than candy, why would you remove that bracelet when you have sublime stamped end links such as 501B's?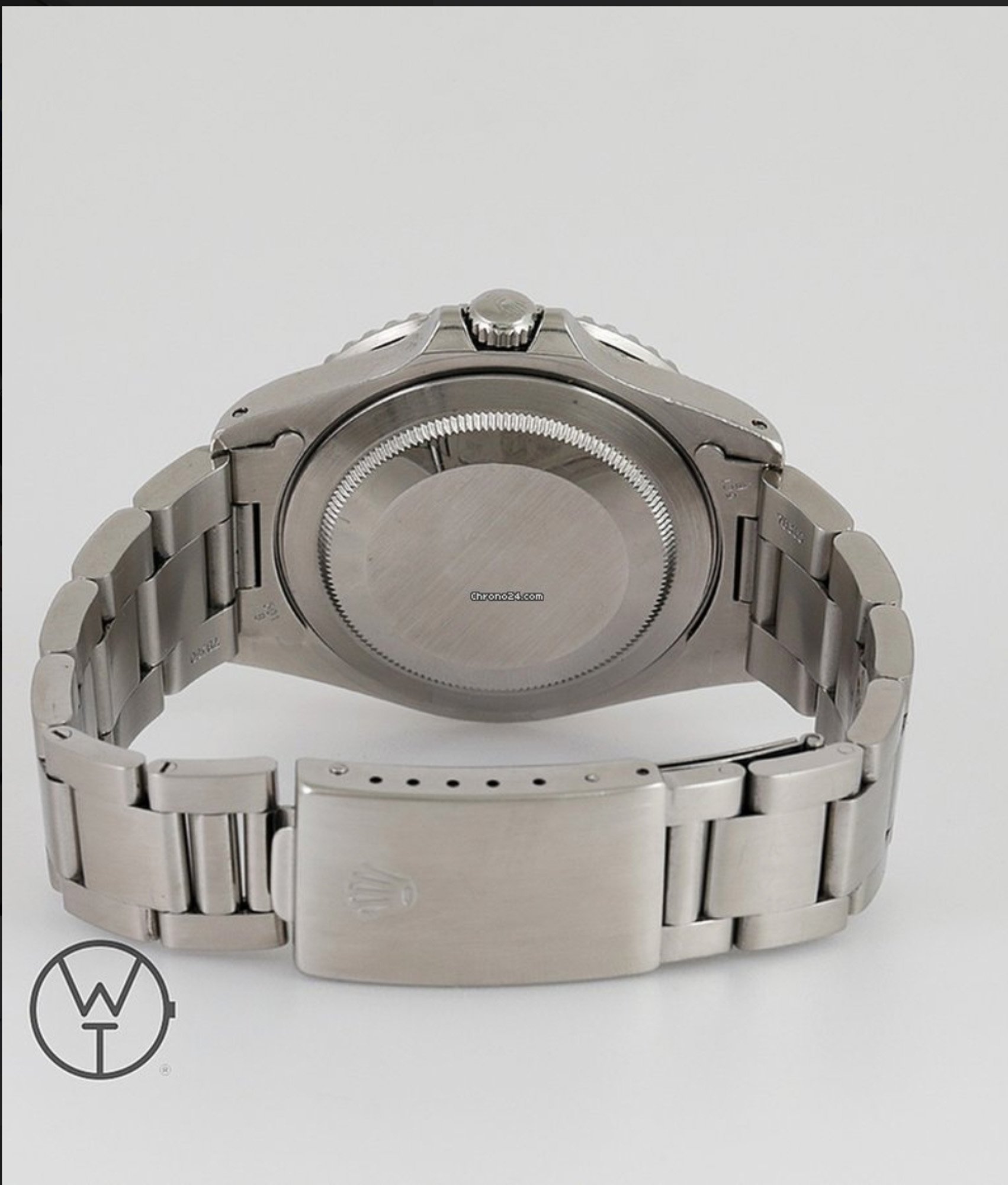 Seriously, even solid bracelets such as the 78360 when combined with these rattly stamped end links make for the kind of wear that modern Rolex simply can't offer today.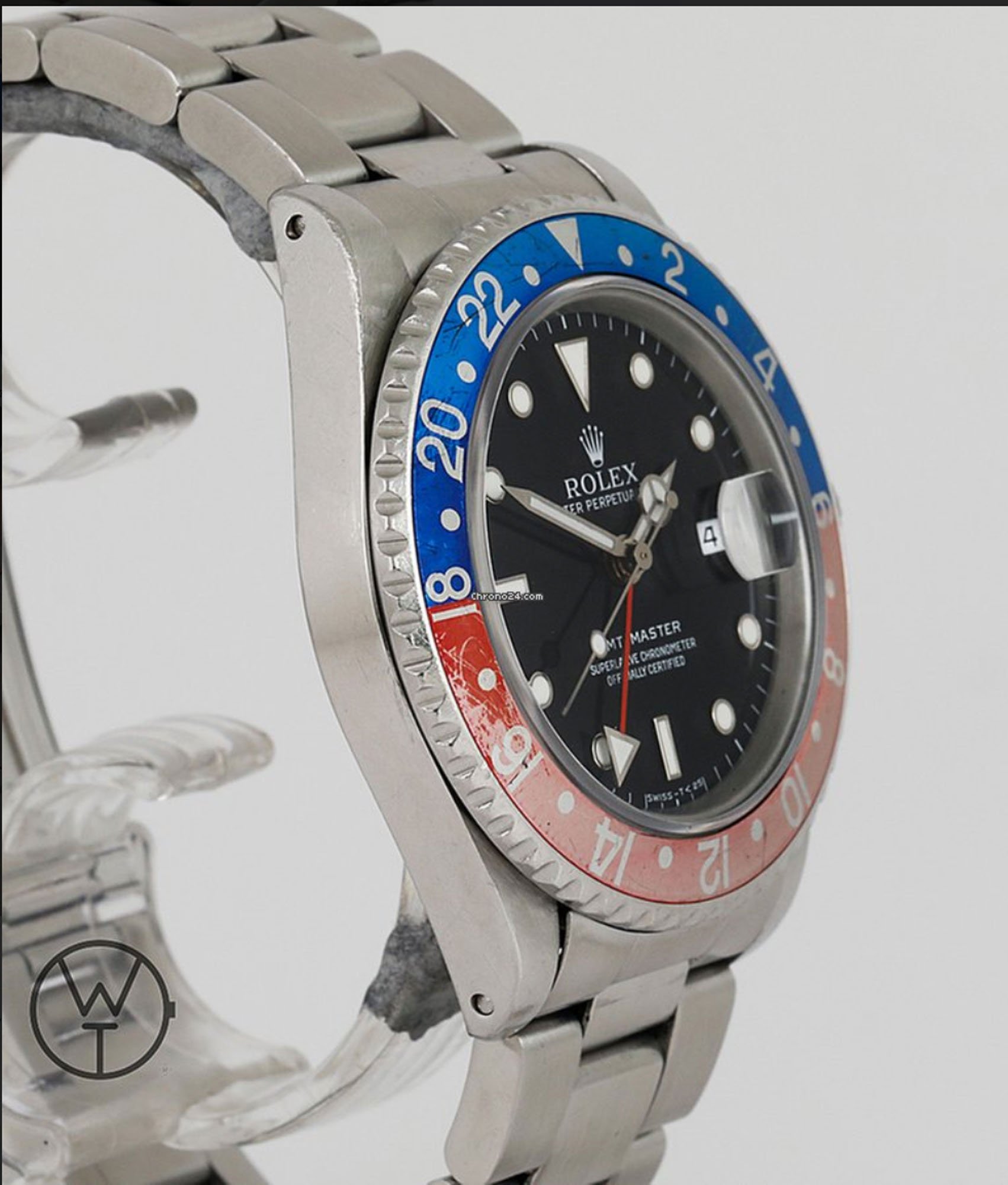 Let's gather around because it's personal story time.  Back in 2012, I had a real hankering for some form of GMT.  I had a shot at a lovely Rolex GMT-Master 16700 at that time for about 5K and that was big money at the time.  I ended up turning it down to buy a really crappy 1675 that definitely ranks as the worst dumpster fire I've ever procured.  That was dumb, but I figured that these 16700's would remain as the relatively affordable GMT option.   Well, well, well – how times have changed because they are expensive now!  In reality, the 16700's barely lagged in the pricing department versus 16710's 7 years back and that hasn't changed.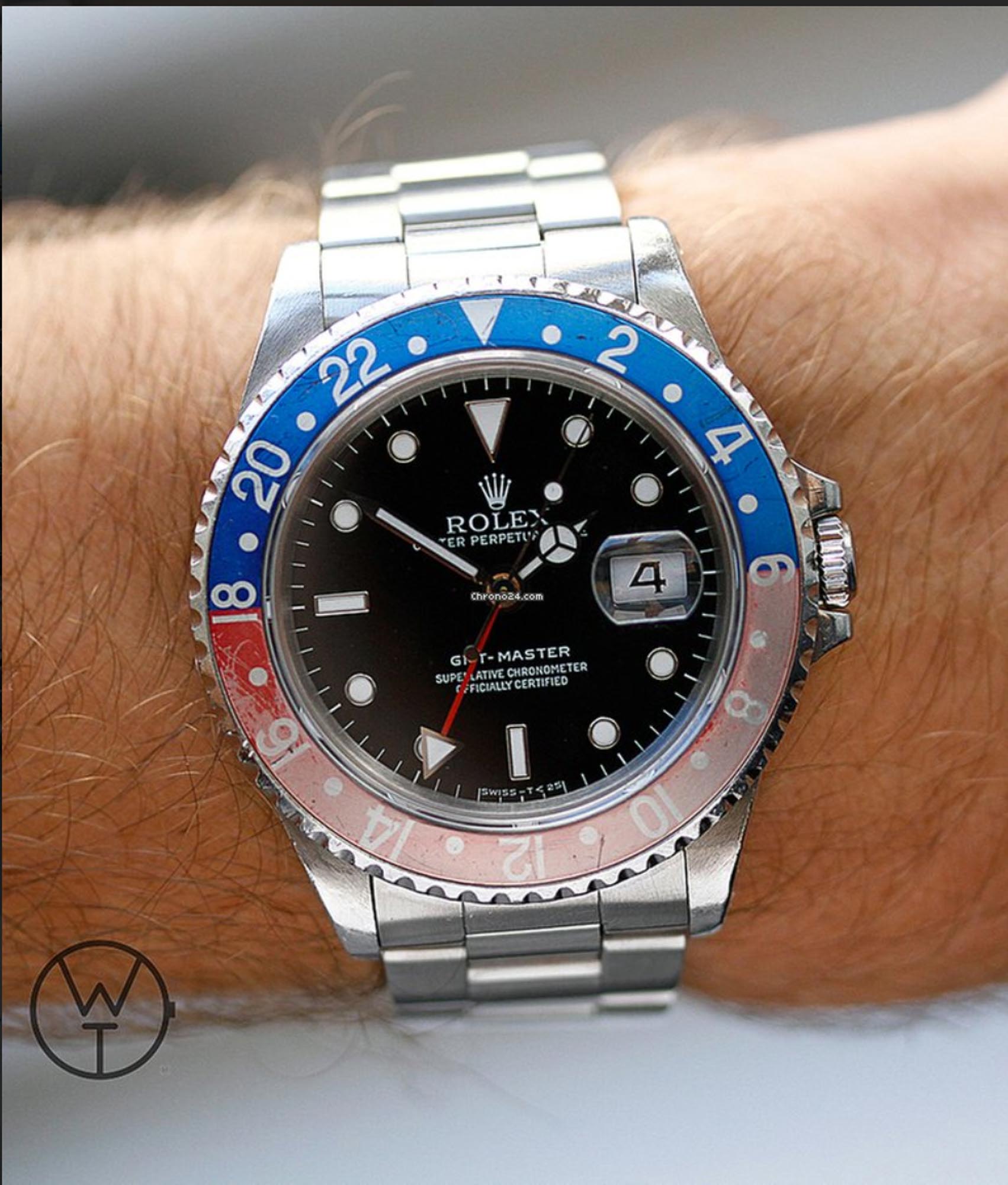 I did a lot of looking for a Rolex GMT-Master 16700 that was worthy of showing you and I think I found a pretty cool piece out of Munich, Germany (the watch and photos are the property of the seller).  Yes, as you can see, it's well worn, but it's a solid watch for $9,932.  I'd never go so far as to declare that a watch as unpolished, but this looks pretty good with honest wear and scratches.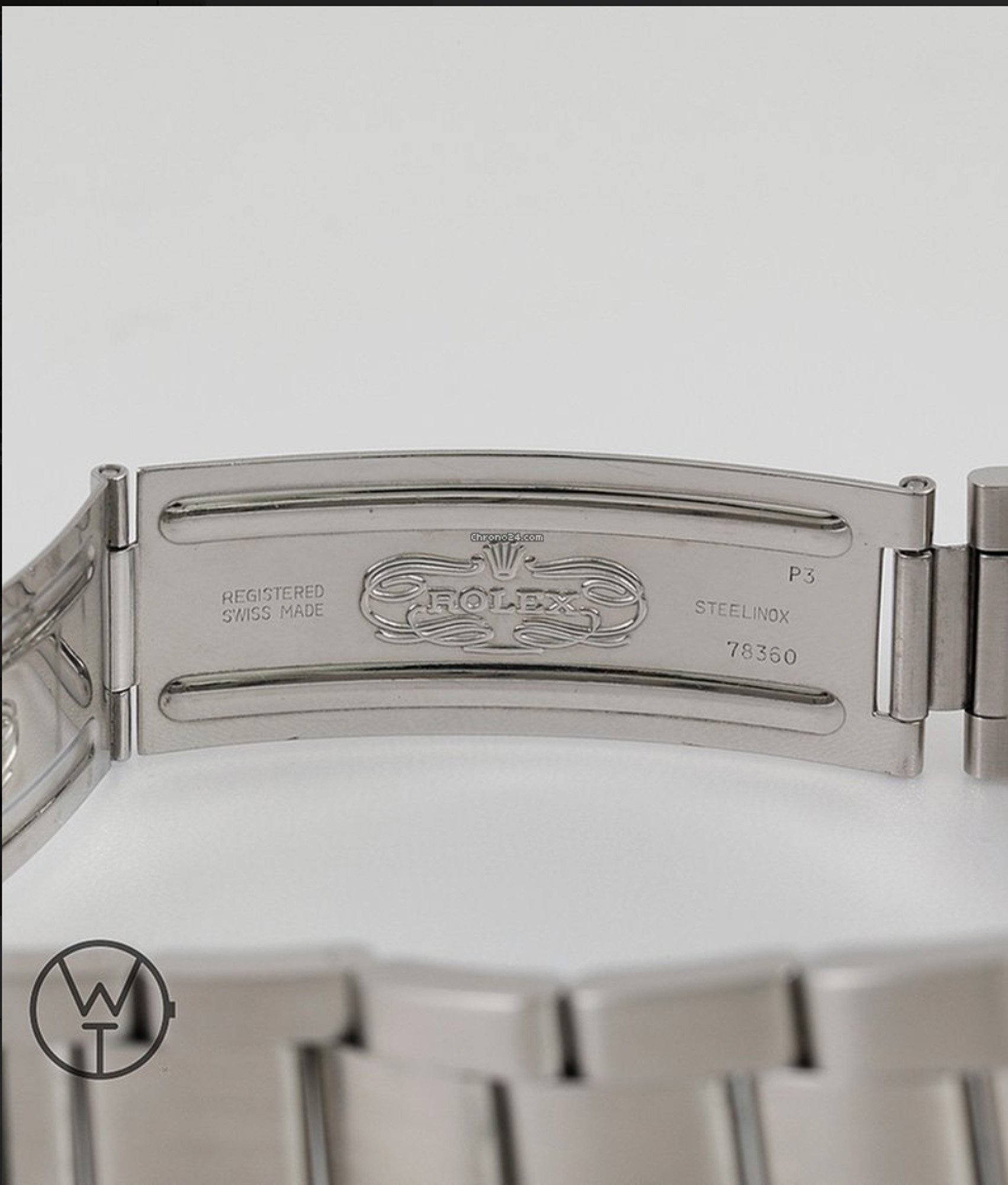 The watch seems to date to 1992 and the "P" bracelet code dates to a well-within-range 1991.  So, yes, it seems pretty good.  The bezel has the kind of fading that causes bed-wetting amongst Rolex aficionados and I'd guess that the 78360 Oyster has just the right amount of looseness.  Mmm…comfy.
So, the question is, do you opt for a broken in 90's Rolex GMT-Master 16700 at what is essentially list price for a brand new stainless GMT-Master II or do you join an endless waiting list with all the other hopelessful lemmings?