Wrist Game Or Crying Shame: Tudor Heritage Chrono M70330N
Would you go after the one that started it all for €2,844?
Wrist Game or Crying Shame is here again and it's time to have a look at the Tudor Heritage Chrono. This is the watch that brought Tudor back in the game, but will you let it play? Before we answer that question…
Last week, I showed you a discontinued delicacy with the Seiko Spring Drive Tuna. You gobbled up that ahi with a convincing 67% and hoisted it to a 67% Wrist Game win. This week, with the Tudor Heritage Chrono, we look at a watch that has just begun its second decade completely unchanged. Whether Tudor just plain forgot about this watch or if this watch soldiers on because it's so good is a topic for another day. Today, we're here to hear a little yarn from me about this watch because it got me back into watches.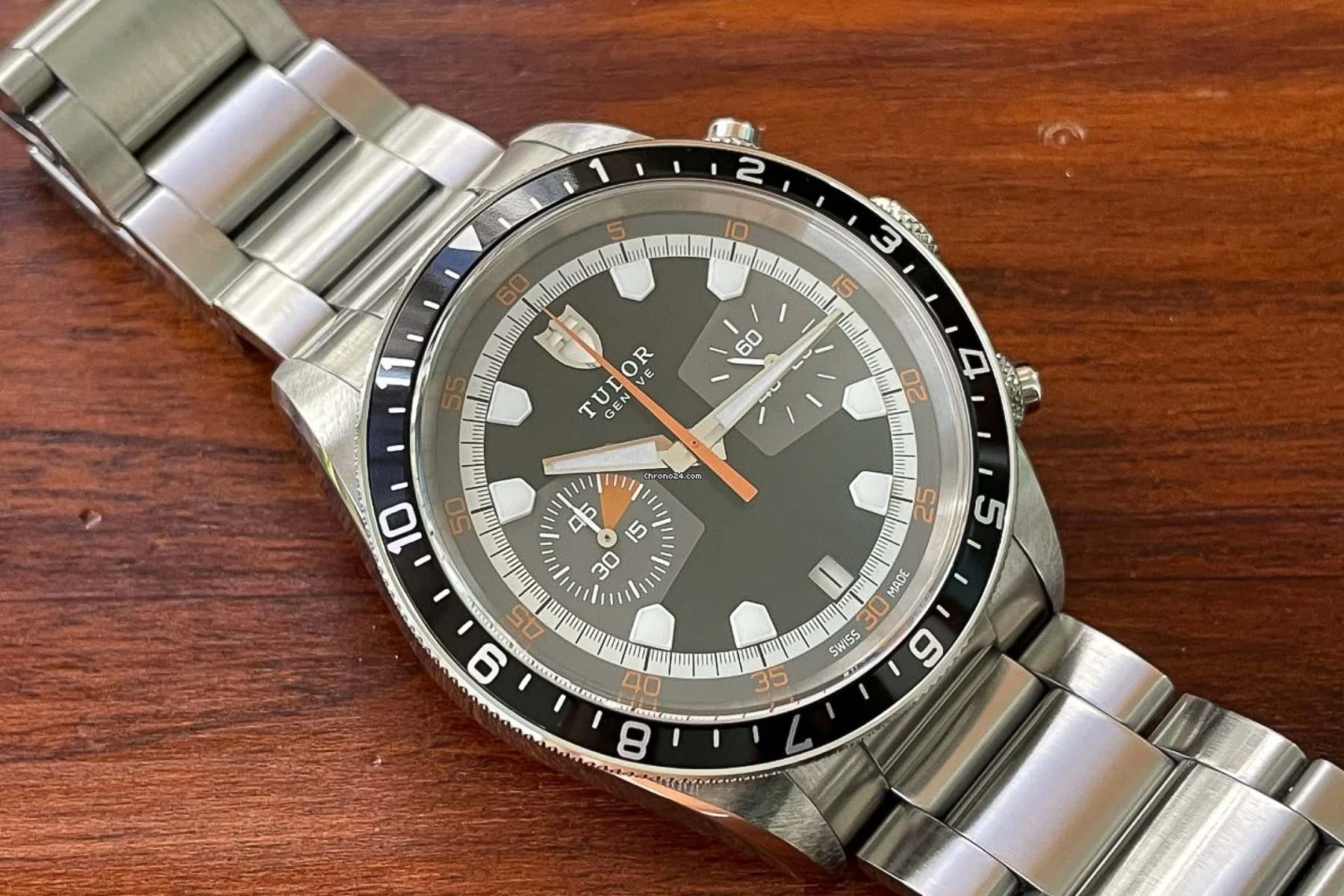 The Tudor Heritage Chrono
It's hard to believe that the Tudor Heritage Chrono has been with us since 2010, but it has. Like I said above, the version that we will look at today has been produced continuously since that time without any changes. That's relatively unbelievable these days and actually makes us think of Rolex prior to the 2010 timeframe when its models lasted forever. Perhaps, most of you won't recall the stir this watch created in 2010. I'll try to paint the picture.
In 1996, Tudor decided to exit the US market. I remember them prior to that time and as I've stated in prior articles, they were often viewed as inferior Rolex watches. I'm not sure why they vanished, but I've looked at what they were making for other markets after this time. My unvarnished opinion is that us "statesiders" weren't missing much. Tudor watches were seriously ugly and pretty darn cheesy looking. In 2010, though, all that changed because of the Tudor Heritage Chrono. You see, watches were becoming hot at that time. The recession was over and people were spending and they were getting into vintage. Tudor's timing couldn't have been better.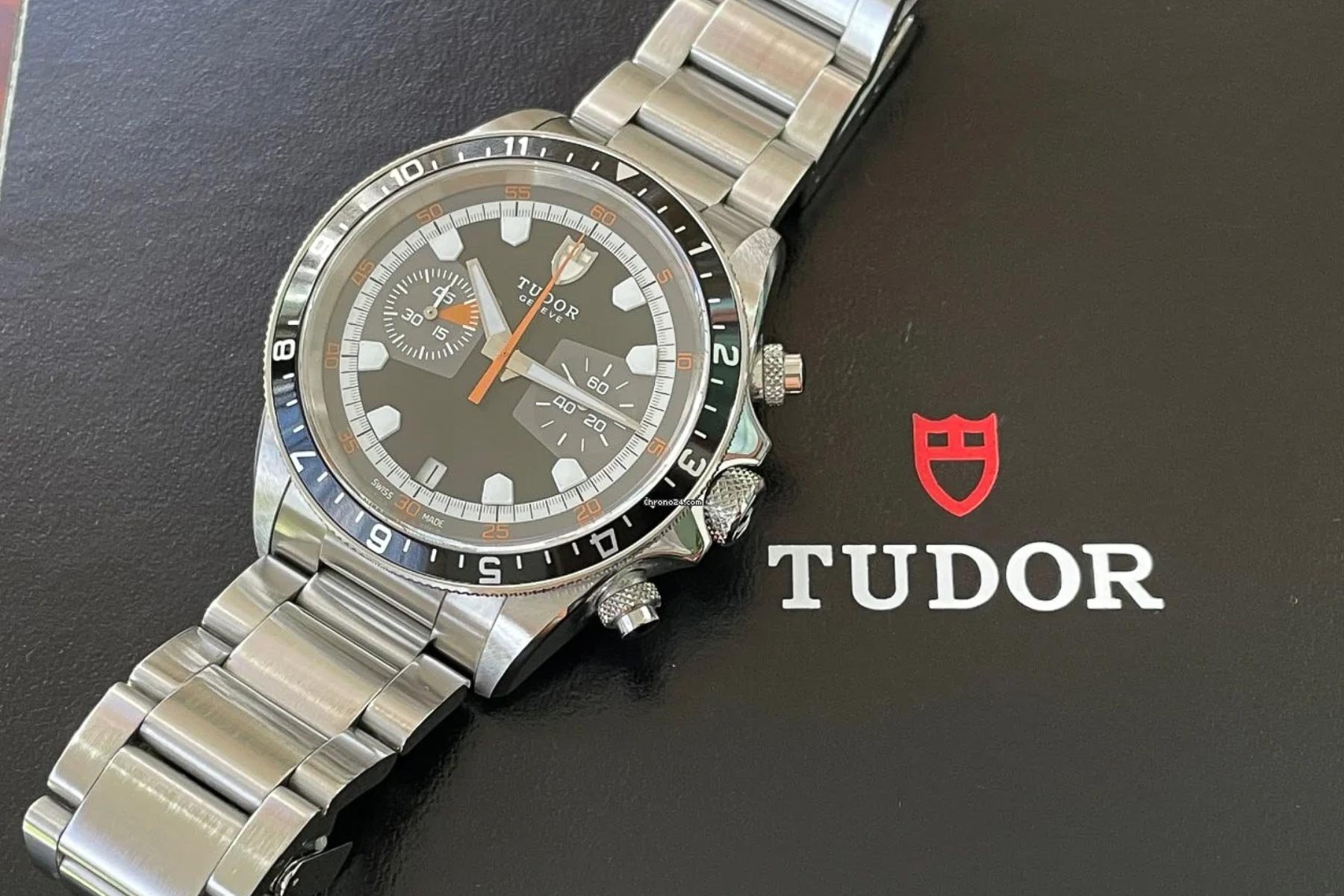 A 40th anniversary piece
The Tudor Heritage Chrono was launched on the 40th anniversary of the brand's first chronograph, the 7033. That watch, known as the Monte Carlo with "home base" indices, is an absolute legend. They're fiercely expensive today and fitted with the manual wind Valjoux 234. These colorful watches were very different from a Daytona, but collectors view them similarly. So, when the Heritage Chrono arrived with identical looks, the watch world went nuts. What the world didn't realize is that this watch would lead to annual heritage-inspired releases.
The Tudor Heritage Chrono came with either a gray or black dial with contrasting gray or black subdials. The 42mm watch came with a date at 6:00 and a bidirectional rotating 12-hour bezel. Inside, instead of a manual wind movement, Tudor chose the ETA 2892 with a Dubois-Depraz module. Yes, if you're wondering, this creates the slightly unfortunate staggered controls on the right side of the case. The watch was available on a strap or a nice 22mm Oyster bracelet.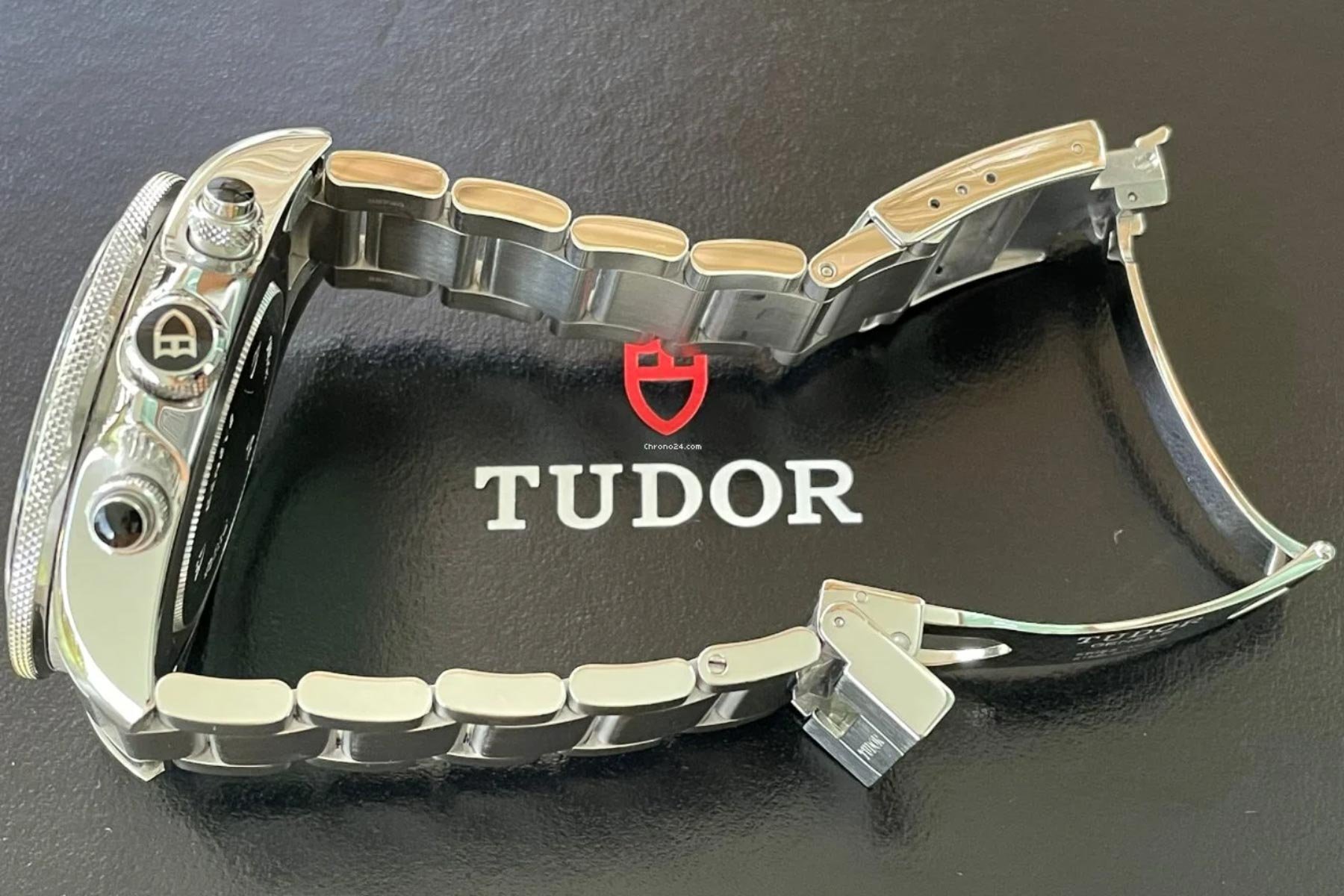 My journey with the Heritage Chrono
I still remember checking sites like Watchuseek each and every day during Baselworld 2010 to read about all the new releases. The Tudor Heritage Chrono also hit me right in the solar plexus. Tudor was partnering with Porsche Heritage racing at the time and the media shots were incredible. I had to have this watch. There was only one problem. Tudor wasn't in the USA and actually wouldn't return until 2013. This was before I had moved to Germany, but thankfully my job took me to Europe every so often. In fact, I was set to travel there in early Autumn.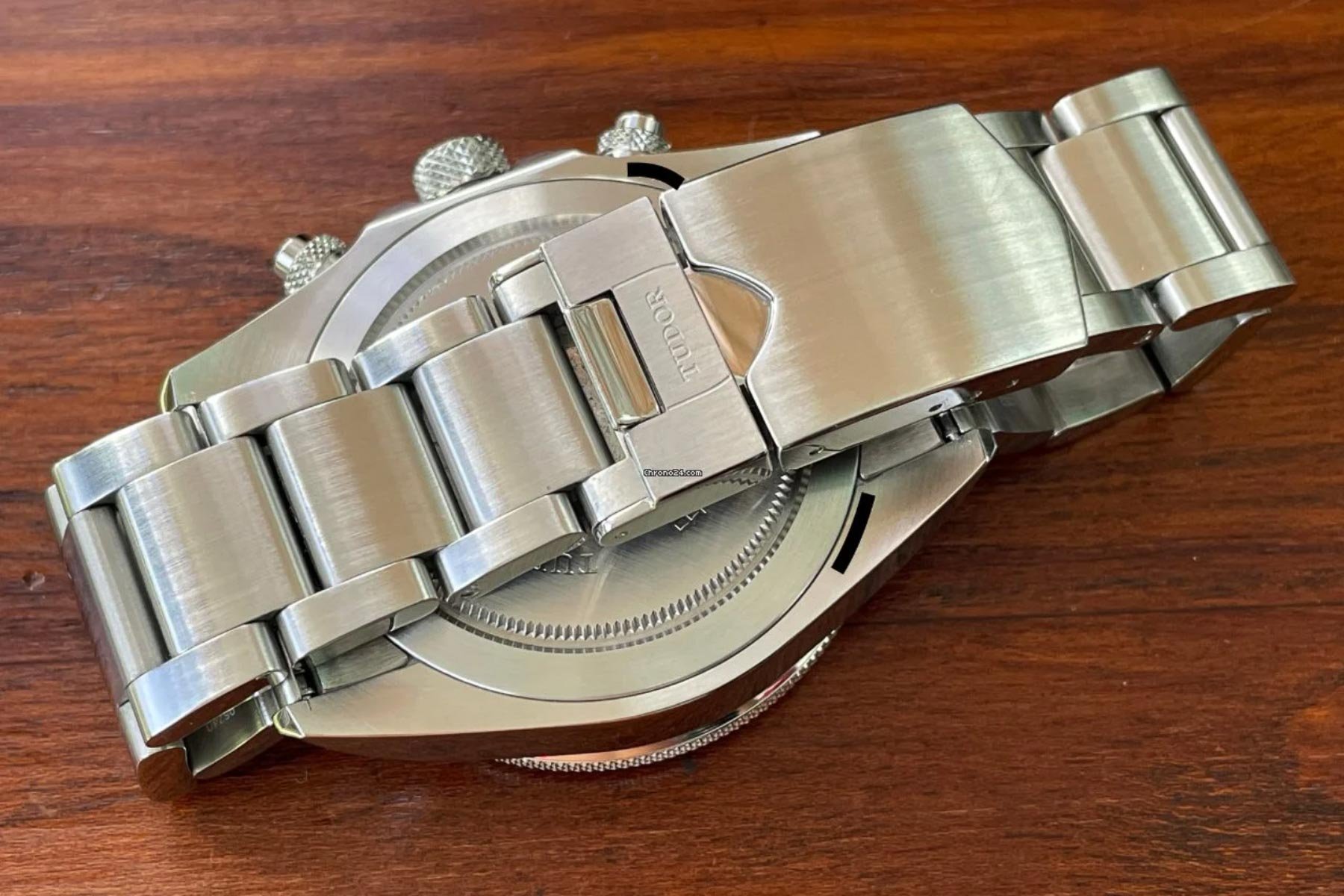 I remember calling a colleague who lived near Lake Como before my scheduled trip. I had found an AD there and asked if he'd be willing to contact them to ask about the Tudor Heritage Chrono. A few days before departure, I received an email with some very good news. A black-dialed Chrono on bracelet was in stock and they were willing to hold it for me. Sure enough, a few days later, I arrived at the small AD (they had quite a selection of Rolex and Tudor…those were the days) and my watch was waiting. Amazingly, they were even willing to negotiate on this brand new release and I walked away with a pretty sweet deal. More than ten years later, I must say that I don't wear this watch often because it is a bit large. Still, it's beautifully made and seriously distinctive with all those colors.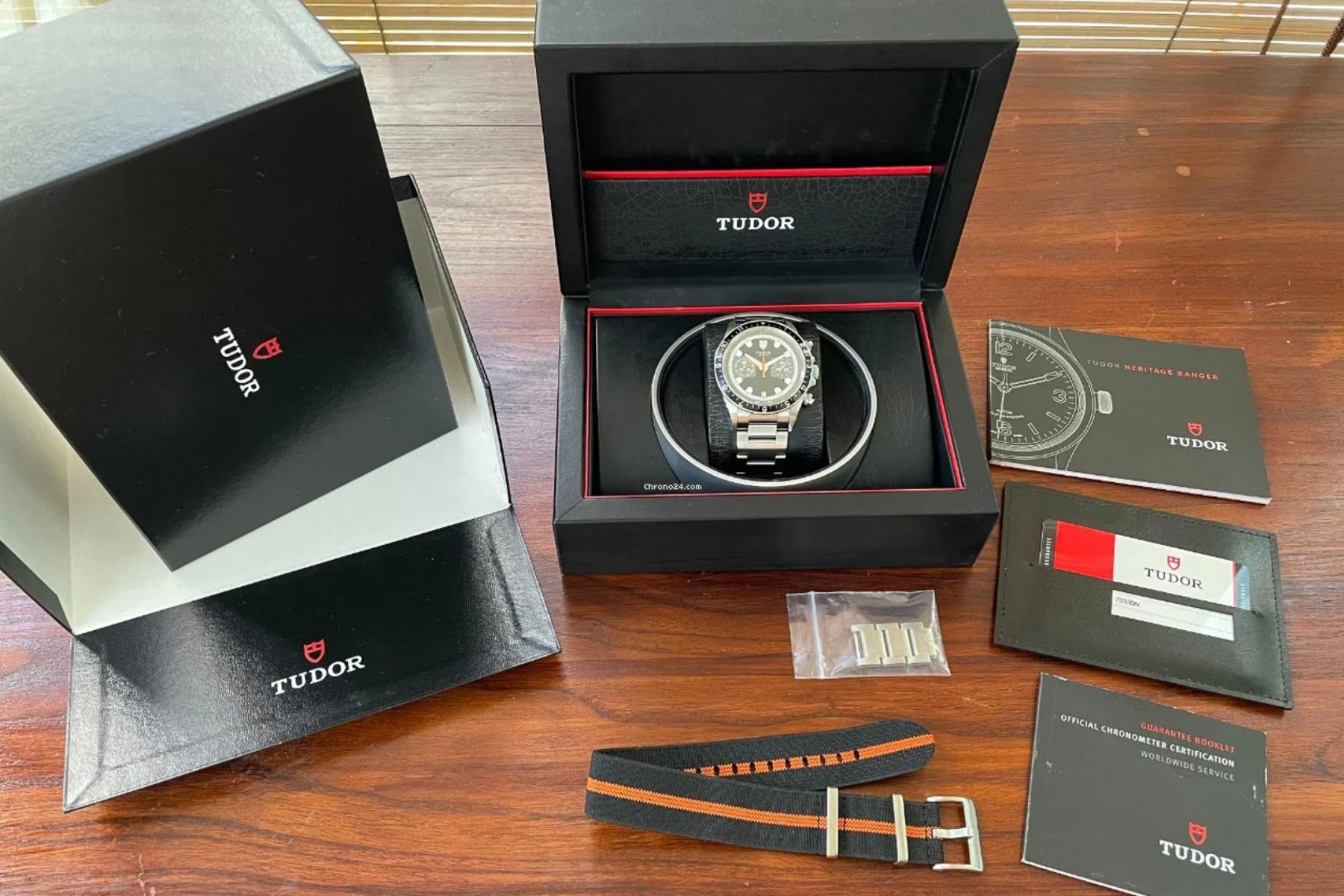 Today's candidate
I was cruising around on Chrono24 and found today's complete set candidate. The private seller resides in Singapore and owns the watch and photos. The watch dates from 2018 and looks like it's in excellent condition. He has it priced at €2,844, but is open for negotiation. To put things in perspective, a new version of this watch retails for €4,210, so this represents nice savings. These days, we forget about the Tudor Heritage Chrono in any of its guises (including the blue model) in favor of the Black Bay Chrono or chronos from other brands. True, this watch is no longer new and it doesn't use a fancy movement, but it is beautifully made and still looks great. So, this brings us to voting. More than ten years after its release, what are your thoughts about this Tudor?