You Asked Us: Longines HydroConquest or MAEN Hudson 38
This week we're answering a question we received from Joost in The Netherlands. With a budget of around € 1.000,= he wants to buy a stainless steel watch and asked us to give an opinion about the Longines HydroConquest and MAEN Hudson 38 Jet Black. He has read our reviews, however, now asks us to give a personal opinion. Which one of these watches would we buy?
You Asked Us: Longines HydroConquest or MAEN Hudson 38 Jet Black
Gentlemen,
To start with, with much pleasure I read your well-written reviews. [Thank you Joost, we love to hear that!]

I have a question about two watches which I consider buying, and I hope you would be willing to share your opinion about.
I want to buy a nice stainless steel watch, and have a budget around that of the Longines HydroConquest (red. € 1.070,=). And I love the look of that watch and like what I read in its reviews as well.
However, the MAEN Hudson 38 Jet Black, which is about to be available, attracts to me very much as well. Both got good reviews on your website, but which one would YOU buy if you had to choose?
Regards Joost.
These are the watches to compare
Let's start finding our reviews of the Longines HydroConquest and MAEN Hudson 38 watches. They're here and here respectively.
And then follow this with a disclaimer. While our reviews, the above mentioned as well, are written not much opinionated and with many facts, this write-up will be very much opinionated. Personally opinionated, because that was the essence of Joost's question. No right or wrong, no good or bad, just which watch I personally should choose. Of course, I will explain my choice thoroughly.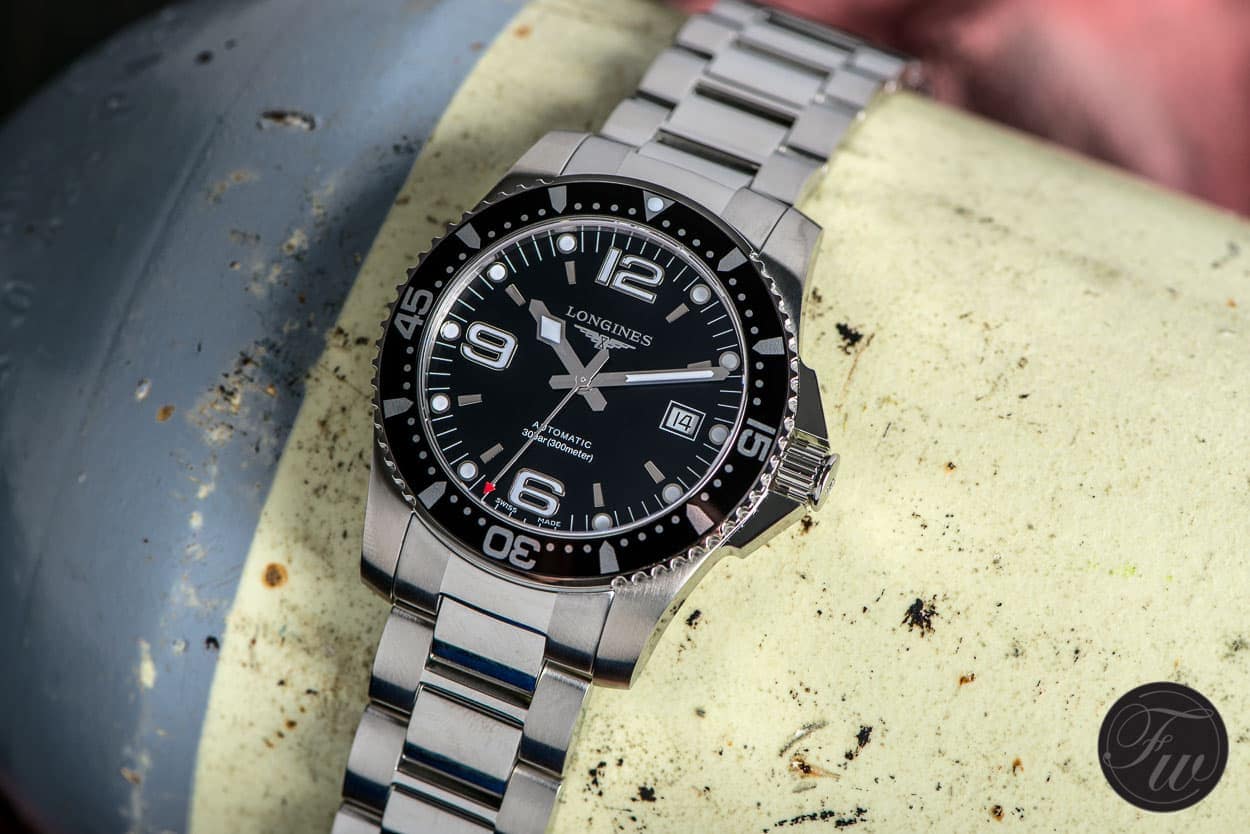 The Longines HydroConquest is available in various sizes. Our earlier review was mainly about the 41mm version, here I will compare the 39mm version as it's closer to the size of the MAEN Hudson 38. Compared to our review MAEN changed the sapphire crystal from double-domed to domed, and the ETA movement will be a 2824-2 Elaboré. And compared to our review of the Longines, the movement has been meanwhile updated.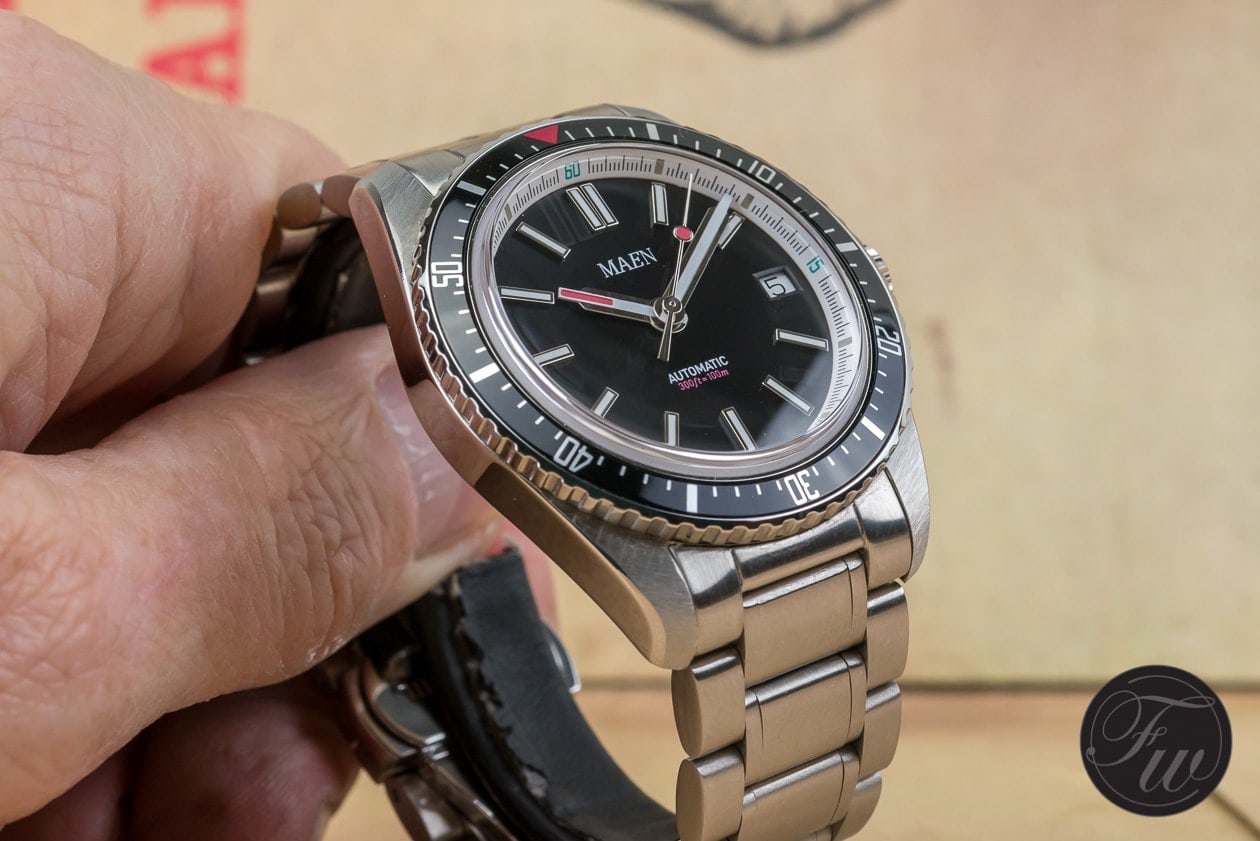 Unfair?
At first, it might seem a bit of a dishonest comparison between the Longines and MAEN altogether. The mentioned HydroConquest retails for slightly over € 1.000,= while the Hudson 38 will be sold for less than half of that amount. But then the latter will only be sold directly online, which of course cuts lots of the costs involved in retailing, however, prevents potential buyers to feel and try the watch on in a physical shop as well. And then, various differences in specifications, which might influence our choice, might explain the difference in price as well. We'll see…
How to compare them?
When comparing watches, I always start to get the specifications and features clearly visible. Pressure rating, type of glass, type of movement/caliber, luminosity, practical features, and extra options like a glass back or bracelet clasp extensions. Although there are many similarities in the specifications between these two watches, there are quite some differences as well. Differences which would matter to me. Some specifications matter much, others not at all. The overall feel I get from a watch matters most to me. How does it appeal to me in real life? History of a brand, continuity, and very important, esthetics and balance as well.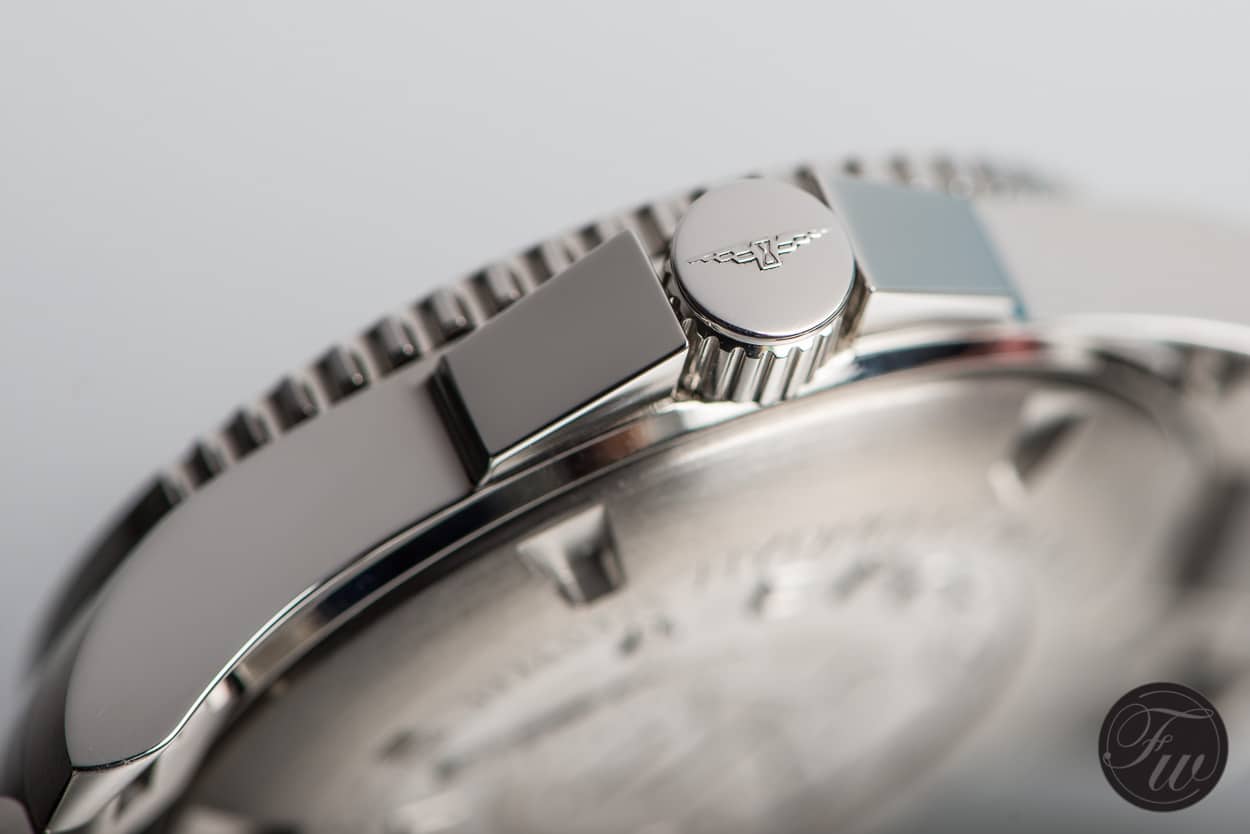 Specifications compared
The general appearance of the Longines HydroConquest is more modern than the semi-vintage look of the MAEN Hudson. To me, that's one point for the Longines. I love vintage design, however, more in vintage watches than in modern produced ones. Although I must say that the vintage design of the MAEN is very well carried out. For the sporty and quite heavy looks and construction of the Longines to me, the crown protectors are a good point. They would have been a bit misplaced on the MAEN, so I don't see it as a negative point that the MAEN doesn't have them.
With vintage or vintage-inspired watches, I love double-domed acrylic crystals. In fact, if acrylic crystals are domed they're always double-domed – which means inside and outside – so nobody mentions that. Next-best to me is double-domed sapphire crystal. We know that for instance from a more luxury version of the Omega Speedmaster Professional. Extremely expensive though, and therefore – I guess – MAEN chose to use just (single) domed sapphire crystal. Domed on the outside, flat on the inside. The Longines has an all flat sapphire crystal, I think correctly adapted to the more modern look and straight lines in the design of the watch.
A somewhat busy dial for the Longines
Something which bothers me a bit is the hoo-ha in the dial of the Longines. To my taste, there are a bit too many index dots, markers, and numerals. Certainly in addition to the markers on the rotating bezel. I'll show what I mean in the picture below, and I show as well how it could have been cleaner to my ideas. In this matter, the MAEN scores the better points for me. Their dial is very clean with only very nice high rise markers and very little printing. And, design-wise it might look nice that the Longines rotating bezel has a ribbed edge on only two sides of the bezel. I'm not sure how handy this is when the bezel has been turned 90 degrees and you want to operate it with gloves on…
And here's my take on the dial (right) without the inner row of markers in the dial. Making it much cleaner and better to my taste.
Both ETA based movements, but different
Next up are the movements to compare. Both the Longines and  MAEN use proven movement designs. MAEN decided to provide an ETA 2824-2 Elaboré as its standard movement, while Longines relies on a movement originally based on the ETA 2892-A2.
Extended power reserve
Originally. Because since 2016 The Swatch Group made some changes to this old, more or less prestige ETA 2892-A2 workhorse. The main difference was the frequency of the movement, which was lowered to gain power reserve. The beats went down from the regular 28.800/h to a quite rare 25.200/h, thus gaining power reserve from 44 to 64 hours. When wearing an automatic watch on a daily basis this might not be very important. But it could be the difference between a stopped watch and one still running when a watch isn't used during weekends for instance. I could see this as a positive point.
How important is MAEN's Elaboré movement for me
MAEN's Elaboré ETA 2824-2 execution of the caliber is mainly nice because of its better looks. It's nicely finished, much nicer than the regular 2824. But then, this would only become important if one should choose for the watch with a sapphire glass case back, and I wouldn't. For a divers watch, I'm not a great fan of a glass back. It means extra gaskets and a back which is more prone to damage than a solid stainless steel back. Certainly in the case of the MAEN Hudson 38, where the glass back version provides a pressure rating of only 10 bar (100 meters). For a dive watch that's not very adequate in my book. The version with solid stainless steel back has a rating of 20 bar (200 meters), and I would certainly prefer that one making the Elaboré execution of the ETA caliber quite useless for me.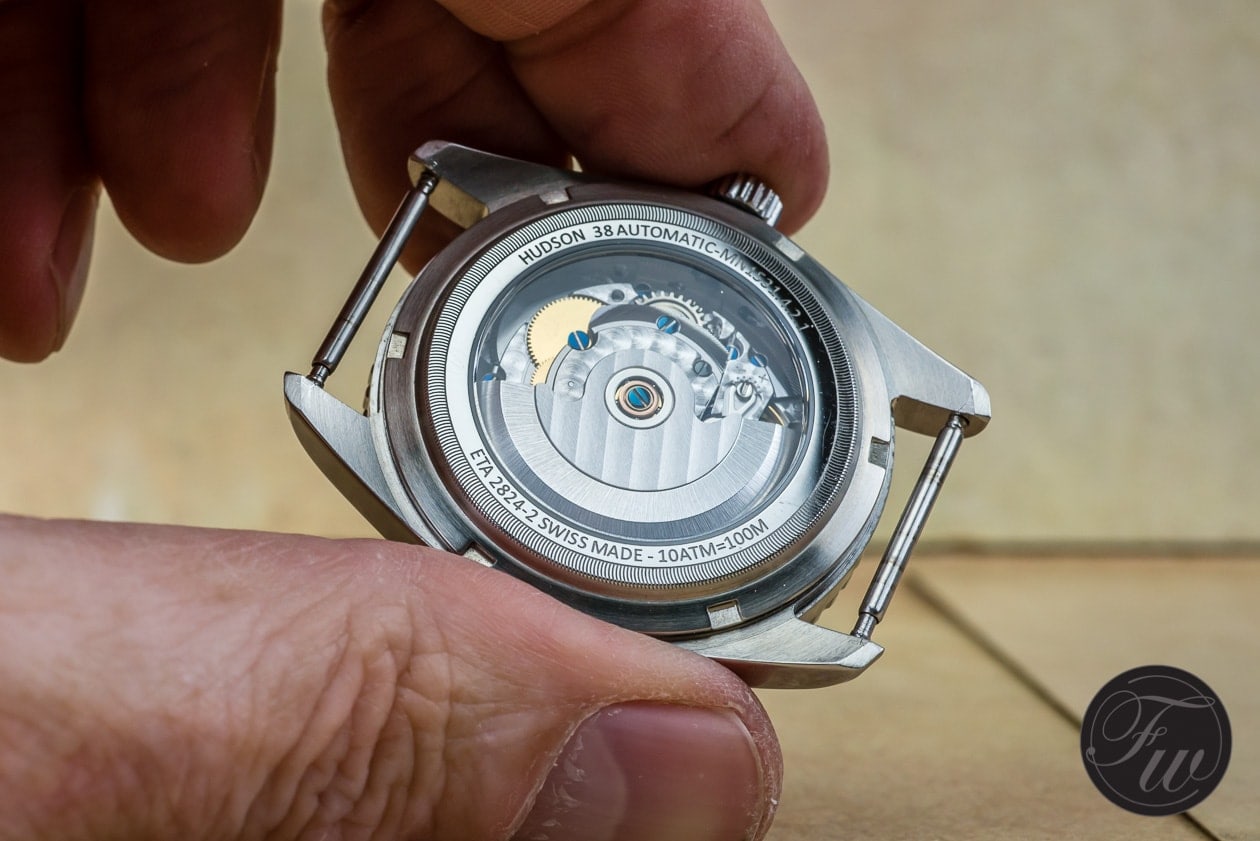 What's left for the Elaboré movement
Except for the esthetics, technically the Elaboré version is equal to the standard version of the ETA 2824-2. What is left is that the Elaboré version has been regulated somewhat more accurate. In three instead of two positions, to a maximum gain or loss of 7 seconds a day, instead of + or – 12 seconds per day. Not something I would write home about.
The Longines HydroConquest offers just a solid stainless steel case back with a nice inscription and embossed logo. Providing a pressure rating of 30 bar (300 meters) this would have my preference between the two watches. I'm not sure about the accuracy of the Longines movement, but I'm sure and have enough confidence in the brand that it will satisfy me.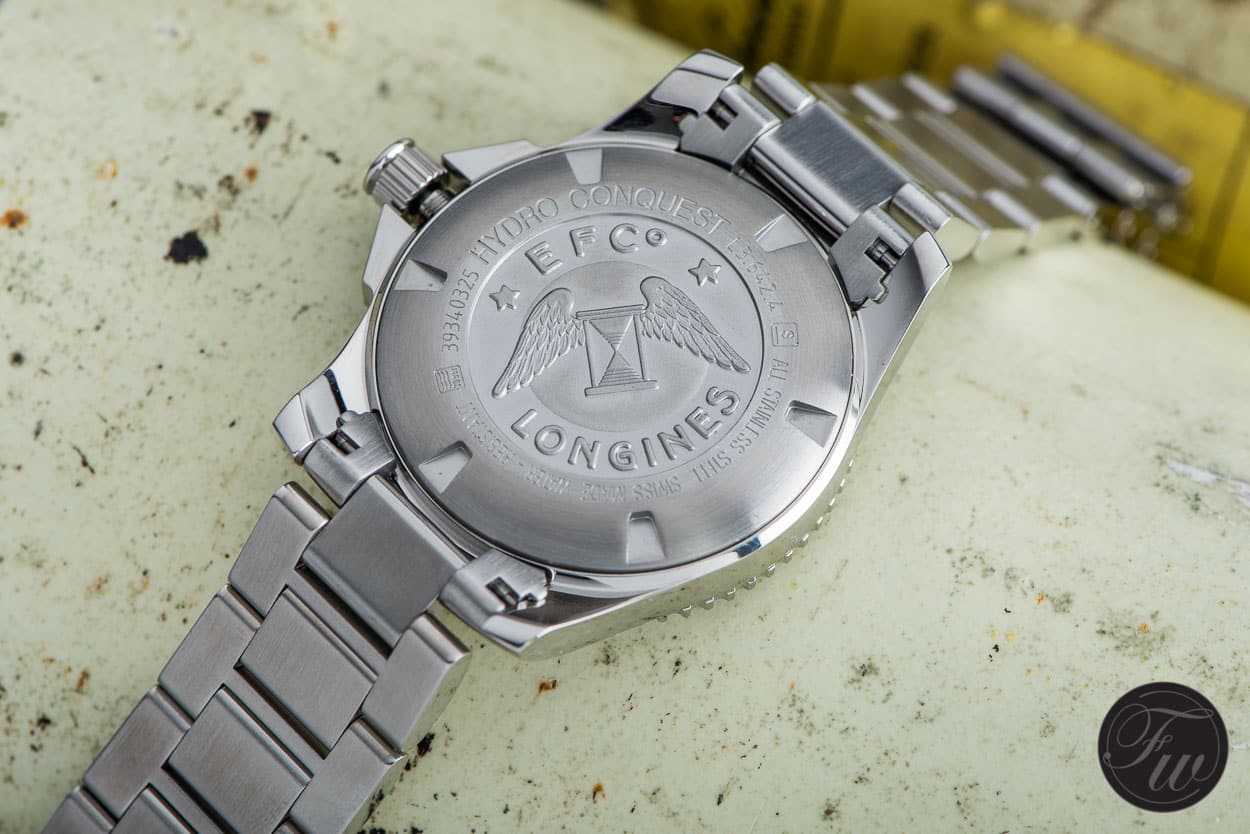 A very important point, the bracelets
When I want to use a watch on a stainless steel bracelet, this is one of the major aspects I take notice of. I know that a good stainless steel bracelet is a very expensive part of a watch, and often it's here where manufacturers in the lower price segment lose it.
For our review of the Longines HydroConquest, we specifically asked for a version with stainless steel bracelet, and we received a stainless steel bracelet with the MAEN Hudson as well.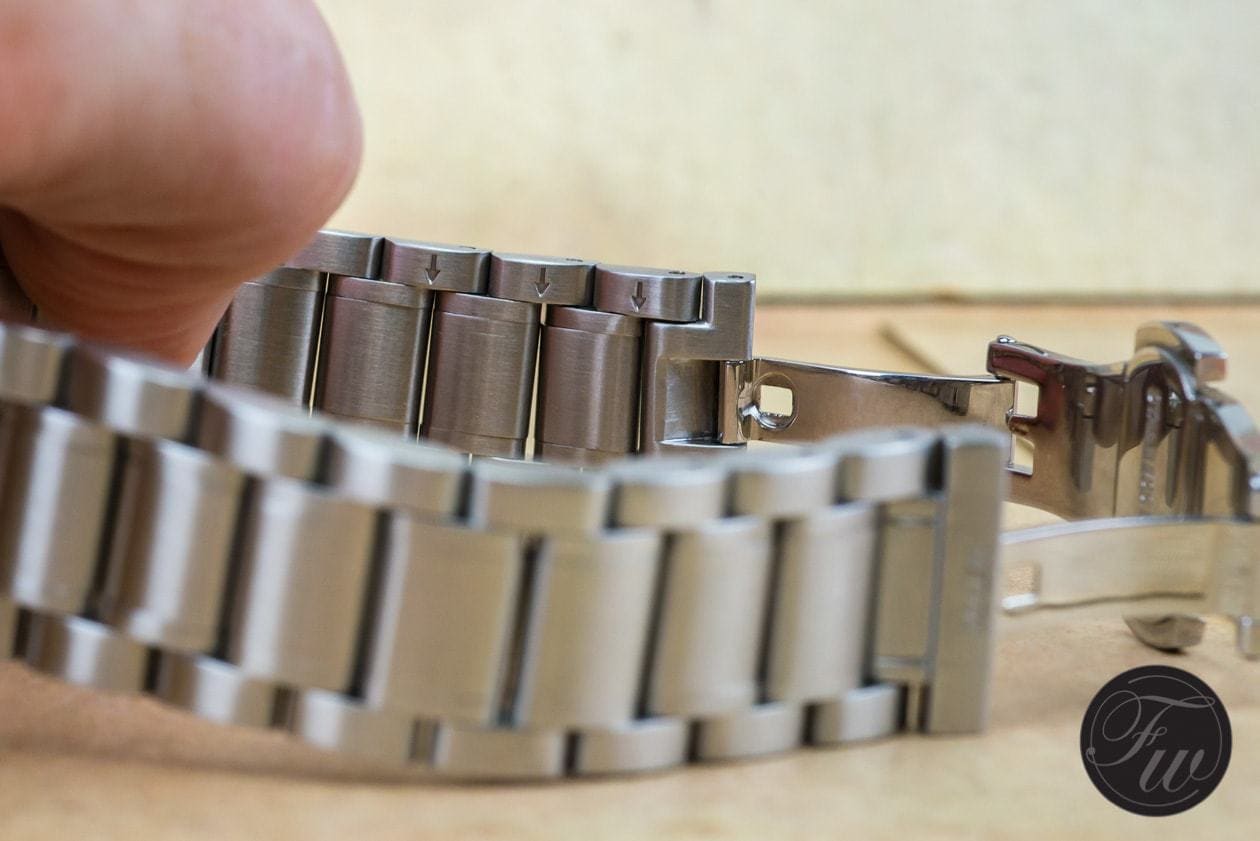 I can imagine that the stainless steel bracelet for Longines was much more important than it was for MAEN. A leather or NATO strap will very well suit the MAEN Hudson 38 with its vintage looks. A steel bracelet will fit very good as well of course, however, because of its vintage image, it can't be as sturdy as it should be for the more modern and overall more sturdy constructed Longines.
And that was exactly what we learned. The MAEN bracelet's construction is with push-in pins instead of little screws, like the Longines bracelet. As well, the deployant clasp of the MAEN is much lighter constructed than the Longines. The Longines has a flip-lock-like folding clasp and even sports a diving extension to fit it over a neoprene suit. On bracelet quality and construction, the Longines for me wins hands down. A very important point to me, when looking for a watch I want to wear on a steel bracelet that is of course.
The verdict
So, in the end, it seems that the difference in price did make my decision, as its lower price caused the main concerns I have with the MAEN Hudson 38. The price of these two watches was probably a bit too far off to make an honest comparison. It points out that the MAEN's price certainly isn't only lower because they don't sell through brick & mortar retailers. The Longines is the more expensive watch because it was constructed more expensive. If I had the possibility to spend that € 1.070,= I would do so and buy the Longines HydroConquest in 39mm.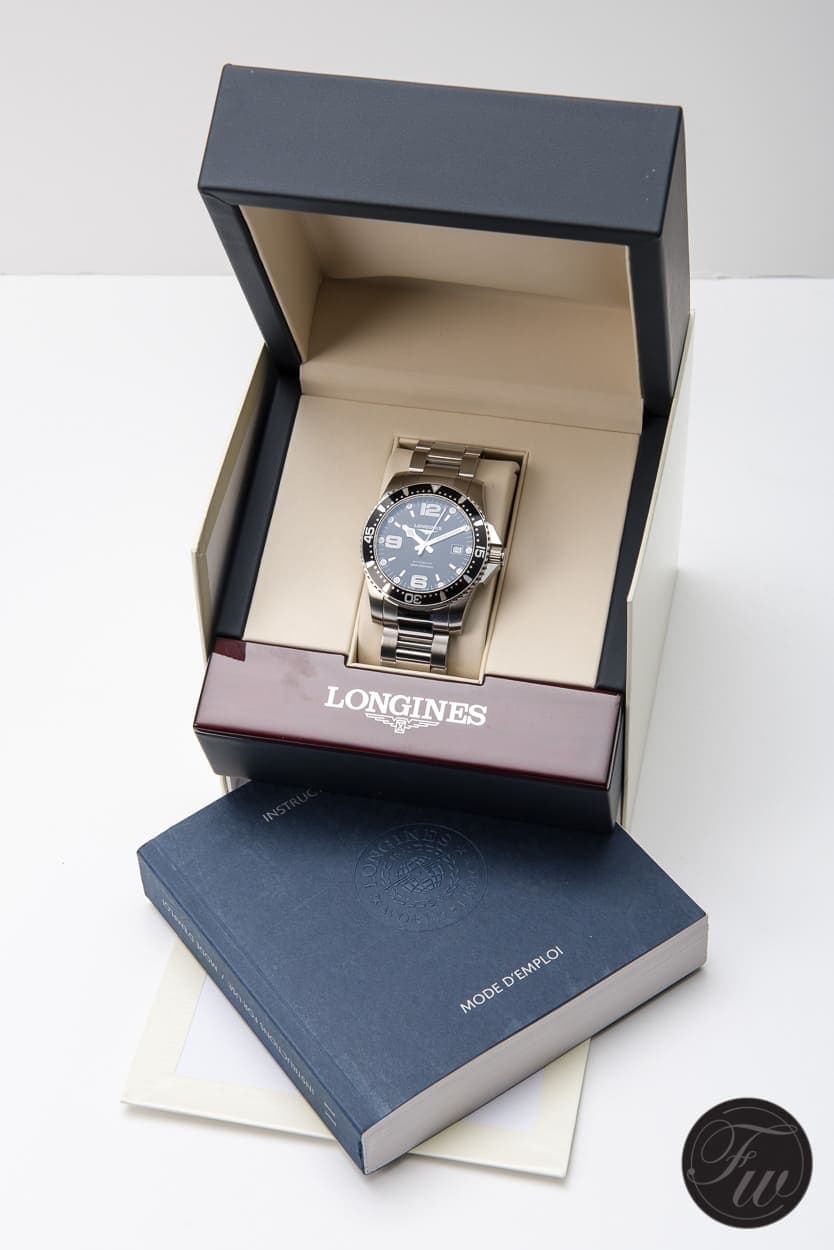 You'll find more information on both watches through their official websites. The MAEN Hudson 38 can be found here, while the Longines HydroConquest webpage is here.
Do you have a question for us as well? Don't hesitate to drop us a line via this form.