Maen Hudson 38 Automatic – 52Mondayz, week #6
What a nice size for vintage-inspired sports watches. And what a pleasant size to wear anyhow. The Maen Hudson 38 Automatic is my 52Mondayz watch for week #6.
Maen Hudson 38 Automatic
We know Maen, or MAEN as they tend to write it themselves, from their dress watches. In June of last year, we wrote a review on their second model, the Brooklyn 39. You'll find it here. And in December last year, we did a preview of the automatic version (yet to be released) as well here.
The Maen Hudson 38 Automatic will be funded using Kickstarter (end of April).
Same approach, new direction
However were we surprised to learn that Maen took such a different direction with their Hudson 38! No classic dress watch but a vintage-inspired sports watch. A bold move out of their comfort zone, in my opinion, however one with potential, if done right.
Aesthetically to me, nothing seems wrong. The Hudson 38 Automatic is an attractive watch right away. A stainless steel sports casing, shaped in a way most of us are used to. A black high-contrast dial and ditto hands, not lacking luminous material. A narrow uni-directional rotating divers bezel with a triangular indicator. And last but not least important, some nice red details here and there to spice things up.
Impressive technical specifications
So let's head over to the specifications of the watch, to learn if Maen got their technical basics right as well. I'll start with the casing. As said, stainless steel. It's indicated being made from 316L 'surgical steel', and I had to Google that. What is surgical stainless steel? I found the following "Surgical stainless steel is an informal term which refers to certain grades of stainless steel that are used in biomedical applications." And "There is no formal definition of what constitutes a "surgical stainless steel", so product manufacturers and distributors apply the term to refer to any grade of corrosion resistant steel." That seems clear enough, it's just stainless steel.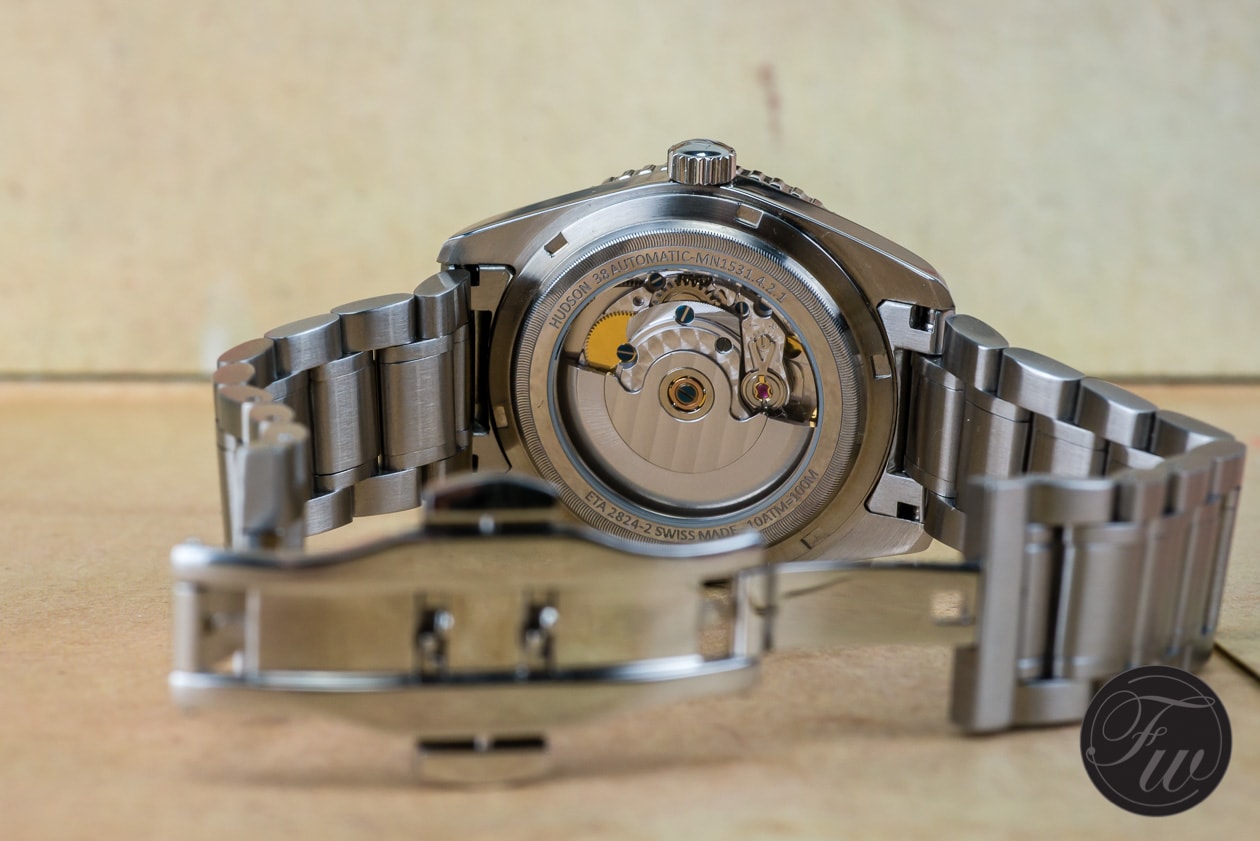 This part can be skipped
Risking getting too technical here. I want to mention however that during my search on surgical stainless steel I bumped into the difference between 316L and regular grade 316 stainless steel as well. 316L is a variation with a lower carbon content.
No Chinese movement
Housed inside the 316L stainless steel casing is an ETA 2824-2 Swiss made automatic movement. Known as well as the 'workhorse'. Nothing wrong with that obviously. And at least it's a Swiss made movement, not something coming from behind a great wall in the east.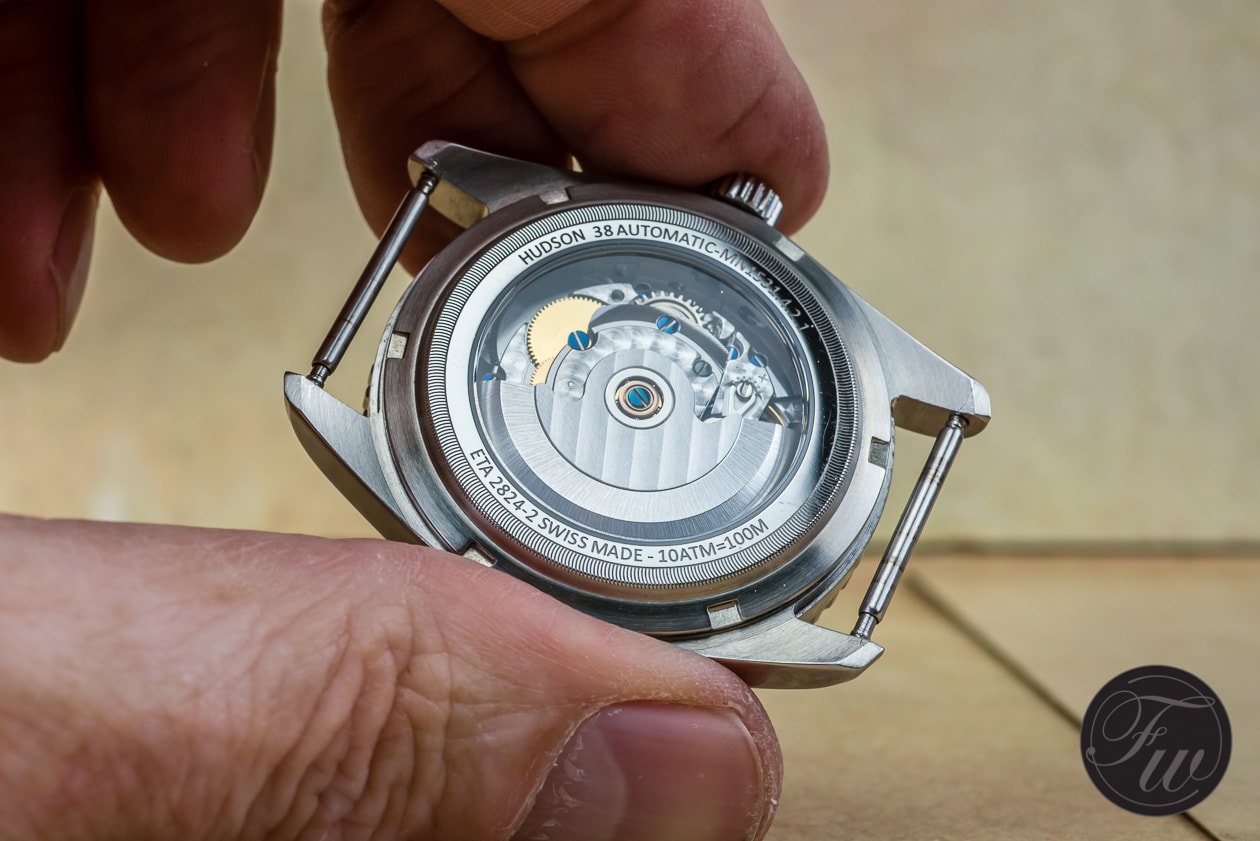 Sapphire case back, or not?
For me less obvious in this case is the choice for a glass case back, like the prototype watch I'm wearing is equipped with. I've seen ETA 2824's enough meanwhile, and see that the finish of the movement (at least used in my prototype) is with fake blued screws; so not for me. But guess what, upon request, the Maen Hudson 38 Automatic will be available with a solid steel case back as well. Which directly provides another advantage, a higher water resistance rating. While the watch with a sapphire glass back is pressure proof to 10 ATM, the one with a steel case back is 20 ATM. The latter more suitable for a dive watch anyhow.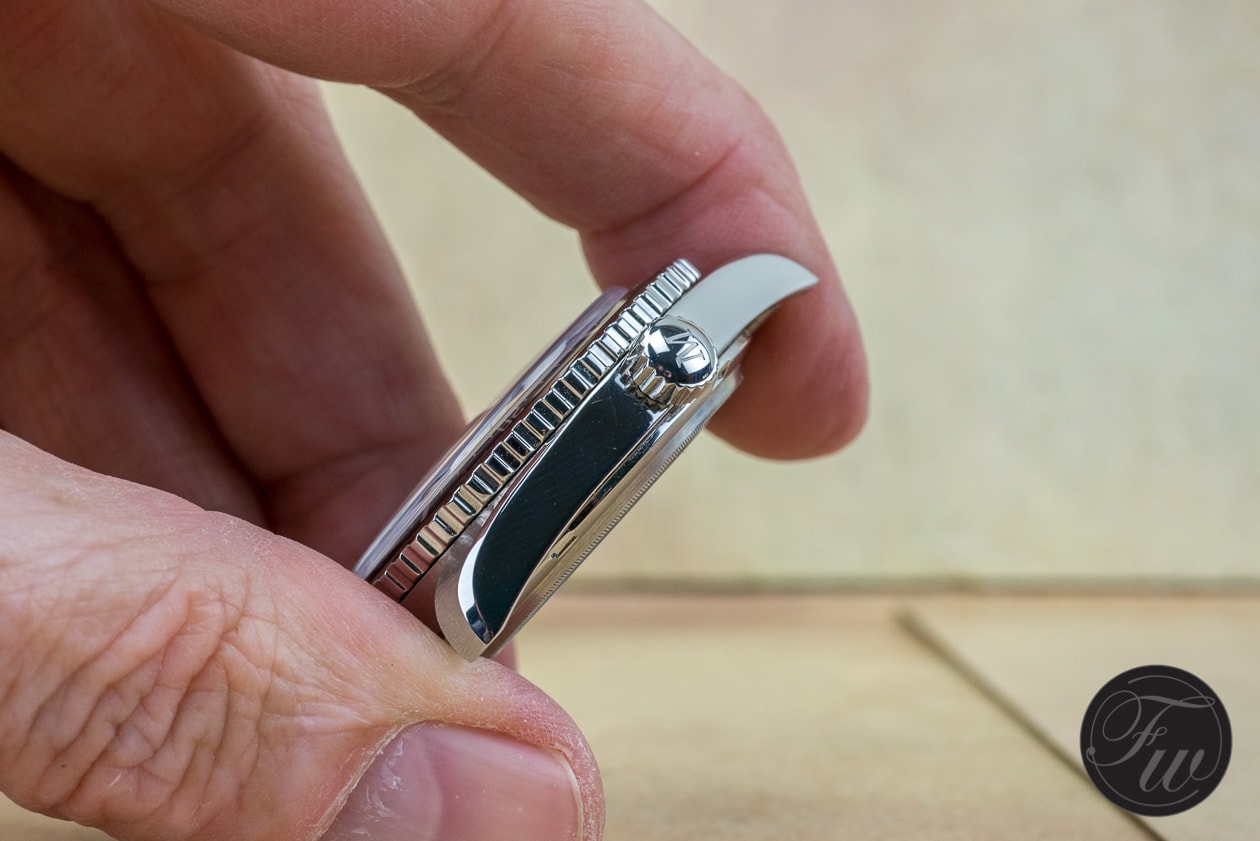 Double domed sapphire crystal
On with the other side of the casing, the crystal. No less than a double domed sapphire crystal is used here. It certainly adds to the vintage appearance of the watch and isn't something often seen of watches in this price segment. Which segment that is I will come back to later.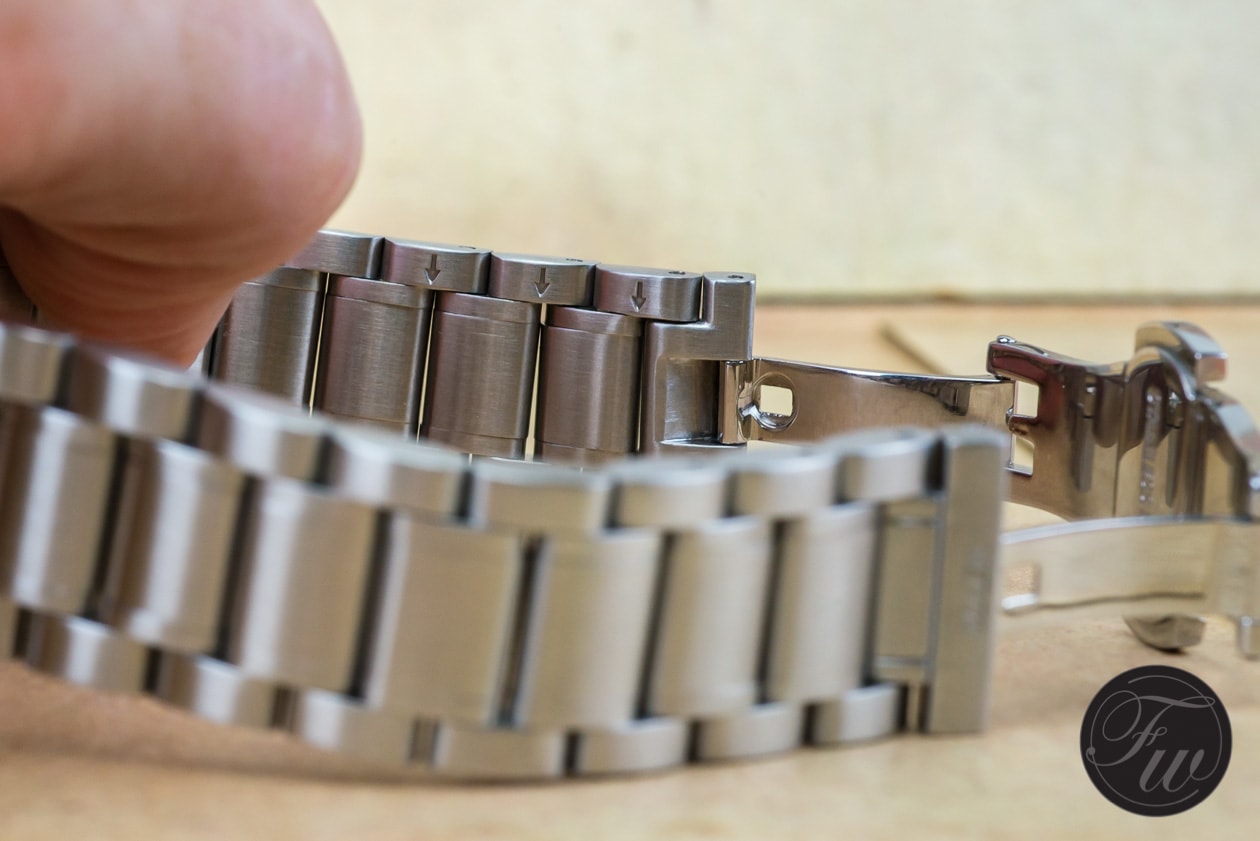 What I didn't like too much
First two, for my personal taste, slight mishaps. The shape of the hands is my first. I've never seen this shape of hands before. And I guess that must have been the reason the Maen Hudson 38 hands have this shape I guess. And can't think of no other reason. Next to the straight thick line of luminous material, there's some metal material for like 4/5 of the length of the hands. No Idea why. It's at both hands, the minute and hour. The second hand has a more regular shape, which fits this type of vintage-inspired watch more. Again, in my opinion that is.
Then I like the idea of determining the minute from the hour hand by using a different color. As a diver, I would have chosen to use red for the minute- and white for the hour-hand. In this dial design, the red hand attracts more attention. An hour hand is hardly interesting when diving, while a minute hand quite indispensable.
Price segment
So here's to the price segment. When reading the above specifications, and looking at the pictures, do you have any idea? Difficult to say isn't it. How a watch feels is not only determined by nice pictures and sound specifications. It has to feel and look well in the flesh. Then the value of a watch is much easier to determine. Anyhow, I'm sure you will be surprised, Maen Hudson 38 Automatic will retail at € 499,=. However, as it will be launched as a Kickstarter project, it will be offered to early backers with a discount of € 150,=, for € 349,=. The Kickstarter campaign will start at the end of April this year.
The Maen Hudson 38 Automatic will be supplied in a luxury watch box together with a black nato-strap, strap tool, warranty cards and instruction manual.
More information via their official website.