You Asked Us: Which Manufacture Sports Watch To Buy
In this week's 'You Asked Us' episode we're answering a question regarding choice of a sports watch with a manufacture caliber. It came from one of our readers and reached us through the contact form on our website. Considering the three watches the writer proposes himself, he not only seems to look for a sports watch, but it should be a chronograph as well. Here's the message:
This Week's Question: Which Manufacture Sports Watch to Buy?
Dear Fratello Watches, I am about to buy a sports watch, I would like to own a watch of an excellent technical level, possibly of manufacture. I oriented myself towards these models:
1. Zenith El Primero 1969 ref. 03.2040.400 / 69.C494
2. Vacheron Constantin Overseas Chronograph ref. 49140
3. Jaeger-LeCoultre Amvox 5 Aston Martin Limited Edition Ceramic ref. 193J480
I also gladly accept suggestions from watches not included in the above list, provided they are sporting.
To visualize the writer's suggestions, we used some stock pictures of the mentioned models.
Which price level are we looking at?
These three sports watch models give us an indication of the price level the writer looks at to buy his new watch, although there are quite some differences. While the Zenith El Primero 1969 can be found from € 5.000,= onwards, the Vacheron Constantin will set you back almost double that price. And the Jaeger-LeCoultre again topping that with a current price between € 10.000,= and € 12.000,=. Please note that only the mentioned Zenith can be found new in the brand's current collections, the other two watches have to be sourced pre-owned.
Zenith Cal 400 B
The Zenith El Primero sports the famous, Zenith in-house, automatic El Primero caliber 400 B with 326 components, 31 jewels and a high-beat frequency of 36,000/H. The chronograph uses a column wheel construction for operation and has a date indication at 6 o'clock.
Frédérique Piguet cal 1185 (VC 1137)
Vacheron Constantin in their former Overseas Chronograph models, like the reference 49140, didn't use an in-house movement. Instead, they relied on the well known and used in other higher-end chronograph watches, Frédérique Piguet caliber 1185. An automatic 37 jewels column wheel chronograph as well, sporting a large – two-digit – date at 12, working at a rather low beat rate of 21,600/H.
Jaeger-LeCoultre Cal 752
Unfortunately, Jaeger-LeCoultre removed all information concerning their – I guess former – cooperation with Aston Martin and the Amvox project from their website. So no official information on the Amvox 5 model can't be found anymore. Anyhow, the above-mentioned model uses a Jaeger-LeCoultre in-house 41 jewels caliber 752 automatic column wheel chronograph movement, operating at a regular frequency of 28,800/H. Besides a date indication at 6 o'clock, this caliber offers world time indication.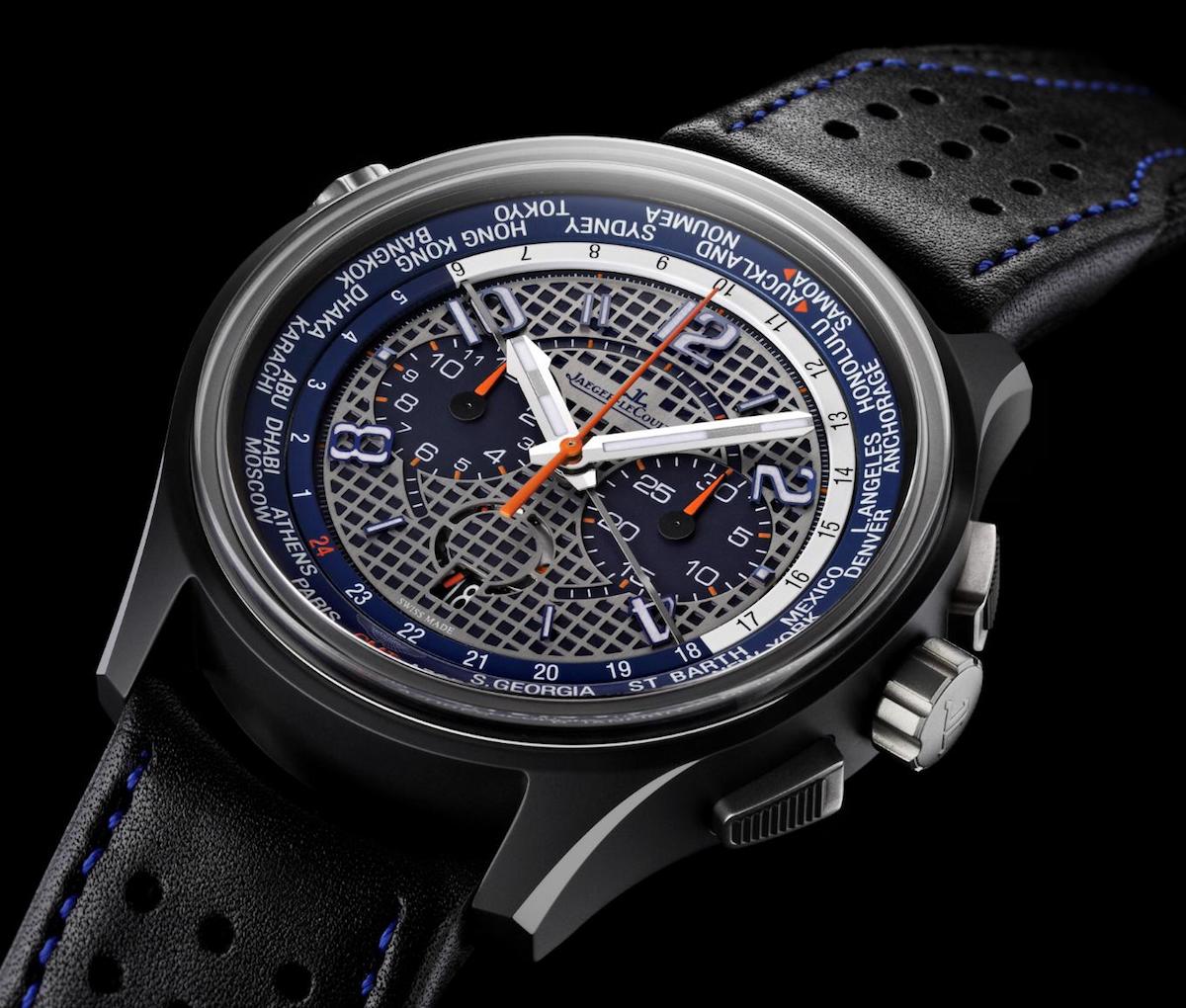 Power Reserve
Except for technical specifications as mentioned above, other facts of the movements may determine ones enthusiasm towards a caliber as well of course. Although surely interesting, for this article it goes too far to investigate service intervals, costs of service, accuracy, and things like that. As it is of daily use influence, power reserve is probably something which should be mentioned and is easy to determine. In order of Zenith, Vacheron Constantin and Jaeger-LeCoultre, the power reserve figures are 50, 42 and 65 hours.
Out of the ordinary appearance
What we don't want to do is argue on appearance. This, of course, is highly personal, and can't be advised to anyone. What I do like, and like to express, is that I see no fear for out of the ordinary dial designs. The Zenith is quite playful with its multiple color sub-dials. The Vacheron Constantin has a very personal shape, certainly of its bezel. And the Jaeger-LeCoultre is quite playful with its colors and grid-like dial.
Which movement is the most desirable?
From a movement point of view, the Zenith caliber 400 B seems to be one of the most interesting in the above listing. It's a caliber which is around for ages and has been an important one in the road for chronograph movements. With its high-beat frequency, it's quite extraordinary, however probably because of that not specifically the most reliable nor service friendly.  With 50 hours of power reserve, it runs well over two complete days, which is considered better than regular.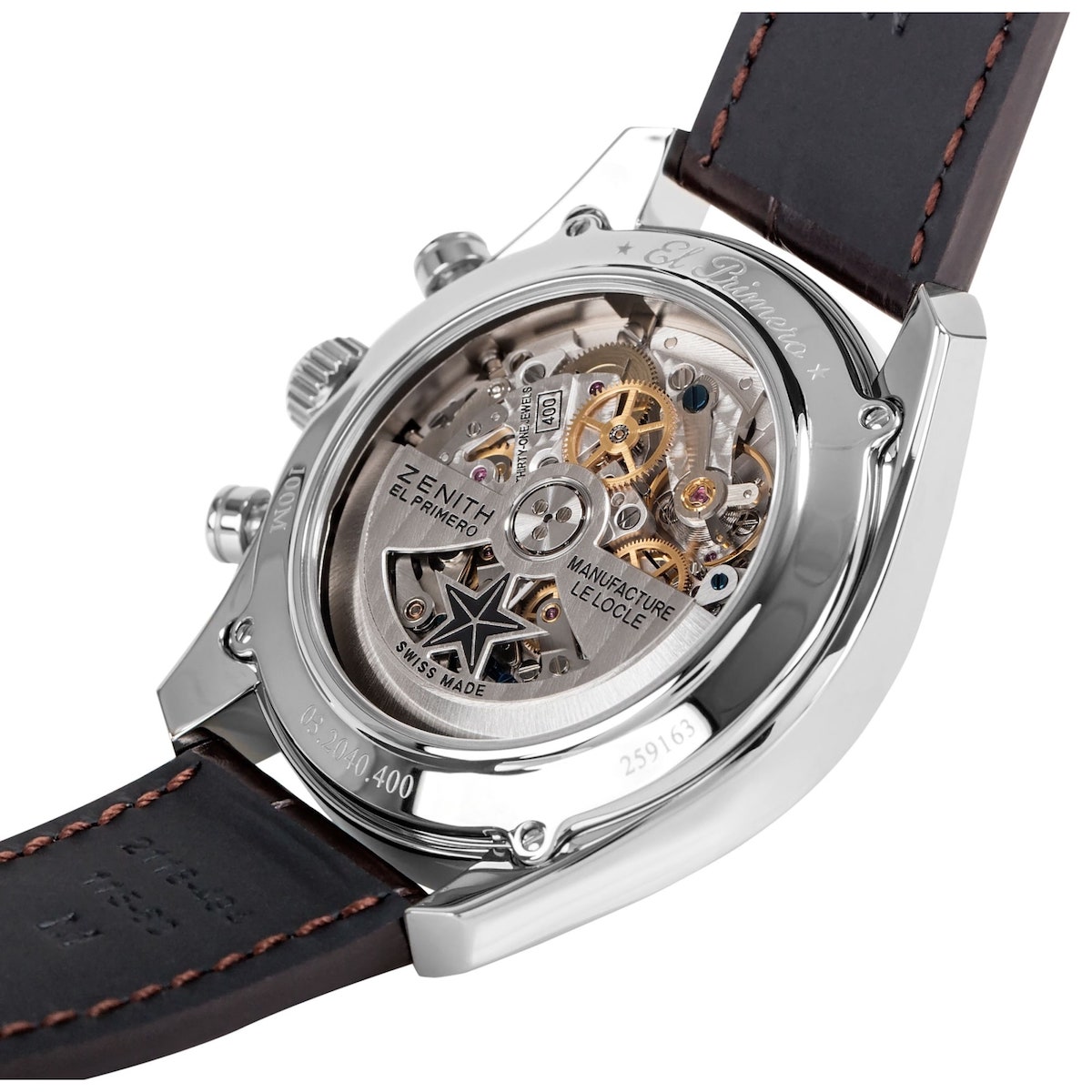 Fredérique Piguet's caliber 1185 is, of course, a fine one, however not that special. As mentioned, it's used in other brands chronographs as well, and with its frequency of 21.600/H, it might even seem to be a bit technically old-fashioned. The power reserve of 42 hours is nothing special, a value which can be found in chronographs of lesser glory as well. For its current Overseas chronograph models, VC meanwhile changed to a new in-house chronograph caliber 5500. Unfortunately, the change meant almost a doubling of its price tag, compared to the 49140, as well.
The Jaeger-LeCoultre movement is probably the most modern and technically sophisticated of the three. JLC's caliber 752 features a lubricant-free ceramic ball-bearing winding mechanism, and a large variable-inertia balance. These are state of today's art and won't be found in the other two calibers. With the solid 65 hours of power reserve, this caliber takes its place as well.
Metal bracelet or leather strap
For a sports watch a metal bracelet can be quite comfortable. Certainly when approaching water, and because of its sturdiness, when using the watch during all kinds of other sporty activities, as well. Zenith has a stainless steel bracelet available for this type of chronograph, however, for the reference of the mentioned model it comes on a more or less waterproof leather strap. With the quite classic design of this watch, I would probably prefer a strap over a metal bracelet as well.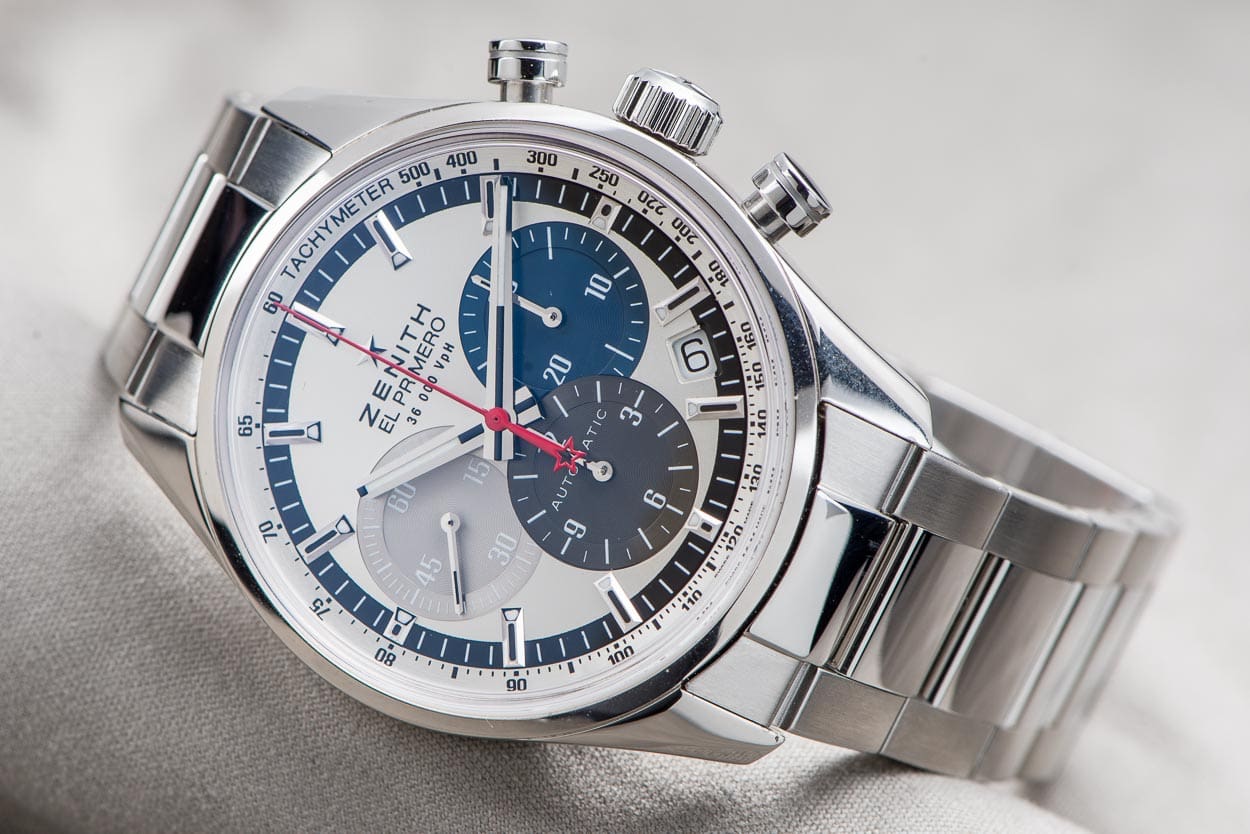 The Vacheron Constantin, on the other hand, has an integrated metal bracelet design. And so it can't be switched to a leather strap at all. Having owned an Overseas myself, I can confirm that the bracelet is very comfortable, however more easily prone to scratches than one would like. Certainly with a sports watch. This is the case with the whole watch design by the way. The beautifully designed and very special bezel of the watch' casing is easily scratched as well. And that hurts, especially because it's such an important and special part of the watch design-wise.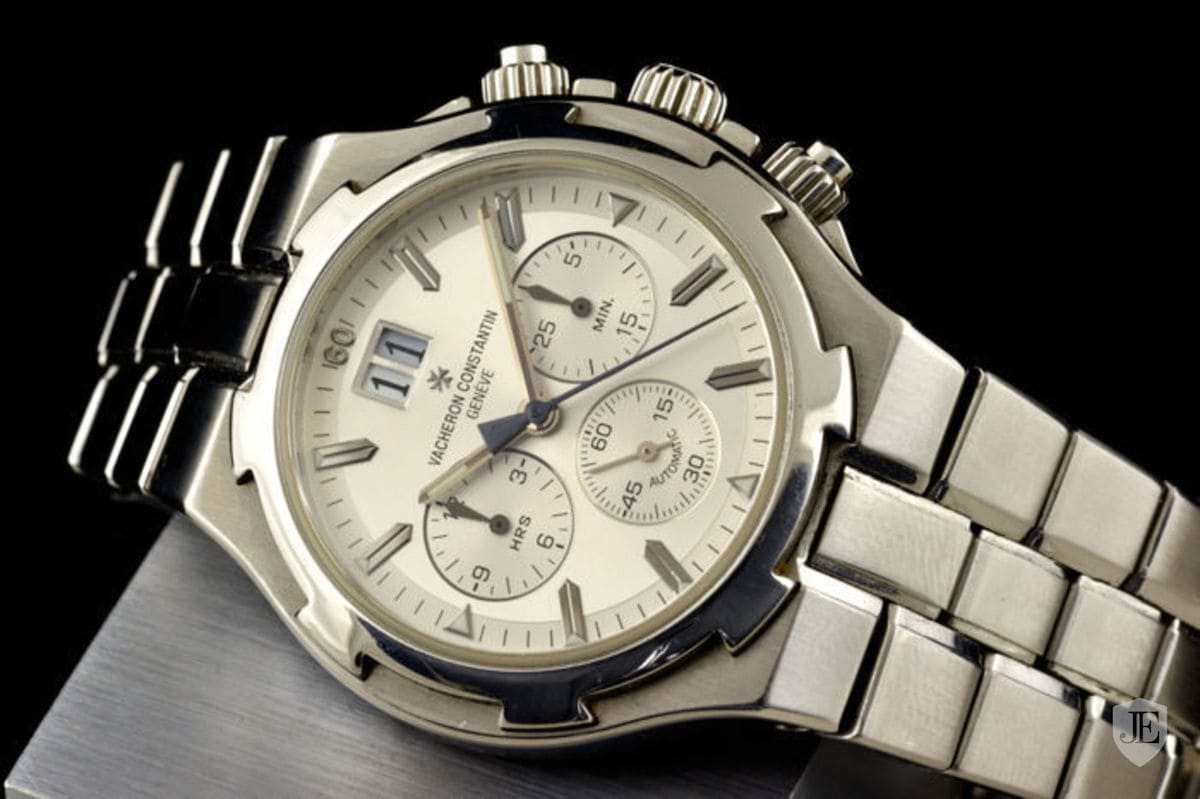 Jaeger-LeCoultre chooses for a 'waterproof' perforated sporty leather strap with rubber lining as well. Because the Amvox 5 uses a ceramic casing, a metal bracelet is no option. While I mentioned before that the Vacheron Constantin will be quite prone to scratching, this problem doesn't exist on a watch with ceramic casing like the Amvox 5. This can be seen as an advantage on a sports watch, it quite determines the looks for a watch as well. A black ceramic watch very obviously is no stainless steel watch.
All and all considered
Considered the difference in movements, the technical design of the watch and the straps. However, we have to consider the overall position of the watch and brand as well. What would be the most desirable watch? Too many personal preferences will determine the outcome of that question. Although technically there are some differences for sure, they do not have to weigh-in equally for personal reasons.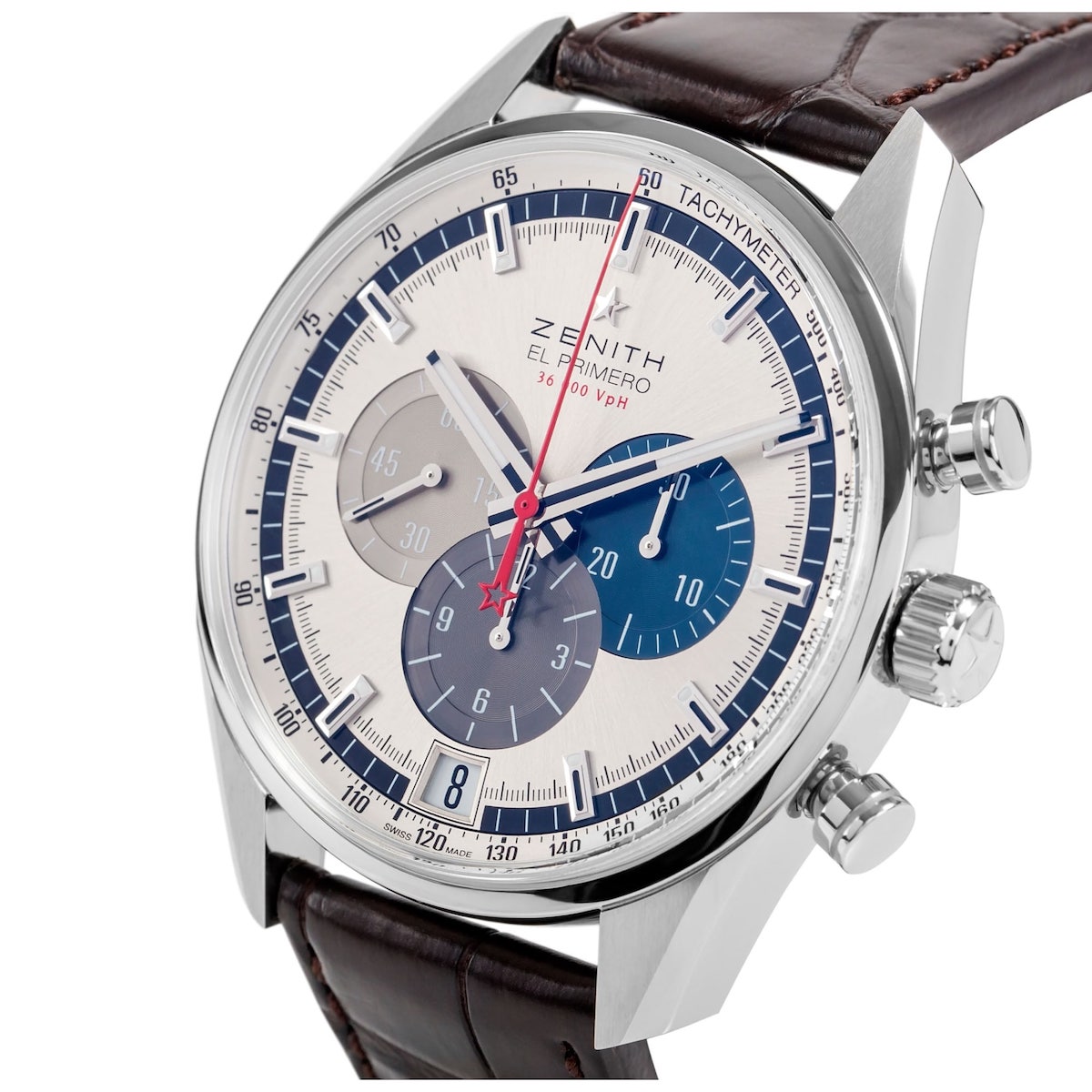 I would say the Zenith would attract to me personally most. The Jaeger-LeCoultre the least. The Amvox 5 comes from an era which wasn't very successful for JLC. Of course, one can still like the watch, but I think these watches were a bit too much artificially sought for. Cooperation with a high-end car manufacturer, use of extremely modern materials. To me it's all a bit over the top, I prefer a bit more history and historical importance in a watch.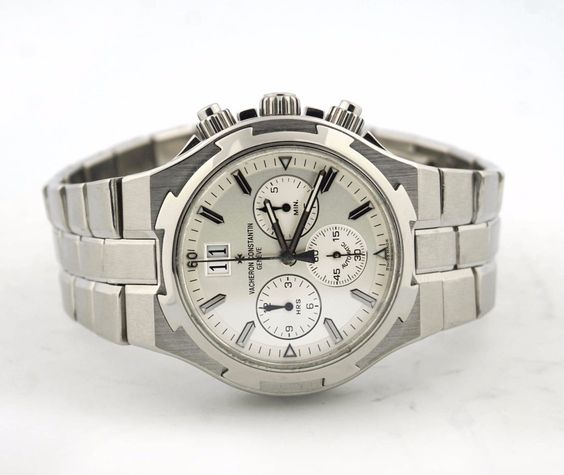 Something the Vacheron Overseas certainly has as well. However, with the Overseas at this price level, I can't overcome my slight negative feeling of the use of a 'generic' caliber. That, added to my knowledge of the Overseas being a scratch magnet, would make me not decide for this watch.
The Zenith being classic and out of the ordinary playful at the same time. A dial design derived from the late sixties which still attracts very much. Classic in shape, however classic in its enchanted El Primero hi-beat caliber as well. The only one from the above list featuring a glass back to admire its movement by the way. A watch which deserved its place in my opinion.
Other suggestions
I mentioned that suggestions don't come easy to me here. Considering an in-house movement, sporty watch with chronograph, in a max € 10k league. I don't see other obvious chronograph suppliers come with a serious suggestion which could match the above-mentioned brands or watches. Breitling (different breed), TAG-Heuer (very different breed), Rolex (no date, not available for sale anyhow), Tudor maybe..? (nah, different league). I don't know, it's difficult to find anything which gives more or less the same horological feeling as the watches we've just discussed.
But. It's not a secret that I'm an Omega fan. So personally I'd certainly consider an Omega Speedmaster Co-Axial Chronograph with (in-house) calibre 9300. New, with modern techniques, in a classically designed watch. In the same price league as well. However, I can see that it's probably not as playful as the Zenith with its multiple colors on the dial.
For now, we at Fratello Watches would like to thank you again for sending in your question and would like to wish you success and much joy choosing your perfect sports chronograph.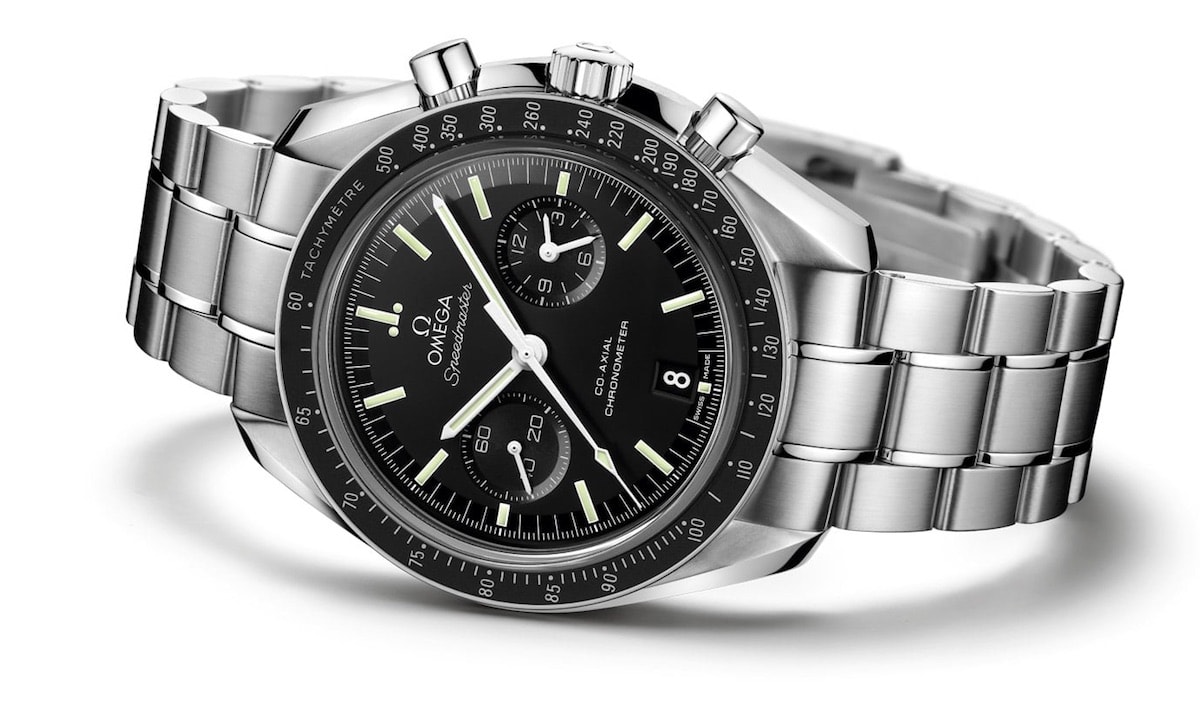 Please note: We found most of the pictures used in this article through Google Images. I guess the original publishers won't have a problem with us using these pictures here in this article. But if you're the owner of one of the pictures and think it's not OK, please let us know and we'll exchange the picture(s) as soon as possible for another one.