Your Speedmaster Stories #6 — A Speedmaster Pre-Moon from '69 And A Speedmaster 3250.50 from '96
Time to share your stories with us
We love those Speedmaster stories appearing in our mailboxes. This week on Speedy Tuesday, we have two more for you. One about a Speedmaster that helped someone with a problem with his hearing, the other one about getting that perfect daily wearer (a Speedmaster 3250.50 Mk40).
The first story is submitted to us by Marcus from Switzerland. The land of watches and chocolate, but apparently only the latter applied to Marcus for a long time. Let's find out why.
Speedmaster Professional Pre-Moon from 1969
Marcus: I am Swiss. So it is very difficult to avoid watches. But I did so successfully for the first forty years of my life. However, that was suddenly changed. An accident flipped the script: in autumn, exactly ten years ago, a hissing sound came into my ear. I went to the doctor and he said that there was no medicine for it. His advice? "Get an aquarium without fish for your bedroom; the sound of the water pump will distract you and you can fall asleep better."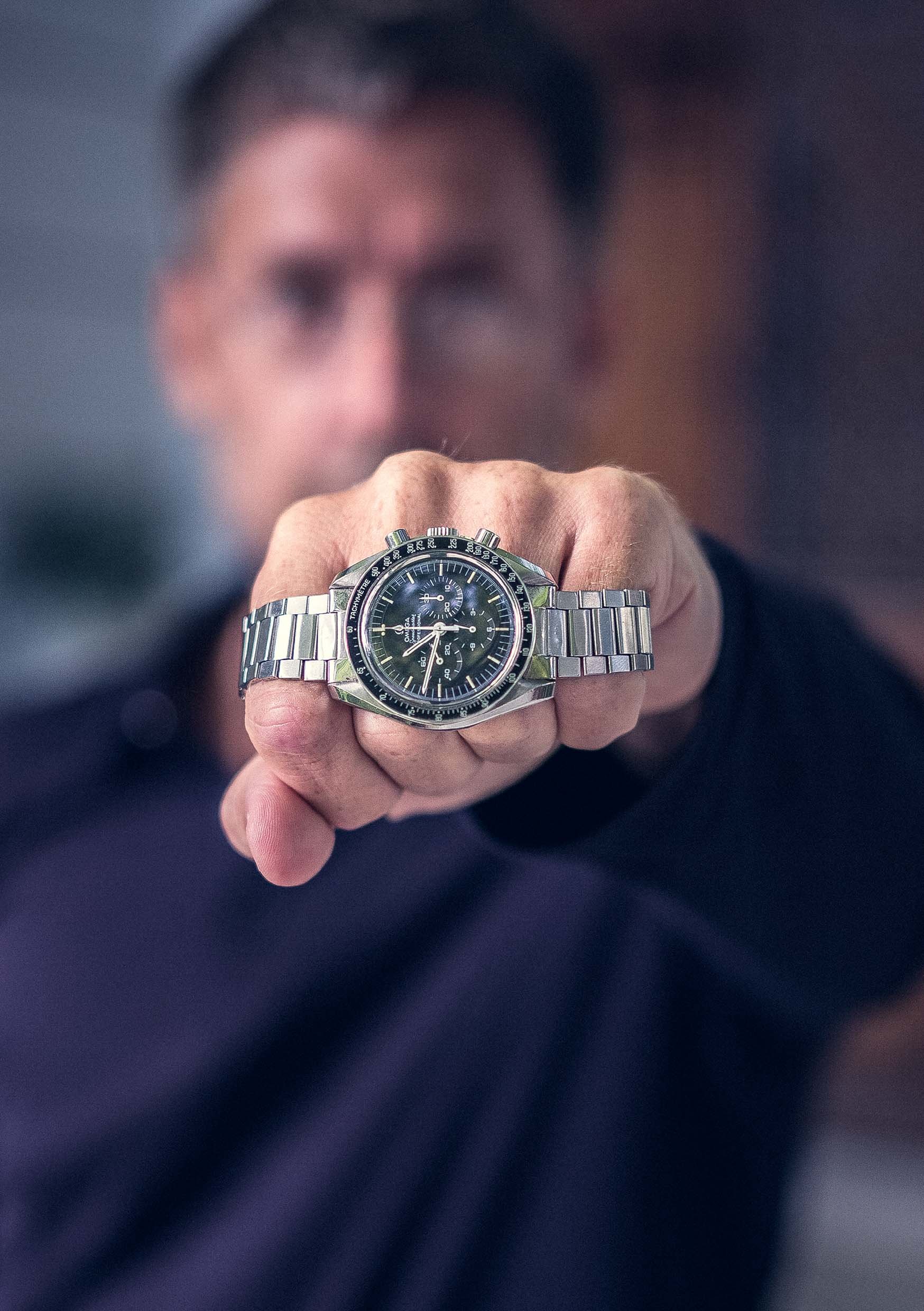 And it did help. But after a few months, my wife asked me to find an alternative. So I needed a replacement sound for the night. I went to a watch store in our city and told the saleswoman that I wanted to buy the watch with the most beautiful sound. She looked at me a bit astonished but showed me a lot of mechanical watches.
Many of them had a beautiful ticking sound. But all of them were incredibly ugly (I won't mention the brands and models). I cannot wear such an ugly thing on my wrist. Impossible! It would go against my nature as a designer by trade. But as soon as I was out of the jewelry shop, a thought came to my mind: I was born in 1969.
A mischievous little boy
And in that year the first man set his foot on the moon. This had always fascinated me for as long as I can remember. I wear an original piece of rock from the moon permanently as a necklace (my own design and a unique piece). Without being sure, I convinced myself that these astronauts must have had watches with them back then. I went straight home, went online and it was immediately clear: I must have an Omega Speedmaster Professional! From a friend of a friend … you know how it is … I bought an "old" one.
I did not have the money for a recent or even new one. At the time, it cost me CHF 2,500. An absolutely stupid huge sum, I thought. I was completely nervous to exchange so much money for a watch. But it was also a thrilling experience! I felt like a mischievous little boy. It was only later that I discovered (thanks, in fact, to Fratello and Hodinkee) how lucky I had been with my first purchase. On my wrist, is a 145.022 Premoon from 1969 (!) with a steel band stamped 1969 / 1. It has a DON bezel and is untouched, never polished.
It is pure beauty with universal sound. I still wear it very often. And it was the start of a great love of watches that fascinates me every day. And the sound in my ear has since become my faithful companion and friend.
Speedmaster 3250.50 "Mk40"
The next story was submitted to us by Tom. Not your typical Speedmaster story, as it wasn't really love at first sight. He had to look for one that ticked his boxes. Luckily, the Speedmaster 3250.50 (Mk40) did!
Tom: My Speedmaster story is not one of inspiration, dedication, or familial connection. It is simply a story that shows the evolution of my thinking. My life as a watch hobbyist has been short compared to many. Other than my decades-long affair with a Seiko 7A28-7049 chronograph that saw daily duty on my wrist for 30 years and still has a place in my box, I only began this hobby a handful of years ago. I quickly found that my preference is the chronograph, especially vintage Seiko references. And, while I love these and routinely strap them on these survivors have given enough and deserve to be treated with care and respect. So my quest for a daily wear watch began.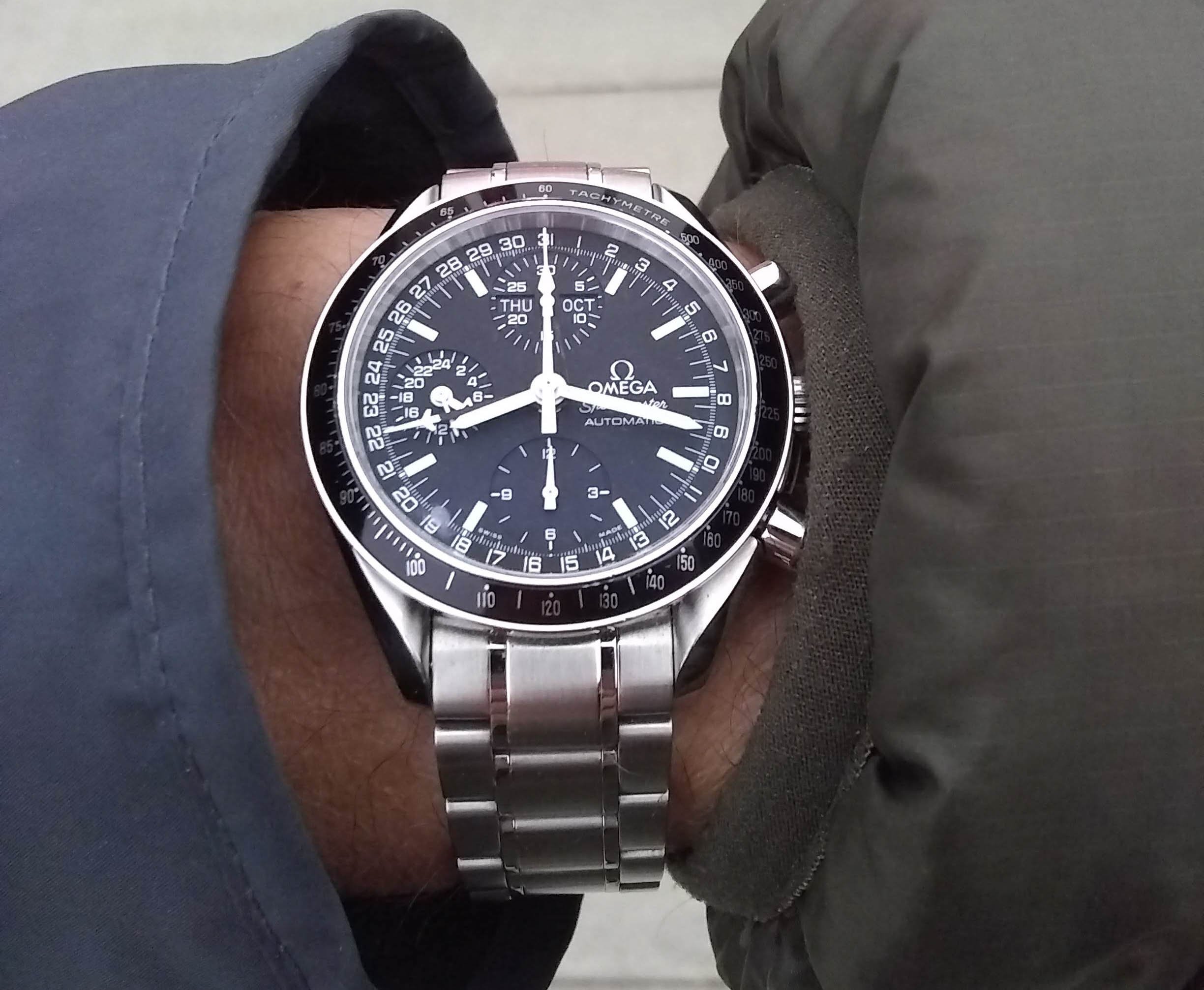 My love of Seiko chronos
Up to then, I hadn't been drawn to the Speedmaster. A design language that is too plain, a catalog too complicated, and a name that's way too hyped. So, I looked elsewhere. Divers? I don't swim. Dress? Nope, I don't dress up much. So I circled back on chronographs. While my love of Seiko chronos from the '70s and '80s is intense, the brand's new stuff doesn't interest me. Microbrands? While some look great, their movements don't inspire. The Rolex/Tudor family, too staid (and too pricy). And so it went.
Then I saw it, a Speedmaster 3250.50, the 'Mk40' or 'Triple Date' as it is called. Not the multi-color dial, but instead a traditional black and white colorway. My interest was aroused by its busy but amazingly legible face and smaller size (39mm). More complicated than the usual Speedy, it nevertheless has that unmistakable DNA with the prominent mid-case, the asymmetrical main case with pusher and crown guards, and those svelte twisted lugs. I was even drawn to the bracelet's somewhat awkwardly designed square deployant clasp, an experiment that I gather Omega didn't like much and retired from the fleet.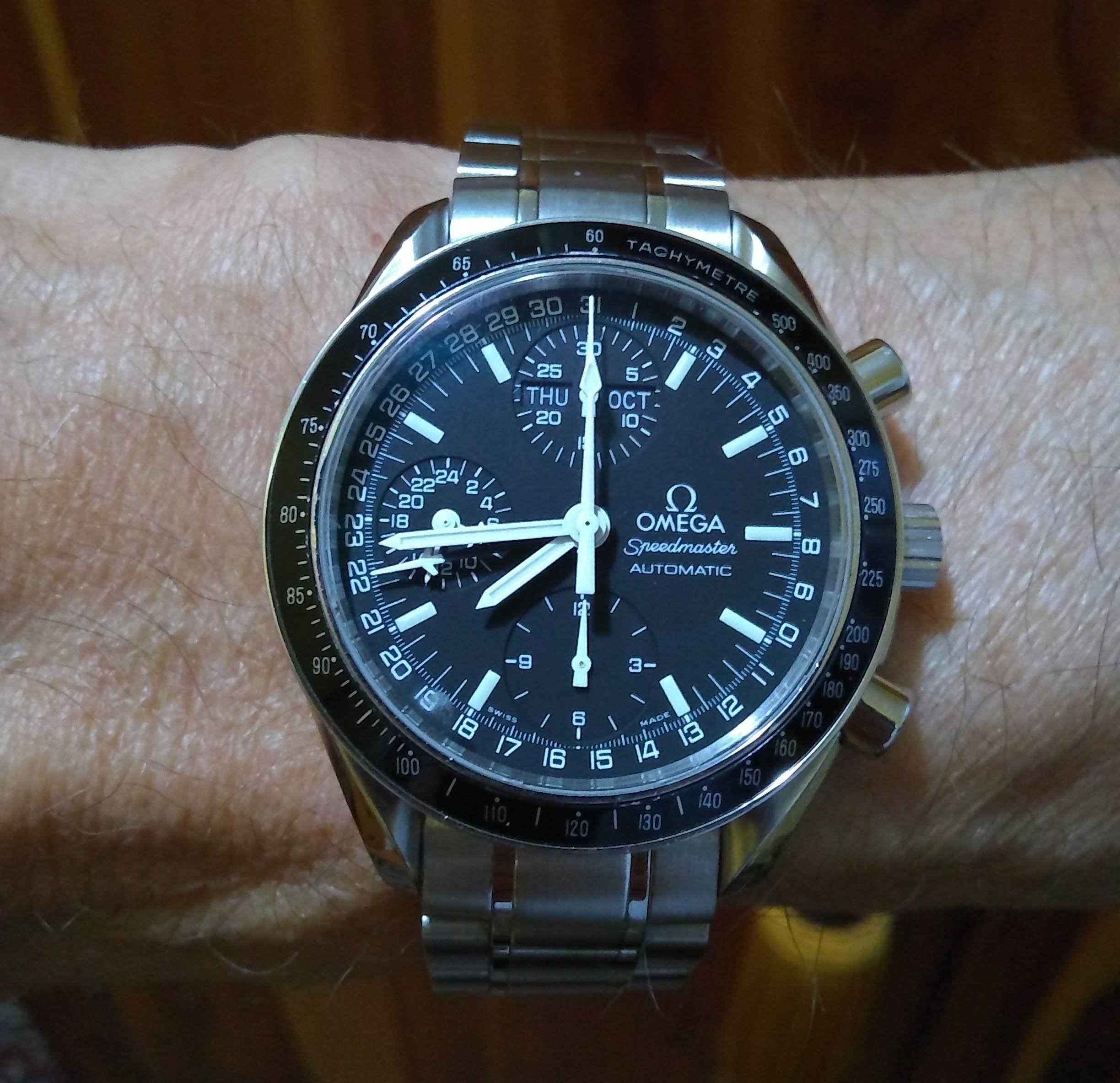 I ended the quest for my daily wear timepiece when I purchased an Omega Speedmaster 3520.50 Mk40 in exquisite condition last year. Being from 1996 it scratches the vintage itch yet is solid enough to take almost anything I might throw at it. (And, for the rest, there's my G-Shock.) It is my faithful companion almost every day. It keeps great time, and I am now able to quickly snap the odd clasp closed without even thinking about it. This is surely a watch that I will hand down to my children.
Your Speedmaster Story
Thanks to Tom and Marcus for sharing their stories with us. If you want to share your Speedmaster story with us, send it to [email protected].