Happy New Year to all our readers! We are starting 2012 with one of the most iconic watches ever made, the Rolex GMT-Master, and we took it with us for a bumpy ride. The Rolex GMT-Master is connected to aviation since its introduction and rapidly became an iconic timepiece.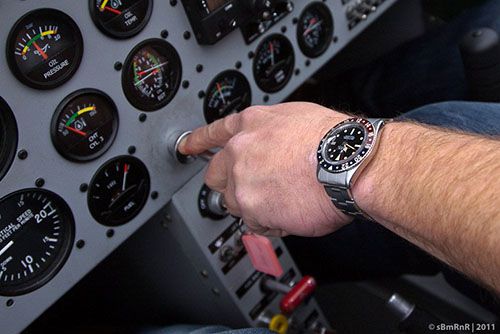 In short: the Pan-Am company was looking for a watch that was able to display multiple timezones at the same time, as they started to operate transatlantic flights. Having an accurate wrist watch was an absolute necessity for pilots in those days, Rolex was able to give it to them.
As we know now, the GMT-Master wasn't only popular amongst Pan-Am pilots (or civil aviation), also NASA and US Air Force pilots started wearing them. Also business people who travelled to different time zones started wearing the Rolex GMT-Master, as reading home time and local time at the same time has a positive [mental] effect on fighting jet lags.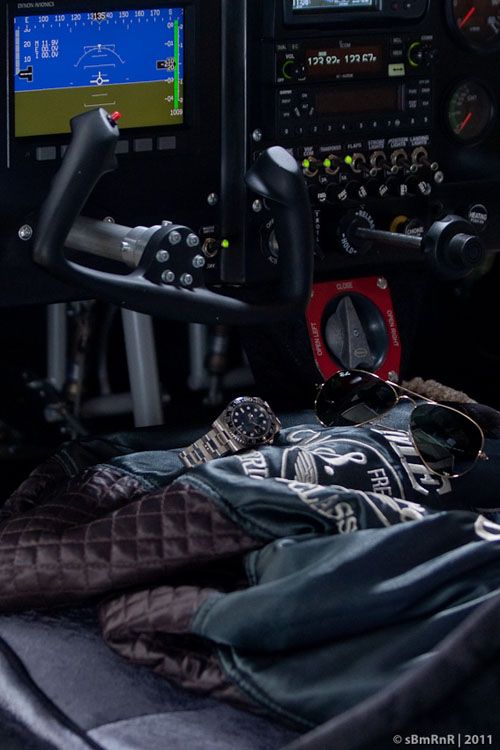 To do the best possible research, we transformed into pilots with our leather Pall Mall jackets and RayBan Aviator sunglasses and took the GMT-Master with us in the sky. More about this later, we first would like to give you a short trip down GMT-Master memory lane.
Timeline 1954 – now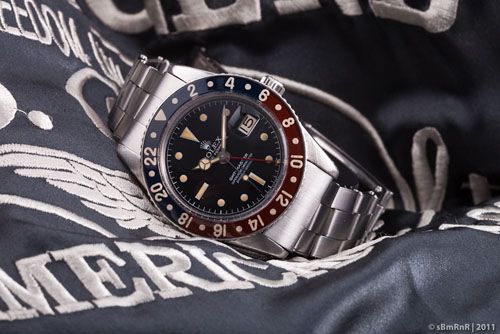 The first GMT-Master in production ever was the ref.6542 and was introduced in 1954. It featured a bakelite bezel (which was replaced after two years by an aluminum bezel because it cracked very easily) and had no crown guards. The James Bond fan also might recognize this watch as it was on the wrist of Pussy Galore in the Goldfinger flick. The Rolex GMT-Master ref.6542 was in production till 1959.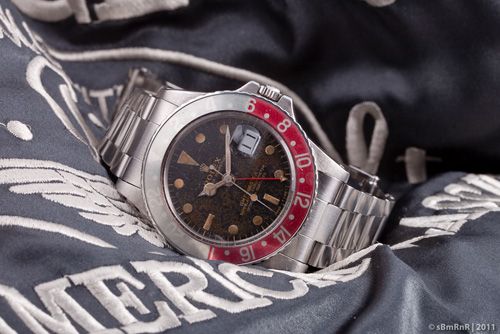 Perhaps one of the most popular vintage Rolex GMT-Master watches is this ref.1675. Introduced in 1959 and was in production till 1980, indeed a very long time. This is [most probably] also the reason why you can find a vintage ref.1675 GMT-Master in decent condition without a hassle. Some Rolex collectors do prefer a more worn version like the one pictured above. Till the late 1960s, the extra hour hand featured a small triangle and was succeeded by a red hand with a larger triangle through-out the 1970s. Early models also featured pointed crown guards and a chapter ring. It was also the first Rolex sports watch that became available on both the Oyster and Jubilee bracelet.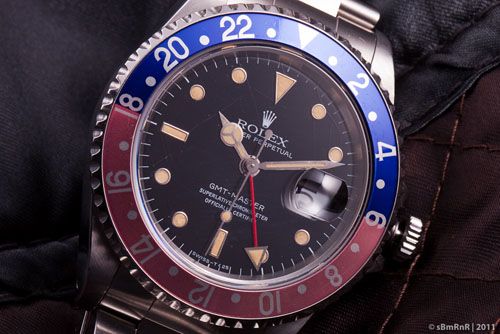 Followed by the Rolex GMT Master 16750 in ca 1980, a model with a new movement and glossy dials. This model was in production till 1988. Just a short period in time, which makes it a sought-after model of the GMT-Master series. However, probably not as much as the Rolex GMT-Master II 16760 aka 'The Fat Lady'. This was the first GMT-Master II and had an advancement over the regular GMT-Master, which is the functionality to read time of three different timezones. Besides that, the 'Fat Lady' had a thicker case, thicker crown guards, sapphire crystal and only available in the 'Coke' configuration, which is a red/black bezel.
The ref.16750 was replaced by the GMT-Master 16700 in 1989. At first, the tritium dials were still used but in approx 1997 this changed towards Super Luminova. In production next to the GMT-Master II ref.16710, Rolex ceased the production of the 16700 in 2001.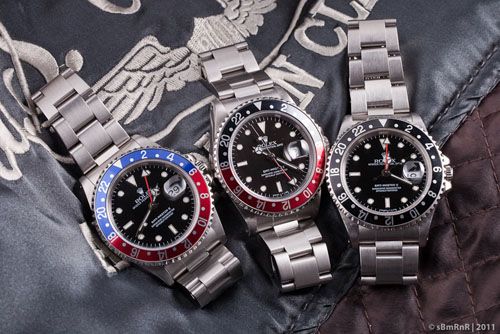 It seems that ref.16710 went through a lot of changes from 1989 till 2007. This watch started out with a tritium dial and ended with the Super Luminova dials, the bracelet got Solid End Links and the pin-holes in the case disappeared. The last ones sold came with the plastic warranty cards instead of the paper certificates. Before we forget, the box set changed as well for this model to the current one. Available with three different bezels, as shown above.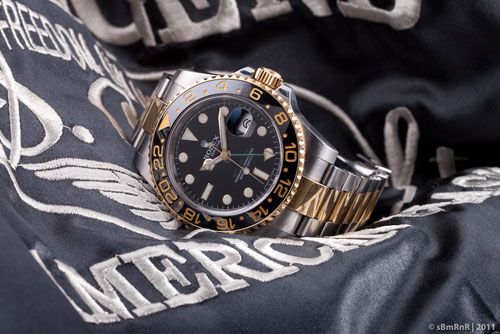 From 2008 till now, the GMT-Master II 116710LN (Lunette Noir) is production. The watch case received a slight redesign, the Twinlock crown has been replaced by a Triplock crown, the aluminum bezel has been replaced by a ceramic bezel and the  case of the watch has grown a bit. Also, the bracelet received a small update to the joy of many Rolex aficionados. Above, we show you our favorite version in gold/steel (ref.16713LN).
Just before we forget, we would like add that the GMT-Master was already available in the gold/steel combination. Root beer, nipple dial and Tiger Augen are the nick names of these models from the past. On the wrist of drugs dealers and sketchy second hand car dealers in the past, it is fully valid to wear them these days with pride.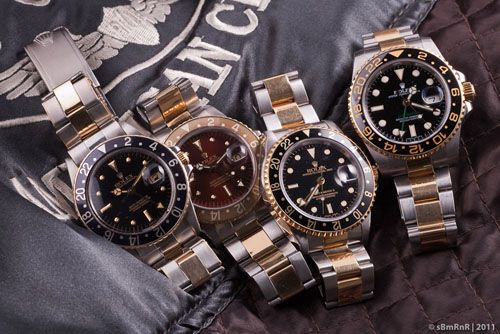 Furthermore, some of the historic GMT-Master references have an /8 added to it, which means the watch was made out of solid gold. Later references had the 8 as the last digit in the number (e.g. 116718LN).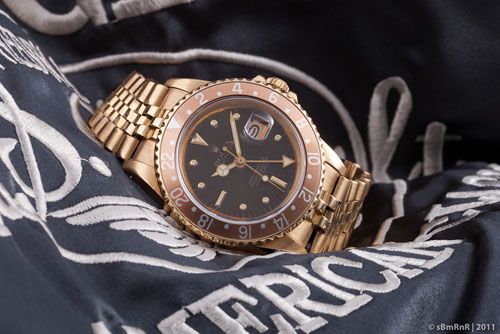 Fasten Your Seatbelts
Besides a matching outfit, all we need were a few Rolex GMT-Masters, an airplane and a pilot. Check.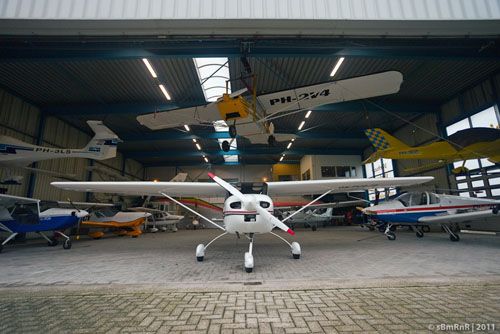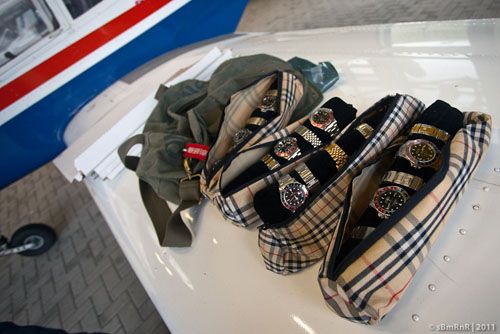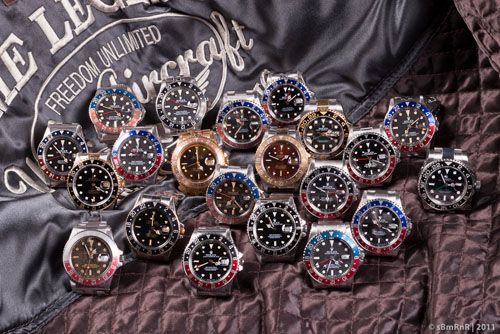 Which one should we give to the pilot? We decided he could wear the 'original' one 🙂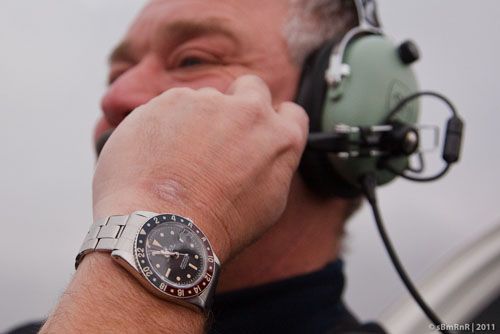 And off we go….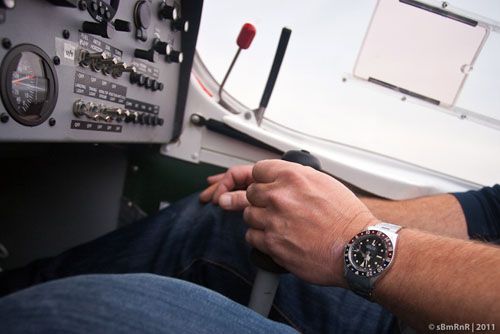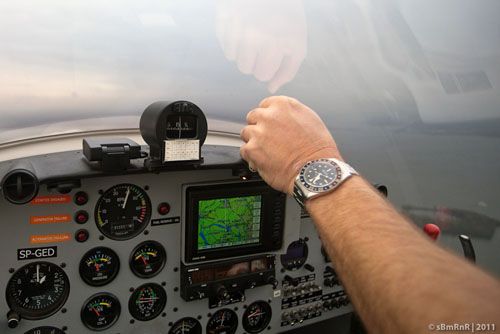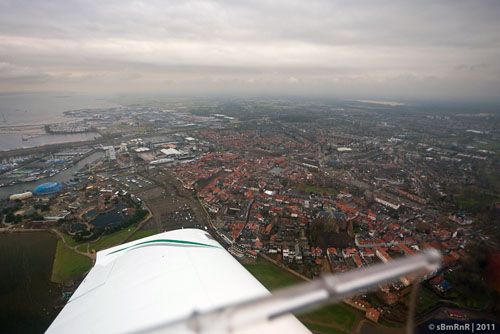 We want to give a big shout out to flight school Zelfvliegen.nl in Lelystad, SubGMT, Local-Time.nl. Last but not least a big thank you to PME Legend (Bataviastad) and Bon Art opticians (Houten). To our readers, keep an eye out for a cool FratelloWatches give-away during the next coming days.
Want to see more photos of our GMT-Master photo shoot? Go to our Facebook page and check the photo album 'GMT-Master'. Make sure to Like! us.
Update: Join our Give Away of the Ray Ban Aviator sunglasses and the leather PME Pilot's jacket