Introducing The 42mm Pinion TT (Two Time-zones) in Titanium
Reading the subject line of Piers Berry's (owner of Pinion watches) email, I was already clapping my hands due to the bold move of introducing a two-tone watch. My love for the precious metal goes very far. But opening the press release learnt that TT stands for Two Time-zones, that's why I made sure to write it in full in the headline of this article.
Pinion TT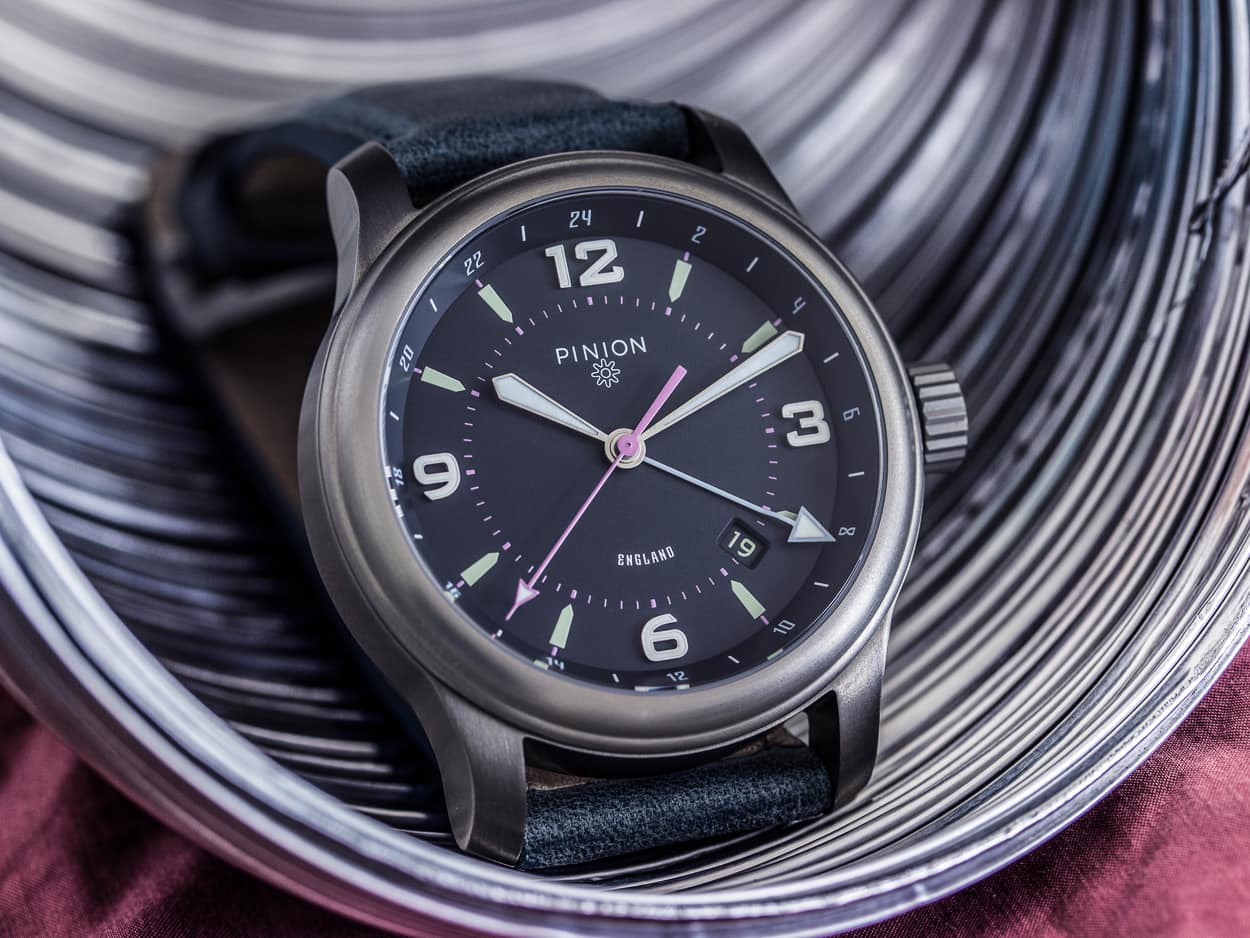 I would be lying if I'd say there was no little disappointment, but that quickly went away after seeing the new 42mm Pinion TT. A GMT watch is one of the most useful complications there is, I believe. Perhaps even more useful than a date. Or chronograph, to be dead honest here. Especially for those who travel a lot, or do business on a global level, a second timezone on your watch makes life easier.
We've been following Pinion from the start here on Fratello, and Berti wears his own Pinion bronze quite a lot. More about his bronze piece will follow soon here. Gerard also made it clear in his article about the Pinion Pure Bronze, that the devil is in the details. The finish of the dial, hands and hour markers were on a level that's rarely met by other brands we see in this price level. The Pinion Atom is a different watch than the Pure, of course. The goal of this piece was to create an affordable watch, based a Miyota movement but with that typical Pinion quality. Some of the readers and collectors out there commented on the use of the Miyota and found this watch at nearly 800GBP still too expensive, but it is very easy to criticize it without holding it in your hands. A watch is still a product that can only be judged by holding it in your hands to see and especially feel the finishing of the case, crown etc. This is also very applicable for metal bracelets, as you could have read in our Piaget article a while ago, or in Gerard's answer to this week's You Asked Us question.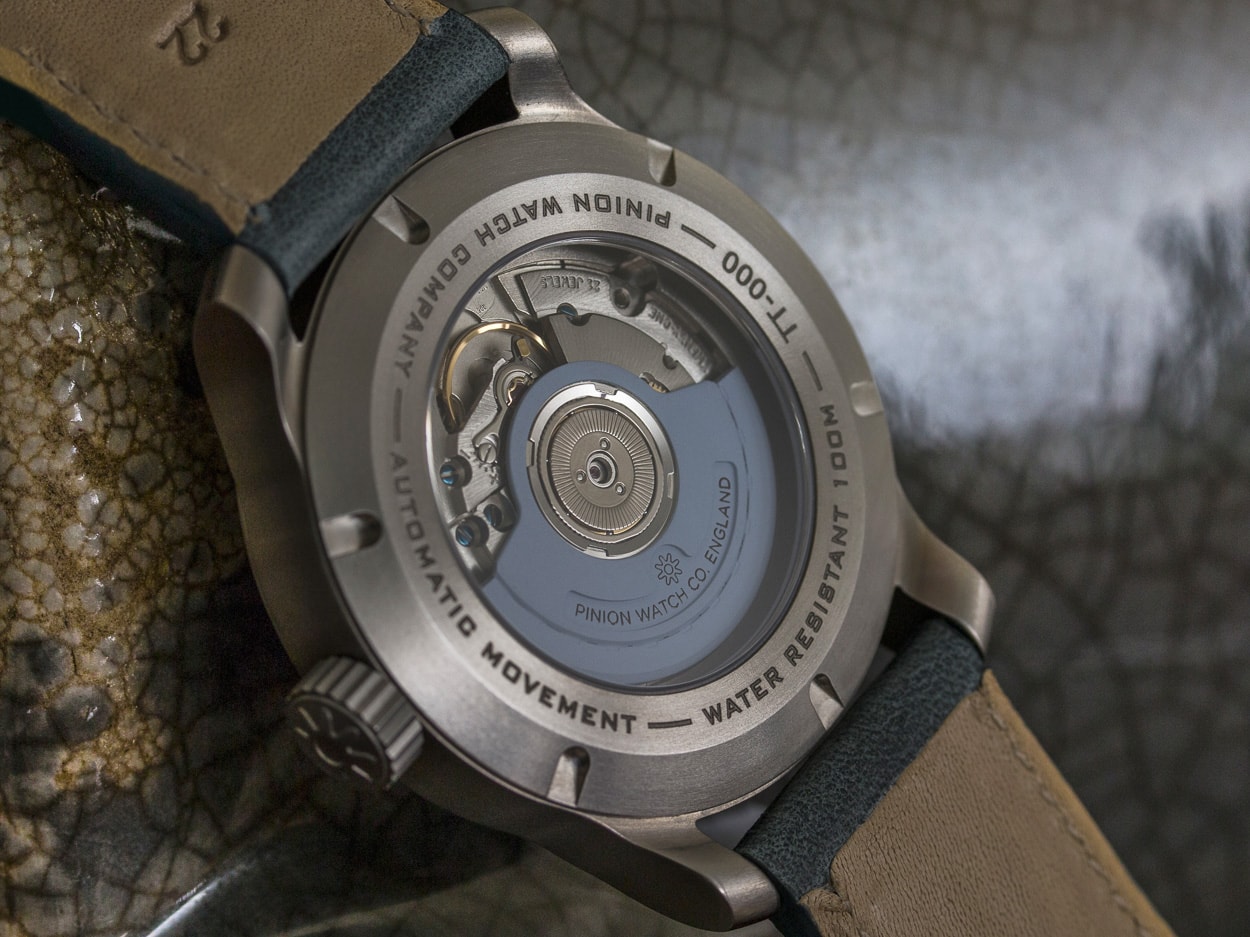 Back to the Pinion TT. Where the Atom was criticized for the use of the Miyota, this new TT won't suffer from those comments. It is using the famous ETA2893-2 movement. Pinion installed a display caseback on this watch, so you can enjoy the decorated 2893-2 calibre, with its blue rotor.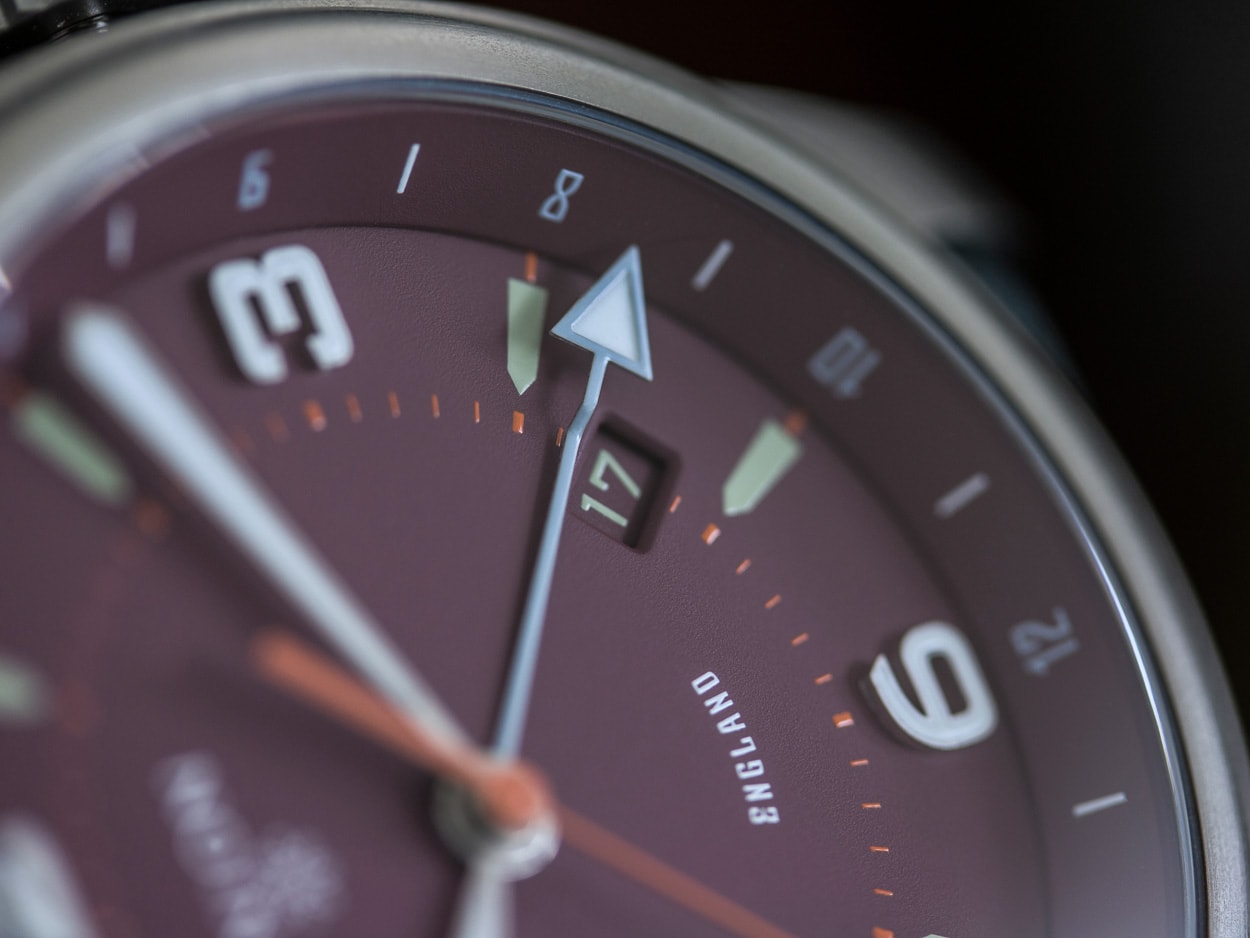 This movement has an independent 24 hour hand that can be set. You should be aware of the fact that in a lot of cases (Rolex GMT-Master II for example), a GMT watch had an independent (12) hour hand, not an independent 24-hour hand. Make sure you dig this way of setting an extra timezone. As you can see, Pinion did something interesting to the shape of the GMT hand. It has a little knick or curves near the end, to 'lift' the arrow over the applied numerals. Very nicely done.
Pinion's TT has a 42mm diameter case with a height of 13mm. From lug to lug, the watch case measures 50mm. The titanium alloy has a brushed finish, to give it that utilitarian look and feel. The lug width is 22mm and the buckle size is 20mm.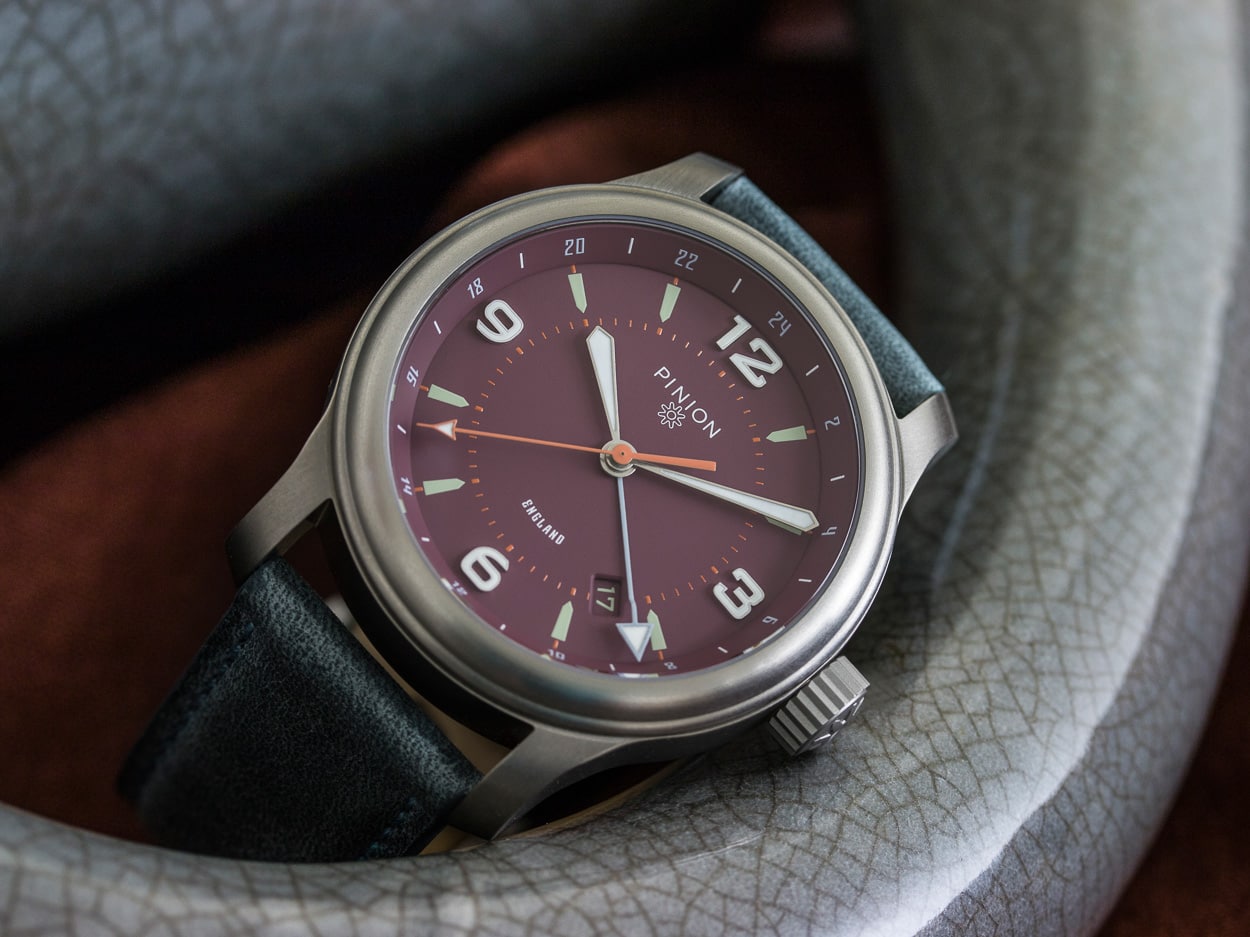 There will be two variants of the Pinion TT watch. One with a maroon coloured dial and one with an anthracite dial. The Maroon dial is combined with a tangerine seconds hand and a maroon date disc. On the anthracite dial version, you'll find a pale-violet seconds hand and anthracite date disc.
The Pinion TT has a water resistance of 10 bar (~ 100 meters) and comes with a two-year warranty. As with all Pinion watches, they are all assembled, finished and tested in England.
The retail price of the Pinion TT is 2,350 ( incl. Vat) £1,958.33 ( Excl. Vat). Orders can be made via pinionwatches.com.