A Brief History Of King Seiko: The Past, The Present, And The Future
Discovering the importance of Seiko's "other" son
With Seiko's recent relaunch of the King Seiko collection, I thought it'd be nice to take a look at the history of King Seiko, the Japanese watchmaking powerhouse's "other son". Historically, it was the rice to Grand Seiko's fish, the two vital ingredients in Seiko's finest horological sushi. However, King Seiko has lived firmly in Grand Seiko's shadow in recent times. While Seiko dedicated a lot of effort to reestablishing Grand Seiko as its own entity (and has done a remarkable job), King Seiko was, until more recently, left by the wayside. Thankfully, Seiko has decided to rectify this, and we are now seeing some of the marvelous work of the Daini Seikosha factory's legacy revisited.
As we all know, in 1988, Seiko chose the Grand Seiko name to fly the flag as the epitome of Japanese luxury watchmaking once again. In the present day, we know that Grand Seiko has succeeded as Seiko's expression of its most accurate and technologically accomplished movements. Grand Seiko's watches also feature some of the finest finishing around at their price point. I know, I'm stating the commonly known facts here. So where, historically, did King Seiko fit into Seiko's family? And, having made its comeback, where does it fit now?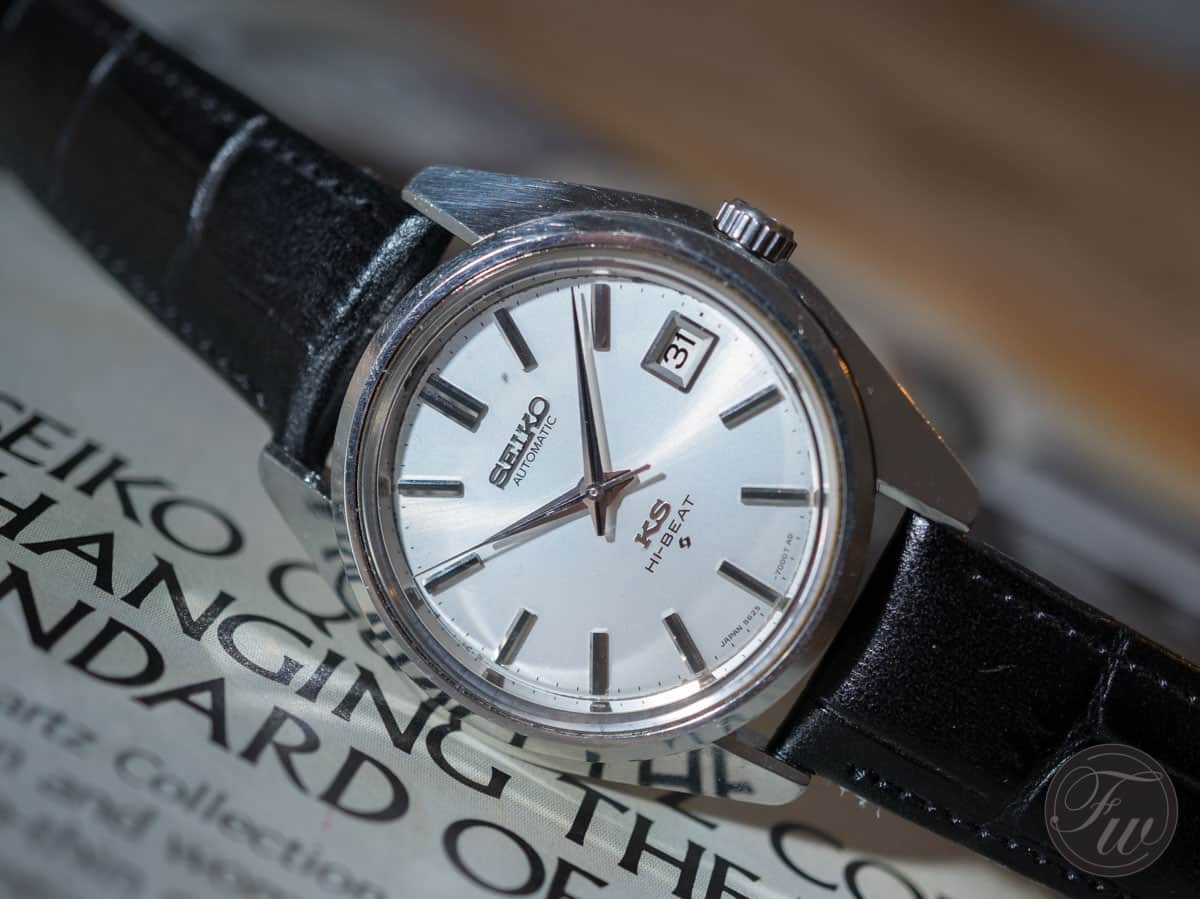 King Seiko's humble beginnings
When Daini Seikosha and Suwa Seikosha were operating at their peak, their relationship was often erroneously described as somewhat tumultuous and a rivalry. While the rivalry aspect has some truth, it was never as fierce as some sources described. From the beginning, Grand Seiko and King Seiko were made with different purposes and positions in the market. Grand Seiko was born in Nagano Prefecture and made to be the epitome of Seiko's high-end watchmaking. King Seiko was born in Kameido, Tokyo, and made with the aim of offering high-quality timepieces to a larger population. They required different design considerations to meet different needs and Seiko offered them in different price segments. Both lines were regarded as high-quality collections and captured the advances of Seiko in the 1960s.
The mutual relationship between the two factories spawned mutual benefits. A prime example is the low-beat caliber 44A, developed by Daini Seikosha and used by King Seiko before developing the famous hi-beat calibers in the mid-1960s. The very first King Seiko movement was based on the 54A used in the Seiko Cronos models, as well as in the first generation of King Seiko watches. Confusingly, it never received an official caliber reference number. The second-generation King Seiko watches began to refer to the previously unnamed movement as the caliber 44A, and thus the 44KS family of watches was born.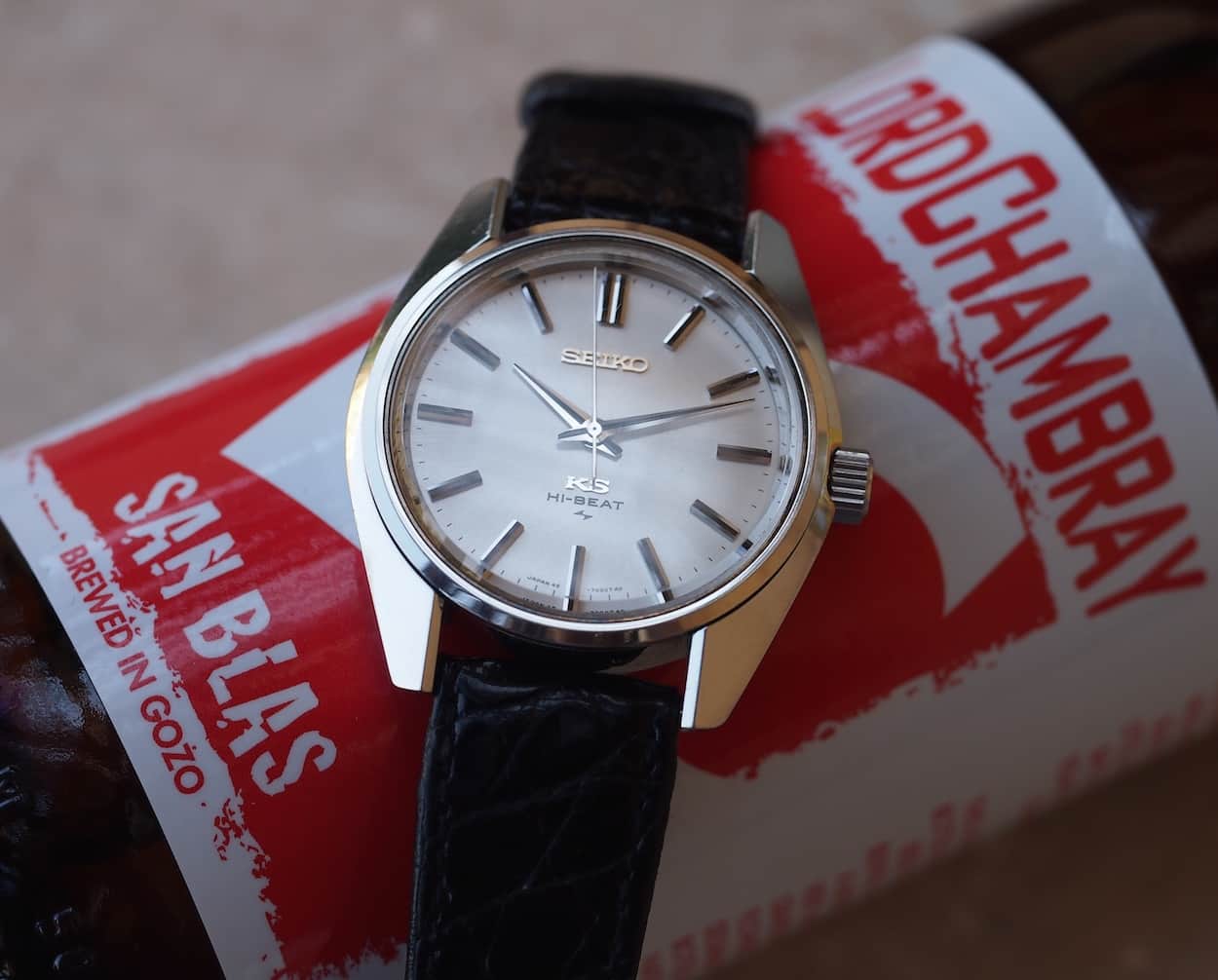 The King Seiko 45-7001
The reference 44-9990 was the inspiration for the new King Seiko collection and the SJE083. But, at least in my opinion, it is perhaps the King Seiko 45KS family that is the most recognizable — in particular, the 45-7001, as owned by my colleague Mike. You can read his review of the watch here. If you think you recognize the case shape, it is indeed very similar to the iconic Grand Seiko 44GS.
The 45-7001 had a combination of a ​​stylish 36.5mm case with the same crisp finishing and excellent attention to detail that we've come to expect from watches of that time. Thanks to the lack of a date indicator, the dial layout is incredibly clean and clear. While I often like to see date complications, the omission allows all the basic elements to shine on a watch of this size. The beautifully polished hands and indices have the space to breathe and add some symmetrical depth to the dial. I particularly like the applied KS logo and "Hi-Beat" wording at six o'clock. Jorg recently mentioned this model in one of his buying guides. Finding a vintage example is not too difficult, but finding a good-condition example may take a bit of searching. You can expect to pay up to around €1,000 for one in good condition.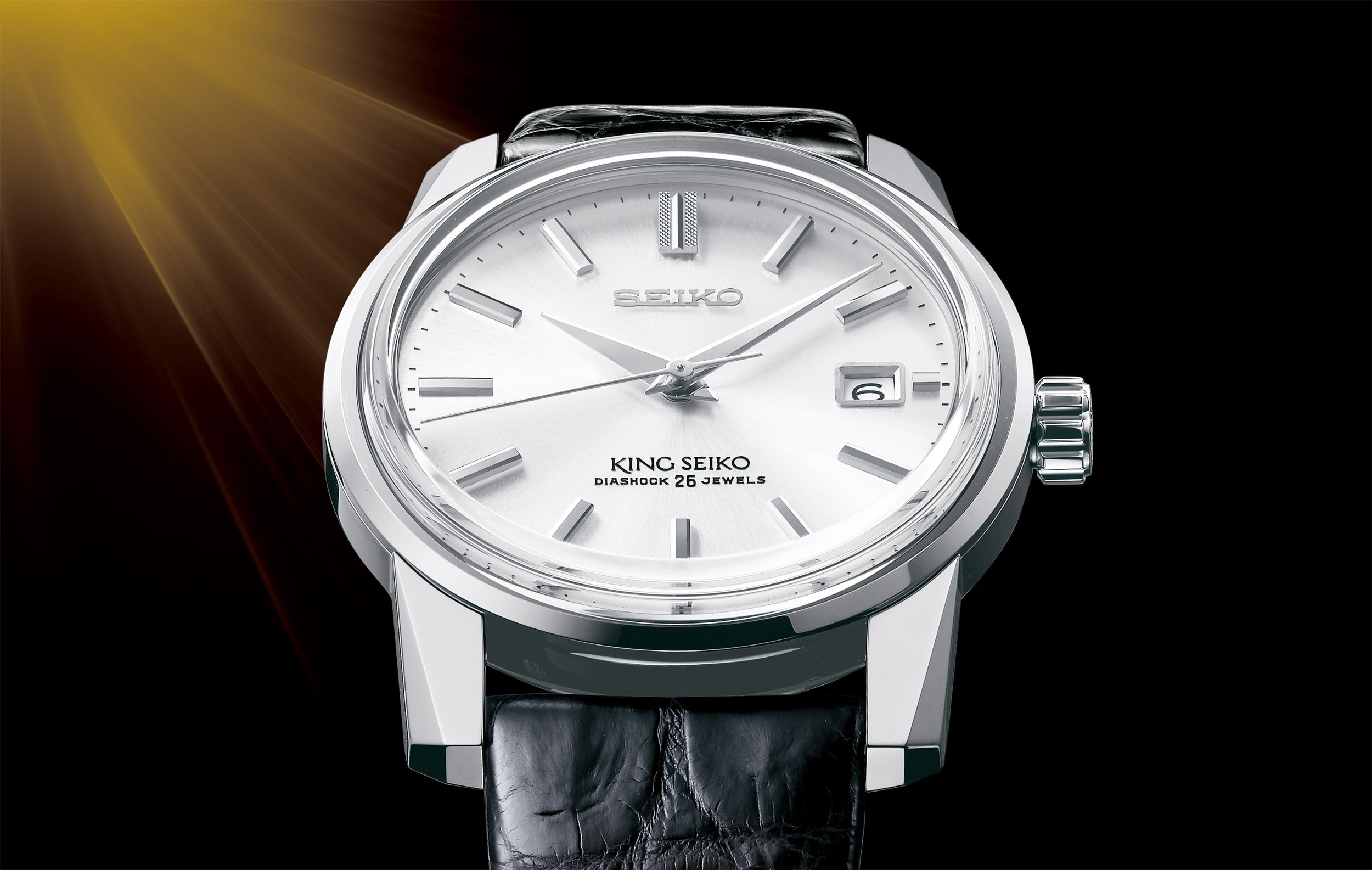 In the present day…
Some people will tell you that King Seiko died back in 1975 when the manufacturing line of mechanical watches in Daini Seikosha's factory was closed down. I prefer to think that it went into hibernation and has now awoken from its age-long slumber to shine once again. Surely, such a celebrated era of Seiko's history could never be allowed to disappear to the annals of horological history entirely? Thankfully, it seems that Seiko agreed, and as I am sure you've seen, it's recently announced the proper rebirth in the form of the new King Seiko collection.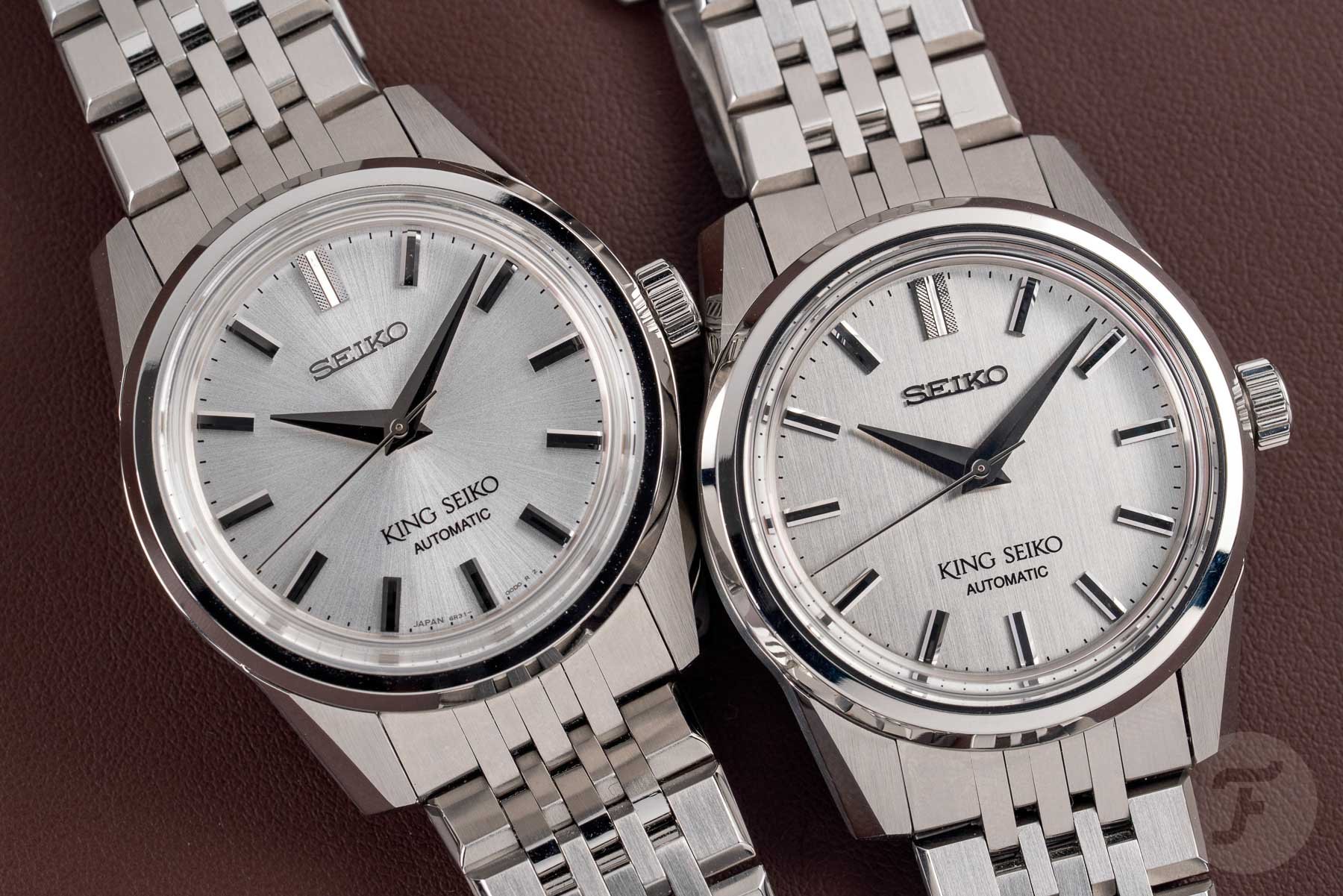 The new collection
Seiko has tapped into its back catalog on numerous occasions over the past half-decade. It's hardly surprising with such a history from which to take inspiration. With the new collection, Seiko has gone back 57 years to 1965. As with the previously released SJE083, the vintage reference 44-9990 inspired the new King Seiko collection. Five pieces comprise the new lineup, available from February 2022 at Seiko boutiques and selected retailers worldwide. While the new collection may look similar to the SJE083 reissue, there are a few subtle differences.
The case dimensions have changed slightly, dropping 1mm in diameter to 37mm but growing by just over half a millimeter to 12.1mm thick. That waistline bulge is due to a different caliber inside. The 6R31 runs the show, taking the power reserve to 70 hours and offering a date-free dial like the original 44-9990. The optional dial colors are pretty nice, with the silver sunburst offering a nod to its roots. However, the light gray, charcoal, brown, and burgundy are new and rather fetching. If you're eyeing up adding one of these new models to your collection, you'll need to part with €1,700 of your hard-earned cash. It's a price that I believe to be quite reasonable.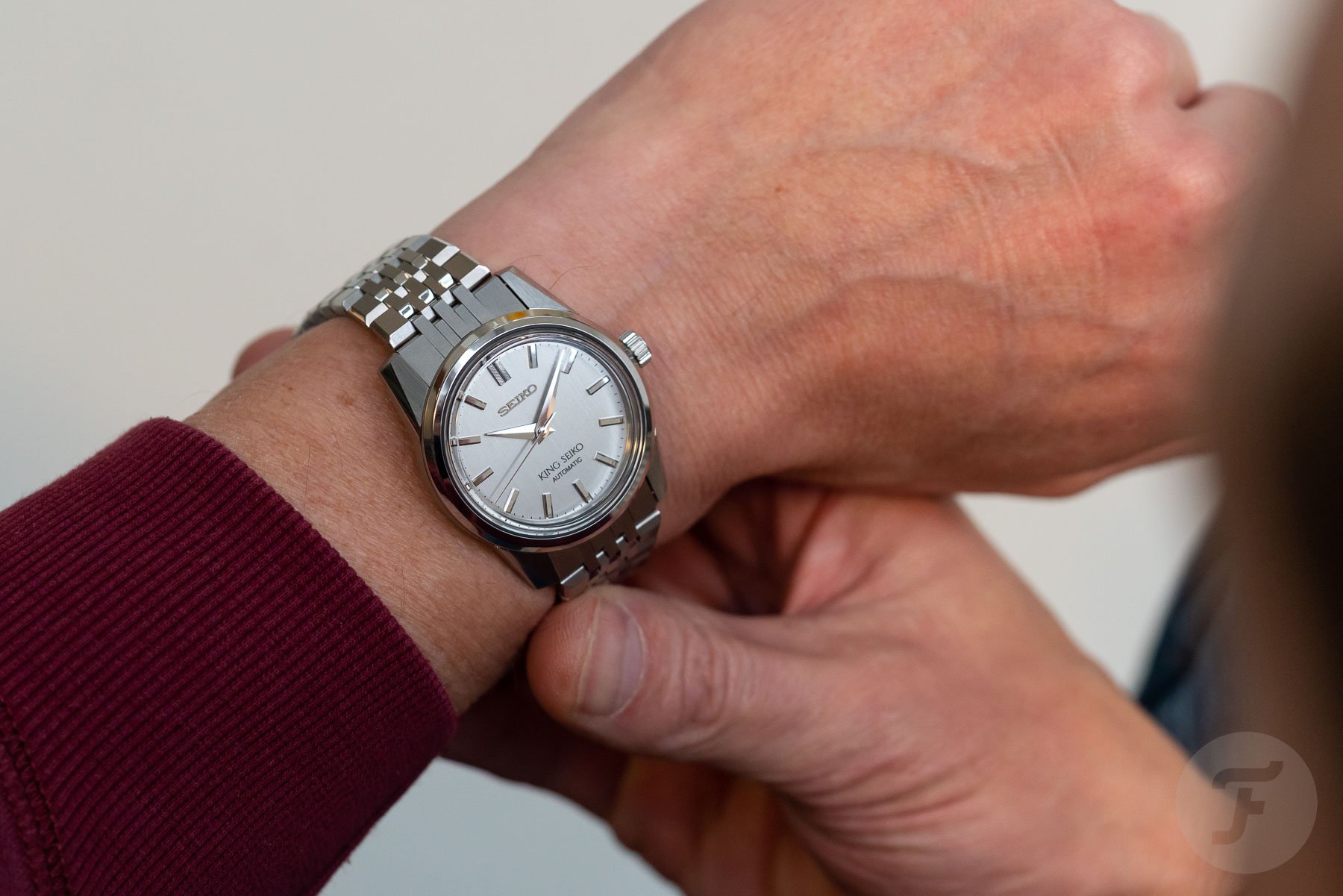 What might the future hold for King Seiko?
So, where does King Seiko fit within Seiko's future plans? Grand Seiko remains an entirely separate entity, whereas King Seiko is positioned as a collection within the Seiko family. It runs alongside the Presage collection. Perhaps I might try to explain the relationship this way: Presage is to King Seiko what Credor is to Grand Seiko, collections offering similar price points and quality but aimed at different market segments. There may be a little crossover in parts, but they fundamentally offer different experiences of Seiko's definition of Japanese watchmaking.
In its press release for the new King Seiko collection, Seiko described the five new releases as "the first collection". So, by that logic, Seiko must have plans for a second and perhaps a third collection. Could we see the return of the 45KS or the 52KS? Who knows, but I was mightily impressed with this new King Seiko lineup, and I am wholeheartedly in favor of seeing more in the future.
You can find out more about the King Seiko SJE083 here and the new King Seiko collection here.
Follow me on Instagram: @davesergeant | @fratellowatches
This is a preferred position post. Learn more.