A New Horizon For Reservoir: The Tiefenmesser Tourbillon For Only Watch 2023
Reservoir teams up with Télôs for its first-ever tourbillon watch
In a world where luxury watches abound, standing out is no small feat. Yet every two years, brands assemble for the Only Watch auction, flex their creative muscles, and allow themselves to go wild. The result is a collection of fantastic, unique pieces that never cease to amaze me as I scroll through the catalog, making my best Owen Wilson impression ("Wooow!"). The remarkable thing about 2023's edition is the collaborative efforts where brands engaged with third parties to create something extra exclusive, even by Only Watch standards. I've written about a few such pieces that seriously piqued my interest, but here's one more for you. This, my Fratelli, is the Reservoir × Télôs Tiefenmesser Tourbillon.
This incredible one-off piece is quintessentially Reservoir and the start of a new era in the brand's history. The watch is an exquisite marriage of a 240° retrograde minute display, a jumping hour, and a tourbillon. But it's not just any tourbillon, oh no. This is Reservoir's first-ever proprietary tourbillon, masterfully crafted alongside Télôs exclusively for Only Watch 2023. Bonus points if you spotted Reservoir's logo forming the tourbillon cage, a surprisingly subtle yet obvious design idea that works very well indeed.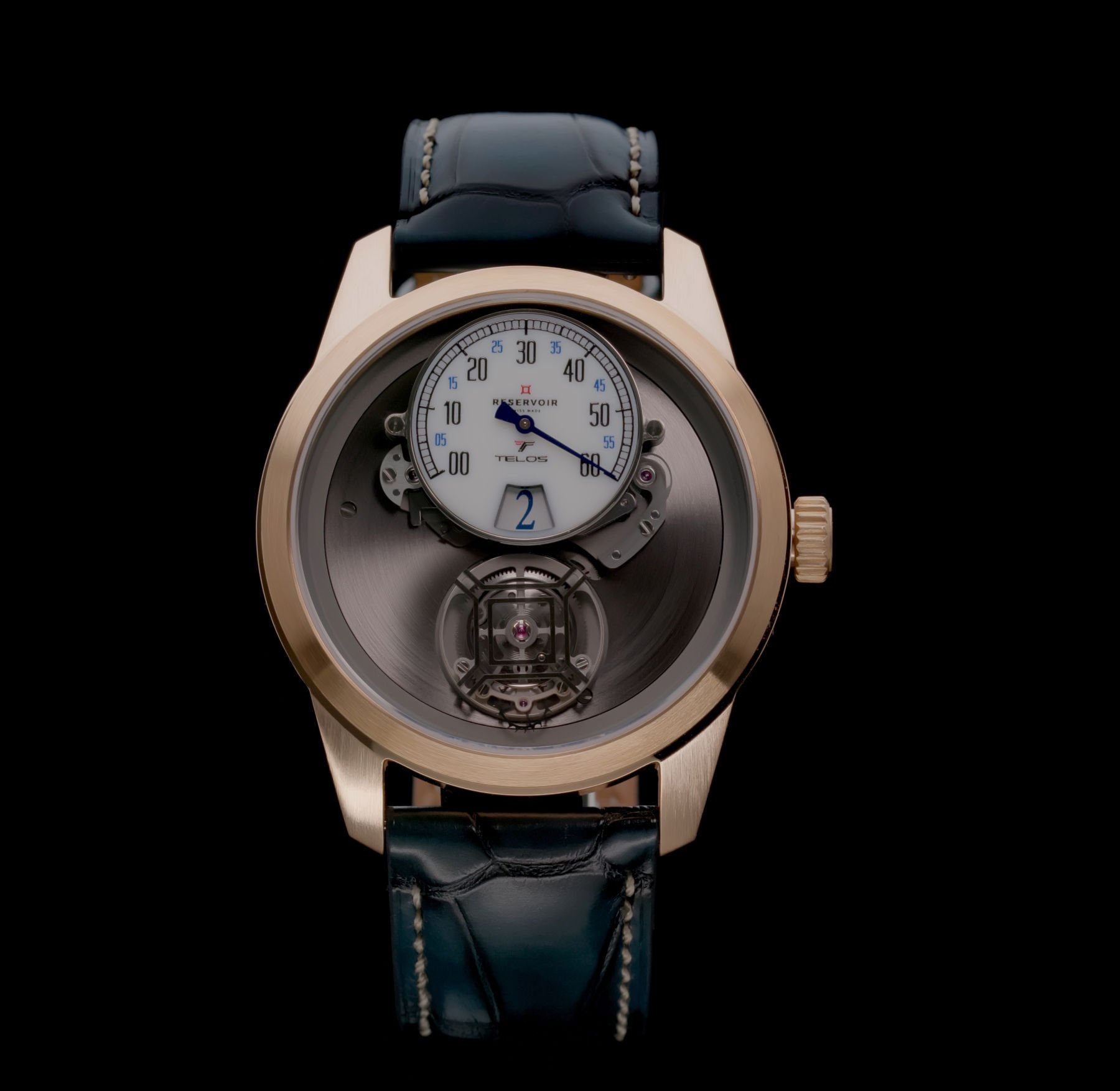 A union of heritage and modernity
As François Moreau, Reservour's founder and CEO, mused, "This somewhat crazy project was made possible by the work of a really outstanding team that brought together all the creativity of Reservoir and the watchmaking expertise of Télôs." Crazy? Perhaps. Inspired? Definitely! Creating a brand-new movement for an Only Watch submission takes a lot of time, research, and financial investment. To limit yourself to a one-off movement is something that only brands like MB&F do. Therefore, I would expect Reservoir to be watching the auction results closely as this Tiefenmesser Tourbillon could be the beginning of a whole new high-end avenue for the brand. I find it fascinating to watch a brand's future unfold in this way.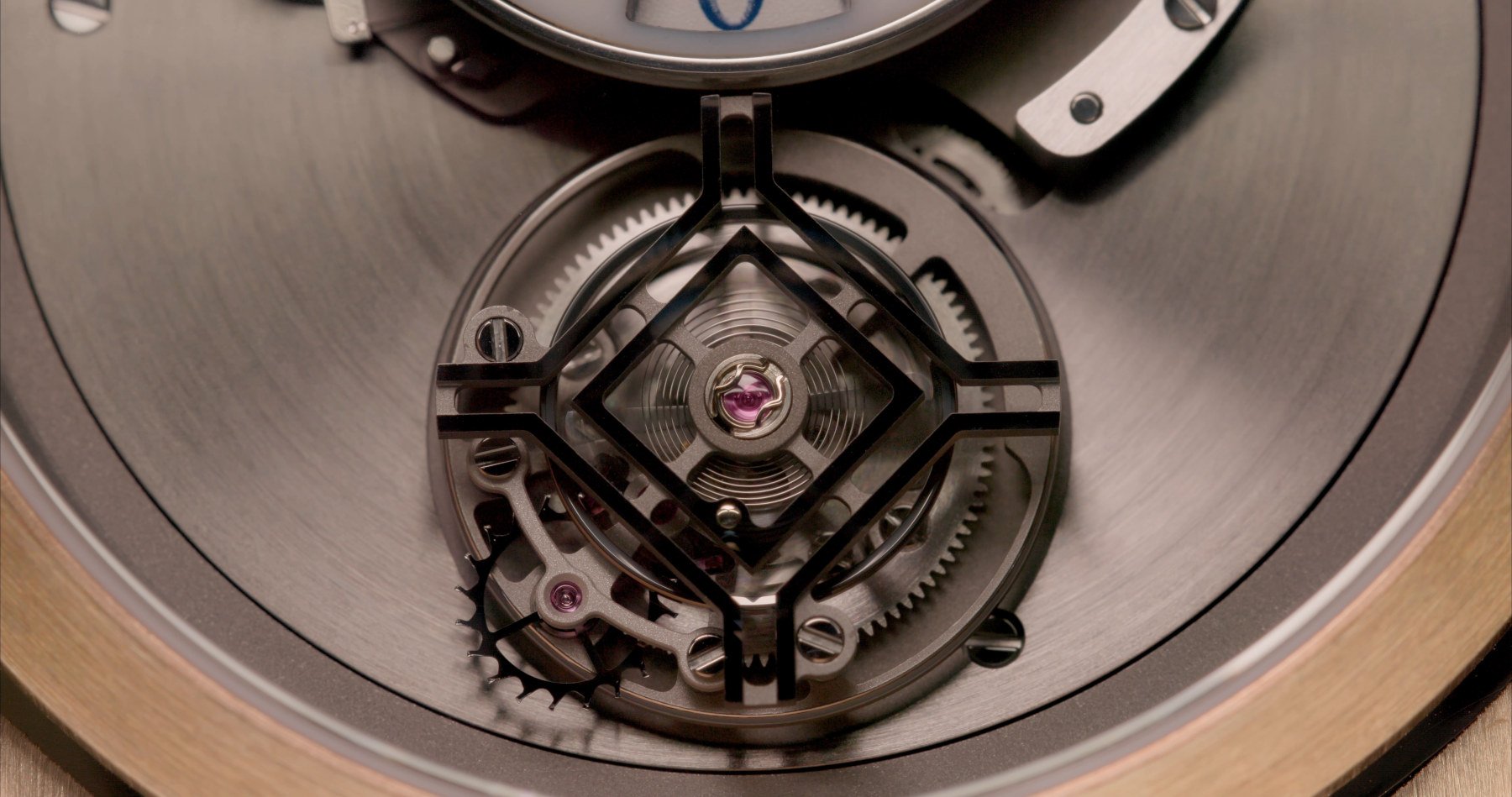 Who or what is Télôs?
Télôs was founded in 2009 by longtime friends Franck Orny and Johnny Girardin in La Chaux-de-Fonds. As a company specializing in watchmaking development, Télôs quickly found its place by engineering ultra-complicated movements. In 2015, the folks at Télôs had the idea of offering a unique concept of à la carte calibers, which, using similar components, made it possible to create different movements that could be personalized according to customers' expectations.
Télôs has since gone on to make a name for itself in the world of Haute Horlogerie with clients including ArtyA, Cvstos, Corum, Rebellion, Montblanc, and Harry Winston. Now Reservoir joins this impressive list.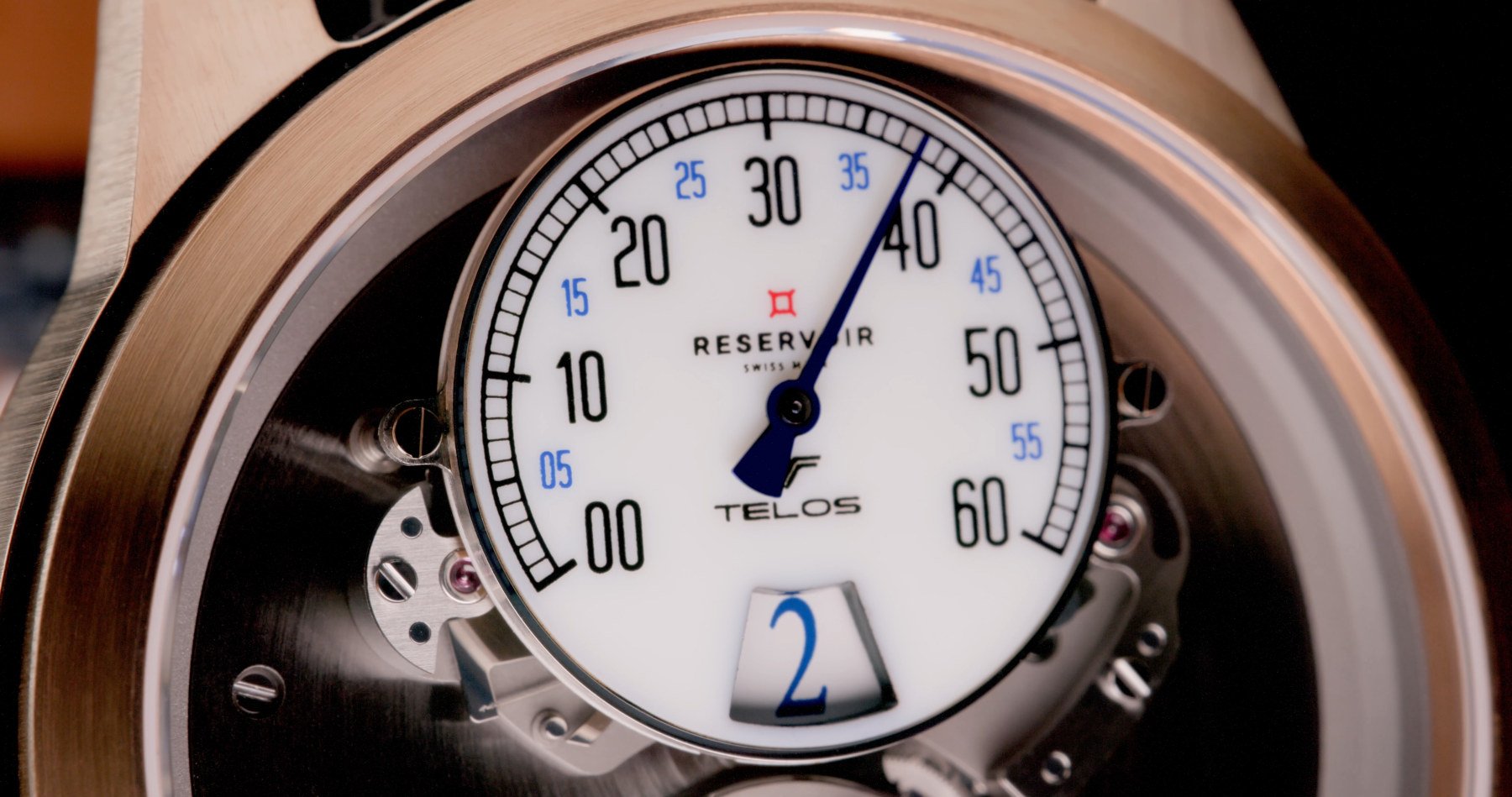 The Tiefenmesser Tourbillon echoes maritime adventures
The Tiefenmesser Tourbillon Only Watch doesn't just tell the time; it also tells a story. Old ships and submarines of yesteryear have long been a source of inspiration for Reservoir, and the Tiefenmesser Tourbillon stays with that theme. It's an embodiment of the golden age of maritime exploration. The bronze case is an invitation to voyage through that era. And that 240° retrograde minute display? It is distinctively Reservoir, bringing to mind the manometers and gauges on board submarines, including the depth gauge from which the watch takes its name.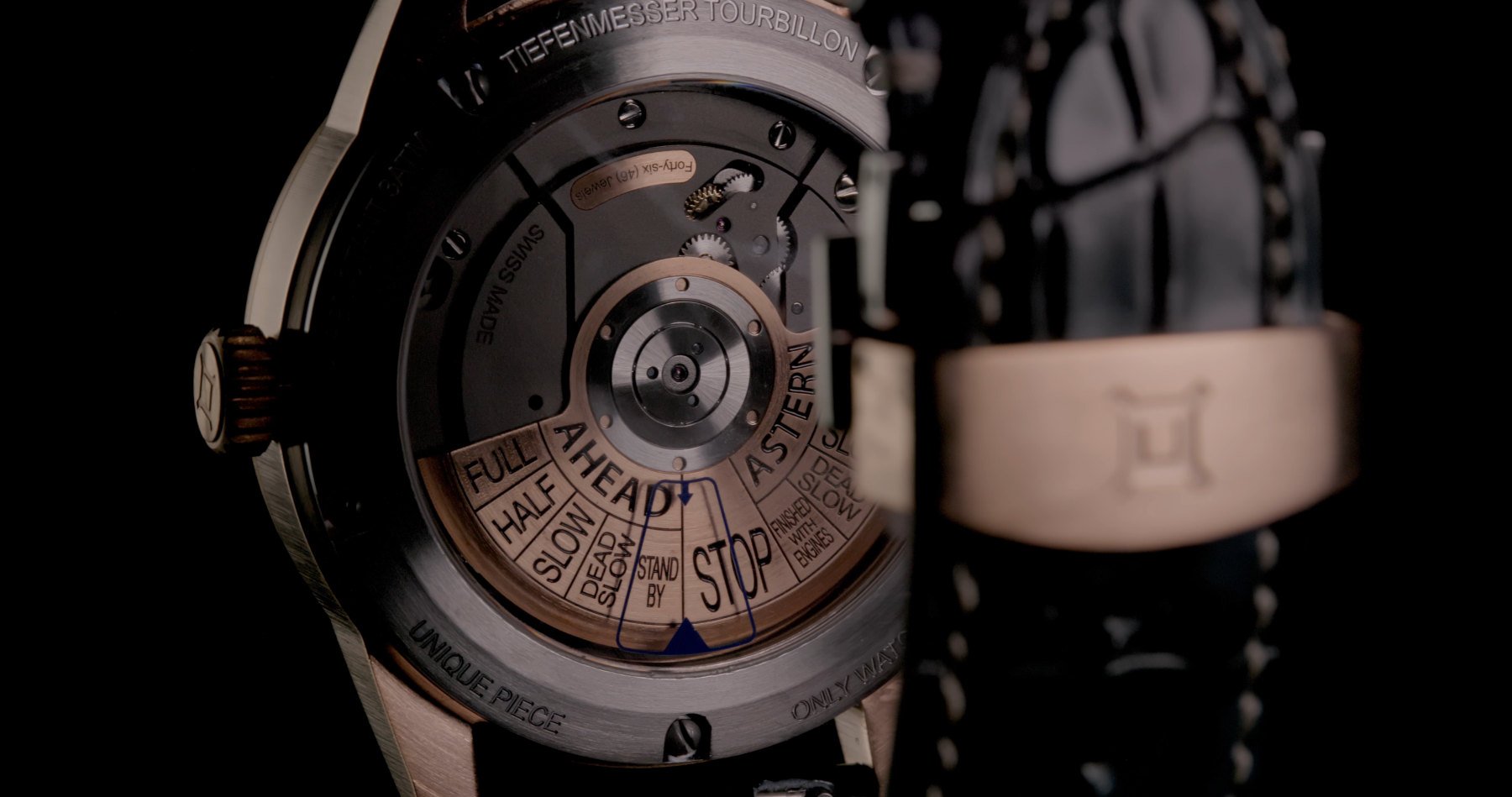 The intricacies within the Tiefenmesser Tourbillon
Let's delve deeper into the heart of this horological masterpiece. The watch is regulated by an impressive tourbillon situated gracefully at 6 o'clock. As we all know, the tourbillon dates back to a patent back in 1801. Conceived by John Arnold and developed and patented by his friend Abraham-Louis Bregeut, the tourbillon blends history with today's cutting-edge craftsmanship.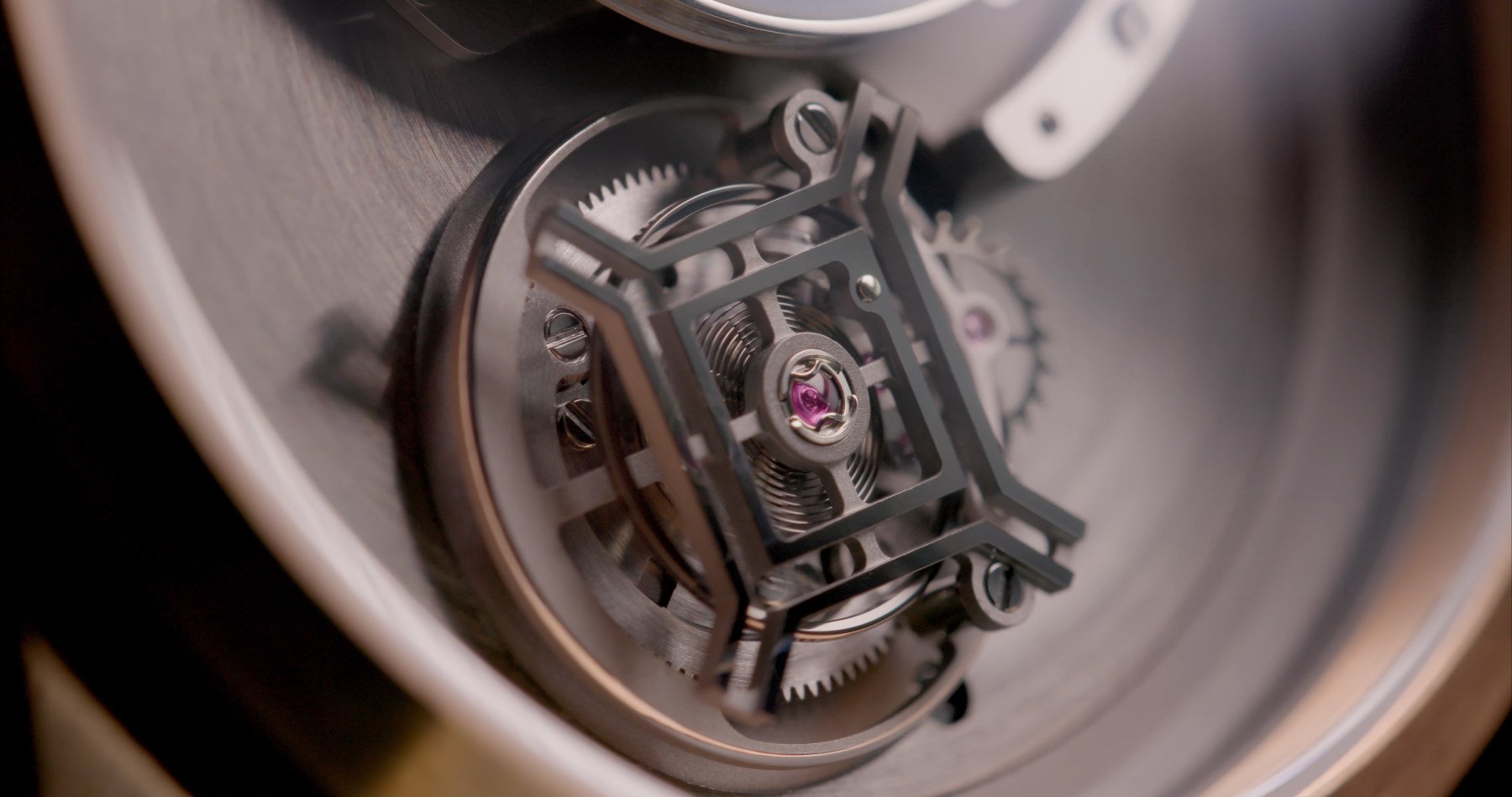 The impressive new caliber operates at a 4Hz (28,800vph) frequency and utilizes a double barrel, ensuring an unwavering 60-hour power reserve. What's remarkable about this tourbillon is its meticulous design, which simultaneously acts as a seconds/going indicator. Moreover, the enamel dial, a choice rooted in vintage appeal, goes beyond aesthetics. Its design makes for clear legibility.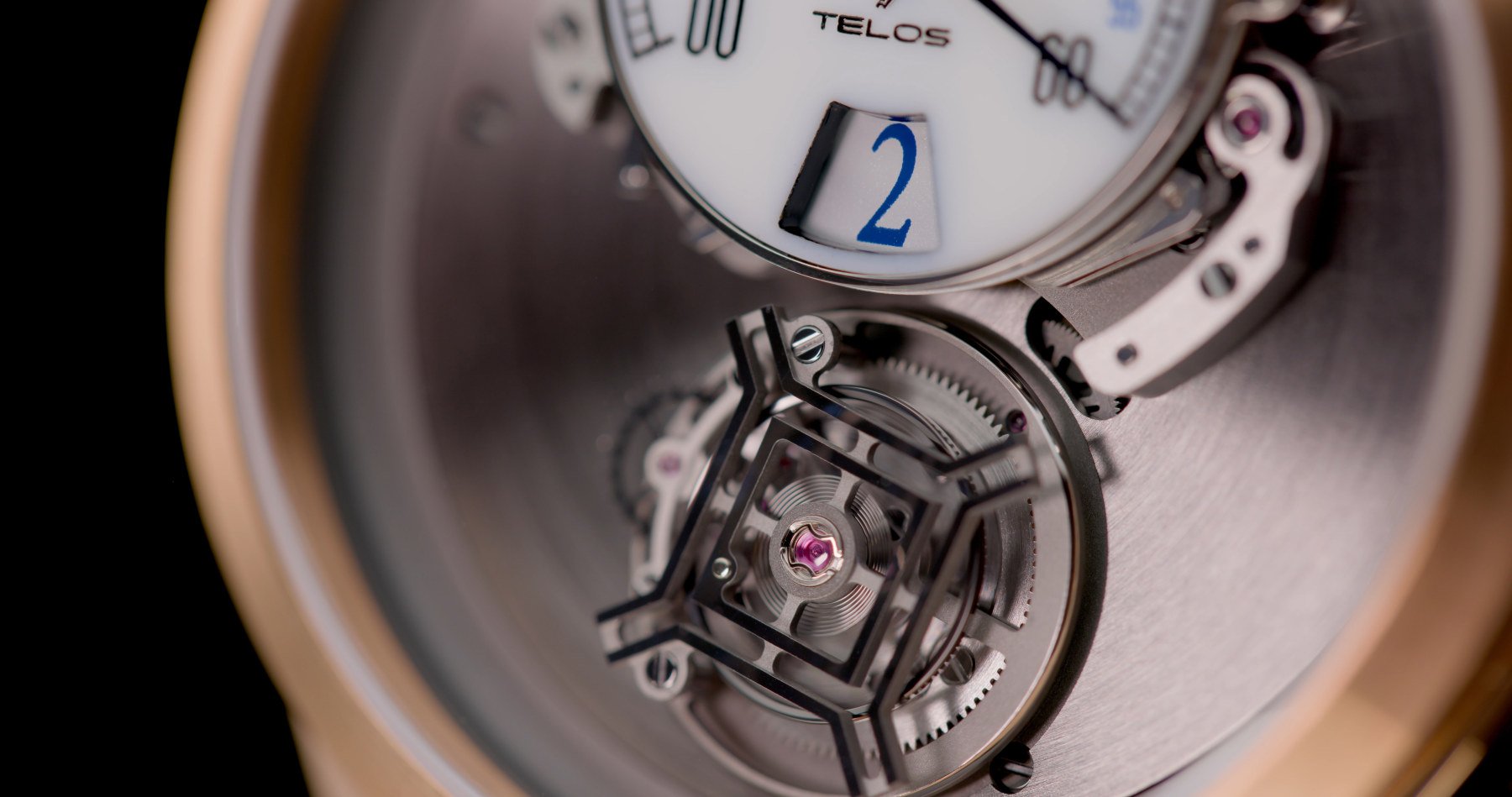 Dimensions and wearability
With a 43mm bronze case, the watch strikes a harmonious balance between prominence and elegance. It's sizable enough to make a statement yet designed with wearability in mind. Its white Grand Feu enamel dial is complemented beautifully by a blue hand, enhancing its nautical theme. Notably, however, despite the nautical theme and screw-down crown, the watch only features a 3ATM water resistance rating. It's okay for the relative dryness inside a submarine, but I wouldn't take this watch diving. Then again, it's a tourbillon. Who takes a tourbillon diving anyway?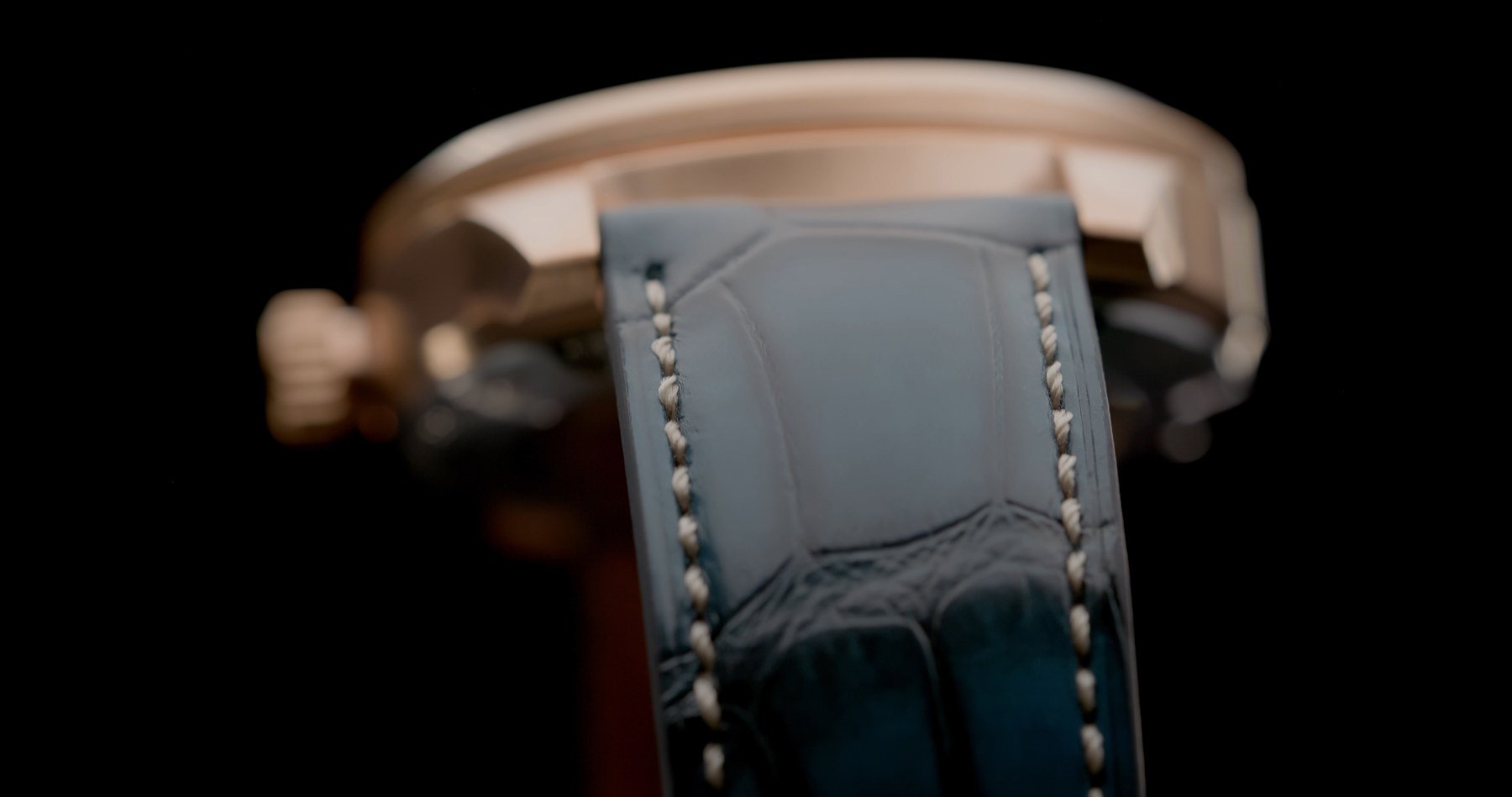 Now, let's talk straps. Adorning this unique piece is a plush blue alligator leather strap. It measures 22mm in width, ensuring comfort without compromising on the luxury one expects from a watch of this level. The butterfly deployment clasp, a fusion of stainless steel and bronze, ensures a snug fit, making it perfect for both daily wear and special occasions. That said, a watch like this screams "special occasions." I don't know about you, but I have one watch I save for such times in my collection. The watch stays in the safe if it's not a special event. It may mean I wear the watch less frequently, but when I do, I truly savor and appreciate it more.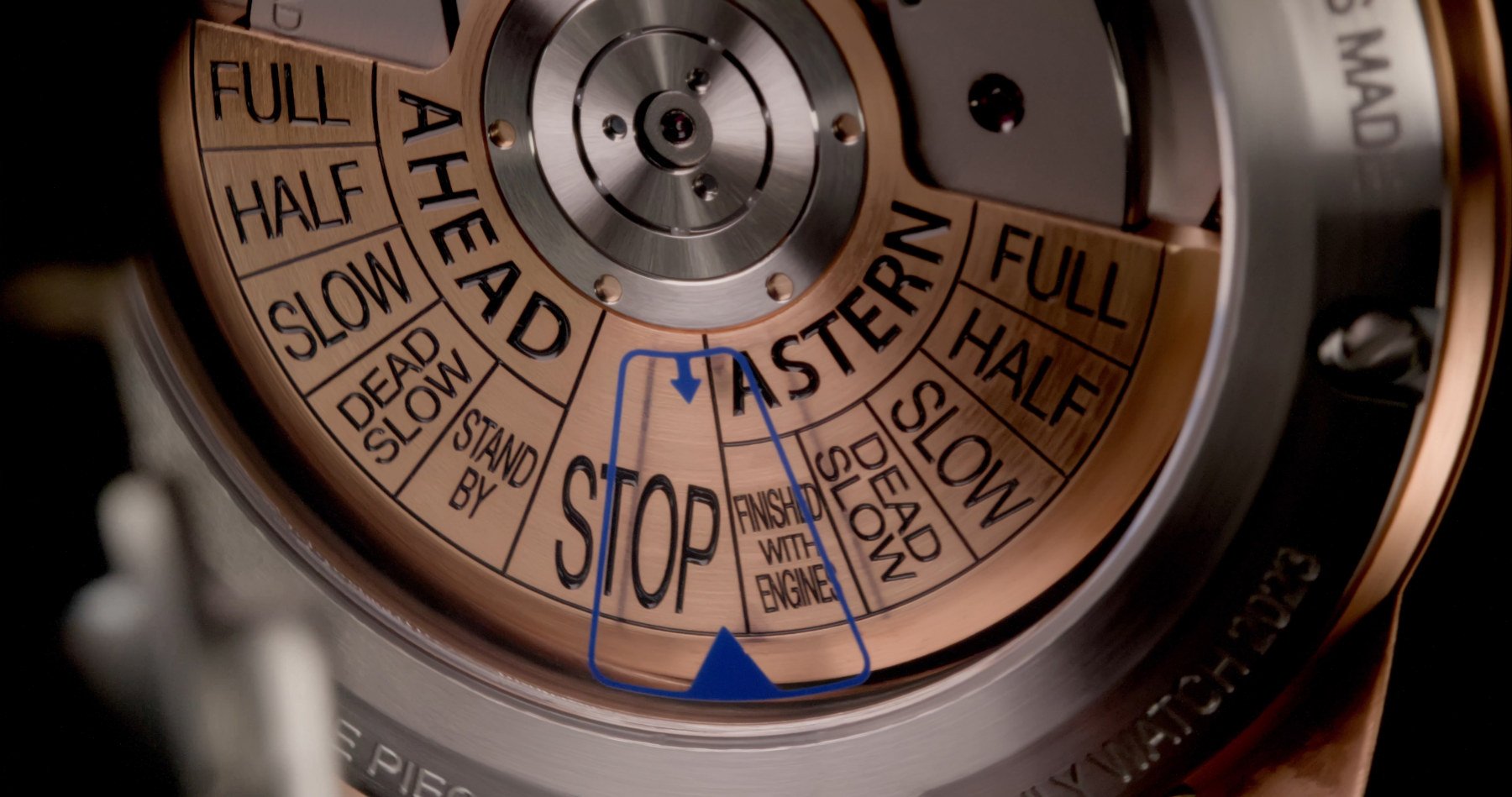 More than meets the eye with the details
A watch's beauty isn't just skin deep. The case back, designed with nonreflective sapphire crystal, offers a candid glimpse into the soul of this watch. And for those with a penchant for details, you'll find a nostalgic nod to historic submarine controls on the movement's rotor, visible through the display case back.
Two sectors (ahead and astern), between which sits the "stop" position and the five engine speeds corresponding to each setting, are marked accordingly. I remember seeing these old-style controls in films and cartoons when I was younger, so this feature has a nice hit of nostalgia.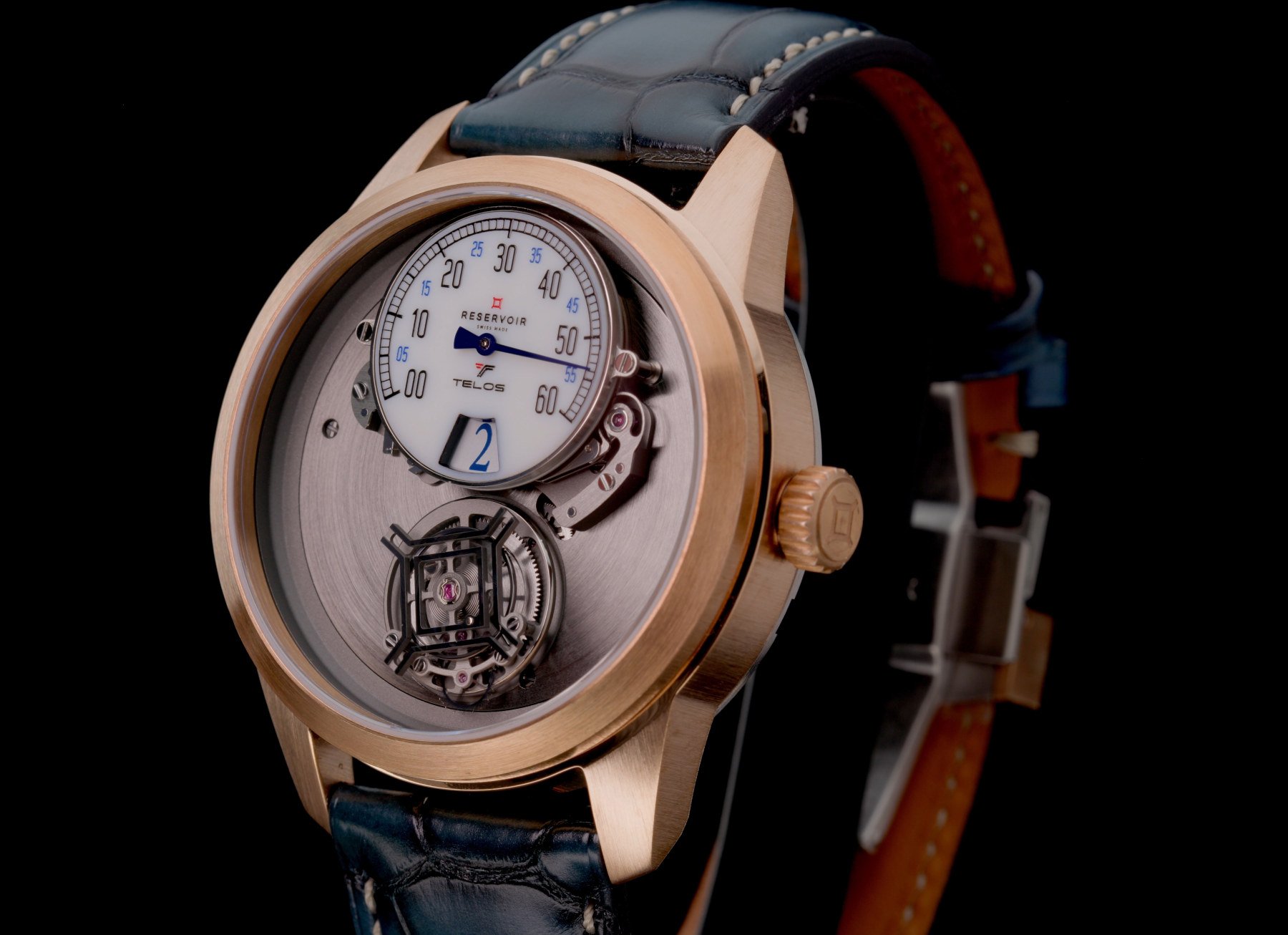 Final thoughts on the Tiefenmesser Tourbillon
The Reservoir × Télôs Only Watch 2023 Edition Tiefenmesser Tourbillon is more than just a watch. It's potentially the beginning of a legacy for the brand, a harmonious blend of heritage and innovation, artistry and craftsmanship. The best bit? It's all to raise money for medical research on Duchenne Muscular Dystrophy (DMD).
So, horology enthusiasts, what's your take? Could you envision the Tiefenmesser Tourbillon gracing your wrist? Is the tourbillon destined to become a part of Reservoir's future? Dive into the comments, and let me know!
Discover more from Reservoir here, or learn more about Only Watch here.