A Week With The Casio F-91W Made Me Re-Evaluate My Entire Collection
Spoiler alert: the world's most popular €19 watch is quite good
As you know, I've been proclaiming my need for the consolidation of my growing collection. As with many things, I feel a stronger need to commit if I put it in writing, and with you, dear Fratelli, I can't hide. I've been foolish enough to use my own name for my watch-obsessed Instagram account. It's honest, but it does mean that I'm regularly chatting with many of you. So, if I get out of control with my purchases (again), I can't hide. And wouldn't you know it, I just can't seem to stop. But a week with the Casio F-91W changed me.
But seriously, it's going quite well, and I've managed to simmer the sauce down from 25 watches to about 18. Of the ones remaining, five are vintage pieces that I pretty much never wear, but which are not worth enough to let go of. Let's call it a distillation process. Many of you face the same dilemma, and one of the challenges is creating that objective distance between you and your wristwear to get some perspective on which ones you should keep. Last week, I accidentally found a way to re-connect with my childhood self and get some perspective through a €19 Casio. I know, yet another watch wasn't the plan, but it will make sense, I promise.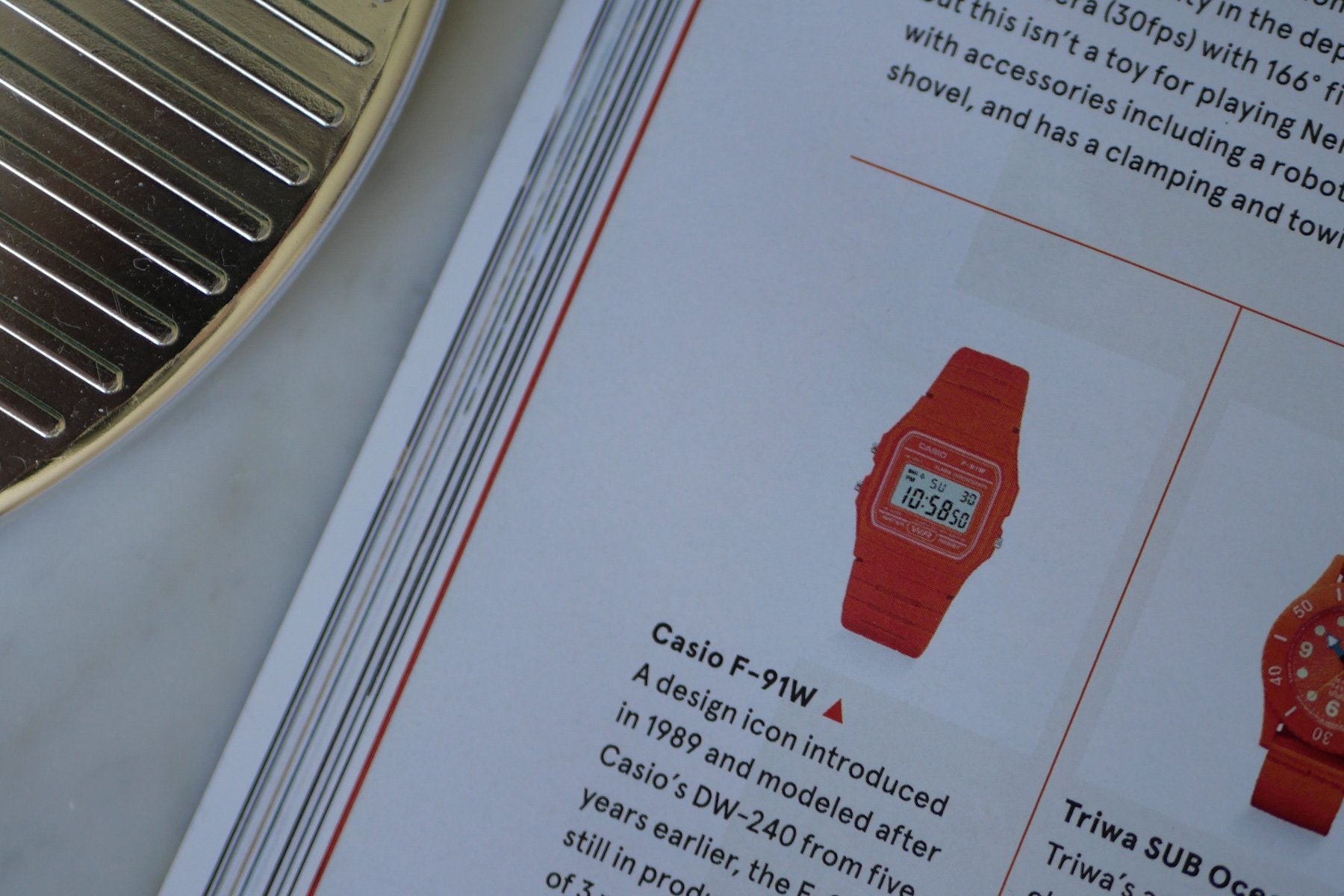 Back to my roots for less than €20
I was a teenager in the '80s, so digital cool was my gateway drug to watches. Mechanical movements now turn me on more, but I love my red full-metal G-Shock and some meca-quartz beauties. And while I have been trying to consolidate, I'm struggling. To rephrase an idiom, I can't see the trees for the forest, so how do I get some perspective? A story in Wired triggered me, with the world's most popular digital workhorse touted as a cool summer watch for a ridiculous $25. One look at the story and I was sucked into a time-loop back to 1984, looking through the window of a local watch dealer at the Casio F-91W. It was small, colorful, and crazy value, and of course, I recognized it. There is one still on the arm of my 13-year-old son, his first watch from three or four years ago. In fact, he also now has a gold-colored one.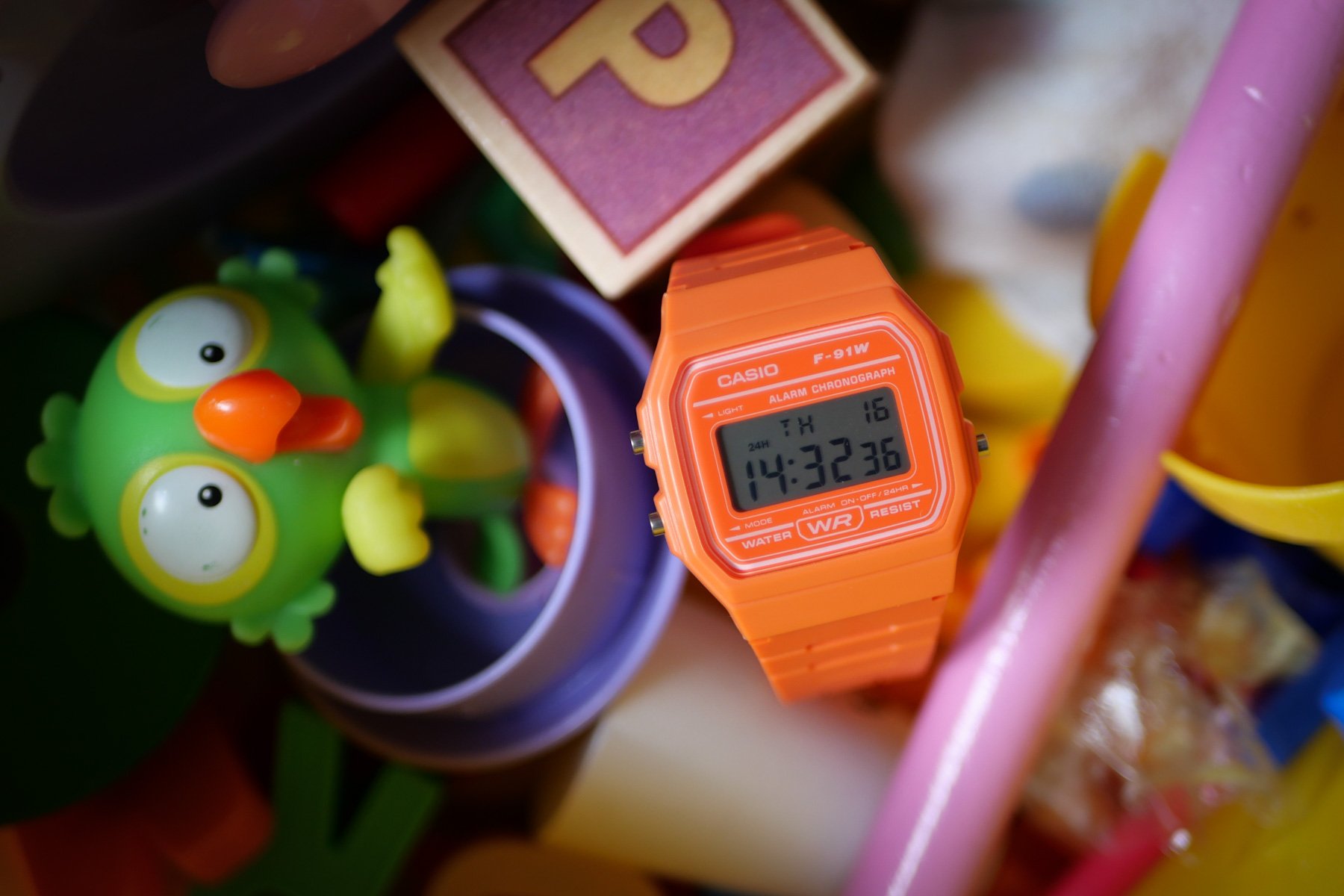 A week of self-evaluation gets results
I couldn't help ordering one. With the mad price of €18.50, could it even be classified as a watch? My wife's outburst was, "But it's a kid's watch!" This triggered a long monologue on Casio as the great leveler of class and the F-91W being the world's most popular digital watch (yes, she walked away halfway through…). I wore it every working day for a week as a psychological experiment, making me revisit my reasons for watch collecting. It was like taking a step back and seeing things with a fresh outlook. Every evening, I'd go to my watch cabinet, check what watch I'd missed the most, and wear it for a couple of hours. This brought up the contrasting realization that the F-91W is both smile-inducing and silly comfortable. It's like wearing a plastic festival bracelet that runs more accurately than any COSC-rated beauty in my collection.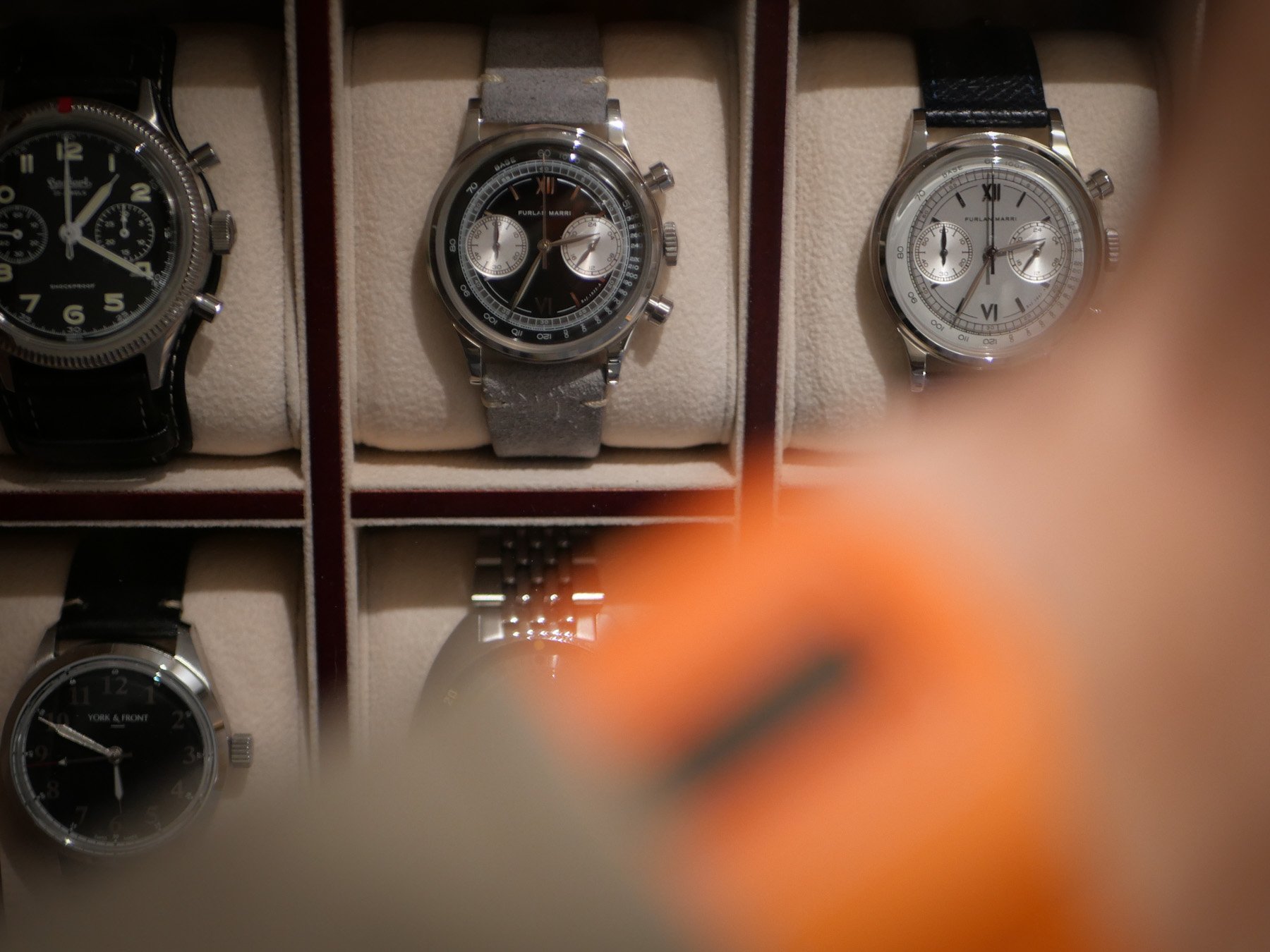 After a week, what watches did I miss?
I missed the weighty reassurance of hand-finished quality, but I also had a feeling of relief. It was a carefree feeling that you just don't get from a rich Zaratsu-finished case or a bulky dive watch. Don't get me wrong, I still desired most of my watches, but I could see the value in distilling the collection down to fewer quality pieces. The ones I didn't miss enough after a day of resin joy got subconsciously classified for sale, and it worked. The one thought I had mulled over for some time was upgrading my one Grand Seiko. This F-91W turned out to be a great orange catalyst for this.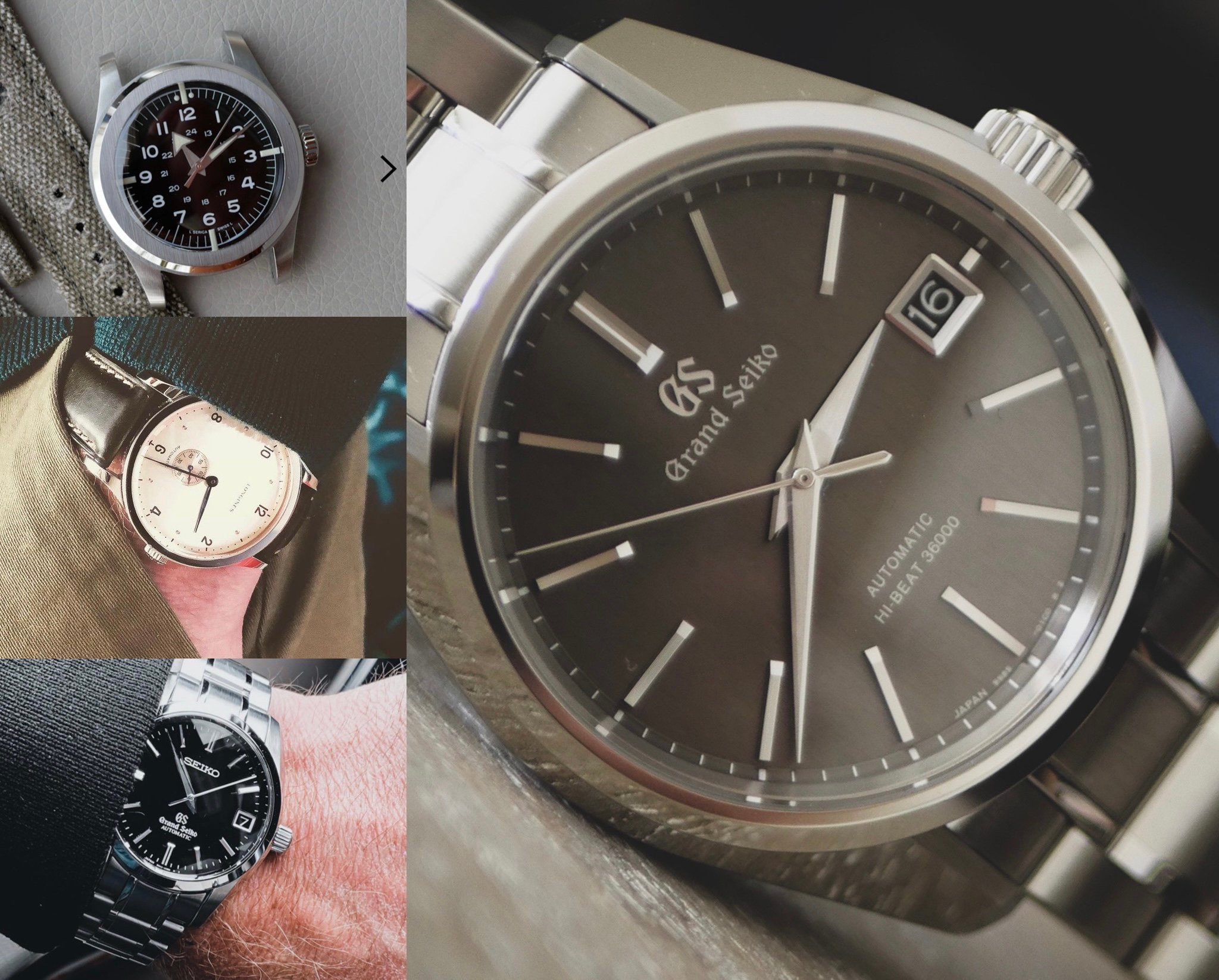 I whittled the collection down, selling three watches, including a lovely Serica (miss you), a beautiful albeit large-wearing Longines, and my very first Grand Seiko. That last one I loved dearly, but its 40mm edgy cousin tempted me. I seriously desired a Hi-Beat Grand Seiko with a 44GS-style case, so three good watches became one mini-grail. It arrived pre-owned from a Chrono24 dealer in Hokkaido, and a full article about it is coming soon. Call it a Zaratsu-infused distillation of my collection, or "Consolidation: Part Deux". And do you know what? I don't think I'm done. After all, I still have only one wrist for watches, and there are only seven days of the week.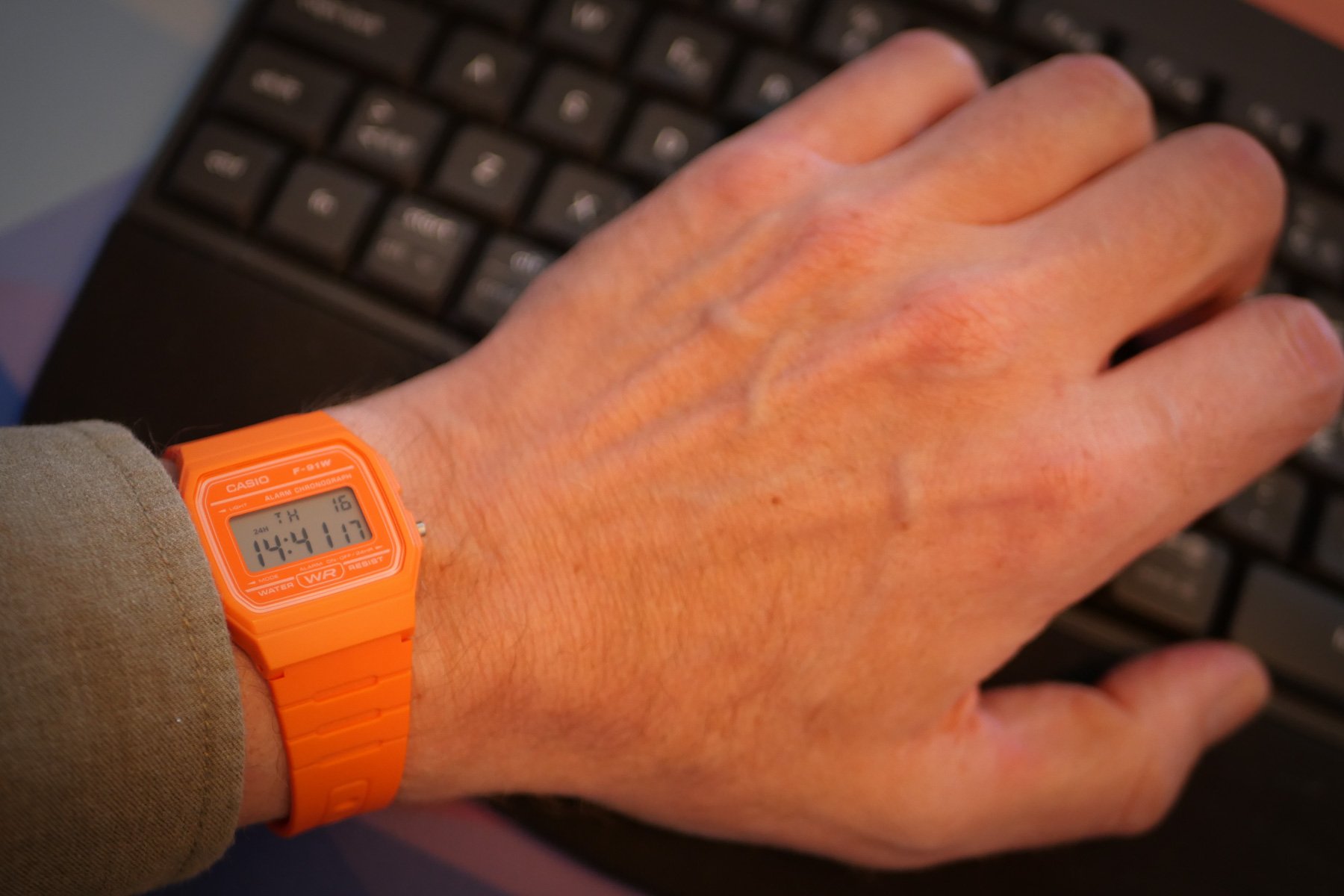 Philosophy aside, the F-91W is a decent watch
It is actually rather good. The orange F-91W will remain my go-to travel watch, and I knew that from day one. It's even a great beach watch if you take it off before a swim. And you know, I actually got more comments on this €18.50 Casio than on most of my bespoke, rare microbrand, or Zaratsu-finished pieces. It's just plain fun for pennies and very, very comfortable. Wearing it with a nice shirt and a suit jacket feels disruptively cool, and you get the looks, I can assure you. They'll be a mix of quizzical glances and approval-nodding at your quirky-cool dress sense, and I'd wear this over an Apple Watch or a Garmin any damn day.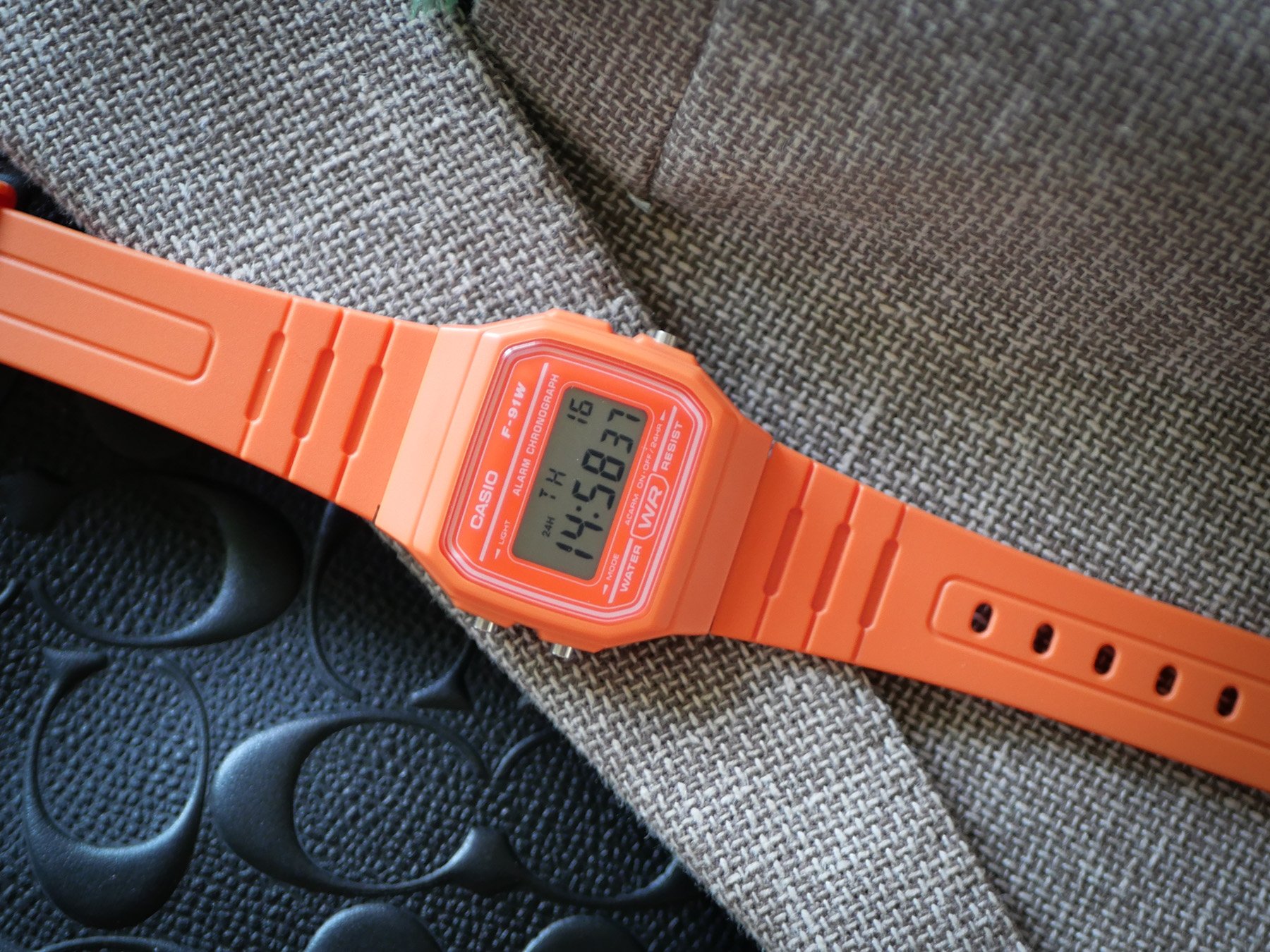 Packed with value in a loud orange suit
The LCD display is sans any depth and reads like ink on gray paper. There's the usual package of a 12/24-hour display, countdown timer, stopwatch, alarm, and automatic calendar for less than €19. When it comes to water resistance, it can only handle a drizzle of raindrops, so take it off when you shower (though with the festival-bracelet weight, you'd be forgiven for forgetting). It's candy-sized at 35 × 38mm and ridiculously slim at 8.5mm thick. Finally, with a weight of just 21 grams, the Casio F-91W must run on air.
Fratelli, have I gone mad, or was it refreshing reading about a sub-€20 watch (that has actually been copied by a Chinese company for €10, believe it or not)? Surely, I'm not alone in struggling with consolidation angst? Share your take on the matter in the comments below.
Find me and follow me at @thorsvaboe