An Exclusive Interview With Guillaume Laidet Of Nivada Grenchen
Balazs chats with the man responsible for the brand's recent success
As a vintage guy, it's always exciting for me to see brands being relaunched. Often, though, my feelings are somewhat ambivalent. It is rare that a watch company comes back to the market with a strategy and lineup that I'm entirely on board with. Nivada Grenchen, however, is an example of a rebirthed brand done right. I'm lucky to be friends with Guillaume Laidet, the man behind this and other brands. We have a relationship that goes back years, and I reviewed almost all Nivada models when they came to the market. So I thought it would make sense to sit down with Guillaume and chat about the brand, the beginnings, and what the future will bring for Nivada.
He shared some exciting things with me and gave us a behind-the-scenes "tour" of a reborn watch brand on the rise. He also shared many interesting facts about Nivada Grenchen and the industry in general, which now put the company in a different perspective for me.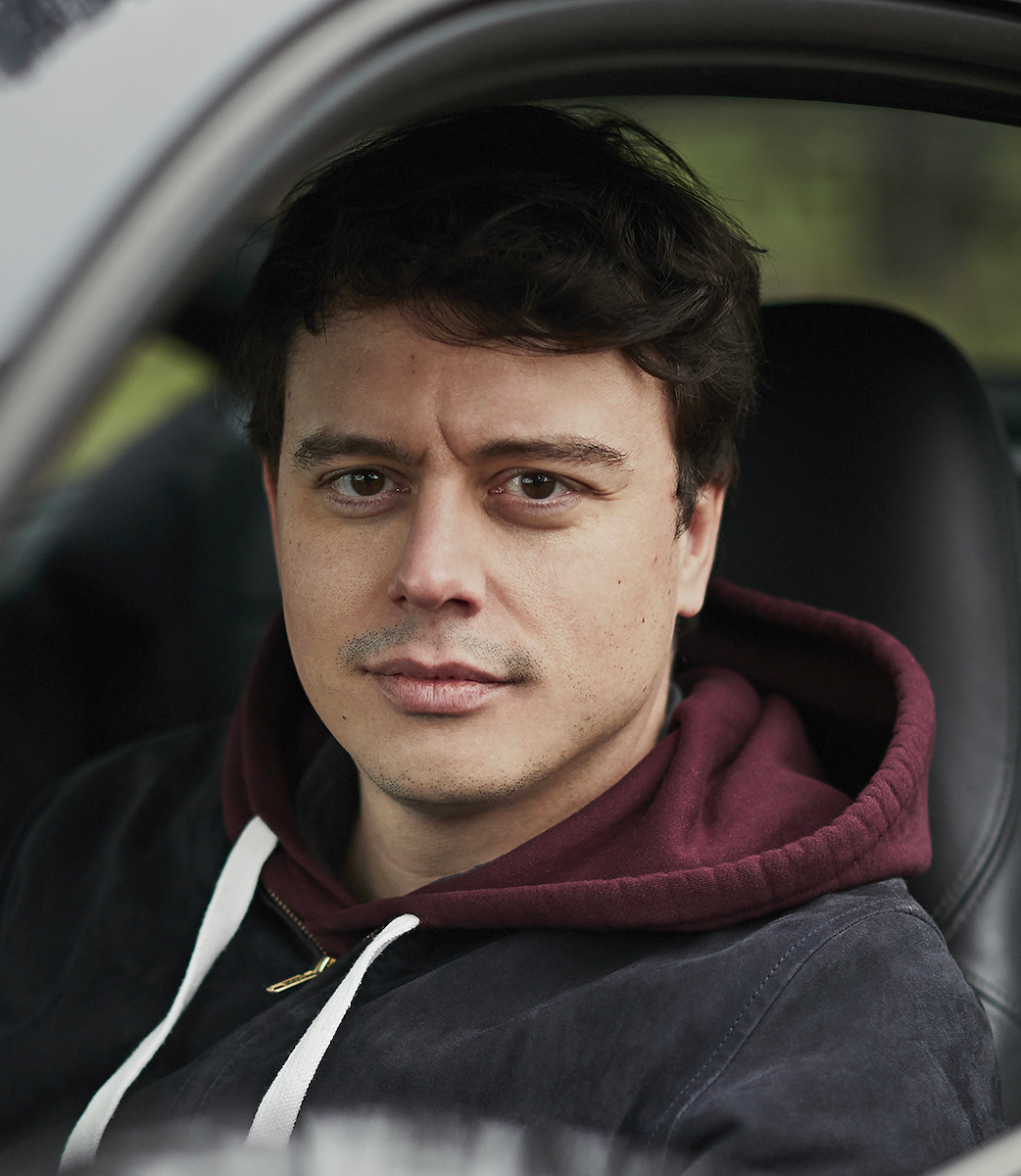 The spark
Balazs Ferenczi: Hey, Guillaume. Thanks for taking the time to sit with me. Let's start at the beginning. You have your hands in a few projects from Nivada Grenchen to Excelsior Park, Vulcain, and more. Why have you started the revival of iconic vintage brands with Nivada?
Guillaume Laidet: Well, we need to go back a bit in time. Years ago, I used to work at Zenith, and one day, I had to research the Chronomaster. This is how I first came across the Nivada Chronomaster Aviator Sea Diver. Soon after that, I found the Chronomaster Only book, which further triggered my interest in the brand. Actually, that gave me the idea to check what's going on with Nivada these days. I owned a brand, William L. 1985, and as luck would have it, my business partner Remi Chabrat, the CEO of Montrichard Group, was also working with a Mexican company that owned the rights to Nivada. I'm a vintage guy at heart, so I told him that Nivada has excellent potential; there's something cool to make here. We had the opportunity to join forces and acquire rights from this group. So we did, and I started this journey together with Remi.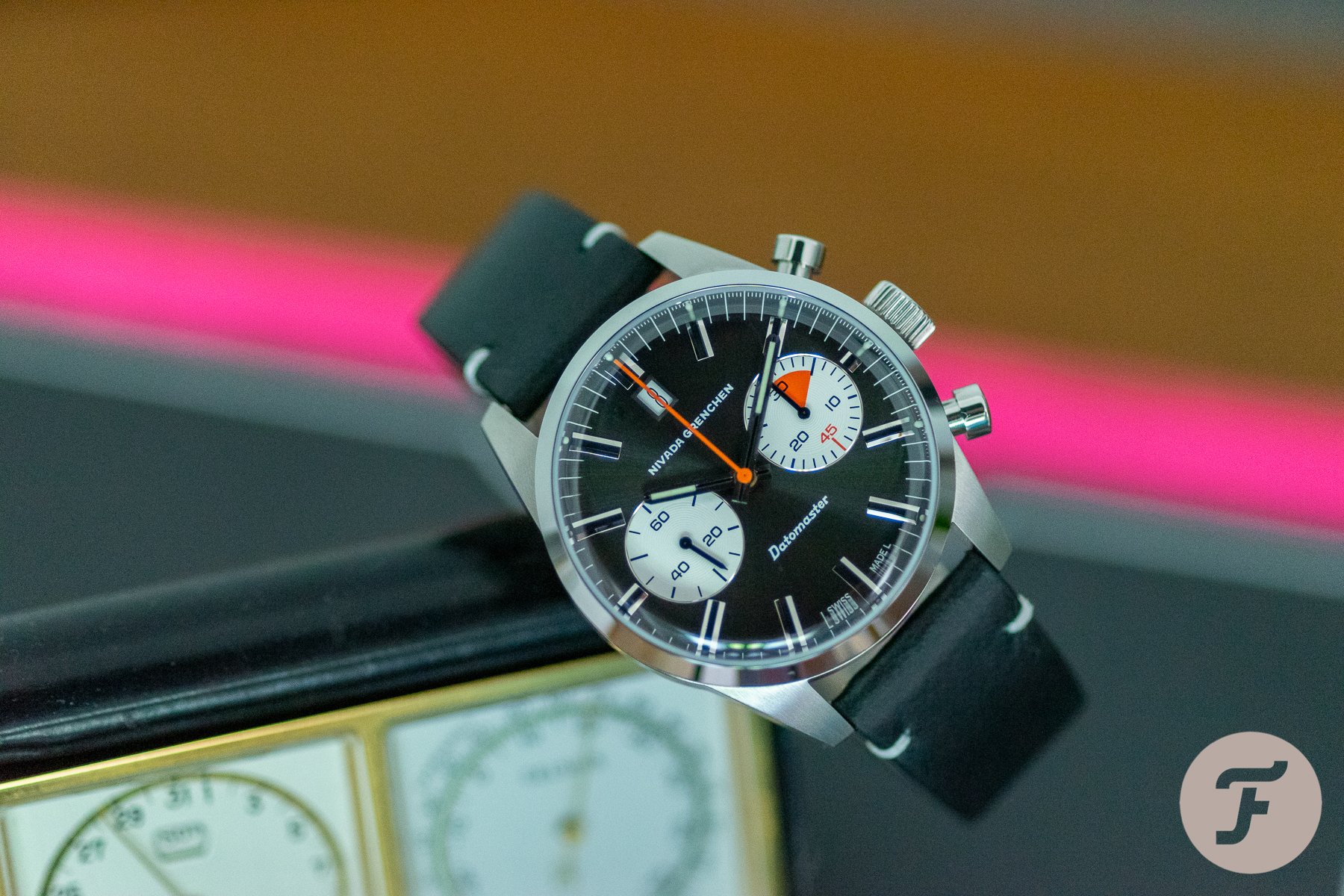 Remaining true to form
BF: Many of the new Nivada watches don't only take inspiration from vintage models but are accurate recreations of them. Was it clear from the beginning that you'd like to produce precise historical reissues?
GL: Yes, I knew that I didn't want to do a re-edition which was not true to the original model — you know, a 42mm case, automatic movement, 16mm thickness, and so on. That's not what we wanted to do. I collect vintage watches like you, so it was vital for me to create timepieces that speak to the vintage community and new customers.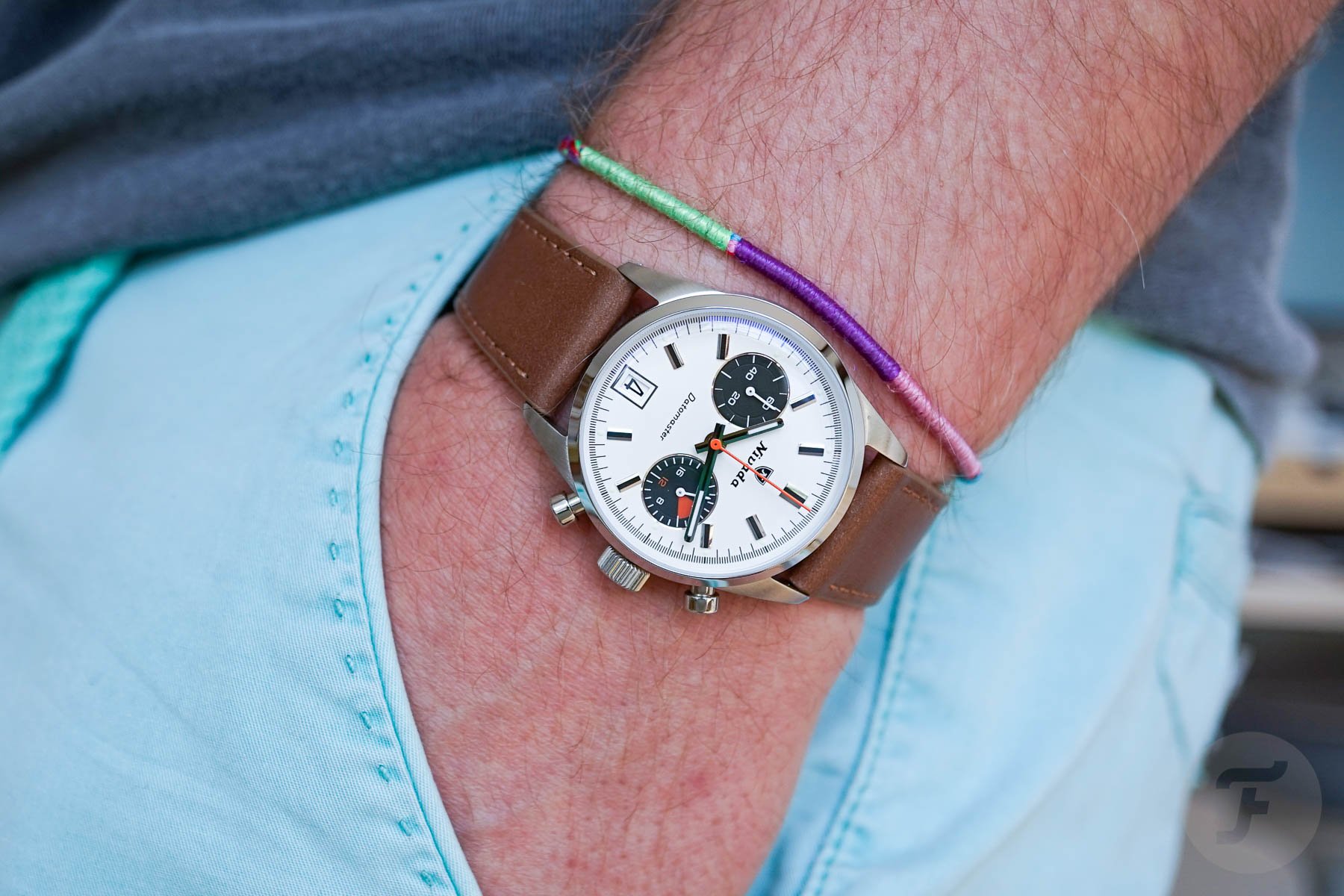 The strategy
BF: Watch brands usually take their time when it comes to new releases. Nivada could not put out enough new models for a while. Why did you choose this strategy?
GL: You must have a complete collection to have a sustainable brand and to work wholesale. You need at least 20–25 pieces that you can put in the stores. You cannot come with only one collection and one price point. So the strategy was to have the Chronomaster at the €2,000 price point, an entry-level collection, a time-only piece like the Antarctic, and finally, something in between, like the Depthmaster. This was our strategy; we did not want to be a mono-collection brand.
On the other hand, thanks to Montrichard, who produces around 2 million watches per year, everything was ready for a fast and successful expansion. I would not have been able to create all these collections in such a short time if they had not backed me.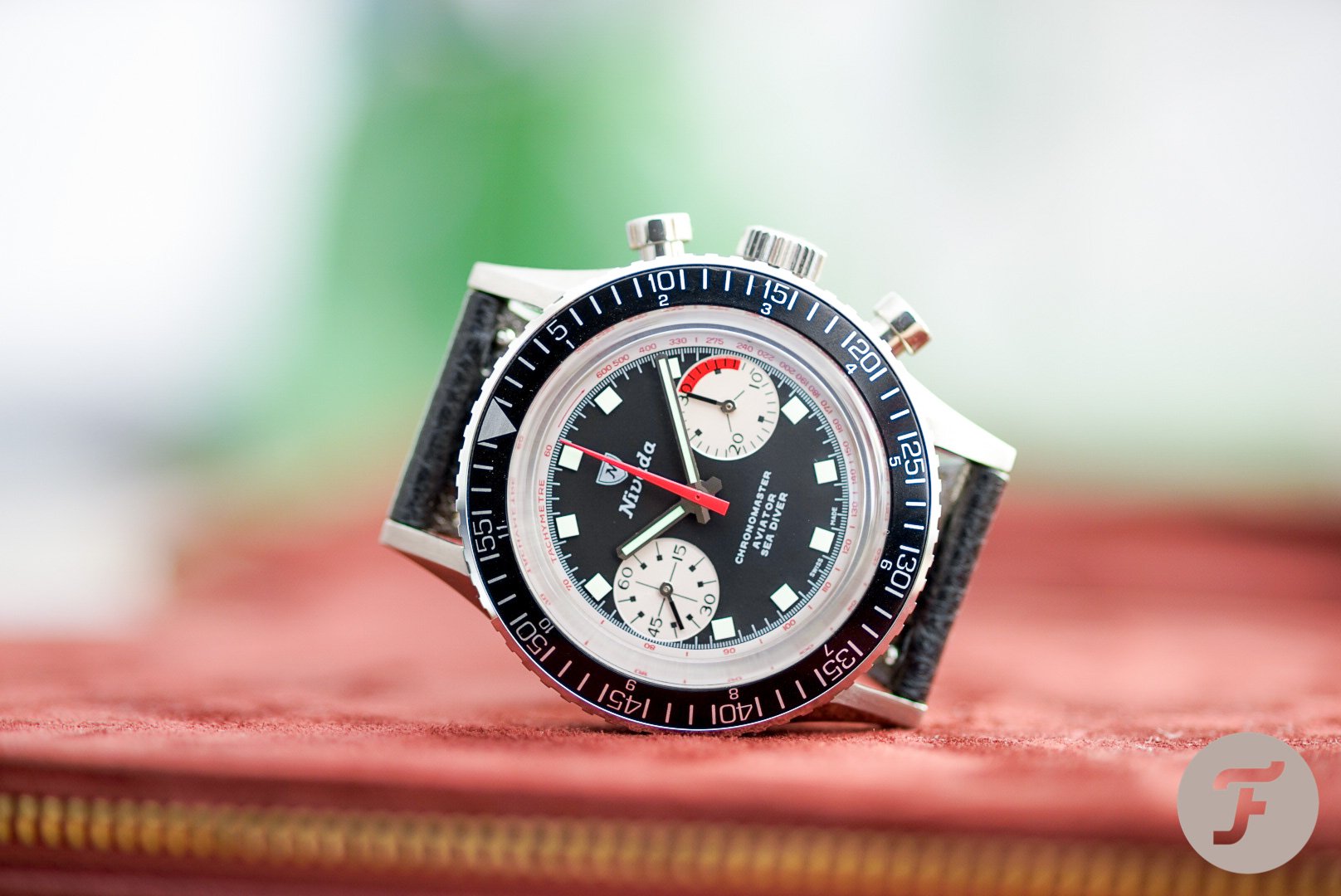 BF: It seems, however, that the pace has slowed down a bit. What is the reason behind that?
GL: Indeed. That's because now we have the three pillars of the collection. Now we can also create new dials, executions, and special editions. Keep in mind that we only produce 4,000 Nivada watches per year. I see that the brand is starting to grow now. The idea was to create the brand's momentum and demand and then expand little by little toward retail. We will have a few points of sale in the US, Europe, and Japan. The orders are now steady, which reassures us and helps toward not having stock issues. We will have more collaborations in the future. I guess you also know a lot about that. Not sure if I should share more…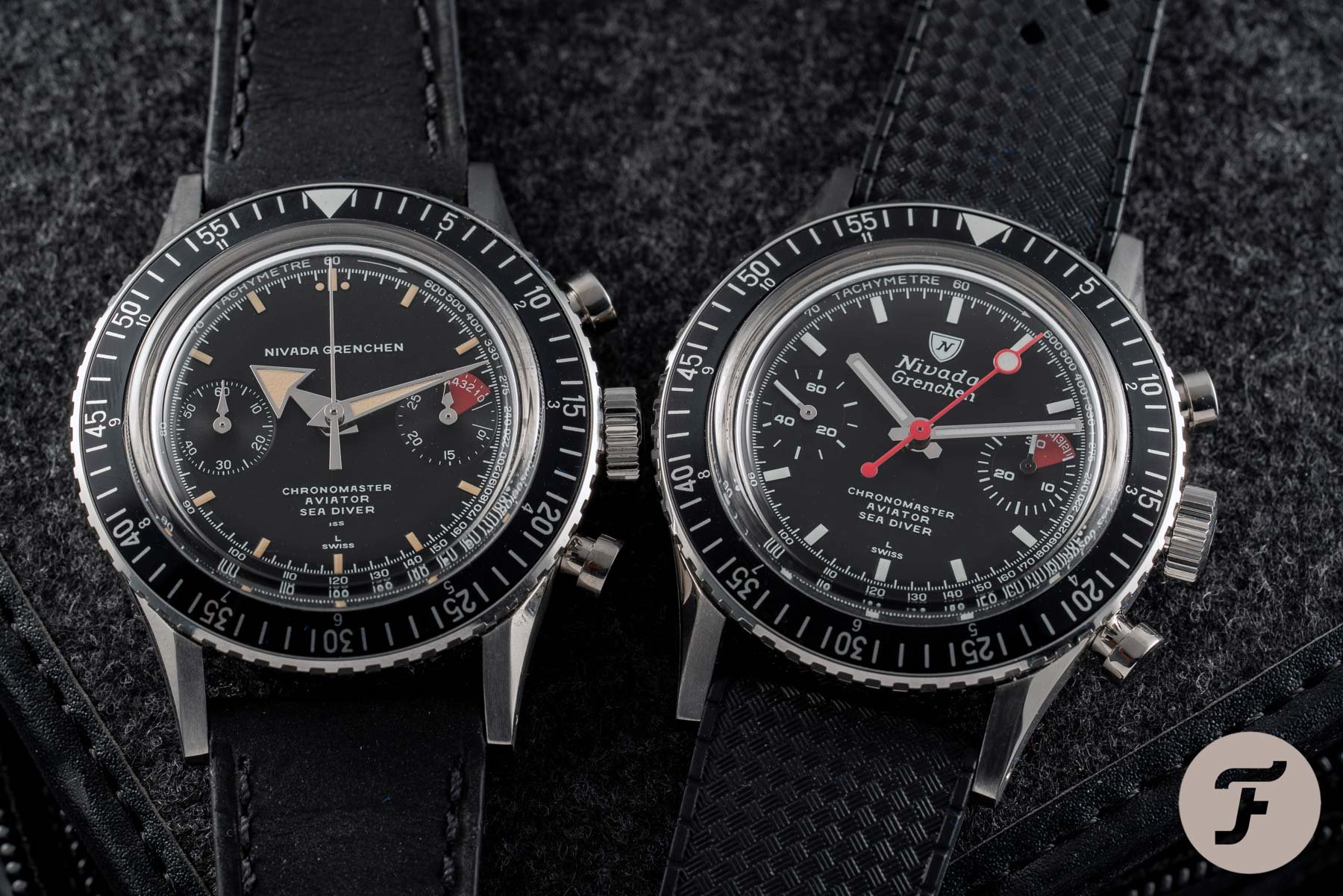 The price of popularity
BF: Just recently, I looked at your site and was amazed that a vast majority of the watches are sold out. I know the demand is vast, so how will you bring these models back in stock?
GL: We constantly put watches back in stock. The challenge here is the movement supply from Sellita. It takes nine months to deliver the movement, but other suppliers are worse. Often, the waiting time is one year or more. We cannot work with such delivery times. It is tough to project and forecast success in one year. And then, of course, it's also a cash question because we must pay for those movements nine months in advance and have our money tied up for almost a year before we see a return. But now we are ordering in larger quantities, so it's just a question of time.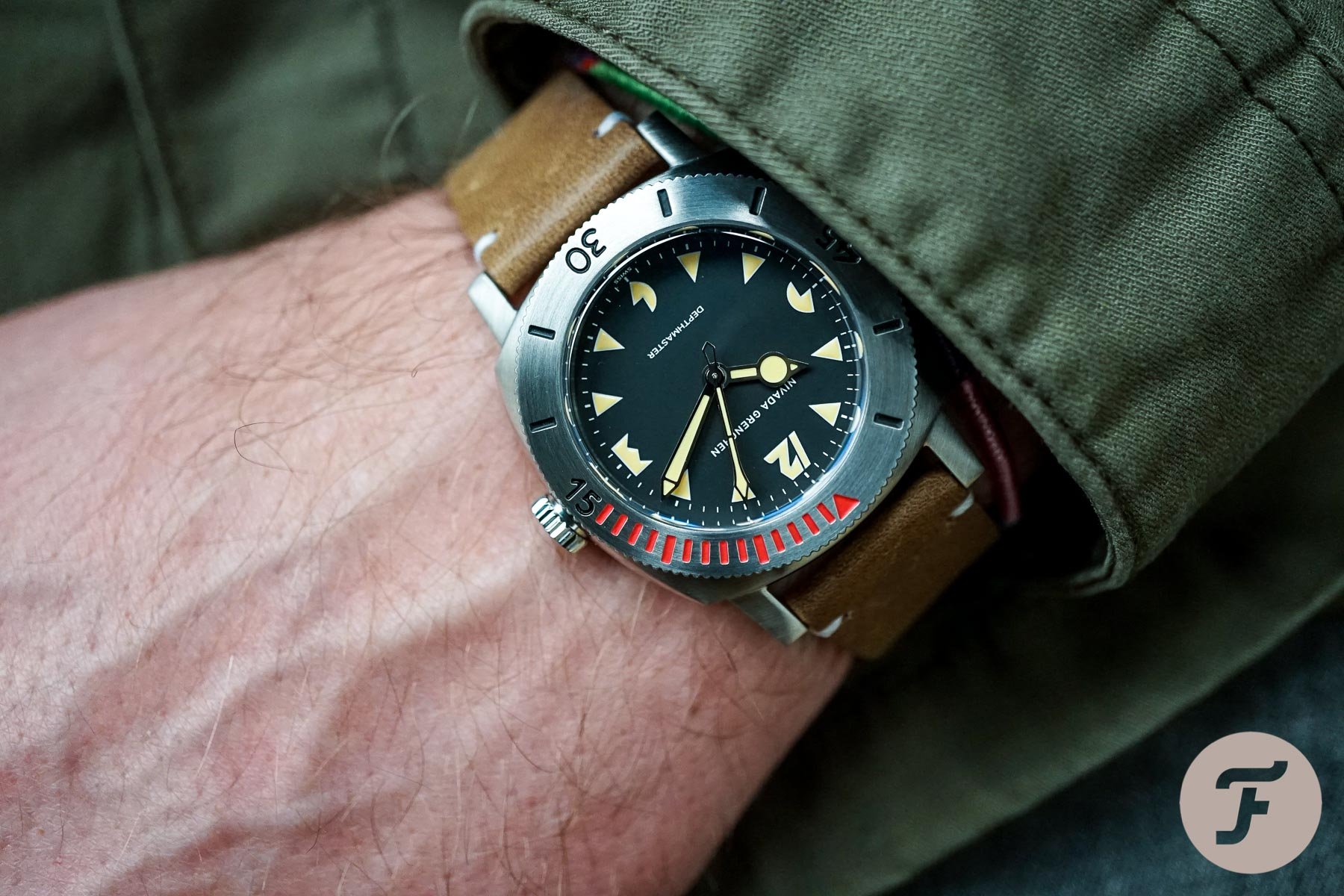 BF: As we talked about it earlier, some of the models are direct recreations of vintage Nivada timepieces. Others only take inspiration from old watches. So many models are sold out, so the question seems a bit silly, but still, which category do you think is more popular? Or perhaps you see a difference between the type of people who buy these two types of Nivada watches?
GL: Proper re-editions are by far more popular. We cannot produce enough of those. The Chronomaster is the most requested model we have.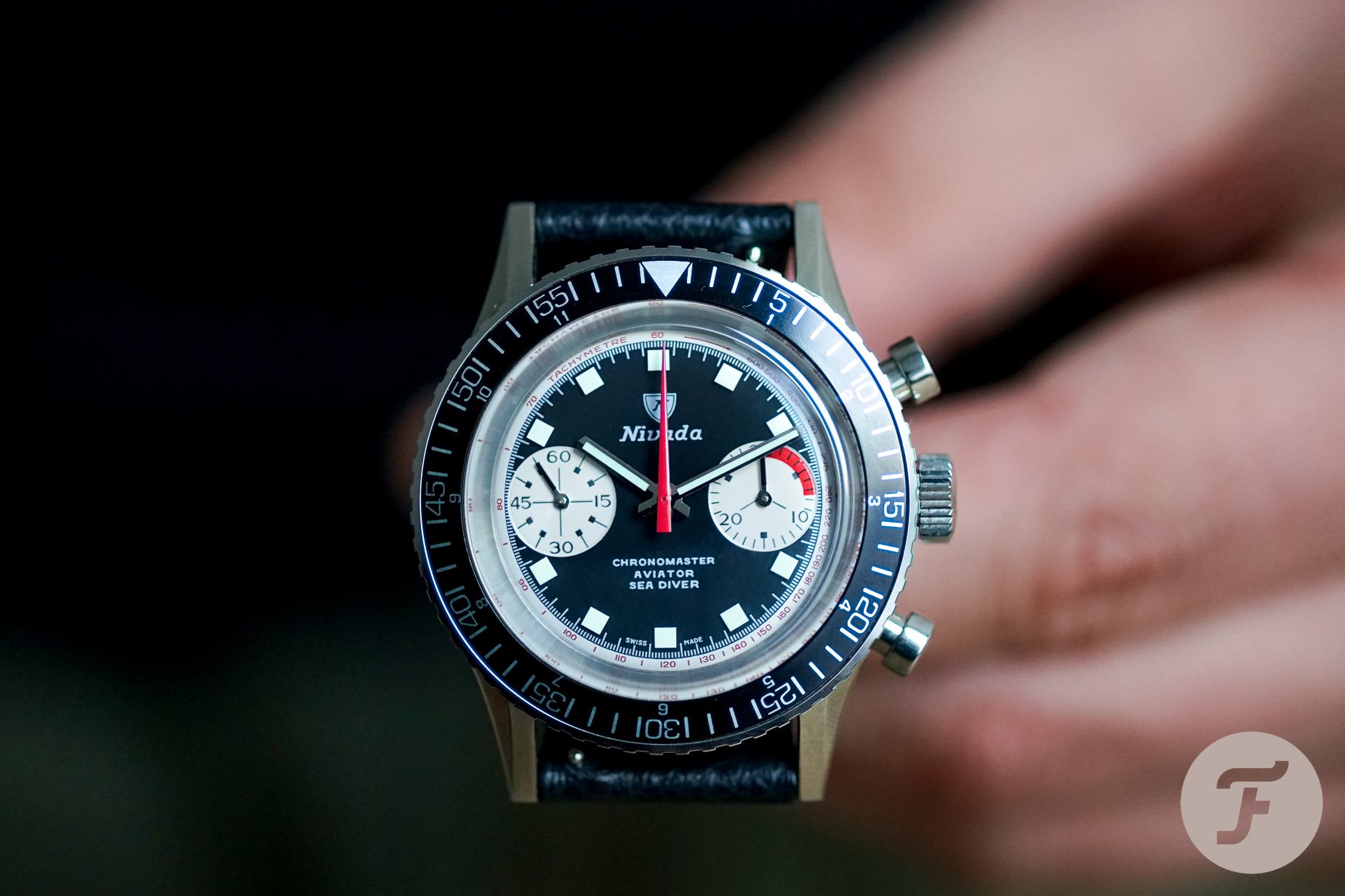 Exploring the possibilities
BF: So far, you have focused mainly on chronographs and time-only pieces. However, the vintage Nivada catalog is enormous, packed with divers, GMTs, etc. Are we going to see any of those classics revived, and if so, which one(s)?
GL: Regarding volume, the best-sellers are the Super Antarctic and the Antarctic Spider. They are affordable and opened the brand to a new target customer — first-time buyers. They represent entry-level options for young people who want to get their first serious piece. To continue this line, we have a new time-only model in the making, the Nivada Grenchen F77. You might have seen some shots of it already on social media or our website. It will be a hit, I hope. Of course, we'll also come out with a new Antarctic Diver based on a vintage model. But we also keep producing our core collection, which works well.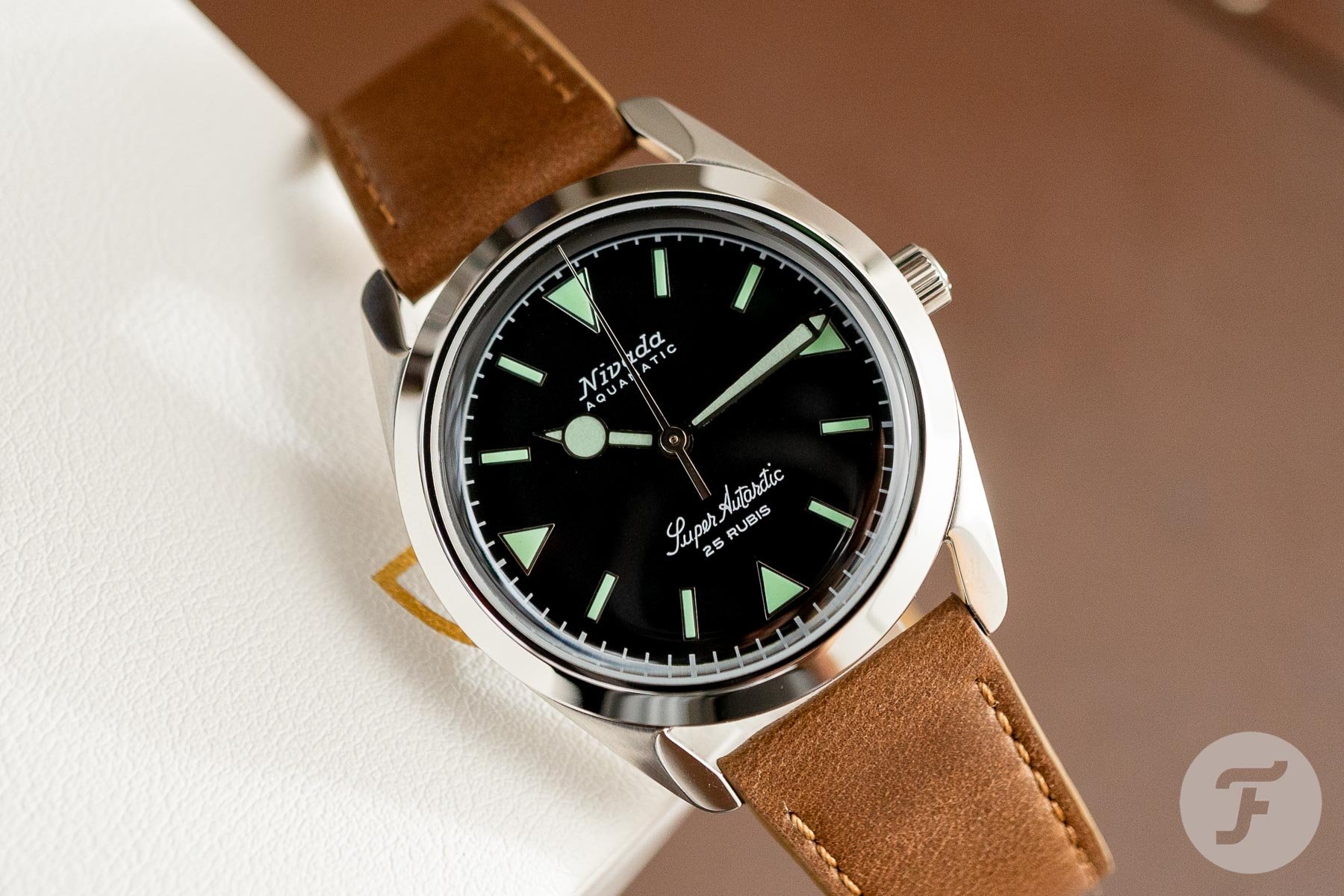 BF: If you woke up one day and saw that Nivada had disappeared from the face of the earth with all its models but one, which one would you like that to be? What model do you want future generations to remember the revival of Nivada by? I guess I know your answer…
GL: It would be the Chronomaster Aviator Sea Diver. Absolutely no question about that. The Broad Arrow hand-wound version. It started with this model, and it still is our flagship watch. I have other favorites as well. I really love the Valjoux 23 with the Paul Newman dial, but the Broad Arrow Chronomaster Aviator Sea Diver is the more iconic one.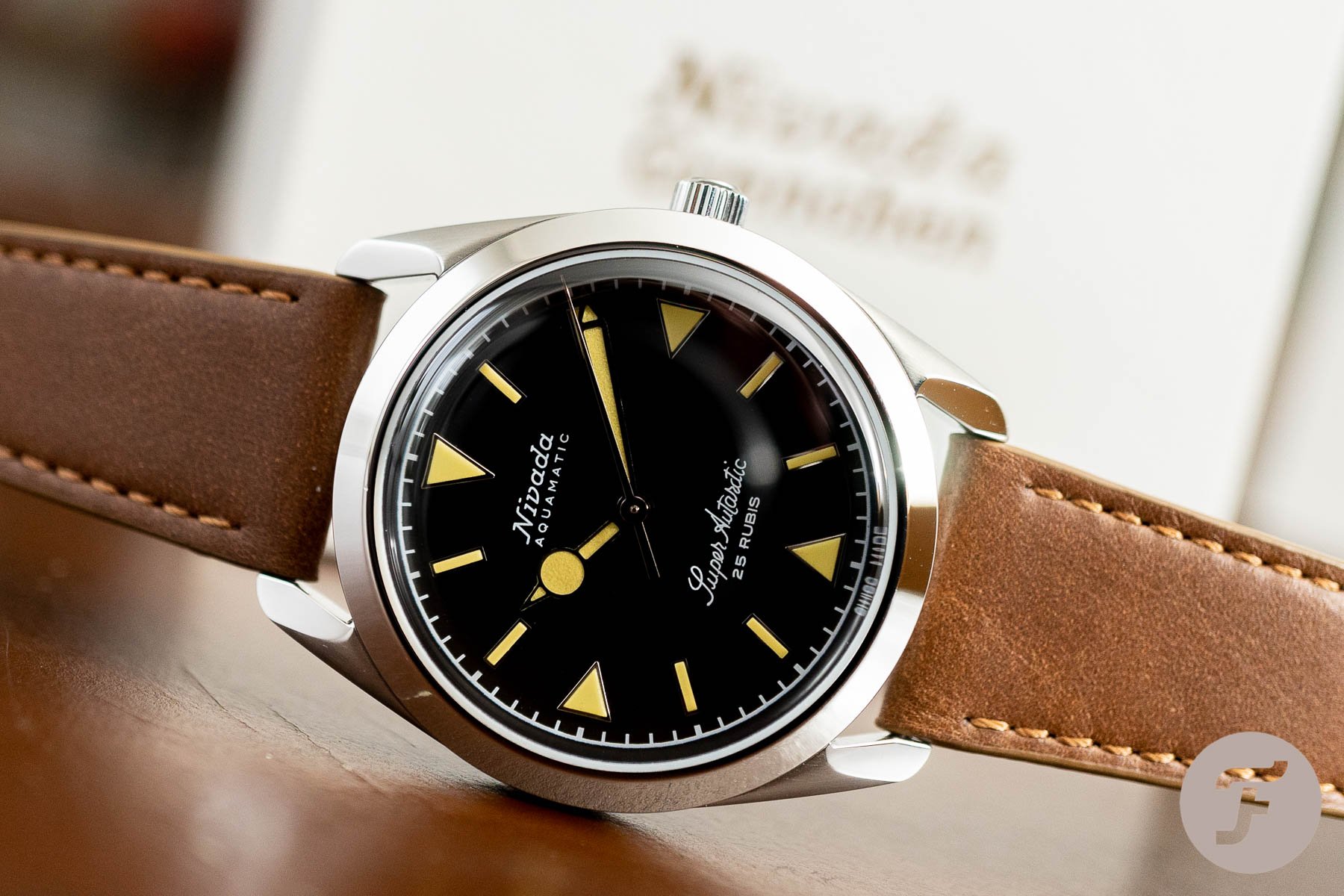 What's on the horizon?
BF: The question is inevitable: what will we see from Nivada in 2023?
GL: We have already released a new dial for the Super Antarctic. It's a tropical dial with the 3-6-9 numerals — an incredible piece if you ask me. Then there is an exciting Chronomaster capsule collection with a meca-quartz movement. Many people are asking for more meca-quartz, believe it or not. These watches have a great price point and a helpful complication, so why not? That is an excellent way to popularize the vintage-chrono look.
And, of course, something with Fratello is coming real soon with many firsts. I guess that is all I can tell you right now, but stay tuned and keep your eyes on Fratello in the coming week.
BF: Thanks again for your time and openness. I can't wait to see the new F77 and, of course, that unique Fratello collaboration. All the best to both you and Nivada for the future.