Métiers d'Art de Cartier — Your Next Step To Exclusivity!
Exploring the techniques that can make your custom Cartier watch even more exclusive
In my previous article, How Cartier Turns Custom Watch Dreams Into Reality, I detailed the process of ordering a "Special Order" Cartier timepiece. For many collectors, the available possibilities are more than enough to create a custom timepiece that they would really like to have. But some sincerely wondered whether the exclusivity of such a watch could be guaranteed. Of course, 100% exclusivity is something that is impossible to ask for, especially when we consider that most Special Order watches are only distinguished through a different color dial, another color of gold for the case, and/or a different type of hands. That's why we now go a little deeper into the technique of Métiers d'Art.
In this article, I'll try to explain what I learned and saw during my visit to the Métiers d'Art ateliers at Cartier's manufacture. Also, I'll explore what it could mean for you in realizing your ultimate Tank, Santos, or other Cartier timepiece.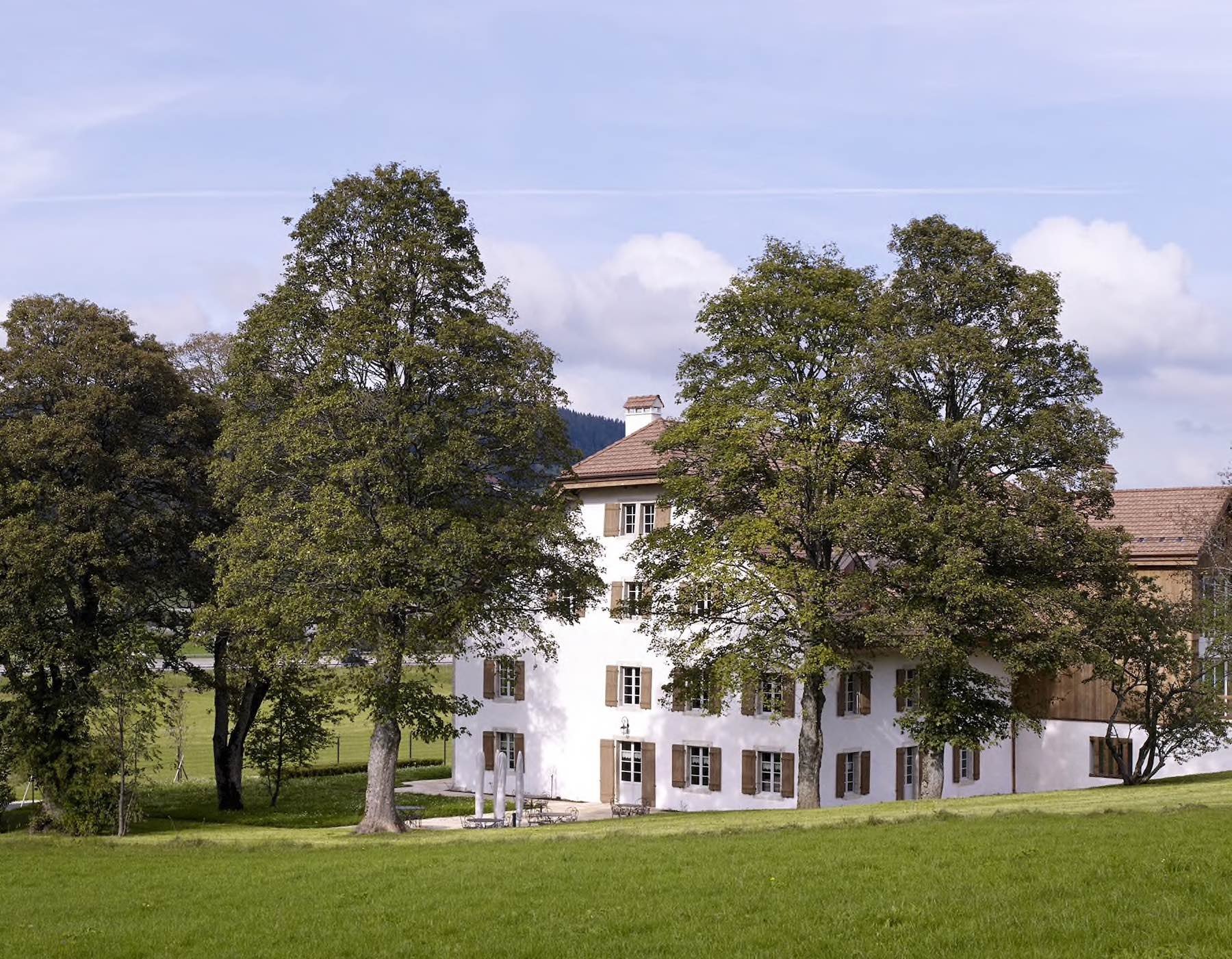 Métiers d'Art in a nutshell
Métiers d'Art was launched commercially in 2008 when La Maison presented a Rotonde de Cartier model with a granulated dial at the SIHH in Geneva. For many of us, including me, this was pretty new. But in fact, Cartier was already working with artists to realize clocks and watches using these techniques as far back as the 1930s. There was great interest in this Rotonde de Cartier at the presentation. So much, you might say, that it caused La Maison to buy a farmhouse a stone's throw from the manufacture to create an exclusive home for this highly creative department.
The building dates back to 1740, and though its facade has been carefully restored, it looks identical to how it did originally. The inside, however, was completely rebuilt to make way for stable floors for the departments, the elevator, and the various workspaces. A lot of the restoration work was done with vintage wood and stones from the area to help maintain the original style. The result is a unique, almost historical studio that was completed in 2011. Here, Cartier's artists can work quietly (well, as long as there are not too many journalists like me bothering them).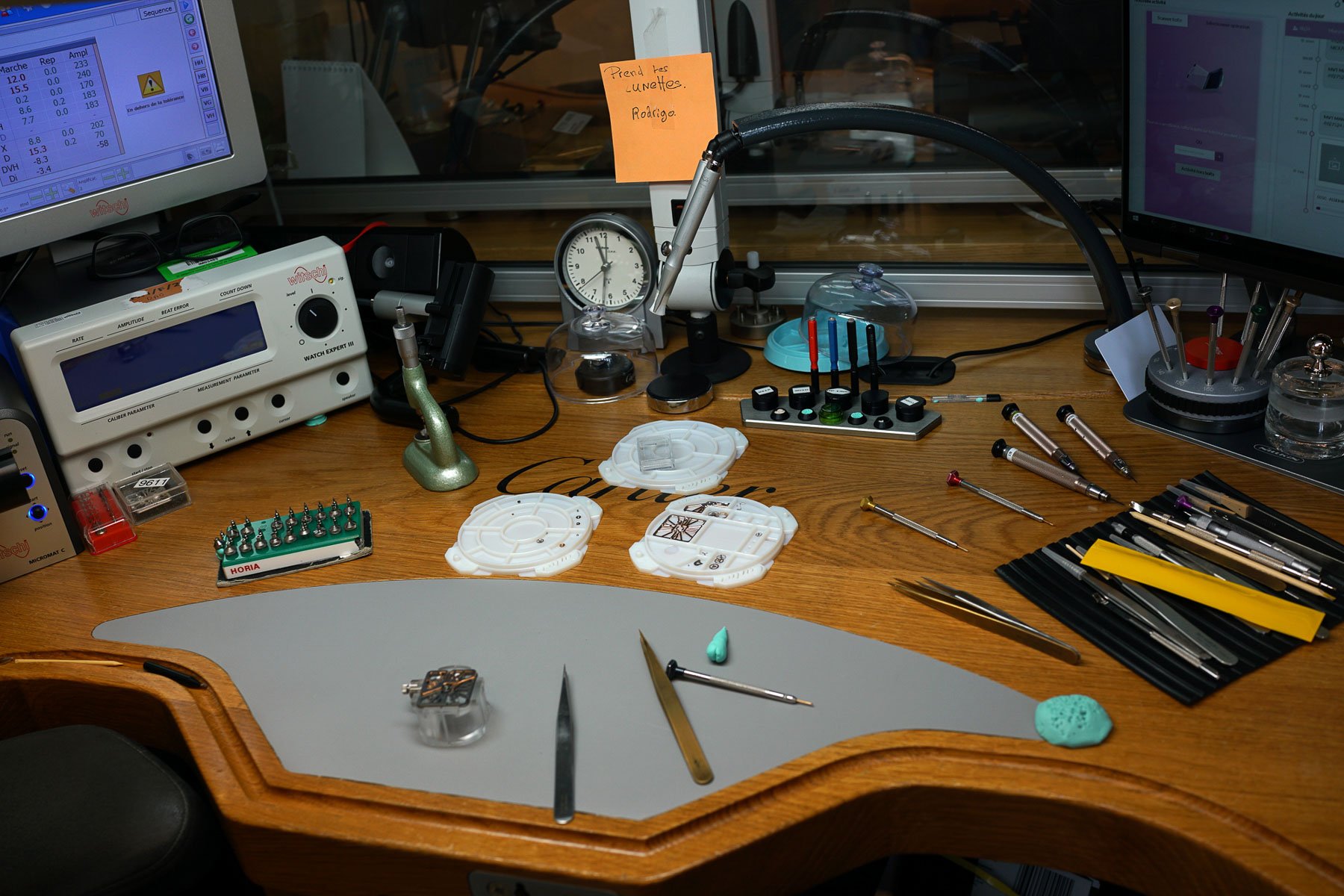 This is where Cartier's high-jewelry watches are created. The facility includes workshops for crafts like filigree, marquetry, enamel, gem setting, and granulation.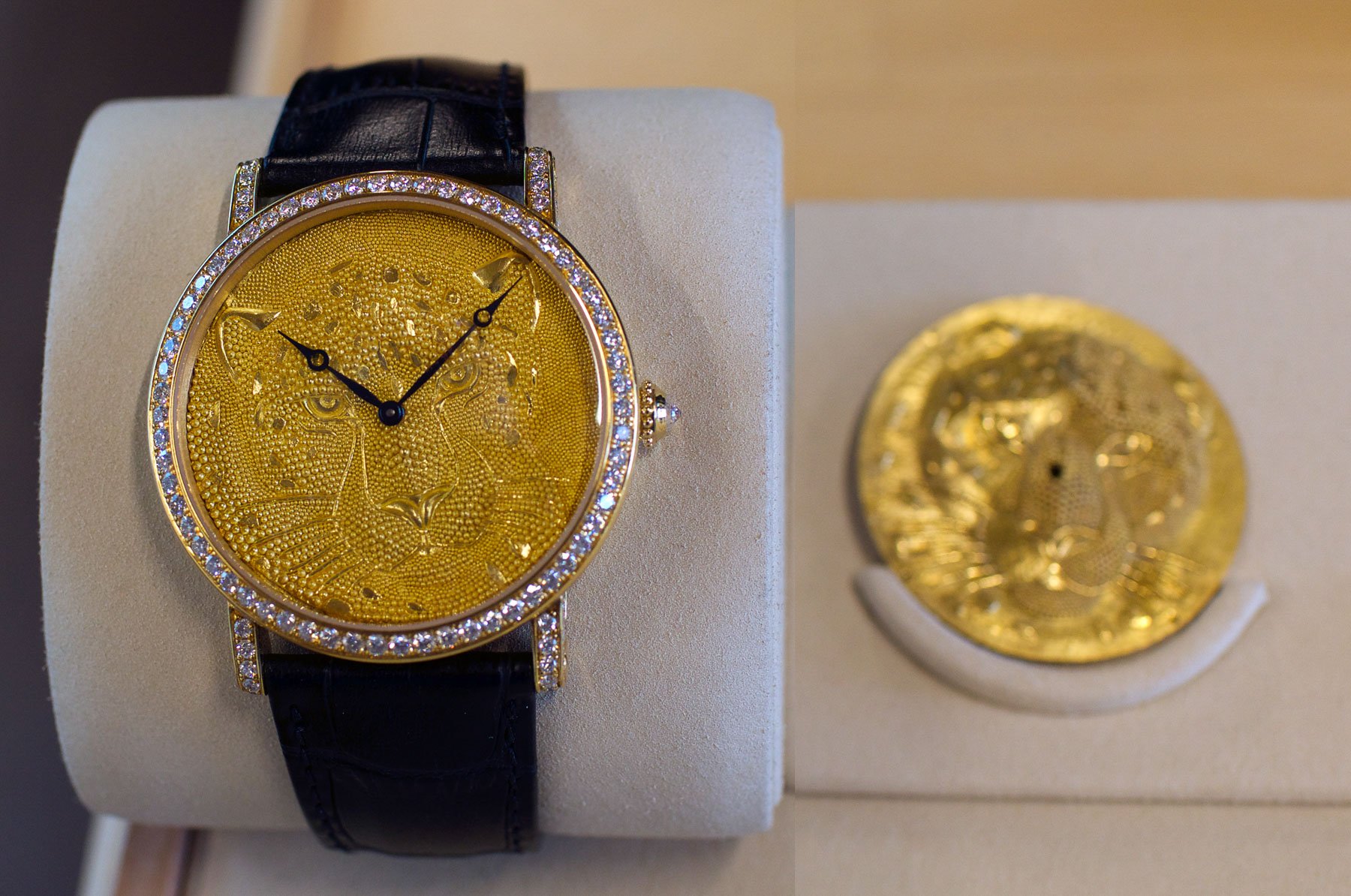 Granulation
This is the vintage technique that La Maison used for the special Rotonde de Cartier in 2008. This version of the Rotonde de Cartier was the model that reignited the activity of the Métiers d'Art department, but now on a larger scale. To produce a granulated dial, beads are created from a gold wire before they are fused into the dial, giving it a special relief effect.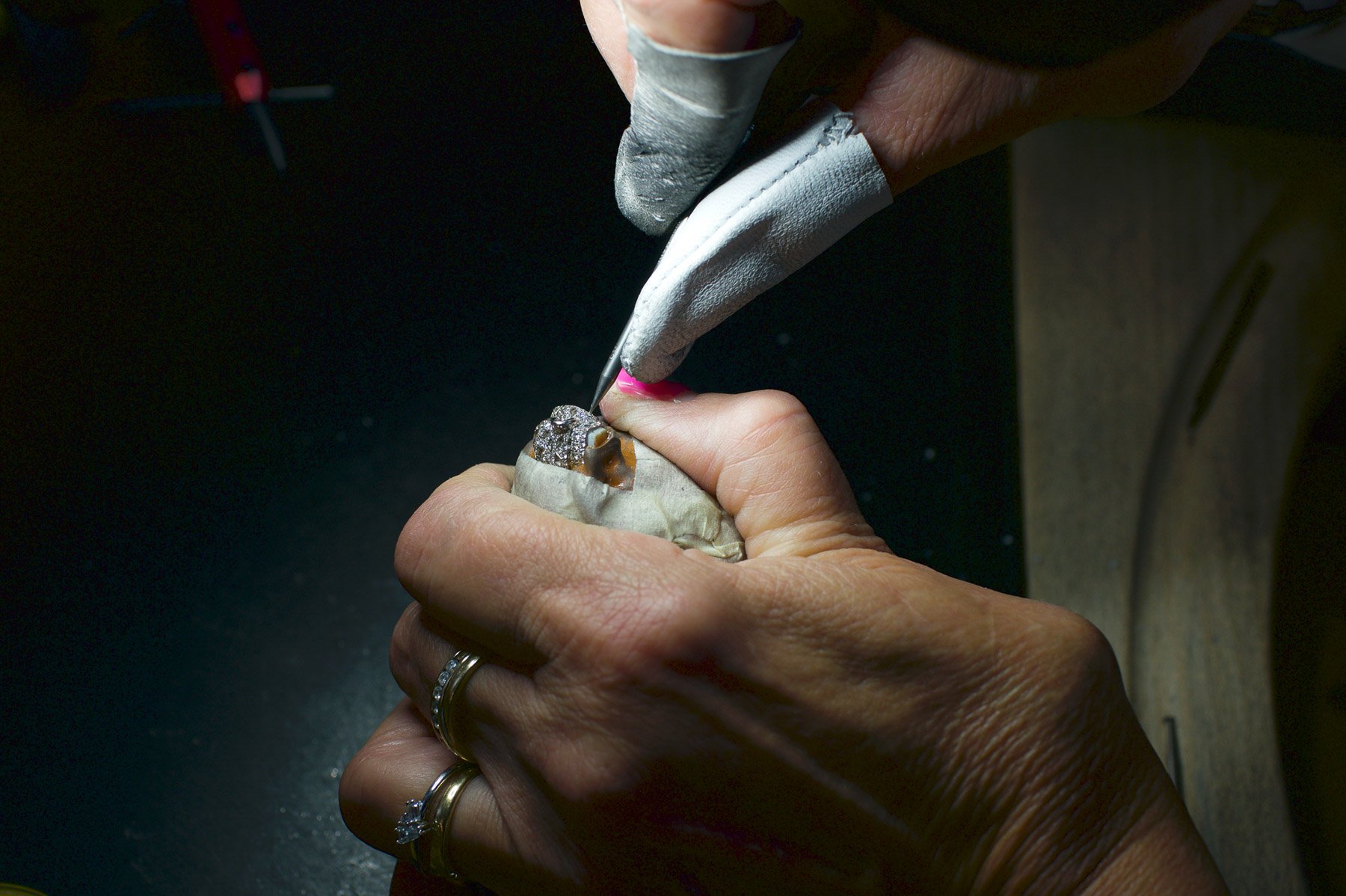 Gem setting
This is done in the Métiers d'Art atelier for many of the high-end pieces.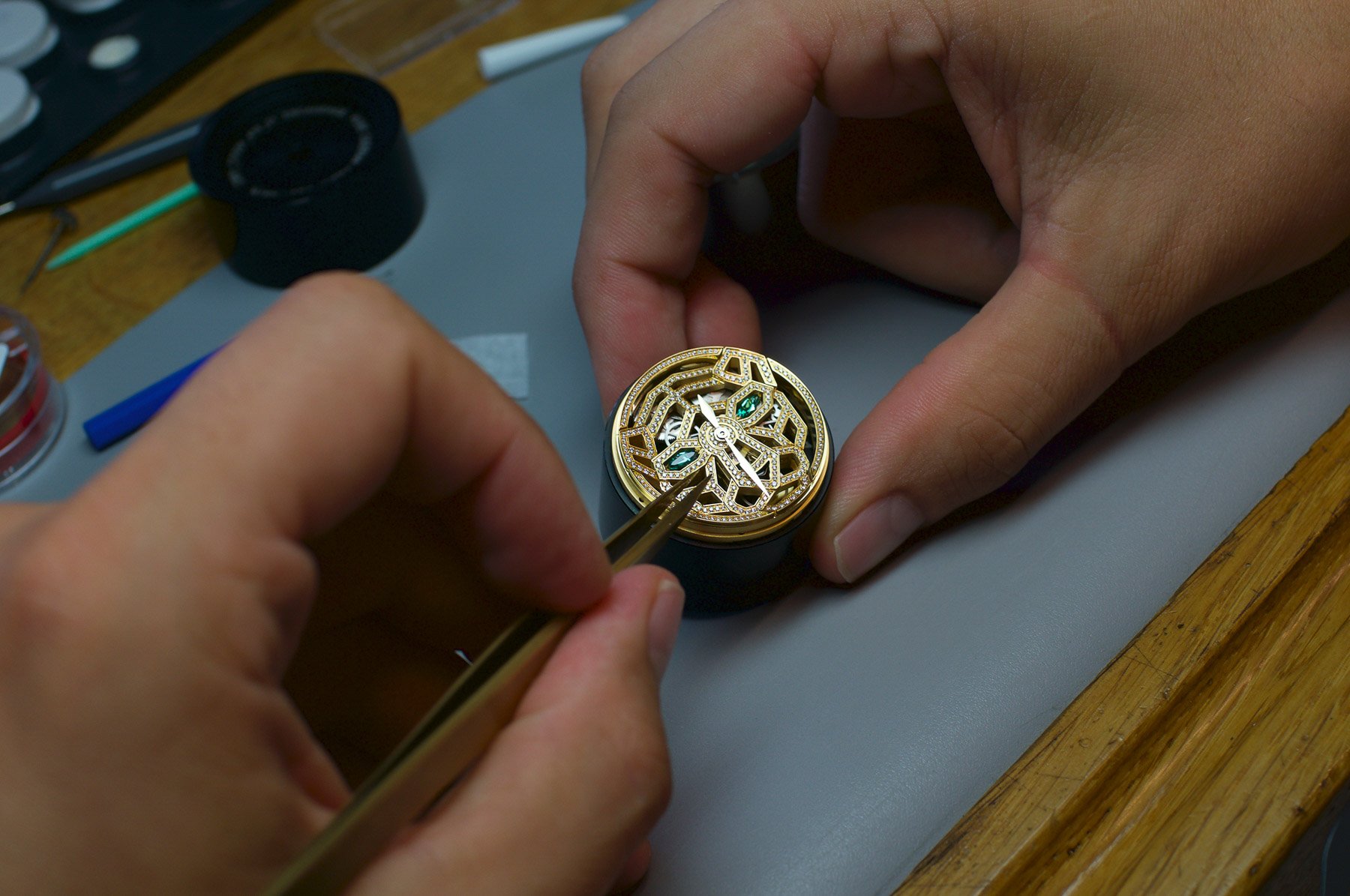 Here, a gem-setter lays diamonds, emeralds, and onyx into an 18K gold dial for a Panthère Pasha de Cartier Skeleton.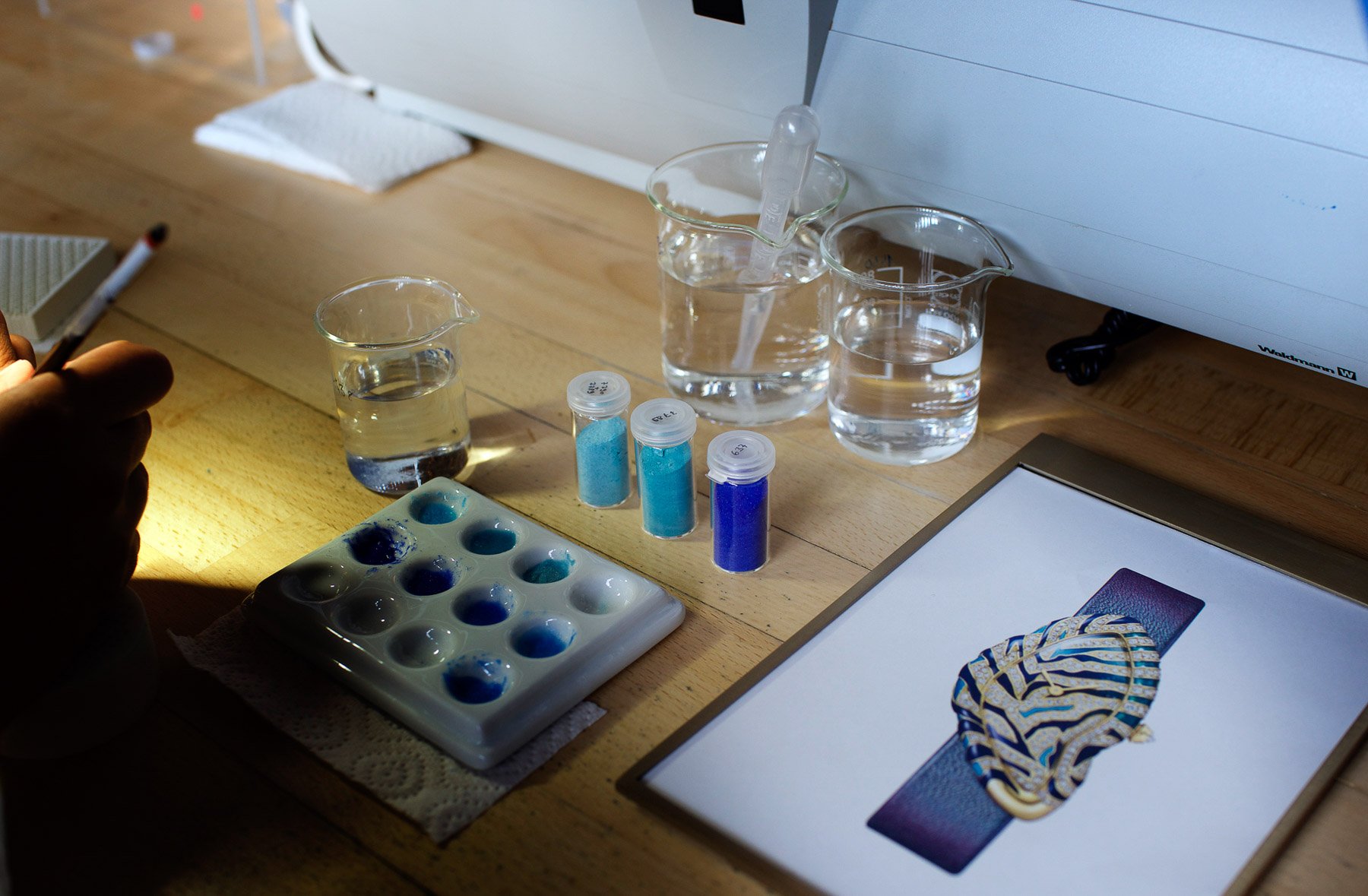 Enamel
This is used by Cartier's artists in many different ways. It involves fusing glass with metal at high temperatures to create a very strong, rich finish. Cartier's master enamellers specialize in dials and cases, combining the talents of painters and chemists.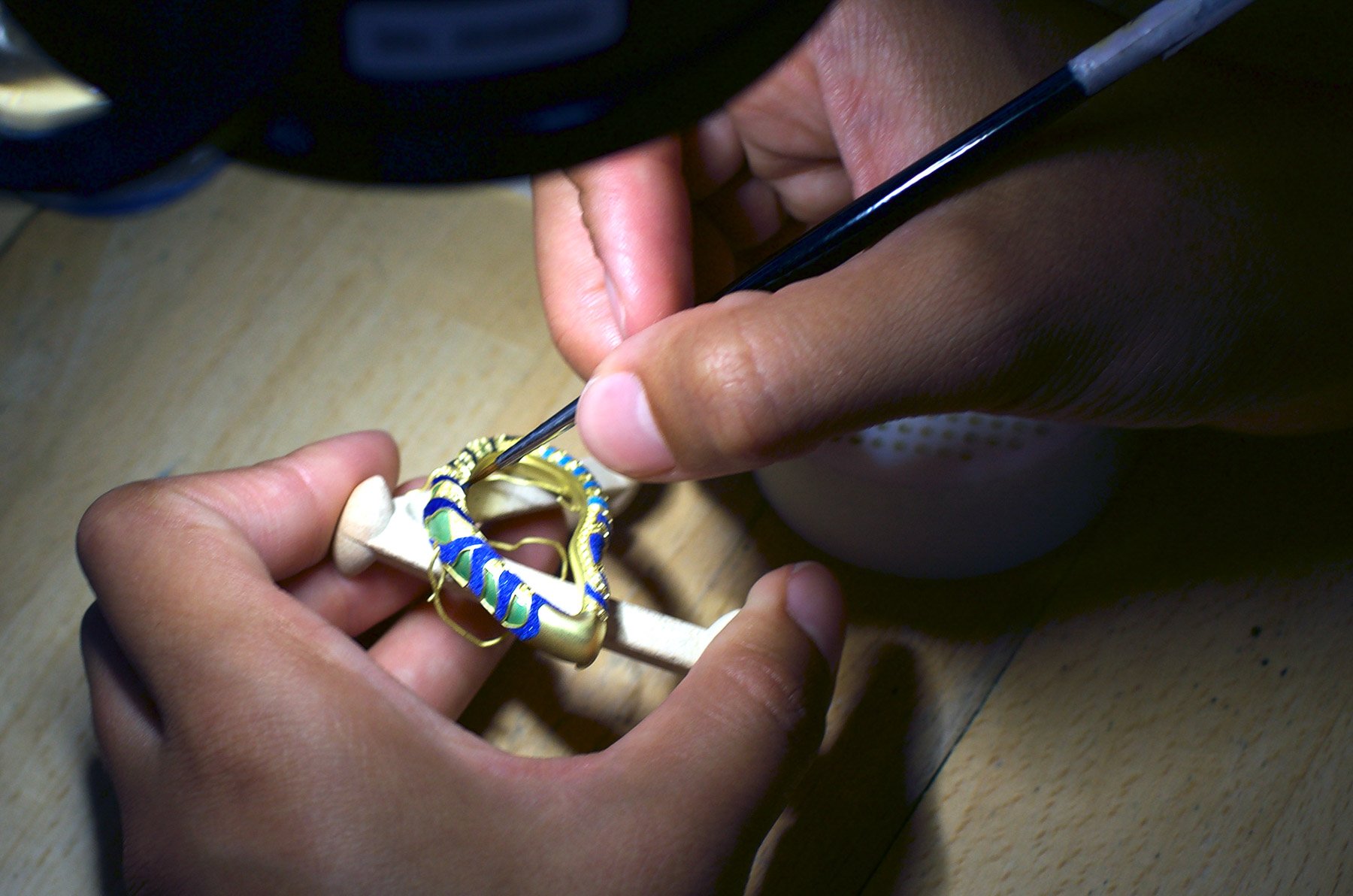 They use quite a few different techniques to reach various amazing results. The 18K gold Crash watch that was presented this year at Watches And Wonders utilizes a combination of enamel and gem setting.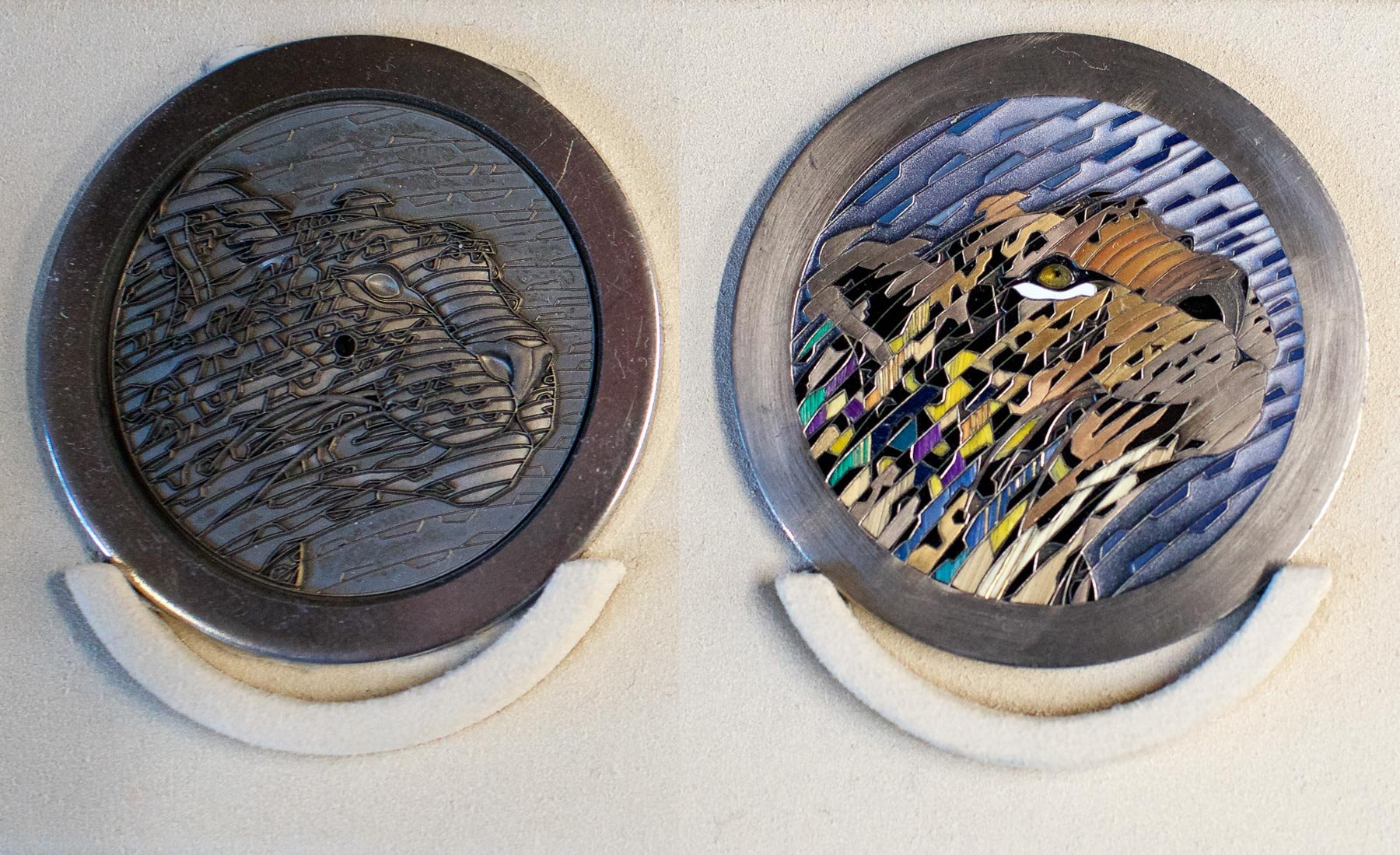 Marquetry
This is a really cool technique in which rose leaves, wood, and straw are cut into shape and laid out to create abstract patterns or well-known bird and animal faces.
Using an electric saw is impossible in this case because the wood would become too hot and would burn. As such, thin layers of wood are sawn by hand (or by foot) with a wooden machine built by one of the employees of the Métiers d'Art department.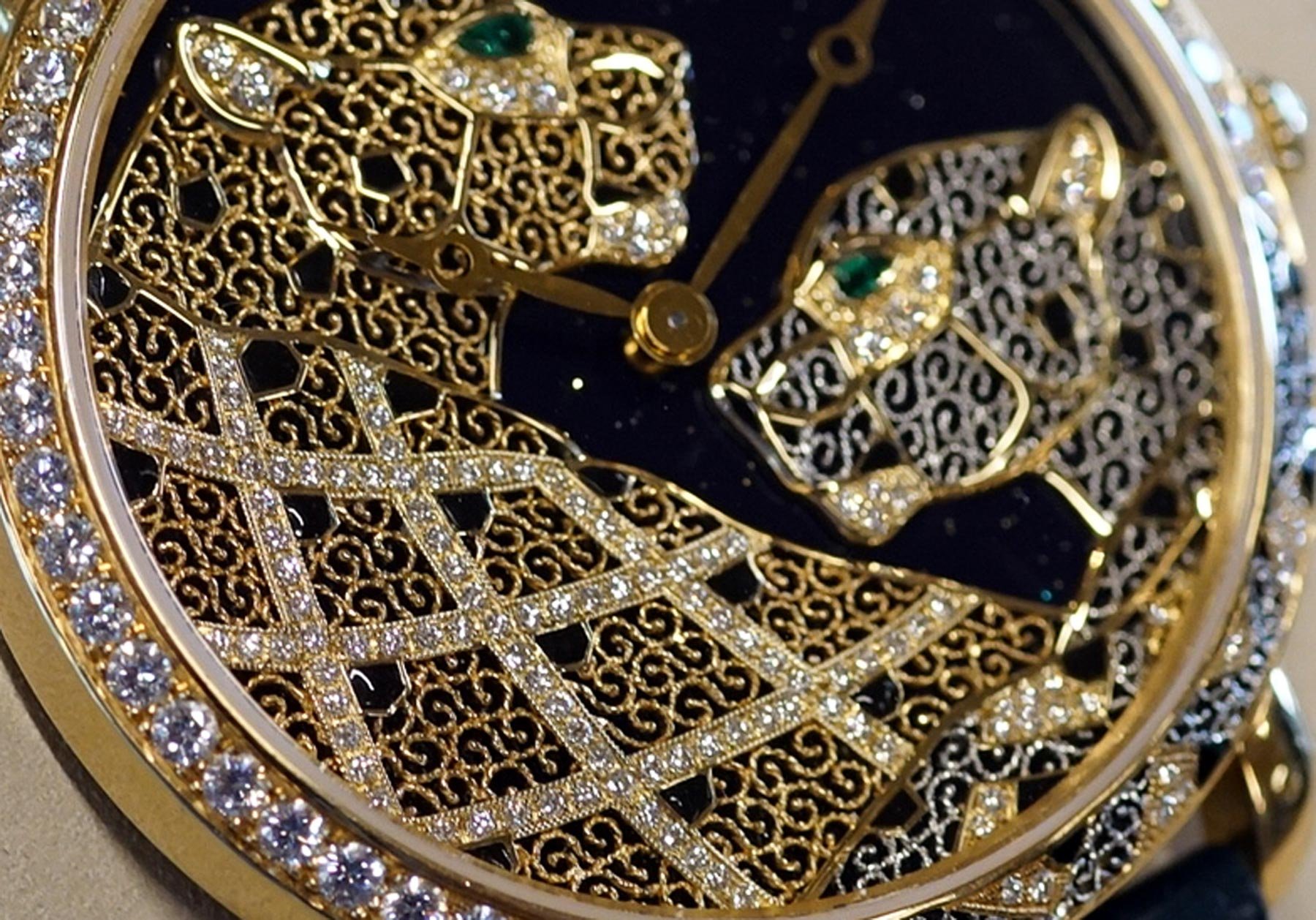 Filigree
I'm probably not doing this complex technique justice if I say that I see it as a kind of mini carpet made out of very fine ornamental gold or platinum wirework. Little pieces are cut out to create miniature sculptures, such as the panthers on the dial above.
What makes the crafts like these so rare is mostly the time they require to master. For example, finding the right shade of enamel that perfectly fits the drawing from the design studio requires up to 18 months of searching and testing.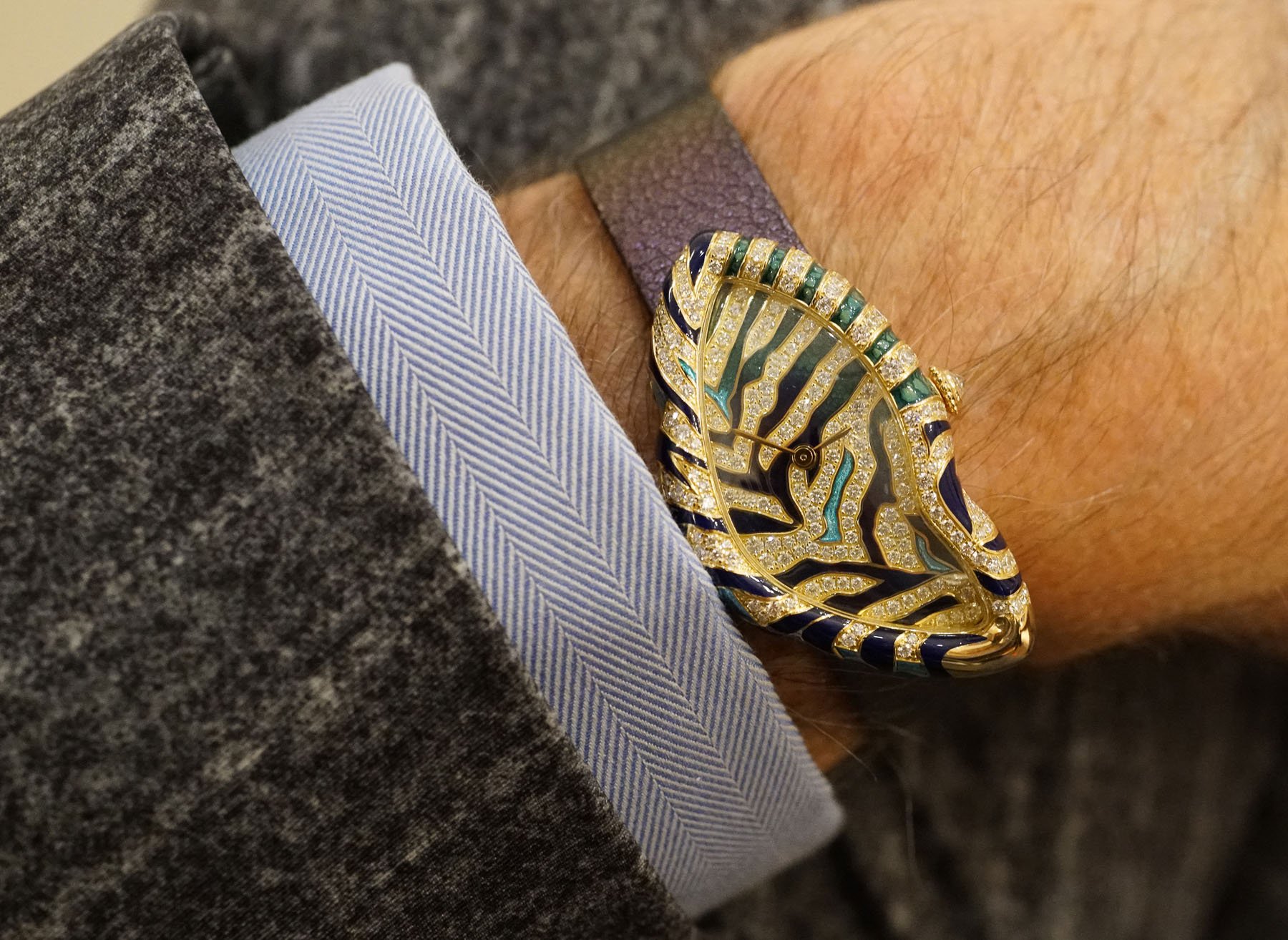 How can Métiers d'Art make your dream watch a reality?
Every year since the commercial introduction of Métiers d'Art in 2008, La Maison has presented special pieces in quiet artsy, eye-catching forms that really show what is possible. I think it is safe to say that these colorful, illustrated dials with panthers, birds, and other animals tend to appeal more to women than to men. The Crash watch from 2022, however, was certainly an exception!
By involving Métiers d'Art in your thinking process when fantasizing about what your Special Order watch could look like, you can go much further in achieving the exclusivity that you desire. But that's not to say that your idea design has to be busy and elaborate. I would strongly encourage a "less is more" approach.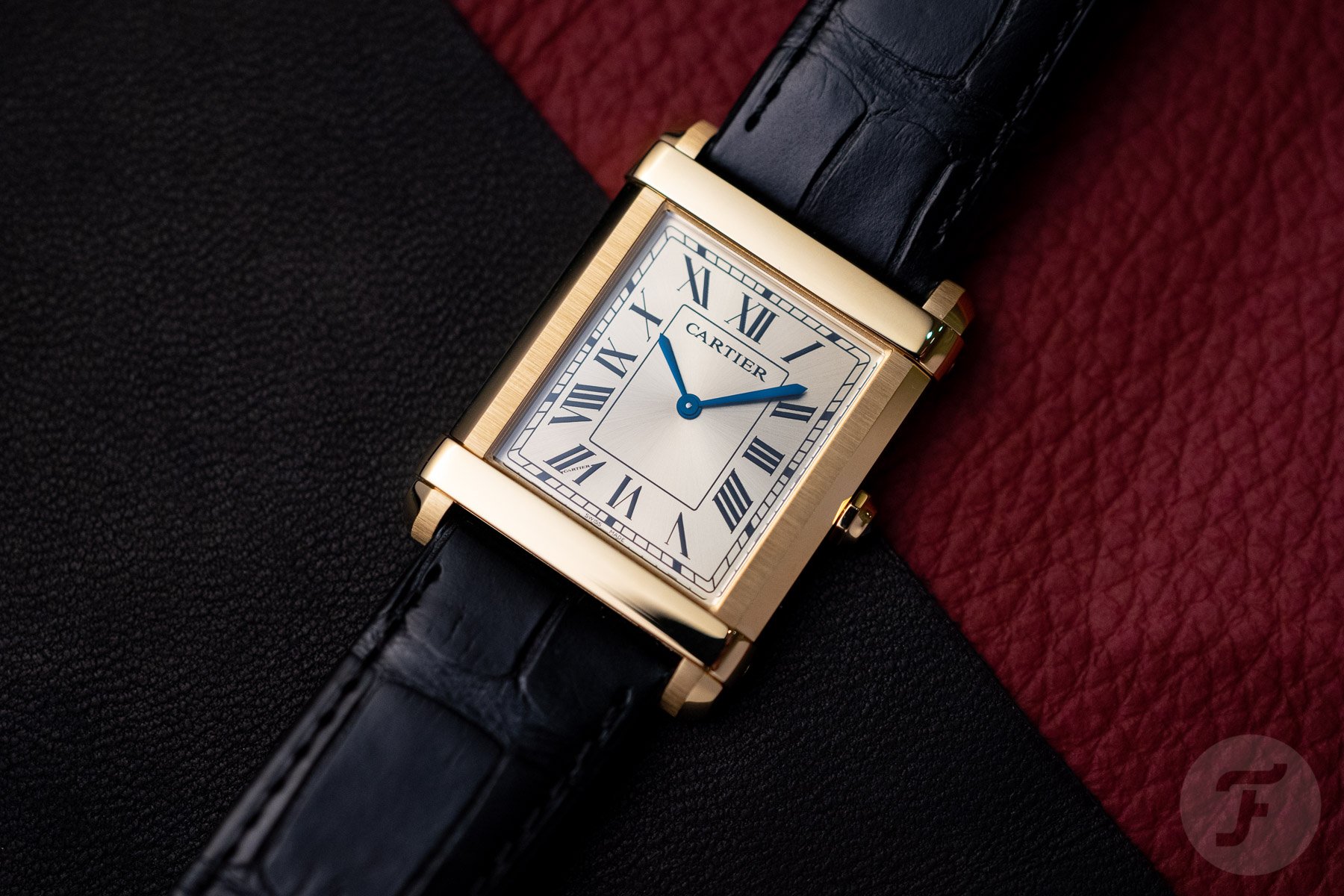 An example
Let me try to explain what I mean, using the 2022 Tank Chinoise seen above as the base. For this watch, you could choose to have a custom dial to get rid of the sunray finish. You could opt for a dial made in the Métiers d'Art department in straw or wood and give it a kind of bamboo effect. The numerals could be done in applied Chinese characters, and perhaps some enamel elements could be added to the sides of the case. Technically, almost anything is possible. I would say that the sky really is the limit.
Of course, I have no idea if something like this would be approved by the Cartier team in Paris. Métiers d'Art is very important to the brand, and I know the team will do everything to work within the Cartier style parameters. But this idea illustrates a design direction in which you could think and shows that it is not necessary to do the entire watch in this technique.
At the last Watches And Wonders in Geneva, we also saw the three wonderful Santos-Dumont models with enamel. These watches were, in fact, also realized in the Métiers d'Art atelier.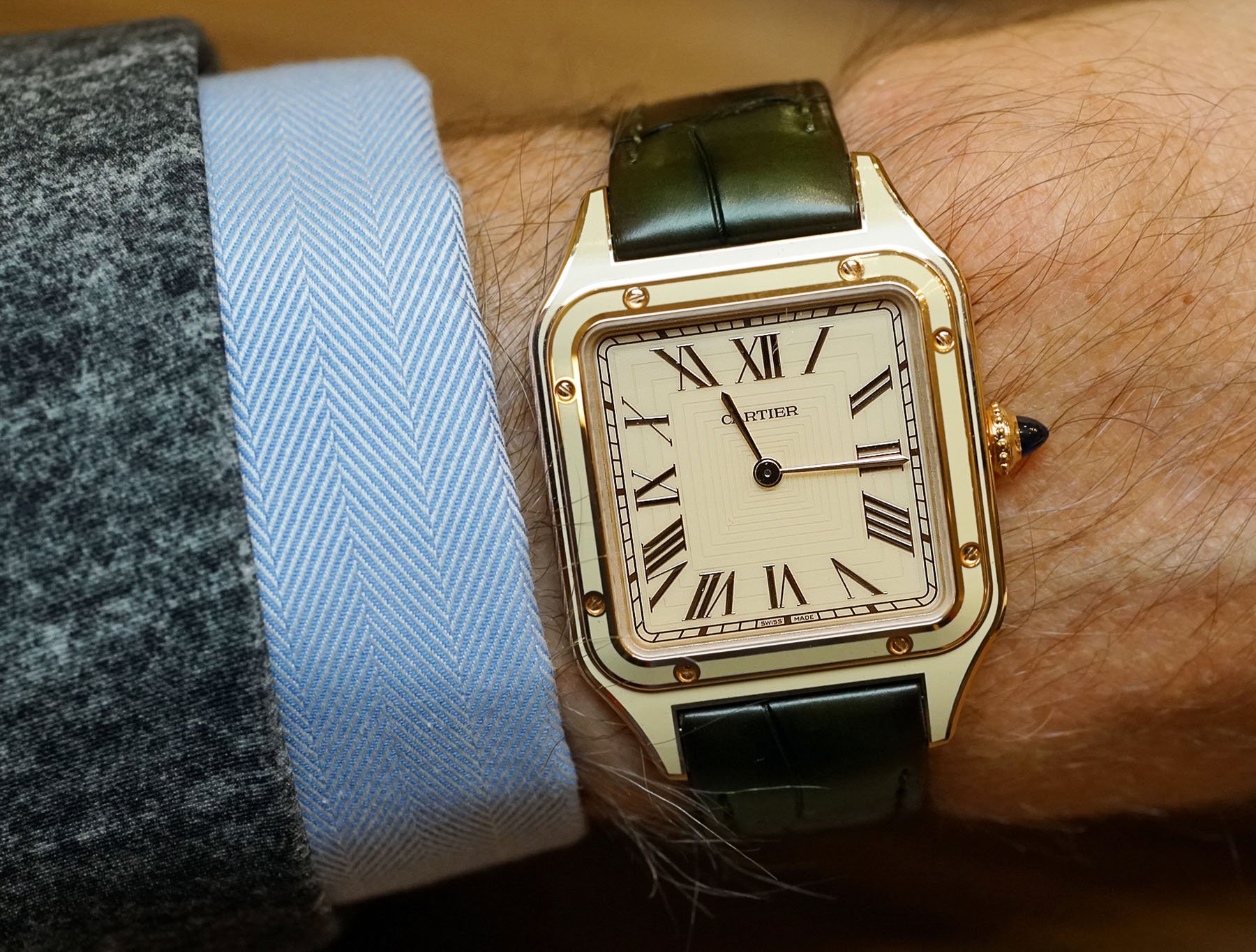 Should you have a kind of subtle gem setting in mind, the inside of the bezel could be a discreet option to create a personal touch to your watch. 
What would I go for?
Of course, I have been dreaming about the possibilities. If I were ever in the position to do a Special Order/Métiers d'Art watch, I would probably go for a Santos-Dumont with a light green enamel dial, hand-painted numerals, Breguet-style hands, and some enamel details on the bezel of the case. Not loud, not over the top, just a bit more "me".
Due to the possibilities, Métiers d'Art will definitely make your thinking/design process more complex. However, I would suggest trying to make use of these old-school techniques, grabbing the chance to create that ultimate dream watch with Cartier's designers and artists.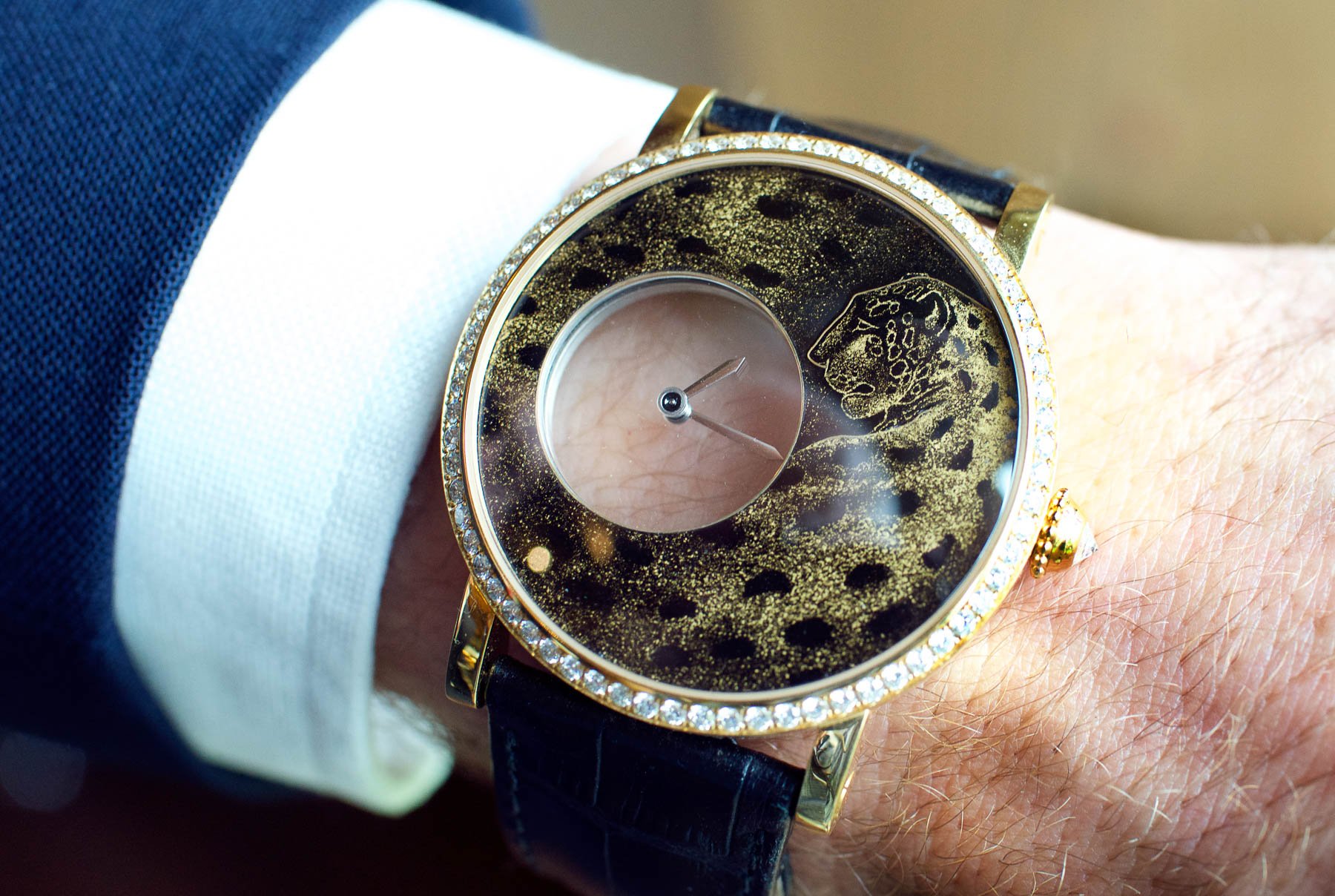 As you probably know, the production time of most Special Order watches is currently about one year. When you think of a combination with Métiers d'Art, it will be more complex, and getting approval for production is an even greater task. Keep in mind that it can easily take up to two years before you have your custom Métiers d'Art watch on your wrist. But the waiting and the feedback from the Cartier team are challenges worth experiencing for something that will be so unique.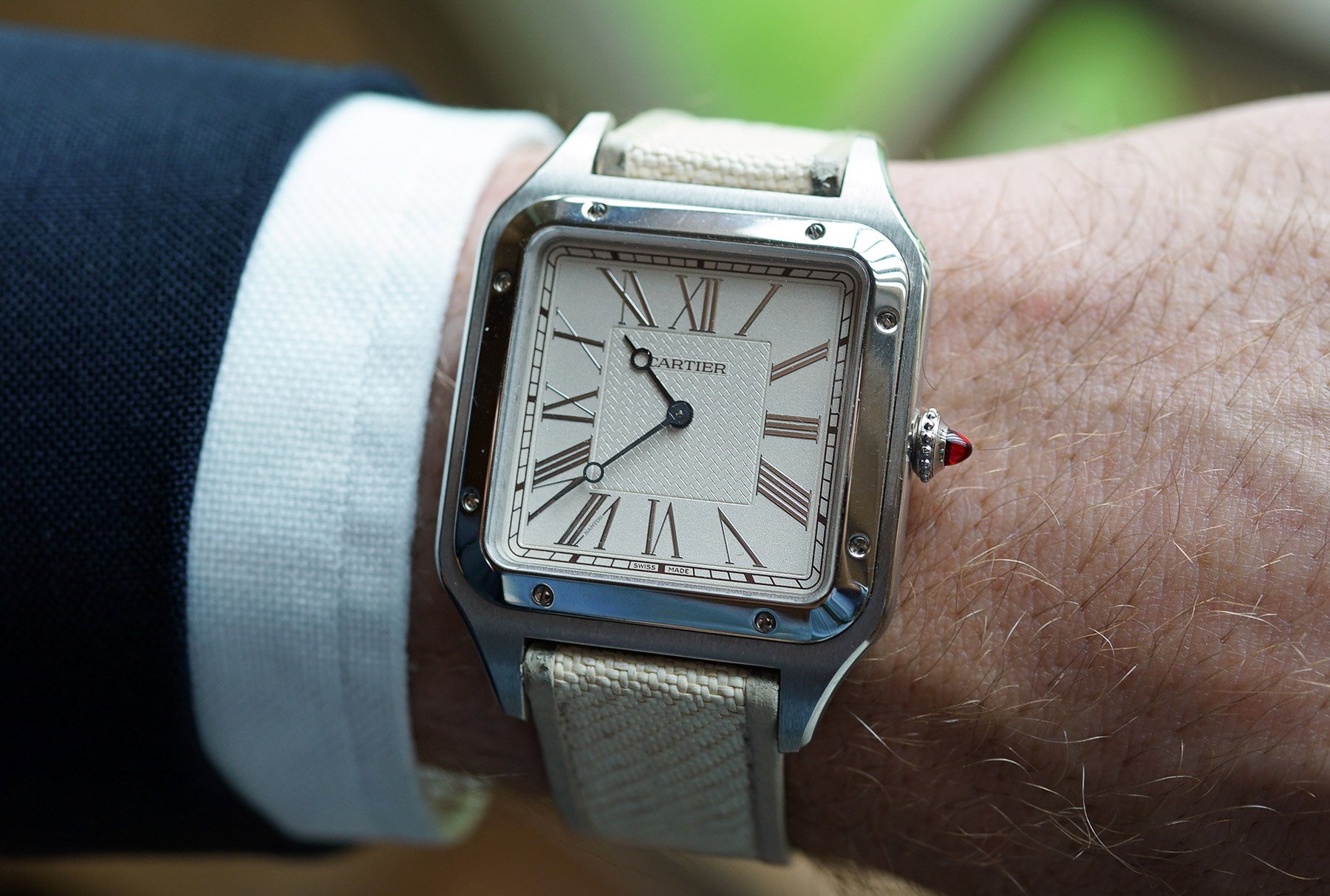 To request a Special Order timepiece, visit your local Cartier boutique. If you have any questions or remarks, please leave them in the comment section below.