Monday Mornings Are Precious With The Arcanaut ARC II – Fordite — A Watch With An Industrial "Stone" Dial
Enrich your day with a colorful dial made of a unique "gemstone" found in Motor City, USA
Did you know Detroit, Michigan, USA is a precious place riddled with "gemstones"? Motor City is the city where Fordite comes from. No mining is needed, though, since Fordite is hardened old automotive paint that's reclaimed from car factory assembly lines. The Arcanaut ARC II – Fordite is a Danish-made watch with a handmade dial crafted by James Thompson, co-owner of Arcanaut and founder of Black Badger. The exotic industrial dial fits the case with its sober industrial design and strong, curved lines paradoxically well.
James Thompson talked about Fordite before here on Fratello: "We're using solid chunks of the stuff," he explained. "Nodes, we call them. The Fordite we used to create these dials is created from the overspray that collects around the cars as they are being painted. Over time, these layers build up like a sedimentary rock. And so you have this material with hundreds upon hundreds of layers of topcoat/clear coat/primer, repeated over and over and over again. At some point, some bright spark started cutting through it and discovered these amazing patterns. And it is real art. You have to be really engaged with the material. If you go ¼mm through the material, the pattern changes entirely."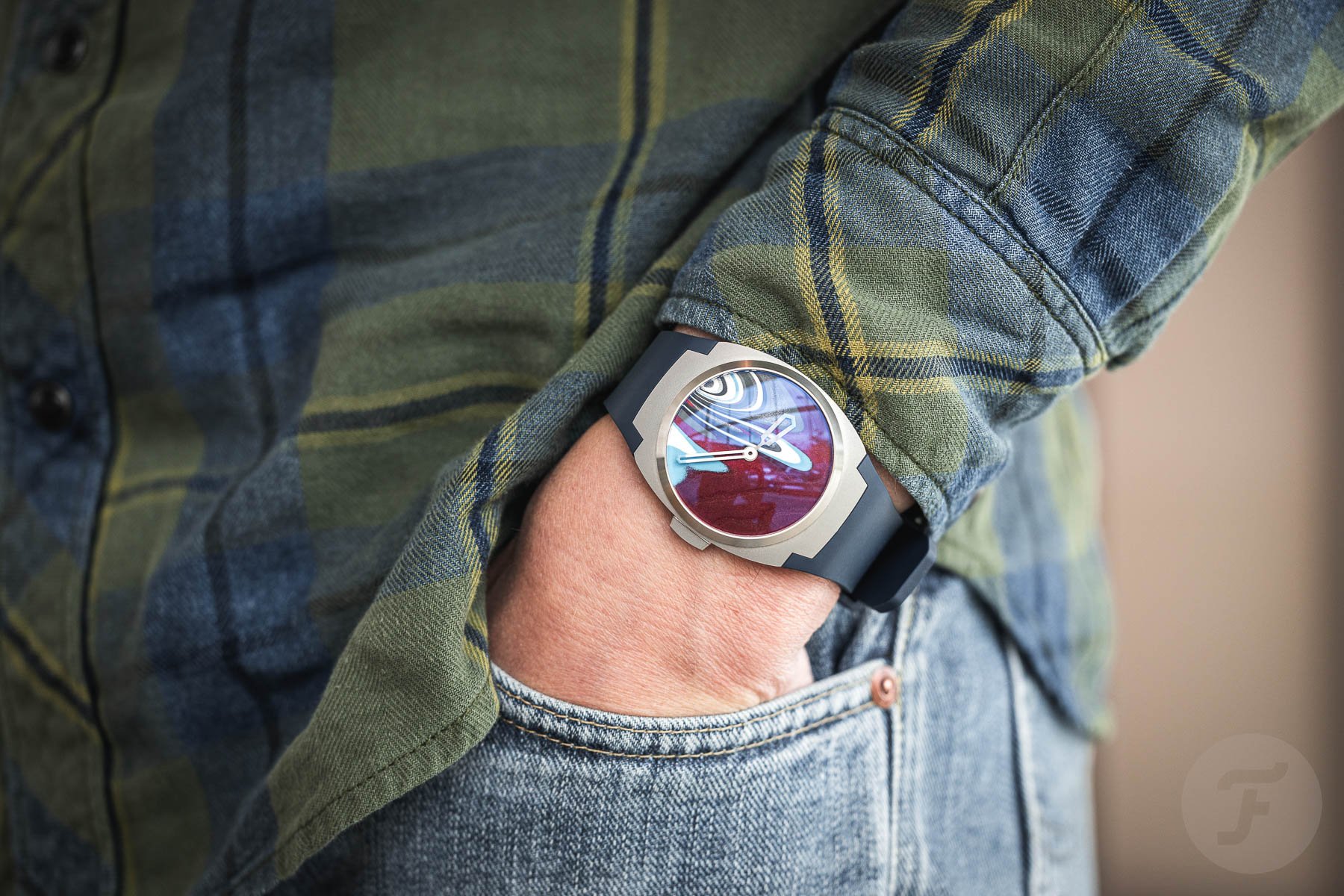 Arcanaut ARC II – Fordite: made-to-measure but not as you know it
Every piece of Fordite turns out differently after working on it. Consequently, the dial of every Arcanaut ARC II – Fordite is unique. When you go through the different watches on the Arcanaut website, you don't see made-to-measure pieces, but if a particular pattern or color speaks to you, then you do end up with a personal and one-of-a-kind timepiece. The dials look painted, but they're actually just paint. The randomness of Fordite, also known as "Detroit agate" or "Motor City agate," does give it that gemstone allure, though. It is more outspoken than a Rolex with a stone dial and also more affordable. Still, US$3,950 excluding taxes and local customs duties is a considerable amount of money.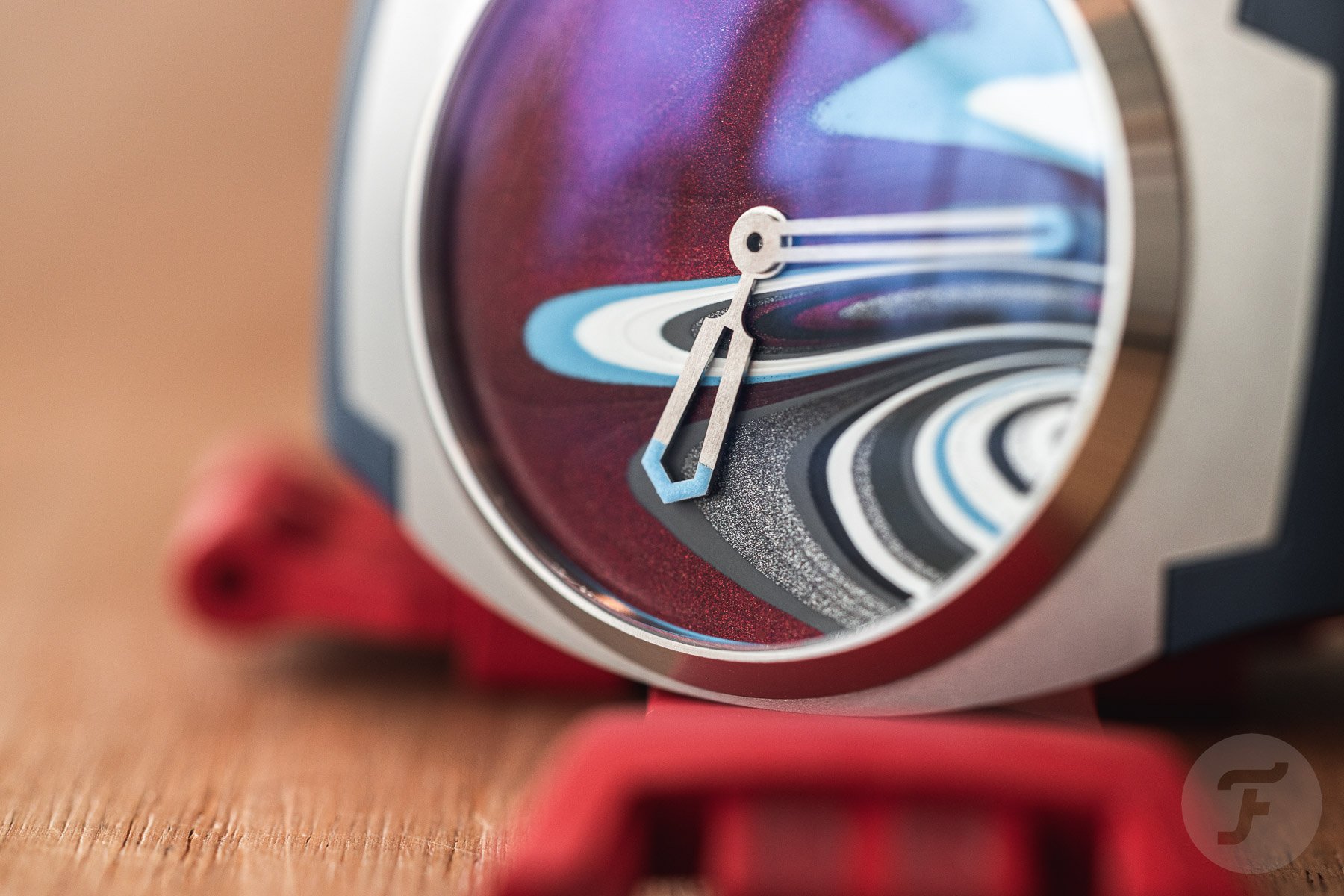 The angular pebble that is the case
Yes, the Fordite dial is the big eye-catcher, but the case is also quite something. Arcanaut calls this shape, which is edgy yet also fluid, an "angular pebble." The CNC-machined case is made in Denmark by a specialist according to Arcanaut's exact specifications.
The finely tuned CNC machines mill a block of 316L steel into a 41mm case that, according to Arcanaut, fits wrists between 14cm and 21cm in circumference. That's quite a wide range of sizes, but with the curved case shape and the steep angle of the strap, that could very well be true. I do know that it fit my 18cm wrist just perfectly and felt a bit smaller than the ARC II – Fordite actually is.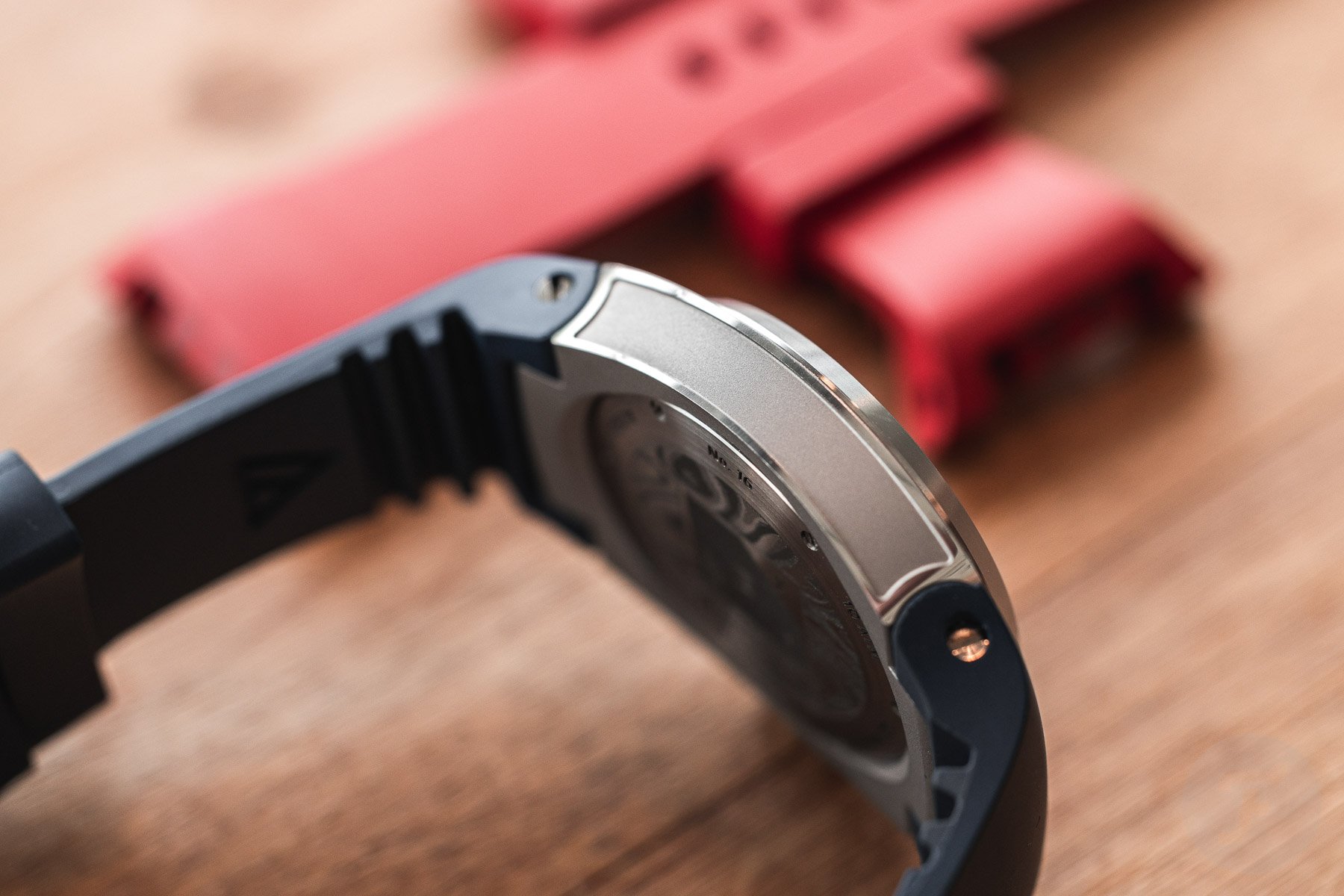 The contrast between the sober sandblasted surfaces and polished lines keeps the Arcanaut ARC II – Fordite from becoming too "designy." Let me explain what I mean by that. Sometimes I stumble upon watches that overdo it on the shape and the industrial finishing, making the whole thing look like a case study by a junior architect. Some of these "design watches" are different simply for the sake of being different and, consequently, lose the watch plot.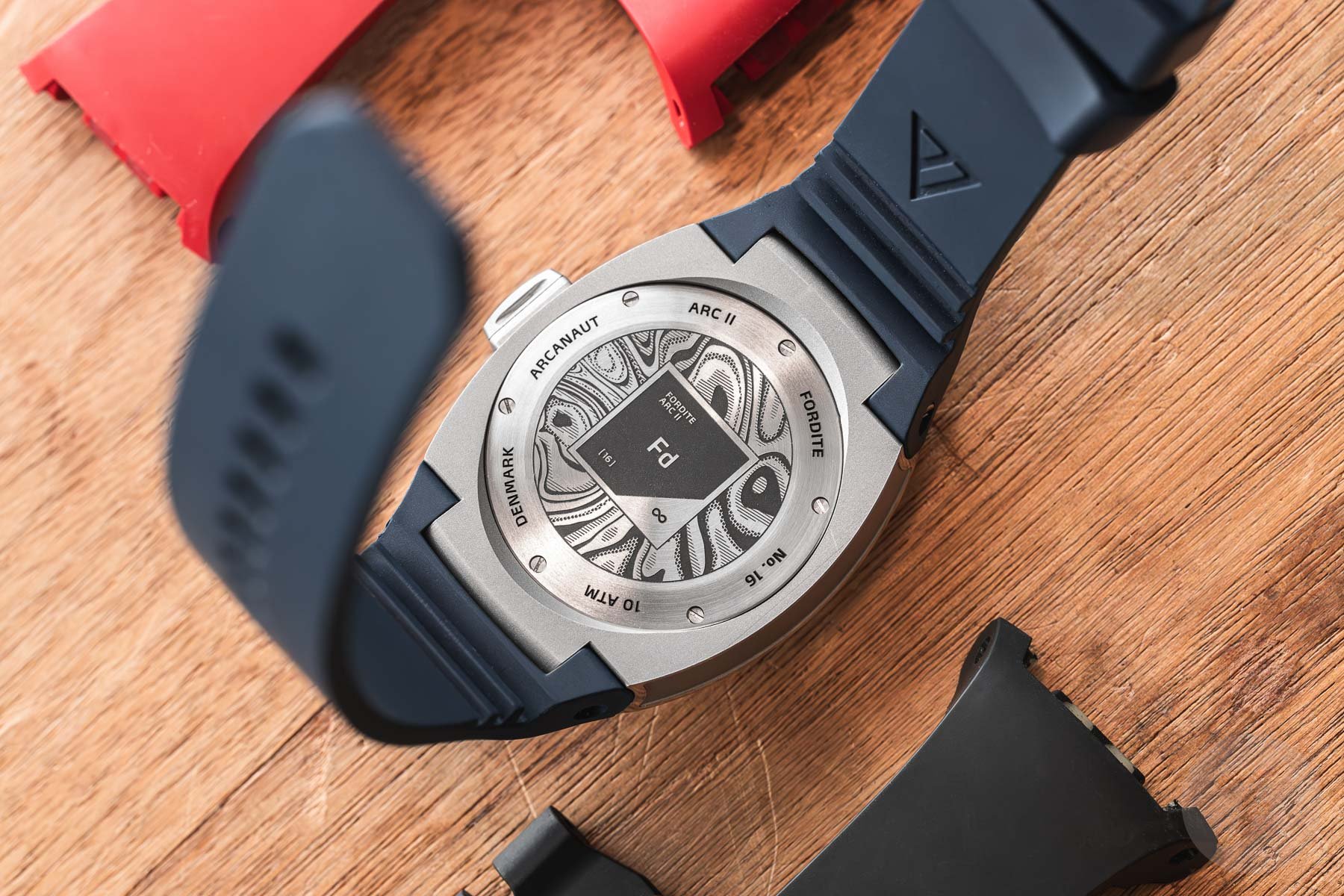 You don't buy this "Ford" for its "engine"
Under the hood of this colorful "Ford," you'll find an "engine" made in Switzerland by Soprod. Soprod is part of the Festina group, and the automatic A10 might have a name that makes (European) petrolheads think of French sports car manufacturer Alpina, but it's "just" a 4Hz movement with a 42-hour power reserve. The movement gets the job done, but the fact that it hides behind an engraved case back is perfectly fine.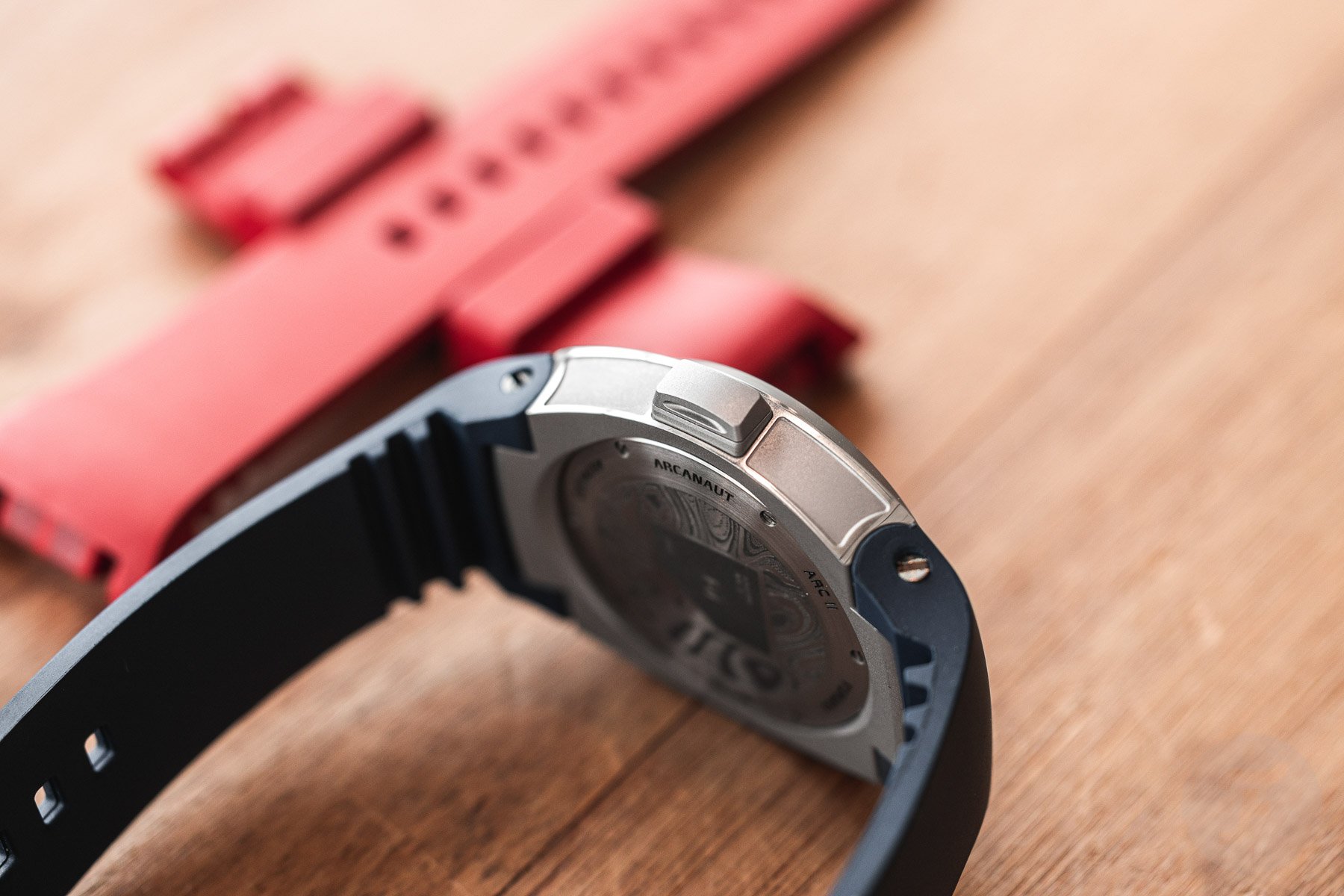 But the way you operate the movement is quite special. The Arcanaut ARC II – Fordite has a rectangular crown that always comes back to its perfectly aligned position, a little bit like the Clé de Cartier. The sleek crown certainly makes for a streamlined look and is also proof of Arcanaut's obsession with design and details. A notch on the underside of the crown allows you to pull it out and set the movement. It doesn't allow you to wind it, though. That you have to do by moving the watch and thus making the rotor turn.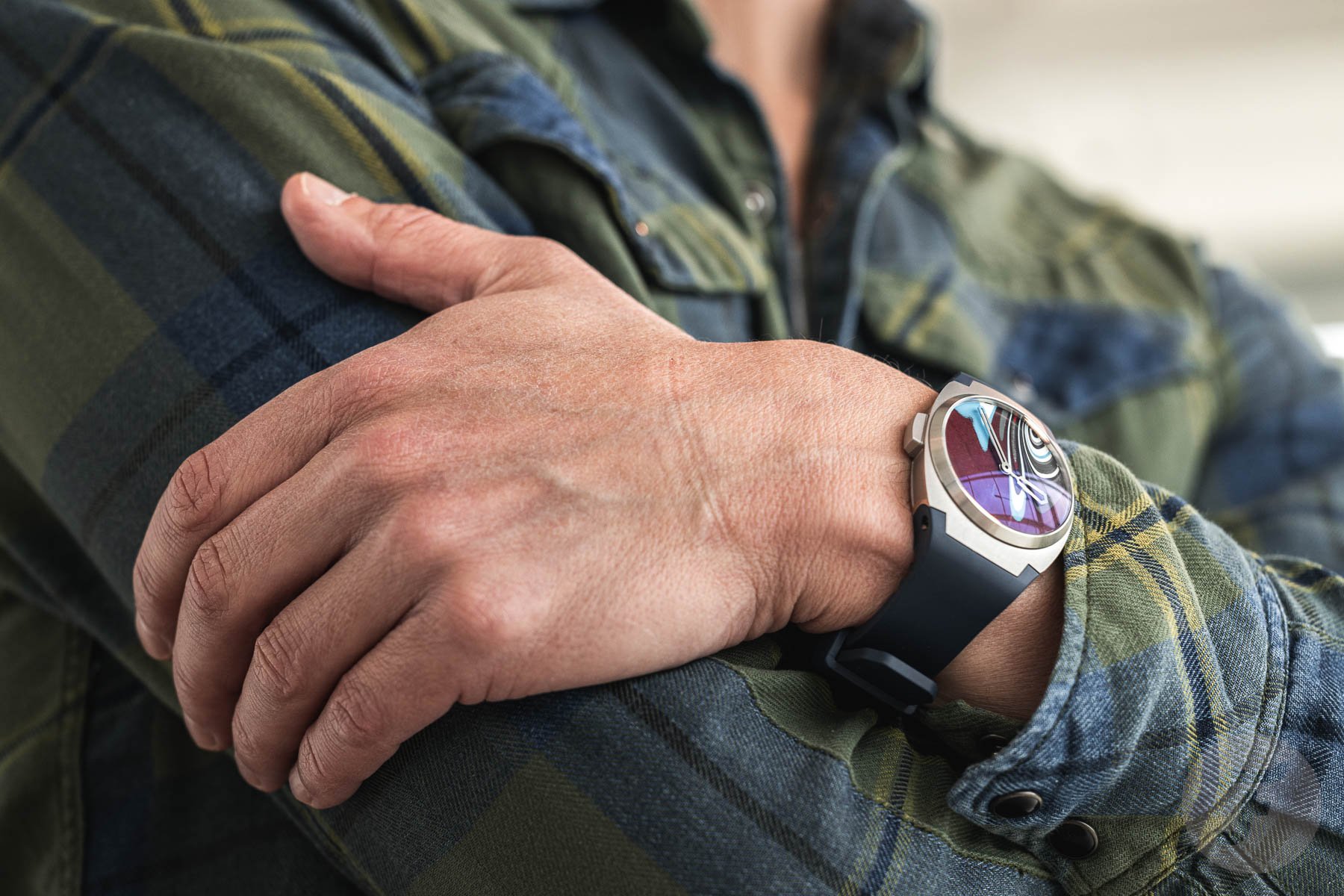 Searching for the perfect "stone" dial
What do you think of the lava-lamp-like dial of the Arcanaut ARC II – Fordite on my wrist? If you like it, too bad; this one is spoken for. If it's not your cup of tea, then no worries. There's a wide selection of Fordite dials to choose from. And if you still can't find anything to your liking, the good people of Arcanaut will give it their very best to find something that suits you in an upcoming batch of Fordite dials.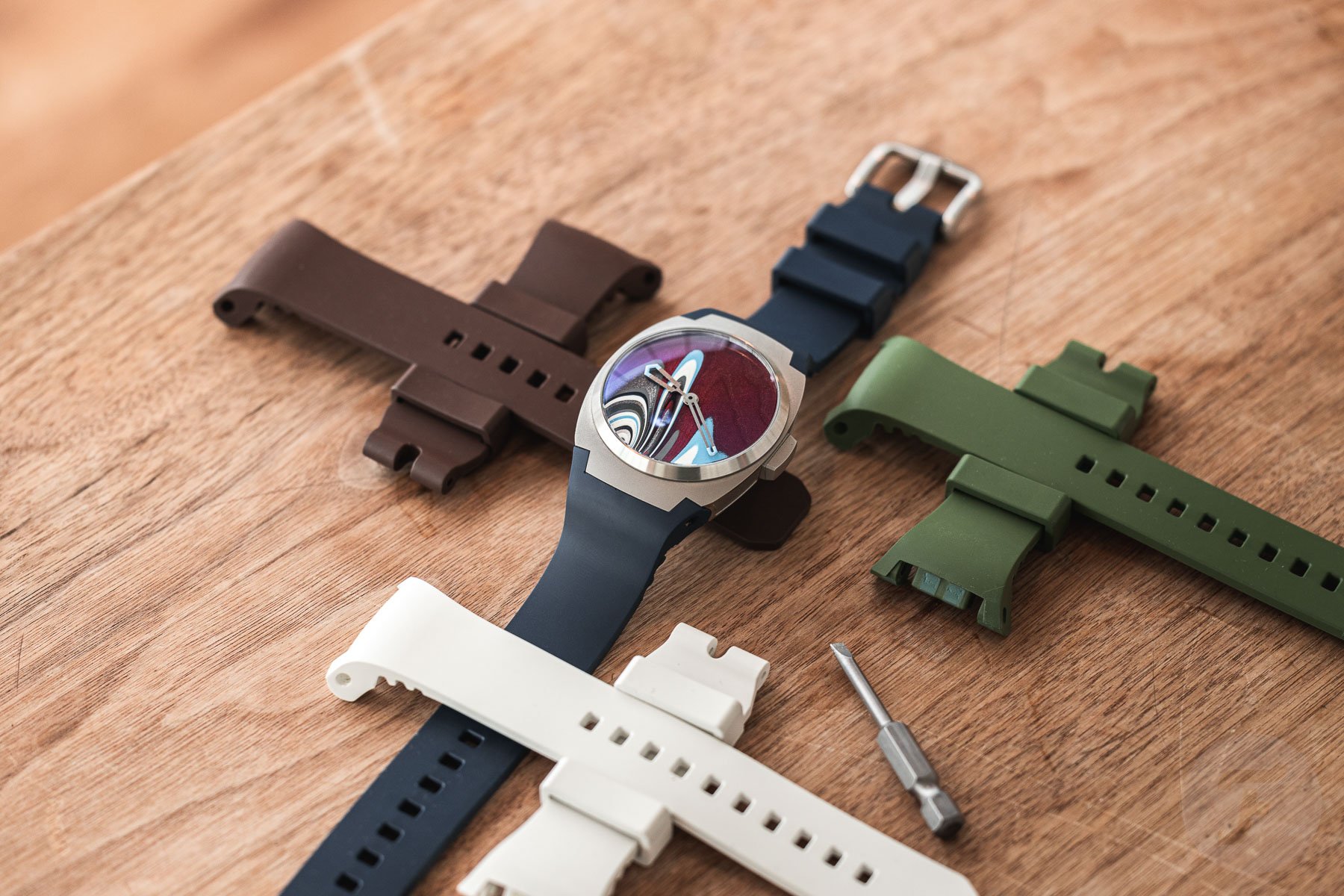 I'm curious to know what you think of the combination of dial, case, and rubber strap (which, by the way, you can select from a wide range of colors to match the dial and/or your taste). Is the Arcanaut ARC II – Fordite too spaced out/futuristic/hallucinatory, too much of a design gimmick? Or is this the "stone" dial that you've been dreaming of for all your watch-collecting years? Let me know in the comments.
Find and follow me at Lex Stolk • Instagram.