Are Conglomerates Eroding The Origins Of Luxury Watchmaking?
Exclusivity, uniqueness, and quality make up the foundation of true luxury
Let's start with a bit of mindfulness before we answer the question of whether conglomerates are eroding the origins of luxury watchmaking. The ultimate luxuries in life are gratefulness and contentment. You can't buy them, yet their availability is unlimited for those who are open to them. Material luxury, on the other hand, is the absolute opposite. Its accessibility is extremely limited, and only money grants you excess. But luxury is big business for the masses nowadays, and the large luxury groups are mass-producers of watches, for instance, that can be debated on their merits. The term "luxury" and, therefore, the classic craft of luxury watchmaking are under pressure.
The word "luxury" is derived from the Latin luxus, and in English, it originally meant "lust." The word's meaning and perception shifted over time, and by the 17th century, it had lost its negative connotations. Over time, "luxury" went from meaning "lechery" to "something expensive and unnecessary." When you look at a mechanical watch, you are looking at an object that is, strictly speaking, unnecessary. After the Quartz Crisis, mobile telephones, computers, and other modern devices appeared, ensuring that the precise time is always easily accessible. But how luxurious is a watch that's just costly? Is luxury watchmaking on the verge of becoming a ghost of the past?
Eroding the foundations of luxury watchmaking
Fashion designer Jonathan Anderson once said in The Financial Times that "the idea of luxury no longer exists. It is a bygone word. You can go to Tesco and get luxury sausages." Am I going to compare luxury watches to sausages? Maybe I will. The problem is that there's not just one type of luxury. Simply put, there's traditional luxury and modern luxury. Traditional luxury goods are expensive products of excellent quality that are produced in limited quantities. These items give a small, affluent, and privileged group of people status. Modern luxury, however, is an eroded form. Luxury in 2023 is a mass-marketing occurrence that is ubiquitous in everyday life. In other words, normal products have been touched by the luxury wand. The steady rise in wealth and consumption is linked to the rise of luxury.
It was American economist Thorstein Veblen who, in 1899, coined the term "conspicuous consumption." Veblen formulated his Theory of the Leisure Class, in which he describes that the consumption of goods is perceived as the maintenance of social prestige. Increasing one's riches leads to the "attainment of esteem and envy of fellow men." This positioned luxury as a hollow and shallow materialistic phenomenon aimed at other people — the opposite of finding pleasure in exclusive comfort and tailor-made quality just for oneself.
Luxury — it's not for everyone
In the past, luxury was for the rich and only available to those within a tiny social circle. But what was once an extremely limited offer for the elite has become a mass product for a high-end sector. Modern technology has "exposed" luxury. Everybody sees it in large doses on their smartphones. The brand recognition and awareness of Patek Philippe have changed dramatically since the rise of social media, for example. That goes for the most prestigious of all Swiss watch brands but, on a different level, also for several other reputable watchmakers, including Rolex.
Current communication technologies made the globalization and democratization of many luxury goods possible. What also happened in the process was that the workings of the globally operating luxury brands and conglomerates started to erode the foundations of luxury as we once knew it. Average, widely available products have been upgraded to "unique" and "excellent" ones by shrewd marketeers. Storytelling often lacks substance and even factuality.
The power of the group
In watchmaking, the democratization of luxury is evident when looking at the insides of watches. A €15,000 luxury watch in the traditional sense, for instance, had a better movement with a higher level of finishing than a €5,000 watch. What you see nowadays within luxury conglomerates, however, is that group movements are used in watches sitting in very different price categories. Sharing components and engines is commonplace in the automotive industry too. Seat, Škoda, Audi, and even Porsche and Lamborghini all have a hint of Volkswagen that are sometimes very obvious — think shared engines, platforms, and so on. That is great for Škoda but not so great for Lamborghini. Companies that are under the pressure of shareholders and are run by spreadsheets consider the sharing of components, for instance, practical and logical. But luxury is not based on logic.
Nowadays, so-called group movements feature in watches that range from €5,000 to well above €15,000. To the manufacturers, this makes perfect sense. Most watch aficionados, however, consider the movement the heart and soul of a watch. When movements are the object of such callous treatment, the essence of prestigious and luxurious Haute Horlogerie is in danger.
Passion, craftsmanship, and quality are fundamental
The global spread of the image and idea of luxury made brands reach down to get in range of an upcoming group of people — those who are willing to stand in line to get into a luxury brand boutique. By doing so, the old luxury standard was interpreted more loosely. The leading luxury watch groups — Swatch Group, LVMH, and Richemont — have a plethora of famous brands in their portfolios. The risk of brands losing their identity is real. All is fair in love and war…and, apparently, in making a profit. And once a brand becomes part of a portfolio, it can no longer compete with watchmakers that used to be competitors but are now colleagues in a larger company structure. The uniqueness and quirks of a brand will be streamlined, and in the worst-case scenario, the original character will disappear, leaving nothing but a logo.
Bending over backward to please consumers will put pressure on a brand's unique qualities and character. For instance, compromising outstanding craftsmanship — a lasting characteristic and a fundamental element of luxury — will, in due time, render a logo an empty symbol. Also, luxury watchmakers should be fully aware that even though the number of people who know of luxury products and aspire to them has increased, their products are still not for everyone.
Luxury 3.0
It is good to realize that luxury is not a right. You will not find it in the Universal Declaration of Human Rights. Luxury is a privilege. But you can enjoy luxury when you let go of material obsession. Stefano Ricci, the Italian menswear designer, wrote a book that starts with the line, "Real luxury is a glass of water in the desert." Ricci, who clothes the ultra-happy few, also writes that luxury is not about suites in five-star hotels; when everyone knows about these things or has seen them, how can they be considered exclusive and, consequently, luxurious? Instead, he insists that immaterial things such as health are a real luxury.
You could also combine material joy with an immaterial component to reach a new level of luxury. When "to experience" and "to have" are balanced, Luxury 3.0 can be enjoyed. It also means Luxury 3.0 is available to people without the deepest of pockets — more about that later. Instead of focusing on the fleeting joy that label luxury brings, the attention should be on products that are more meaningful and longer-lasting because they are authentic, qualitative, original, and personal. Wearing a watch because it has the "right" logo on the dial will not bring the lasting joy and deep satisfaction that a true luxury product can deliver because there's no emotional bond.
The meaning of luxury
Instead of chasing a logo, searching for a product you emotionally connect with will, in the end, bring you satisfaction, fulfillment, and contentment; a slice of happiness in a way. Unlike your closest authorized dealer, Chrono24 is full of watches that will bring you instant yet shallow satisfaction if you have plenty of cash at hand.
But some watches have much more to offer for those who dare to be different, those who take the time to discover their unique tastes and break free from trends. These creations are not pretentious. Rather, they are unique and meaningful to the individual. These watches tell a story that resonates. And to people who take the time and effort to investigate their taste and the large number of brands and watches out there, elements like craftsmanship, pedigree, uniqueness, and quality mean more than price and prestige.
Group movements — a bad or a good move?
For my €745 Tissot PRX, the self-winding Powermatic 80 movement, which bears the name C07.111 in the ETA catalog and is an evolution of the ETA 2892, is a great "engine." The caliber is in use within a wide range of affordable automatic watches across the Swatch Group. You can also get a Hamilton or Certina watch with a derivative of the ETA C07.111 for a fairly similar price. The movement is shared, just like most engines and transmissions are shared between the various VW Group divisions. Because of price positioning, value for money, brand perception, and the like, it's no harm, no foul. The Tissot PRX Powermatic 80 is an honest product that punches above its weight thanks to a combination of components and design.
The role of ValFleurier
Richemont, the owner of brands like Cartier, IWC, Baume & Mercier, Panerai, and Vacheron Constantin, have Manufacture Horlogère ValFleurier movements at their disposal. These in-group-produced movements serve numerous Richemont brands. But unlike the different Swatch Group brands using the in-group ETA, Baume & Mercier and Vacheron Constantin operate on different price levels but still make use of the same group base movement. And the problem with shared movements is that they uplift the cheaper watches and lower the more expensive ones. The €14,000 non-Geneva Seal Vacheron Constantin Fiftysix Self-Winding in steel uses a ValFleurier-produced automatic movement based on the Cartier caliber 1904. That movement also beats inside the €8,300 steel Cartier Tank MC. Having said this, I must also underline that the movements inside A. Lange & Söhne, Roger Dubuis, and Jaeger-LeCoultre creations are strictly manufacture calibers.
A different strategy
LVMH, the owner of TAG Heuer, Zenith, Hublot, Bvlgari, Gérald Genta, and, of course, Louis Vuitton, deploys a different strategy. Yes, some of the more extreme TAG Heuer, Zenith, and Hublot models show design similarities, but the insides of these watches are very different. There's no group-owned manufacturer of base movements. Instead, the brands use base movements from third parties.
But when things get complicated, the LVMH brands do it themselves. Bvlgari is a good example. The ultra-thin creations with ditto movements are unique. And for the complicated Louis Vuitton and Gérald Genta watches, LVMH uses movements made by La Fabrique du Temps Louis Vuitton. This "time factory" in Meyrin, close to Geneva, was once BNB Concept, but after this high-end watch movement specialist manufacturer went bankrupt, LVMH took control. And for the movement inside the newest version of the Tambour, Louis Vuitton also put Le Cercle des Horlogers to work. Somehow, the watch brands that are part of the dominant LVMH group remain individual brands with souls of their own.
Heated debates
The use of group movements in watches that belong to very separate price categories is already causing very heated debates among watch fans — just check the comments below some of our articles to see/read for yourself. And watch fans who have become incredibly knowledgeable thanks to all the available, shared information online are getting more and more annoyed by watches that seem the sole result of a marketing story and a spreadsheet. Think of timepieces presented as luxurious sports watches in the highest echelon that share a movement with a watch that is a gateway to the world of "luxury" watchmaking.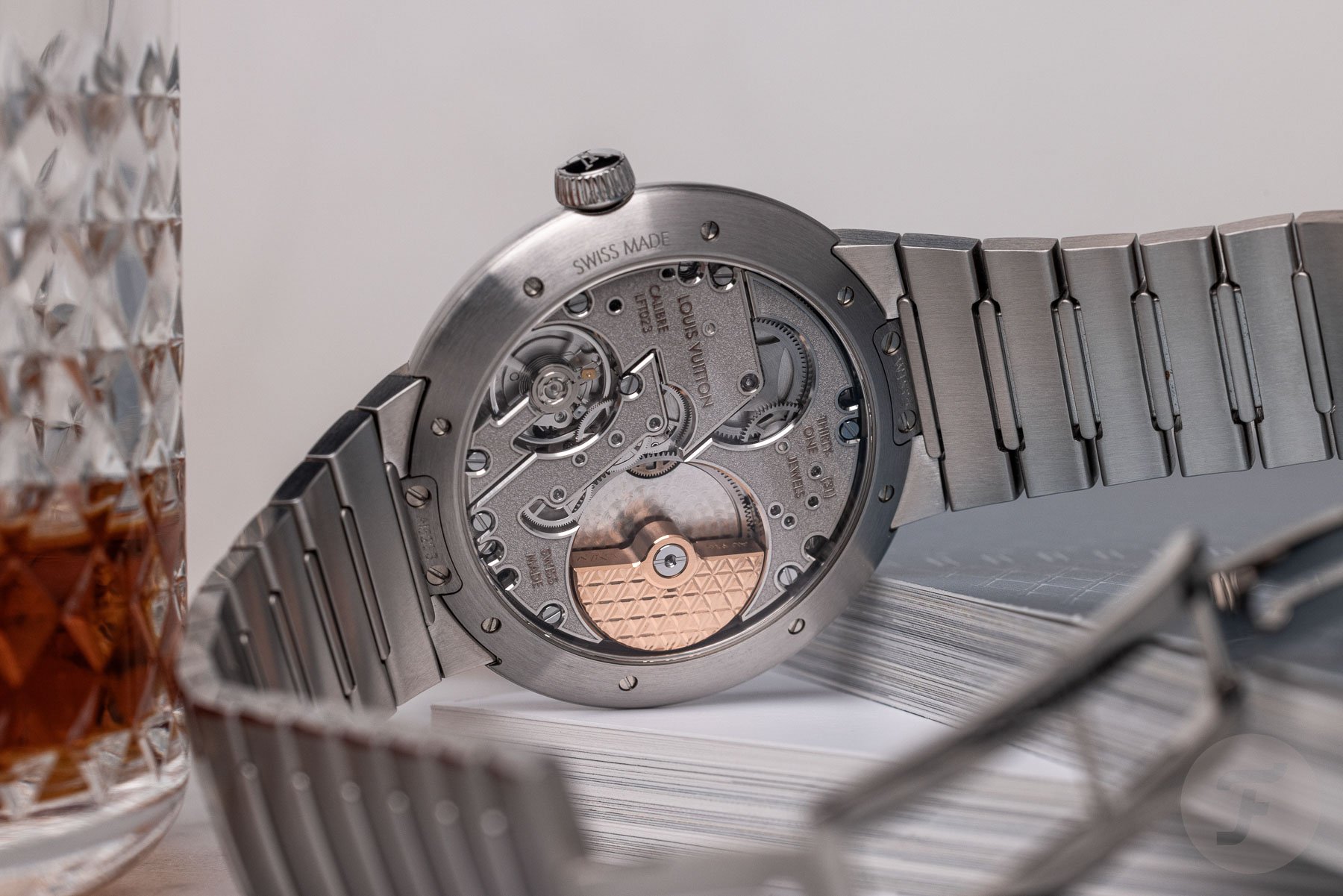 People who want a watch just for the right logo on the dial won't mind, but losing those fans with a love for watches and also makers can hurt the brand. According to an old Dutch saying, trust comes on foot but leaves on horseback. The same goes for a brand's reputation. And if a brand loses the admiration of the connoisseurs and collectors, it hurts a less knowledgeable but much larger group that follows the ones who are in the know.
Luxurious originality comes in all sizes and shapes
For independent brands in the realm of luxury watchmaking, it is easier to present themselves as unique and original. And "independent," "unique," and "original" don't always mean "unobtainable." With the Aquis Date Calibre 400, for instance, Oris has a watch in its collection that looks unmistakably like an Oris and has an Oris-only movement inside. With a price of €3,500 on a well-made steel bracelet, the Aquis with its in-house movement is definitely a luxury watch. And it's one by an authentic company with a consistent story to tell. No, Oris is not on the same level, but it does have a lot in common with prestigious players like Patek Philippe and Audemars Piguet.
Having said that, microbrands and small independents that operate at the highest watchmaking level sometimes also offer timepieces that represent the spirit of luxury watchmaking. Here are two very different examples. First, look at what my colleague Thomas is doing with his brand VPC. A passion project pur sang, he puts his heart and soul into it. And what is particularly impressive is his obsession with the smallest of details, be it the positioning of the lug holes or the special font he had developed.
On a much higher (price) level, there are the creations of watchmaking veteran Bernhard Lederer, who works in the spirit of the old masters but constantly tries to innovate and improve his watchmaking skills.
The inner drive of brands
The current luxury landscape sees different types of high-end watch brands. Old-fashioned luxury watch brands display a mix of premium quality, heritage, craftsmanship, iconic style, premium pricing, exclusivity, and a strong worldwide reputation. These brands also embody and radiate status, value, and prestige. "Luxury lite" could be the term to use for relatively affordable watches that are qualitative, in touch with the current trends, and visibly branded so they represent and propagate instant recognizability and a bit of status for those who use them. Luxury 3.0 watch brands are less about visible branding, trends, and turning heads in the street. Brands in this category stay true to their origins, take pride in the craft of watchmaking, and have an inner drive to constantly improve their craft and, most importantly, their watches. That's the way to perpetuate luxury watchmaking.
In the end, a luxury watch should be the qualitative result of passion and craftsmanship, with one foot in history and the other turned toward the future. And it's a fact of life that such a product will have a premium price. It's a product that no one needs but that some, the lucky few bitten by the watch bug, desire. And if that feeling of desire comes from within, the relationship between a watch and its wearer might well be one of gratefulness and contentment. Yes, luxury watchmaking can create materialized mindfulness.