Oris Aquis Date Calibre 400 Review: The Aquis To Have?
The first watch with their in-house cal. 400 movement
Funny, when I unboxed this new Oris Aquis Calibre 400 for this review, I couldn't stop looking at the dial. I know it should be all about the in-house caliber 400, but I'll tell you that it took a few minutes before taking the watch off again to have a glance at the new Oris movement.
The dial (and watch) look quite similar to their Aquis Ocean Cleanup limited edition. That watch was a bit smaller, and there are some aesthetic differences, but it just reminded me of that one. If you're a watch fanatic, you haven't missed the introduction of the new Oris movement: Calibre 400. It is interesting that Oris decided to introduce the movement first, and a few weeks later introduce the first watch to be powered by it. And here it is, the Oris Aquis Calibre 400. With a beautiful gradient blue dial.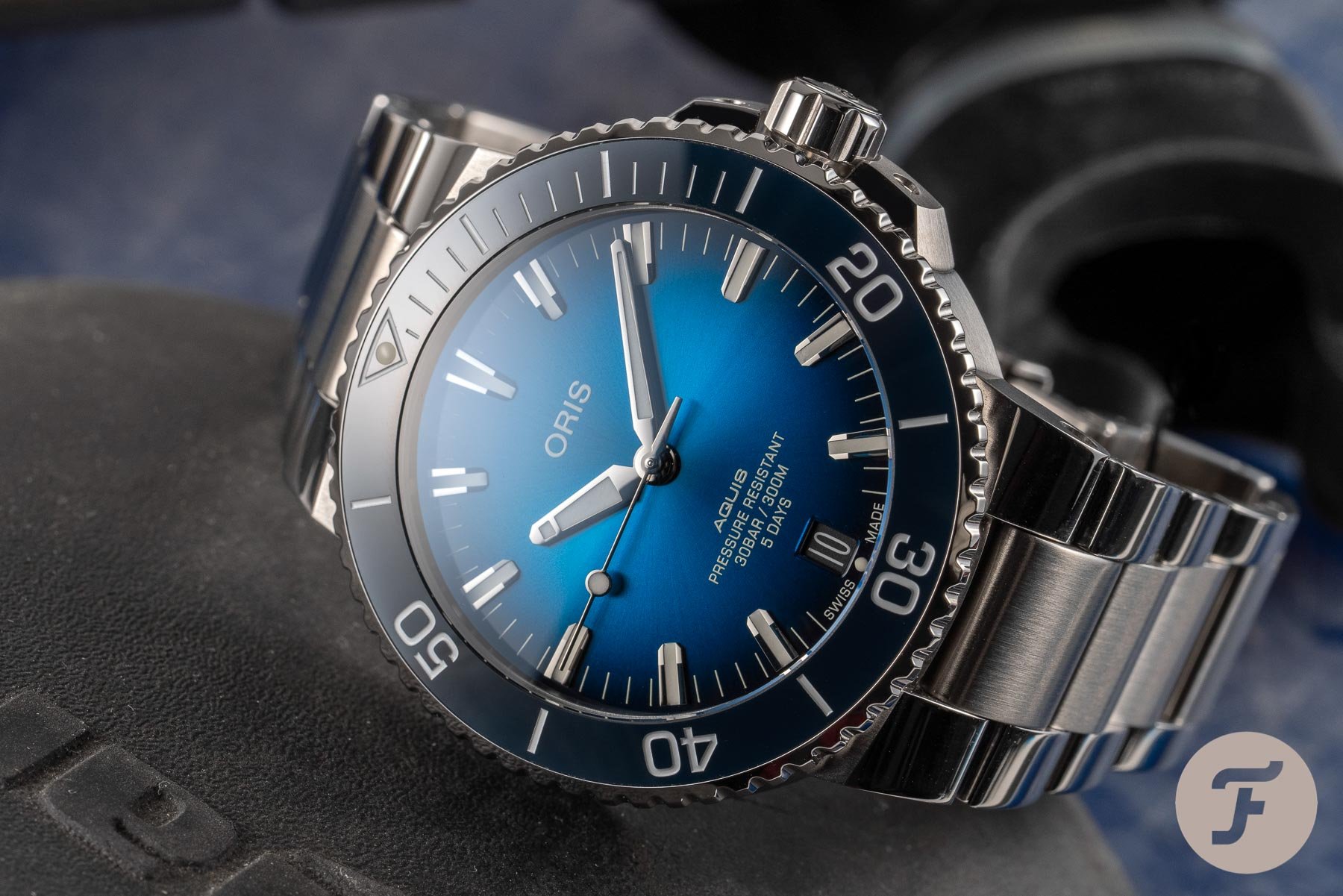 Oris Aquis Calibre 400
I am not a diver, but I do have and have had my share of divers watches. From all sorts of brands and in all sorts of price ranges. What they all have in common are the typical features for diving purposes. A uni-directional bezel, 300 meters of water resistance, screw-down crown, screw case back, and a very legible dial. This watch is no different when it comes to those features. The Oris Aquis has a case shape that is rather unique, of course. And a proper stainless steel bracelet, with the opportunity to swap it for a rubber strap. But the new in-house movement is what makes this watch stand out. The recently introduced Oris calibre 400 has been discussed in this article, but let me summarize.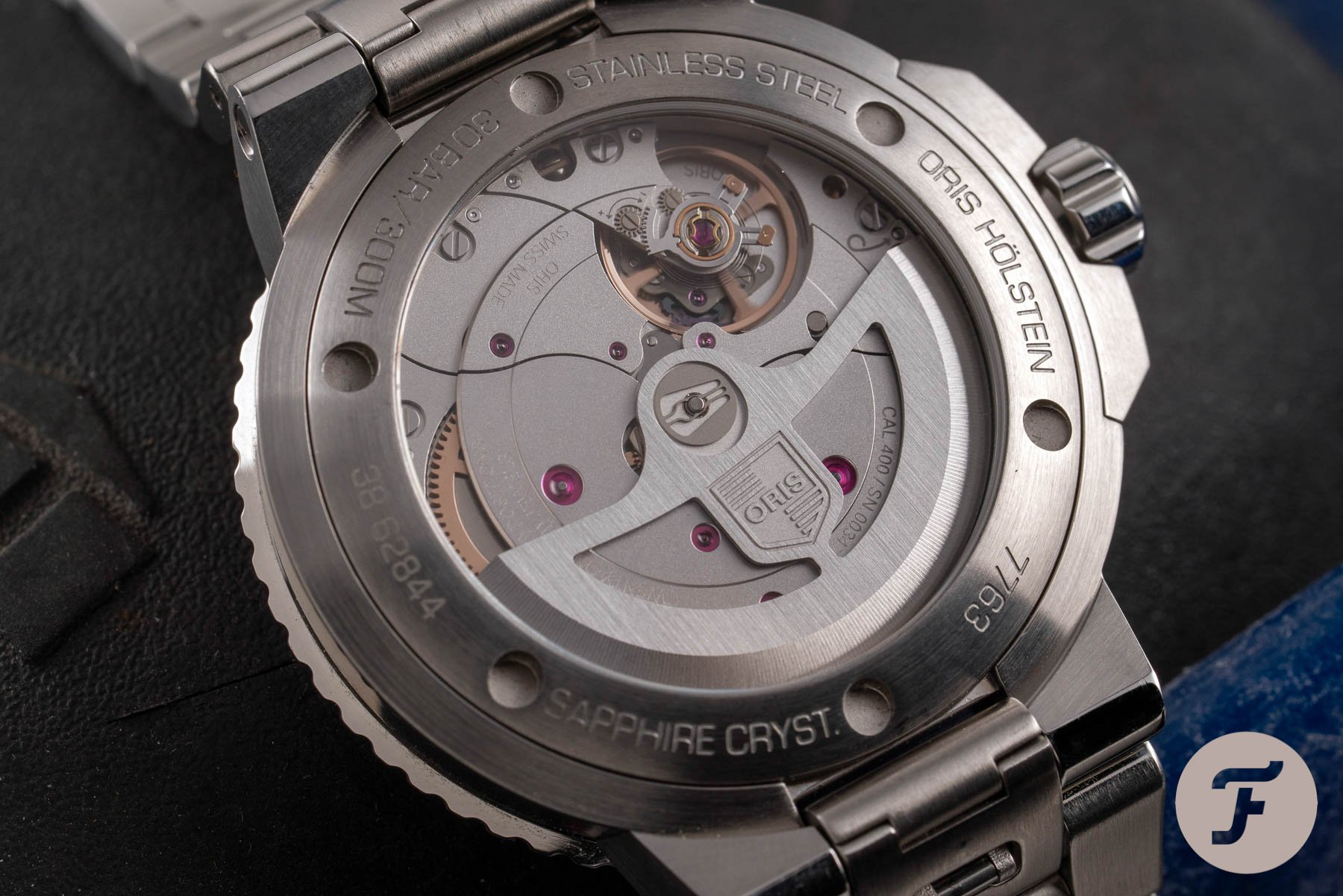 10-year warranty
This Oris calibre 400 has a 120-hour power reserve via twin barrels. It is highly anti-magnetic, up to 2250 gauss, by using special alloys for its movement components. A useful feature, as we are more and more surrounded by electronics and magnetic fields in this day and age than ever before. Although Oris didn't do a chronometer certification for this calibre 400, it does perform within those specs. Even more strict, with -3/+5 seconds per day deviation on average. Normally, chronometer certification is between -4 and +6 seconds per day deviation on average. Last but not least, Oris gives a 10-year warranty on this watch. Including a warranty on the accuracy of the watch.
Accuracy during wearing
Some of you might think it is strange, but I am not that concerned with accuracy when it comes to mechanical watches. It is not that I care, but I am just spoiled. I swap watches so often, that it doesn't really have an influence on me. But, I was curious to see how this Oris Calibre 400 is performing, since they claim to perform within COSC specifications. I noticed a deviation of less than a second per day over five days. That's pretty stunning.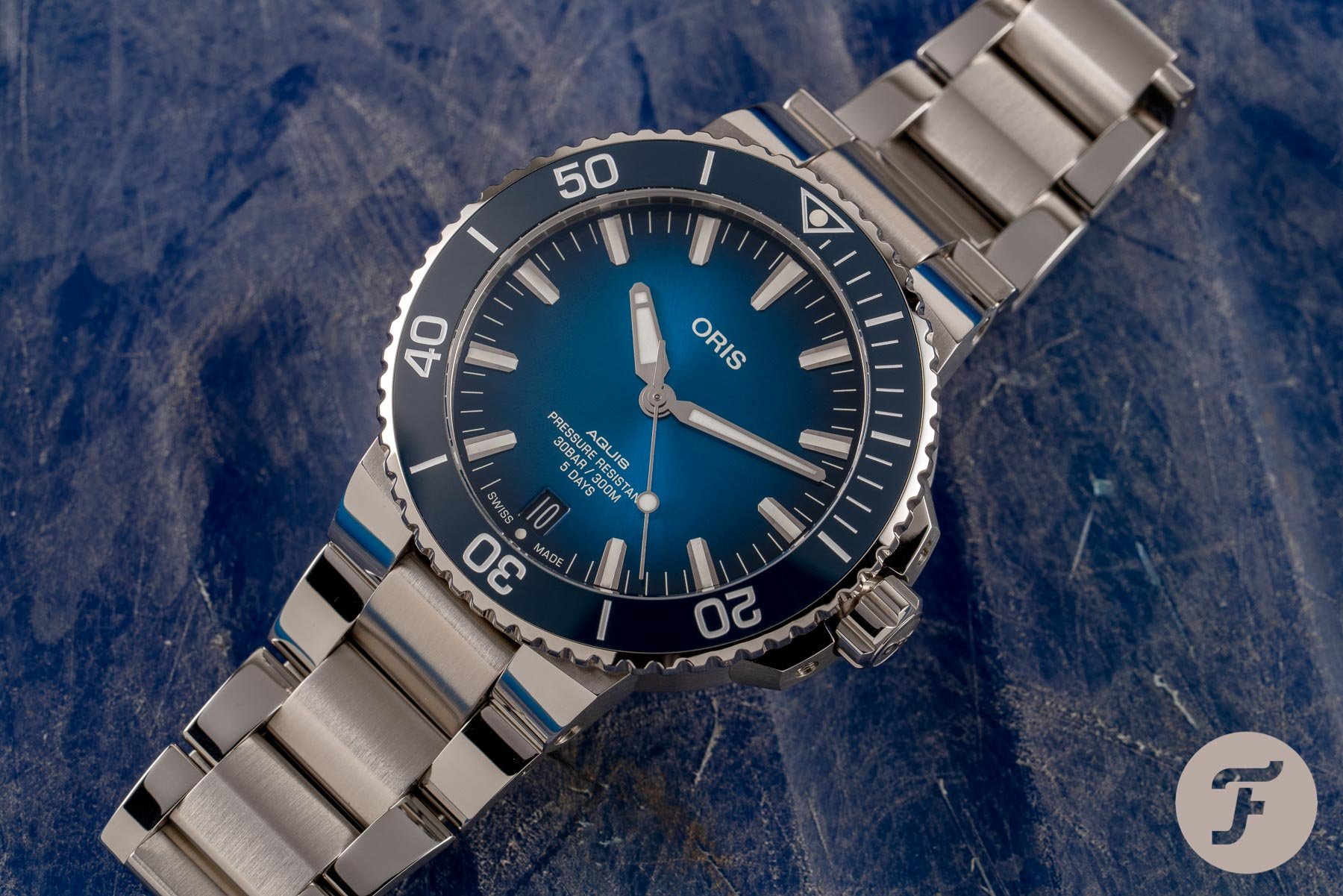 On the wrist
The Oris Aquis Calibre 400 is not a small watch by any means. But, the Aquis is also proof that specifications can be deceiving. When I looked up the spec sheet for this watch, I noticed a case diameter of 43.5mm. That's a number I would not have guessed based on having the watch on my wrist. Due to the case shape and relatively short lugs, it looks smaller than it indicates. The lug-to-lug size is 50mm, which suits my 19cm wrist brilliantly, and the thickness of the case is 13.7mm. Slightly thinner than the 14mm, Oris Aquis Date. The Aquis Calibre 400 wears remarkably well, sits nice and flat on the wrist and the solid bracelet keeps the relatively heavy watch head in balance. But, what impresses me most, as I already mentioned at the start of this review, is the gradient blue dial. It does not happen often that I can't stop staring at the dial, just because of the color.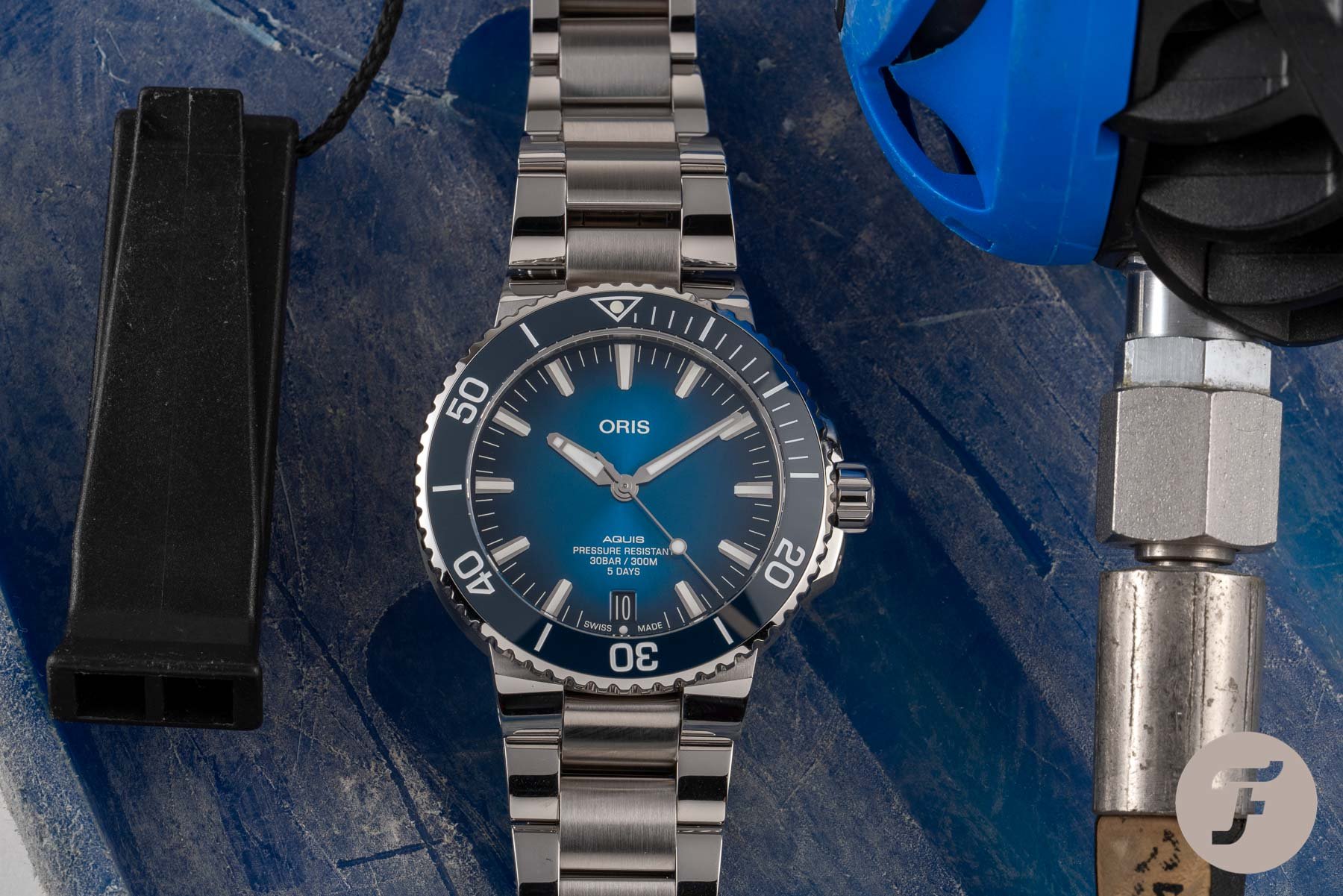 Uni-directional bezel
Those with OCD already noticed the bezel is not aligned properly. Photographer Bert did that on purpose to mess with your heads. Jokes aside, the bezel action is flawless. I tend to keep playing around with rotating bezels whenever I am wearing one (explaining the misalignment), and what I immediately noticed is that there's no play. The 120-clicks bezel, with ceramic insert, operates very smoothly. It requires a little bit of force to turn it, but certainly not as heavy as some of my own diver watches require. I also like the white numerals and markers on the blue ceramic bezel.
Bracelet
The bracelet on this Oris Aquis Caliber 400 is pretty interesting. It is a solid build, quite heavy, and still very comfortable. It has a folding clasp with release pushers and a little divers extension. The bracelet can be adjusted by using these small three hols in the clasp. Some people tend to comment they want a glide system, as some brands have, but I don't mind using a toothpick to adjust the length. You can adjust to 1/3rds of a link, and otherwise, you need to remove or add a full link. 1/3rd of a link is micro-adjustment enough, I believe.
As you can see in the gallery above, Oris also offers a quick release system. To swap the steel bracelet for a rubber strap, you only need to flip open the end link using your nail and remove the steel bracelet. Super easy. I am not very keen on rubber straps, I like how they look, but I just prefer wearing these watches on a steel bracelet. Because of the quick release system, Oris had to make slight adjustments to the case shape to make it work. There's also a black rubber strap available for this watch, with quick release system and a folding clasp. It was not included in the test watch we received though. Last but not least, I like the combination of brushed and polished finishing on the bracelet, perfectly matching with the case.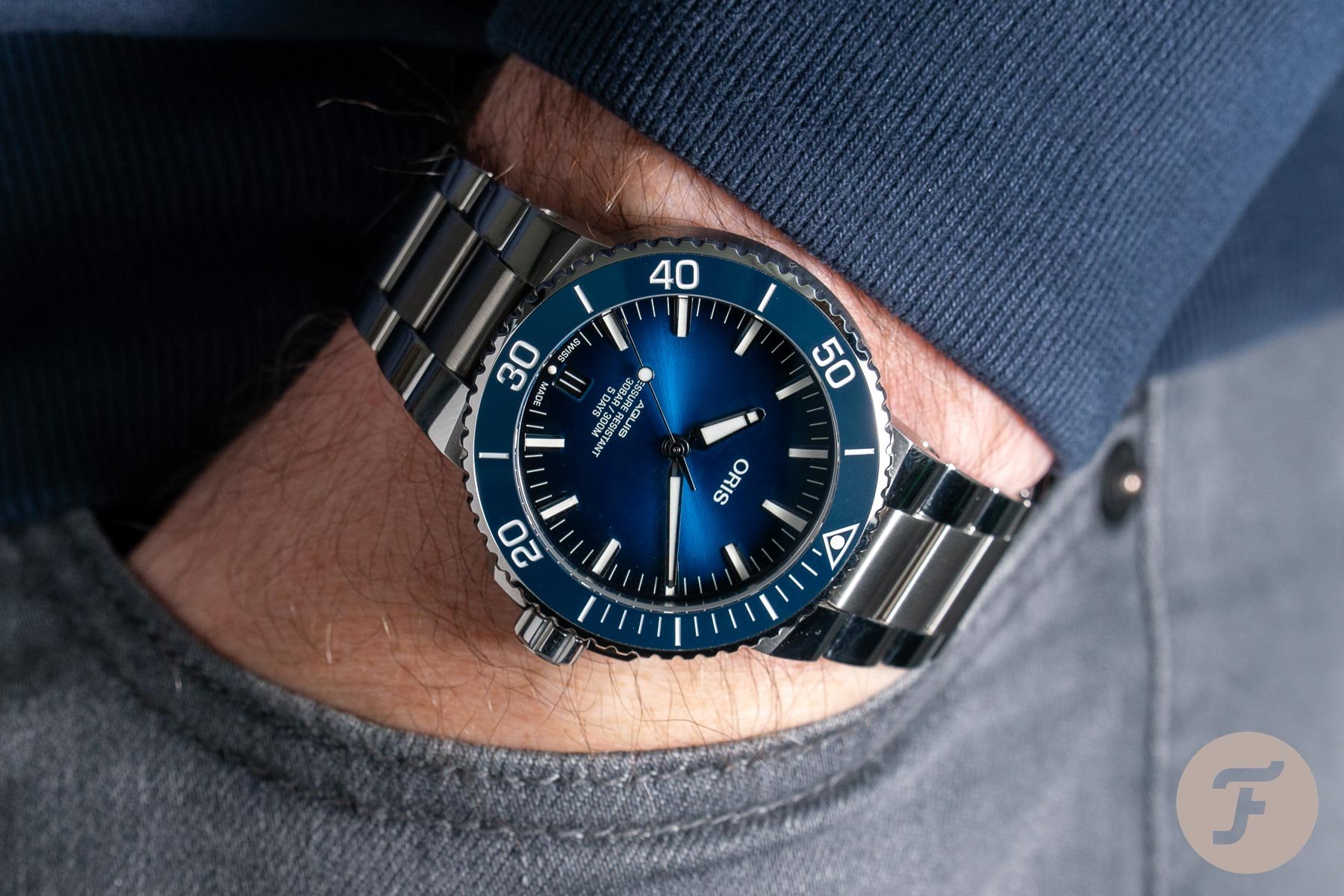 Is the Oris Aquis Calibre 400 the one to have?
It leaves me to the question of whether this version with Oris' new in-house movement is the one to have. The Oris Aquis Date, also in 43.5mm with the Oris caliber 733, based on the Sellita SW 200-1, has a retail price of €1,950.  This new Oris Aquis Calibre 400 has a retail price of CHF 3200 Swiss Francs, on stainless steel (CHF 100 less for the version on the rubber strap). That's about €1,000 additional for an Aquis with an in-house movement. But wait. There's more. It is not only about the in-house movement, you will also receive a 10-year warranty and a 10-year service interval.
So by skipping a service interval, you would normally have to do after 5 years, the difference is less than €1,000. Also, the new movement has some cool things to offer on top of the Oris caliber 733. It has a 5-day power reserve and is highly anti-magnetic. To me, in combination with the dial, quick-release system, et cetera, the Oris Aquis Calibre 400 is definitely the one to have. I know Oris has always been super strong in the sub-2000 Euro category of watches, and with this watch, they are all of a sudden in a different league. For those who love the Aquis (one of Oris' most popular watches), but want to have that extra punch in their watch, this is the one. All the ingredients are there.
More information via Oris online.
Watch specifications
Reference
400 7763 4135-07 8 24 09PEB
Case Material
Stainless steel
Case Dimensions
Diameter: 43.5mm, Height: 13.7mm, Lug-to-Lug: 50mm
Movement
Calibre 400, self-winding in-house movement, ticking speed: 28800vph, power reserve: 120 hours, anti-magnetic up to 2250 gauss
Water Resistance
300 meters / 3 bar
Strap
Stainless steel bracelet (optional rubber strap), folding clasp, quick release system
Functions
Time, Date, Diving bezel
Price
CHF3200 Swiss Francs
Warranty
10-years warranty
Special Note(s)
Available as of November 2020