Artisans De Genève Goes Luminescent With The Bespoke Neon Daytona 116508 For Adam Levine
And I like it for all the right, irreverent reasons
This week, our friends at Hodinkee released a highly requested video featuring Maroon 5 frontman Adam Levine and his curated watch collection. We might have seen only the tip of his horological iceberg, but with a brace of grails most of us can barely dream of, it set tongues wagging. But for me, the star of the video was his bespoke Neon Daytona, where Artisans de Genève goes luminescent.
To me, the Daytona is a great chronograph, but it's not one of my grails. No Rolex had been on my list except for the über-tool ref. 1655 Explorer II. But that all changed with a blue-registered Daytona transformed by Artisans de Genève that I could easily put way up there on my grail list. The Swiss atelier works wonders on modern Daytona references, and Adam Levine's 116508 was no exception.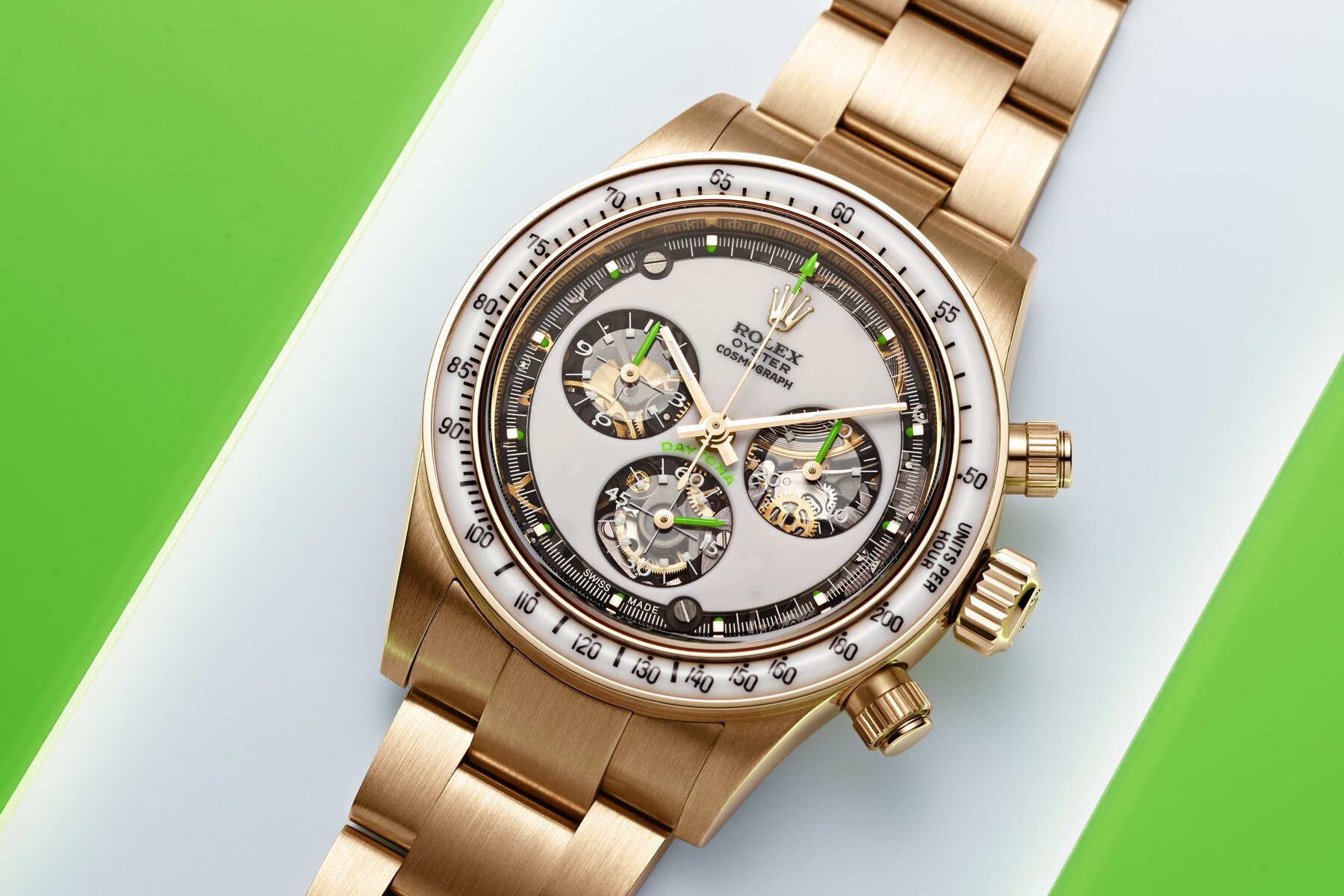 The Neon Daytona for Adam Levine
Yes, that is the neon luminescent color you might associate with the '80s, Monster energy drinks, or motorcycle decals. And it fills the entire dial and bezel of this mid-'60s-looking Rolex Daytona when the lights are off. The word is "ballsy," and I say that with all respect for Adam Levine, who's a well-known collector. In the previously mentioned Talking Watches video this week, he laid out his big-bucks collection of Rolex bangers. Admittedly, my favorite was the lone Patek Philippe 5970P. But even having made that conclusion very early in the clip, I kept staring at his wrist and what looked like a Paul Newman Daytona but, then again, not. It was a watch in solid gold with a white(!) bezel. The truth left me conflicted, and honestly, I still am. Someone just made a full-lume Daytona!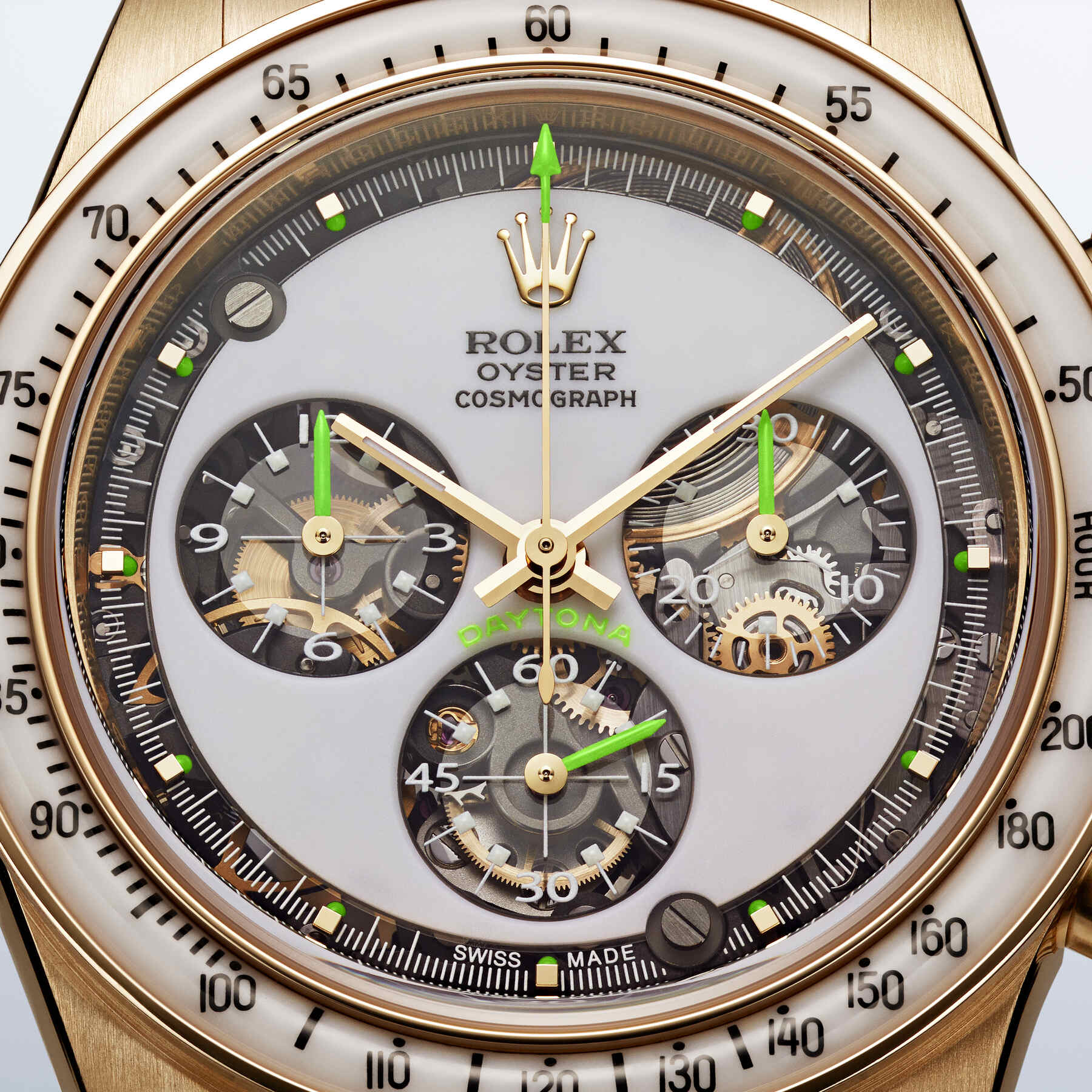 A fresh take on an untouchable grail
Just like the solid-gold Cosmograph Daytona that I tried on at the ADG atelier in Geneva two years ago, it twists your perceptions. But the kicker is, you have to get up close to notice, and by doing so, your full-originality radar will make your heart skip a beat or four. As Levine says, "I appreciate classic watches, but I also want mine to be unique: it was very important for me to have something that resembles me, a unique piece that stands out from all the others. I wanted to give my Daytona 116508 a little something extra." That must be one of the understatements of the year. The 4130 caliber is visible, but you don't notice the skeletonization at arm's length. Most of the unusual sapphire dial is off-white and slathered with lume, while the registers and minute track are clear crystal. Interestingly, the dial is even held in place by three very visible screws.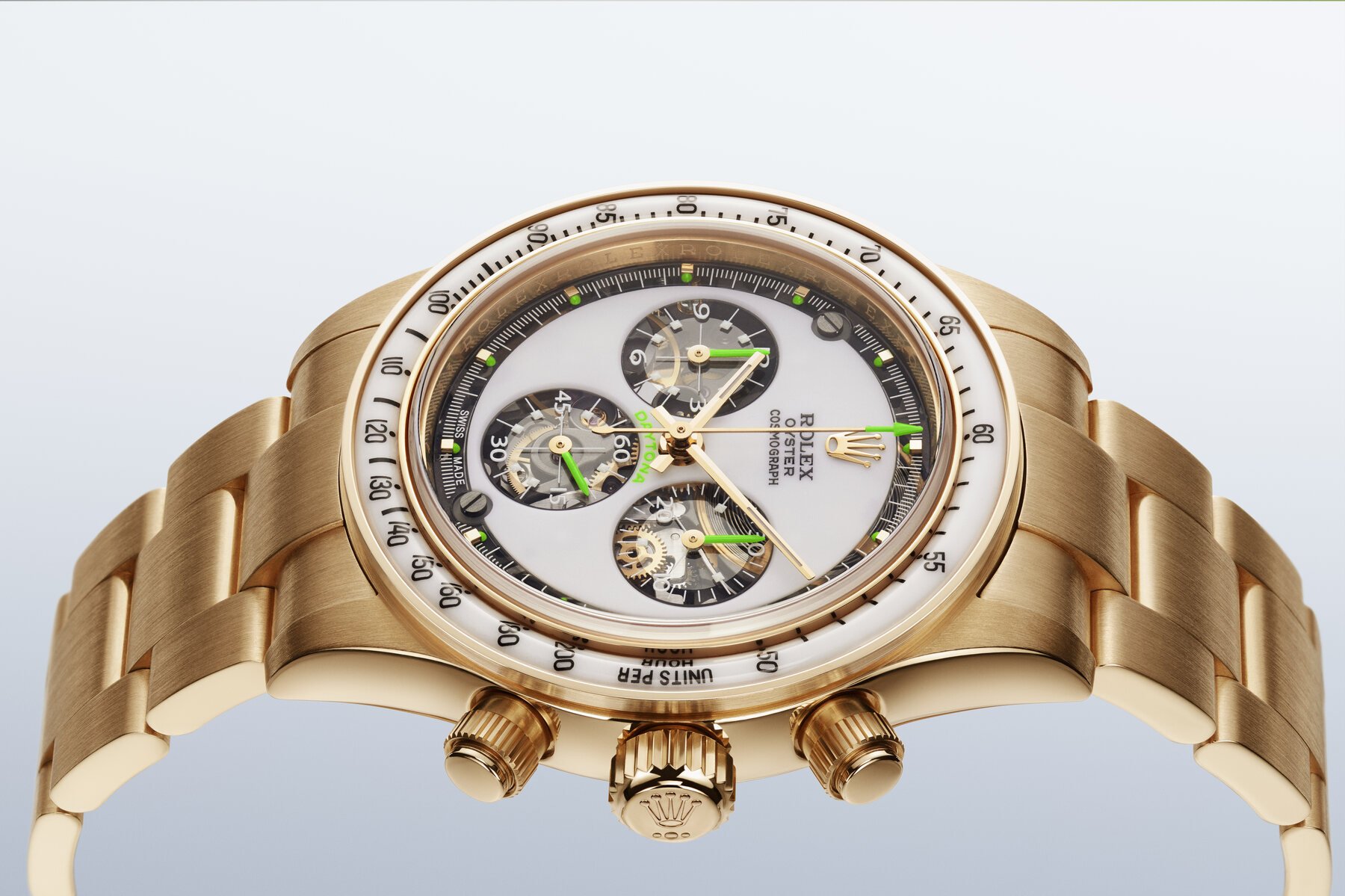 Here come the knock-out punches
For me, the up-close impressions threw me off my focus, with my mind being well and truly baffled. Yes, all the ultra-desirable vintage clues are there, including the big pushers and clean, no-crown-guard case. And the Neon is the only Daytona with a white sapphire bezel insert. But all of this is subverted by a mad, vivid green that we'd expect on something by Urwerk or MB&F. Each small hour index has an alien-green pop of color next to it, and each register pointer is the same scintillating color. So, at first glance, it is a very tempting yet very new-looking Newman, while up close, the details of the dial hit you all at once.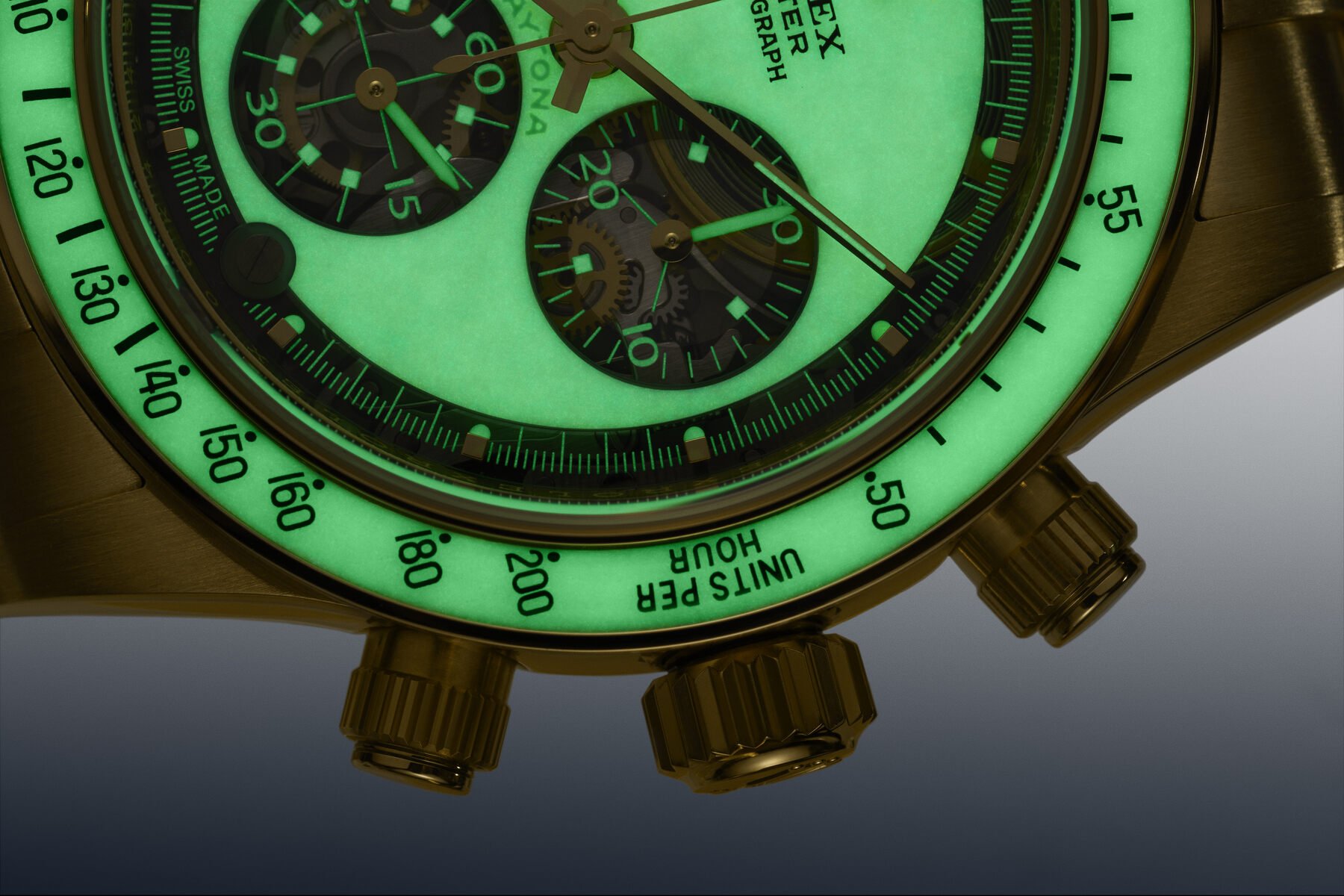 Too bold or a killer combo?
The detailed gloss-white dial with register windows into the thoroughly reworked movement is one thing. The lucid green, however, makes the Neon Daytona polarizing and unique. Even if your taste doesn't involve neon, you can't help but be knocked out by the bold moves (like Jagger?). And when your collection includes priceless originals, why not make your twist on an everyday grail? If I just called a solid-gold bespoke Daytona an everyday grail, I have been flipped to the neon side. I like it, and whether it's the mad pop when the lights go out or the bold irreverence, we'll never know. The same goes for the costs involved, which included deep research only to find the right shade of green. From my contrarian perspective, it's worth every well-earned US dollar of Maroon 5 touring miles and ticket sales.
My dear Fratelli, I can sense your polarization from here in Norway. Let me know how you're feeling about the Artisans de Genève Neon in the comments. I have a distinct feeling that some of you will fall in love, but this one's not for the purists.