Hands-On With The Audemars Piguet Royal Oak Jumbo in Titanium and Platinum
There are a couple of watches that everyone wants, but only a few can have. The Audemars Piguet Royal Oak Jumbo is such a watch. The fact that you rarely see them in the flesh is not only because of its hefty price tag, it is also because of the limited production of the Audemars Piguet Royal Oak Jumbo. This results in long waiting lists and it isn't very likely you will come across one on display at a retailer or boutique, most of them are going straight to the customer who ordered one.
In 2012, the Audemars Piguet Royal Oak Jumbo, or 'Extra-Thin' as it is being officially called since then, received an update. It was also the 40th anniversary of the Royal Oak, celebrated in different places around the world, and we visited (and reported) about the one in Paris. The bracelet was re-done, which means it received a new clasp and the links have been made a bit thicker. The most obvious change however, was the dial. It returned to the design of the original A-series (reference 5402ST) Royal Oak, with a small Clous-de-Paris motif and the AP logo positioned at 6 o'clock.
Ever since the updated Audemars Piguet Royal Oak Jumbo reference 15202, the manufacture in Le Brassus made sure that almost every year there is a new variation of this iconic Gerald Genta design. In recent years they introduced a rose and yellow gold version of this very reference, but earlier this year Audemars Piguet surprised everyone with a titanium and platinum version.
Audemars Piguet Royal Oak Jumbo 15202IP
The first thing that came to mind when picking up the Royal Oak Jumbo is the weight of the watch. Somehow, due to the use of platinum for the bezel and center links, I expected it to be heavier than it actually is. The use of titanium for everything else regarding case and bracelet, really evens out the platinum weight. So in the end, the watch is about the same weight as my trusty old stainless steel Audemars Piguet Royal Oak Jumbo.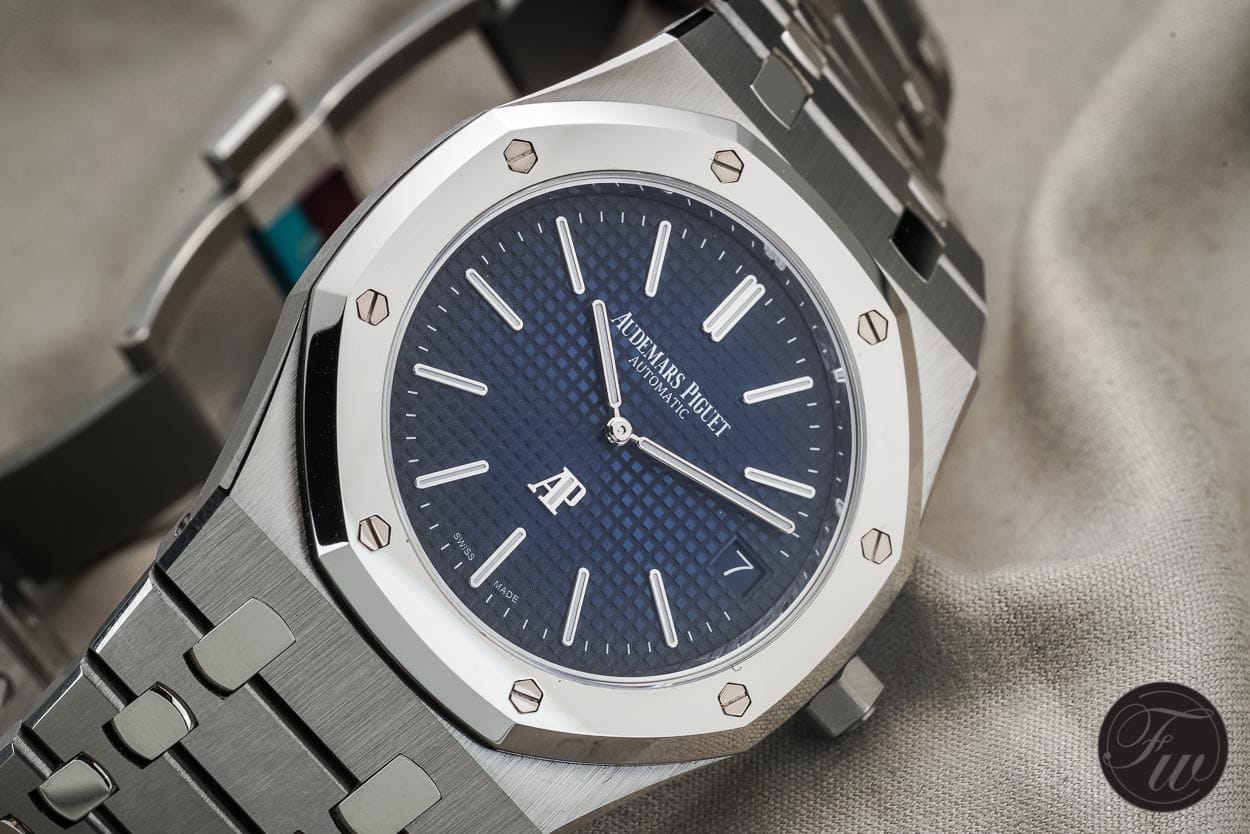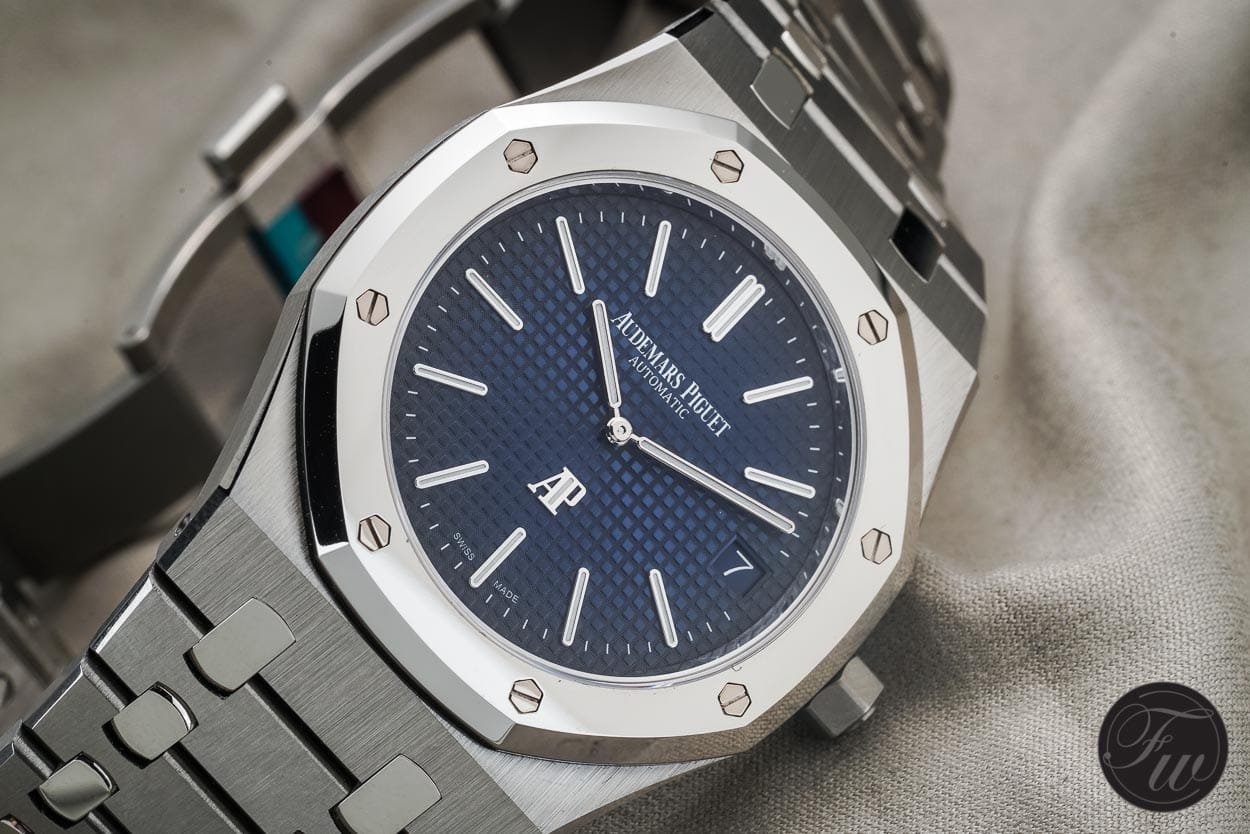 But there's more to it of course. A detail that is hardly a detail, of course, is the platinum bezel of this new Royal Oak.  One of the characteristics of the Royal Oak Jumbo (and other references in steel and gold) is of course the fine brushed top of the bezel with 8 polished facets. For this new reference 15202IP, Audemars Piguet decided to polish the bezel completely. This does change the look of the watch quite a bit, and I surely needed to get used to it. Also the smaller links in the bracelet are polished instead of brushed. In other words, all platinum parts have received a polished finish. It is a slight change compared to the 15202 in other materials, but one that can't be missed.
Whether you like it or not, is up to you. I considered the following: if Audemars Piguet would do an exact version of the stainless steel one, but in a titanium & platinum combination, there would be absolutely nothing about the watch that would give this away. Now, at least connoisseurs will immediately recognize whether someone is wearing a 15202ST or this new 15202IP reference.
As you can see below, from some angles, the bezel turns completely dark due to the polished finish. At first this was all 'wrong' in my opinion, but after having played around with it, I came to the conclusion that this is just a different watch from the stainless steel model (or gold versions for that matter) and should be treated as such. To be honest, I am pretty sure that most of these 15202IP pieces will end up at collectors who already have their stainless steel Audemars Piguet Royal Oak Jumbo, new or old reference. It is typically a watch for Royal Oak adepts, not for the guy who just wants one Royal Oak.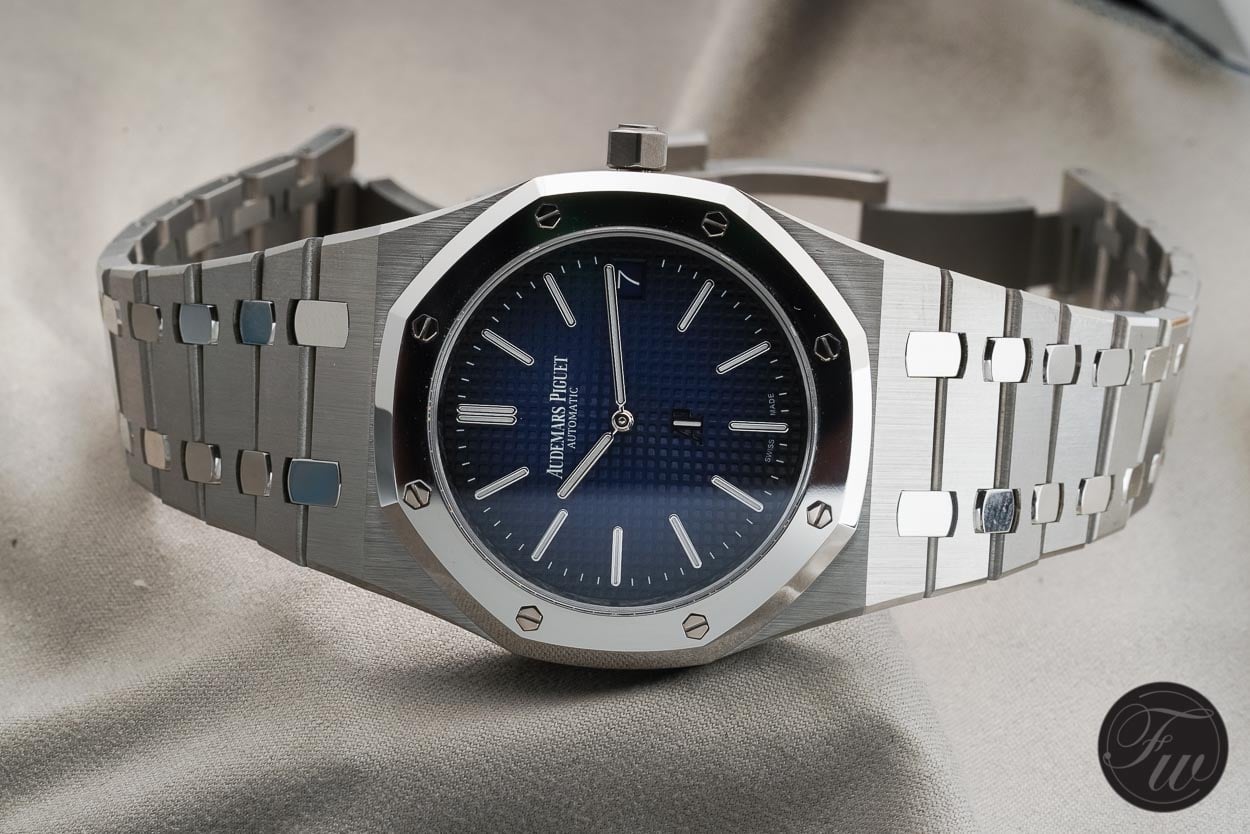 Caliber 2121
I have wrote a lot about this caliber 2121 movement, so I won't repeat myself again. If you want to read more about this Jaeger-LeCoultre caliber 920 based movement (which they never used themselves), click here for my comparison article between the Royal Oak 15202 and the Nautilus 5711/1A for example or this article which is about my own 15202ST watch.
In short, this caliber 2121 article is 'extra-thin', with only 3,05mm in height (including the rotor). It can be so thin, because it doesn't use the regular ball-bearing rotor, but instead a rail on which the weight-mass rotates. The total height of this Royal Oak Jumbo in titanium and platinum is 8.1mm, with a diameter of 39mm.
The movement has a beautiful skeletonized 21 carat gold rotor and consists of 247 parts in total. It has a power reserve of 40 hours and ticks at 19,800vph. Not the fastest movement, but remember that this movement was already there in 1967, when most movements ticked at this speed (or 18000vph). For this specific model in titanium and platinum, Audemars Piguet is able to process custom requests for the design of the rotor. Think initials, family weapon etc. Besides the thinness and construction of this movement, it is also the decoration and finish that makes it one of my personal favorite automatic movements (without complications). The bridges have polished bevels, satin brushed edges and beautiful perlage on the recesses. All manually finished, including the mainplate. Of course, this is also being reflected in the hefty price tag of any Royal Oak Jumbo configuration.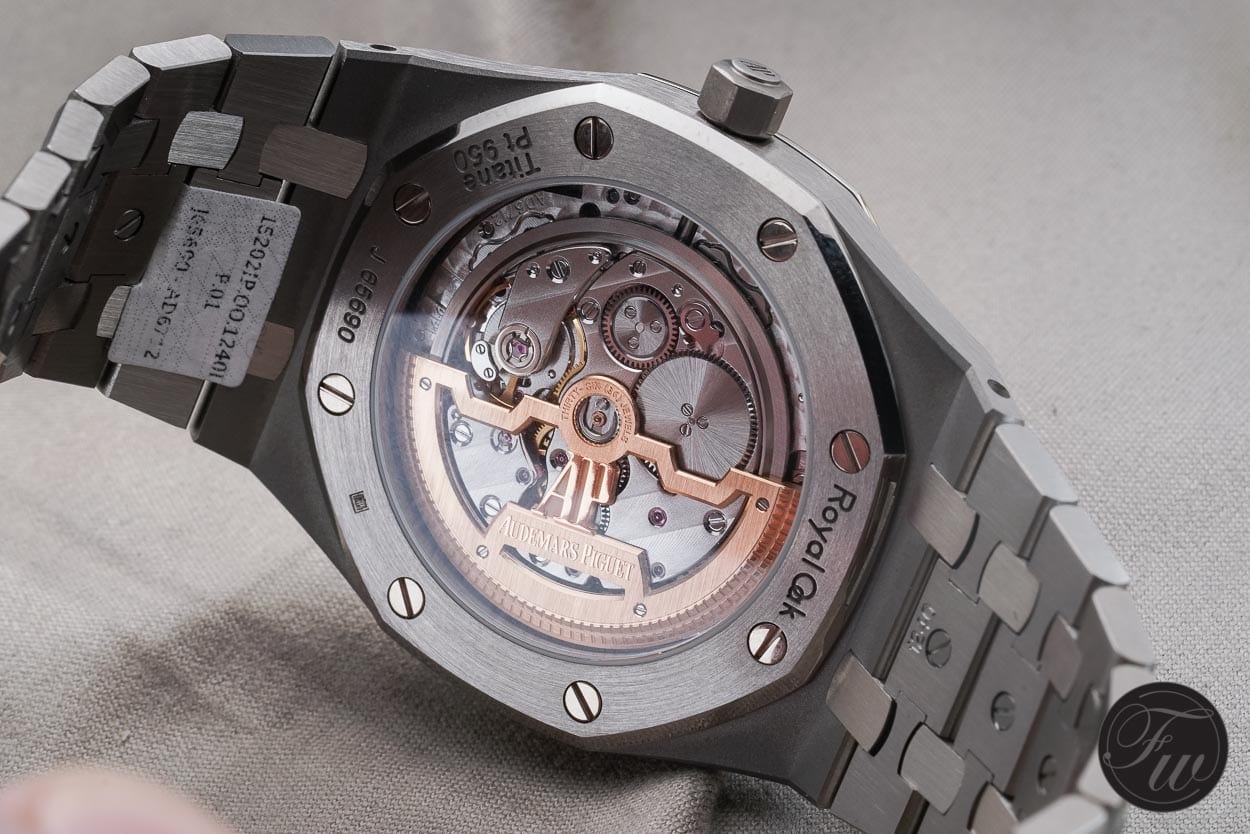 Exclusively For Audemars Piguet Boutiques
There are just over 50 Audemars Piguet boutiques world wide. These boutiques have the advantage that they are able to display and source the boutique specials from Audemars Piguet. In the past, we saw some very interesting and nice looking Offshore models (Italy market, and what about the beautiful Montauk Highway special), only for boutiques. This Audemars Piguet Royal Oak Jumbo 15202IP is also exclusively for their boutiques. Only 250 of these watches will be produced, no specific time frame given, but these will only be delivered to one of the AP boutiques. Despite the US$34,800 price tag, I am pretty certain that all 250 will be sold relatively quickly. For starters, because the Royal Oak is hot. Audemars Piguet breaks record after record concerning sales, according to CEO François-Henry Bennahmias, who loves to bring this news every year in Geneva. Always in his own rather special way of communicating with members of the press. He was pretty self confident about this watch, as it wasn't even high-lighted during the press presentation of all new Audemars Piguet models. When he was being asked about it, he was clearly annoyed and just said it was only few pieces anyway and it wasn't really news. Just different materials. Which is obviously true, but nevertheless the Audemars Piguet Royal Oak Jumbo is for many the watch to have when it comes to this brand. Or at least the wish to ever own one, even though it is probably not their best selling model (but neither is the Daytona to Rolex). I can imagine that a brand doesn't want to be hung up to that one model all die-hard collectors refer to (and only few buy), but should also perhaps find peace in their own slogan ("To break the rules, you must first master them"), that they really mastered the Royal Oak with the 15202 (and predecessors). Because of that, they can break the rules.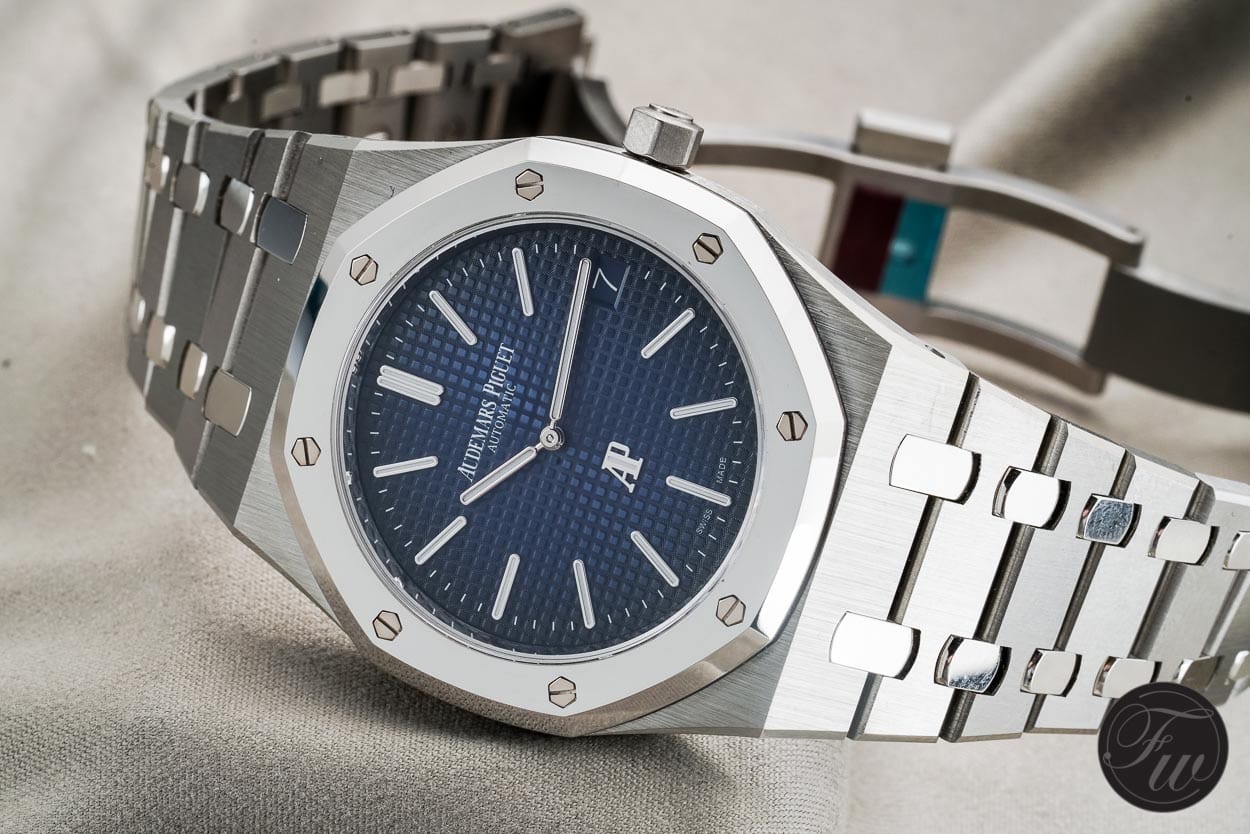 The Audemars Piguet Royal Oak Jumbo is one of my favorite watches. It took me 10 years before I could purchase (and afford) one back in 2009. It is perhaps the perfect luxury sports watch and I personally prefer it over the direct competition, even though that other brand might have 'the name'. I love the raw and industrial look and feel of the Royal Oak, and the fact that the Jumbo has this beautiful caliber 2121 movement that I highly respect. Also, there is no other competitor who has such a beautifully integrated bracelet. It feels as just one piece, how it was meant by its creator and designer. The price for all this is high with its $22,700USD for the stainless steel version. For this titanium and platinum version (15202IP) it is even higher of course, with $34,800 USD. The question that remains is whether you think the small aesthetic differences are worth it, to go for this titanium and platinum version instead of the regular stainless steel one. Both can be considered to be rare and difficult to get, one as a limited edition and the other simply by a limited production. If you want to go 'all out' or simply want an edition that is more different than the steel version, you can also consider the yellow gold version that I reviewed here.
More information via Audemars Piguet on-line.