Hands-On With The Baltic MR01 Micro-Rotor — Making A Comeback By Popular Demand
The hype is real, and here's why!
October 7th, 2021, 6 pm CET. That is the exact date and time when Baltic began its takeover of my Instagram feed. It was also the exact moment when the scrappy French independent released its latest watch, the MR01. I say that Baltic took over my Instagram feed because, for days after the release of the MR01, it took a noticeable presence. Both in posts and stories, these watches were everywhere! The excitement was palpable, and only a few days after the announcement, they started to appear on people's wrists. This overload of images showed just how incredibly photogenic this watch really is. And it's not just the front that looks good. Flip it over and you'll find yourself looking at a pretty incredible movement. The cherry on top is the micro-rotor, which gives this watch its name.
I'm sure if you're active in the Instagram watch community, you will also have witnessed the tidal wave of Baltic goodness that washed over us at the end of 2021. However, the MR01's initial success was followed by some sad news — only a limited number of those watches were made. But today, we're happy to share with you some good news. If you were one of those who missed out on getting their hands on one, you're in luck! A second chance to add one of these beauties to your collection presents itself. Baltic was also kind enough to send the blue MR01 for us to check out. Having witnessed both the explosive success of the watch, as well as its attractive vintage-inspired looks as shot by many of Instagram's talented photographers, I volunteered to spend some quality time with the MR01, and give you all my thoughts.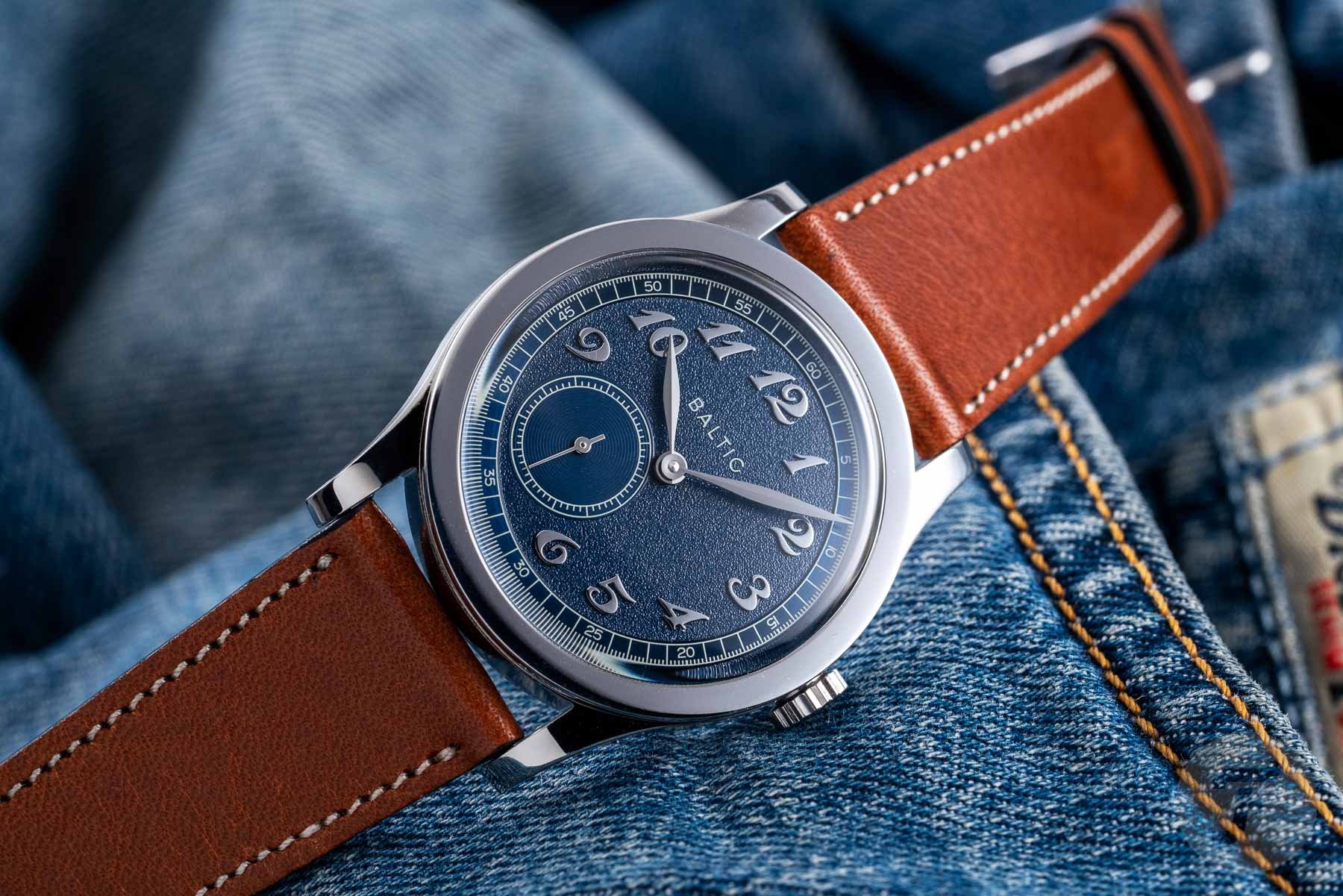 My precious…
Did I say, "volunteered"? I meant, strongly insisted! In fact, I almost didn't tell anyone else at Fratello HQ it was here! I almost wandered off into the Misty Mountains muttering something about this precious object. But thankfully, there was no descent into madness. Instead, I was able to go about my day with the added benefit of being able to look down and see this classically styled 36mm beauty on my wrist. It did often makes its way off said wrist, though, mostly for the sake of enthusiastically showing off the stunning movement inside to colleagues, friends, and any bystander lucky enough to come close enough. Though I don't usually encourage unsolicited displays of the backside, the Baltic gets a free pass to show its impressive… movement. But does this watch have any bad angles? Is all that glitters really gold?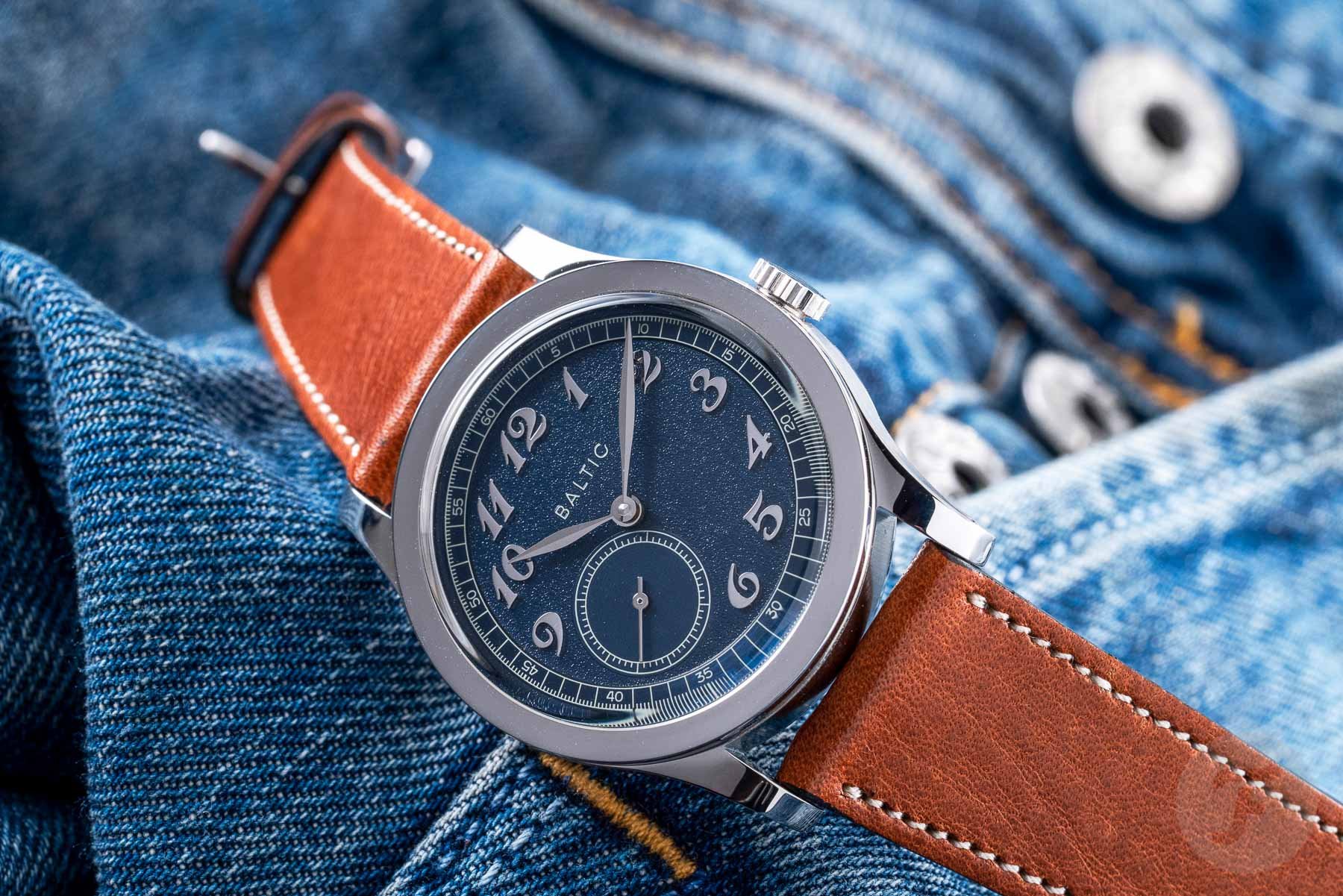 I'll certainly touch upon one or two downsides of the Baltic MR01 which, rather than defects, I see as points of potential improvement. So Baltic, if you're listening… 
But enough of that! Let's first focus on the good — and there's plenty of it! Baltic has made it its mission to be transparent in the way its watches are made. The brand is happy to disclose where its cases, movements, and other components come from. And so far, the brand's vintage-inspired designs have not failed to impress. Whether it's a Baltic chronograph, dive watch, or dive GMT, you'll find what you're looking for on the brand's website, and always at reasonable prices. I always say that the independent/microbrand market is an unforgiving place. There are plenty of brands offering something special out there. So standing out in the crowd is not easy, but in my eyes, Baltic has always managed to do so.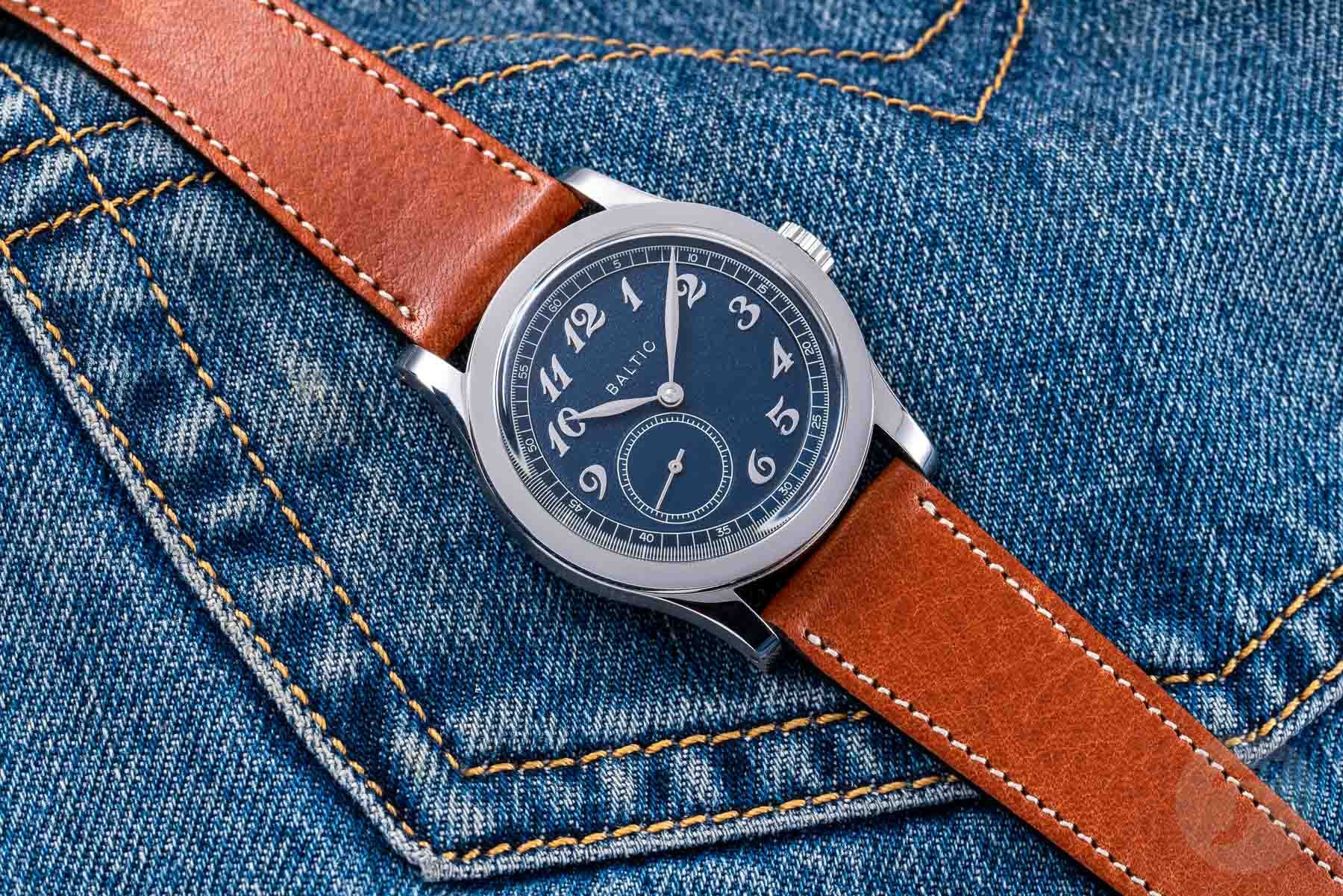 The Baltic MR01
So what's so special about the Baltic MR01? Well, its 36mm steel case itself is beautifully executed. It has a classic shape, brushed and polished finishing, drilled lugs, and an elegant 9.9mm profile. This includes the beautiful, box-domed Plexiglass crystal. Underneath it lies the indigo blue dial with its beautiful Breguet numerals over which faceted leaf hands hover. The central dial has a grained texture, which contrasts nicely with the radially grained sub-seconds register and brushed minute track that surrounds the dial. White text and markings ensure legibility against the dark blue backdrop. The Plexiglass crystal's edges provide plenty of lovely distortion, adding to the vintage vibes of the watch. At 3 o'clock, a relatively flat crown complements the case's stepped design.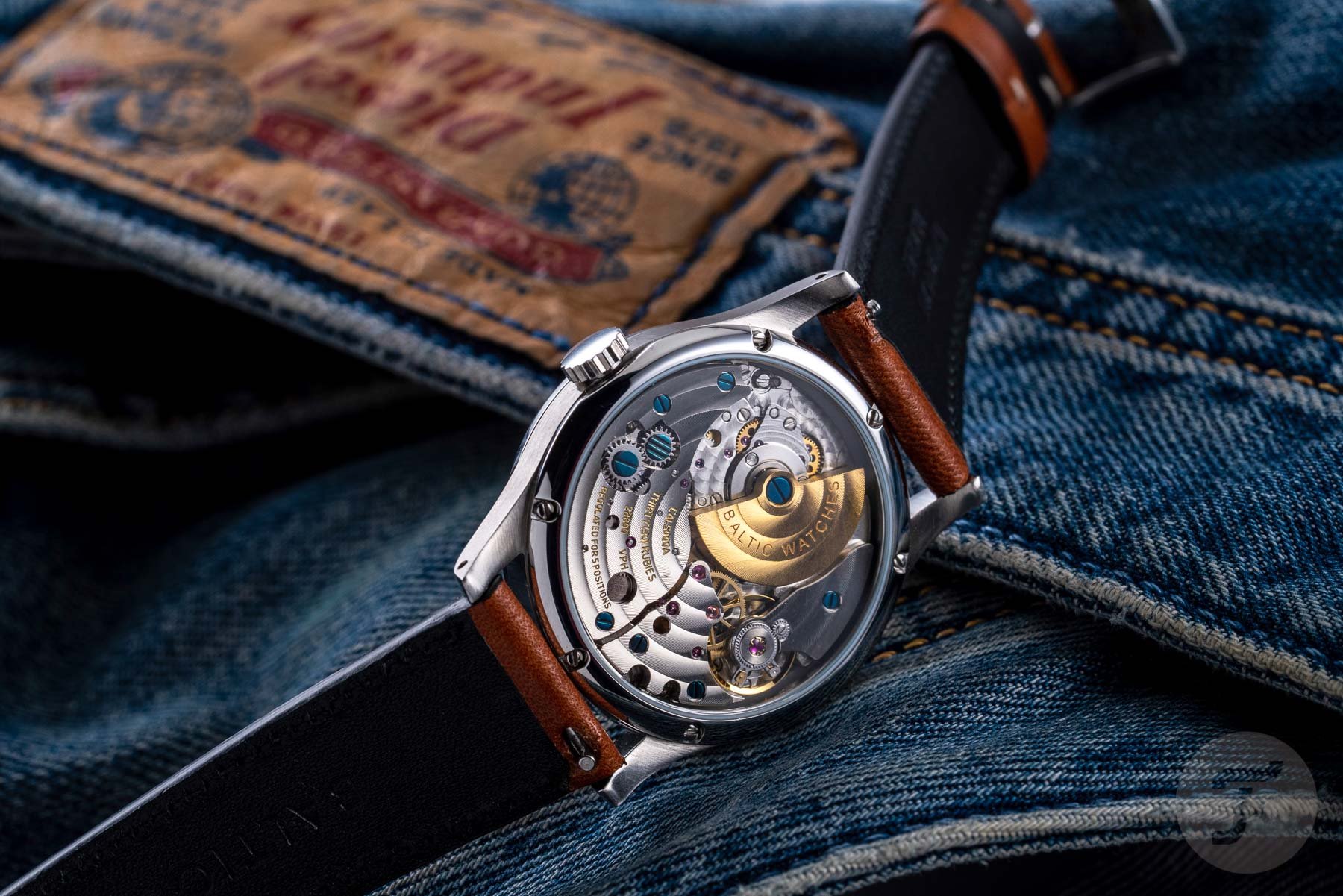 On the flip side, visible through the large open case back, the Hangzhou CAL5000A and its golden micro-rotor can be admired. It is beautifully decorated with blued screws, perlage, and circular graining on the bridges and the rotor itself. No additional engraving decorates the edges of the case back, only six screws for keeping it attached to the case and providing the 30 meters of water resistance. The movement itself is made in Hong Kong but adjusted by Baltic in France. It provides a perfectly acceptable 42-hours of power reserve. The highlight here though is the pretty special finishing and overall look of the movement. Flipping it over, it's hard to believe that it's inside of a €659 watch! The MR01 can be had on a number of Italian calf leather straps (made in France), or a beads-of-rice bracelet for an extra €72.60.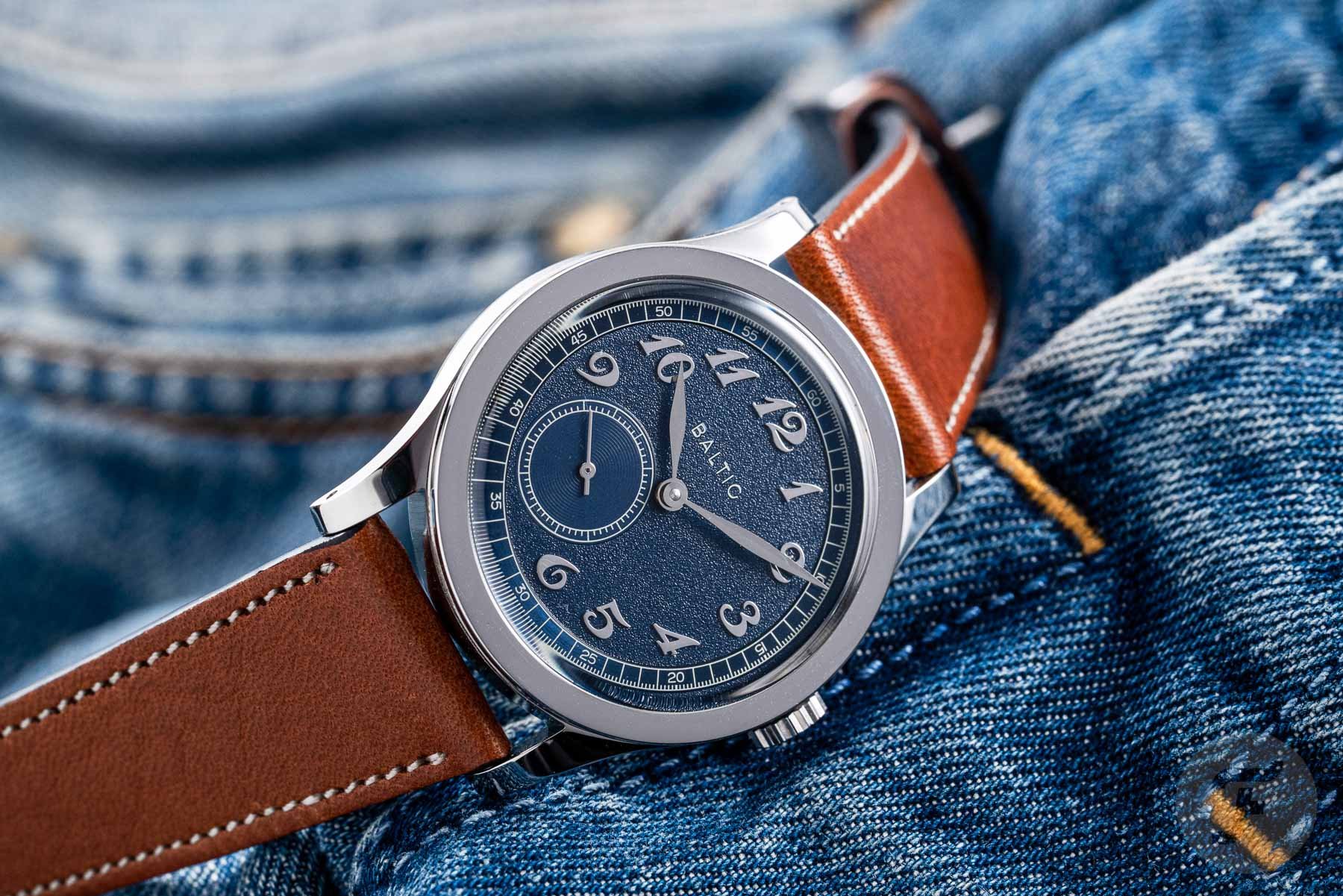 It talks the talk, but does it do the other thing?
Yes, the Baltic MR01 has a price that, for the looks of the watch, might make you think you're getting more than you pay for. However, having now been able to wear it for some time, there are some small details that remind you of its humble price tag. For example, the crown action. Winding the movement with the crown is possible, but it's not quite easy as you might expect. The crown is difficult to grip in its pressed-in position, and it feels as though an especially thick gasket is gripping the stem for dear life. When pulled out, the action improves marginally, mostly thanks to the fact that the crown sticks out from the case slightly, allowing for better grip.
The winding being so stiff might lead you to go with the old shake-to-wake method typically reserved for Seiko watches that don't hand-wind at all. However, this reveals another weak point — the micro-rotor's bearing. It seems to have a little bit of play to it, which leads to a little bit of a rattle when the watch is subjected to more sudden movements. I've only been able to handle one example of the Baltic MR01, so perhaps this is a unique issue (owners of it may be able to confirm or deny this in the comments below). However, the question remains: did these two slight imperfections detract from the experience of wearing this watch? Well, no, not really. Once on the wrist, its slim, elegant profile, lovely finishing, and brilliant design shine through.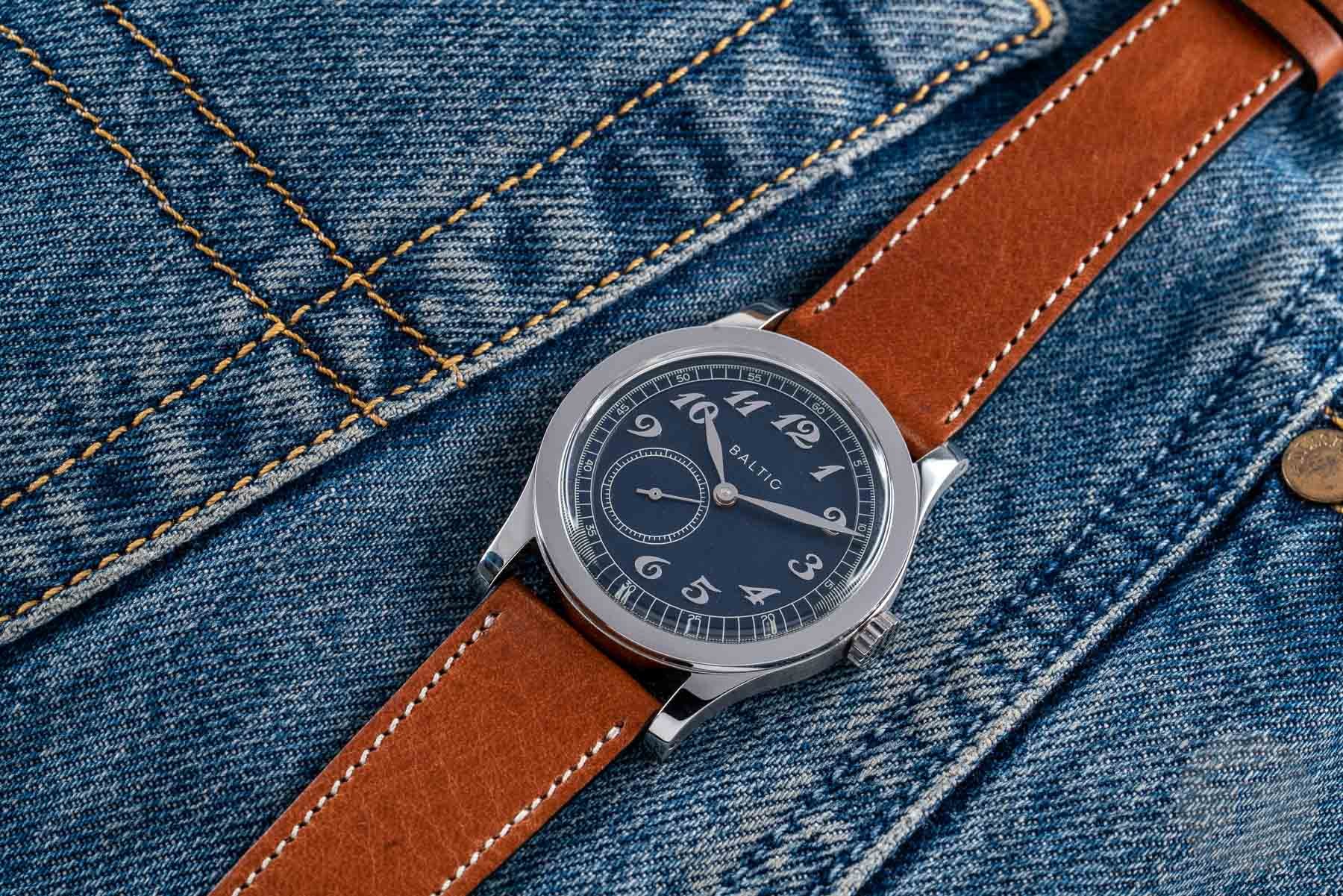 Final Thoughts
Does the MR01 leave some room for improvement? Sure. But what sub-€1000 watch doesn't? There's plenty more to love about this watch than there is to criticize, and I believe that its incredible success speaks for itself. Baltic seems to understand how to perfectly bring back familiar elements from vintage watches and integrate them in a way that creates a charismatic and appealing product. Do I wish the Baltic MR01 had a price tag of €1659 and felt €1000 more expensive in terms of quality? Not really. I'd be curious what could be done to it if it was twice as expensive. But its affordable price for what it is shouldn't be underestimated.
This watch doesn't inhabit the highest rungs of horology, but its aesthetics create a subconscious association. Once you get over that, you realize that it's a thoughtfully designed watch with an interesting movement at a perfectly attainable price point. Ultimately, I found myself smiling any time I looked down at my wrist with the MR01 on it, or even at the movement inside. It's not for snobs — not at all. But seeing its popularity, Baltic definitely found the right audience for this one. Feel free to share your thoughts on this watch in the comments below.
If you are interested in the MR01, all three versions (Salmon, Silver, or Blue) are available for pre-order again today on the Baltic website!