So You Want To Be A Watchmaker? Give It A Go With Cimier's Watch Academy!
The best way to learn is to do
Surely it's not just me? I imagine that all of us watch fans have entertained the notion of being a watchmaker, even if just for a fleeting moment — going to work, sitting down at our workbench, and spending the day creating a marvelous machine that redefines horology as we know it… OK, so perhaps that level of imagination is just me. But on a more realistic level, I've always been fascinated to better understand exactly how a watch movement works. I know the theory behind it all, but in terms of learning and understanding, doing something always trumps reading about it. When offered the opportunity to do just that at Cimier's Watch Academy in Biel, I literally jumped at the chance!
Cimier's Watch Academy offers the general public the chance to be a watchmaker for the day. I mean, let's be honest, the watchmakers that we look up to and admire spend decades honing their crafts. I didn't go into this experience expecting to walk out as the next Dufour, already shopping for a cabinet to house my GPHG awards. Instead, I went into the experience looking forward to assembling both a movement and a watch and coming out with a better understanding of how it all worked. Spoiler alert — mission success!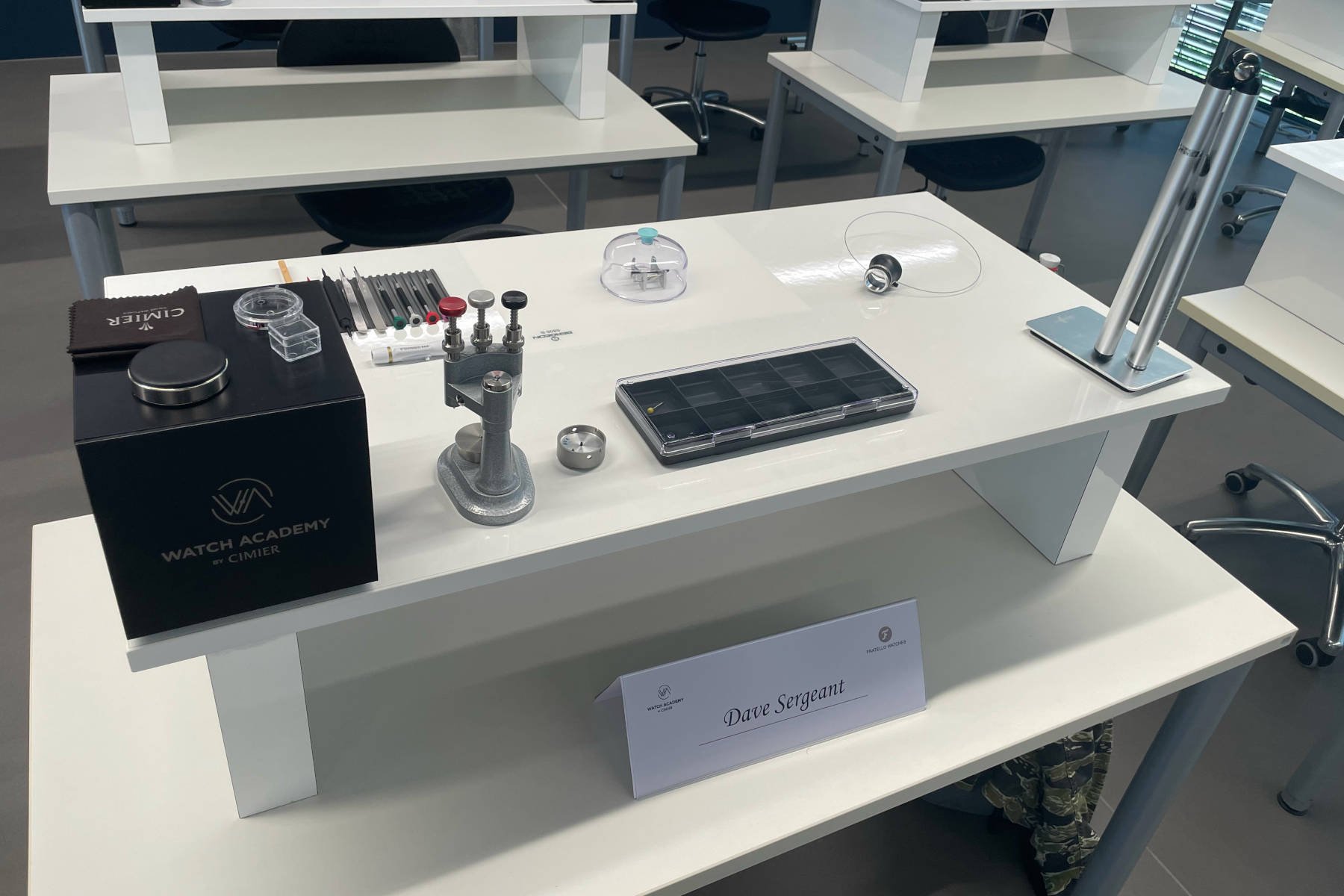 Learn from anywhere
Cimier offers its Watch Academy experience for small groups at its HQ in Biel, or it can take the workshop on the road to you. While other such brands offer watchmaker experiences, none bring it to your doorstep as far as I am aware. Getting to Switzerland isn't always easy or practical, so the idea of a workshop closer to home is pretty cool, no?
I met with Antoine from Cimier at the Biel train station early in the morning, and we made our way to the Cimier HQ, a short car ride away. After we arrived at the offices, I met the rest of the team and was warmly welcomed to the Watch Academy. It's something to be said about the watch industry in Switzerland; I'm yet to meet with a brand where the people don't love what they do. The Cimier team was no different, and the immediate enthusiasm and passion warmed up what was quite a cold and gray day.
A good teacher is critical
When I reflect on my school days (which were longer ago than I care to admit), I remember some teachers more fondly than others. Why is that? Well, those were the teachers who made learning fun and engaging. The key to learning is to engage with the subject matter. While I had an interest in the subject matter at hand, a dull teacher could have made the day equally as dull. Thankfully, that was not the case. On hand was Cimier's Master Watchmaker, one Pier Enrico Besana. He reminded me of my old German teacher, Frau Smith, a happy and larger-than-life character who was fascinating but not someone you wanted to cross!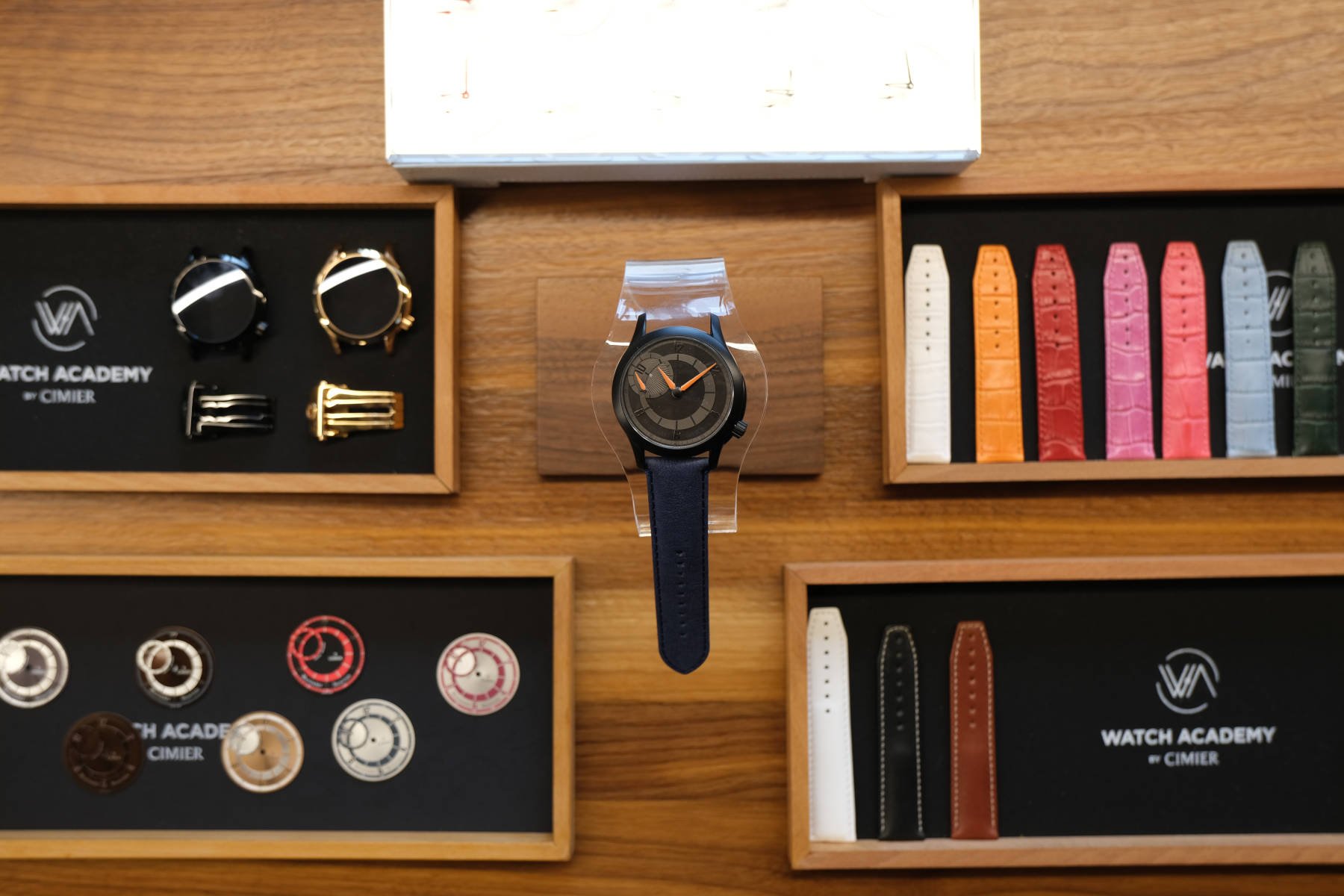 Building my Cimier Petite Seconde
The first step was to choose the base model and the individual parts. That meant selecting the case finish, hands, dial, and strap. Cimier offers clients a relatively wide range of options depending on the base watch model. Of the options available, I went with the basic Petite Seconde. This watch is a 43mm model powered by the Unitas 6497-1 with the crown at 4 o'clock and the small seconds opposite at 10 o'clock. You can also choose a skeleton-dial version of the Petite Seconde or Cimier's Big Matic, which uses an in-house-designed automatic-winding assembly on top of the Unitas 6497-1. I preferred the simplicity of the Petite Seconde and the fact that there was a greater range of options in terms of dials and hands.
I rather liked my choice of a stealthy black case and dial with blue hands and a matching blue strap. The strap is a "vegan" option, but that's not why I chose it. It's made of recycled paper and cardboard but then reinforced with something to make it water-resistant. While it's not one to go swimming in, Cimier reassured me that it would not disintegrate at the first sign of rain.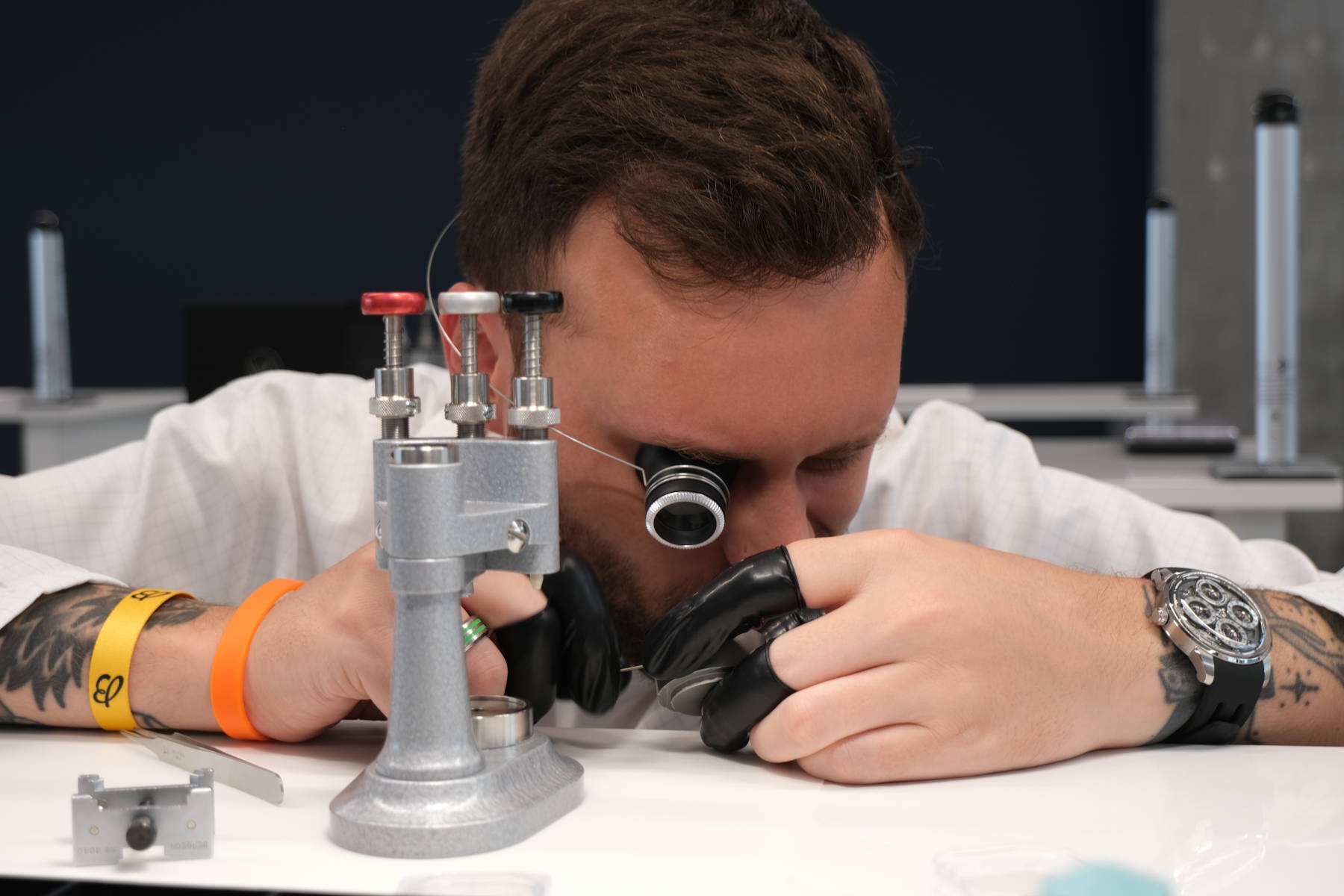 Assembling a movement gives you a new appreciation for the work of a watchmaker
After the formalities, it was on to the bit I was most excited about — movement assembly. As a watch journalist, I had a basic understanding of how a watch movement works. That said, I couldn't accurately explain the more intricate details, and I wasn't fully versed in the makeup of the gear train et al. After a day with Pier, my grasp of how a movement works is now much stronger. After all, there's no better way to learn about something than actually doing it, right?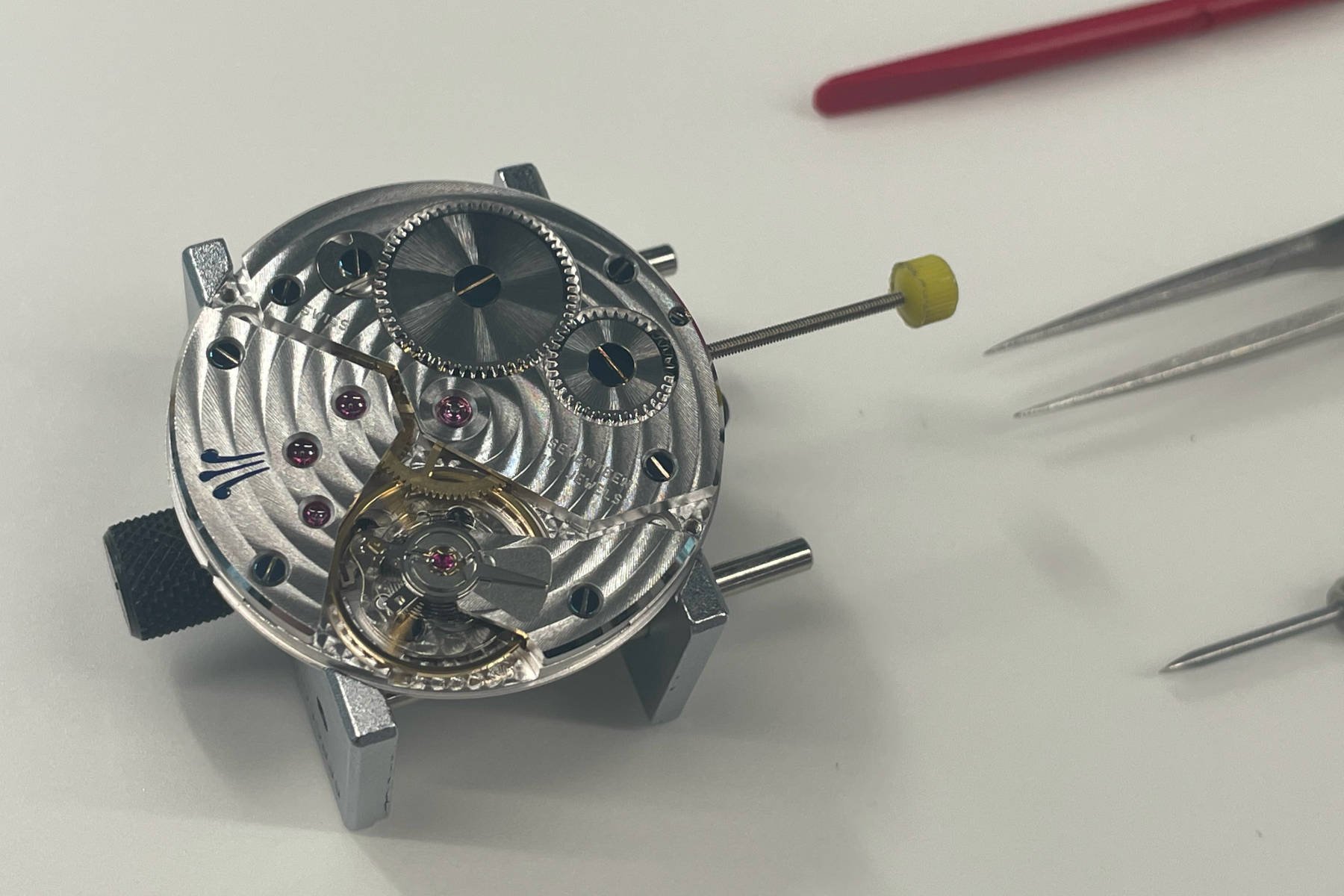 The Unitas 6497-1 is a Swiss-made hand-wound movement that started life as a caliber for pocket watches. That explains its large size compared to most movements these days, like the ETA 2824-2 or similar. The 6497-1 measures 36.6mm in diameter versus the 25.6mm of the 2824-2. The 6497-1 beats at 18,800vph and has 17 jewels. While I undertook most of the assembly, Cimier had done some already to speed things up. This included seating the jewels and balance spring attached to the balance bridge, for example. The rest of the movement was pieced together by yours truly, with expert guidance from Pier, of course.
While learning how the power was transferred from the mainspring and through the gear train, I was amused to find out that movement assembly is even fiddlier than I had expected. No, I wasn't expecting it to be a total walk in the park. However, fitting some of the wheels took far more attempts than I care to admit. That said, I managed to seat the balance assembly on the first try, and I was quite proud of that. Pier had offered to do it for me, but I wanted to at least attempt it myself. After all, this was my hill to die on!
Time for lunch
After the movement was assembled, it was time for lunch. The assembly took a couple of hours, but this wasn't pure workbench time. Pier explained and demonstrated each step using a microscope and camera, making it easy to follow along. The only thing Pier perhaps didn't factor into his tutelage was the sheer volume of questions I asked. Yes, I'm that guy. Thankfully, he had the answer to every single one. I did not leave wanting.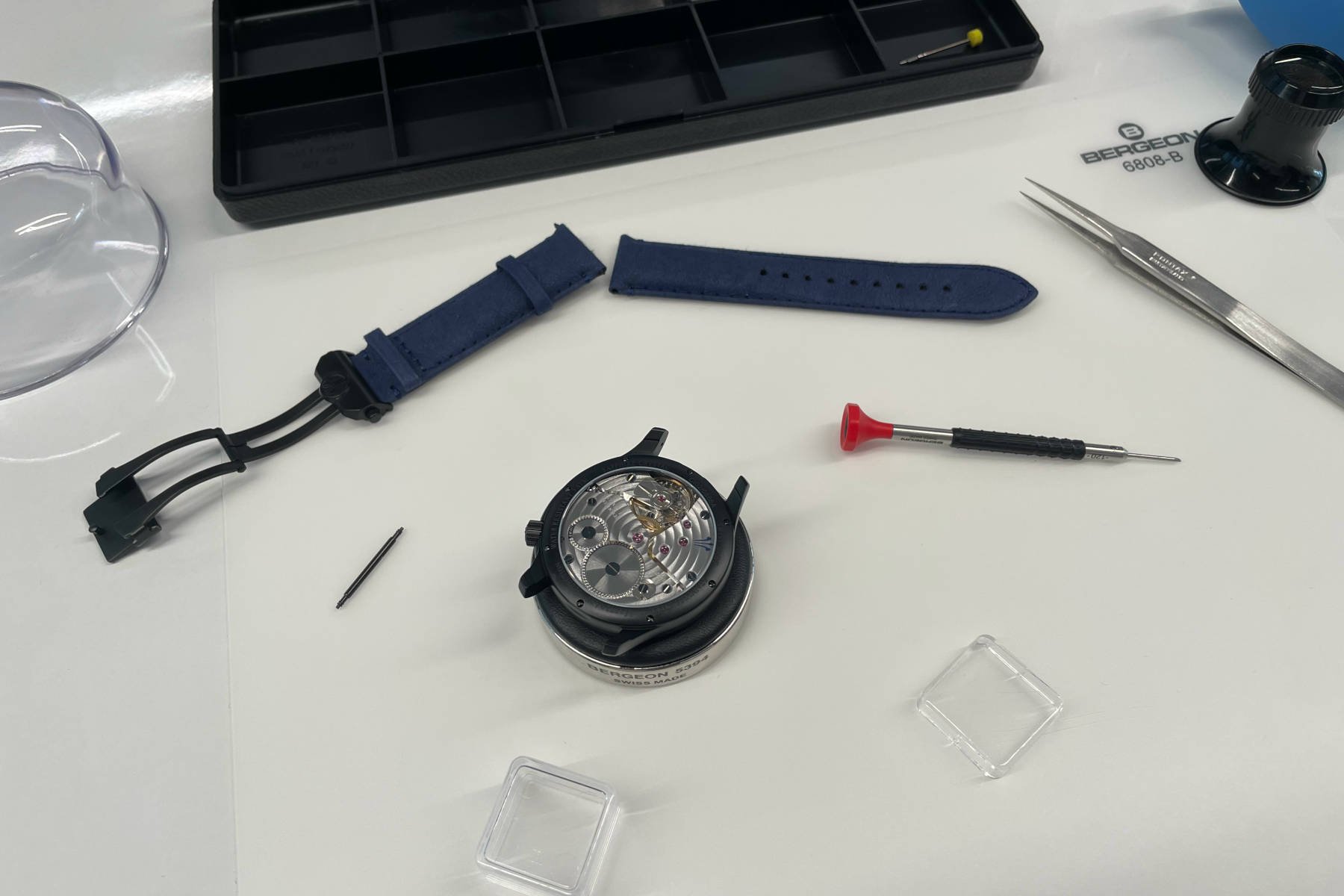 Putting it all together
After a quick spot of lunch, it was on to the next step. If you guessed it was the final assembly, you were correct. This was the part I was well versed in, having tinkered with watches in my spare time over the years. Having the finest-quality Bergeon tools at my disposal made life easier than I was used to. In particular, the hand-setting press was a lifesaver. After wasting hours fiddling around setting hands with tweezers alone, the hand press was a walk in the park.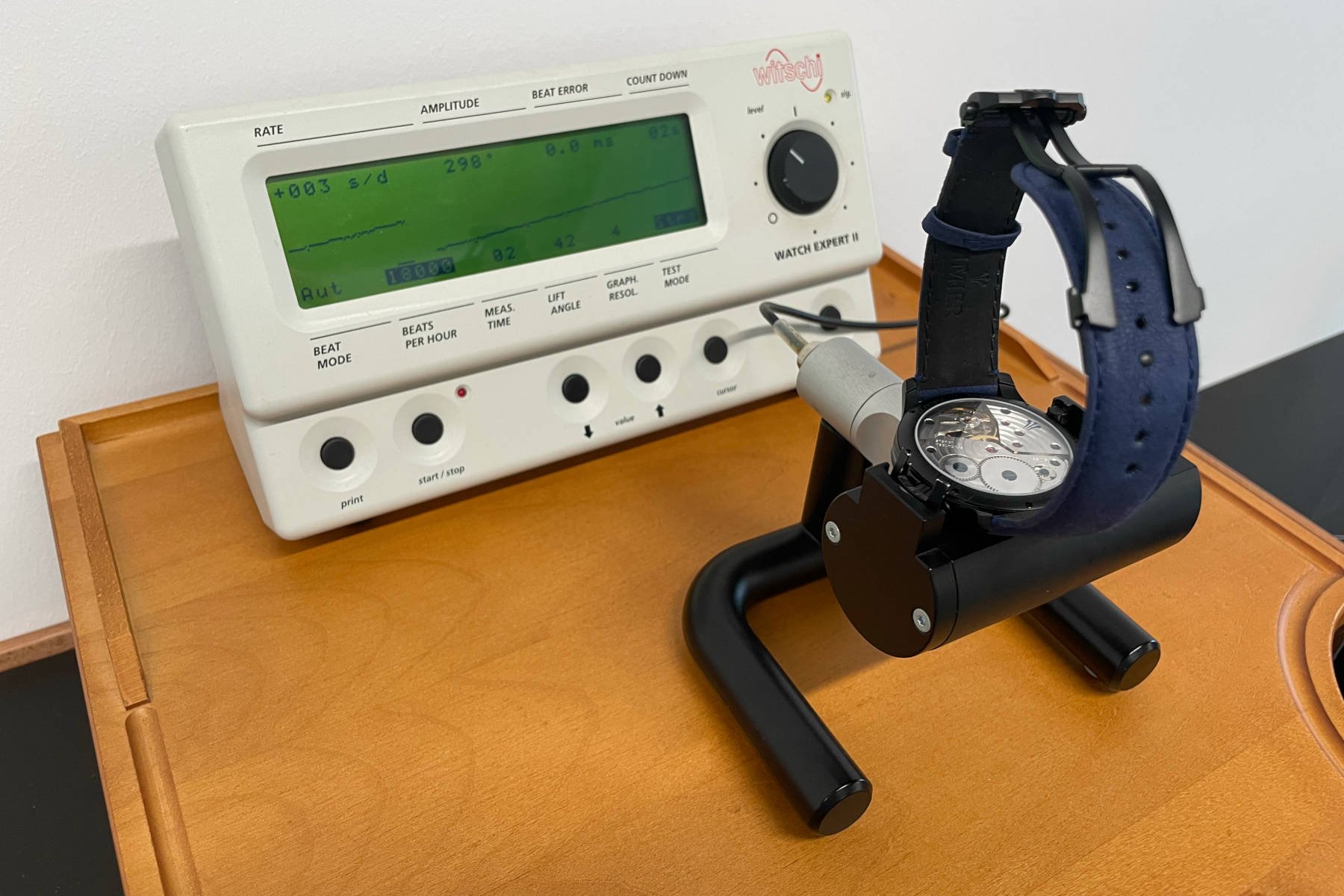 Despite this not being my first rodeo, it was still incredibly satisfying to fit the hands and then see them turning as expected. It seems simple, but the simplest things are often the most rewarding. The assembly was a breeze. Suddenly, it was time to fit the strap and place it onto the Witschi timegrapher. Right off the bat, the amplitude was 298 degrees, and the watch was running at a rate of +3s/d. That wasn't too shabby for a first attempt. At that point, we deemed no further regulation necessary. While I was glad, I had secretly hoped to tinker around with some regulation and further adjustments. But, as the adage goes, "If it ain't broke…"
A day at the Watch Academy makes a perfect gift for the watch enthusiast who has it all
I was looking forward to this day for a while in the lead-up. It was something entirely new to me, and I imagine that many of us harbor secret desires to have a hands-on attempt at being a watchmaker. The experience gave me an increased level of appreciation for the experts who tend to our watches day in and day out. The level of dexterity and patience they must have far outstripped my own. So, with that in mind, I ticked it off my bucket list and vowed to leave it to the professionals from now on!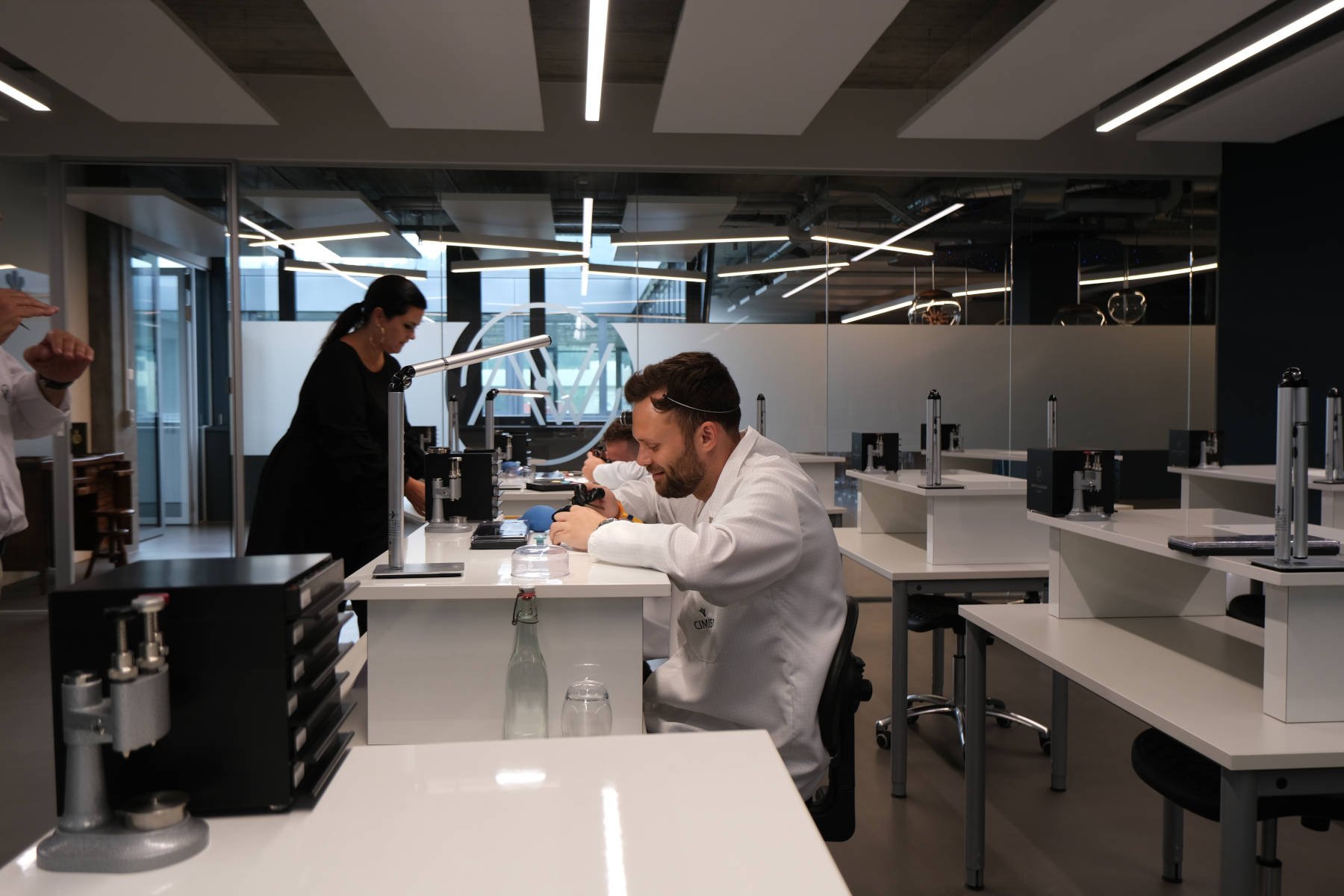 If you're ever looking for a gift for the watch enthusiast who has it all, then a "watchmaker for a day" experience could be the thing you're looking for. A good friend of mine received a watchmaker experience on a similar course in Switzerland. It was a present from his wife, and his sentiments echoed mine. If you're a watch fan who wants to learn more about the hobby, there's no better way to do so than getting stuck in and having a go. Just do it with the help and assistance of the experts!
You can find out more about the Cimier Watchmaking Academy on the official website. Prices start from CHF 350 for the movement assembly, CHF 1,400 for a half-day course assembling a watch (without movement assembly), or CHF 1,800 for the whole shebang of movement assembly and watch assembly. I had a fantastic time and would certainly recommend it to any other budding wannabe watchmakers! Steady hands are not included.
Follow me on Instagram: @davesergeant | @fratellowatches