The Best All-Arounder I've Worn In A Long Time — Seamaster 300M
The iconic Seamaster 300M just got better
It is not always easy to be a watch critic. There's a lot out there that is not really good or making a difference. We shift a lot of the stuff that we come across on forehand, to present you at least the watches we think are interesting for you to read about. Sometimes, there's a watch out there that does make a difference. The (new) Omega Seamaster 300M in steel and Sedna gold is exactly a watch like that. Then, it becomes very difficult to write a review without making it look like a promo.
But believe me, it isn't. Omega has no influence in our editorial work and neither has any other brand. When that day comes, I will start doing something else as this freedom is a huge part of the fun for us. And yes, I had to return the watch as well.
Omega Seamaster 300M
The title already gave it away, but even if you think you already know this watch and my conclusion, stick around and hear me out. Oh yes, I love Omega as a brand (I make no secret of that, and you can read here why I am a fan) but that doesn't mean that everything they do is just lovely or a must-have. My relationship with the Seamaster 300M goes back to the year 2000. Before that, I hardly ever took notice. I knew it was the watch featured in several James Bond movies, but I was more a Speedmaster guy. But in 2000, I decided to purchase an Omega Seamaster 300M 2531.80 to wear besides my Speedmaster Professional from 1968 (145.012-67) as I felt that I needed something that could be worn as a daily beater. Being a student at the time, I found myself wearing the Speedmaster from 1968 on certain occasions that even would make Buzz Aldrin take off his watch.
An Omega Seamaster 300M was the perfect candidate. In all honesty, a Rolex Submariner could have done the trick as well, but at the time the difference in price was substantial (as it is today again in fact) and my heart was closer to Omega already at that time as well, due to the family affair I have with the brand from Biel. Around 3000 Dutch Guilders lighter (being a student, that was worth an entire summer of work), I left the Omega dealer in 2000 with a brand new Seamaster 300M. It became my companion on many trips for the next few years. At some point, I sold it, as I started to move on with my collection and needed the funds to make another purchase. Then, I bought one back a few years later, only to keep it again for a certain period.
In the meantime, the design of the bracelet became a bit dated and I lost interest in the Seamaster 300M. But during every holiday I had, for example, I noticed at least someone at the hotel pool with a Seamaster 300M and it made me go to Chrono24 again to see if I could find a pre-owned bargain. Early 2018, in the year of its 25th anniversary, I again found one and decided to never sell it again. The prices had been going up quite a bit since the last time I bought one (also pre-owned) and are close to what I paid for a new one back in the day. It is a no-nonsense watch, with its 41mm diameter and approx 10mm in thickness, an ETA based caliber 1120 movement and stainless steel bracelet. But it's the details like the blue wave dial, blue aluminium uni-directional bezel, helium escape valve at 10 o'clock and its 9-row link bracelet that makes it so unique. Recognizable from meters distance and a serious (professional) divers specced watch that also looks good with a suit. I can tell you that it felt pretty awesome that I was able to wear my Seamaster 300M during the Volvo Ocean Race inport race last year.
A New Seamaster 300M
Then, during Baselworld 2018, Omega introduced a new Seamaster 300M. I could say an updated or modernized version, but I think that they did so many changes, that it is just a new watch. A better and improved version of the already iconic divers watch from Omega. Between that first 1993 reference 2531.80 and the new 2018 Seamaster 300M collection, there are a few versions that already showed improvements, but this new model has an in-house developed and manufactured movement instead of an ETA-based movement with Co-Axial, it has a new 42mm case and a new bracelet. Or, in the case of my review watch, a new rubber strap. I think we covered the basics during the release of the new Seamaster 300M watch, and Michael did a great job in describing the limited edition Seamaster 300M titanium/tantalum/Sedna version that Omega came out with.
Seamaster 300M 210.22.42.20.01.002
When Omega showed us the new Seamaster 300M collection, my eyes were drawn to the steel & Sedna gold version. This watch, with reference 210.22.42.20.01.002, stood out for me as the Sedna gold and black combines really well. Also, the bracelet is like a new BMW design: it takes a while before you really appreciate and like it. I decided to ask Omega to send me this watch for review, and so they did. They also send the blue version on a bracelet, but I didn't even take it out of the box, to be honest, the steel and Sedna version got my full attention. Luckily, my colleague Bert did of course and took some photos of the blue one together with his privately owned Seamaster 300M versions (see above). Below, the Seamaster 300M 210.22.42.20.01.002 on a rubber strap.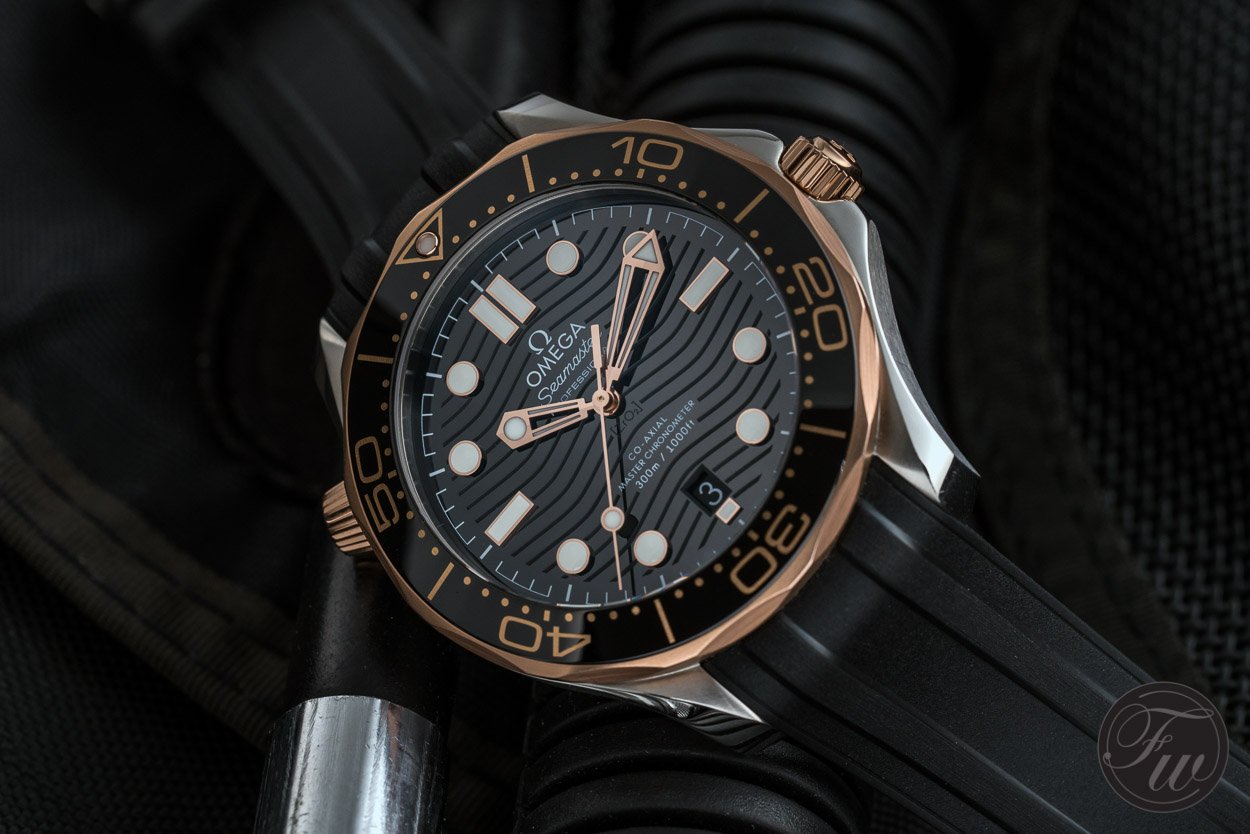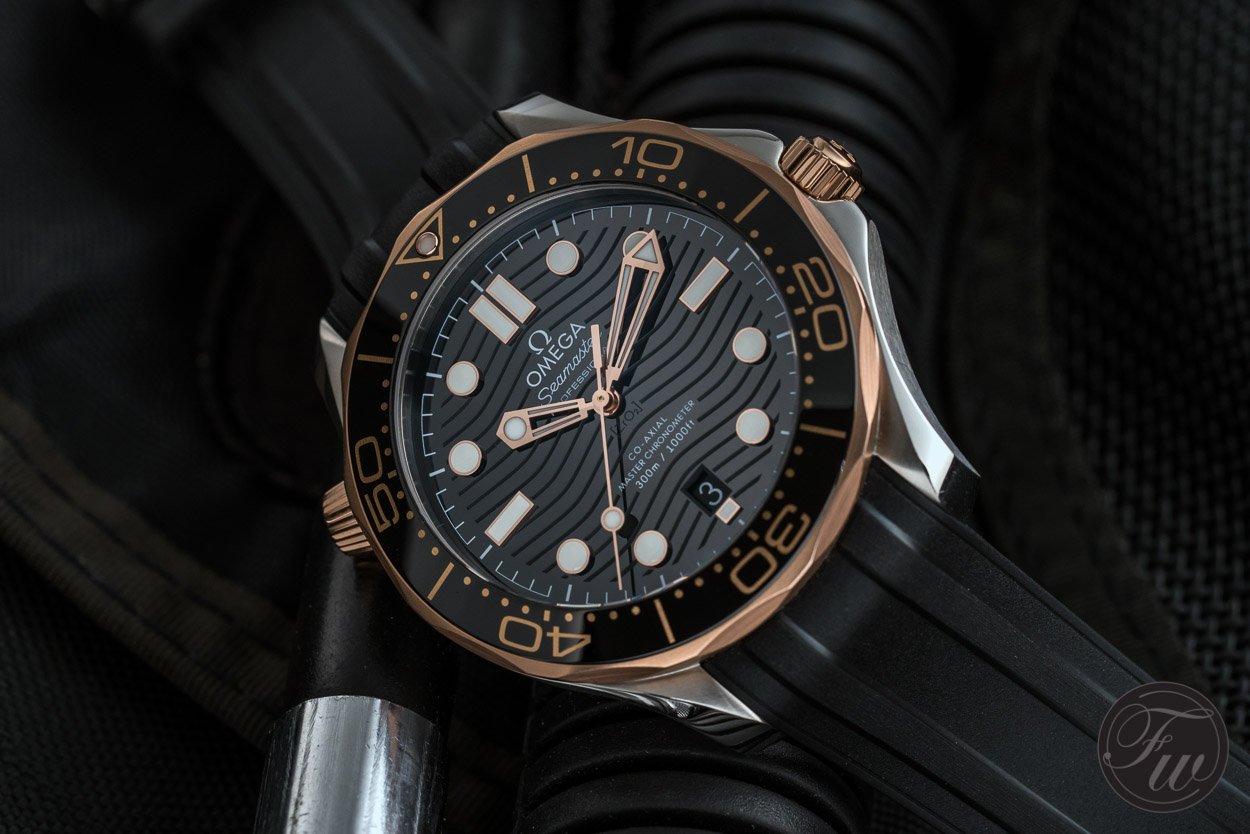 All the specifications can be found at the very end of this article, but this Seamaster 300M is powered by Omega's caliber 8800 movement. It is the first time that the Seamaster 300M received an in-house movement (the previous version had caliber 2500, based on ETA's 2892-A2 with some modifications to the winding system and a Co-Axial escapement). With a starting price of €4400,- for the stainless steel Seamaster 300M on a rubber strap (add €100 for the version with stainless steel bracelet), it is an incredible proposition and even a few hundred Euro below the Seamaster Aqua Terra with an in-house movement. The Seamaster 300M was always Omega's bread and butter piece, so I think they must have felt that they should keep this watch pretty accessible.
The price of this steel & Sedna gold model on a rubber strap with reference 210.22.42.20.01.002 is €6100,-. As you can see, you get two 18-carat gold crowns and a gold bezel for the additional €1700,-. Admitted, it doesn't come cheap, but at least you have a choice. You can also add the 9-row bracelet with 4 gold links per row, but that will make it a total of €9100,-. I am pretty sure that most European customers will go for the all stainless steel version, perhaps with rubber strap. However, I like to have a bit of gold in a watch these days and truly believe bi-color watches are on their way back, so I picked the steel & Sedna combination with a black dial and bezel. There's also a blue and Sedna gold version, and both black and blue are also available with yellow gold elements. But for me, the black dial and Sedna gold one is the prettiest combination.
Before I write about my 'on wrist' experience, let's have a look at some of the details and specifications of the watch. To begin with the movement:
Caliber 8800
Inside the Seamaster Diver 300M we find caliber 8800. But let's take a step back again, and look at the movement history of the Omega Seamaster 300M Diver, that starts in 1993. At that time, Omega used top grade versions of ETA's 2892-A2 movement and dubbed it caliber 1109. In those first Omega Seamaster 300M Diver models, with mechanical movement, the caliber 1109 was used. Then, only a year later, Omega introduced the caliber 1120 for the Seamaster 300M Diver. The caliber 1120 is also based on the ETA2892-A2, but has been modified heavily by Omega for a better winding efficiency. This movement received an Omega-exclusive rotor and a proprietary smaller ball-bearing. As a result, the caliber 1120 required less rotations of the weight mass to fully wind the main spring. The caliber 1120 was also significantly quieter because of these modifications. The power reserve of the calibre 1120 movement was 44 hours, and ticking at 28800vph. All these movements were also chronometer certified, to guarantee an average daily rate between -4 and +6 seconds a day. Of course, the date change is quick-set and done in the first position of the crown.
Then, already in 1999 Omega introduced the co-axial escapement for their movements and could first be found in the De Ville Co-Axial models. In 2006, it was time for Omega to update the Seamaster 300M Diver, resulting in reference 2220.80. Besides some aesthetical changes, the calibre 1120 was replaced by their calibre 2500 movement. Omega's calibre 2500 was also based on ETA's caliber 2892-A2 movement, but with the new co-axial escapement embedded. The Omega calibre 2500 movement has been used in the Seamaster 300M Diver model up till 2018.
It was only a matter of time before Omega would also start using one of their in-house developed movements for the 300M Diver collection. Their Master Chronometer calibers 8800 and 8806 (no date) have been selected for the 42mm 300M Diver watches. These movements, packed with all the innovations that Omega introduced since the 1999's co-axial escapement: Si14 silicon balance spring, anti-magnetic up to 15,000 gauss and a power reserve of 55 hours. This movement also has the co-axial escapement of course, but an improved iteration over the one that was found in the calibre 2500 movement. The finish on this movement is beautiful, with the Geneva waves in Arabesque and blackened screws, barrel and balance wheel. In the new Seamaster 300M Diver watches, the caliber 8800 and 8806 (no date) are visible due to the sapphire case back.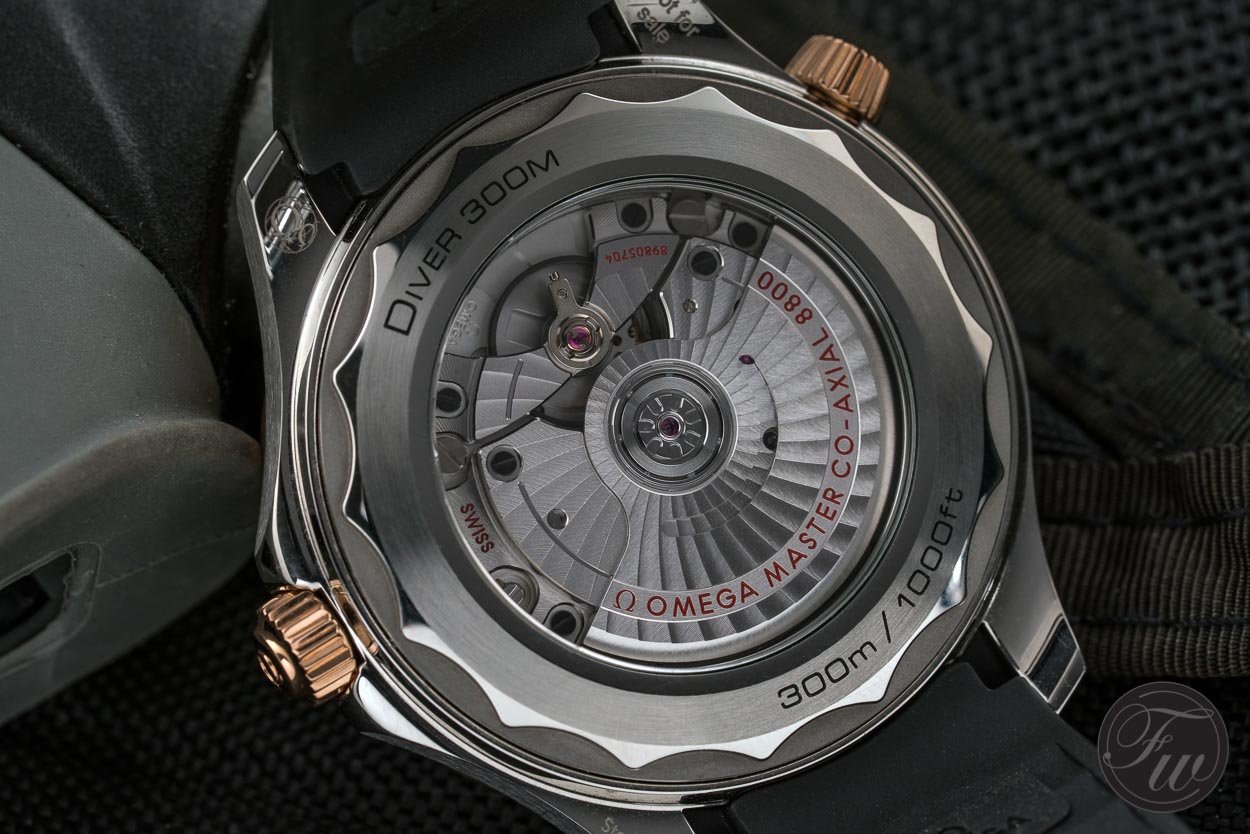 I still have to get used to the fact that watches with such a water resistance rate, are able to have a sapphire case back, but I guess the same applies for windows in an aeroplane or submarine. In the case of the Seamaster 300M, it really adds value as you can now witness their beautifully finished movement. The former movements, ETA-based, are certainly not bad, but I can live with a closed case back there.
Dial
The waves are back, yeey! It was one of the nicest aesthetical features of the original Seamaster 300M and disappeared with the previous version that had a lacquered dial. Omega decided the waves needed to return and came up with a little twist to keep things modern and up to the current standards.
Available in black, blue and PVD chrome colour, and made of polished ceramic [ZrO2]. The wave pattern is a bit different from the earlier 'finer' pattern on the watches that were produced before 2011. For the new Seamaster 300M Diver model, the polished ceramic dials have waves that have been laser engraved. We also find the date aperture located at 6 o'clock instead of 3 o'clock.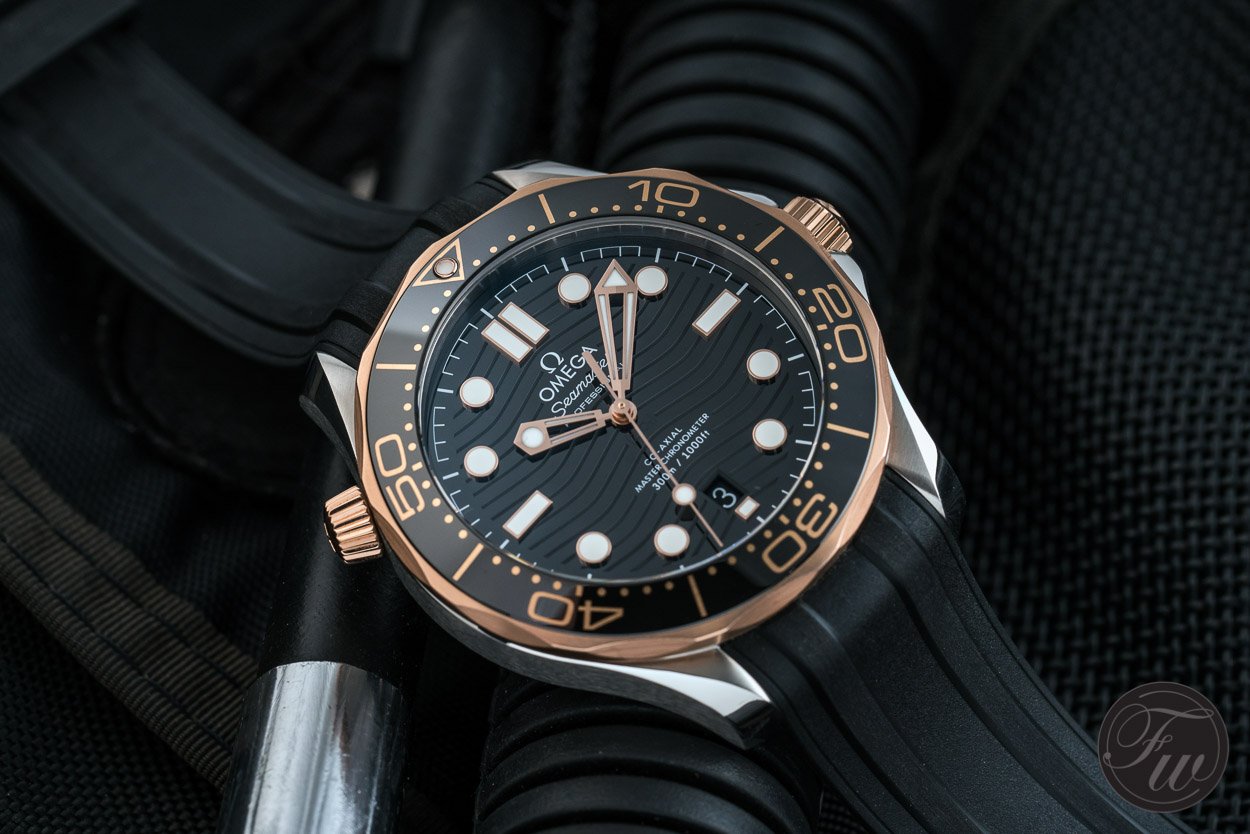 As you can see, the dial has quite some details. The Sedna gold rings around the Super-LumiNova indices look amazing on black, and the Sedna gold sword hands do as well. At 6 o'clock, just like the vintage Seamaster models from the 1950s, you will find the date aperture. The date disc in black and printing in white. Just below the aperture, there's a smaller hour index. On the dial, you will find all the necessary information there is to know. Interesting to me is that where Omega always referred to the Seamaster 300 2531.80 as 'Professional', they stopped doing so just about everywhere except on the dial. Just below 'Omega Seamaster', there is a 'Professional' mention though.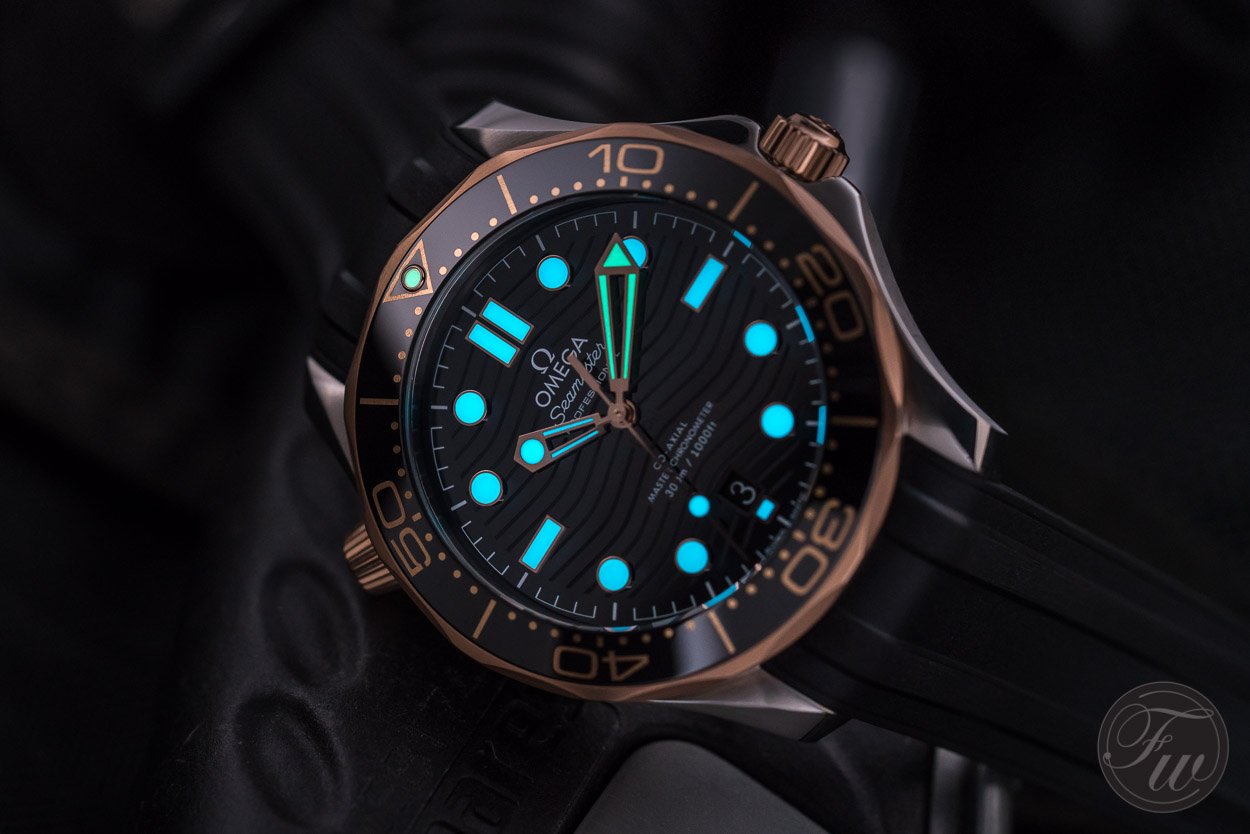 The lume is pretty cool on this watch as you can see. Blue for the hour indices and hour hand, and green for the bezel and minute hand, so there will be no mix-up during your dive.
42mm Case
The horror! The case size increased from 41mm to 42mm and the fans were going crazy about it, too big!! Well, let's say that this sentiment quickly went away when the watch was delivered to the markets and became one of the pieces with high demand. I also have to say that 42mm is a good size on the wrist and it all heavily depends on the shape of the watch. Specifications are just that, specifications. You often need to see the watch on the wrist first, but I know it is very easy to come with all sorts of reasons to dislike things. On my 18cm wrist, 42mm is a perfect size. I can also easily wear small watches and also a 44.25mm Dark Side of the Moon is OK. It is just about what you prefer and what's comfortable for you to wear, it is hard to dictate this for others.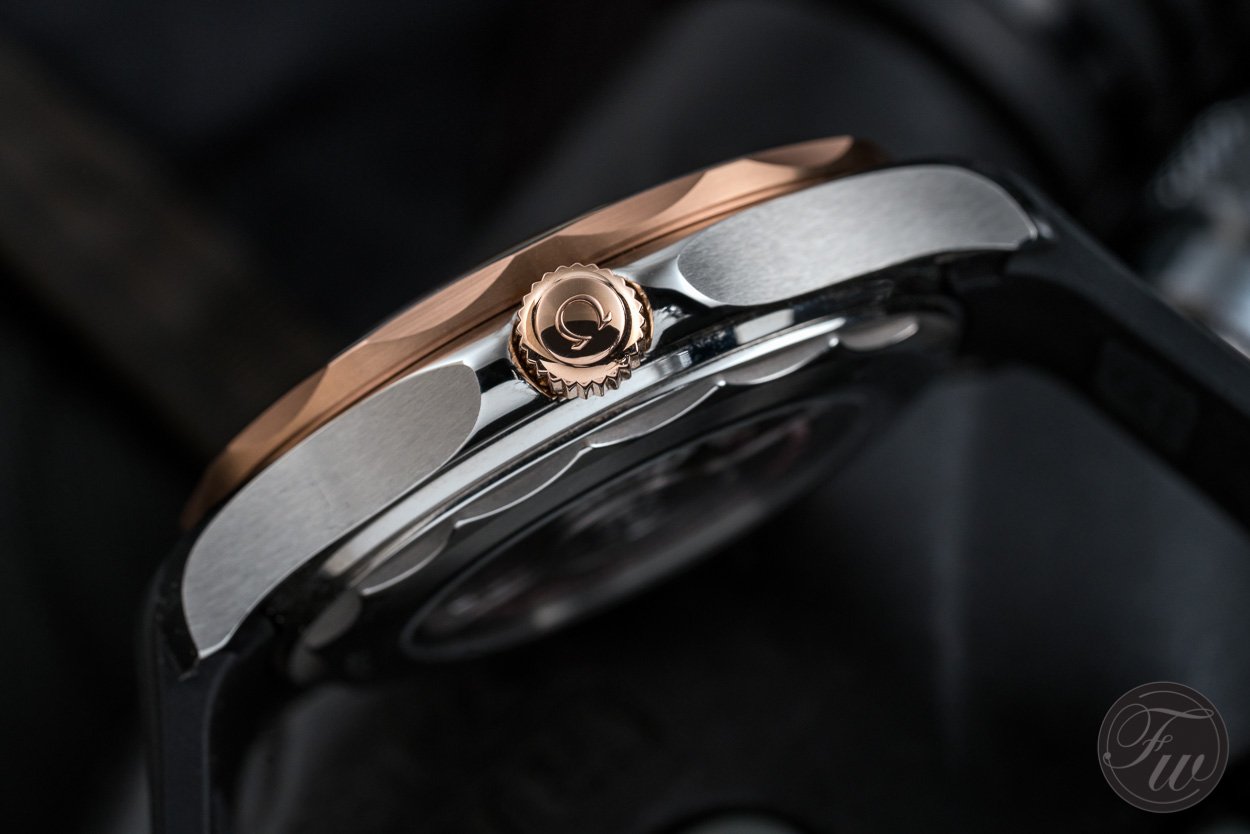 The thickness of the watch also increased, to 13.5mm. The new movement probably makes up for the extra thickness compared to the previous models. As you can see, the case profile looks quite elegant and has a satin-brushed finish. The crown protector is polished and the gold crown is safely tucked in between. Also, the Sedna gold bezel has a nice satin brushed finish from the side and gives a nice contrast with the glossy polish of the ceramic on top.
On the left side of the case, there's the helium escape valve. In the early 1960's, the helium-valve was developed to avoid exploding watches. The simple mechanism (a small, spring-loaded one-way valve integrated in the watch case) helps expanding helium gas to leave the watch during decompression. Omega's helium valve has a screwed crown at ten, to be opened during decompression. Before the helium-valve existed, some watches were built to be impenetrable using a monocoque case. Omega's iconic Seamaster 600 Plongée Professionelle (PloProf) is an example of that. No helium-escape, because no helium could get in.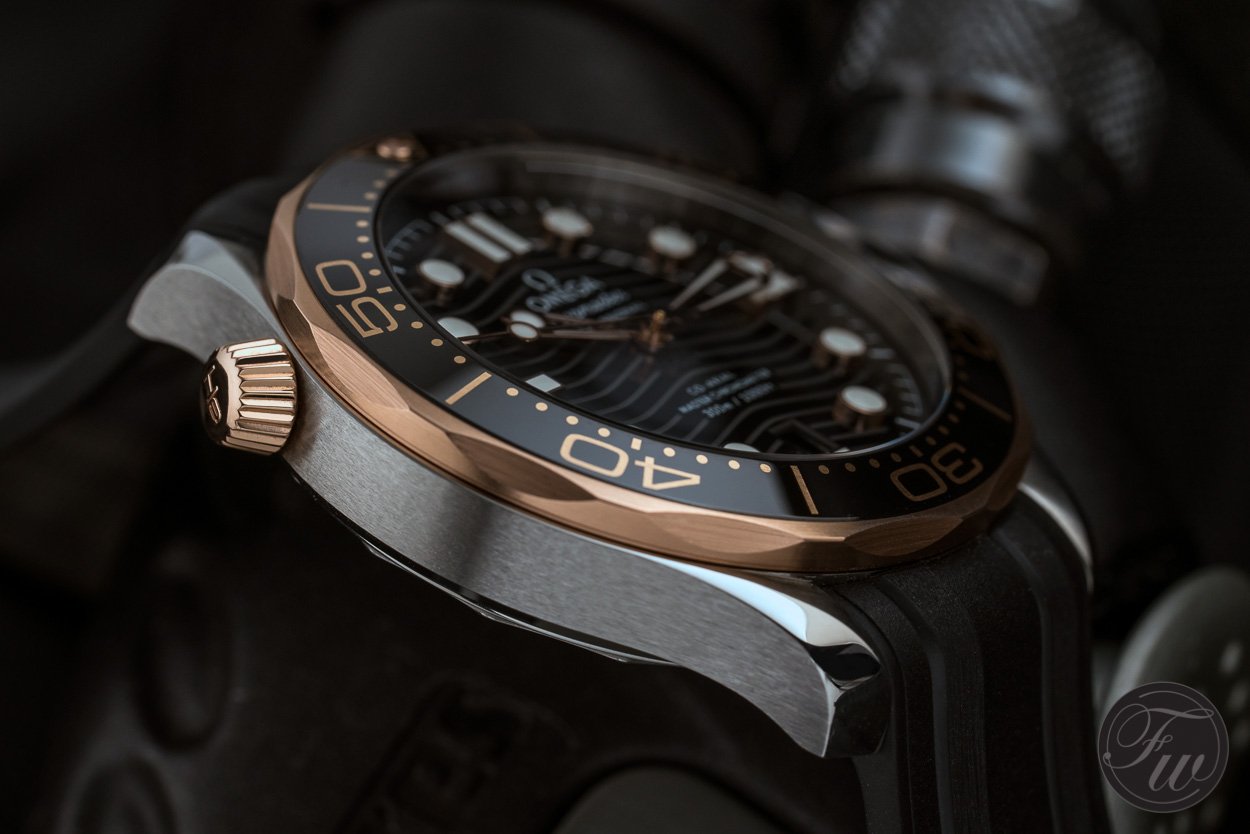 Fans of recreational diving may think that they have to open de the helium-valve crown while ascending to the surface. That is not the case. There is no helium in scuba diving. Scuba-divers don't go deep enough to breathe helium-mixes and they won't stay in saturation chambers filled with a helium-mix. Most recreational scuba divers do not go deeper than 20 meters. If you go deeper, it becomes darker very fast. Also, the most interesting things can be enjoyed above the 20-meter line (except shipwrecks or junkyards). So there will be no gas in scuba divers' watches that has to be released. But, let the helium-valve not stop you from enjoying the Seamaster 300M Diver if you don't find use for this crown at 10 o'clock. Many of the watch-enthusiasts never even come close to an ocean, but wear their professional dive watches every day. Unless you are a professional diver that is going to do work in great depths using modified breathing gas, you're fine. We will do a story on divers and helium another time.
Rubber Strap
The Omega Seamaster 300M in steel and Sedna looks best on a rubber strap in my opinion. The metal bracelet with its gold links is a bit too much, at least for me. The rubber strap feels softer and more supple than the previous rubber straps Omega has used. Omega added a normal buckle for the strap, no folding buckle. That's fine for me, as I actually prefer these.
The two keepers have 'Omega' and 'Seamaster' in there, and the buckle is nicely finished and signed Omega. There are two lines on the rubber strap, but certainly not as thick and with the same presence as the original double ridged rubber strap from the 1990s.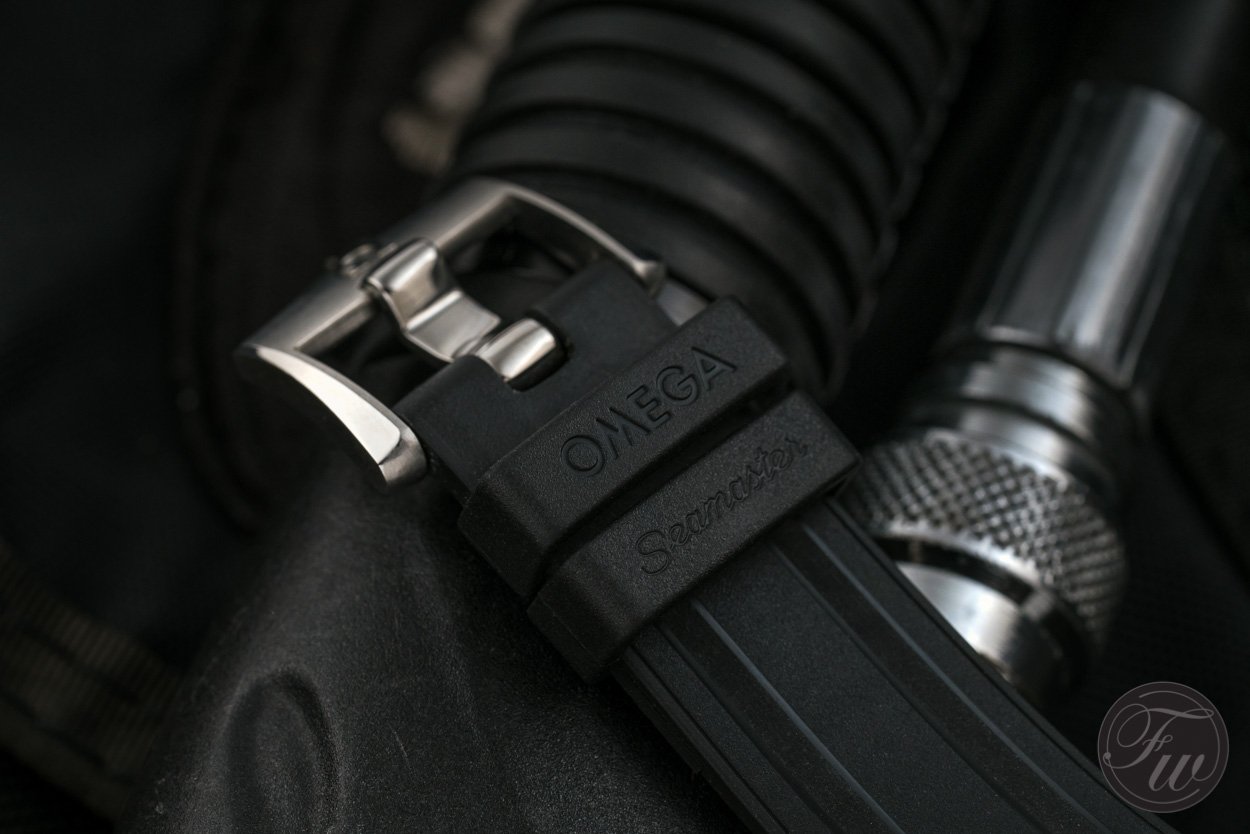 On The Wrist
The soft rubber strap is amazingly comfortable. Normally I prefer a leather strap or a metal bracelet, but this rubber Omega strap is much better than their previous ones (as the blue double ridged one in one of the first images of this article, for example, that one was über stiff). With a leather strap or metal bracelet, it remains the question of how it will fit your wrist. Some times it doesn't really sit comfortably on the wrist, because it is pre-shaped or simply a bit stiff, but this soft rubber strap is a perfect fit for the wrist.
I took the Seamaster 300M to the beach, as you can see, and especially in the Sunlight the Sedna gold looks pretty amazing.  The size of 42mm fits me well, although it indeed does wear a bit larger than the original Seamaster Pro 2531.80. But the extra millimeter in diameter is not really an issue, it is the thickness that does make a difference though. With just 10mm, the old Seamaster 2531.80 was quite thin, especially for today's standards of a sports watch. So does that extra millimeter on the new Seamaster 300M really causes issues? No, it doesn't. The thickness of 13.5mm is also fine, although a thinner watch is always welcome. It fits the watch though, so no man overboard.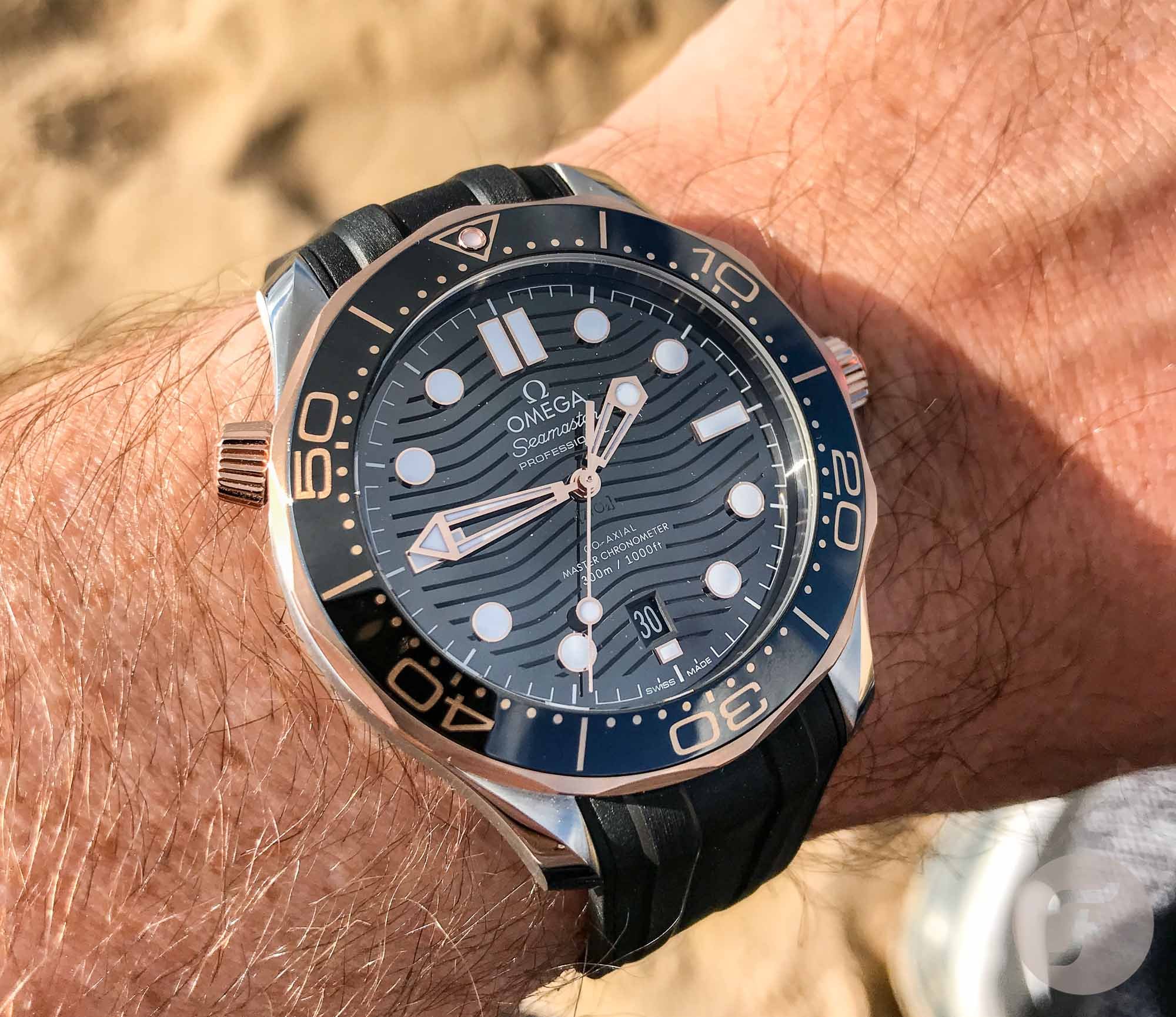 The new Omega Seamaster 300M is not only a perfect companion on the beach, but you will also be able to rock it with a nice suit or with a pair of jeans, of course. The fact that it has a water resistance of 300 meters and professional diving watch specifications as well as the looks that make it look good with just about anything, makes it a great all-arounder. You can wear this watch all day long, every day of the week. The automatic movement caliber 8800 is a solid movement and has been certified as Master Chronometer. This means it will maintain its high accuracy of +0 to +5 seconds a day on average under almost any circumstances, including being exposed to highly magnetic fields (up to 15,000 gauss) and severe shocks, for example. Perhaps you won't be bothered by these circumstances, but it is a comforting thought that your watch is ready for just about anything.
It is also why I like the gold elements on this watch, it makes the Seamaster 300M a bit more than a tool – in this case, divers – watch. I am not a diver, but I like the looks and fact that I can keep it on during the holidays near or in the water, and the touch of gold makes it very suitable for more formal wear as well. Despite the rubber strap, I would say. The new Seamaster 300M is a watch that I have been wearing quite a bit, there wasn't really something else on my wrist during the review period.
Best all-arounder
Some times, I am just a bit jealous of people who can live with one watch.
To me, the Seamaster 300M was the best all-arounder watch of 2018, and till today, perhaps the best one of 2019 as well. I am not sure what will come out in the next few months, and I haven't tried the new 43mm ceramic & titanium Seamaster 300M yet for review, but this steel and Sedna gold watch is definitely a great watch that you can literally wear every single day. Some times, I am just a bit jealous of people who can live with one watch. If I had to buy one watch that I would wear every day, this Seamaster 300M would be it. I think many of the previous Seamaster 300M generations ended up being the 'only watch' for a lot of clients. People who just wanted to buy a good watch, period. But hey, it is my work and my passion, so I can impossibly live with just one watch. That said, the Omega Seamaster 300M in steel and Sedna gold is certainly high on my wish list. It is an easy watch, that goes with almost everything. The price is also quite impressive. The all stainless steel version is cheaper than an Omega Seamaster Aqua Terra and has perhaps even a bit more to offer. Of course, the additional gold makes it €1700 more expensive, but also makes it more attractive in my opinion. It makes it a perfect companion with a suit or at least for more formal occasions, without being tacky.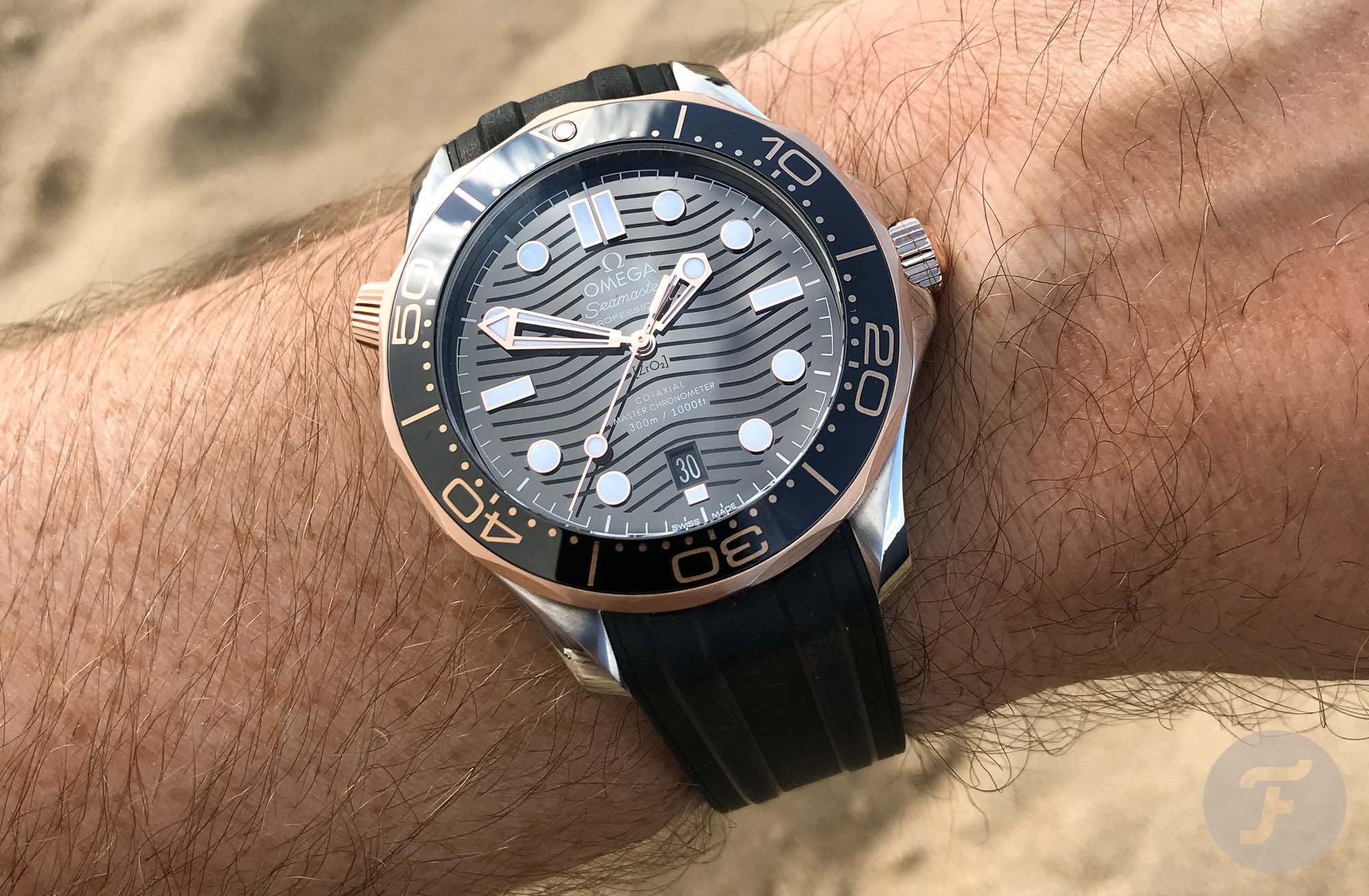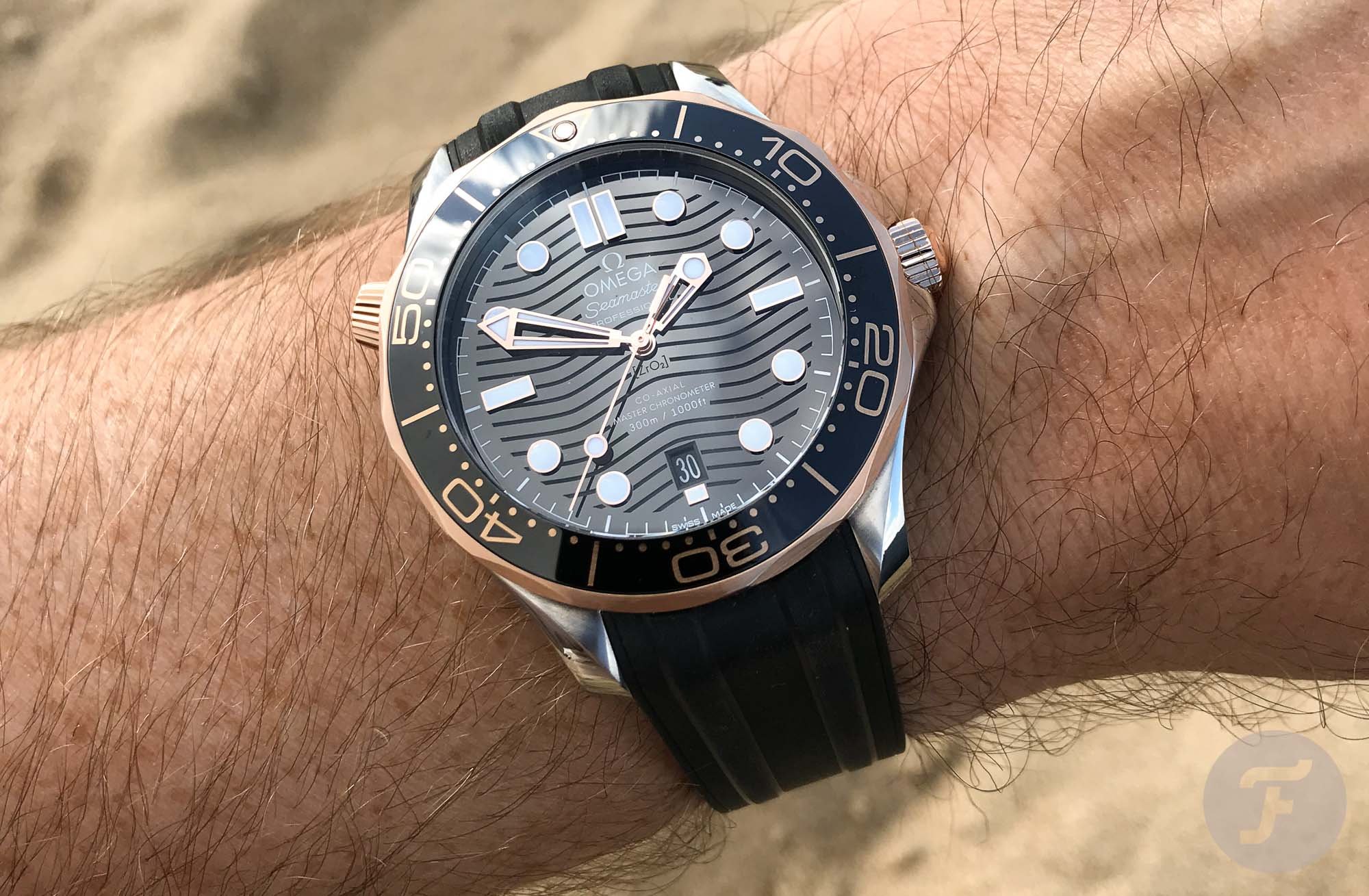 Not a single downside of this watch? Well, there is. Aside from the €1700 mark-up for the bit of Sedna gold that I can definitely forgive, there's the movement that is frankly quite noisy. Some people like their movement to make a bit of noise (like a swooshing sound), but I don't. I have a Globemaster with a caliber 8901 movement, which I believe has more or less the same basis, and that one is completely silent. I also tried the all stainless steel version of the Seamaster 300M, as perhaps it was just this watch I had for review. But no, also those made the same swooshing noise when the rotor moves. For me, this is not a dealbreaker, but I just want to mention it here as being the only downside of the watch.
You can't make everything scientific, so this might not be the best all-arounder for you, but to me it is. Very attractively priced, great fit on the wrist, amazingly good looks with the gold, steel and black dial and a very accurate – but noisy – movement. With a retail price of €6100,- I think the stainless steel version for €4400 is the big hit, especially here in Europe, but for those who love gold and are able to spend a bit extra, give this one certainly a try.
More information via Omega online.
Watch specifications
Model
Seamaster Diver 300M
Reference
210.22.42.20.01.002
Case Material
Stainless steel and 18-carat rose gold (Sedna)
Case Dimensions
Diameter: 42mm, Thickness: 13.5mm
Water Resistance
300 Meters
Strap
Rubber with stainless steel buckle
Functions
Time, date, diving bezel