Strap Check: The Bremont S302 On A Mustard-Yellow Paratrooper Strap From Cheapest NATO Straps
The perfect condiment for your watch
Being a strap addict is a condition that forces one down a path of trial and error. Not every strap works on every watch and vice versa. But every now and then, a serendipitous match of strap and watch happens that simply works better than anything else. This was exactly what happened when the Bremont S302 met the mustard-yellow Paratrooper strap from Cheapest NATO Straps. Most of you will already be familiar with the Swedish strap brand, which continues to lead the affordable watch strap market.
Now, you should always be careful when visiting the Cheapest NATO Straps site as you might end up with more than you bargained for. Prices are tempting, and discounts are ever present; it's a challenge not to come away with a much larger order than intended. That said, in my experience (limited to the brand's synthetic offerings and none of the leather products) the straps are of decent quality and certainly look the part. Through a simple exercise in matching color details, today's pairing turned out to be an instant favorite.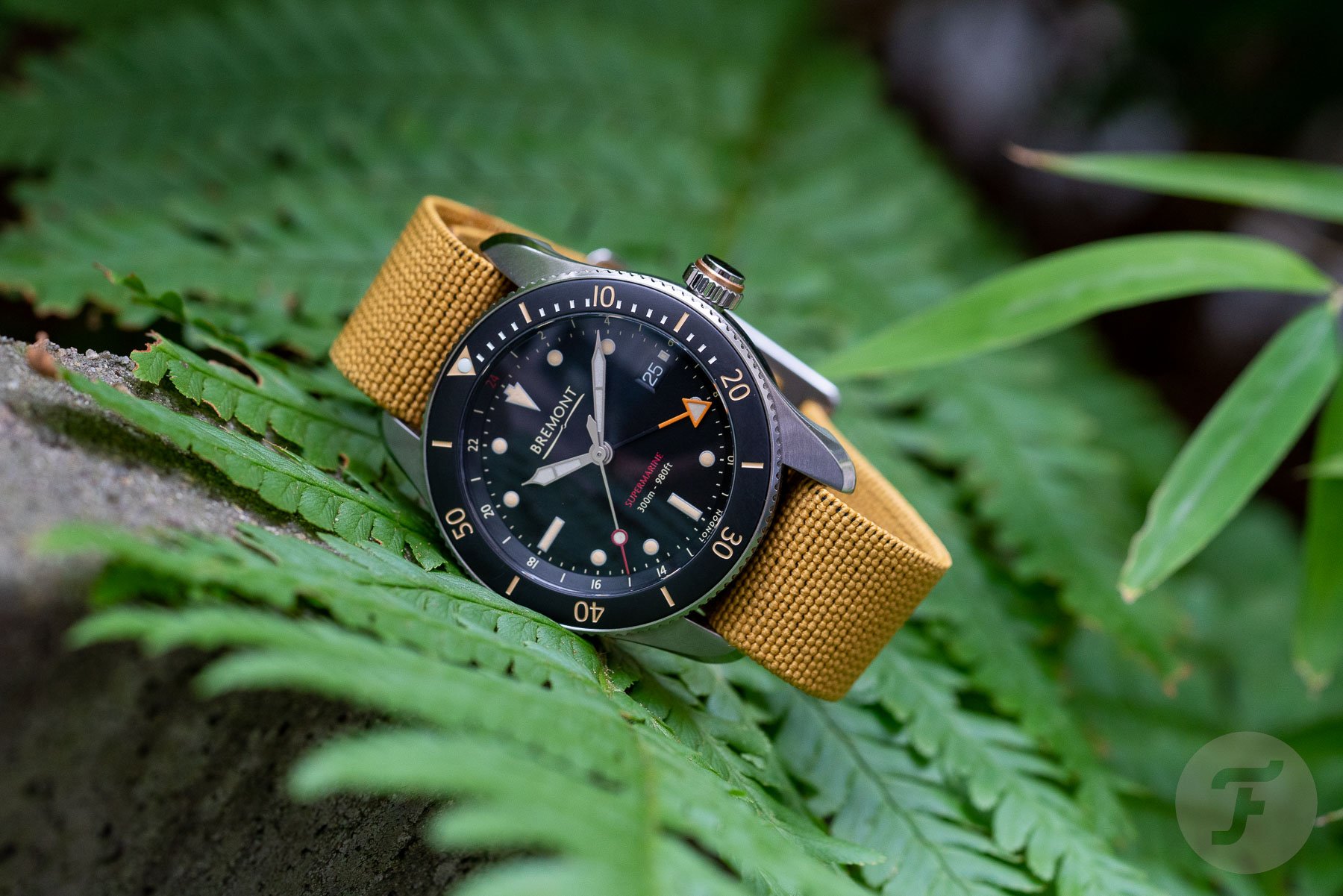 The mustard NATO phenomenon
Now, before I tell you why I like the Paratrooper strap and why it works particularly well on the Bremont S302, I want to give you all a little bit of color context. Last year, CNS released its ribbed NATO strap, a somewhat-stiff NATO with brushed hardware and an eight-ridge pattern down the length of the strap. These quickly became ubiquitous on Instagram, but none was as eye-catching as the mustard-colored model. There was a brief time when it seemed that everyone had that strap, with the hashtag #mustardnatogang still going strong with 700+ posts.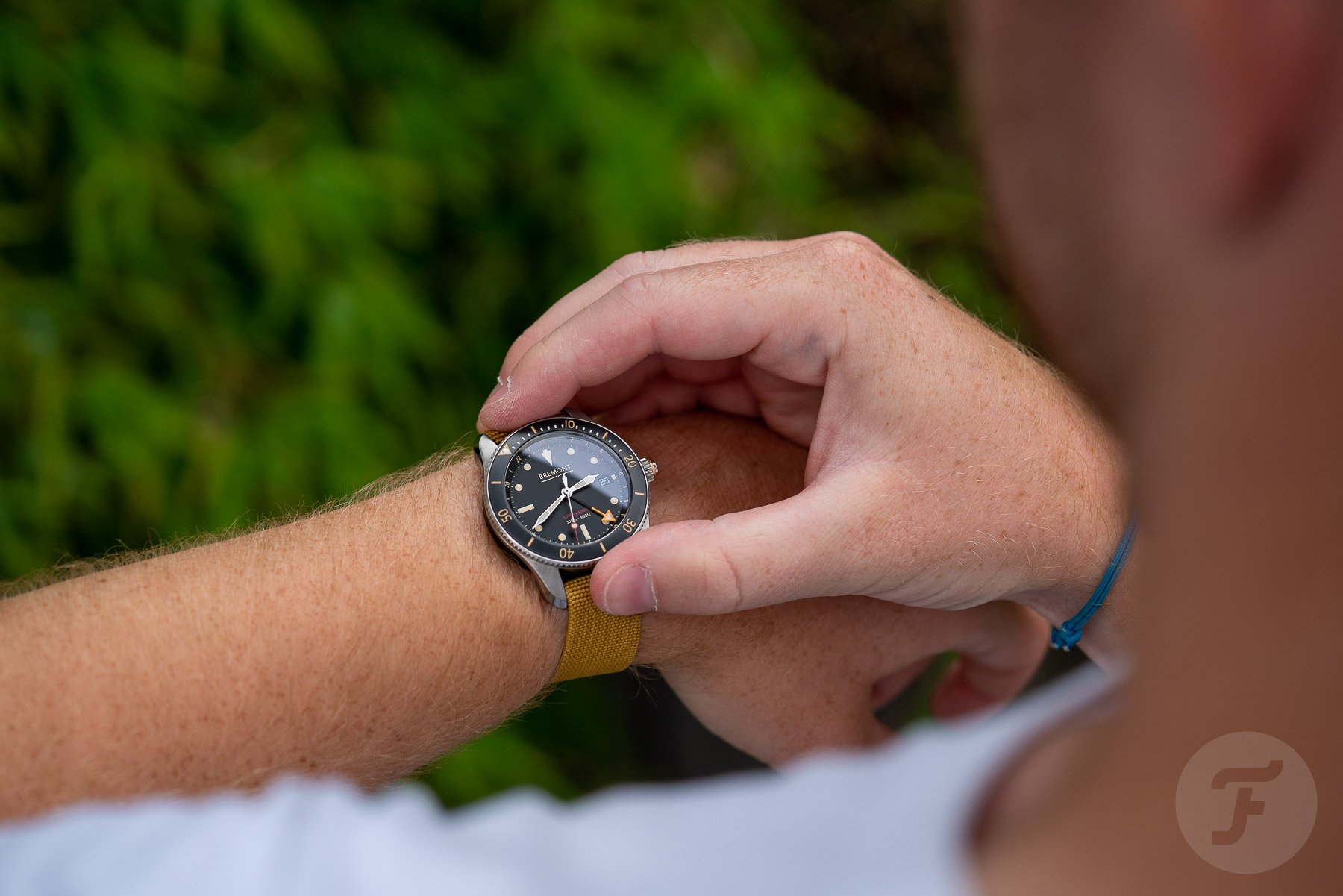 So it's no wonder that the color began to reoccur in the brand's lineup. Though not as popular as the famous ribbed NATO, the mustard Paratrooper strap is just as bright and distinctive. Whether paired with a black dial or matched to similarly colored details, this strap works beautifully. And unlike the ribbed NATO, which requires a little breaking in, the Paratrooper is extremely pleasant to wear from the start. Its design is simple, too. It's a single piece of material, folded and stitched at the "hook" end, with a metal tab that slides up and down the length of the strap to adjust how tight it is on the wrist, and to which the hook end attaches. And though it takes a little adjusting and can be a bit fiddly to fasten at first, once you get the hang of it, you'll never look back.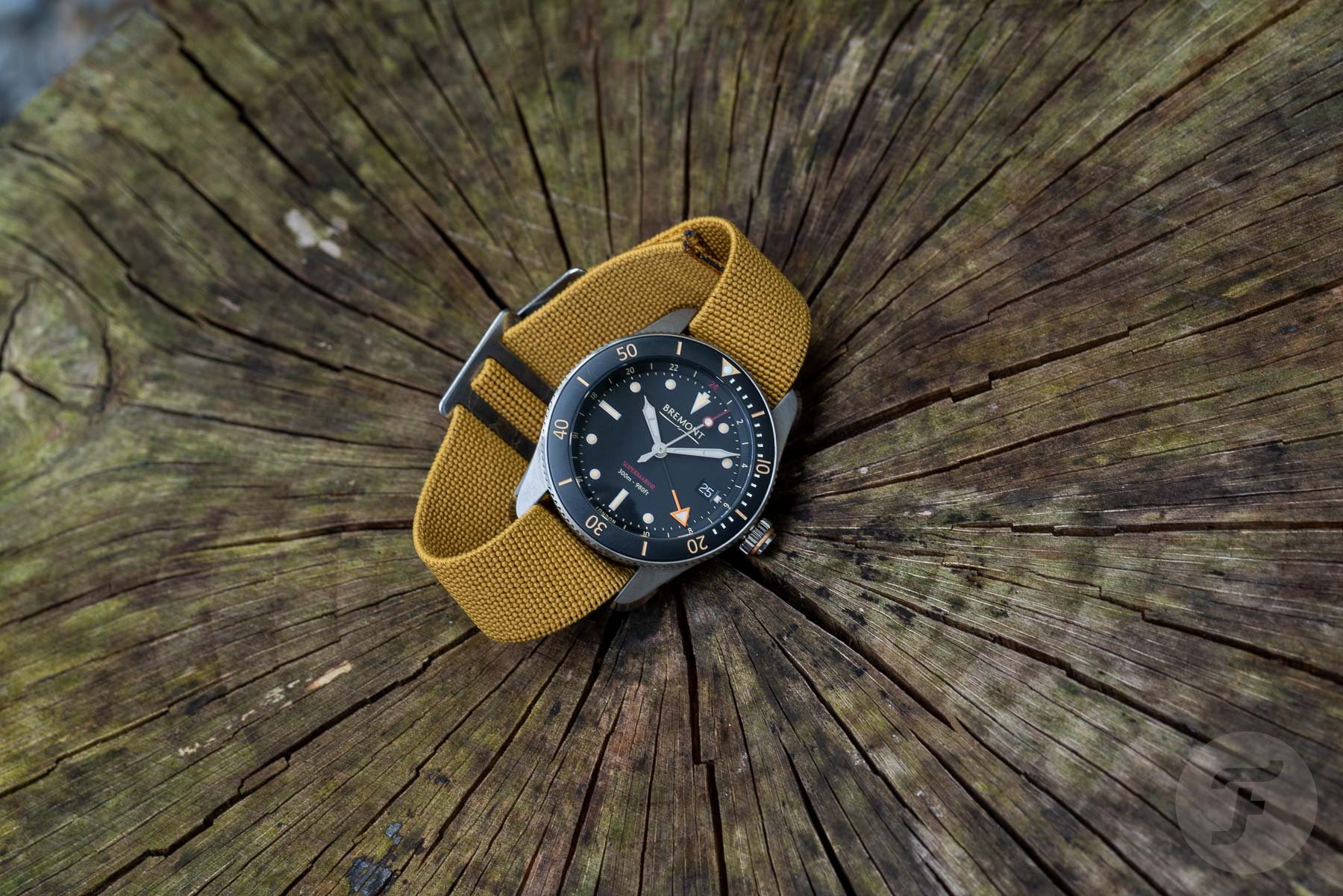 A perfect match for the Bremont S302
As I said, these mustard-toned straps are great on just about any watch you put them on, but they're especially good when the watch has details that match the warm yellow tone. Naturally, the Bremont S302 was a perfect candidate for the strap. And though it first made its way onto my Breitling Aerospace, the strap never looked better than on the wonderful S302. This is due to the watch's warm yellow details, which can be found on the bezel's numerals and hash marks and on the rehaut's 24-hour scale and lume. So not only is the strap a perfect match, but it's also extremely comfortable. Plus, there's something cool about wearing your Supermarine on a Paratrooper strap.
Though the Bremont has long since departed back to its home in Henley-on-Thames, the strap will remain with me. And whether it goes back on the Aerospace or on my Speedmaster, it will never look out of place. And, to be honest, for €5.95 on sale on Cheapest NATO Straps, it's worth giving the strap a shot for yourself. Clearly, for the price, you have to keep your expectations realistic. To be fair, though, owning an original NDC strap and having experienced the famous Erika's Originals, I must say that these affordable alternatives hold up rather well, even after some wear.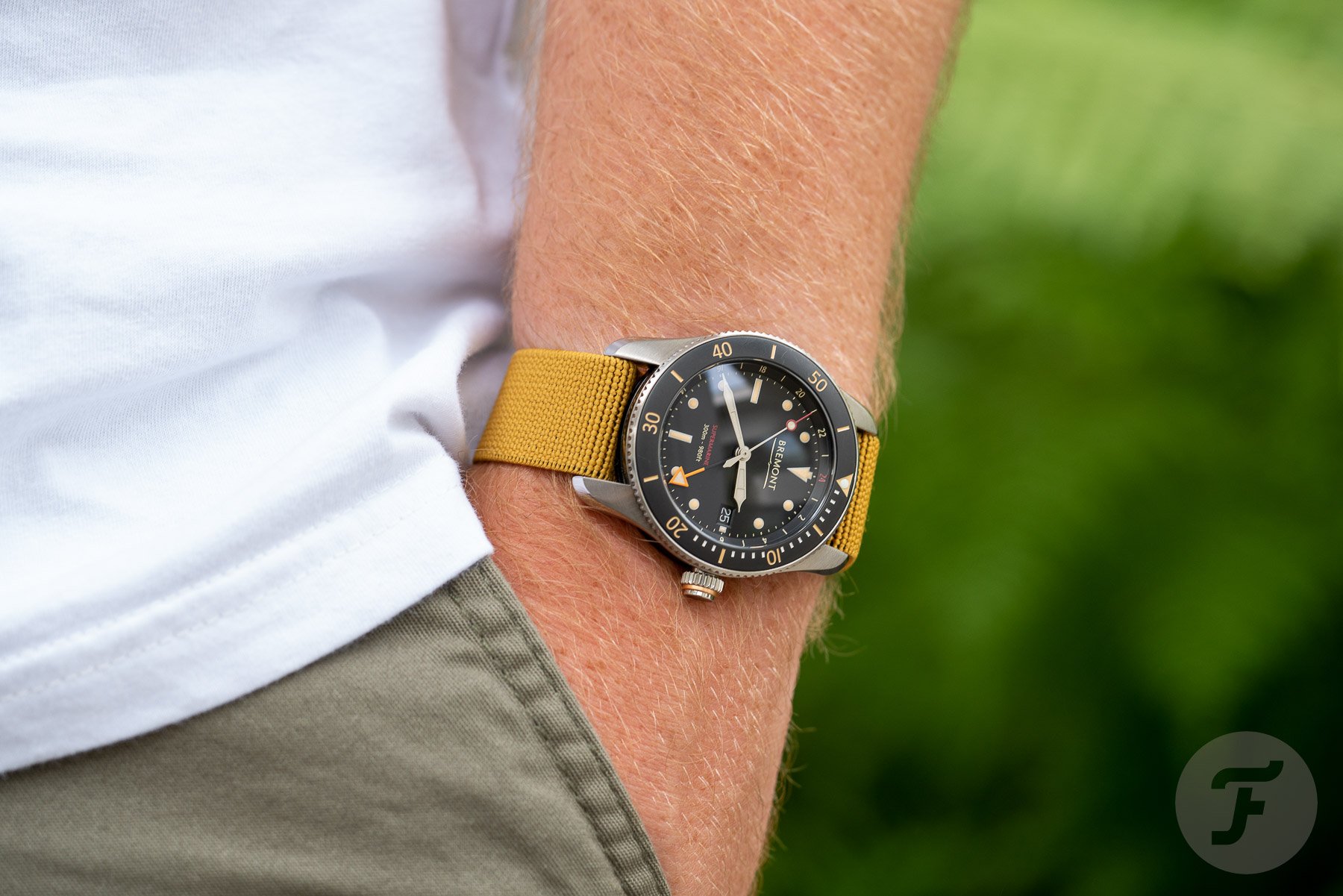 Final thoughts
Whether you're a strap addict like me or simply looking to brighten up an otherwise monochromatic watch, why not spice things up with a little bit of mustard? No, not the condiment in your fridge, but rather a strap in that warm and cheerful yellow tone. Whether you opt for the ribbed NATO or the flexible Paratrooper strap, you really can't go wrong. Plus, life's too short for boring straps anyway. For this strap and many more fun and colorful options, feel free to check out Cheapest NATO Straps if you don't already know it.
What do you make of this combination? Do you like it? Or is it a little bit too much mustard for your taste? Let me know in the comments below.