Hands-On With The Bvlgari Octo Finissimo Tourbillon Chronograph Skeleton Automatic In Platinum
A luxurious follow-up to the brand's record-breaking watch
If you have read some of my articles already, you probably know a little bit about my taste in watches. Typically, I like to keep things rather sporty and affordable, with a side of vintage goodness, and Cartier for dessert. But sometimes, opportunities come up to dive into watches that take me fully out of my comfort zone. Lately, it seems that no other brand does that more often and better than Bvlgari. Last week, I had the opportunity to do the horological equivalent of skydiving or stepping into a lion's cage. I'm talking, of course, about wearing the Bvlgari Octo Finissimo Tourbillon Chronograph Skeleton Automatic in platinum for a day. 
This platinum stunner is a follow-up to Bvlgari's record-breaking titanium model. At just 7.4mm tall, it's the world's thinnest tourbillon chronograph. As opposed to its titanium predecessor, this model opts for a somewhat heavier metal. And though normally, platinum watches (especially on a bracelet) have a weighty presence on the wrist, this Bvlgari balances out the heft of platinum with the case's slim profile. It made this departure from my comfort zone a rather comfortable one. So, what was it like to play king for a day with this breathtaking piece of record-breaking hyper-luxury horology on my wrist? Let's just say that though I remained at Fratello HQ for most of that day, it really wasn't just another day in the office.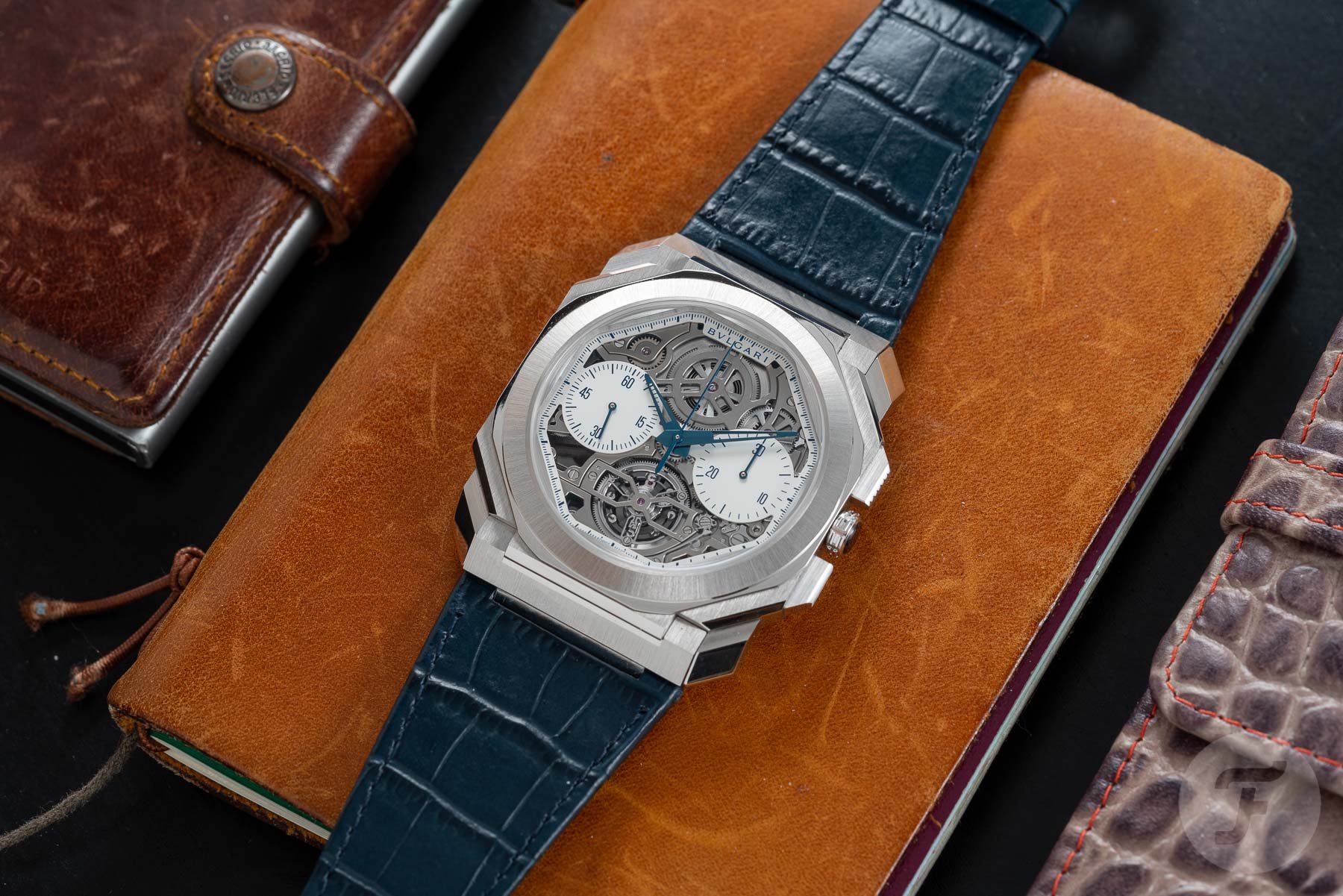 The Bvlgari Octo Finissimo Tourbillon Chronograph Skeleton Automatic
No, sir! There's an undeniable thrill that comes a few hours into wearing the watch. It's that moment when you almost forget it's there and casually glance down at your wrist for the time. Instead of the usual Hamilton Khaki, Cartier Tank, or even my trusty Speedy, it's the horological equivalent of an adrenaline rush. Imagine opening your garage, and instead of a VW Golf, you find a Pagani Zonda inside. The first thing you're going to want to do, right after you pinch yourself, is to take it out for a spin. But much like a VW-Golf-driving man (actually, it's a SEAT Ibiza) I was in way over my head. When you're used to putting the key in, holding the clutch down, and turning it for ignition, the keyless, push-to-start ignition of a hypercar can be rather confusing. And so was the Octo Finnissimo Tourbillon Chronograph at first.
The trick with the caliber BVL 388 is that it's actually a mono-pusher chronograph. But at first sight, you won't even see the pushers, as they are cleverly integrated into the case and look almost like crown guards. Once you do find them, you'll be surprised at their functionality. The top pusher operates the chronograph, while the bottom pusher switches the crown's modes from winding to time-setting. But that isn't this automatic movement's only trick. It also features a peripheral winding rotor and a tourbillon. No wonder Bvlgari skeletonized the watch. A movement like this has to be admired in its full, unobstructed glory, and that's exactly what I did all day long. Its hyper-modern design and stunning finishing are hypnotic, and they couldn't find a better home than a platinum Octo Finissimo case.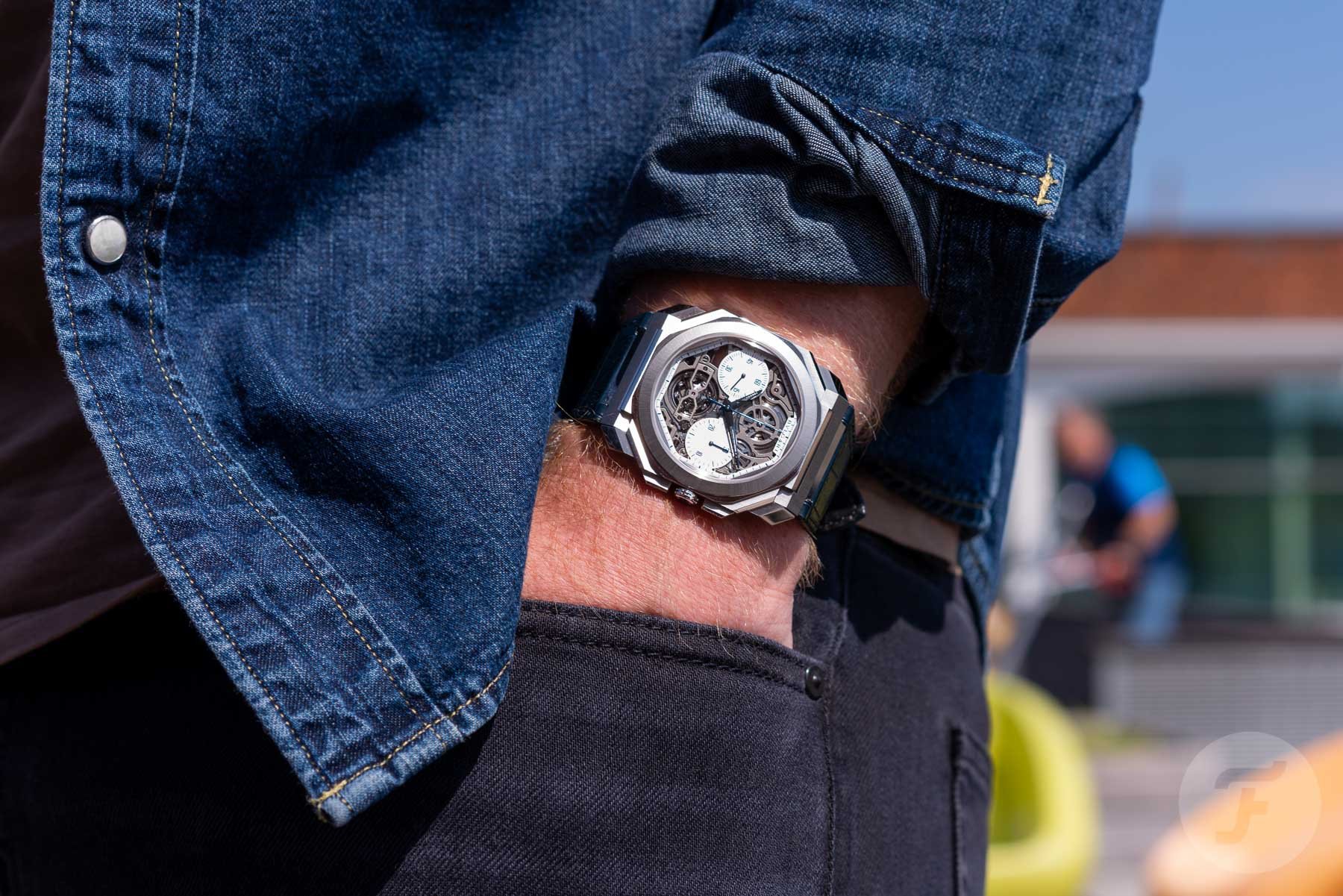 Modern watchmaking perfection
I've almost wrapped it up but thought I'd fill you in on some of the more technical details before moving on to my final thoughts. The Bvlgari Octo Finissimo Tourbillon Chronograph Skeleton Automatic comes in a 43mm platinum case. Instead of a bracelet like the one found on the titanium model, this particular watch comes on a matte blue alligator strap with a deployant buckle. Comfort on the wrist is a given, thanks to the strap's wide ends and brilliant taper, which keeps the slim yet heavy watch held securely to your wrist. It really is anything but top-heavy, and the strap can therefore be thin and supple without the watch feeling loose on the wrist.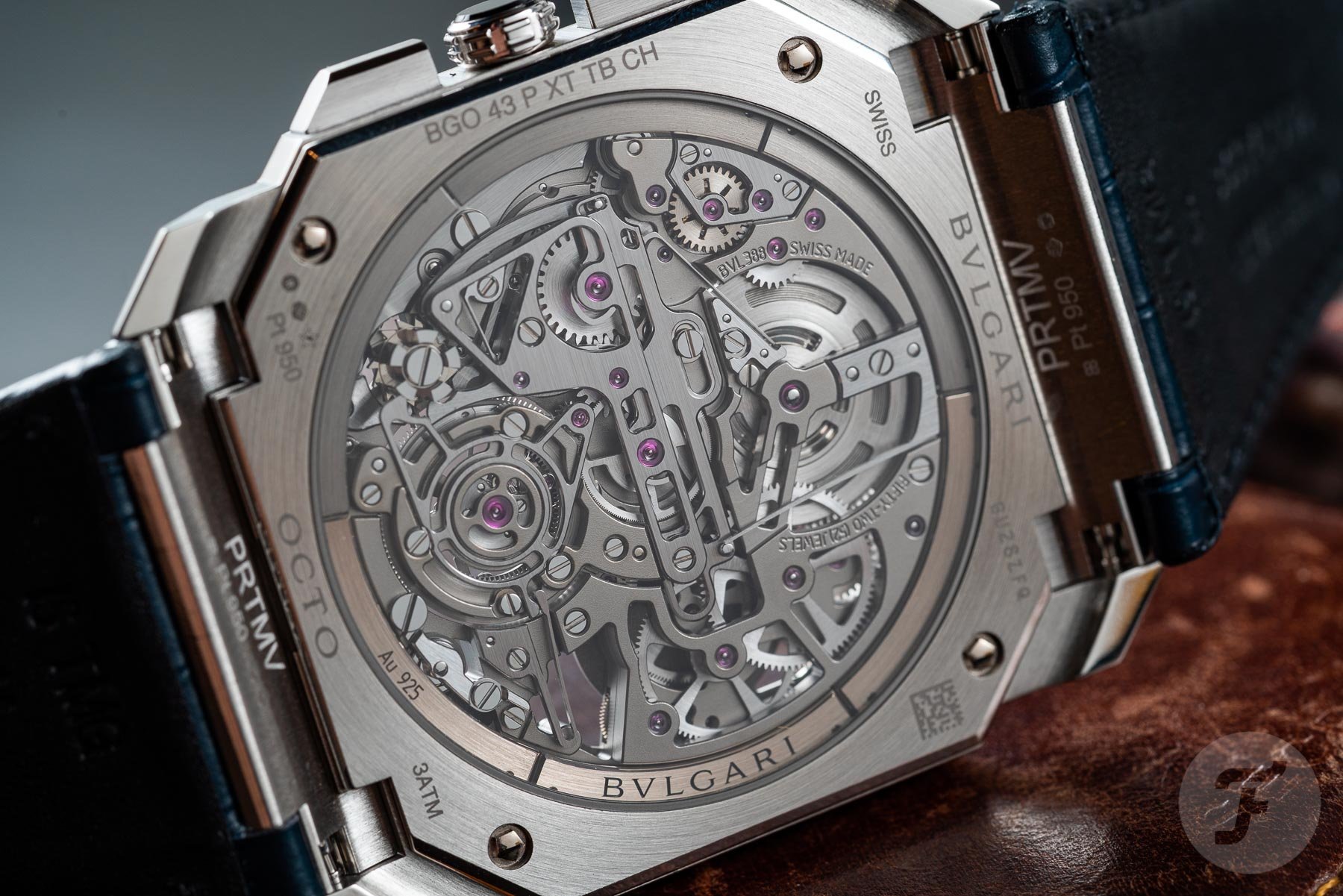 Inside, and visible through the sapphire case back, is the caliber BVL 388. This mono-pusher chronograph movement provides 52 hours of power reserve and runs at 21,600vph. At the 6 o'clock position (dial-side), you can see the tourbillon. The dial is extremely well balanced, with four circles at the 12, 3, 6, and 9 o'clock positions. The first is the mainspring, mirrored at 6 o'clock by the tourbillon, and those at 3 and 9 o'clock are the chronograph registers. It's a wonderfully designed layout on the front. And on the back, the solid sterling silver peripheral rotor surrounds the caliber's intricate network of impressively finished elements. It really is a sight to behold. Like a dystopian cityscape from a sci-fi movie, it's futuristic yet built with purpose.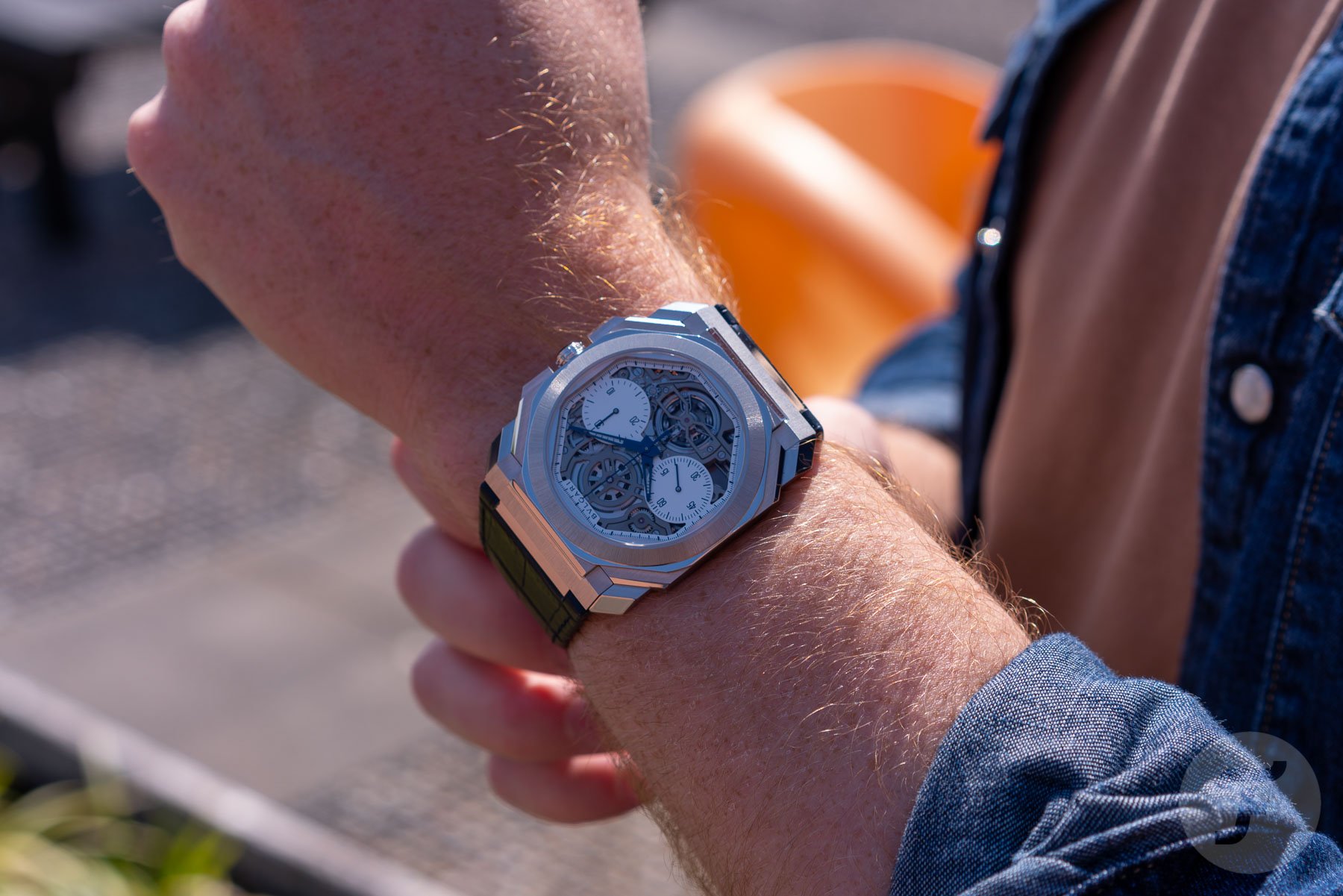 Final thoughts
And just like that, my day with the Bvlgari Octo Finissimo Tourbillon Chronograph Skeleton Automatic came to an end. I had fun with it and was thoroughly impressed by the brilliance of its design and craftsmanship. But there was still comfort in going back to something from my own collection. In Spain, the €210,000 price tag of this watch would buy you a decent apartment. So taking it off, safe and sound, was a combination of sadness in seeing it go and relief. After hitting 250km/h in the "Pagani", cruising at 100 in my "Golf" never felt more relaxing and perfectly inconsequential — I was back in my comfort zone. That said, I'll still think back to when I experienced this brilliant watch, and every time, it will bring a smile to my face.
What do you make of the incredible Octo Finissimo Tourbillon Chronograph Skeleton Automatic? Would you enjoy a test drive with this one and be done with it? Or would you like to see it in your garage day in and day out? As always, let me know your thoughts in the comments below. If you'd like more information, please check out the Bvlgari website.