Casio G-Shock GST-W130L – 52Mondayz, week #7
Two electronic watches on Fratello Watches the same day, what are we thinking? The one I'm wearing this week, however, is totally different from the Grand Seiko Robert-Jan covered here today though. The Casio G-Shock GST-W130L is 52Mondayz week #7 watch.
Casio G-Shock GST-W130L
Hence, what ís so totally different about these watches? I wouldn't say that the movement Casio uses here, their caliber (Casio uses the term 'module') 5515, isn't high-end. In a totally different way, however. It's probably not beautifully decorated and finished, but it's extremely functional. Solar-powered, and multi-band time reception, for instance, are examples of specifications which we don't find in every quartz movement.
Purpose Build
And of course, the purpose of the Casio G-Shock, or named G-Steel as well, GST-W130L is a totally different one than that of a Grand Seiko. The G-Steel GST is part of Casio's G-Shock line. Watches made to last in hostile environments. Hostile in its broadest meaning, mainly hostile to a watch that is. Absolute toughness, ready for anything – except compromise. That's what G-Shock is all about. I did a compact write-up on the history of the original G-Shock concept, and how it developed to the present day here.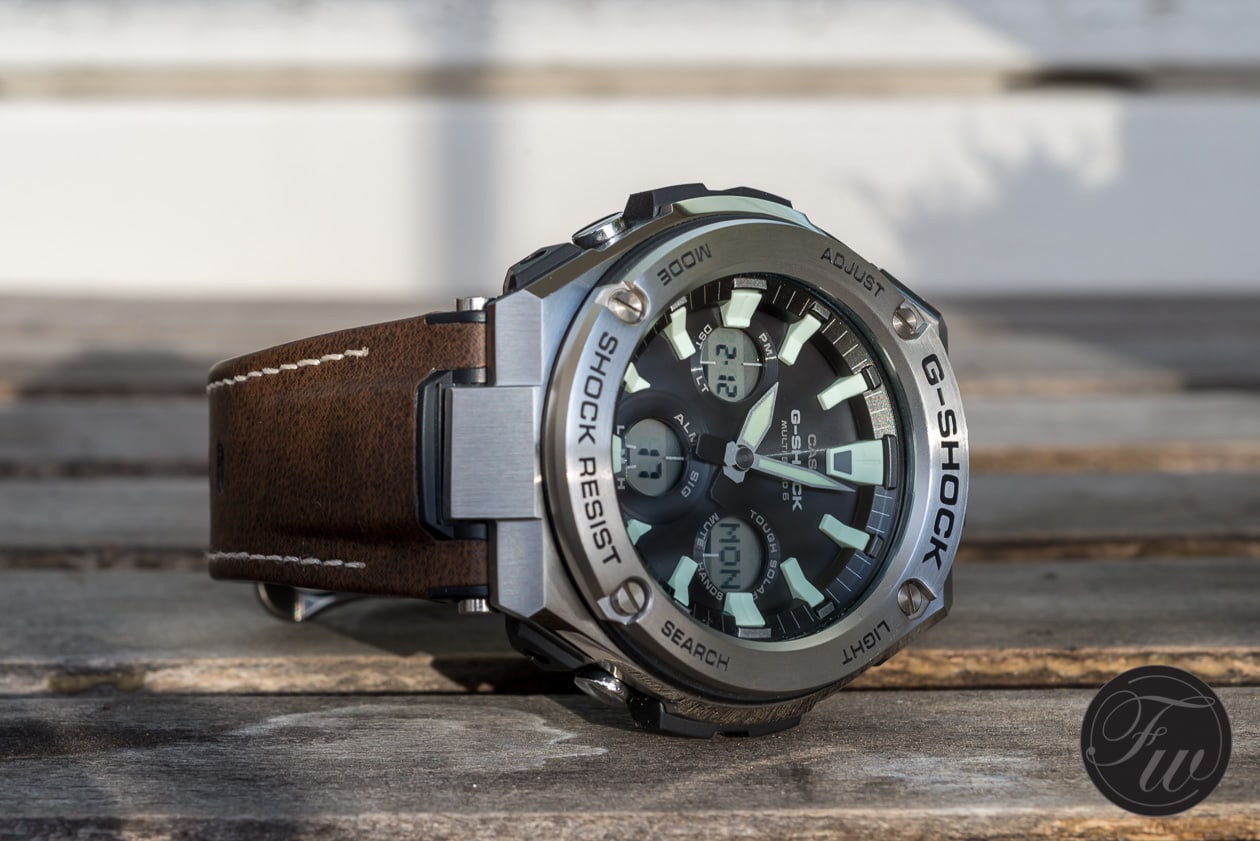 Except for being used in hostile watch environments, G-Shock made it to the common everyday wrist as well. Even as a fashion statement one might say. Never renouncing its ancestry, however. How purposely fashionable a G-Shock might ever have been presented, it is able to withstand situations that one never wants to experience.
Urban Vintage
So that can be said of the GST-W130L as well. The G-Steel collection is one of the latest in Casio's G-Shock line-up. Others, like the Master-of-G, MR-G or Baby-G have been around for a much longer period. The G-Steel GST-W130L to me has been clearly aimed at the (young) urban professional. Stylish material combinations and a vintage-inspired tough leather strap. Nothing to be ashamed of when worn in the office with a suit. Neither while hitting the skateboard pit or rushing down snowy slopes. When style meets function, Casio tend to say 🙂
Regular Functions
Time indication: hour and minutes (analog, and digital upon request replacing the date) and digital seconds. Calendar: day, month (digital) and date (abbreviated) indication(*). These basic features are all present in one glance. Pushing the 'Mode' button repeatedly shows the following additional functions one by one, in the upper two digital windows. Word Time (including UTC as seen in one of my pictures), Stopwatch, Timer, and Alarm. Nothing spectacular or unexpected here.
Personalized Settings
What I like very much is that many of the functions of the Casio module 5515 can be personalized. I'll mention a few, but probably all. The tones for using the pushers can be turned on or off while keeping the tones for alarms and timer active. The hourly beep signal can be turned on or off. The backlight can, or can't, be automatically operated by a twist of the wrist. Daylight saving time can be automatically, or manually, adjusted (why would you do that manually?). And the digital time indication can be chosen for in 12- (with the indication of am and pm) or in 24-hour format.
(*) What can not be changed – and I have never seen one Casio which could – is the order in which the date and month are digitally indicated. So today is 2-11. Which is not the 2nd of November, however February 11th. Why not providing users a possibility to change this? It could even be done together with the change of 12- and 24-hour format of the time.
Some Strange Things
Although overall very positive, I mentioned some strange things about the Casio G-Steel GST-W130L as well. That starts with strapping the watch on your wrist. The tough-leather (vintage leather stitched to soft rubber inner lining) strap is long enough for a large wrist. However, there's just one keeper to hold the length of the strap which is not used. Normally there's one keeper directly after the buckle, and a separate one to keep the rest of the strap.
The backlight is beautiful. Lighting up the whole dial and 3-D index markers, as well as the digital displays. However not the hands. those are hardly lit by the backlight, and in fact only show up slightly when the light has dimmed again. It just looks a bit weird, however, there has not been a situation in which I wasn't able to determine the time. So it's not that bad as well.
Move Out Of The Way
A last neat feature I want to mention is the ability to move the hands out of the way. With a push of a button, hands are moving and permit a free visibility of functions in the little round digital displays, like stopwatch or date.
Specifications and Pricing
And then I'll end here with the technical specifications and the price of the Casio G-Steel GST-W130L. Although the maximum width of the stainless steel and resin casing may just exceed 50mm, the bezel diameter is 44mm. And that's the feeling the watch gives as well being worn. A rather, but not overly, large watch which wears comfortable. The price in Europe currently is € 299,= (including VAT), which in my opinion is a bargain.
More information and specs on the Casio G-Steel GST-W130L can be found at the (European) G-Shock website here: www.g-shock.eu