Certina DS Chronograph Automatic — Hands On Watch Review
A beautiful reedition that shows that Certina can do more than sports watches
2020 is finally coming to an end. However, I have one more watch to talk about before. In the past, when I spoke about Certina, it was either about a sport or a vintage watch. Rarely do we see a classy, vintage-inspired timepiece from the brand. The DS Chronograph Automatic is filling this void, though.
If you need affordable Swiss Made sports to watch, prominently divers, Certina is a brand you definitely should check out. But they have a rich history that includes classy pieces, chronographs, and other models as well. And don't even make me start talking about Grana.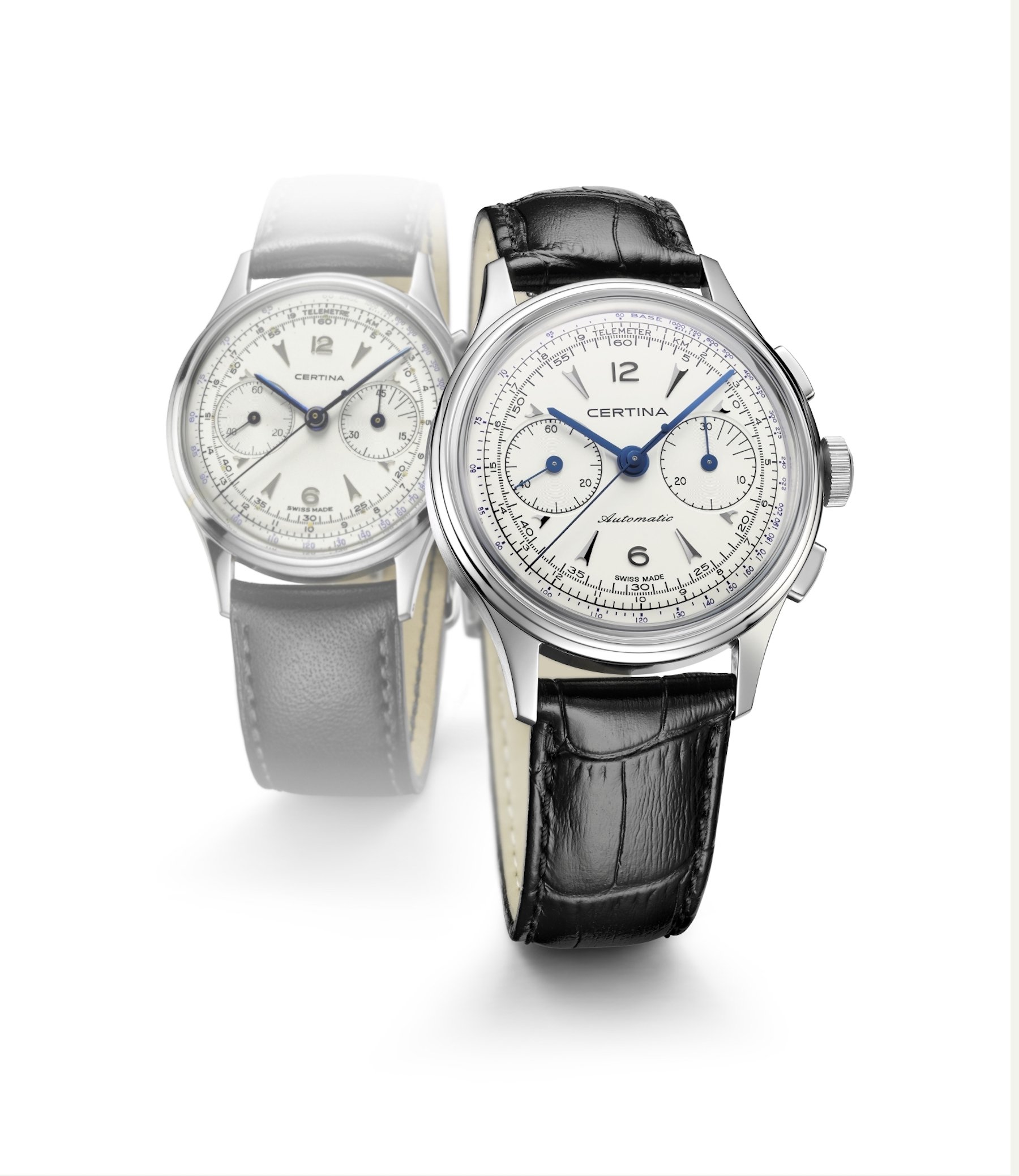 Certina watches of the past
There are brands we talk a lot about, Certina included, but we mainly focus on their current collection. Still, we need to keep in mind that all of these companies have a past often filled with exceptional timepieces. Tissot is another such name, where I feel we found the right balance to highlight new models and watches from a bygone era. I want to bring some of these fabulous vintage watches from Certina to Fratello in 2021.
For a start, here is something that takes inspiration from a vintage piece but comes in a completely new execution, the DS Chronograph Automatic. Now, let's address the elephant in the room, the watch's name. Certina could've come up with a more fitting name. I mean, I get it; you need to add the piece to an already established model line. But DS Chronograph Automatic? Thankfully, this is my biggest issue with the piece. 
DS Chronograph Automatic
I must admit that while I'm an avid reader of Vintage Certinas, I saw the vintage model this DS Chronograph Automatic takes the inspiration from when I received photos from Certina. I'm trying to say that this model, albeit beautiful, is not a super known vintage Certina chronograph. It is a great and clean watch with apparent features they share with other vintage models from Excelsior Park, for instance. The perfect model for Certina to reissue. If we compare it to the new DS Chronograph Automatic, we see how meticulous they were with the details. Other than the "Automatic," which you can see on the latest version, the look is almost identical. This is not a comparison article, though, so I will focus on the DS Chronographs Automatic from now on.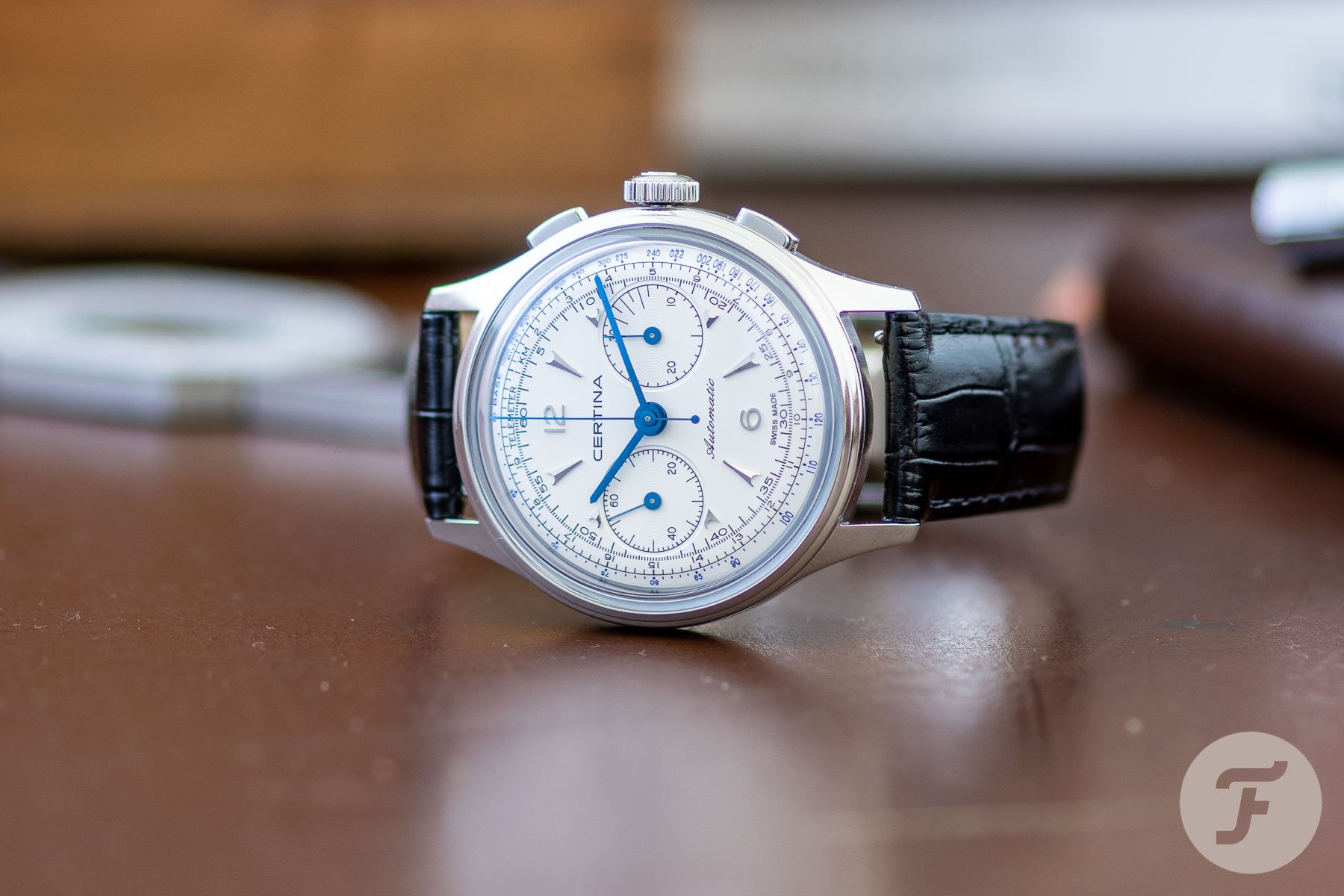 The new model had to be larger, so we have a 42mm case that is 14mm thick and 50.5mm from lug tip to lug tip. Keep in mind that the Speedmaster is roughly the same size. Yet, this watch has no bezel, and the dial is not black, so comparing them visually would make no sense. Does it feel 42? No, I would say it does not feel too large and comfortable to wear, thanks to the relatively thin case.
Thin, compared to the automatic movement inside it. Simple lines characterized the case with polished surfaces on the top and back, with brushed sides. We can see a large crown, but the flat chronograph pushers don't stick out as much. If we flip the watch over, we find a center motif to take inspiration from the dial's torch indexes. While, around the case back, you can find the usual info, like ref number, water resistance (100m), or case material (steel).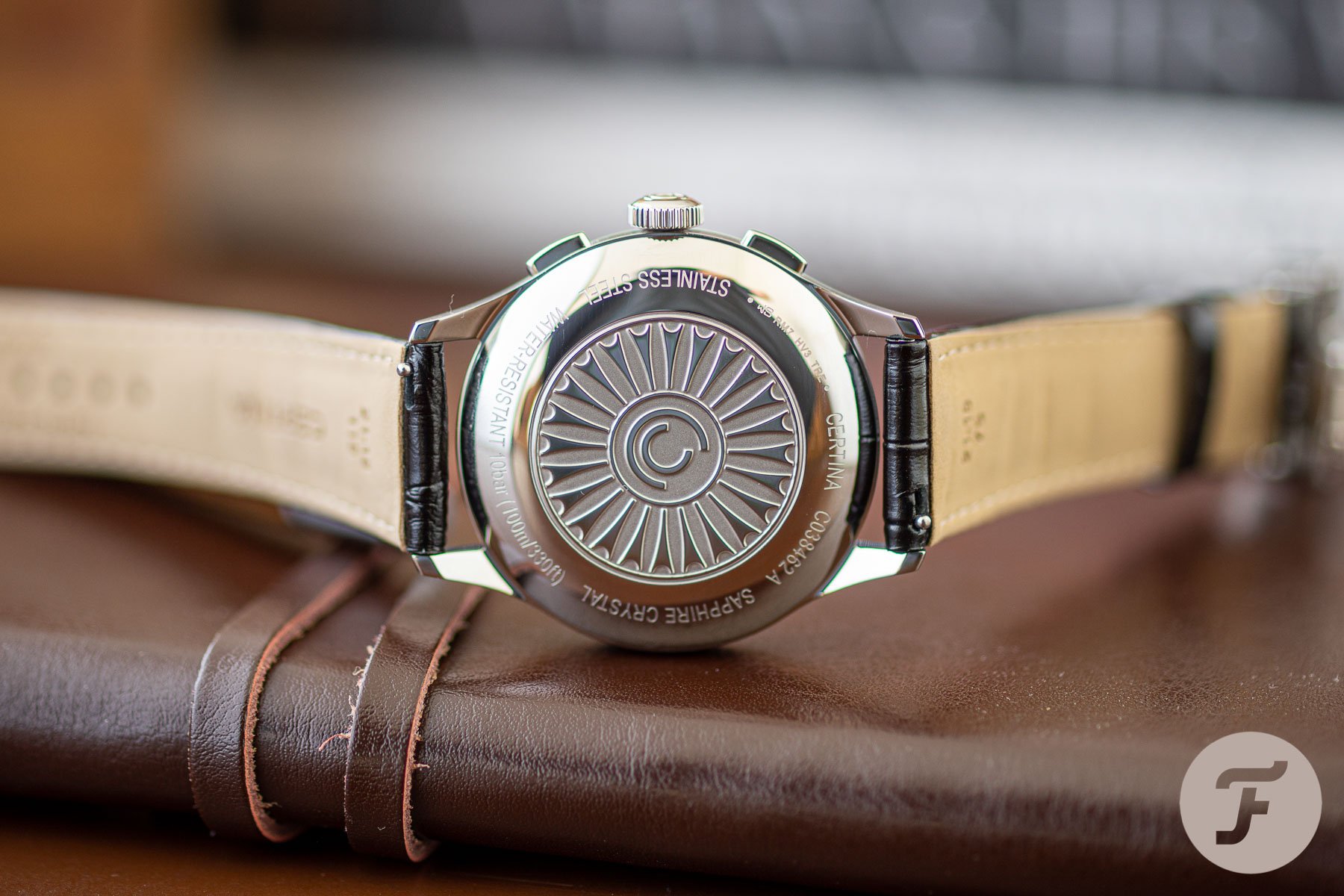 Torch
In our latest podcast, Mike and I talked precisely about this type of dial. You can often see these so-called torch indexes on Excelsior Park or Gallet chronographs, probably because they all used the same dial manufacturer. Certina kept the same vision for the DS Chronograph Automatic and released it with a white dial, applied torch indexes and numerals (at 12 and 6). Other than the colors and the shapes, the layout is also identical, with the two sub-dials at 3 and 9 o'clock.
However, the dial's fun part is the Tachy- and Telemeter scales running around the watch's outer ring. While the Tachymeter allows you to measure speed, Telemeter scales would tell you the distance. This is a feature mostly military watches possessed back then to calculate the distance between the wearer and the enemy's artillery.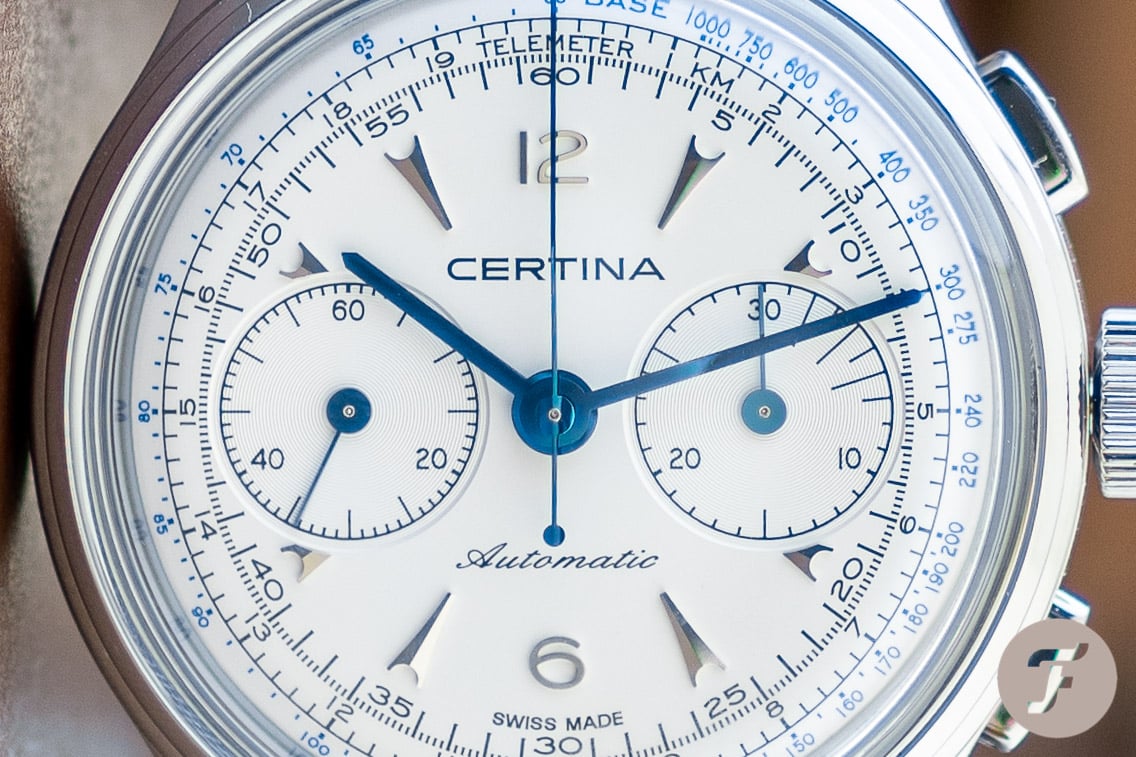 Something blue, something old
The last bit we still need to mention is those beautiful blue hands—a small splash of color on that otherwise light dial. They are a tiny bit too blue to be entirely fair, but that's just my personal preference. Sapphire crystal covers the dial with anti-reflective treatment on one side. And now that we have talked about what's outside, why don't we look into the case and see what's beating inside the DS Chronograph Automatic?
The caliber Certina uses is their A05.H31 movement, which is an ETA 7753. We have 27 jewels here and about 60 hours of power reserve. Another useful feature of the movement is its silicon balance spring which reduces the chance of the watch getting magnetized and allows a stable time keeping. Although the 7753 has a date function, Certina decided not to add that to the reedition, and I could not be happier about it. Sometimes less is more, and this is the case with the DS Chronograph Automatic.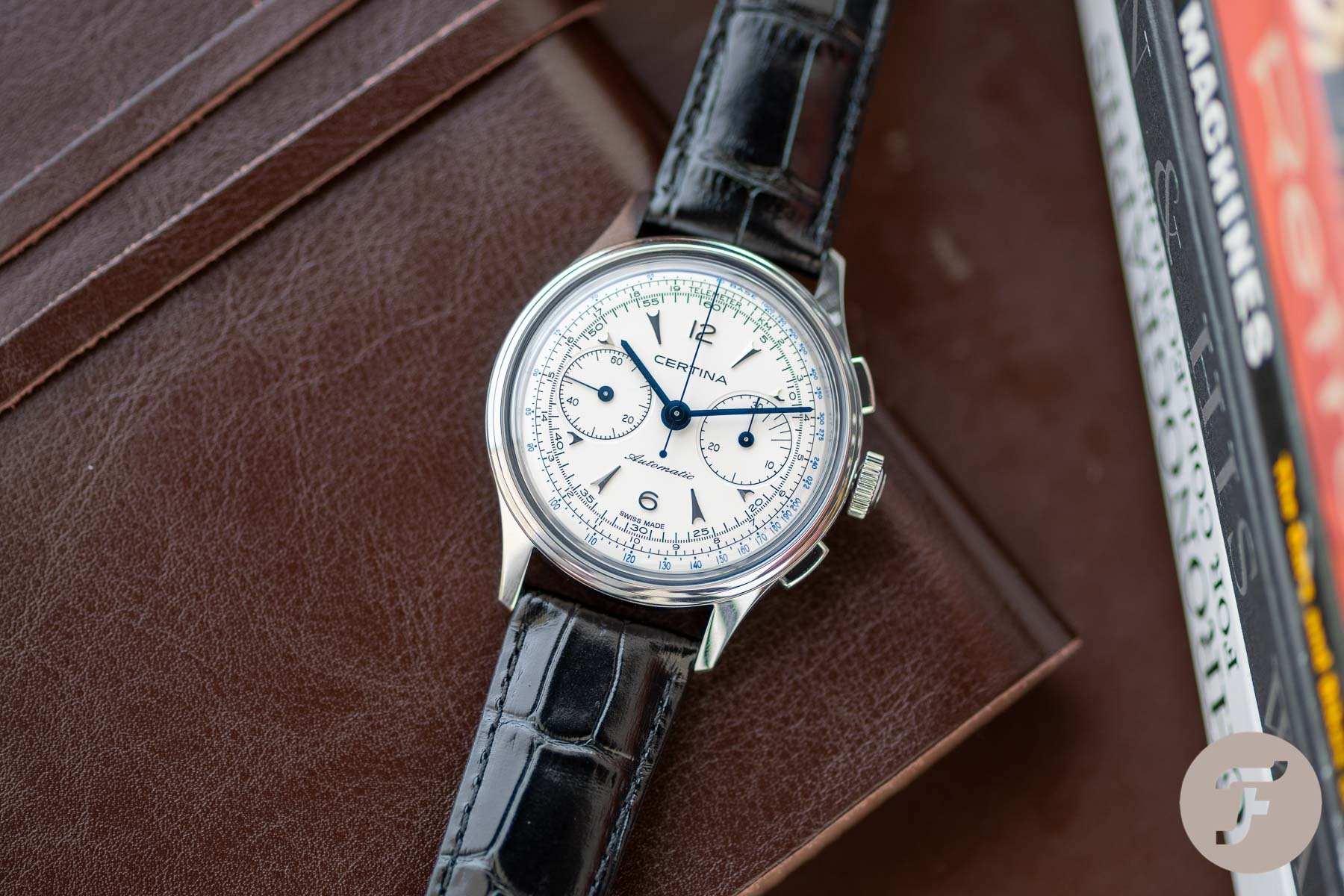 Conclusion
I hate to mention it, but the only con against the long list of pros is the strap. Firstly, it is 21mm, such an odd and unpractical size these days. However, due to the case shape, I see why Certina went with it, and that's ok. What is not ok, however, is the strap itself. It just feels cheap and uncomfortable. Not to mention that it's not up to the standard of the watch. Certina can add quality leather straps to their watches just like they did with the DS PH200M, for instance.
And here comes the issue with the 21mm width; I have 18mm, 20mm, even 22mm leather straps to throw on the watch, but I barely have one in 21mm. Still, for €1,842, this DS Chronograph Automatic is a lot of watch for the money. A beautiful, classy timepiece with a useful complication for a great price.
If you'd like to check out Certina's site, follow this link.
Watch specifications
Model
DS CHRONOGRAPH AUTOMATIC
Reference
C038.462.16.037.00
Case Material
316L stainless steel
Case Dimensions
Diameter: 42.00mm Height: 13.90mm
Crystal
Antireflection treatment on one side Sapphire crystal
Movement
A05.H31 with silicon balance spring
Strap
Black leather with quick-release system
Price
€1824 (German retail)