Citizen's New Trio Of Titanium Triplets — Three Retro CA7090 Chronographs And Six Eco-Drive Pilot's Watches
Bringing nine new offerings to the Super Titanium lineup
Not long after announcing its upcoming Promaster retro diver, Citizen is back again with a new chronograph inspired by '70s design — the CA7090 in Super Titanium. For a 104-year-old company, introducing a brand-new design may be too radical, so how about throwing in a few familiar faces? Oh yes. The Japanese giant is adding not just one, but nine vintage-inspired models to its 2022 Super Titanium collection.
First of all, it's worth highlighting the fundamentals marked on all their dials. All nine models embody two of Citizen's signature technologies — Super Titanium and Eco-Drive light power. Super Titanium is the brand's trademarked material that is 40% lighter and five times harder than regular stainless steel. It has gone through a proprietary surface-hardening treatment to achieve this. On top of all the same properties of titanium, it boasts greater hardness and quality finishing. The Eco-Drive technology simply allows the battery to convert any light source into energy to power the watch, storing the surplus on a power cell. On a full charge, an Eco-Drive watch runs for months even in complete darkness with no need for regular battery replacement. We have already written about Eco-Drive, so you can refer back to this article for more details.
The first set of triplets — Citizen CA7090
The spotlight is on the headline novelty, the new kid on the block. The 43mm CA7090 chronograph comes in three colors, and it supposedly takes inspiration from vintage cars and 1970s design. According to Citizen, the watch's integrated case and bracelet borrow the round detailing from '70s motorsports, as do the case profile, the pushers, and the date window. The bezel and beveled areas of the case are polished to a mirror finish.
The dial has two layers — solid metal on top and polycarbonate below. The sub-dials pass external light through to the Eco-Drive movement to power the watch. The minutes sub-dial is at 12 o'clock and the seconds sub-dial is at 6 o'clock. Both sub-dials are outlined with metallic details that mimic the look of vintage-car speedometers. The upper dial comes in a deep color to bring a modern feel along with the skinny hands and applied indices. It also features a vertical brushed pattern for a subtle contrast to the circular brushing on the titanium case.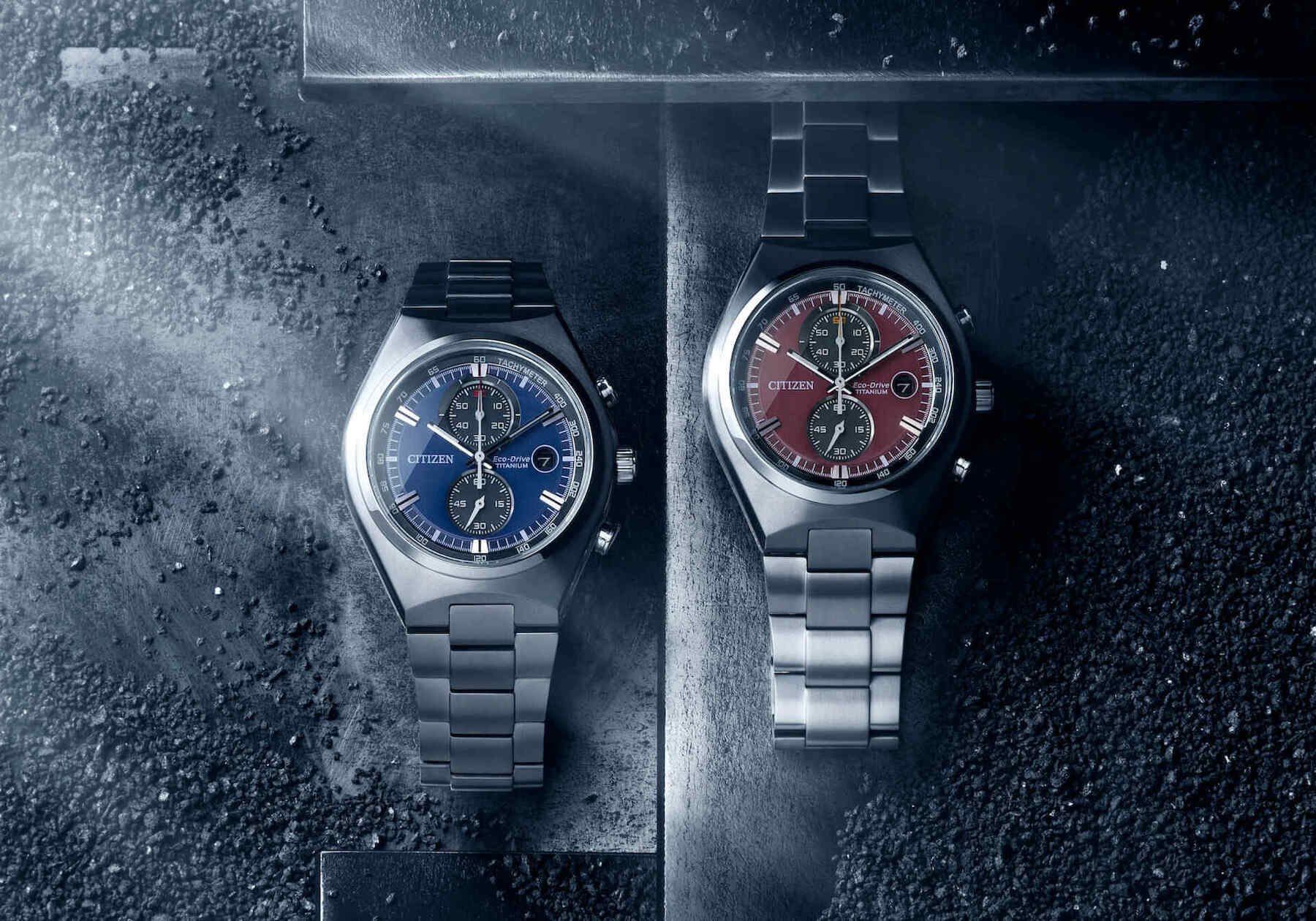 As I am writing this, I have a passing thought. While those curves are really easy to like, I can't help but wonder how Citizen's design (or marketing) team conjured up those inspirations. We could all take the brand's word for it, and I am certainly ignorant about cars in the '70s. But wasn't it all about "the wedge"? Perhaps they had different cars in Japan in those days. Any vintage automotive enthusiasts can enlighten me in the comments.
Anyway, back to the vitals. The CA7090 chronograph has an accuracy of ±15 seconds per month. The Eco-Drive movement runs for seven months on a full charge. This 43 × 11.3mm chronograph comes in three dial colors — black, blue, and red. Each model is priced at €329.
Two other sets of triplets — Citizen CA0810 and BM7570
Citizen brings us two more sets of Super Titanium Eco-Drive models — the CA0810 chronograph and the BM7570 three-hander. The designs of both aim to pay homage to traditional aviation watches. The cases and bracelets are, of course, made of Super Titanium, and the movements have an accuracy of ±15 seconds per month. The Eco-Drive caliber runs for seven months on a full charge in the CA0810 chronograph. This trio of watches comes with dials in either black, blue, or green, and their cases measure 44mm in diameter and 11.6mm in thickness. These CA0810 chronograph models carry a price of €299 each.
The Eco-Drive movement inside the BM7570 three-handed models runs for six months on a full charge. The cases on these watches are the smallest of the new offerings, measuring 42mm wide and 10.3mm thick. These models are also available with black, blue, or green dials and are priced at €229 each.
You can find them available via Citizen's EU website. Drop your thoughts on these new offerings in the comments below!
This is a preferred position post. Learn more.